This page contains affiliate links. Please read our disclosure for more info.
Packing for multiple climates is one of the biggest challenges when travelling with just carry-on luggage.
It's easy to throw a few pairs of shorts and t-shirts into a bag when you're heading to the beach, and we even found it simple to pack carry-on only for chilly Finland.
When you are visiting both warm and cold places packing is trickier, but it can be done!
We did a four-month trip in Europe from August to December that included a heatwave in Paris, chilling on the beach on the Italian Riviera, and some of the coldest weather we've experienced in seven years in the mountains of Spain and England.
As usual, we travelled with just one carry-on-sized backpack each. Here's how we did it:
Contents
Pack for a Week
As always, we only packed enough clothes for about a week and then did laundry. On our Interrail train trip from London to Spain via France, Switzerland and Italy we often rented Airbnb apartments.
These were not only cheaper than hotels, especially in big cities like Paris, Turin and Madrid, but we had access to a washing machine so laundry was easy.
Even if you don't rent apartments there are laundrettes everywhere in Europe or your hostel may have washing machines.
Or do your laundry in the hotel sink. We'd occasionally did this with underwear to keep us going until a big wash.
Pack Layers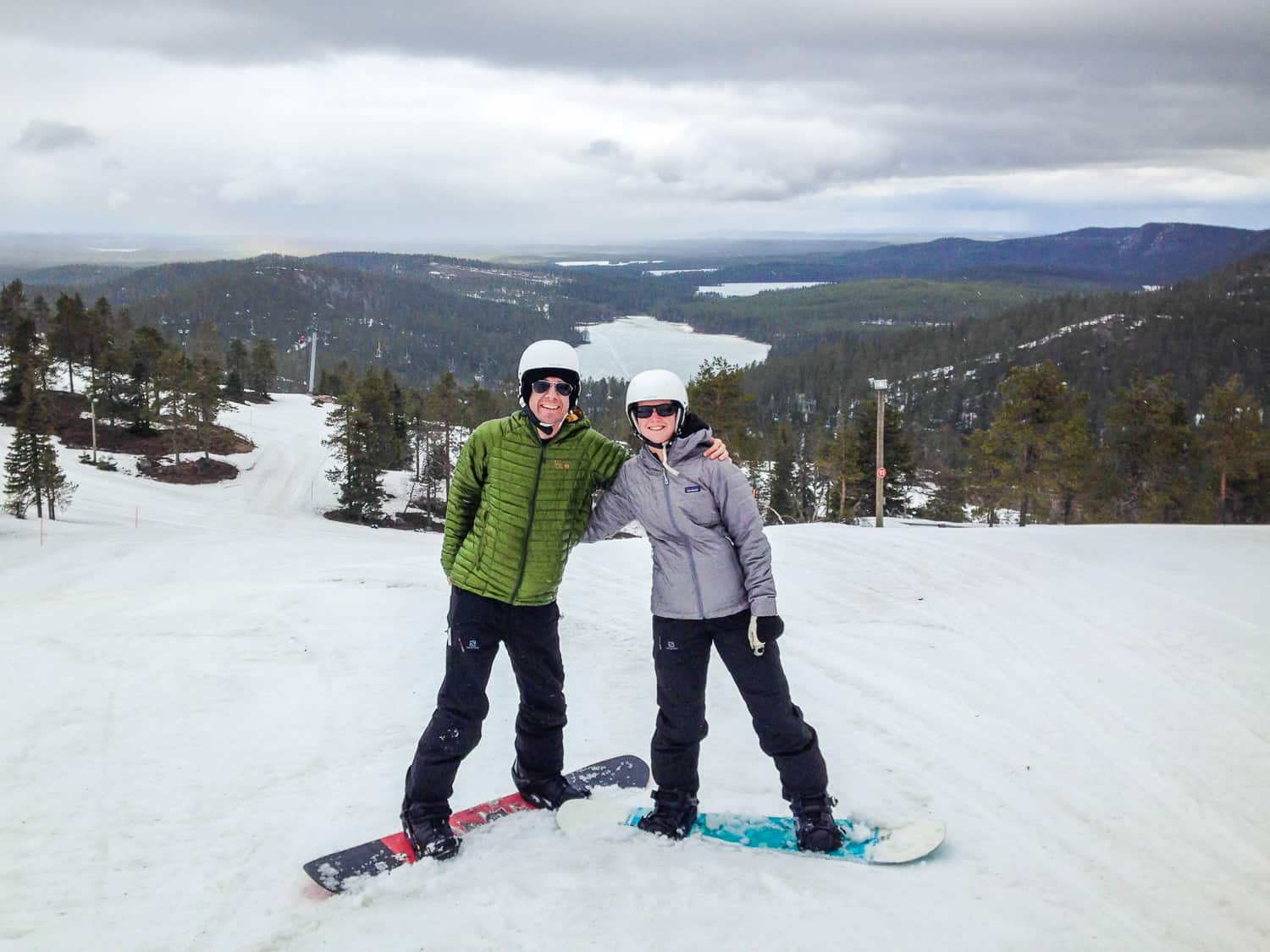 When your trip starts in August when most of Europe is steaming hot, there's no point packing a heavy winter jacket for four months later.
Instead, pack lightweight items that can be layered with each other when the weather drops.
My t-shirts from August became my base layer in December and were topped with some or all of my extra layers: long sleeve t-shirt, cardigan, light sweater, fleece, and down jacket.
If you wear leggings (I don't), these are useful for multi-climate travel as you can layer them under a summer skirt to stay warm. I didn't wear my skirt or dresses from October onwards, which is a bit of a waste.
Puffy insulated jackets made from down or synthetic down are brilliant for multi-climate travel.
They are very light and compress into a small package, so it's easy to pack them in your luggage until you need them.
They are amazingly warm for the size. We didn't need our jackets until November, but as they didn't take up much space it wasn't a problem carrying them around.
Buy Extras When Needed
The weather was hot throughout August and September so there was no point travelling with too many warm layers.
When we got to Madrid at the end of September, I picked up a couple of long-sleeve t-shirts at Primark for ridiculously cheap prices.
Along with my original clothes, this was enough to keep me warm during our housesit in the Spanish mountains in October and November when temperatures dropped to 6ºC at night.
England in December was even colder (down to 0ºC), so I bought more warm gear (again Primark is cheap or try local markets).
It wasn't difficult to fit the extras in my backpack because I wore the bulkiest items on travel days and packing cubes help squeeze things in.
Squeeze Clothes Into Packing Cubes
Packing cubes not only keep your things organised and easy to find in your luggage, but they also help you fit more into your bag.
I use the ultralight Eagle Creek Spectre compression cubes and Simon has one large regular Eagle Creek compression cube for all his clothes and underwear. They are especially helpful when you are packing extra clothes for multi-climate travel.
Read more about why packing cubes are the secret of carry-on only travel.
Erin's Clothes Packing List for Four Months in Europe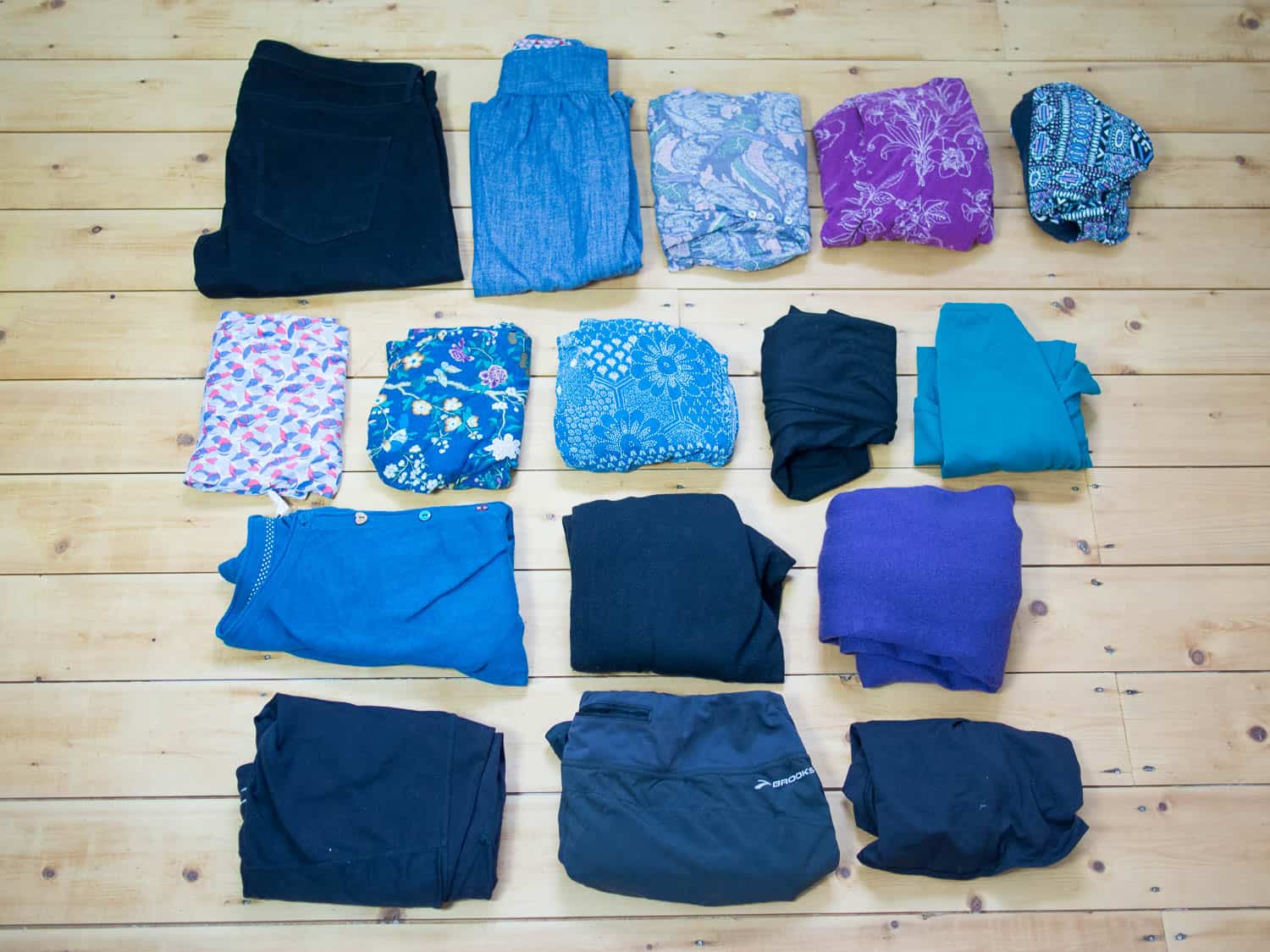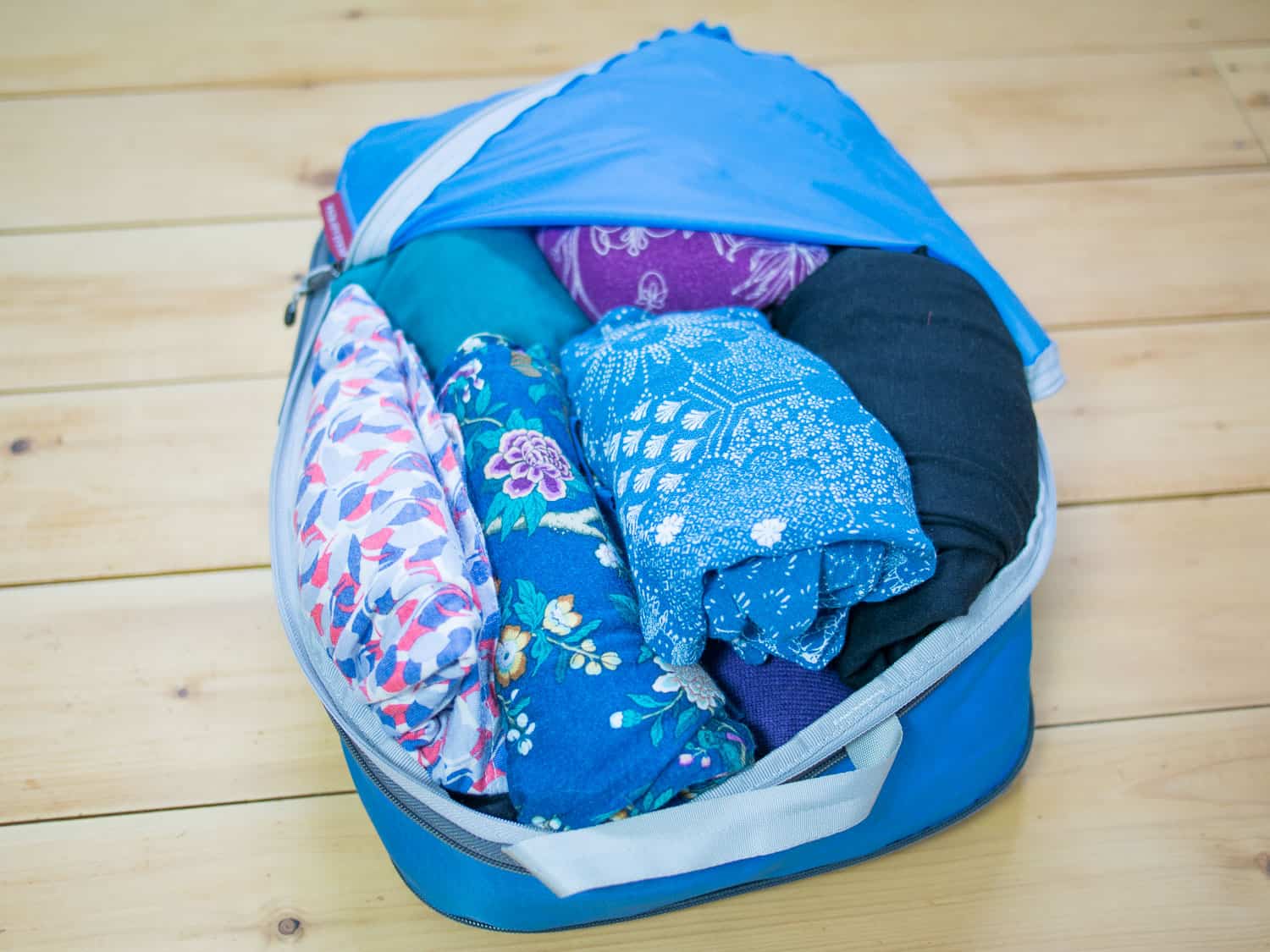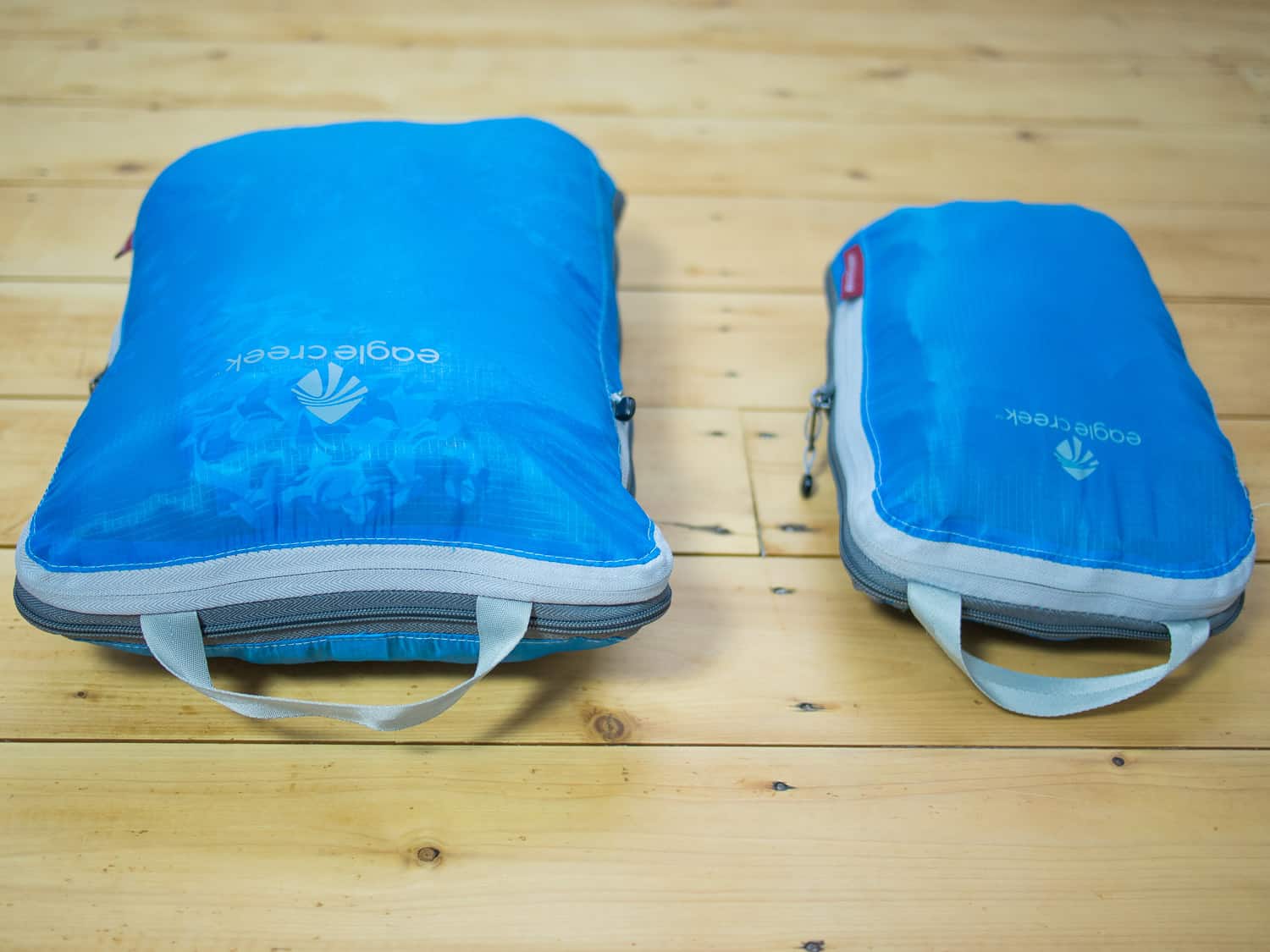 Original
These were the clothes I started with when we left England in mid-August and travelled with for all four months.
Bottoms
2 jeans – One dark blue, one black. Both are lightweight summer jeans. I've since discovered Aviator jeans which are perfect for travel. Read my picks for the best women's travel pants.
Skirt
Tops and Dresses
2 dresses
4 short-sleeve tops – Including an odour and stain resistant Ably-t-shirt.
Clever Travel Companion tank top – It has two zipped pockets to hide valuables. I wore it under a t-shirt on travel days to keep my passport and cards/cash safe. It's much more comfortable than a money belt. I also used it for yoga.
Outerwear
Workout Gear
Athleta Chi tank – Made from their amazing Unstinkable fabric (it really works!).
Capri leggings (Athleta Be Free Knicker) – For yoga, hikes, and running when it got cold.
Shorts (Brooks Sherpa 6-inch) – For running when it was hot.
2 sports bras (1 Victoria's Secret Incredible)
Runderwear running underwear
Icebreaker running socks – Odour-resistant, breathable and quick-drying, but a little too low and they got a hole after three months.
Fleece headband – To cover my ears when it got cold.
Underwear and Swimwear
Tankini swimsuit
7 underwear – 1 pair are ExOfficio, which are very light and quick drying.
2 bras
4 socks – Including one thick pair of odour-resistant Smartwool medium hiking socks which kept my feet cosy and warm when it got cold.
Shoes
Running shoes (Asics Cumulus 17) – For running and as my main shoes when it got cold until I picked up my boots.
Sports sandals (Merrell Enoki) – Practical for hikes but nice enough to wear in cities.
Ballet flats (Silverlake vegan Tieks) – I love these! Stylish, comfortable, and they fold up small. Read my honest review of Tieks after six years of travelling with them. I've also recently discovered Rothy's which are made from recycled plastic bottles and are machine washable. See my Tieks vs Rothy's review for a comparison of the two travel-friendly flats.
Accessories
Sunglasses and travel case
Extras
These were the extra clothes I picked up when it got cold.
In Spain
2 long-sleeve t-shirts – I used one for running.
In England
Icebreaker merino wool long-sleeve top – Merino wool is warm, odour-resistant, and non-itchy.
Two jumpers – These replaced the summer cardigans.
Winter boots – Cheap fake Uggs. They are fleece-lined and keep my feet warm but aren't waterproof.
Woolly hat
Gloves
Scarf
5 extra pairs of socks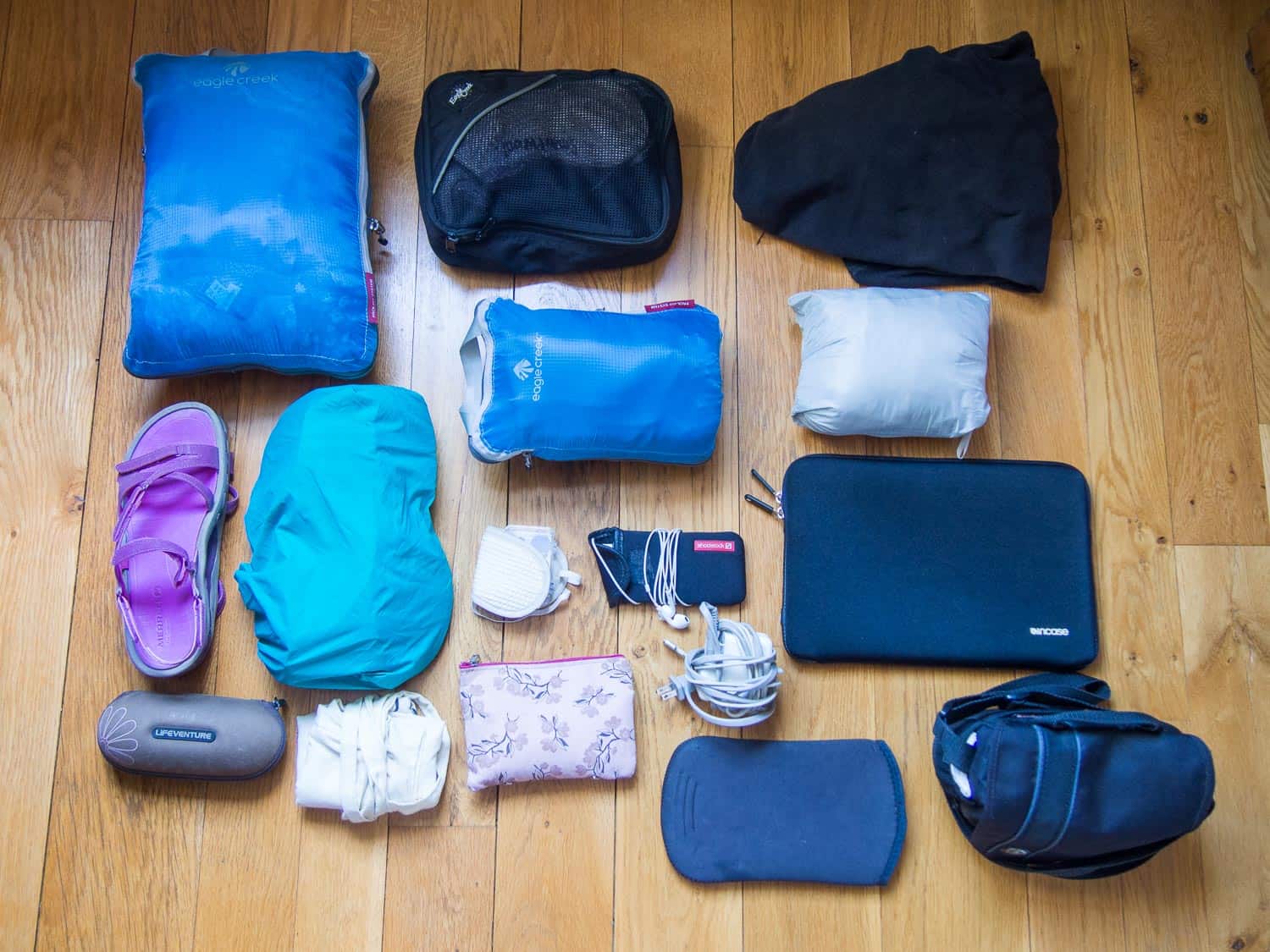 Simon's Clothes Packing List for Four Months in Europe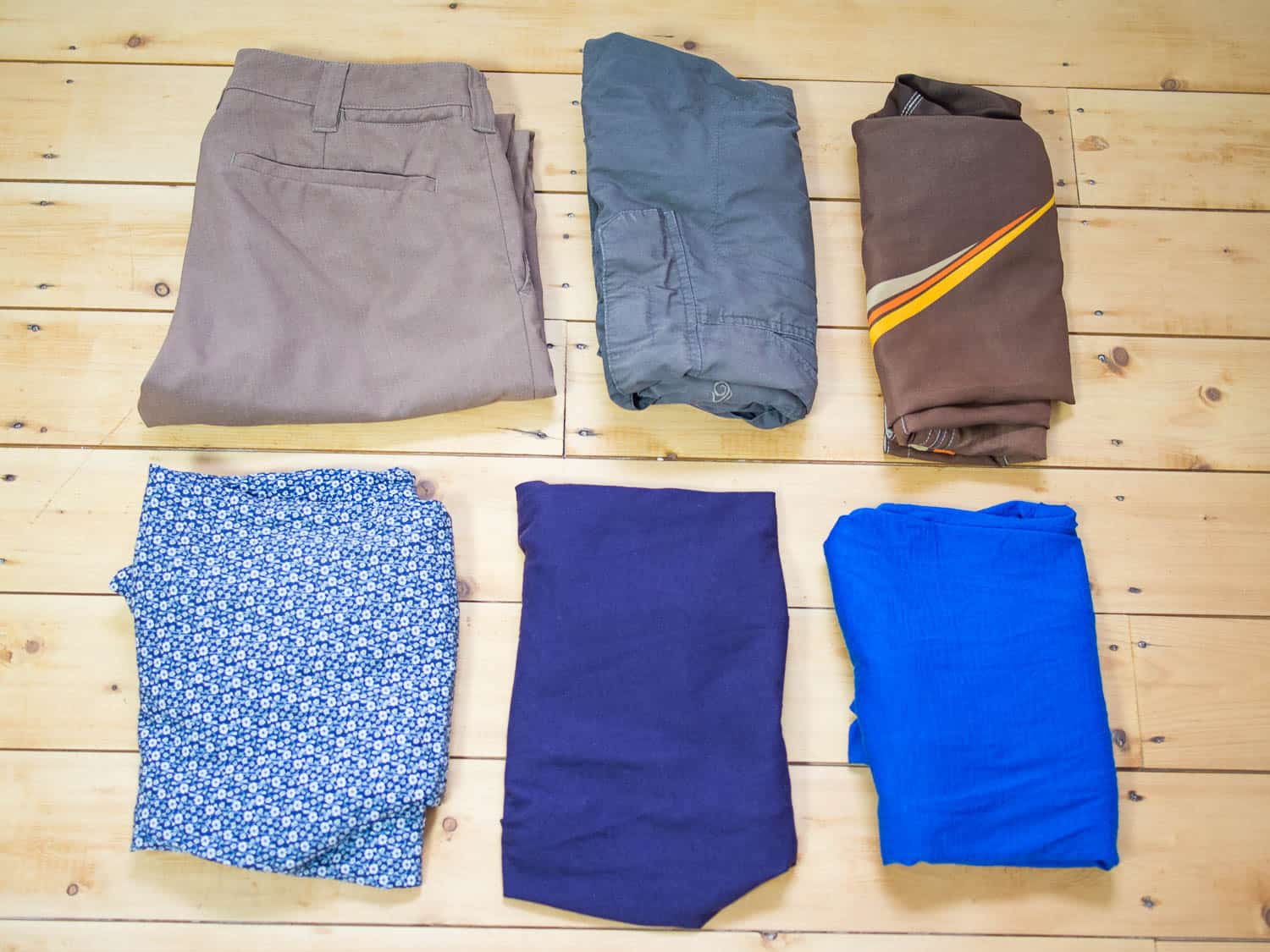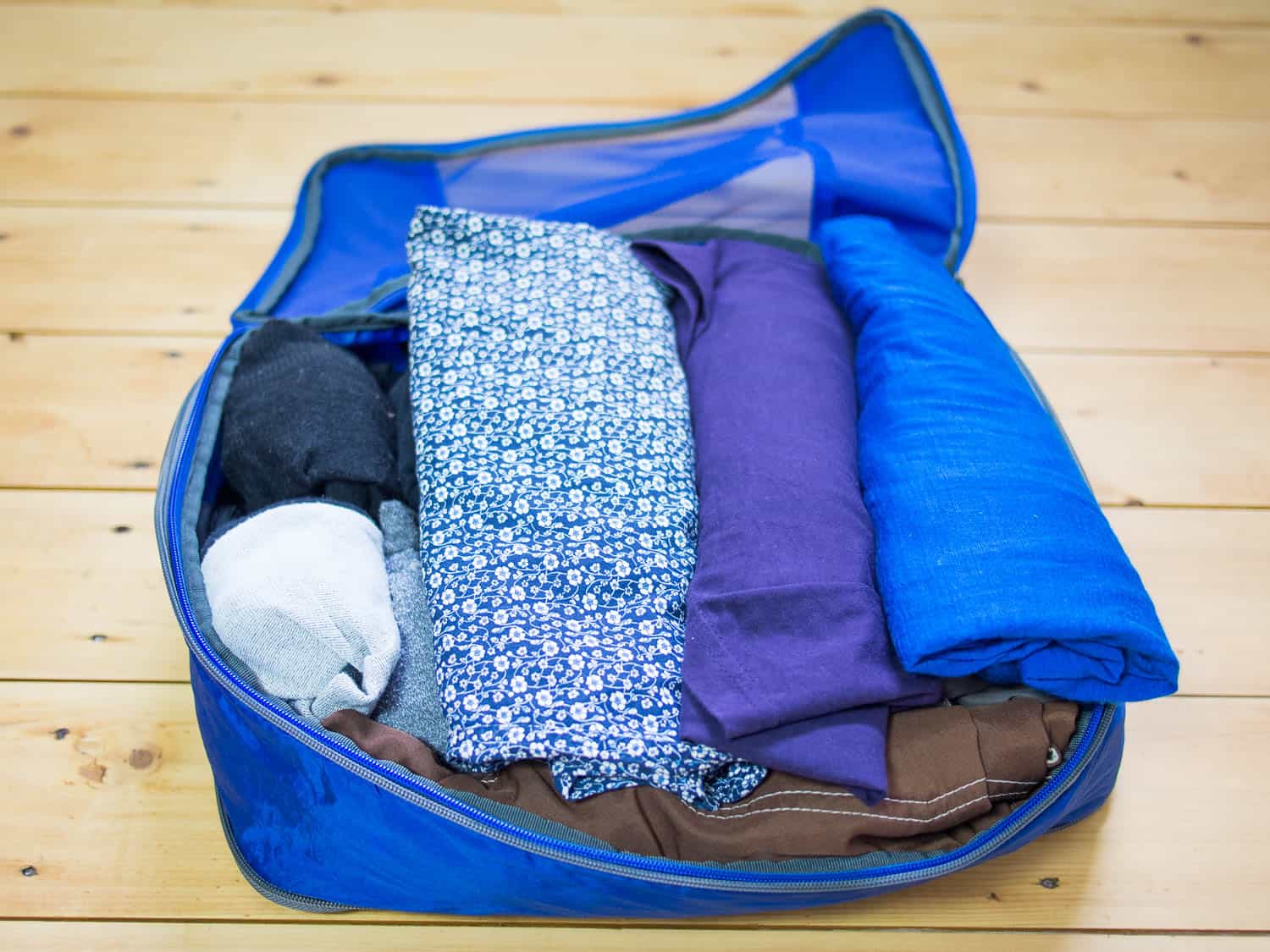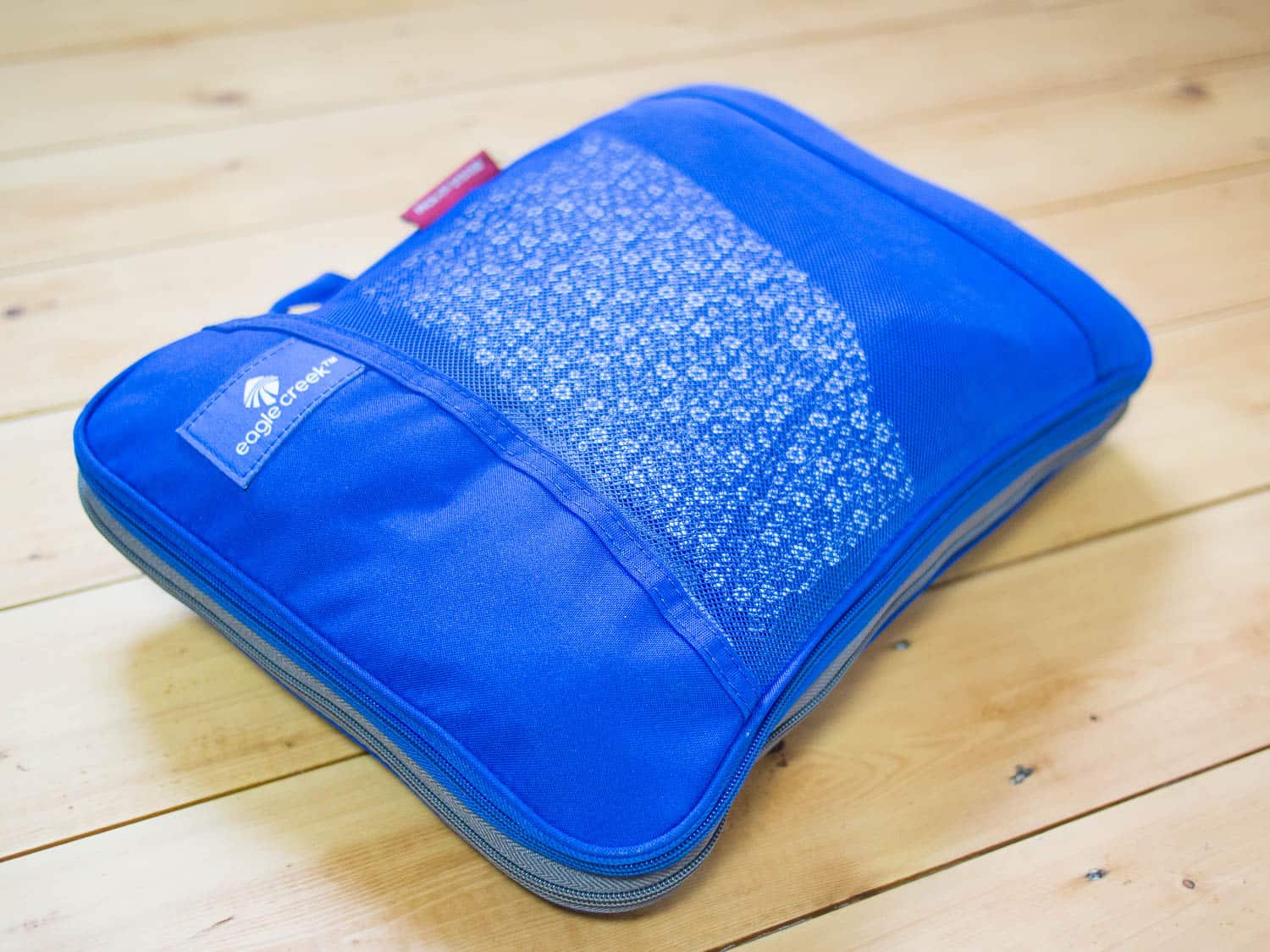 Original
These were the clothes Simon started with when we left England in mid-August and travelled with for all four months.
Bottoms
Aviator Jeans – These are super comfortable, feature hidden zipped pockets, and the dark indigo colour looks great.
Bluffs trousers – Smarter than normal travel trousers but still lightweight, quick drying and with hidden zippered pockets for security. He wore them on hikes and to fancy restaurants. Read our detailed Bluffworks review.
Shorts – Simon always looks for lightweight fabrics and hidden zippered pockets.
Tops
3 t-shirts
Short-sleeve shirt – He hardly wore this so got rid of it in Spain.
Long-sleeve shirt
Outerwear
Underwear and Swimwear
Shoes
Accessories
Sunglasses and travel case
Extras in England
These were the extra clothes Simon picked up when it got really cold.
Other Items
For the other items we packed like electronics and toiletries, you can see our usual carry-on packing list. Everything is the same except we left our sarong and travel towel behind. On the Italian Riviera we could have used them for the beach, but we managed with towels from our Airbnb instead.
More Packing Posts
You can also see our other posts about packing light:
Packing light is possible for any trip even if you are visiting multiple climates. I hope you give it a try and save yourself the time, money and stress of checking in luggage.
If you enjoyed this post, pin it!