This page contains affiliate links. Please read our disclosure for more info.
There is always some apprehension as I strap into the bindings for the first time in the morning. Over the past week, I have seen two stretchers coming down the mountain with injured skiers and a helicopter rescue of a fallen snowboarder. The dangers are real and I question the wisdom of what I'm about to do, but this all disappears in the cloud of powdery snow that is thrown up by the first turn down the steep start of Henri, a blue run from the top of Tovière. I remember that I've got this, relax into a rhythm, and take a moment to drink in the views.
The scenery is spectacular with jagged peaks all around, long, wide runs, and vast, powdery off-piste. Tignes is on a much grander scale than other ski resorts I've visited, and I felt far away from everything as I ascended on ski lifts into the far reaches of the mountains.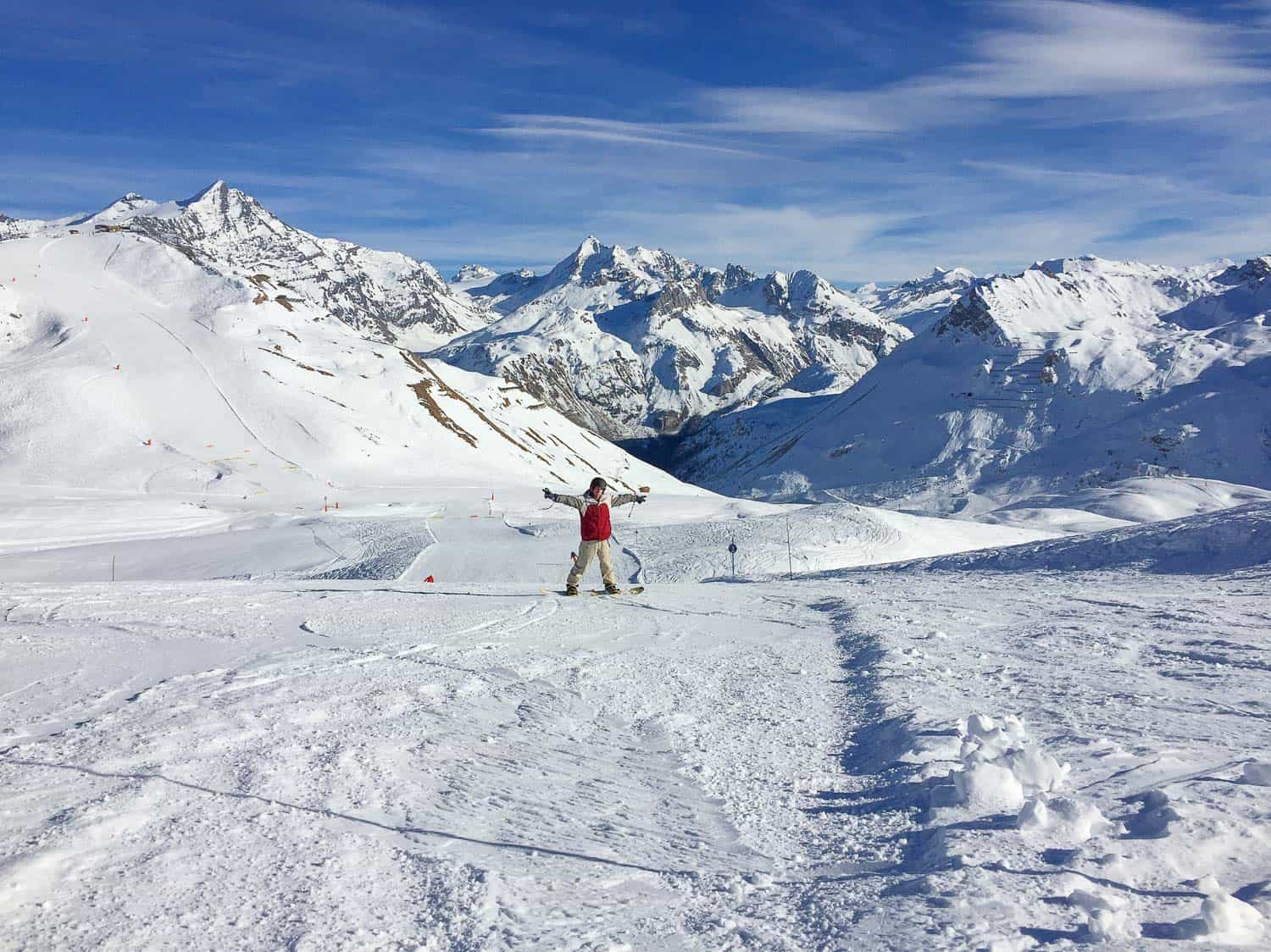 Tignes is located at 2100 metres in the French Alps and, along with the neighbouring resort of Val D'Isere, forms the huge Espace Killy ski area that includes over 300km of runs and two glaciers. The glaciers mean that there is snow available for most of the year (yes, you can ski here in summer!), and it's one of the most snow-sure resorts in Europe. During the peak season 150 runs open that cater to all abilities.
We are here early in the season in mid-December and the majority of lifts are open. The snow cover is a little thin and icy on the lower slopes, but the snow cannons have been firing overnight topping up the coverage, and later the sun will soften the top layer of snow. The higher slopes are still full of the powdery stuff that helps make mistakes a little less punishing.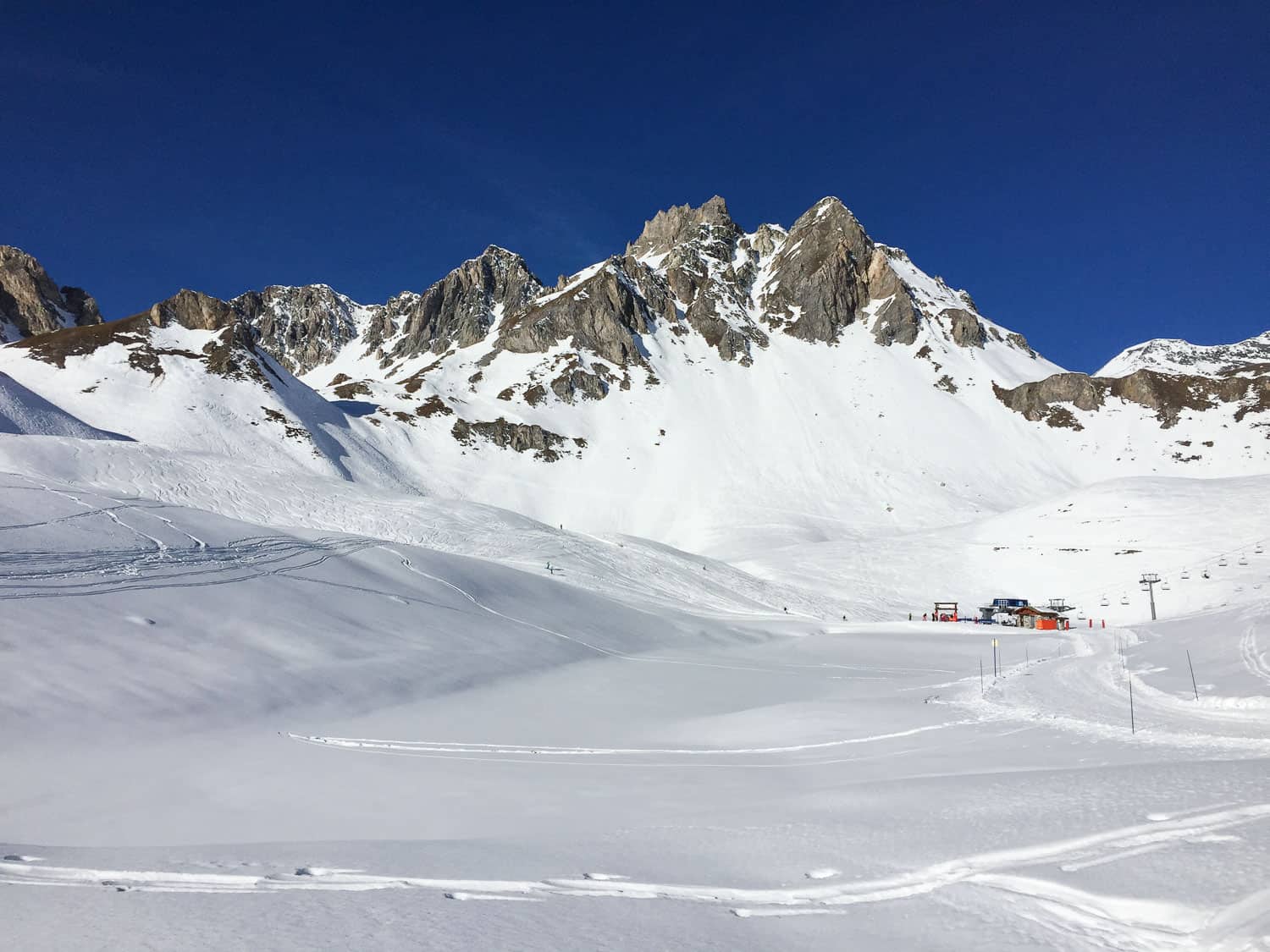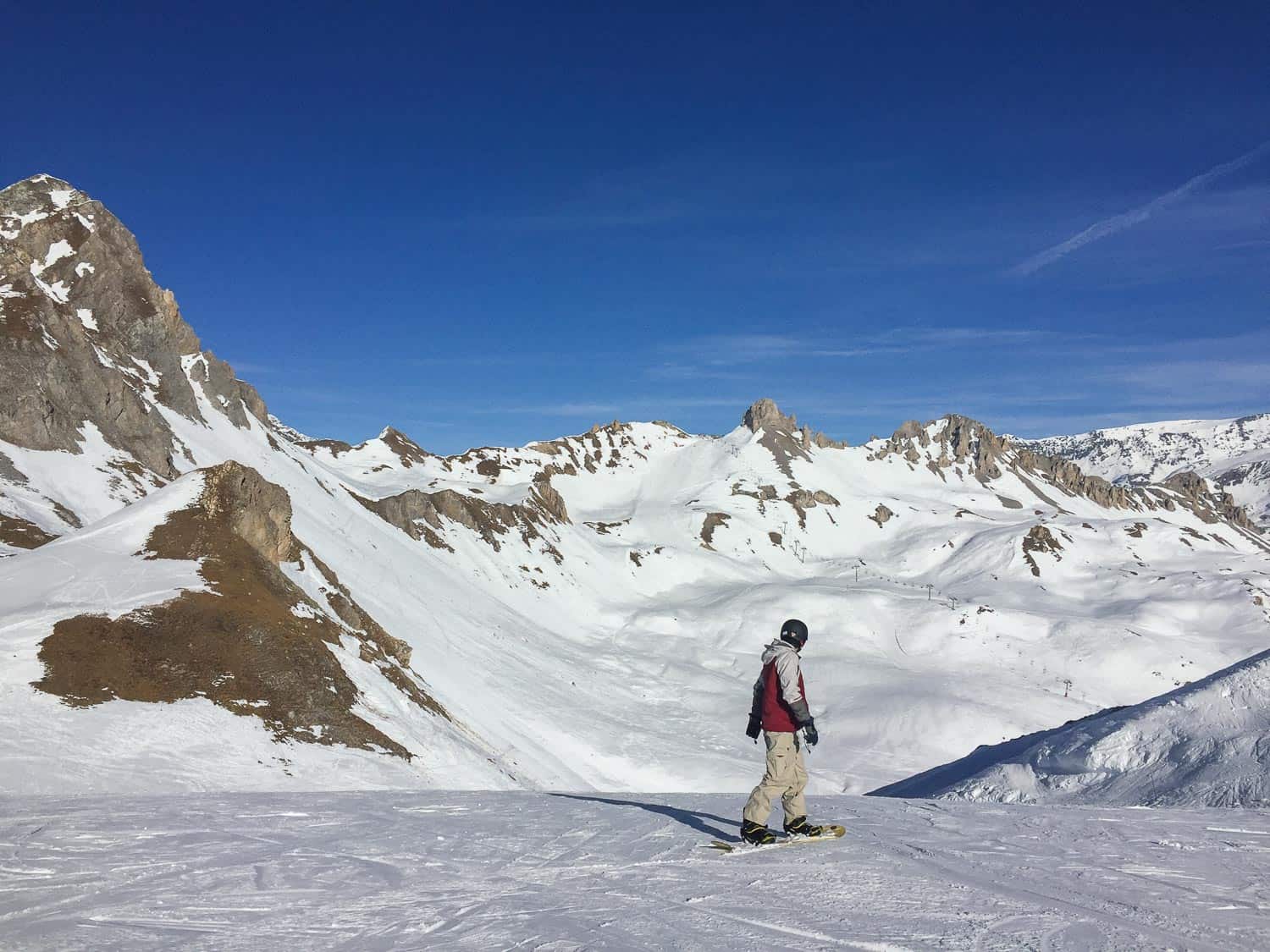 At the bottom of the Henri, I get on the Fresse lift and head over to the green runs in Val D'Isere. There are no queues for the lifts at this time of the year—the longest I waited was two minutes—and again I walk straight on. Often, I'm alone, but this time I'm joined by one other skier on this 6-seater chair lift, and I get chatting to James, a fellow Brit on his first day. We figure out the best way back to Val D'Isere for him before parting ways at the top. He is about to embark on his second ever run, and already it's clear that he loves it.
I head down the long, easy Genépy, one of the 20 green runs in the Espace Killy. The green runs are great for beginners as most are wide with plenty of space for big slow turns. Some, like the Genépy, are so long that you get plenty of time to practise before needing to go up another lift. Once you've mastered the greens, the 67 blue runs, 41 reds, and 26 blacks will keep you busy for years.
I get back to Tignes via the Diebold and Henri runs then begin the long journey up to La Grande Motte glacier. A five-minute funicular ride (every 15 minutes) from Val Claret cuts through the mountain up to Le Panoramic restaurant. Like all of the piste restaurants, it's expensive, but it has a surprisingly good range of food (including freshly made pasta), a cosy interior, and the views from the terrace can't be beat.
After a swift lunch, I race through the closing doors of the cable car that will take me to the top of the glacier at 3456 metres. The views up here are tremendous—the jagged, white-tipped teeth of the Alps stretching for miles in every direction on this clear, crisp day. The weather for our entire week has been perfect with bright blue skies and mild temperatures (from 2ºC to –4ºC) and today is no different. As winter progresses, a week of uninterrupted clear weather will become rarer—one of the many advantages of coming earlier in the season.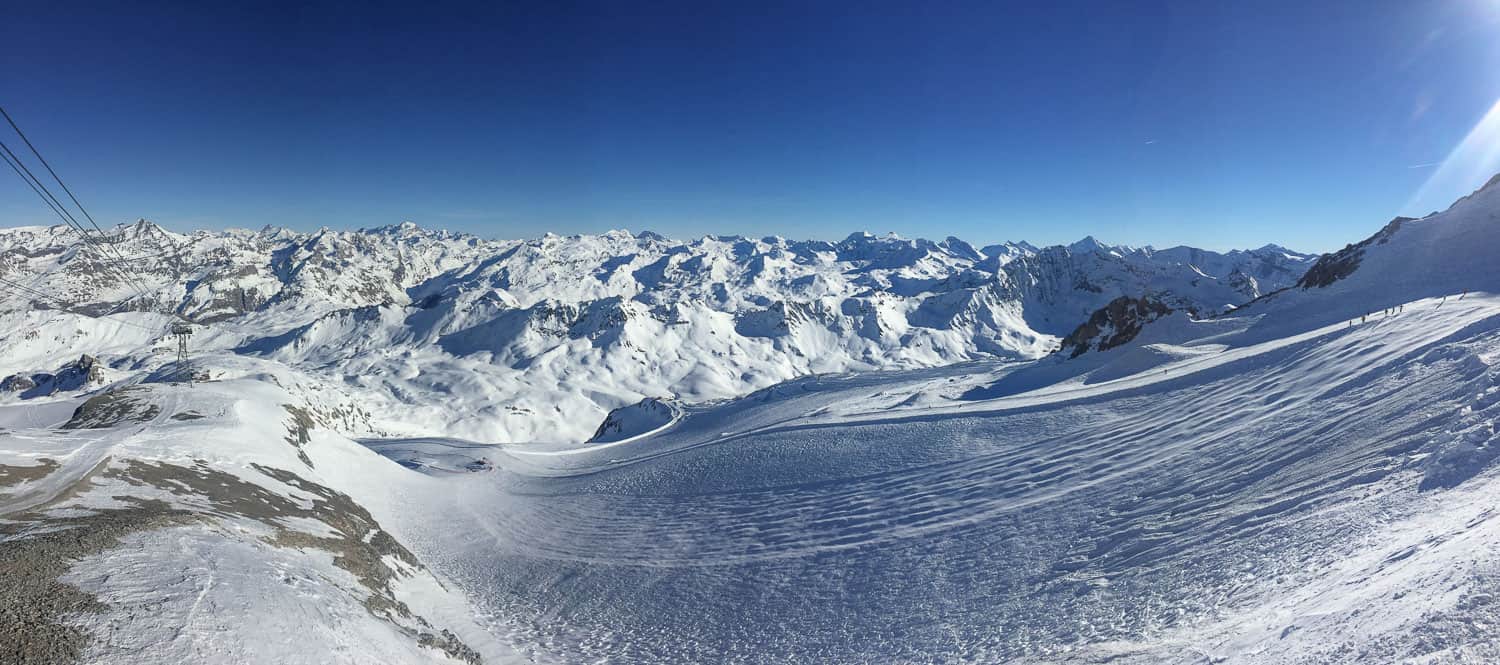 Everyone else in the cable car has skied off down the mountain and I am left alone, feeling tiny in this vast Alpine wilderness. I strap in and start the wide, steep red run that will take me down 1200 metres to Val Claret. This will be my most challenging run of the week with steep, icy slopes requiring vertigo-inducing turns. It is beautiful and terrifying.
I reach my fastest speed of the week and end the run successfully, exhilarated. I am tempted to do it again, but that run was too perfect, and instead I head up to the Grattalu snow park.
There are two snow parks in the Espace Killy, one in Tignes and one in Val D'Isere. Both have easy lanes with baby jumps for beginners like me—the main easy lane in Tignes is at the top of the Grattalu lift, although there is also an easy section at the bottom of the Grattalu, along with a much larger jump for more advanced skiers.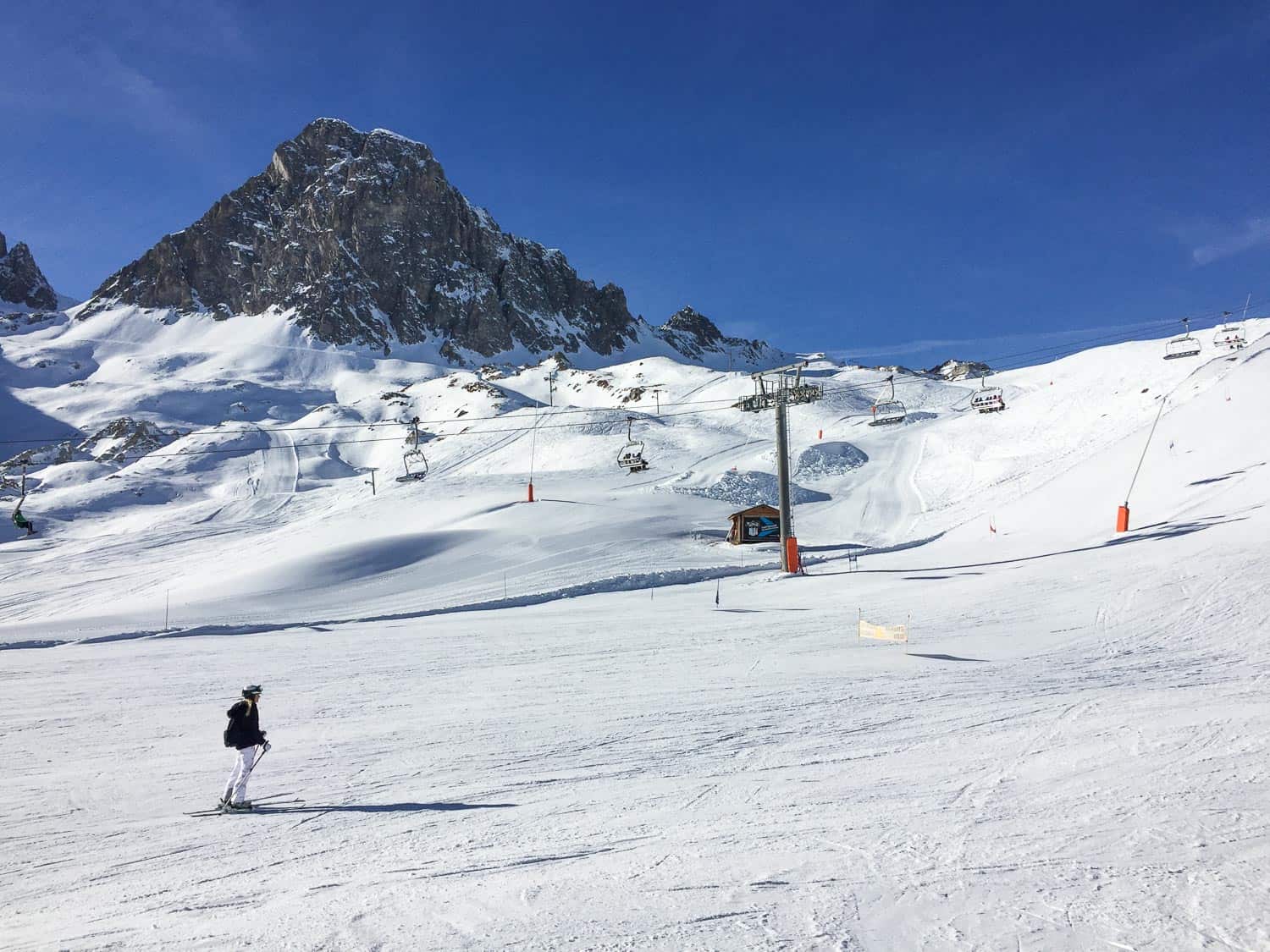 The park in Val D'Isere is much larger and more concentrated. When I visited, only half of it was open, but it still had three lanes (beginner, intermediate, pro) and the beginner lane included three jumps and a bunch of boxes and rails. Further up the slope, they were constructing more ramps. The Val D'Isere park is a lot busier—the jumps at the top of the Grattalu were empty 80% of the time I was there.
Although I am still on the smaller jumps, I land every one successfully, gradually increasing my speed and daring to add more and more pop at the height of the ramp. By the end of the day, I will hit my highest, with enough airtime for a cheeky frontside Indy. I want another week.
It's now early afternoon and I plan my long journey home, which will involve circumnavigating the mountains that surround Le Lac, but first I'll head back to the greens in Val D'Isere. Although they're not very challenging, they give me time to be in the mountains, soaking it all up and enjoying the unique way in which snowboarding and skiing allow you to experience an environment.
After the Genépy, I take a short break at the Bellevarde restaurant for a beer and tasty hot chocolate, then I'm back over to Tignes, hitting the jumps one last time, before heading down the Perce-Neige all the way into Le Lavachet, where we're staying, and finishing just 100 metres from our hotel Haut de Toviere.
It has been a perfect day. Clearly too perfect, as on the last blue run, I catch an edge and take a minor tumble onto the icy piste. I clearly still have work to do. I should come back soon.
Tignes Practicalities
Accommodation
Erin and I visited Tignes as guests of Alpine Elements who arranged our flights from London, airport transfers, accommodation at the almost ski-to-door chalet hotel Hauts de Toviere, and most meals. On previous ski trips we travelled independently and stayed in self-catering accommodation, but package holidays make total sense for ski trips where you have one goal: to spend as much time on the slopes as possible.
We loved having everything taken care of for us and especially the afternoon tea and delicious three-course meals that were provided after a long day on the slopes. It was so much easier than going out or cooking for ourselves—we felt truly spoiled. At £487 a week in mid-December, it was also excellent value.
We'll be writing more about our hotel and experience with Alpine Elements in our next post.
Transport
We flew into Geneva, Switzerland with Easyjet and out of Grenoble, France on an Alpine Elements charter flight. Both are about 3.5 hours by coach from Tignes. The nearest airport is Chambery, France, two hours away, but flights there are limited. Lyon is another possibility.
Coach transfers from the airports can be much more expensive than the flights, so we were happy that our transfers were included in our Alpine Elements package.
Another option is the overnight Eurostar ski train from London Waterloo to Bourg-St-Maurice, which is 30km from Tignes.
Tignes Villages
Tignes is made up of a number of different villages, which are linked by the lift system or a free bus service. The only ones I'd recommend for an early (or late) season ski trip are Val Claret, Le Lac, or Le Lavachet in the main valley. The other villages are lower down and weren't skiable when we visited.
We stayed in Le Lavachet, the smallest and quietest village. There are a couple of lifts that connect the village with runs to the rest of Tignes (although Paqui was closed for most of our stay) or it's a 3-minute free bus ride (or 10-minute walk) to Le Lac or 10-minute bus ride to Val Claret.
Le Lac and Val Claret are better connected to the major lifts and have more restaurants and bars, but it was so easy to get around that we didn't feel isolated in Le Lavachet and it's usually better value.
Lift Passes and Gear Rental
A 6-day lift pass to the Espace Killy area costs €250. Alpine Elements were running a buy-one-get-one-free offer when we booked our trip, and they arranged the passes for us so we picked them up from our hotel. We also hired our snowboards and boots from their shop in the hotel for €125 for six days (discounts are available if you book in advance).
Erin hired a ski jacket and trousers from the Tignes Spirit shop across the road from Hotel Hauts de Toviere for £40 for six days. It's cheaper if you book online in advance.
If you enjoyed this post, pin it!
Many thanks to Alpine Elements who hosted us in Tignes and to the excellent staff at Hotel Hauts de Toviere who made our stay truly special.