This page contains affiliate links. Please read our disclosure for more info.
We flew over a wilderness of snowy forests and frozen lakes. We couldn't see any houses or signs of human life other than what looked like tracks on the lakes. Did they drive on ice in Lapland?! A few weeks before we would have seen nothing but white, but in early May spring was arriving fast. It was still more snow than we'd seen in five years of following the sun around the world.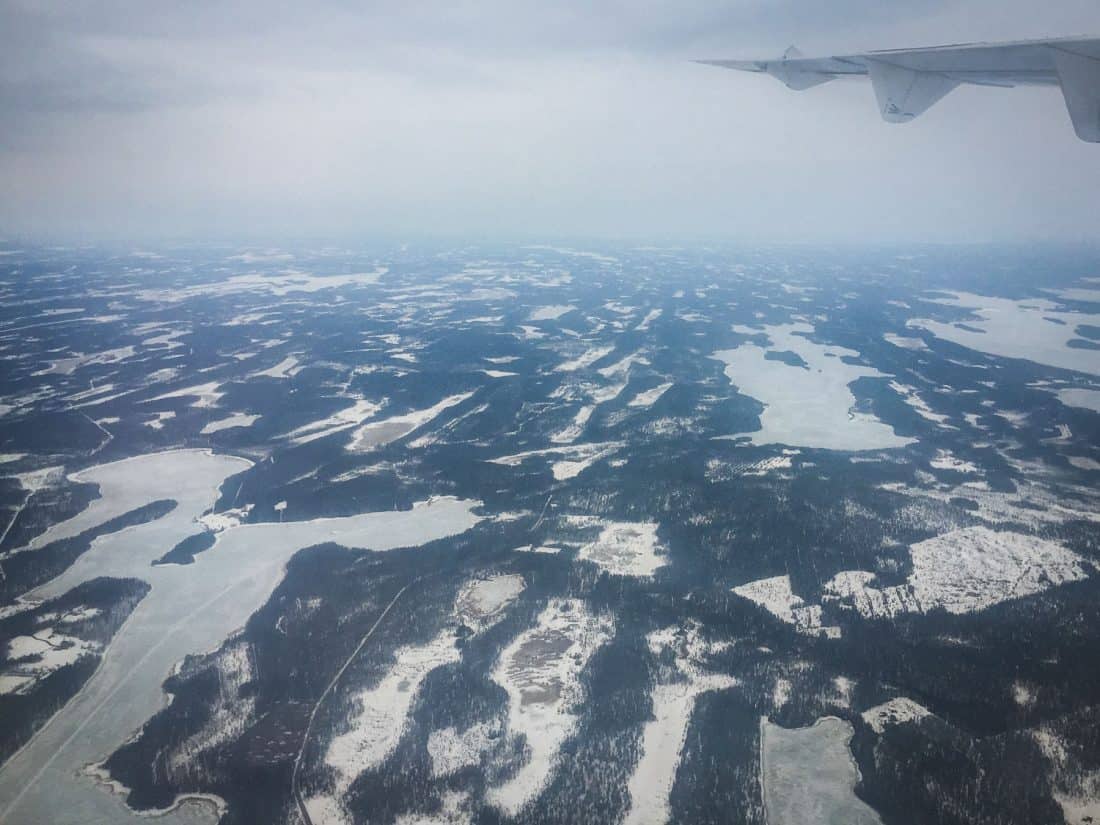 After landing in tiny Kuusamo airport we drove to the ski resort of Ruka past flat forests of melting snow. This didn't bode well for our weekend of snowboarding—where were the mountains? We did see a few reindeer grazing by the side of the road—one of our Lapland bucket list items achieved so soon!
At Ruka we finally gained some altitude, driving up a hill to reach the small village. It felt eerily quiet, with many places closed on the last weekend of the ski season. This was the reason we'd come. It had been seven years since we'd last snowboarded, but as we follow the sun finding the opportunity to get on the slopes is difficult. I knew we'd be in Europe in May and researched whether it was still possible to ski. I discovered that in Lapland in Finland it is. Ruka's ski season lasts for over 200 days from October to May. The plentiful snow isn't due to altitude—the highest point on the slopes is just 492m—but its position just south of the Arctic Circle.
This isn't the Alps. There are no grand mountain ranges, but the Lapland fells have a wild beauty that is just as appealing.

Ruka is a tiny village that you can walk around in five minutes, although there are plenty of shops, restaurants, and bars to meet the needs of those on a ski holiday. It feels like a local's resort as 75% of visitors are Finns, plus some Russians and there's a growing popularity with Brits—600 visited last season. The local feel is part of the charm and as all Finns we met speak excellent English it's not difficult to get by.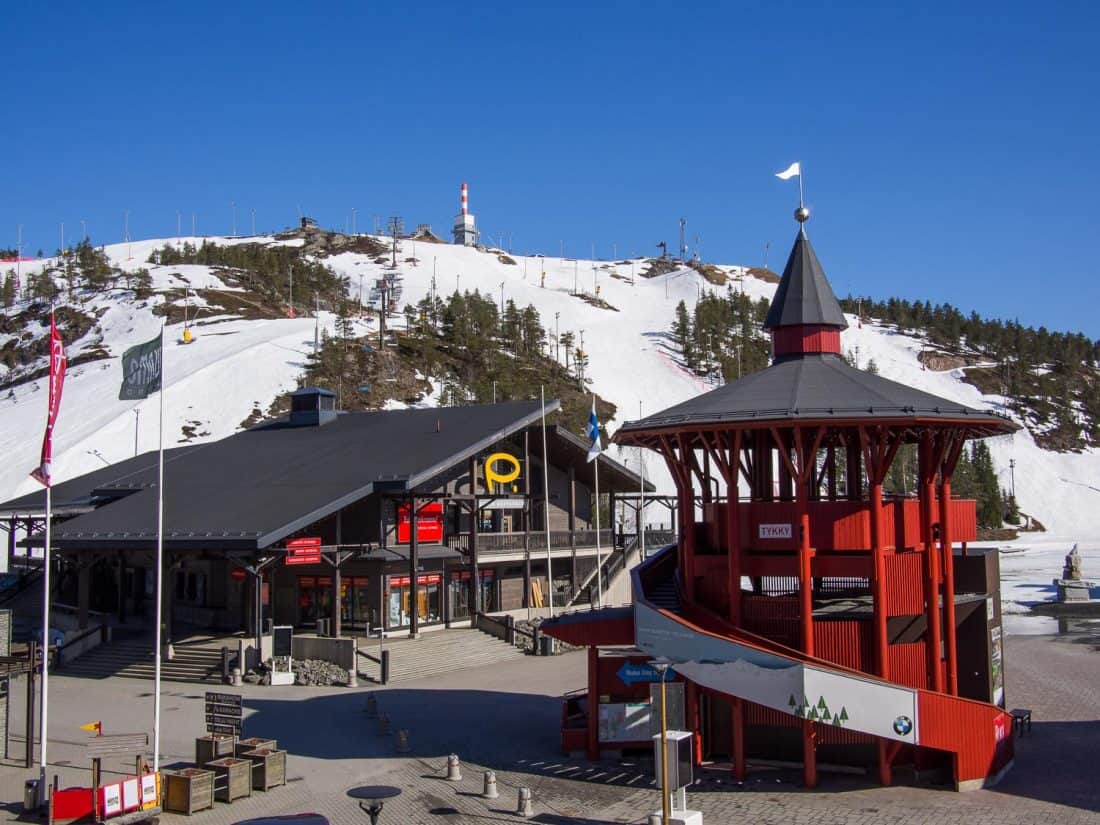 The next day we discovered the joy of small ski resorts—we had a 30 second walk from our apartment to the ski shop, where we picked up our passes and rental gear. The ski lift was next door and we hopped on without a wait. Previous ski holidays have always involved shuttle buses and long queues at lifts, so everything was refreshingly easy at Ruka.
I was nervous about our first day on the slopes as it had been so long and I've never been a very confident snowboarder. After a few unsteady moments getting off the ski lift it came back to me quickly though as we made our way down a lovely long and empty blue run. We soon remembered why we love to snowboard—the peace of the slopes as you hear nothing but the sound of the board swishing in the snow; the exhilaration of speeding down the slope; and for me, the sense of achievement as I force myself to do something that scares me.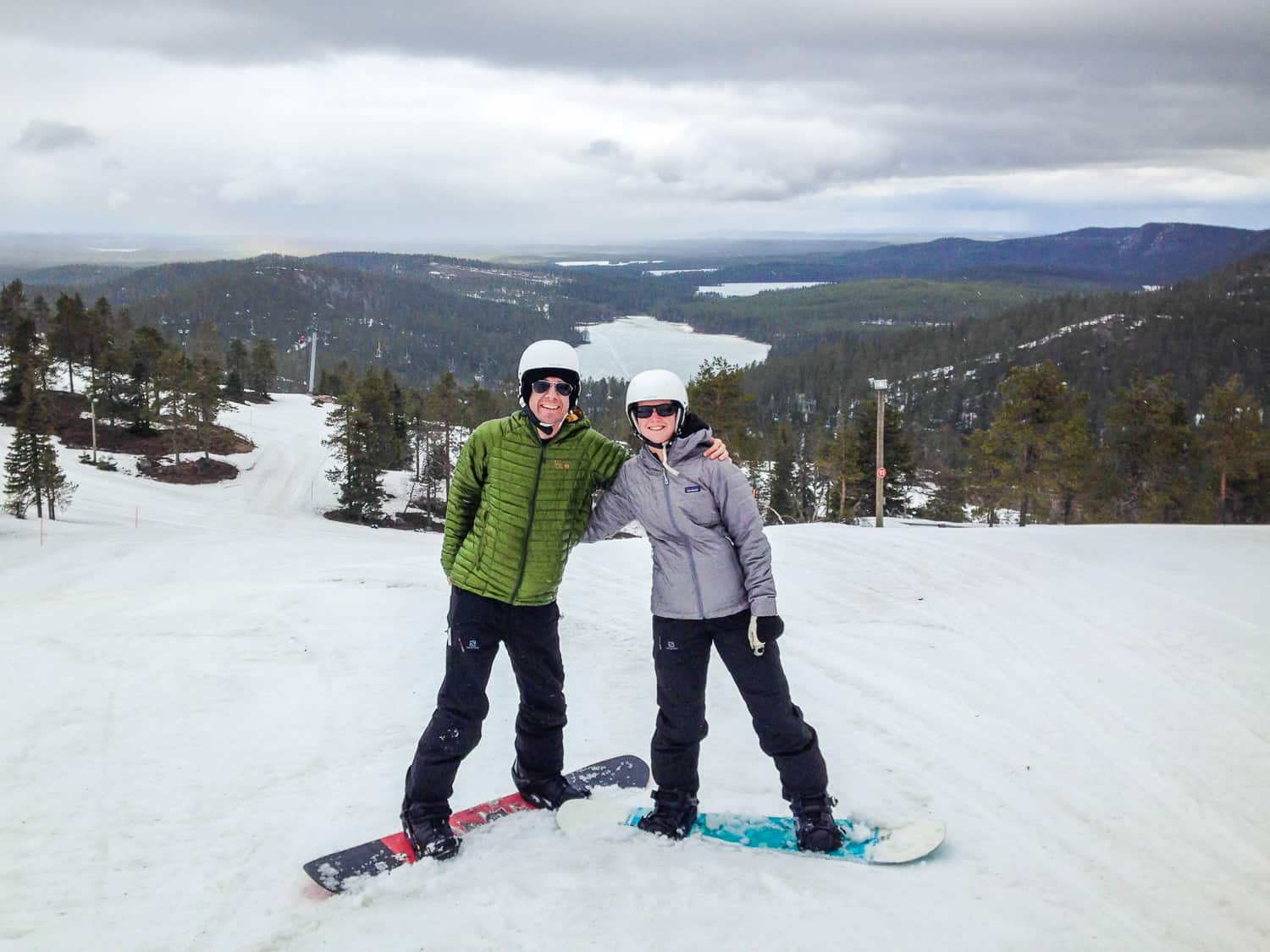 And what a place to do it—the views were stunning with frozen lakes and unspoilt forest stretching all the way to Russia.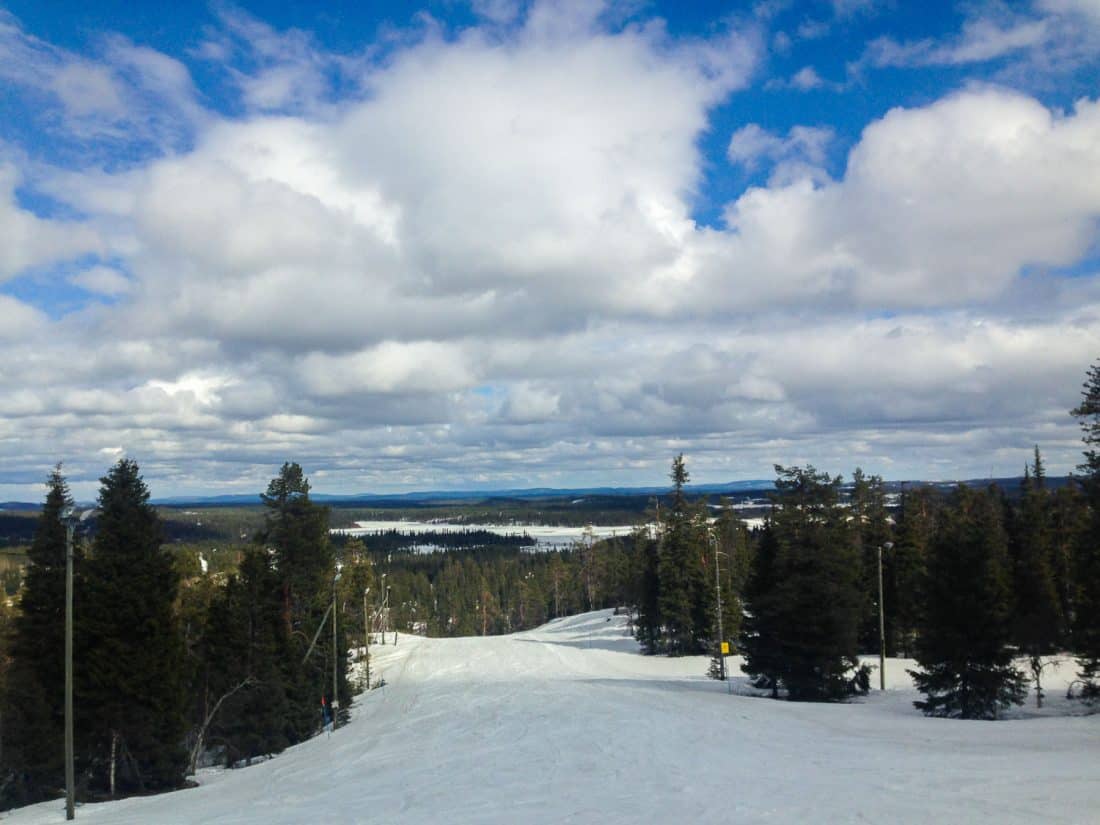 This late in the season half the slopes were closed, but there was enough to keep us occupied for a weekend, and the snow was surprisingly good. Best of all, the slopes were empty—we often had whole runs to ourselves, and rarely had to wait for a lift. I have a fear of ski lifts (if you snowboard you'll understand how tricky the exit can be) so I was pleased that Ruka's lifts were easy to use, especially the six-person Ruka Express which slows down as you exit and has a flat getaway.
Ruka isn't a huge resort—there are 34 slopes, mostly blues and reds, so it's ideal for intermediate skiers and boarders like me. One area that really stands out is the world class snow park and two half pipes. BatteryPark has three routes for different skill levels—from small hops and easy rails to insanely large jumps and boxes. This was the most popular area of the resort and where the expert locals love to ride. We even saw a few Finnish ski celebrities including Enni Rukajärvi, a 25 year old female snowboarder who won silver at the Olympics. Jumps aren't my thing but Simon enjoyed having a go.
We spent the whole day on the slopes (with an easy trip back to the hotel for lunch) and the weather was very variable—sunny one minute, raining the next, with temperatures from 3-12ºC—but we never felt cold. The advantages of skiing at this time of year are the long days (we had 18.5 hours of daylight) and mild temperatures, in contrast to the winter where the slopes are floodlit during the dark afternoons and temperatures fall to -25ºC or lower. On the other hand, I wish we'd been in Ruka a little earlier—March and April would have been ideal as we could have taken part in winter activities like husky sledding, reindeer safaris, snowmobiling, and northern light viewing, and seen the area fully coated in snow, while still enjoying long days and milder weather. In May, winter adventures had stopped, although we did discover some fun spring activities including a hike in Oulanka National Park and horse riding in the snow.
On our final afternoon boarding we discovered another aspect of what makes snowboarding in Lapland unique—we were joined by a herd of reindeer as we went down a nearly empty slope!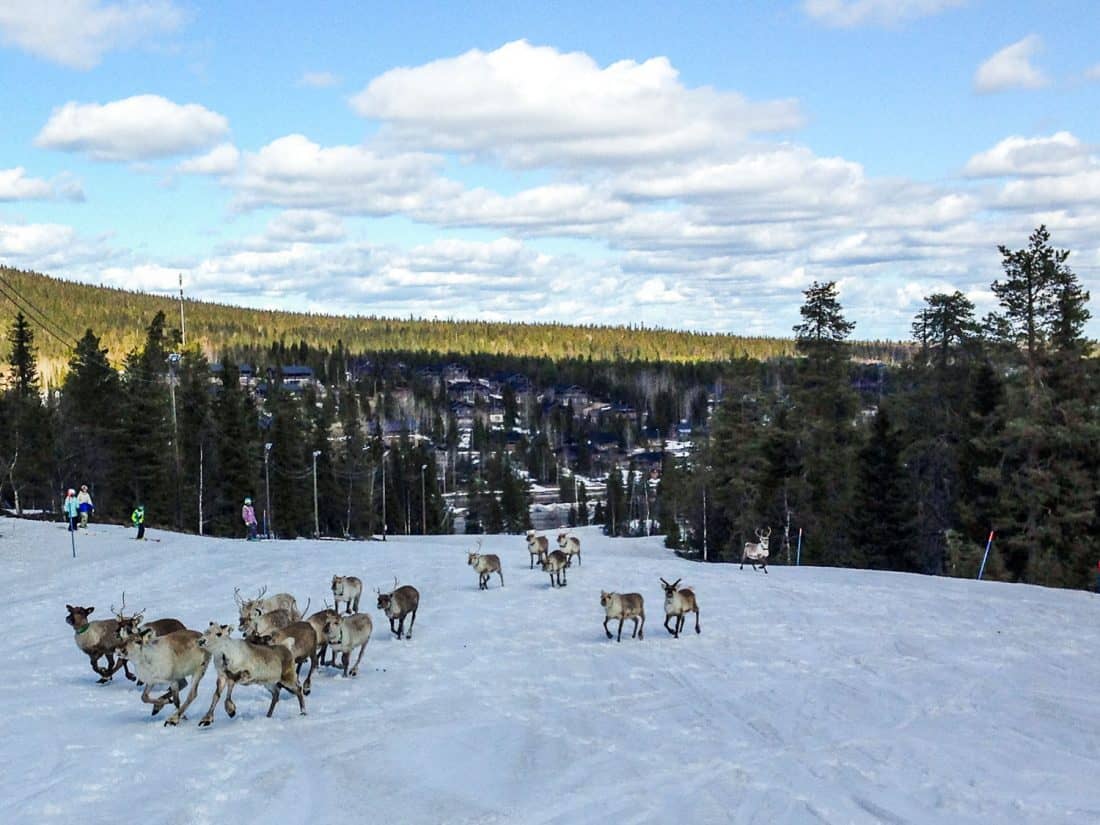 We weren't sure what to expect when we came to Finland on a snowboarding trip. It isn't your typical ski destination and in May we weren't even sure there would be any snow. But we were pleasantly surprised by Ruka—the excellent snow so late in the season, the wild beauty of the landscape, the empty slopes and quality snow park, the ease of staying in a small resort, and of course, the reindeer. We'd definitely recommend Ruka for an unusual ski holiday, especially if you want to combine it with other winter activities in Lapland.
Ruka Practicalities
When to Visit
Locals say that March and early April are ideal times to visit as there's still plenty of snow and winter activities to enjoy, but temperatures are milder and days longer. Christmas would also be magical, especially as you can visit Santa Claus! If you are looking for a spring ski break then the snow was still good in early May, although not all slopes were open and the resort was very quiet (a plus for us but maybe not for everyone). See our article on spring activities in Ruka beyond the slopes.
How to Get to Ruka
We flew from Helsinki to Kuusamo with Finnair (operated by Flybe). A bus meets all flights for the 25 km trip to Ruka. Crystal Ski arrange package ski holidays at Ruka with direct flights to Kuusamo from Manchester and London in the UK.
Where to Stay
We stayed at Ski-Inn Apartments which has the perfect location across the road from the ski lift and rental shop. We loved the short commute and being able to easily go back for lunch. They have apartments and rooms in various sizes. Our studio apartment was modern and comfortable with a bed, couch, small kitchen, and nice bathroom with its own sauna! We had a view of the slopes from our balcony, and a heated clothes drying cabinet for our ski gear. It was convenient to have our own kitchen as many of the restaurants had closed at the end of the season.
There's free, fast WiFi available throughout the resort.
Where to Eat
The best meal we had was at RukaTonttu restaurant. It has a fantastic location on the edge of the village with lake views—there's even an ice swimming area if you are brave enough. The staff were lovely and did a special vegetarian menu for us that was absolutely delicious—cauliflower soup with cashew crumble, barley risotto with local mushrooms, and apple and rhubarb crumble.
Ski Passes
A day pass costs €38 and a week pass is €185. Night skiing is available on Fridays from December to April. Passes are also valid at the sister resort Pyhä.
Many thanks to Visit Finland who sponsored our trip to Ruka.