This page contains affiliate links. Please read our disclosure for more info.
On previous ski trips we've always travelled independently and stayed in self-catering accommodation, but in December we had our first experience of a package ski holiday with Alpine Elements. And what a difference it made! We didn't have to spend hours searching for the best deals on flights, transfers, and accommodation. The whole trip was easy and stress-free, and catered accommodation was a revelation—we loved having delicious meals provided and not having to go out for dinner or cook for ourselves after a tiring day on the slopes.
Ski trips are different from other travels. For most people they aren't about exploration or culture—the goal is to spend as much time on the slopes as possible. So having everything taken care of for you makes total sense.
Another huge advantage is that a trip where everything was provided was probably cheaper than if we'd arranged it ourselves—certainly if we had eaten out every night.
We also benefited from expert knowledge. Alpine Elements have accommodation in a number or ski resorts in France and Austria, and as our ski trip was early in the season in mid-December, they recommended we choose Tignes in France, which is one of the most snow-sure resorts in Europe. With plentiful snow, quiet slopes, no lift queues, 300km of runs to choose from, and clear blue skies, Tignes was the perfect choice—read more about Tignes here.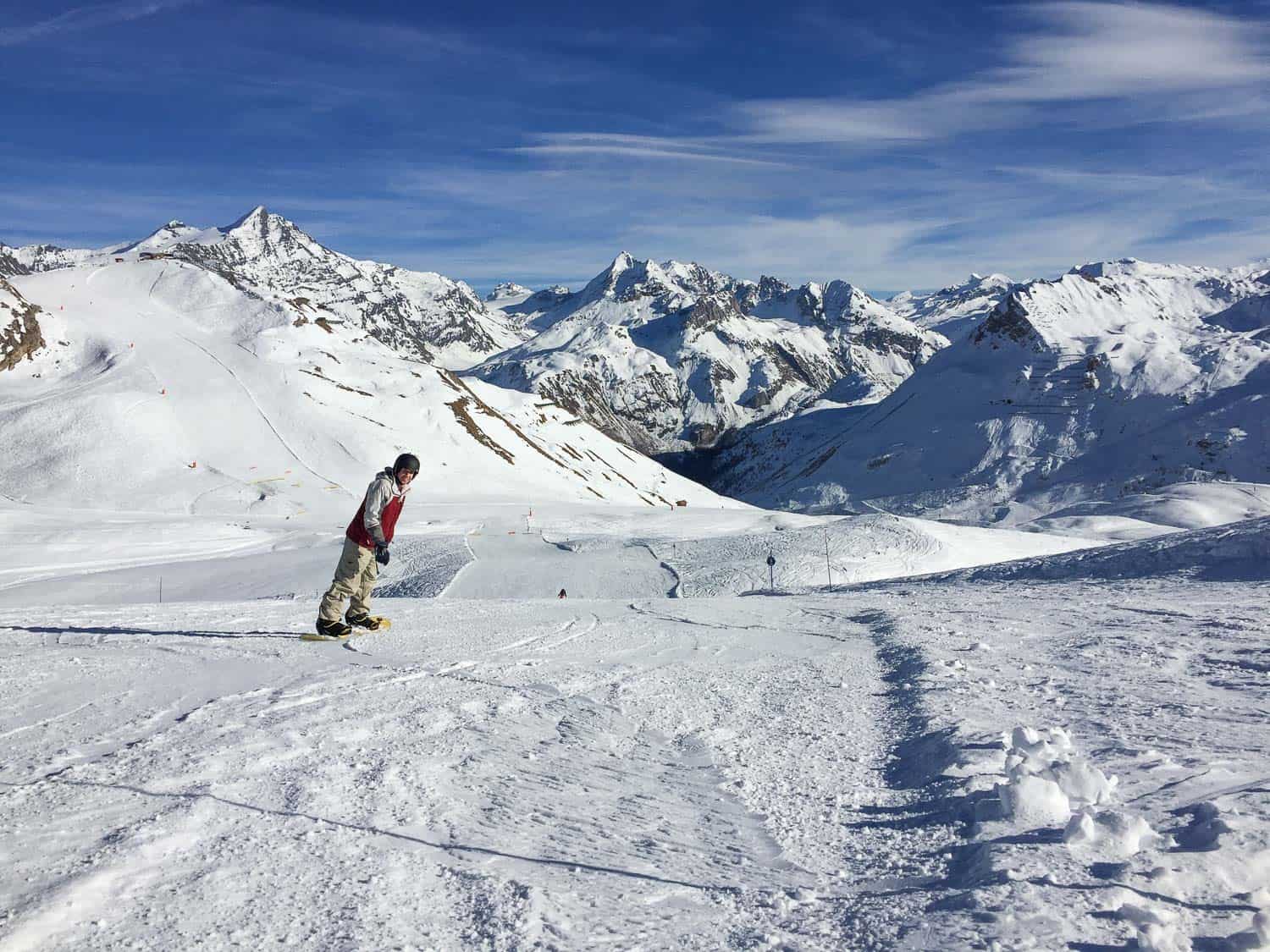 Here's what to expect on an Alpine Elements ski holiday.
Arrival and Departure
Alpine Elements arranged our flights as part of the package and we flew on an early morning Easyjet flight from London Gatwick to Geneva in Switzerland. As soon as we arrived a group of Alpine Elements staff greeted us and took us to our coach for the transfer to the resort. It was all very easy and one of the biggest advantages of being on a package holiday as we didn't have to worry about arranging our own transfers, which can be very expensive.
The coach had limited legroom, but it was warm and I slept most of the way on the three-hour journey to Tignes, waking occasionally to enjoy the views of snow-topped mountains and Alpine lakes. The Alpine Elements rep came around towards the end of the journey to give us a welcome pack. We could also book ski passes and gear at this point if we hadn't already. We were able to pick up our passes at the hotel reception that evening, saving us the journey to the ski resort office.
When we arrived at Hotel Haut de Toviere in the Lavachet area of Tignes, we were expecting to wait ages to check-in, as they had a coach load of people to process. Instead, as soon as we stepped into reception, one of the large team of staff took us straight to our room. No waiting and no paperwork to do, which made a nice change from our usual hotel arrivals.
We arrived at 12.30pm and the hotel provided an early afternoon tea to save us having to go out to lunch. The spread included French bread, croissants, pain au chocolate, cake, fruit, tea and coffee with a view of the slopes from the restaurant.
The other guests were a mix of mostly British couples and small groups of families and friends aged from their 20s to their 70s, plus one family with younger children.
Our departure from the hotel was just as easy and efficient, despite the 4.30am departure time. We flew back to Gatwick from Grenoble on a chartered flight and the transfer was about the same length as from Geneva.
Room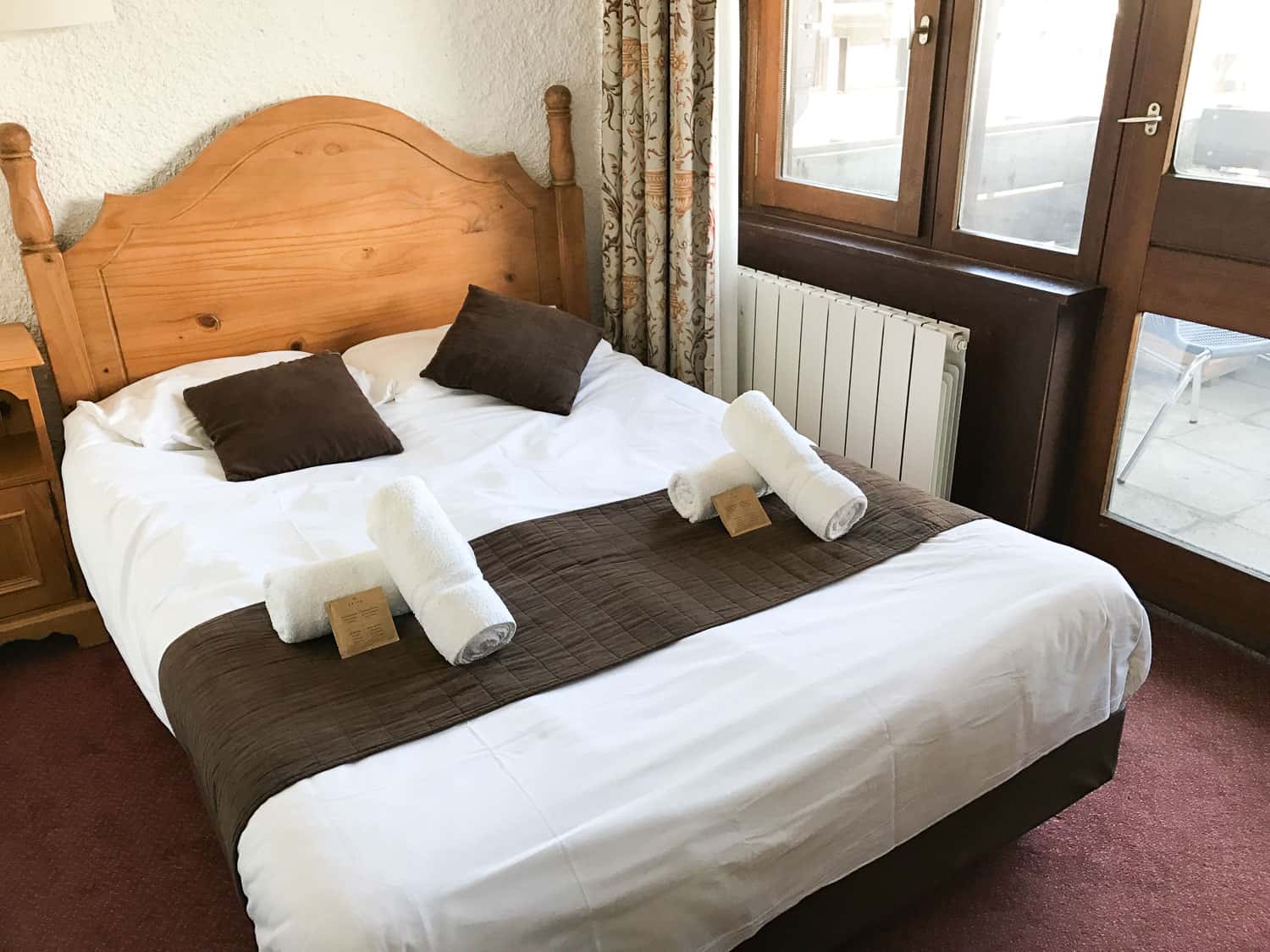 We stayed in a double ensuite room with a balcony overlooking the mountains. It was simple, clean and small with not much extra space around the bed, desk, wardrobe and one bedside table. There was no TV, tea/coffee making facilities or fridge. We found it cosy and quite comfortable, and most people don't spend much time in their room on a ski trip.
The large windows meant there was lots of light, and I loved lying in bed and seeing icicles dripping down from our balcony and the ski slopes just beyond.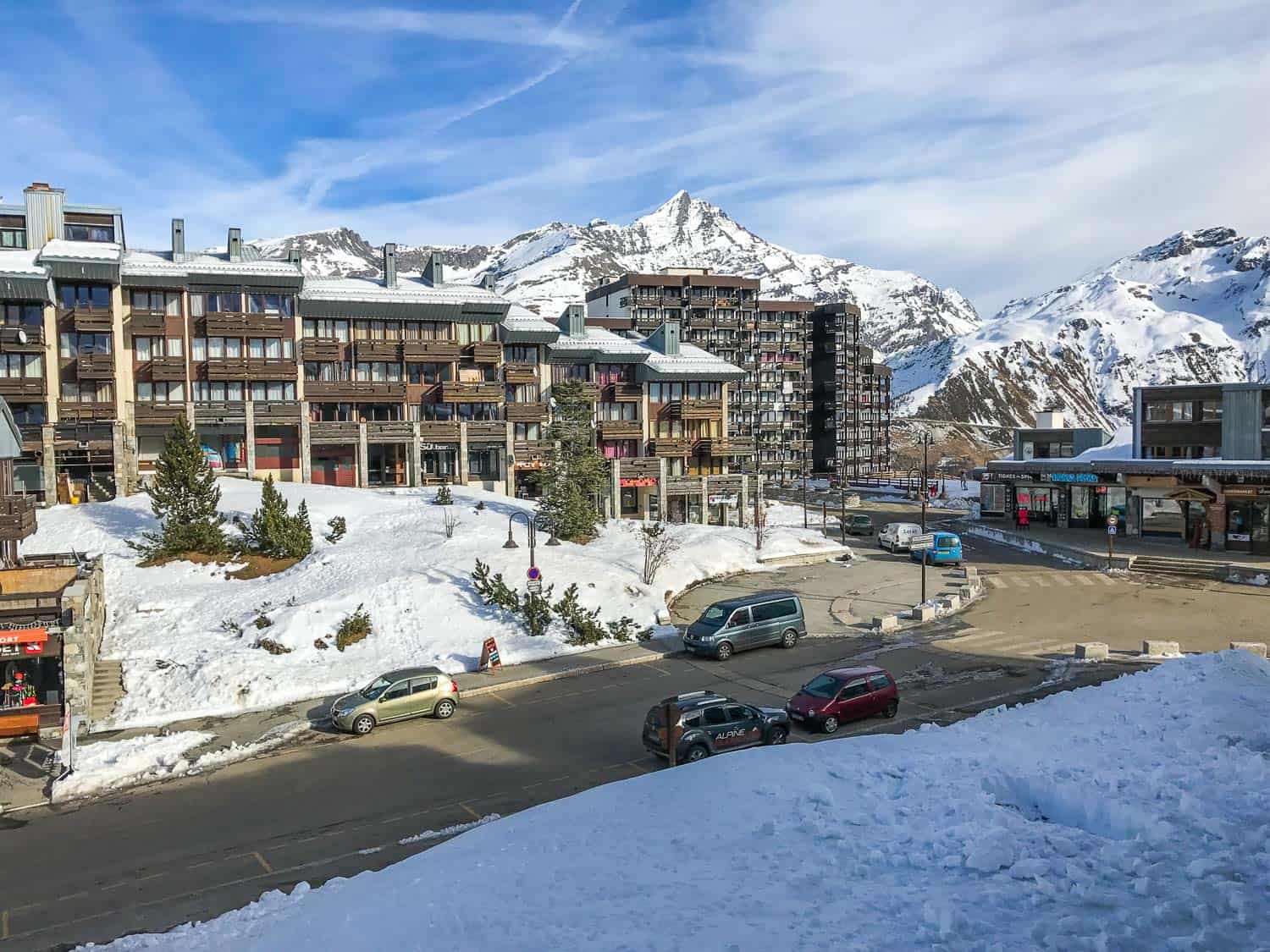 The ensuite was simple but clean with a good hot shower that we appreciated after a day on the slopes. We would have liked a bath to ease our aching muscles, but some of the rooms do have them. Toiletries are minimal—just shower gel sachets—but you can request extras.
We didn't expect the WiFi to work in our room, but it did and we could even stream TV.
Common Areas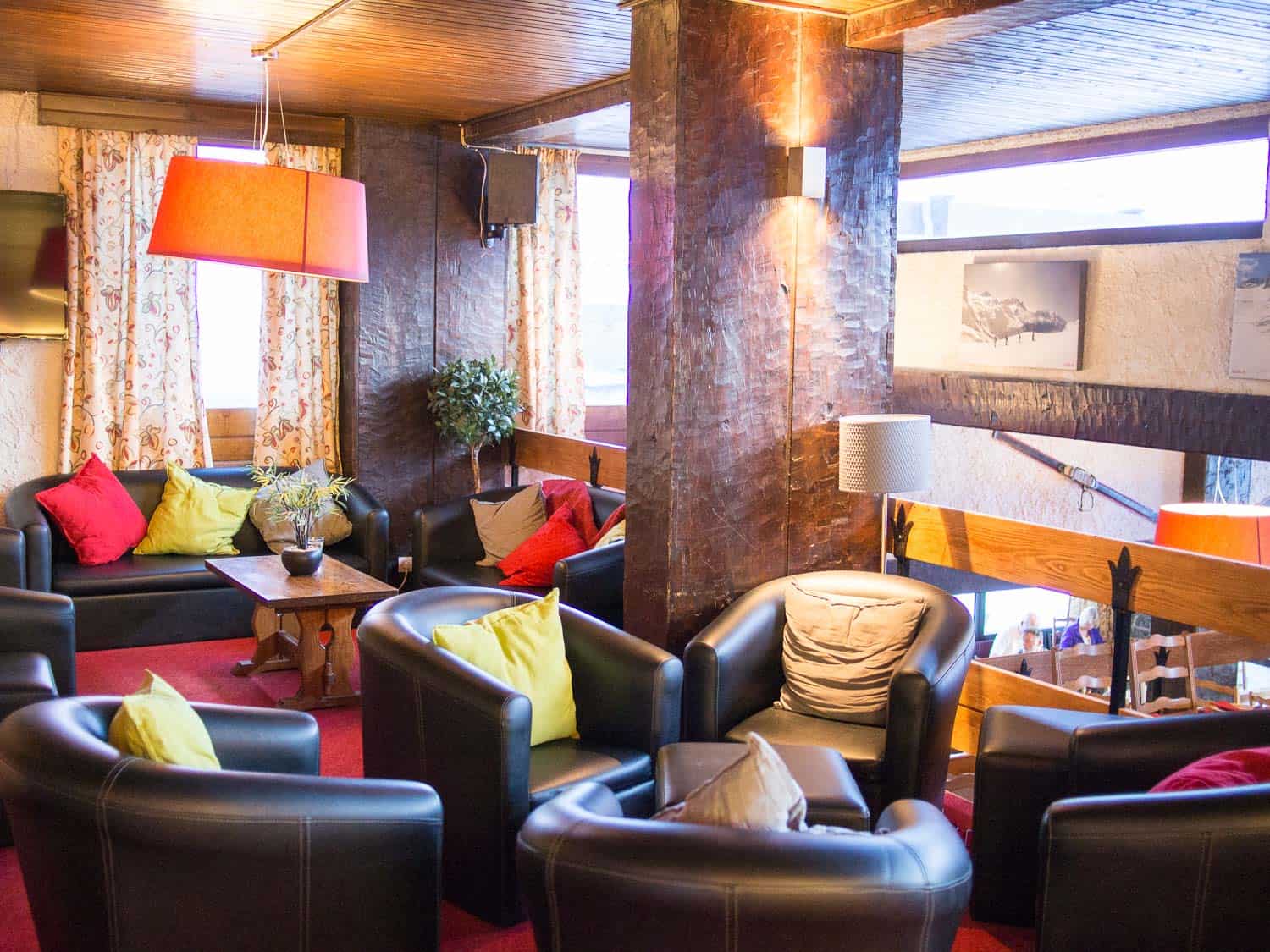 Overlooking the restaurant is a bar and lounge for happy hour drinks (which follows on nicely from afternoon tea) with comfy seating for relaxing or chatting with other guests. Disappointingly there's no open fire for the quintessential Alpine experience.
Staff
The Alpine Elements staff at Hotel Haut de Toviere were a highlight of our stay. They were all young, friendly, and eager to please. It was really the best customer service we've experienced, even in much more expensive hotels.
This isn't the place to come for French culture, though. All the staff were English, but this made communication very easy. Any issues we had were quickly sorted and they brought us extra pillows, soap, and a hair dryer when we requested them. At breakfast on the second morning we filled in a first impressions survey and all the small issues we raised were solved by the time we got back from the slopes that afternoon.
It was handy having someone available to ask about the best slopes and where to find the most snow. The staff made restaurant recommendations and bookings for the staff night off and even went across the road to the restaurant to make the booking when they couldn't get through by phone. When one guest was injured they took him to the medical centre in the neighbouring village. We felt the staff would do whatever they could to make our stay as enjoyable as possible.
The staff also organised evening activities like a bar crawl, bowling, and quiz night if you want to be sociable, but there's no pressure to join in (we didn't).
A major advantage of coming on a package holiday with a company like Alpine Elements who have hotels and chalets in many resorts is that they were able to swap some guests who were booked into other resorts to Tignes as their original resort lacked snow. If you travel independently you have no choice but to go ahead whatever the ski conditions.
Food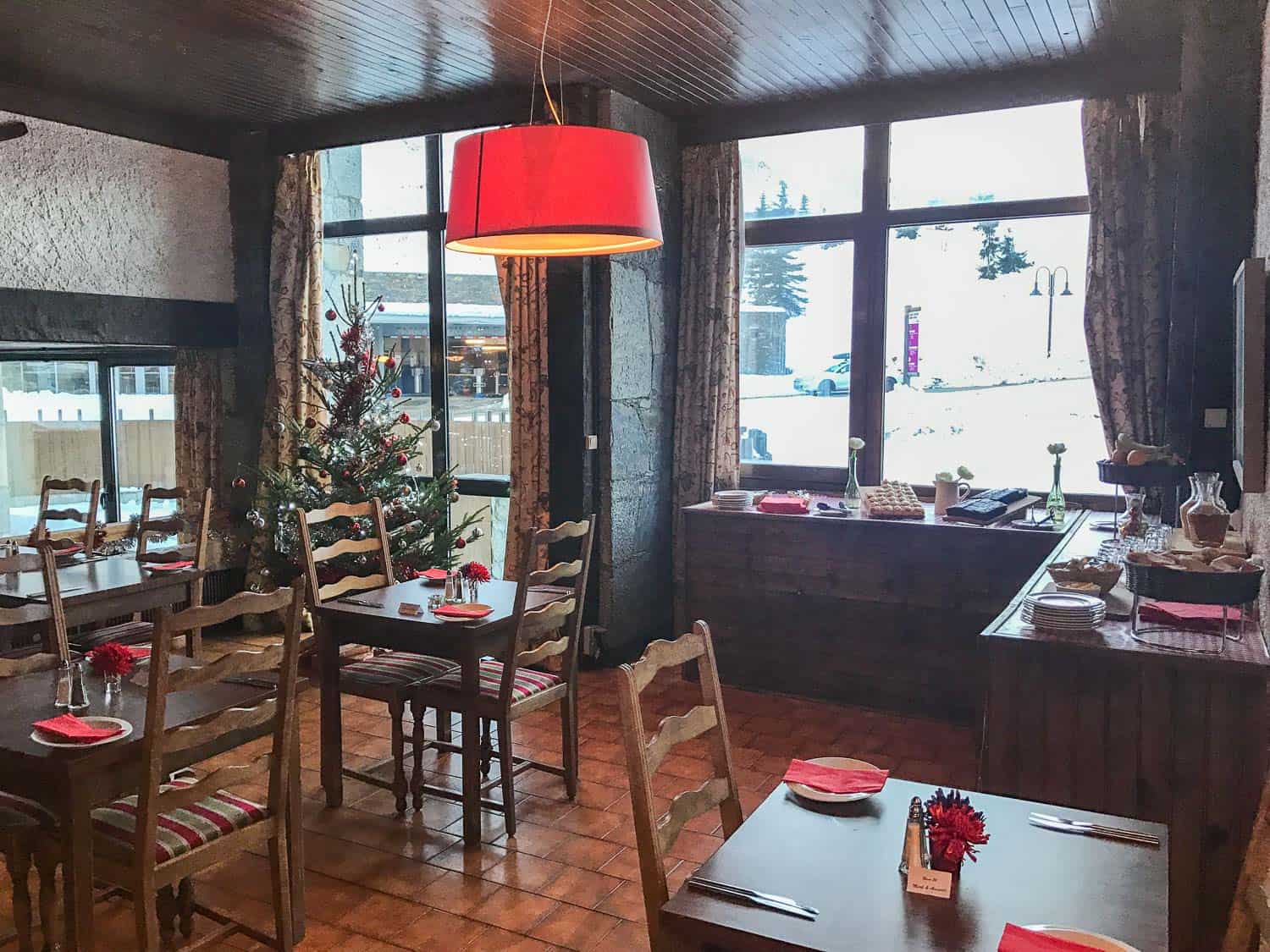 Hotel Haut de Toviere is a chalet hotel which means that most meals are provided including breakfast and afternoon tea every day and dinner six days a week. On the staff night off you have the opportunity to eat out at one of the many restaurants nearby.
The food was excellent and we loved not having to cook for ourselves or go out into the cold night for dinner. Each group was allocated a table in the restaurant for the week, and at breakfast we chose our dinner from the daily changing menu that included three starters and mains (with at least one vegetarian option) and two desserts. They can cater for dietary requirements and we were happy with the vegetarian options.
Breakfast (8–9am) included a continental spread of croissants, bread, fruit and cereal and a hot option that changed daily. Hot breakfasts during our week were a full English, pancakes, omelette, and scrambled eggs.
From 4.30–5.30pm we could help ourselves to afternoon tea— tea, coffee, juice, two types of freshly baked cakes, baguette, and fruit. It was a nice treat at the end of a day on the slopes, especially if we'd had a light lunch.
A three-course dinner is served at 7.30pm (or 8pm if you prefer) and the food was much better than we expected. It wasn't gourmet, but it was hearty, plentiful and tasty, similar to gastro pub grub. Our vegetarian starters were usually soup or a tart. Mains included goats cheese and spinach wellington with roast potatoes, vegetable lasagna, sweet potato crumble, chickpea tagine, and veggie burgers.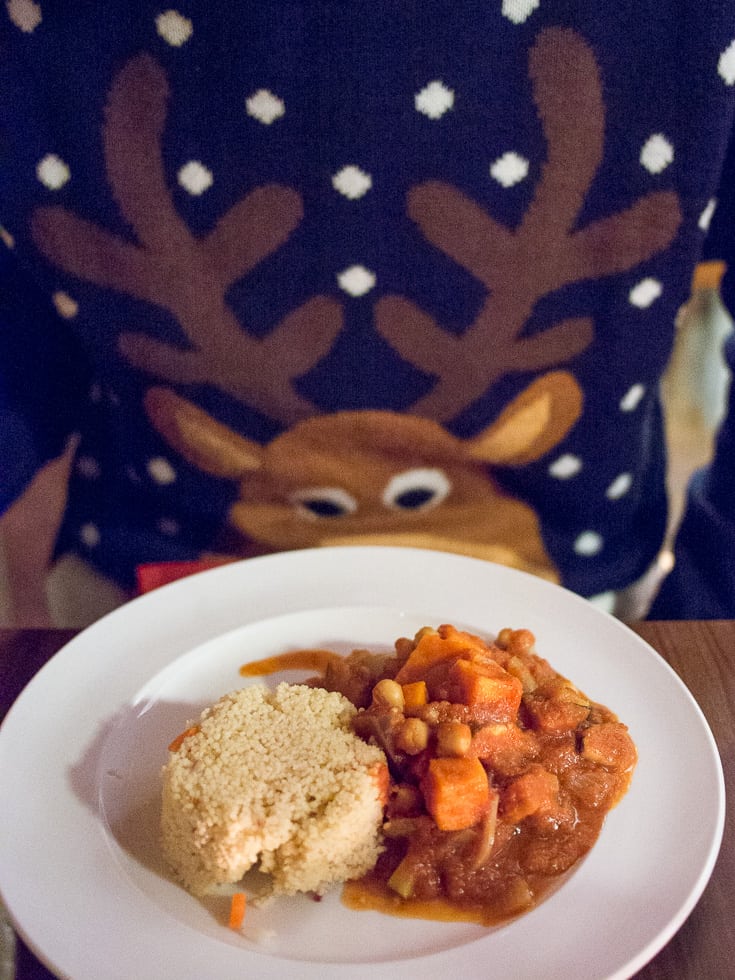 Portions were so big we struggled to finish dessert even when we shared. Sticky toffee pudding, chocolate mousse, fruit crumble, lemon tart, and brownie were some of the temptations.
Wine isn't included at Haut de Toviere (it is in some Alpine Elements chalets) and costs €3.50 a glass.
Location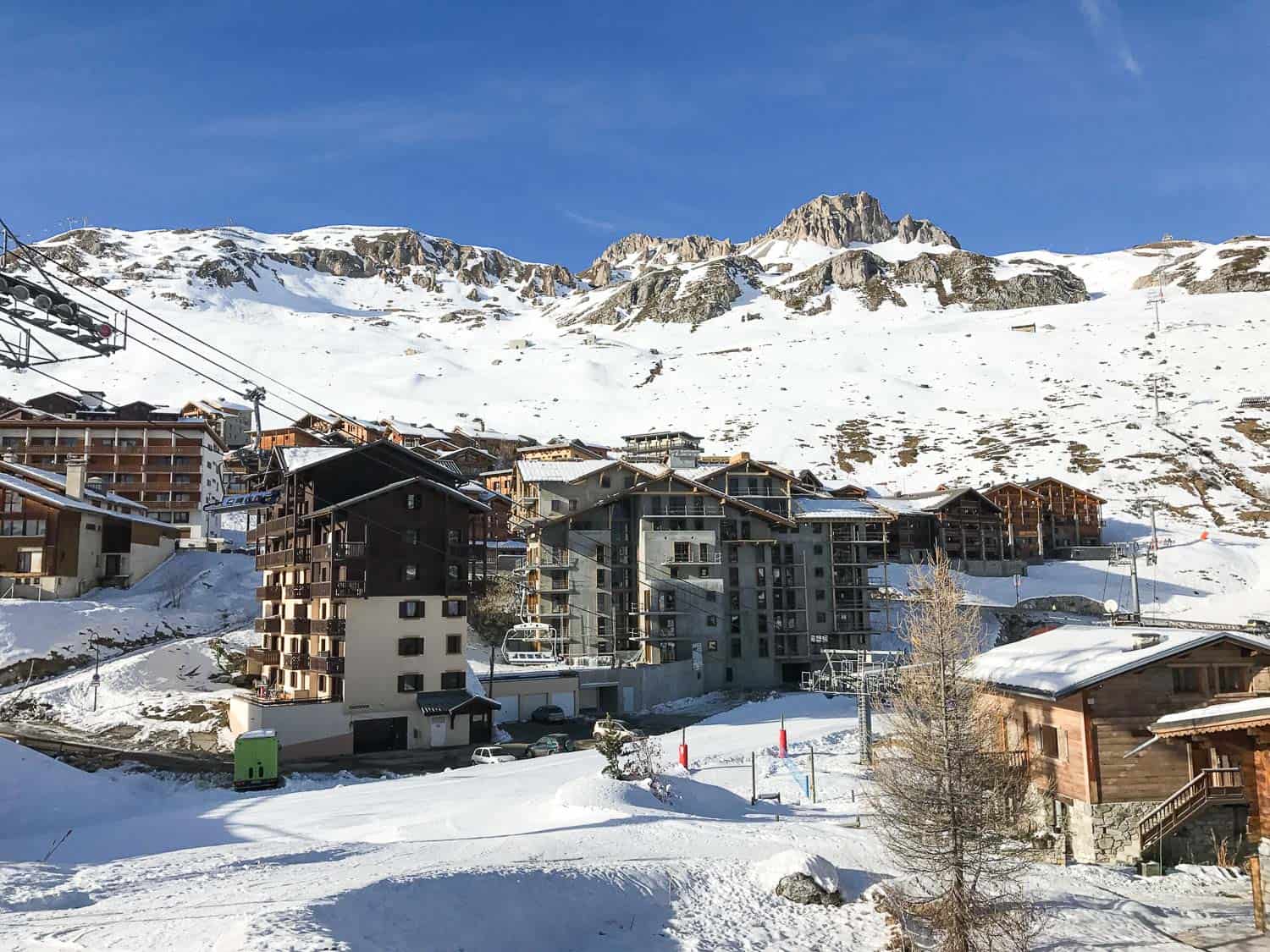 Tignes is made up of a number of villages and Hotel Haut de Toviere is located in Lavachet (at 2100m), the smallest and quietest village in the main valley. We found the location really convenient—just a 3-minute free bus ride (or 10-minute walk) to Le Lac or 10-minute bus ride to Val Claret. Lavachet has a few shops, restaurants and bars and there's even more choice in Le Lac.
The hotel is 100 metres from two ski lifts that take you up either side of the valley. Unfortunately, the Paqui lift was closed for most of our stay and I didn't like the blue run that led from the top of the Chaudanne lift down to Le Lac as it has a long narrow flat section which is a pain on a snowboard (and I'm not very confident). I usually got the bus to Le Lac where there are more lifts and a gondola to the top of Toviere. When Simon was by himself he'd take the Chaudanne lift or the button lift up the beginner ski area (which doesn't require a ski pass) and ride down a green run to Le Lac from there.
There are a few choices of runs back including a short green run that connects Le Lac to Lavachet, so you can ski almost all the way home.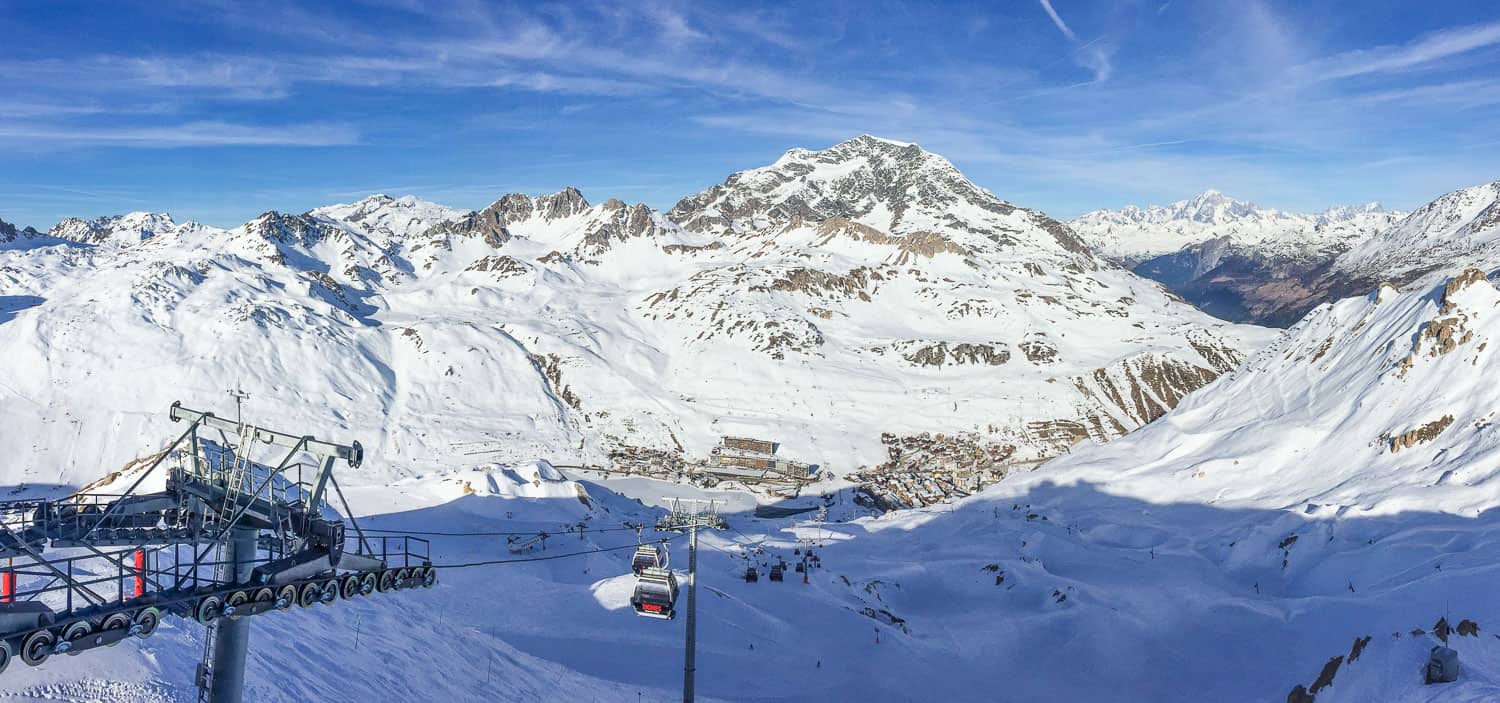 Costs
The cost of an Alpine Elements ski holiday to Hotel Haut de Toviere varies depending on the time of year. For the week we visited (11–18 December) it cost £487.50 per person including direct flights, resort transfers, accommodation, breakfast and afternoon tea each day, and three-course dinners for six nights. This is excellent value and I can't imagine we'd have been able to save money by arranging things ourselves, especially if we'd have eaten out every night.
When we booked, Alpine Elements were also offering buy-one-get-one-free ski passes (€250 each for six days) and ski rentals (€125 for a snowboard and boots), which makes it even better value.
Prices are higher later in the season but January is still good value. You can see prices for a ski holiday to Hotel Haut de Toviere on the Alpine Elements website.
Alpine Elements have hotels, chalets and self-catering apartments in a number of resorts in France and Austria. Their last minute deals are particularly good value such as £346 for a week at a chalet in Meribel in January. Check their website for the latest deals.
Summary
Alpine Elements ski holidays are excellent value, well-organised, and so much easier than arranging a trip independently. We loved staying in a chalet hotel with meals provided and don't think we'll go back to self-catering ski trips. If you are looking for an easy, budget ski holiday we highly recommend them.
If you enjoyed this post, pin it!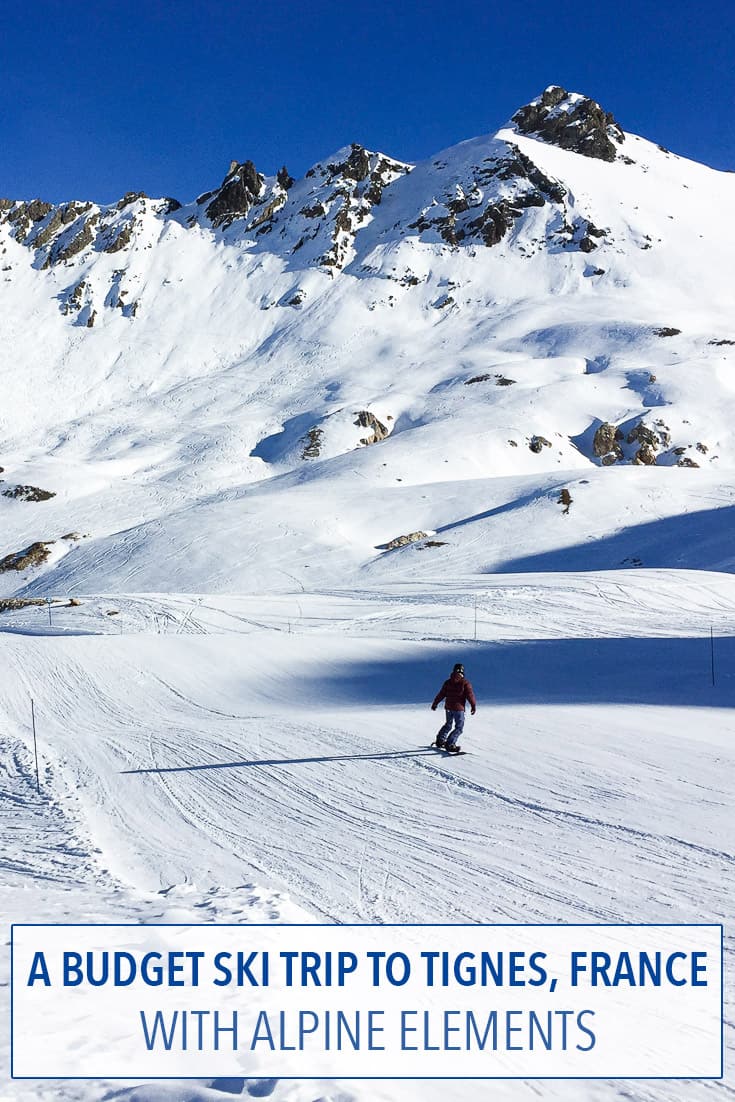 Many thanks to Alpine Elements who hosted us in Tignes.