This page contains affiliate links. Please read our disclosure for more info.
Packing for a ski trip in just one carry-on bag is possible! If you are travelling with your own skis or snowboard, you'll need to check your gear, but if you are renting equipment, you can fit all the clothes you need for a week skiing in one bag.
Below you'll find our tips on how to pack for a ski trip and the ski trip packing list we used for our visit to Tignes in the French Alps.
Contents
How to Pack for a Ski Trip
Here are a few tips to make packing light for a ski holiday easier:
Wear your bulkiest clothes like your ski jacket and as many warm layers as possible on the plane to save space.
Use compression bags to squeeze bulky items like ski trousers and fleeces into a small package.
Pack the rest of your clothes in packing cubes, which also help save space. Read our guide on how to use packing cubes.
Consider hiring ski clothes at your resort if you don't own any. I did this and it helped save space. Simon borrowed some from friends and still managed to fit everything he needed in his backpack.
Choose clothes made from odour-resistant fabrics like merino wool that won't smell after a few wears.
Dry ski socks (and gloves) on radiators at the end of the day. If they get too smelly, you can wash them in the sink using soap or shampoo.
See our packing list for cold weather for more tips on packing light for winter travel.
Ski Trip Packing List
If you are wondering what to pack for a ski trip, here's our ski packing list for a one week trip. Use it as a checklist for your own ski holiday.
Simon and I packed very similar things so this list is what both of us took. I've noted if an item was just for one of us.
Luggage
Check the carry-on luggage restrictions of the airline you are travelling with. Usually, any backpack or suitcase that measures 56 x 36 x 23 cm (22 x 14 x 9 inches) or less will be fine. This is the luggage we used:
Clothes Storage
Erin
Simon
Ski Clothes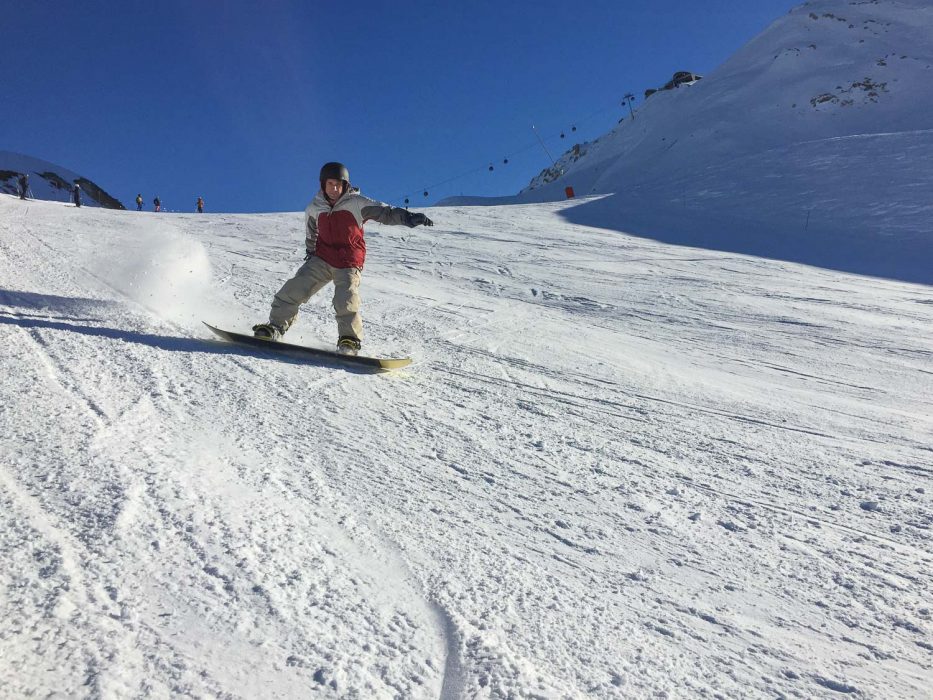 Essential ski gear for six days on the slopes. We were snowboarding but clothes are no different for skiing.
Ski jacket – Wear it on the plane.
2 long sleeve base layers – Base layers are ski trip essentials. Merino wool tops, like those made by Icebreaker, are warm and odour-resistant. Wear one on the plane.
1–2 long johns (thermal leggings) – Simon didn't need these as he doesn't get as cold as me.
2 t-shirts – I wore mine over my base layer for an extra layer. We like Bluffworks Threshold and Icebreaker Tech Lite, which are both odour resistant.
1–2 lightweight fleece or mid layer – An extra warm layer between your base layer and jacket. Simon didn't need one. Wear it on the plane.
3 thin socks (optional) – We wore ours under our ski socks.
7 underwear – ExOfficio are light and quick drying.
2 sports bras (Erin)
Sunglasses or goggles
Helmet – We hired ours at the resort.
Clothes for Evenings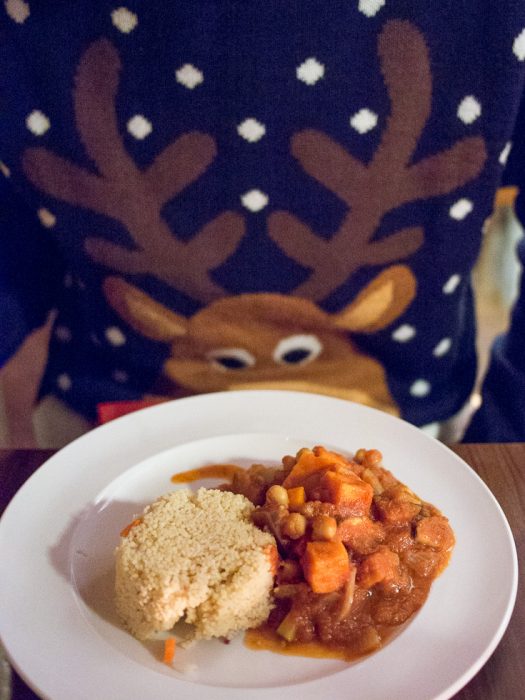 Apres-ski is casual in ski resorts with some people still wearing their ski wear, so there's no need to dress up.
2 jeans or other trousers – Wear one on the plane. Aviator jeans for women and men are very comfortable and travel-friendly with hidden zipped pockets.
3 tops – Wear one on the plane.
2-3 sweaters (layer as necessary) – Wear one or two on the plane.
1–2 bras (Erin) – Wear one on the plane.
5 socks
Winter boots – Wear on the plane. Simon had waterproof hiking shoes instead—he currently travels with Keen Explore shoes.
Woolly hat – Wear on the plane (or stuff in your jacket pockets).
Gloves – Wear on the plane.
Scarf – Wear on the plane.
Pyjamas (if needed)
Toiletries
If you are flying, make sure everything is in bottles under 100ml (3oz) and can fit in one small ziplock bag. For a week ski holiday, you won't need more than 50ml (1.5oz) of any toiletry.
Suncream – Don't forget to apply this to your face every day. We used Ultrasun once-a-day face SPF 30.
Lip balm with SPF – Our lips got very dry.
Lush solid shampoo bar – For hair and body.
Moisturiser
Deodorant – We use Salt of the Earth solid natural deodorant.
Toothbrush
Toothpaste
Razor
Shaving oil (Simon) – Much smaller than shaving foam.
Hairbrush and hairbands
Painkillers like Ibuprofen (just in case).
Dimenhydrinate (Dramamine) – For motion sickness on the transfer to the resort.
Any prescription medication
Electronics
Smartphone – The easiest camera to have on the slopes unless you have a Go-Pro.
Tablet or laptop (optional) – For watching films in the evenings.
Charging cables
Documents
Passport – Make sure it's valid for at least six months.
Flight booking or boarding pass (if you can check in online)
Travel insurance details – Make sure it covers ski trips.
Driving licence (more convenient ID than a passport)
Debit/credit cards
Cash – Or just withdraw local cash when you arrive.
Wallet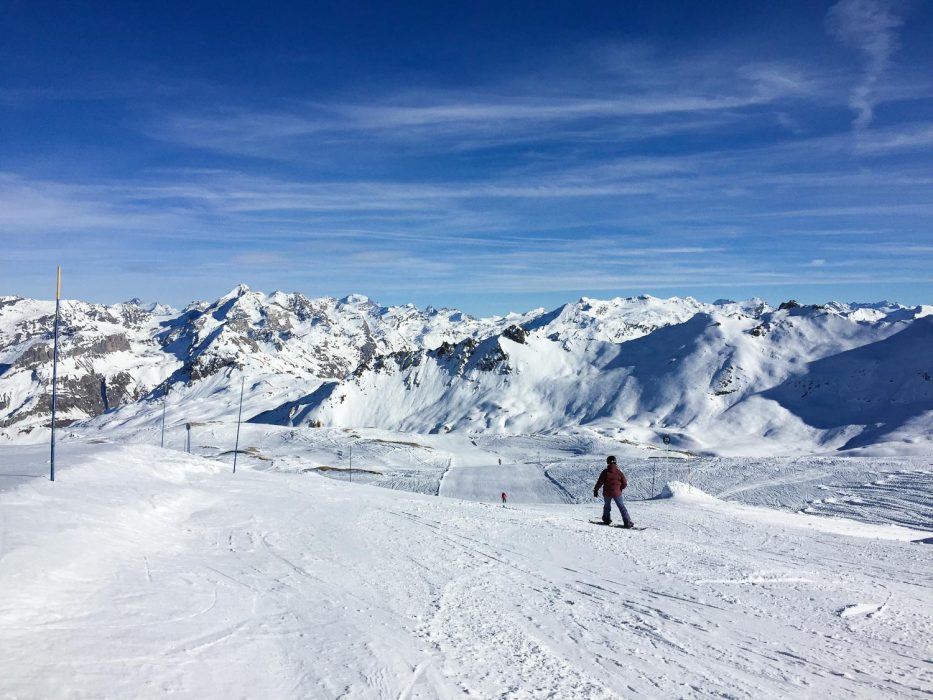 We didn't find we lacked anything by packing for our ski trip carry-on only and it was easy to fit everything in our backpacks.
We loved saving time at the airport by not needing to check in luggage (especially for a 6 am flight!) or wait for it at the baggage carousel.
Have we missed anything? What essentials are on your ski holiday packing list?
More Carry-On Packing Resources
If you'd like to learn more about how to travel carry-on only, see my book, The Carry-On Traveller: The Ultimate Guide to Packing Light, which is available in paperback or Kindle formats on Amazon.
You can also see our other posts about packing light:
If you enjoyed this post, pin it!