This page contains affiliate links. Please read our disclosure for more info.
Travelling carry-on only is possible whether you are away for a week or a year. We've been on the road for eight years with just one carry-on backpack each and wouldn't travel any other way.
In this post you'll learn how to travel with just a carry on in 10 simple steps based on our many years of experience.
The Benefits of Carry-On Travel
Save time at airports – If we check in online, we avoid check-in desk queues, and when we arrive we head straight out the airport without waiting at the baggage carousel.
Save money – We avoid airline fees for checking in luggage, which are becoming more common and can cost $25 or more per bag.
Reduce stress – Life with less is simpler. On hectic travel days, we only have one bag to keep track of, and it's easy to walk around looking for accommodation or getting to the bus station.
More security – We don't have to worry about airlines losing our checked baggage, and we can keep our luggage close on buses and trains—it's safer by our feet than in storage compartments.
More freedom – It's liberating to realise how little we really need. We don't feel burdened by our stuff—by travelling with just a backpack we can pack up in ten minutes and head off on our next adventure.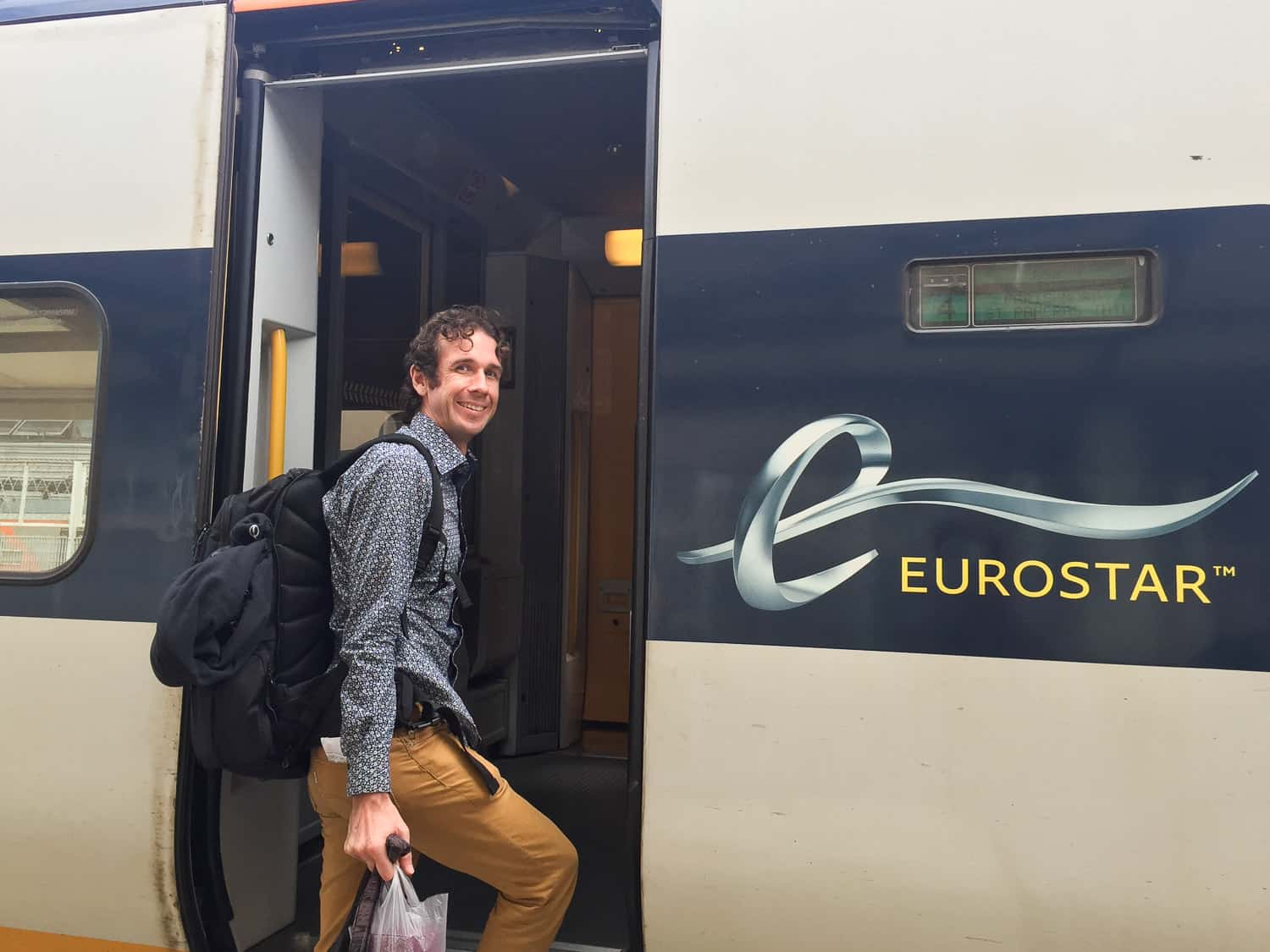 10 Steps to Carry-On Only Travel
1) Choose Carry-On-Size Luggage
Start by choosing luggage that is within most airlines' size restrictions. The most commonly allowed size of carry-on luggage is 56 x 36 x 23 cm (22 x 14 x 9 inches), although some budget airlines only allow smaller bags.
We prefer to travel with a backpack as it keeps our hands free, and we can move around easily without having to drag a suitcase up stairs or over cobblestone or dirt streets.
Around 40 litres is a good size for a carry-on backpack. Simon uses the Tortuga Setout and I have the Osprey Farpoint 40—read our detailed review here.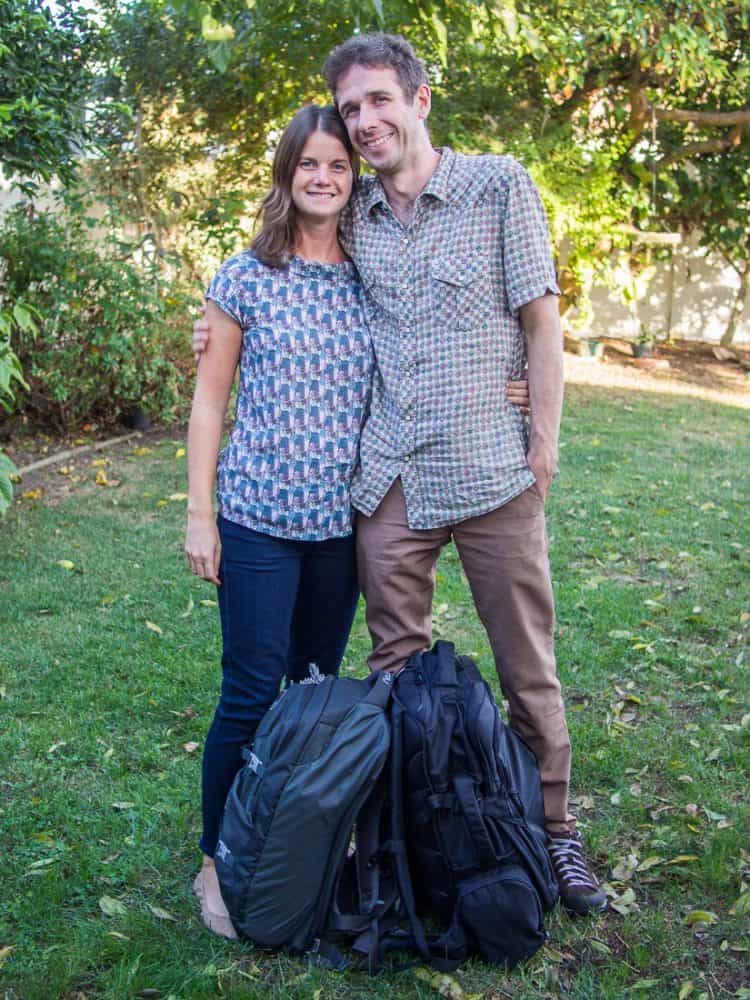 If you have any back issues (or just don't like backpacks), a suitcase is a better option. For long term travel, look for a suitcase with rugged wheels to navigate rough terrain. A soft-sided case will weigh less and can be squeezed into smaller spaces. The Osprey Ozone 22″ is a popular option.
Most (but not all) airlines allow an extra small bag or personal item in addition to your main bag. We find it easier to travel with just one backpack each.
We also have a light packable daypack that packs inside Simon's backpack on most travel days. When we need something more robust for a long hike, we empty out my backpack and use that.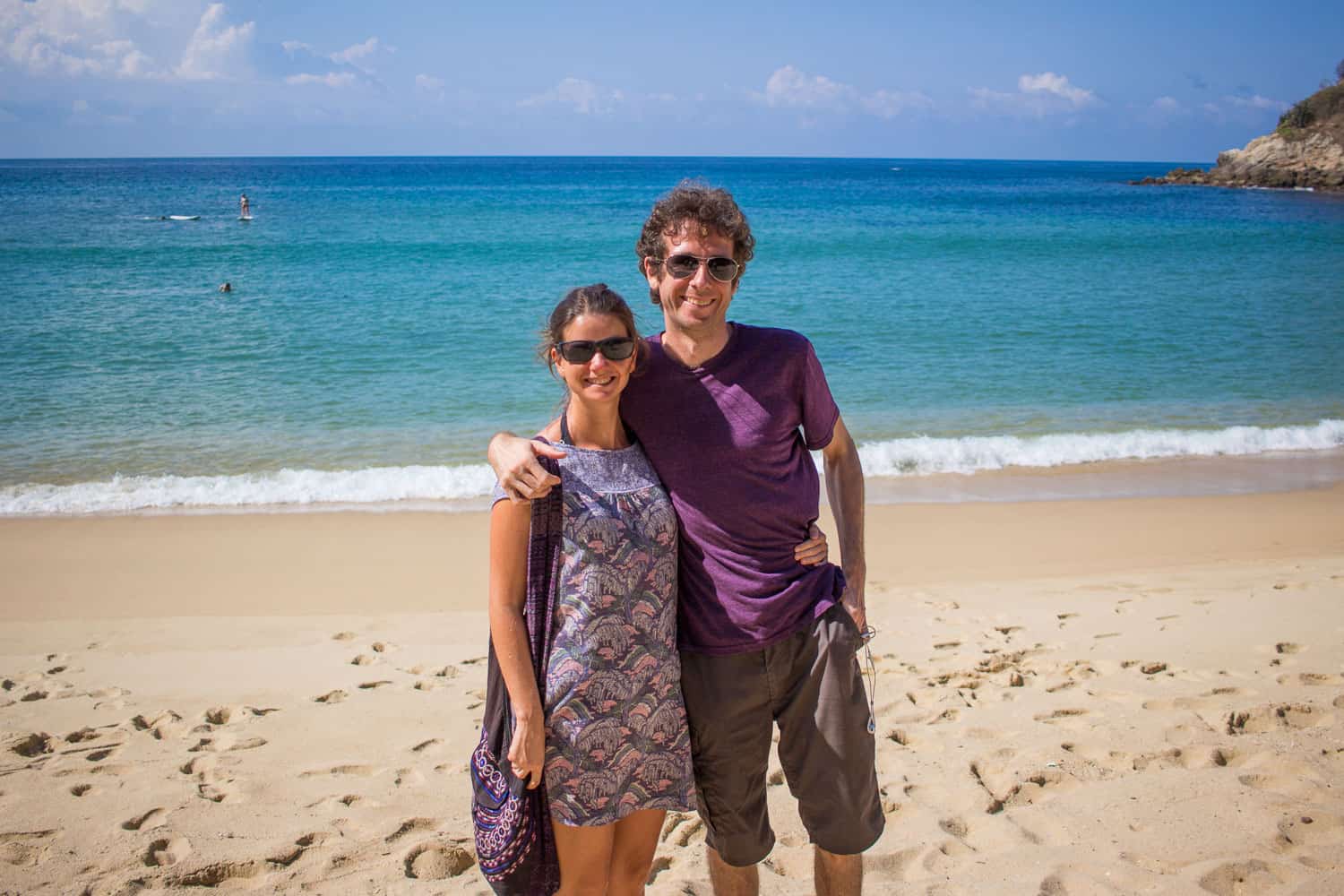 2) Pack for a Week
It doesn't matter whether you are travelling for a week or a year (or 8+ like us!)—only pack enough clothes for a week and then do laundry.
Laundry services are inexpensive in many parts of the world—in Southeast Asia and Latin America, we typically pay $1 per kilo. Or we hand wash clothes in a sink (I use the hotel shampoo or shower gel), or rent Airbnb apartments with washing machines.
Choose lightweight, quick-drying fabrics for your travel wardrobe. Make sure all your clothes can be worn together so that you can mix and match and create multiple outfits. 10-12 items of clothing and 2-3 pairs of shoes is usually enough. You can use accessories to change things up.
3) Use Packing Organisers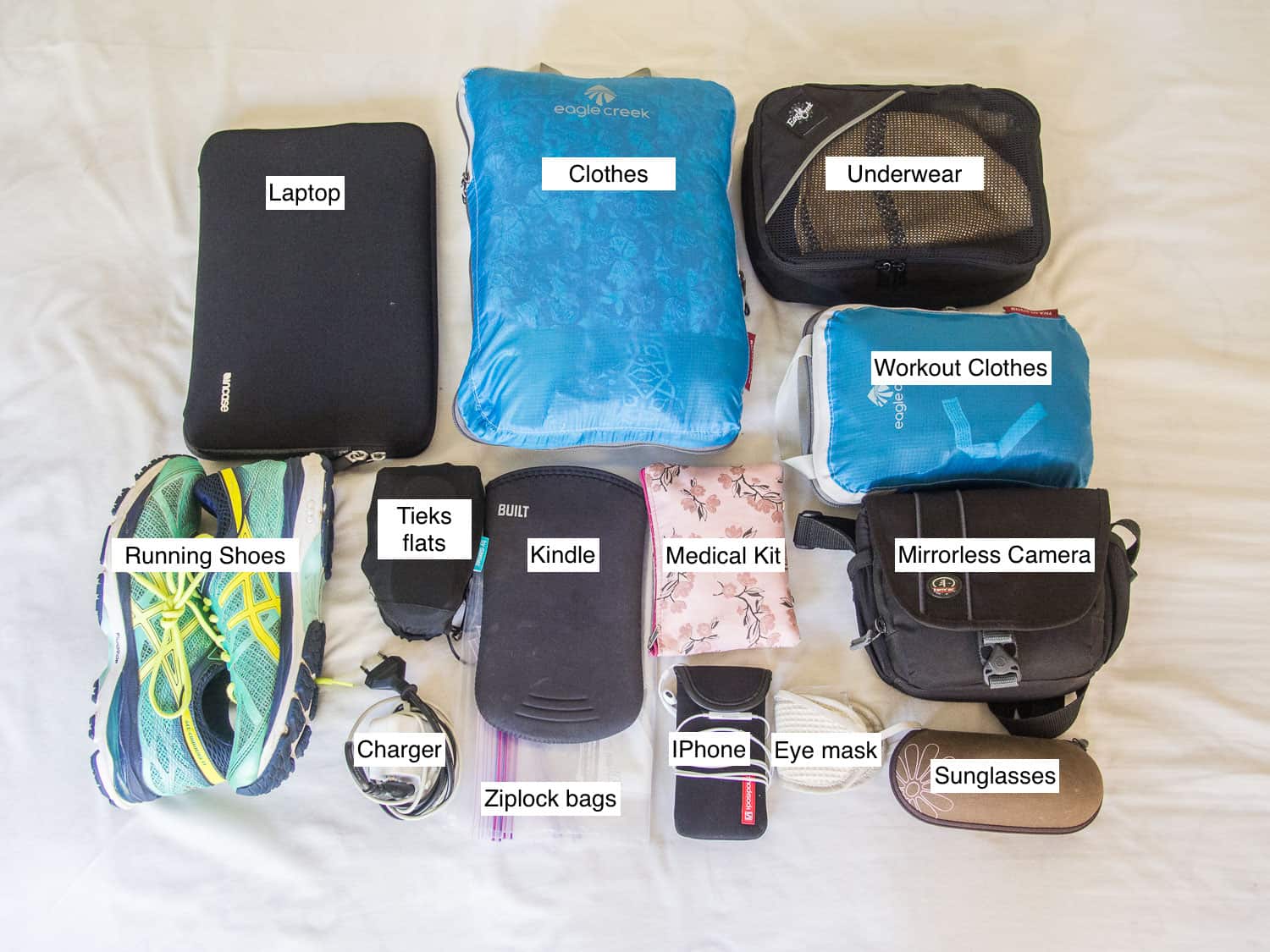 Packing cubes or compression bags allow you to keep your things organised and fit way more into your luggage. Almost every carry-on traveller I know swears by them.
Read more about how to use packing cubes to save space.
4) Pack Solid and Long Lasting Toiletries
On flights, you can only bring liquids in bottles of 100 ml (3.4 oz) or less, and they must fit into a one-litre (or one-quart) zip-lock bag per person.
To manage this restriction, choose solid toiletries whenever possible. Lush shampoo bars are fantastic, and we use a natural crystal deodorant that lasts forever. You can also find solid perfume, lotion, sunblock, and more.
Look for long lasting toiletries so that you don't need to pack as much. We love Riemann once a day suncream, and a tiny bottle of shaving oil lasts Simon nine months.
A mooncup takes up less space than tampons, is better for the environment, and you don't have to worry about finding sanitary products abroad.
5) Choose Small Alternatives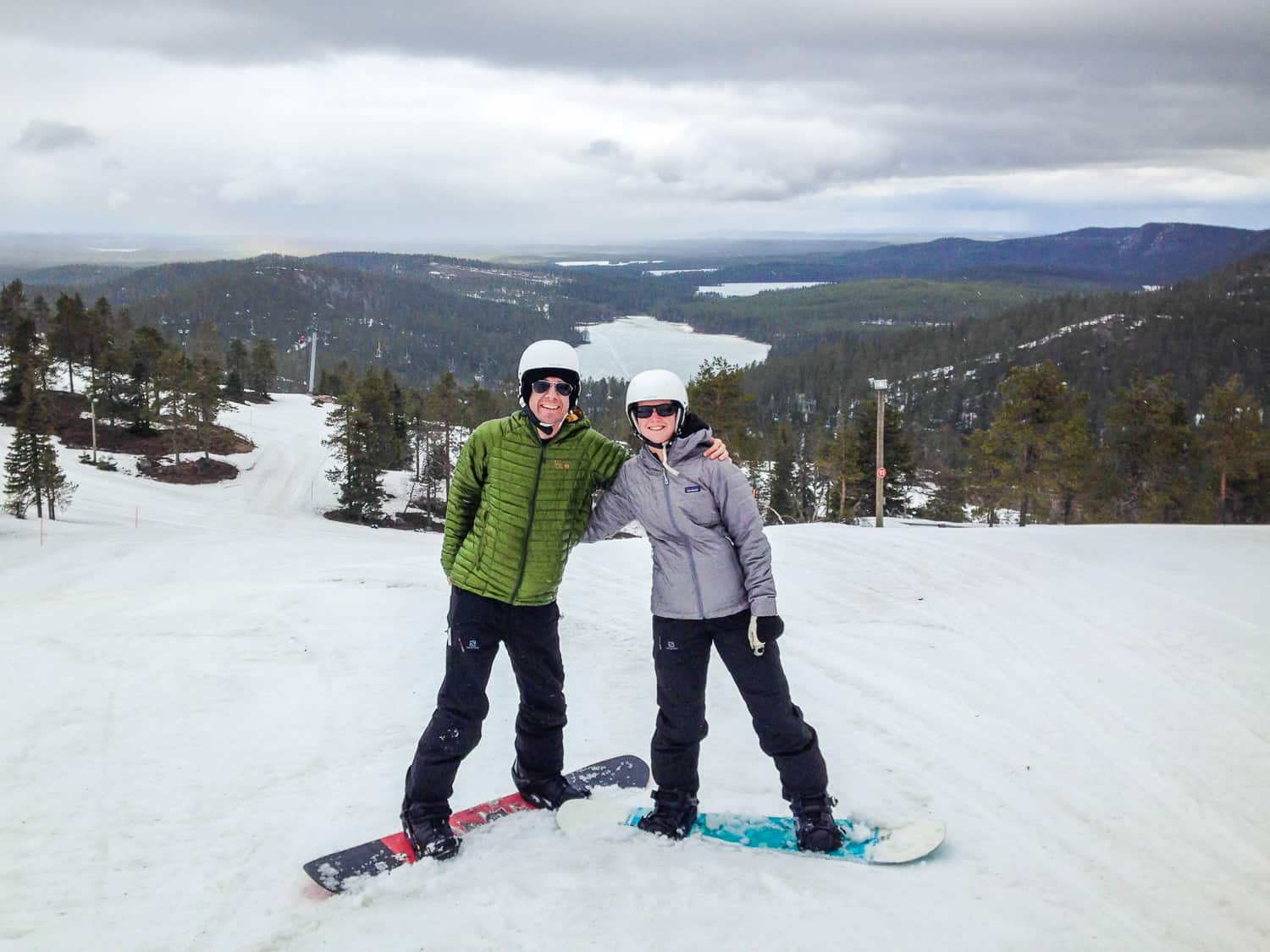 Whatever you want to pack, you can usually find a lighter, more compact version. Travel and outdoor gear is often lighter and less bulky than regular clothes.
6) Go Paperless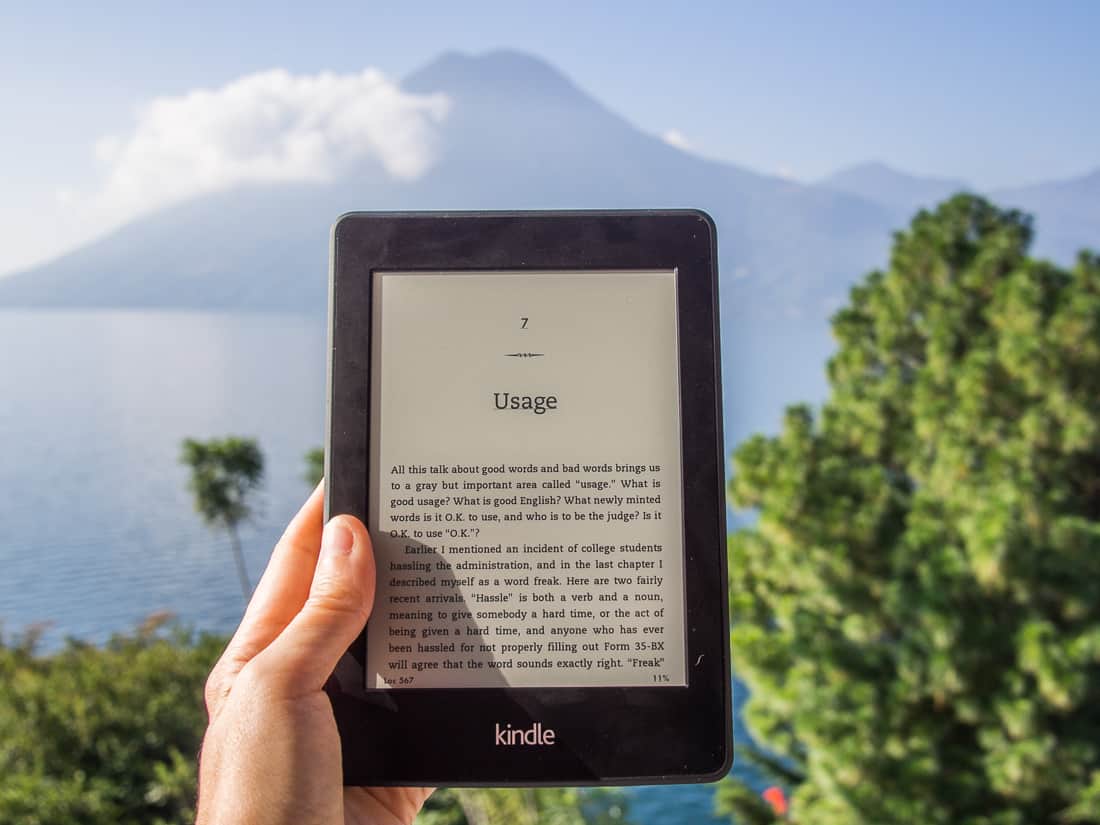 Paper is heavy so avoid it if possible. A Kindle or other e-reader is a must for travelling bookworms—you can fit thousands of books on a device smaller than one paperback.
I couldn't live without my Kindle Paperwhite. If you only read occasionally, you could use your smartphone or tablet instead (which is what Simon does).
Simon has also gone entirely digital with his artwork and now does all his drawing on the iPad Pro with the Apple Pencil, which replicates a real pen or brush.
7) Minimise Electronics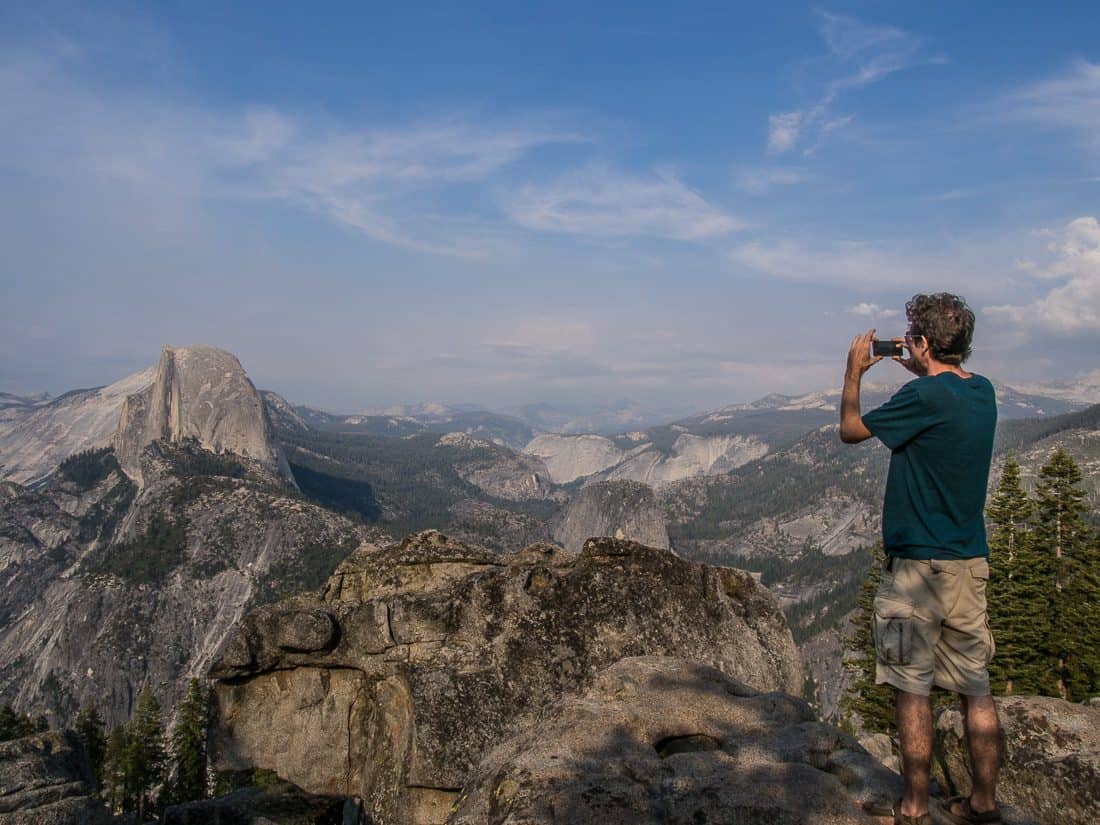 We travel with a lot of electronics as we work on the road, but most travellers don't need a laptop—a smartphone or tablet can work just as well and take up far less space.
Unless you are really serious about photography, a smartphone takes great photos and is multipurpose. As I need quality photos for this blog, I've found that a mirrorless camera is a good compromise—it's much smaller than my old DSLR. I often just use our iPhone 6 though.
Save space by sharing power cables between devices and with your partner if you are travelling with someone.
8) Don't Pack Anything "Just in Case"
I recommend creating a packing list and doing a test pack at least a few days (more for long trips) before you leave. Lay everything out and ask yourself what you plan to use it for. If it's for a "just in case" scenario, then ditch it. Everything needs to earn its place in your bag by being used regularly.
In eight years of travel, we have never needed a sleeping bag, sleep sheet, mosquito net, washing line, travel sink plug, travel pillow, door stop, collapsable bowl, or many of the other items on travel packing lists. We also haven't missed travelling with a penknife (which isn't allowed on planes).
Remember that if you do find that you really need something, you can always buy it at your destination. Other places have stuff too!
9) Wear Your Bulkiest Clothes on Travel Days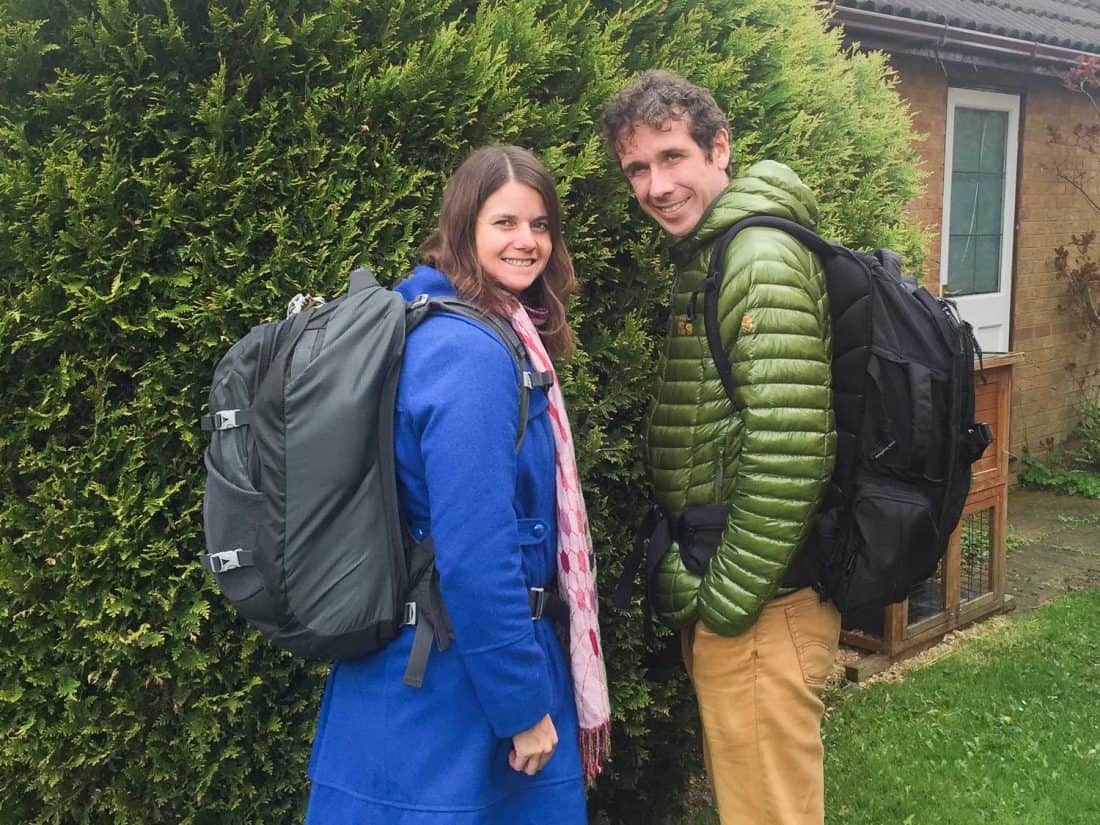 Wear your bulkiest clothes, such as hiking shoes, jeans, and sweaters, on travel days to save space and weight in your luggage. This is especially important when flying on airlines with a low carry-on weight allowance and when travelling to cold climates with bulky winter clothes.
This strategy is trickier in hot countries if you are travelling on transport without air conditioning or walking in the heat to find accommodation. In this case, make sure all your clothes fit in your bag even when you're wearing a lightweight outfit.
10) Prioritise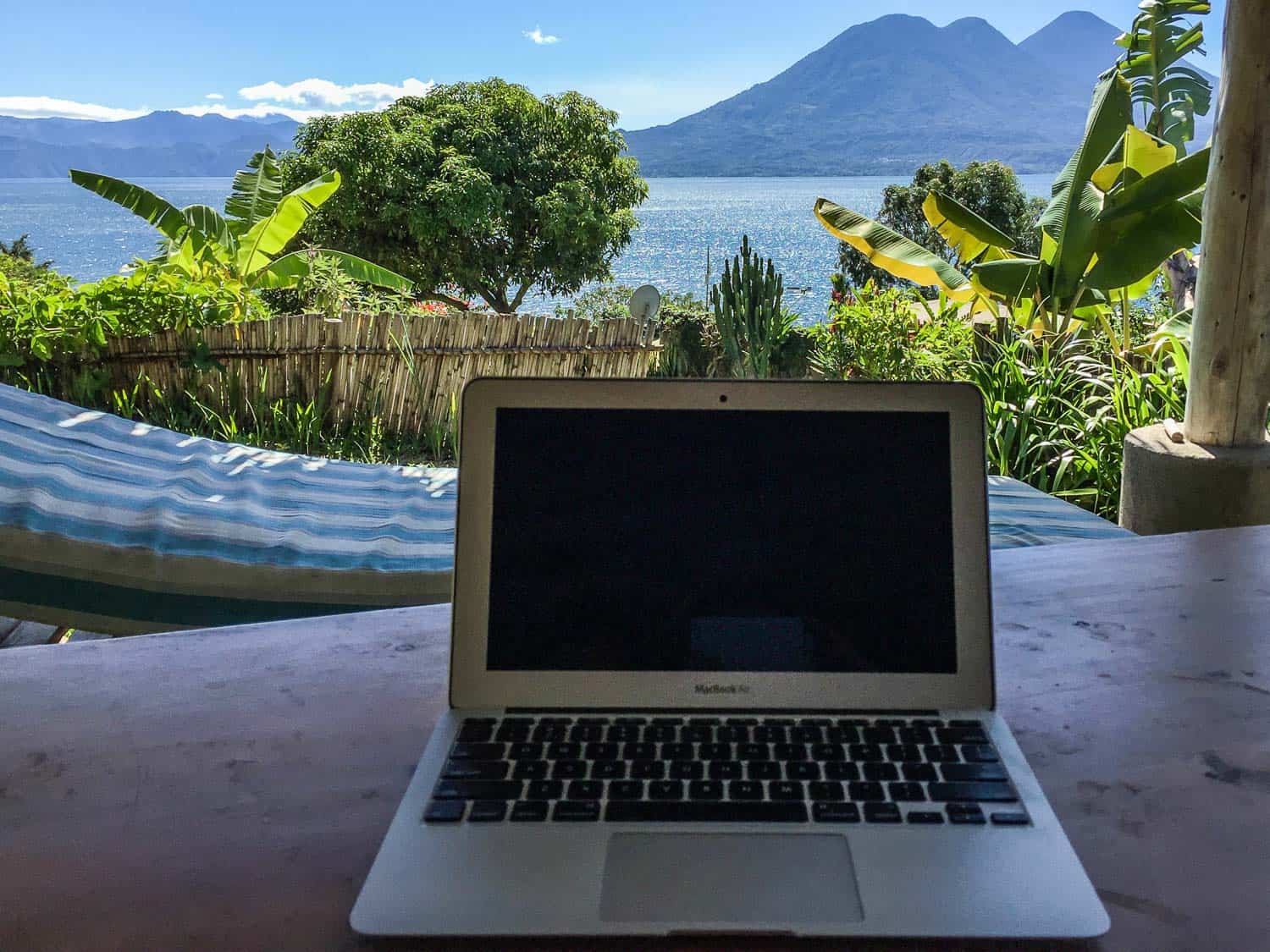 Ultimately, travelling carry-on only comes down to priorities. What is most important to you? We travel with a ton of electronics as we need them for work. You might prefer to skip the laptop and take extra clothes and makeup instead.
Even carry-on travellers have space for luxuries. Simon recently started travelling with an AeroPress coffee maker. Other travellers we know pack a full-size feather pillow, yoga mat, hairdryer, or oil paints. As long as it's something you will really use, you can make space for it.
Hopefully, by following these basic principles you'll find a way to make carry-on travel work for you, whatever type of trip you are heading off on. I promise it will make your travels so much easier.
More Carry-On Travel Packing Tips
If you'd like to learn more about how to travel carry-on only, see my book, The Carry-On Traveller: The Ultimate Guide to Packing Light, which is available for the Kindle or paperback on Amazon (US only).

You can also see our other posts about packing light:
If you enjoyed this post, pin it!