This page contains affiliate links. Please read our disclosure for more info.
A 100% cotton t-shirt that repels liquids, stains, and odours and can be worn multiple days without washing? Ably t-shirts sounded too good to be true, but we had to try them.
When you travel with just a carry-on backpack, every item has to earn its place, and these t-shirts sounded perfect. We find cotton more comfortable than synthetic fabrics, and anything that reduces the laundry we do is a winner with us.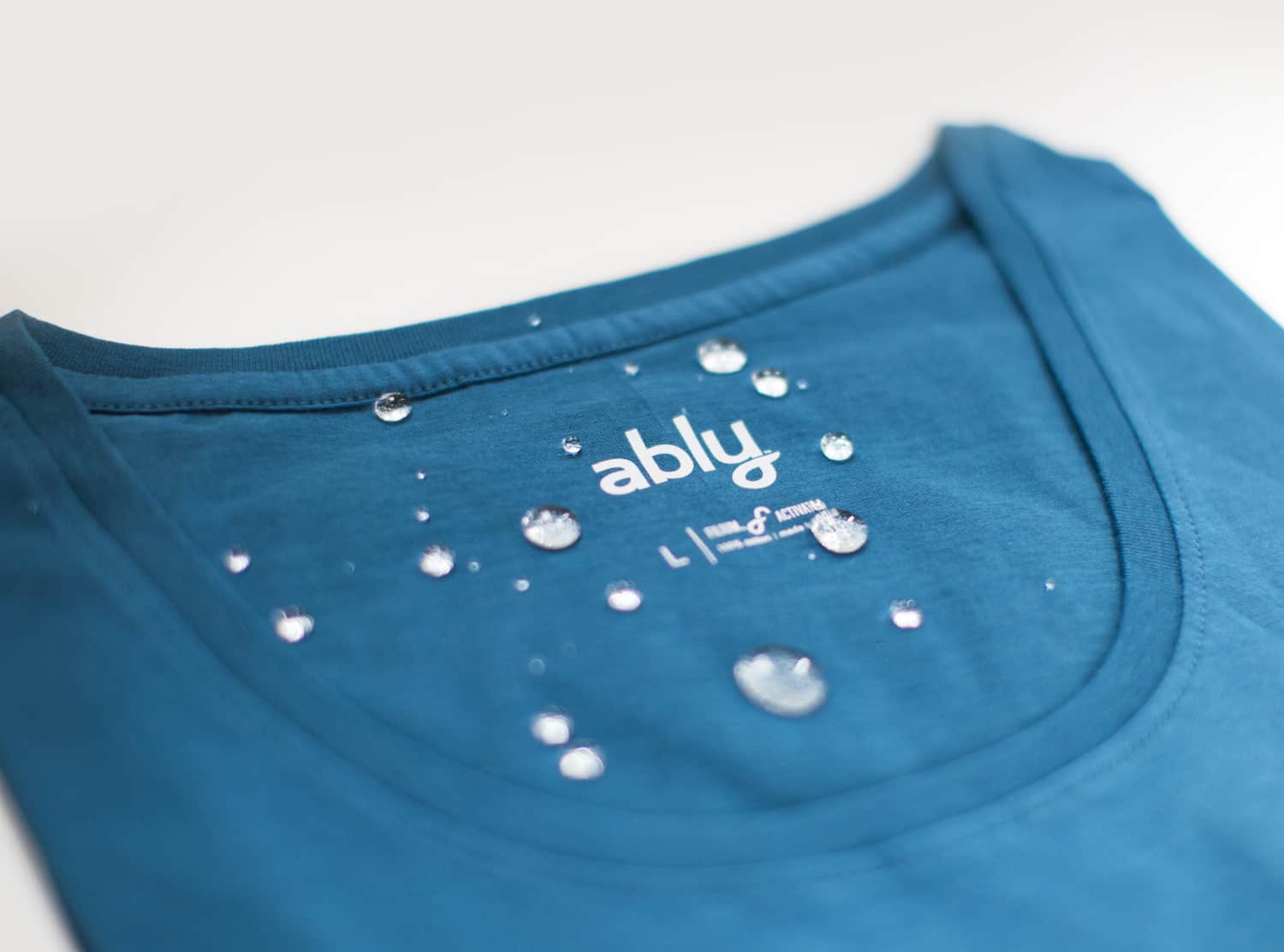 Ably Apparel is a new Seattle-based company that just completed an incredibly successful Kickstarter campaign for their line of odour-resistant clothing. The clothes use Filium, an eco-friendly technology that makes any natural fabric repel liquid and resist odour without sacrificing softness or breathability. As the shirts repel liquids, your sweat evaporates through the fabric and leaves it smelling fresh, even after a hard workout.

Ably T-Shirts: Our First Impressions
Despite their high-tech properties, Ably t-shirts look and feel just like a regular cotton t-shirt. They are soft, comfortable, breathable, and lightweight. While Ably doesn't claim they are wrinkle-resistant, we found they didn't get many wrinkles after washing or being rolled up in our packing cubes.
I chose the v-neck Vanessa style in a gorgeous Moroccan Blue colour. My usual medium size fitted perfectly with a relaxed fit that's not too tight or too baggy. It works well with jeans, but when wearing the shirt with leggings (which I ended up doing a lot on hikes), I wished the shirt was a bit longer.
Simon's Bradley style has a crew neck and front pocket, and the large is quite loose on his skinny frame (which is how he prefers it). His t-shirt is navy, but he wishes the men's shirts had brighter colours available.
How Long Can You Wear Ably T-Shirts Without Washing?
Our train trip across Europe was the perfect opportunity to give our Ably t-shirts a thorough testing. They got a lot of use over the 39 days of our trip, especially on travel days and hikes when they were our first choice.
At the beginning of our trip, Simon decided to push his Ably shirt to the max. How many days could he wear it without washing?
Day 1: Simon's first day with his Ably shirt was visiting family in England. So far so good!
Day 2: We travelled from London to Disneyland Paris on the Eurostar. This included a fair amount of walking around with his backpack plus a long walk into Disney Village from our hotel. Still no smells!
Day 3: A 14-hour day in Disneyland! Temperatures were in the late 20s and we spent the whole day walking around. Usually after a day like today the t-shirt would go straight in the laundry, but no need with Ably.
Day 4: We travelled from Disneyland into Paris and wandered around our neighbourhood.
Day 5: Paris is struck with a 37ºC heatwave. In an effort to escape the heat we take the bus to the Orsay Museum, but the bus is so steaming hot that we get off to walk half way there. Walking is no cooler. A seriously sweaty day! How on earth does the Ably shirt still not smell?!
Day 6: It's still scorching in Paris so we mostly stay inside trying to keep cool (and failing).
Day 7: The weather drops to a manageable 28ºC so we head out for a long walk along the Seine. Simon starts to feel paranoid that his Ably must smell, but I do an armpit sniff and it's still good.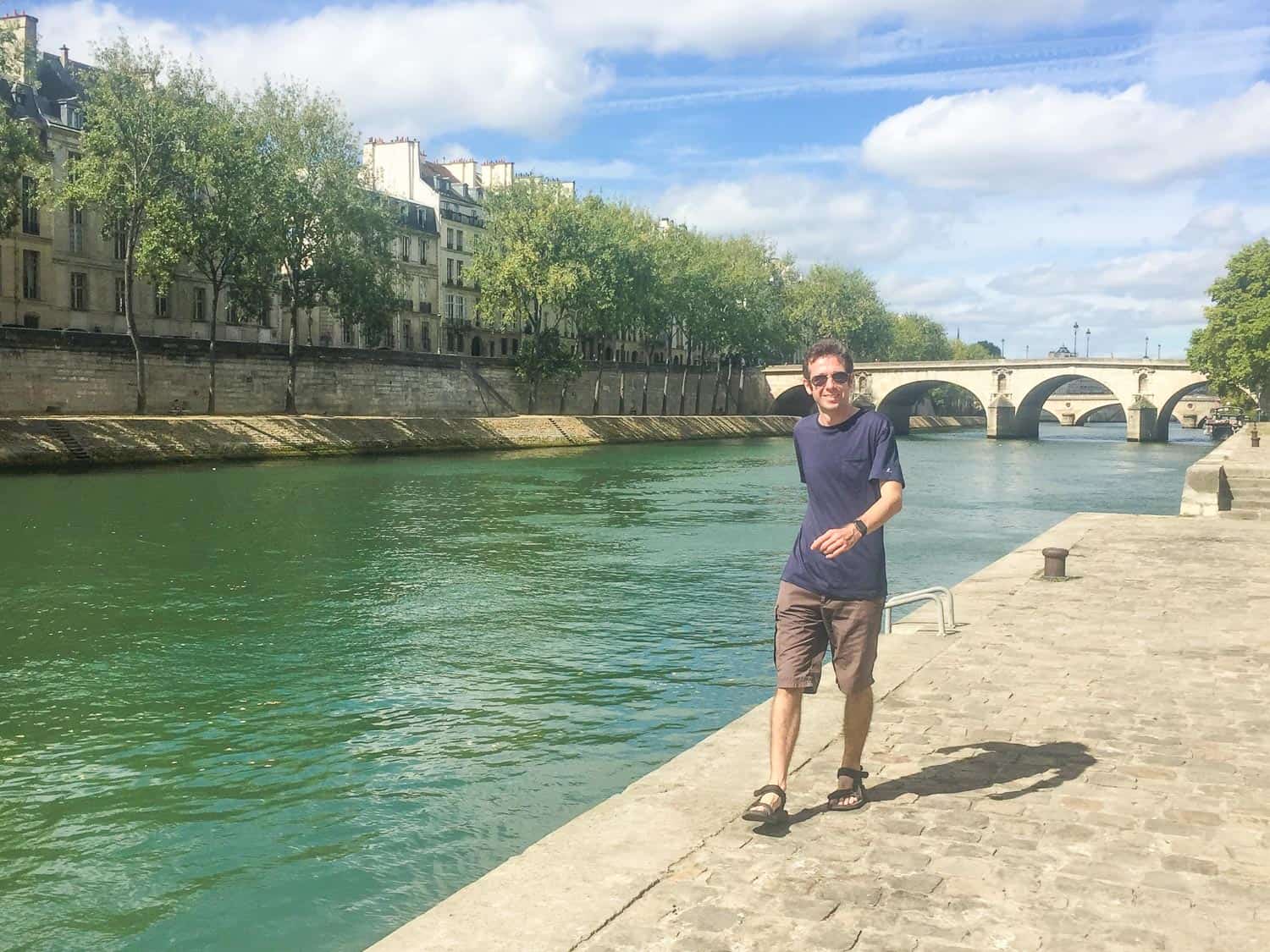 Day 8: Travel day from Paris to Colmar including lots of walking with his backpack, a hot and packed metro ride, and an afternoon exploring Colmar in sunny weather.
Day 9: Travel day from Colmar to Lucerne, Switzerland including a long walk around the lake and up the town walls. Temperatures are still in the late 20s.
Yes, he ended up wearing his Ably shirt for nine days! I still didn't think it smelled, but Simon did, so he added it to our laundry load to be on the safe side.
At this point we were sold. Nine days is just crazy! Simon would never usually wear a t-shirt for anywhere near that long, but Ably really didn't smell however sweaty it got. It's not sweat that smells, it's bacteria that grows when sweat soaks into fabric. As the shirt repels liquid, sweat evaporates right off.
I didn't wear my shirt for quite as long as I prefer to wear dresses when it's really hot. I did wear it on every travel day and hike though and went five days without washing it. I think you end up washing it because of paranoia more than it actually smelling.
We found our Ably shirts especially useful when hiking in the Barolo wine region of Italy. After walking through the vineyards we'd arrive tired and dusty at one of the wine villages. It was a relief knowing that when we sat down for a wine tasting our t-shirts didn't smell or have sweat stains.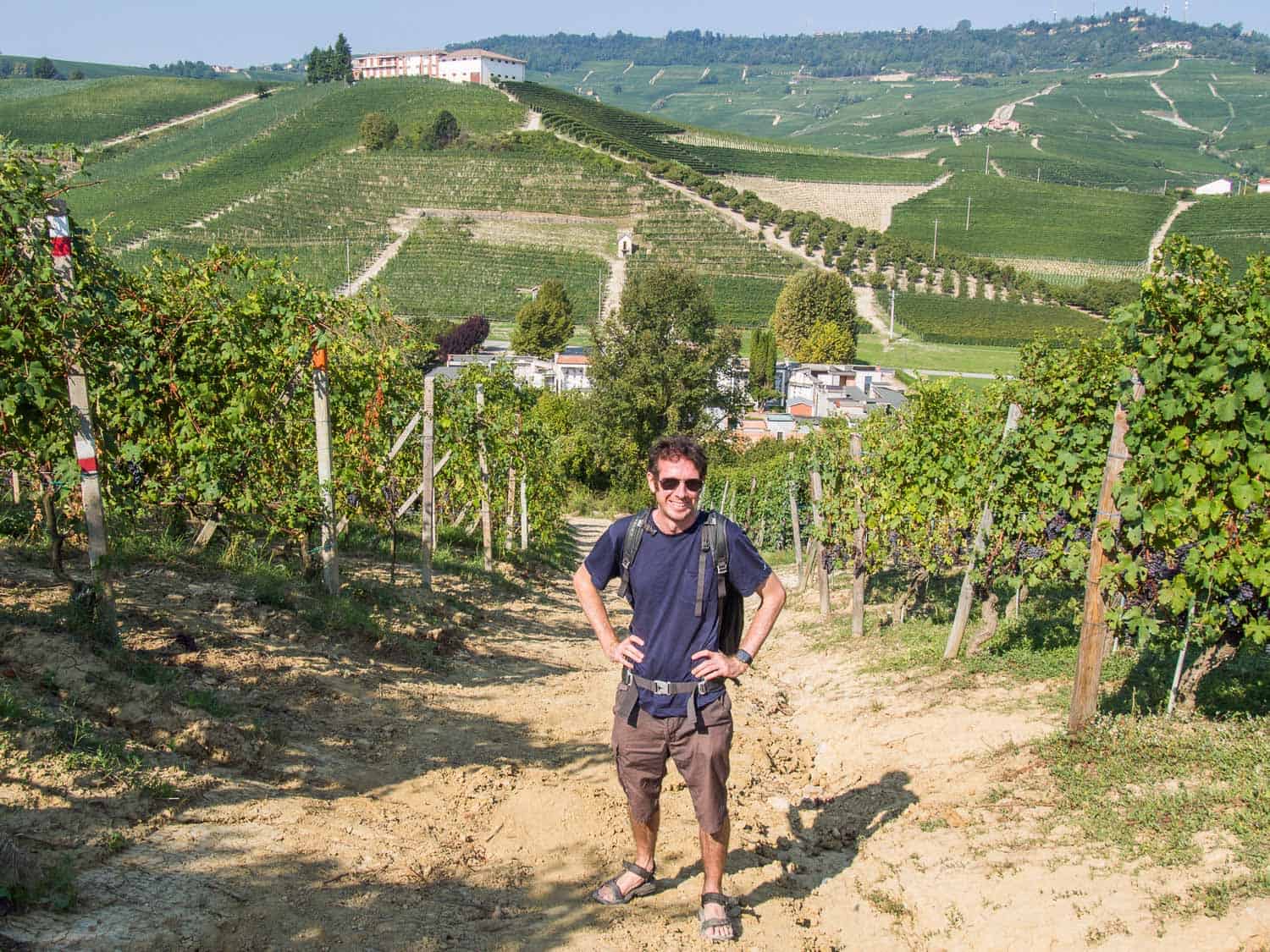 I usually run in a tank top, but I did run once in my Ably shirt to see if it could stand up to a tough workout. This was after I had already worn my Ably on our afternoon walks every day for two weeks. After my run there was some mild body odour in the sweaty armpits, but probably nothing that anyone else would notice.
Once we wore our Ably shirts in the rain and we could see the technology at work as the water drops gather on the outside of the shirt rather than being absorbed into the fabric. This works for all liquids, so if you spill coffee or wine down your top, it runs right off! Magic!
The number of times you can wear your Ably t-shirt between washes is a personal decision and will depend on what you've been using it for. Ably recommends washing it once or twice a month—in testing they had people wear it in the gym for a month and remain odour free.
Are There Any Downsides?
Like any cotton t-shirt, Ably shirts are susceptible to shrinkage, and our shirts did shrink a little after one particularly long cycle in an old washing machine. It wasn't a huge amount and they still fit, but they are a little shorter than we'd like. We've washed them a number of times since and there's been no more shrinkage. I recommend washing them on shorter, cold cycles.
At $48 (plus $5 shipping) Ably shirts aren't cheap, but I think they are good value for their magical properties. And remember, you'll need to pack fewer shirts.
Ably is based in the US. They do ship internationally but shipping fees are high ($40 to the UK for example).
How do Ably T-shirts Compare to Other Odour-Resistant Tops?
Simon started travelling with an Icebreaker Tech Lite t-shirt at the same time as his Ably shirt. These merino wool shirts are know for their odour-resistance, and while it definitely performs better than a regular t-shirt (and Simon likes their bright colours), he prefers his Ably. The Icebreaker isn't as soft, it's already pilling, it doesn't resist odours as well, and it gets more wrinkly than the Ably.
I travel with an Athleta Unstinkable tank top, which has the same softness and odour resistance as Ably. Their styles are sportier though, which is fine for workouts, but Ably shirts are multi-purpose and can be worn around cities as well as on hikes.
Do We Recommend Ably T-Shirts for Travel?
Absolutely! Ably's magic shirts are ideal for any traveller who wants to pack light. Their odour and stain resistance means you can pack fewer shirts and spend less time doing laundry on the road. And they are lightweight, quick-drying, and just as comfortable and breathable as a regular cotton t-shirt. Our Ably shirts will be a permanent addition in our backpacks.
Ably T-Shirt Details
Ably shirts are available from the Ably Apparel website. They sell two styles of t-shirt, a long sleeve t-shirt, and a hoody for men and women in a range of colours.
If you enjoyed this post, pin it!
This post is sponsored by Ably. We are very selective about the clothes we pack, and if we didn't love them, we wouldn't still be travelling with our Ably t-shirts.