This page contains affiliate links. Please read our disclosure for more info.
Finale Ligure Italy is overlooked by many visitors, but this Ligurian beach town is well worth visiting for its sandy beaches and the gorgeous medieval village of Finalborgo.
Most people think the Italian Riviera is the section of Ligurian coastline between Genoa and La Spezia encompassing Portofino, Santa Margherita Ligure, Rapallo, and the famous Cinque Terre villages.
In fact, this is just one part of it, the Riviera di Levante ("the coast of the rising sun"). It's one of the most beautiful areas of Italy, but it gets very crowded.
Italians know that further up the coast, stretching from Genoa all the way to the French border, is a beautiful but less touristy coast, the Riviera di Ponente ("the coast of the setting sun"), where Finale Ligure is located.
In this post, I share what to expect in Finale Ligure Marina (the beach area) and Finalborgo (the inland village) with recommendations for where to stay and eat.
Contents
Where is Finale Ligure Italy?
Finale Ligure is a coastal town in the Liguria region in northwest Italy.
It's located west of Genoa and east of Ventimiglia on the French border. Both are about an hour away by train.
The more well known section of the Italian Riviera is south of Genoa. Finale Ligure is about two hours by train from Santa Margherita Ligure and Rapallo (our favourite place to stay in this area) and nearly three hours from Cinque Terre.
See our Italian Riviera travel guide for more information on the Riviera di Levante.
You'll find a Finale Ligure map near the end of this post.
Finale Ligure Marina
Finale Ligure Marina (Finalmarina) is the main part of town.
In the Riviera di Levante beaches tend to be small and pebbly, but here the grey sand stretches for a few kilometres with dramatic limestone cliffs at one end and a small castle perched above the sea at the other.
It's perfect for a long walk, either on the sand or the palm-tree-lined promenade.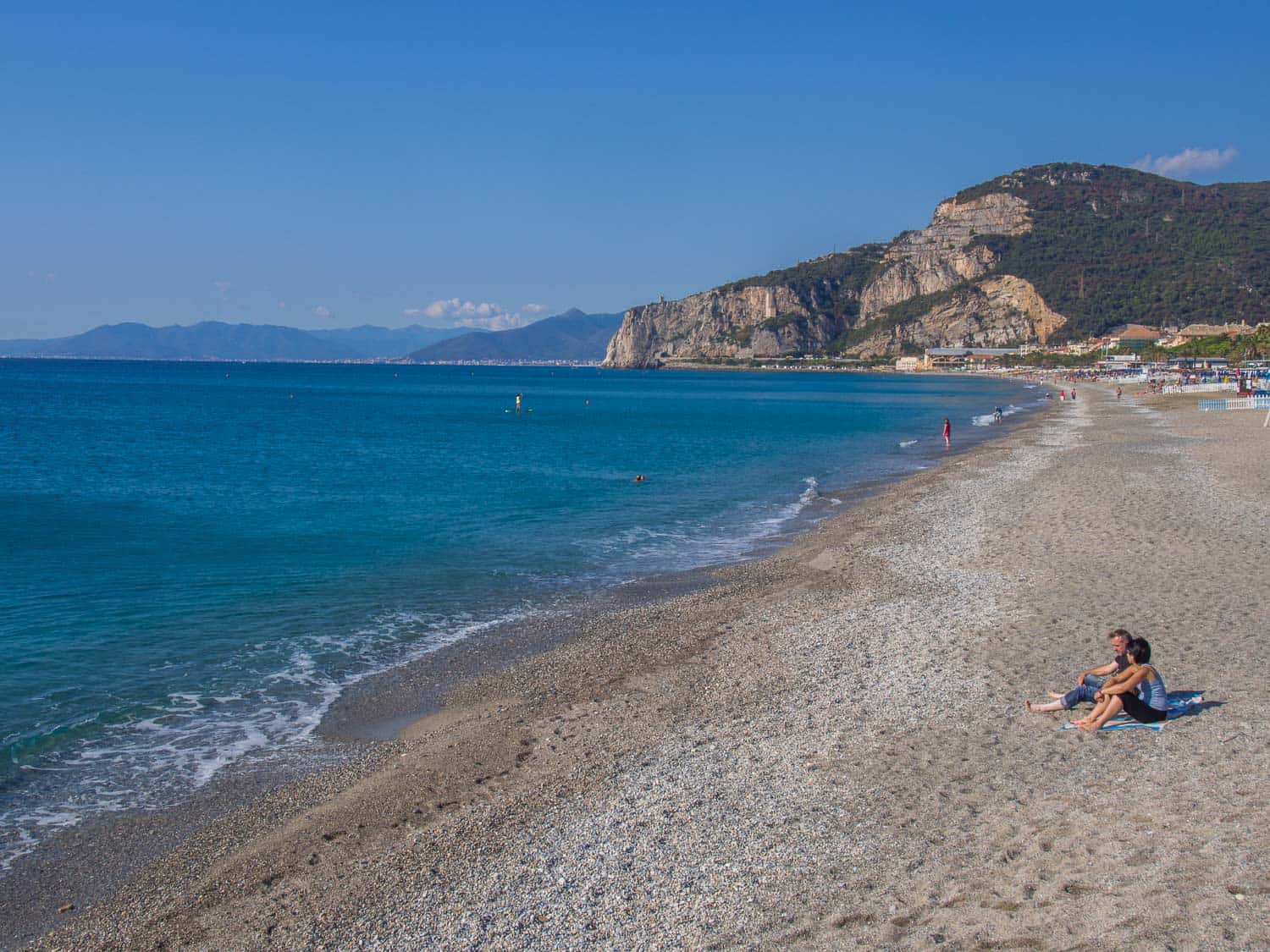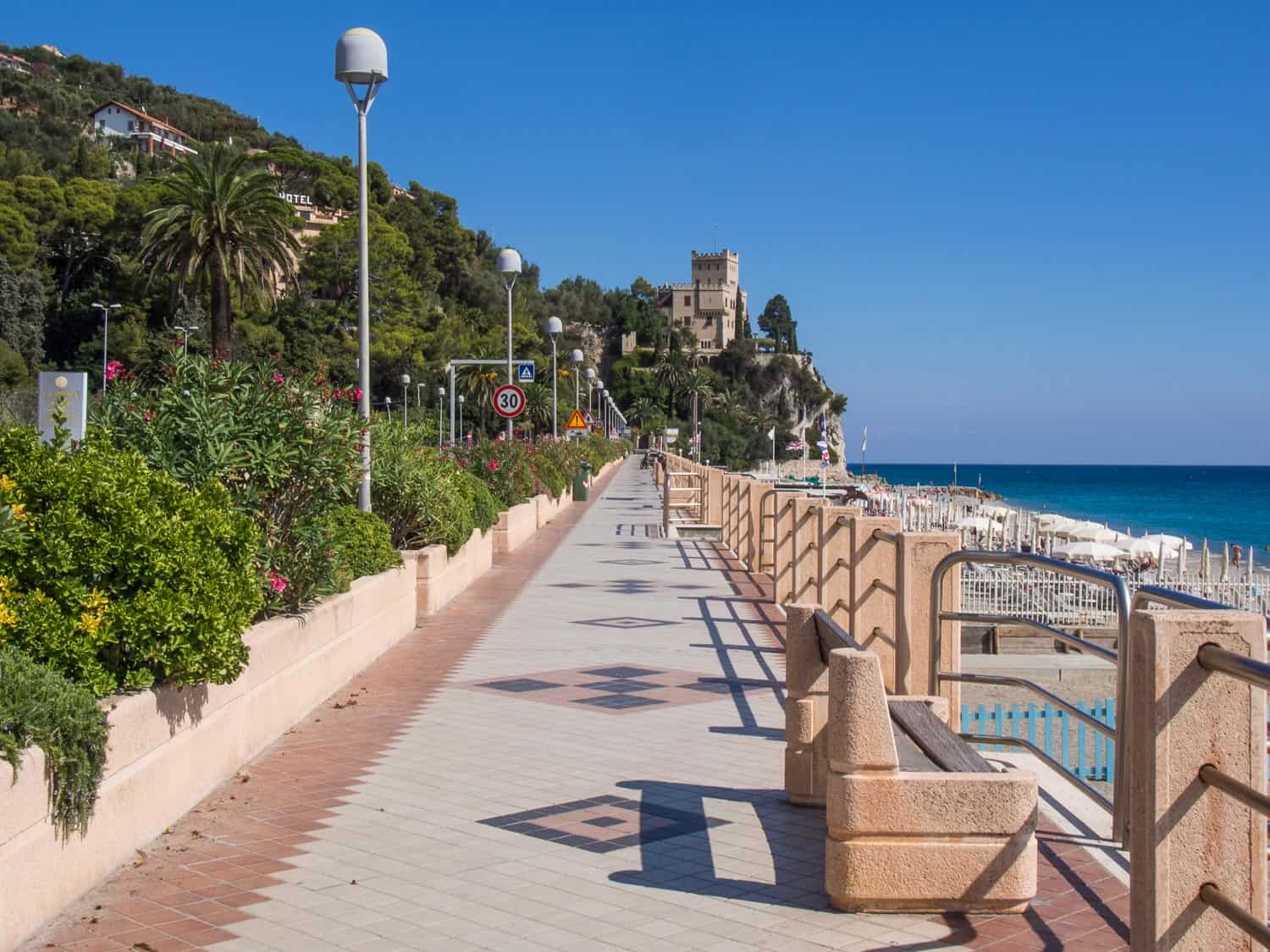 Typically for Italy, the beach is full of beach clubs where you can rent sunbeds and umbrellas for the day.
At the end of September, it was pretty empty, though, and there's plenty of sand available if you don't want to pay. The sea is clear and calm and inviting.
The seafront is lined with modern apartment buildings, but there is a small but pretty historic centre right next to the sea.
The large Piazza Vittorio Veneto is fringed by colourful houses painted in the typical Riviera trompe-l'oeil style, with decorative details that look real.
This is the place to come for a gelato, evening aperitivo, or just sit on a bench and people watch.
You are just seconds from the sea, but it feels like a real Italian town with locals going about their business, chatting and shopping.
We rarely heard foreign voices during our stay. Prices are also much lower than on the other side of the Riviera.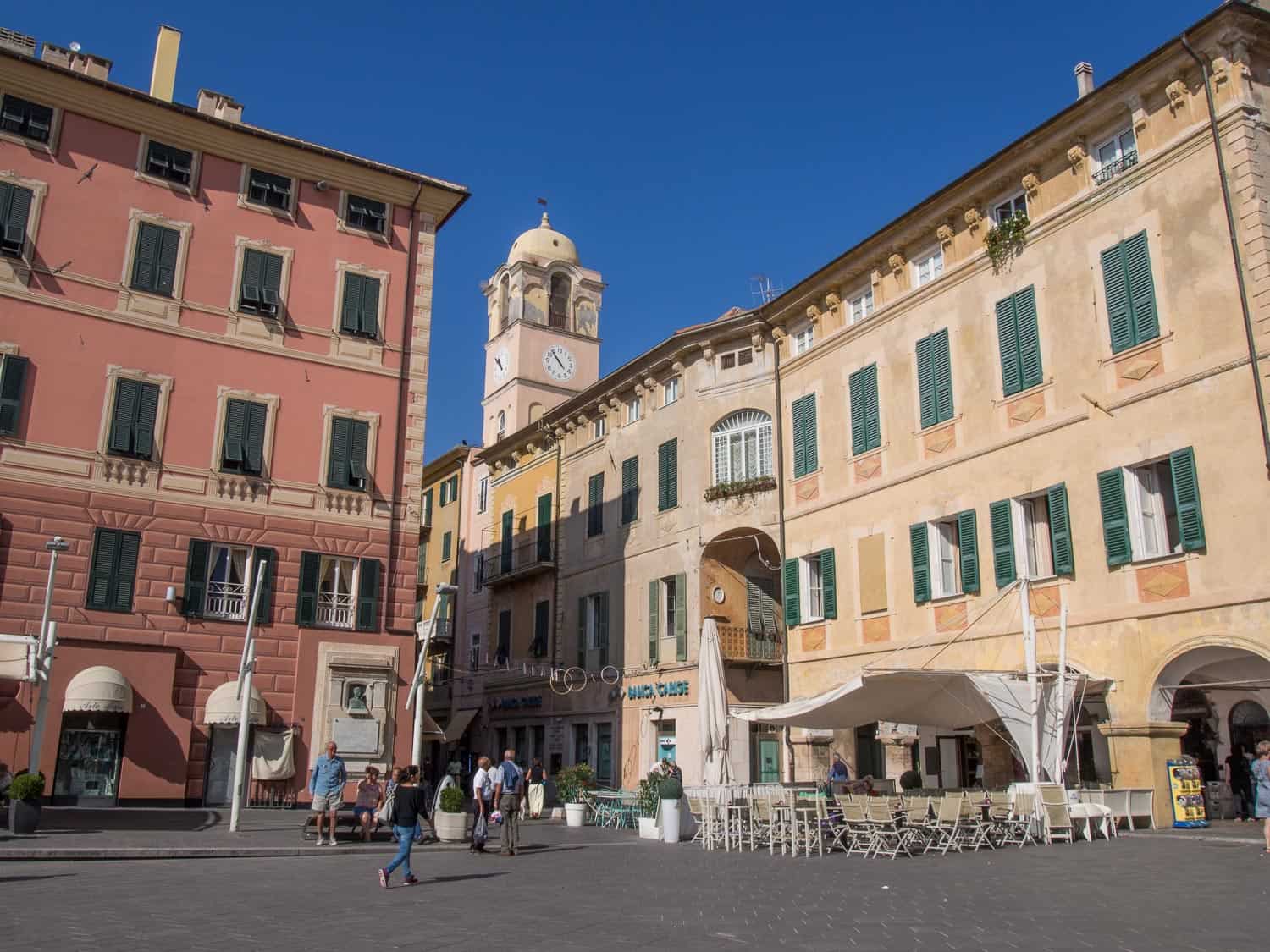 Finalborgo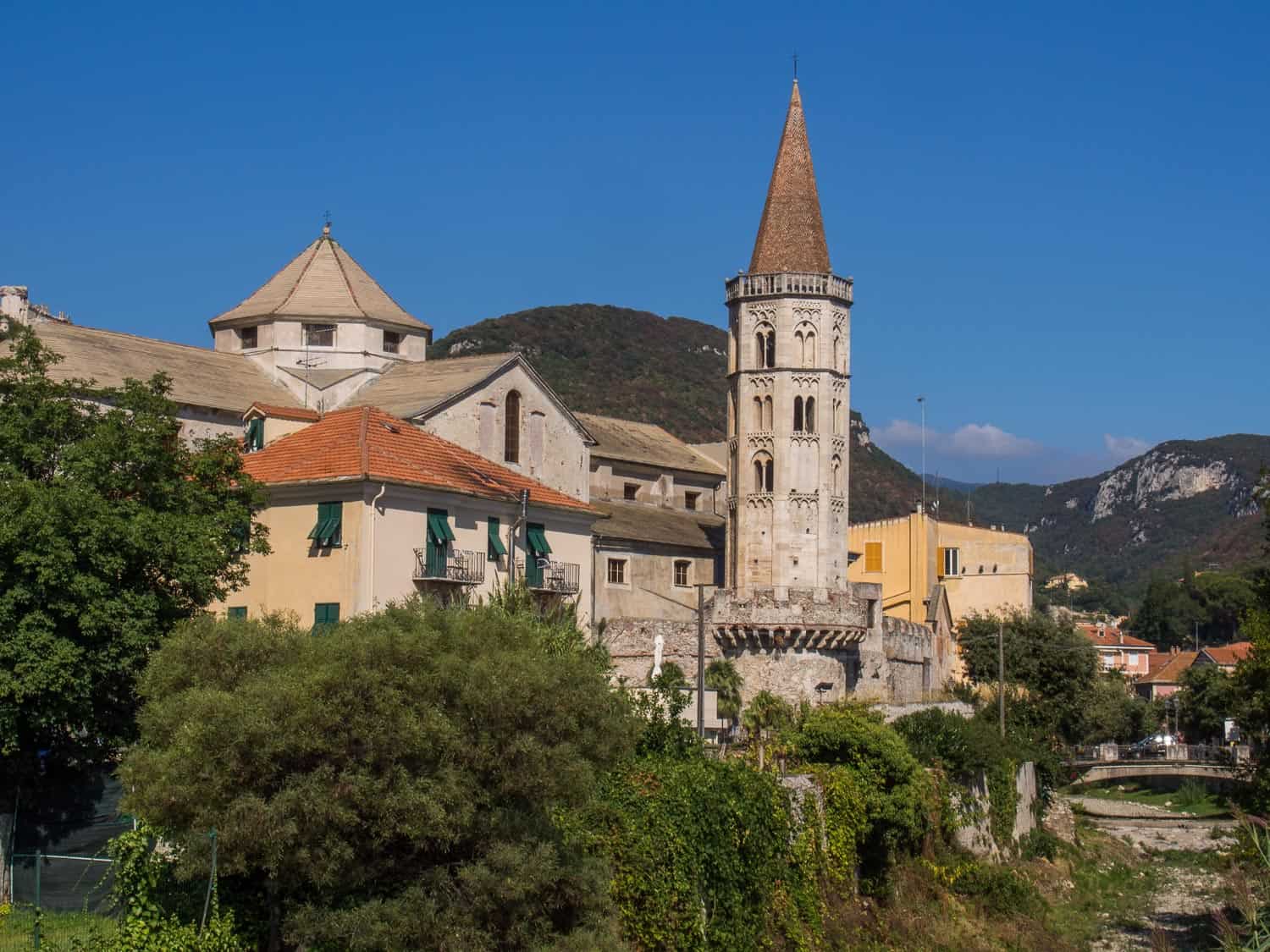 I loved the typical Italian backstreets just behind the piazza, but things got even better when we walked 15 minutes inland to Finalborgo, the second part of town.
An afternoon strolling and eating lunch in Finalborgo is certainly one of the best things to do in Finale Ligure.
This walled medieval village is absolutely gorgeous and is one of the Borghi Piu Belli d'Italia (most beautiful villages of Italy).
We wandered its quiet streets, ducking under arches in cobbled alleyways, discovering elegant piazzas, and browsing the many enticing restaurant menus.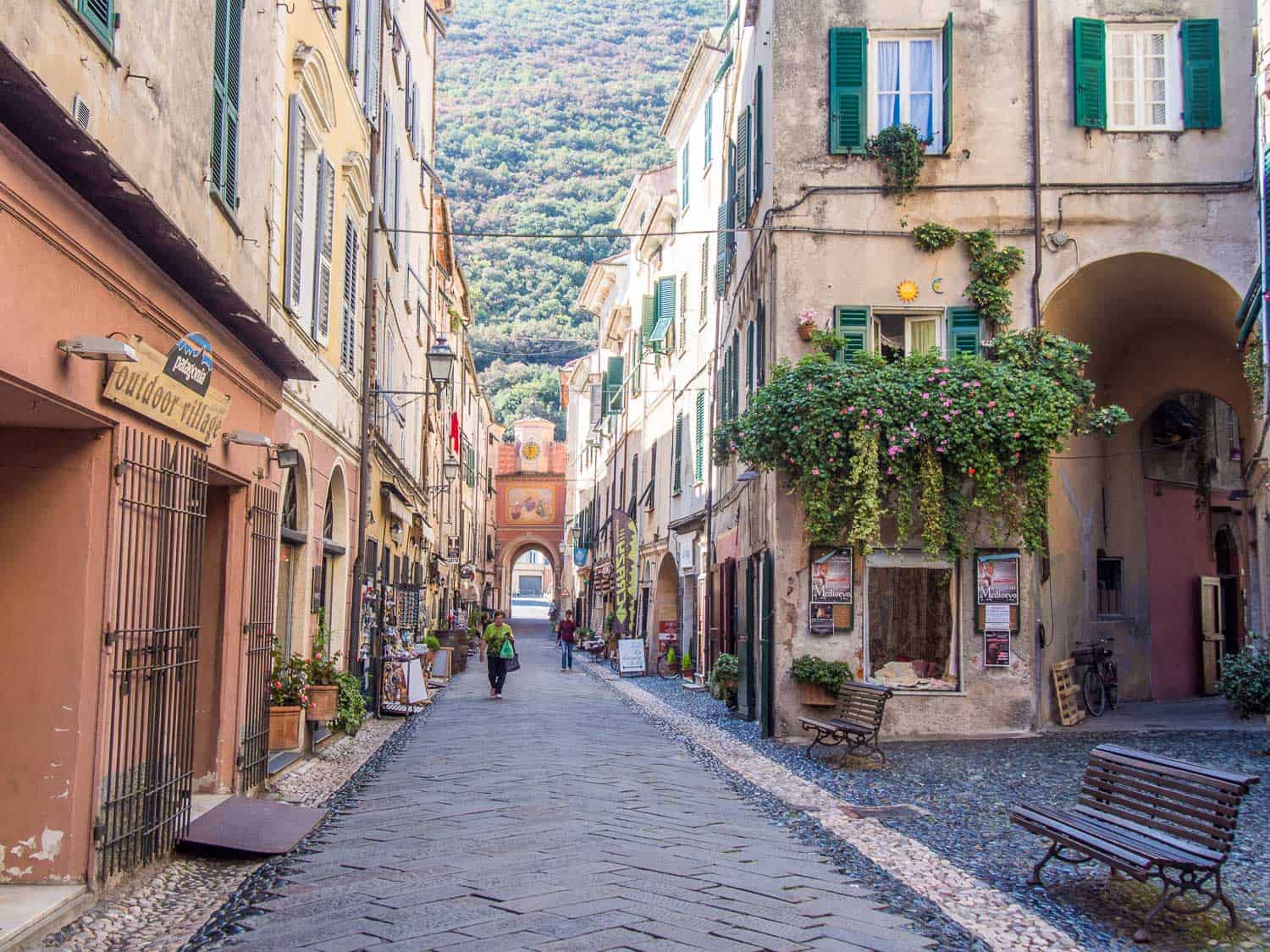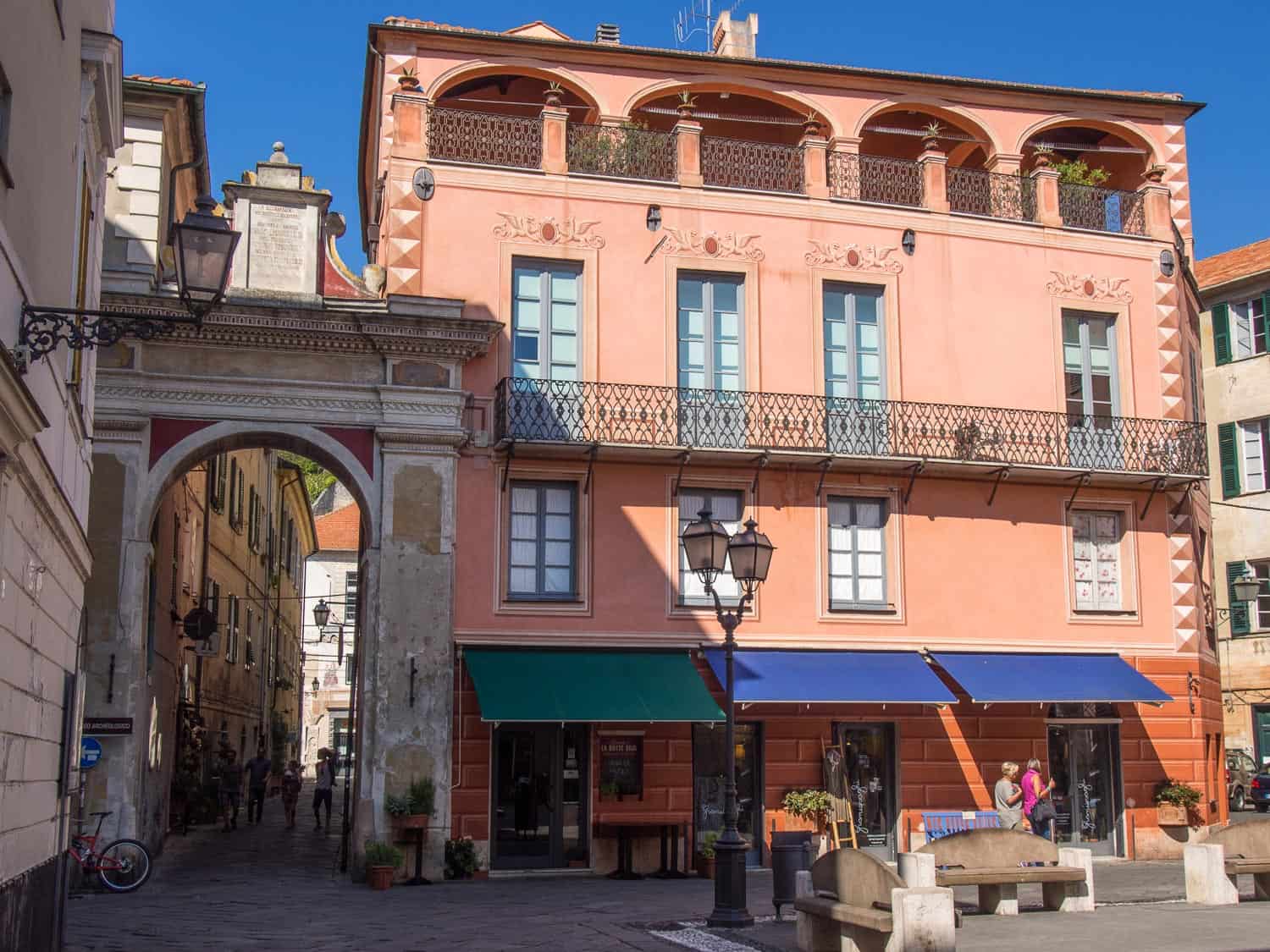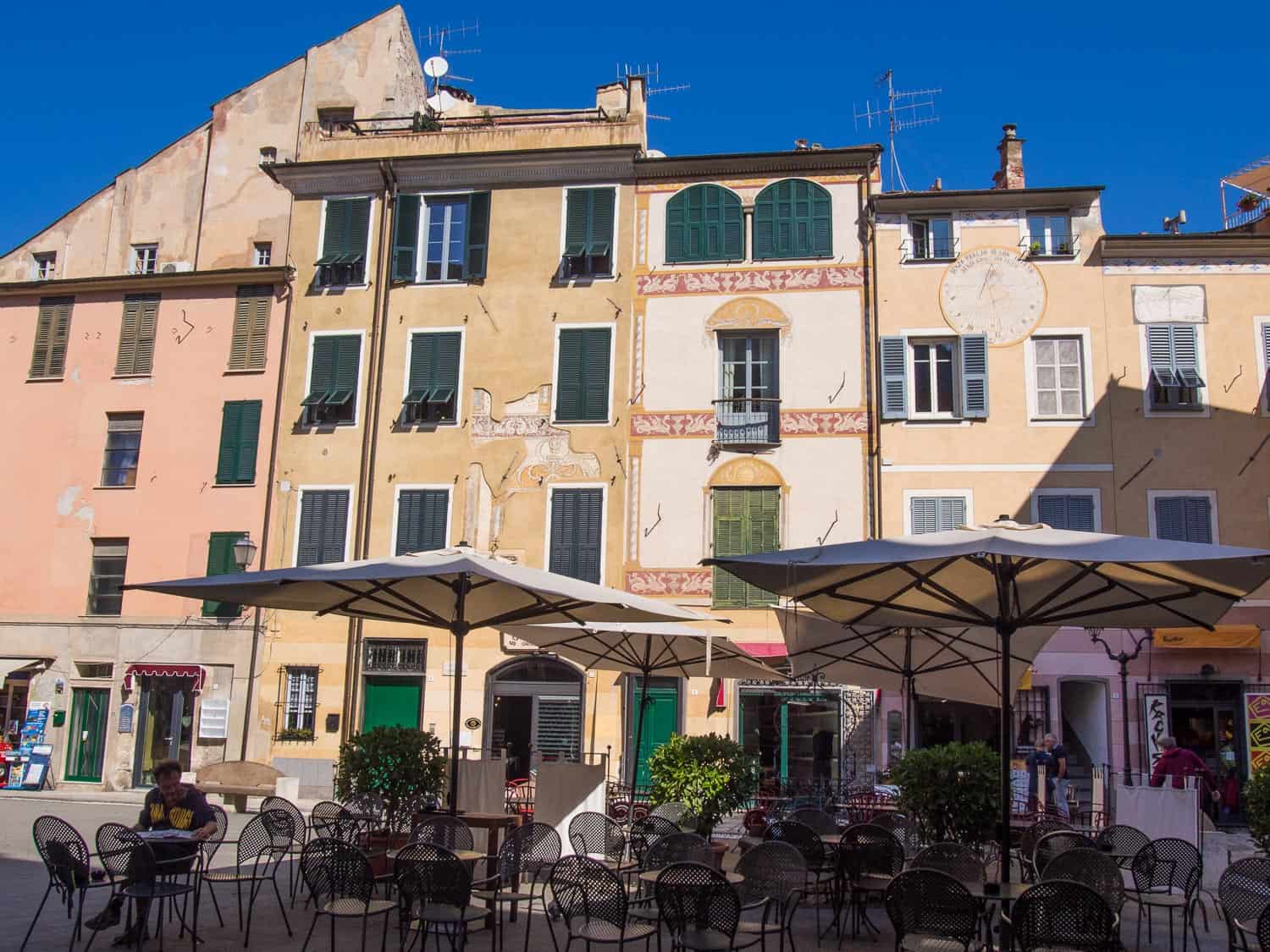 Finalborgo has the historic beauty you expect from Italian medieval villages, but it has a younger vibe than any village we've visited in Italy.
There are artsy boutiques, outdoor stores, and cool wine bars. This is because the mountains surrounding the village attract climbers and mountain bikers.
We wished we were staying longer to have time to sample the many restaurants and bars. Anywhere that decorates its tables with cabbages has me intrigued…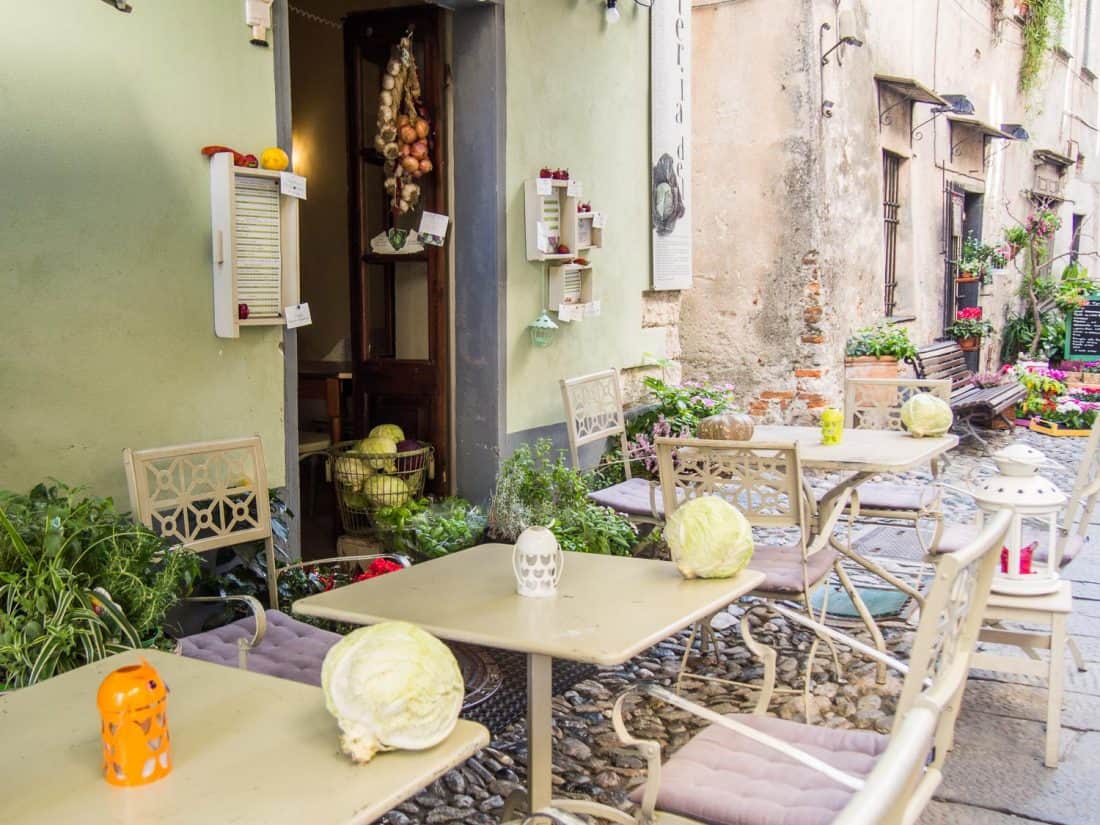 Where to Stay in Finale Ligure
Hotel Punta Est
We wanted to splurge on some luxury for our last few nights in Italy, and Finale Ligure is certainly a more affordable place to do so than the other side of the Riviera.
We stayed at the best hotel in town—Hotel Punta Est, which is perched on a hill above the quieter end of the beach in a lush space of palms, pine trees, and olive trees (they make their own oil).
It was originally built as the 18th-century mansion of a musician and composer from La Scala in Milan.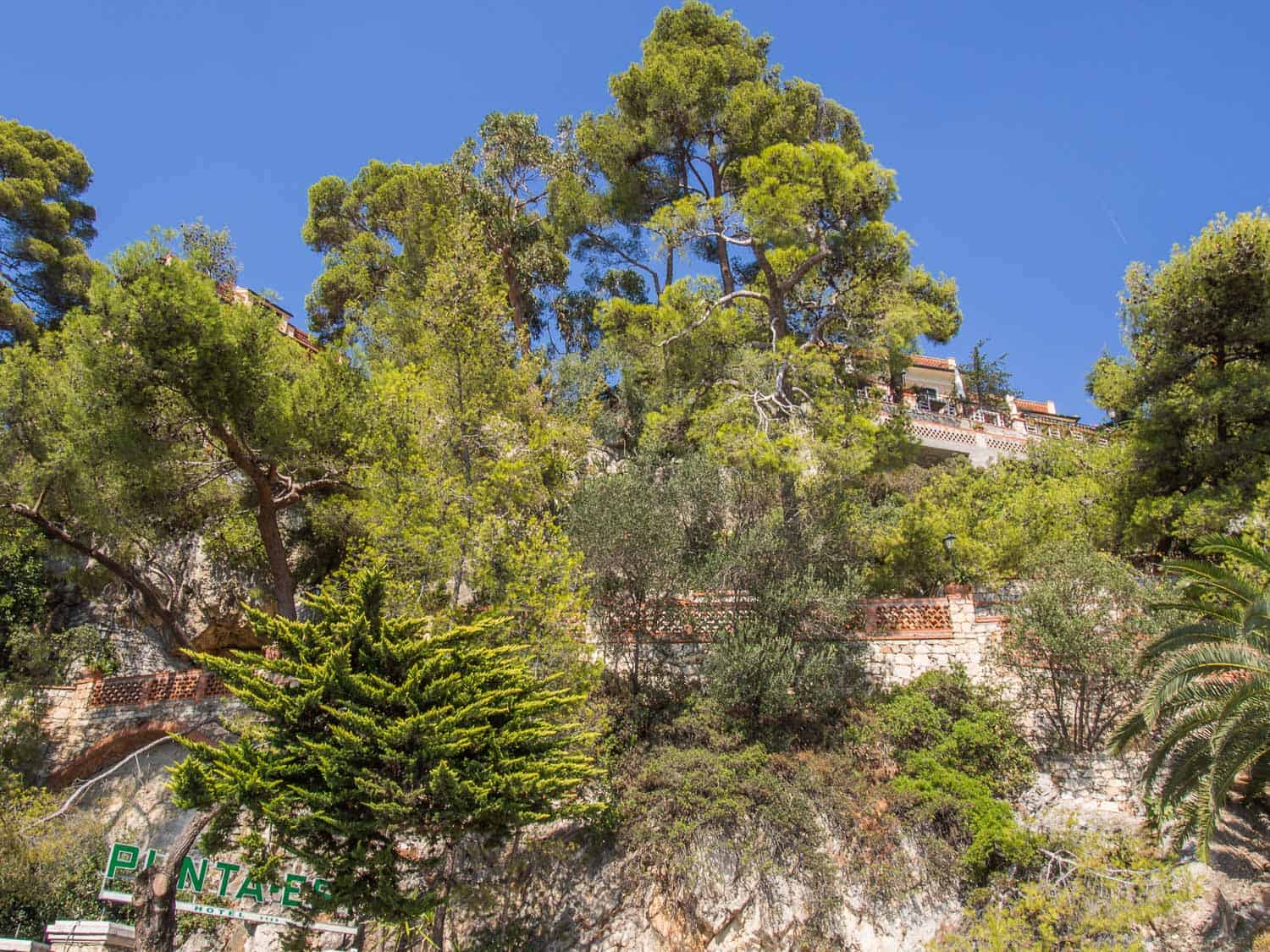 The rooms are surprisingly simple for the price, but they are clean, comfortable, and had everything we needed (except tea/coffee making facilities) including bathrobes and flip-flops. The WiFi was fast enough for streaming TV.
Our large balcony had a partial sea view, but for the best view, go for a room at the front.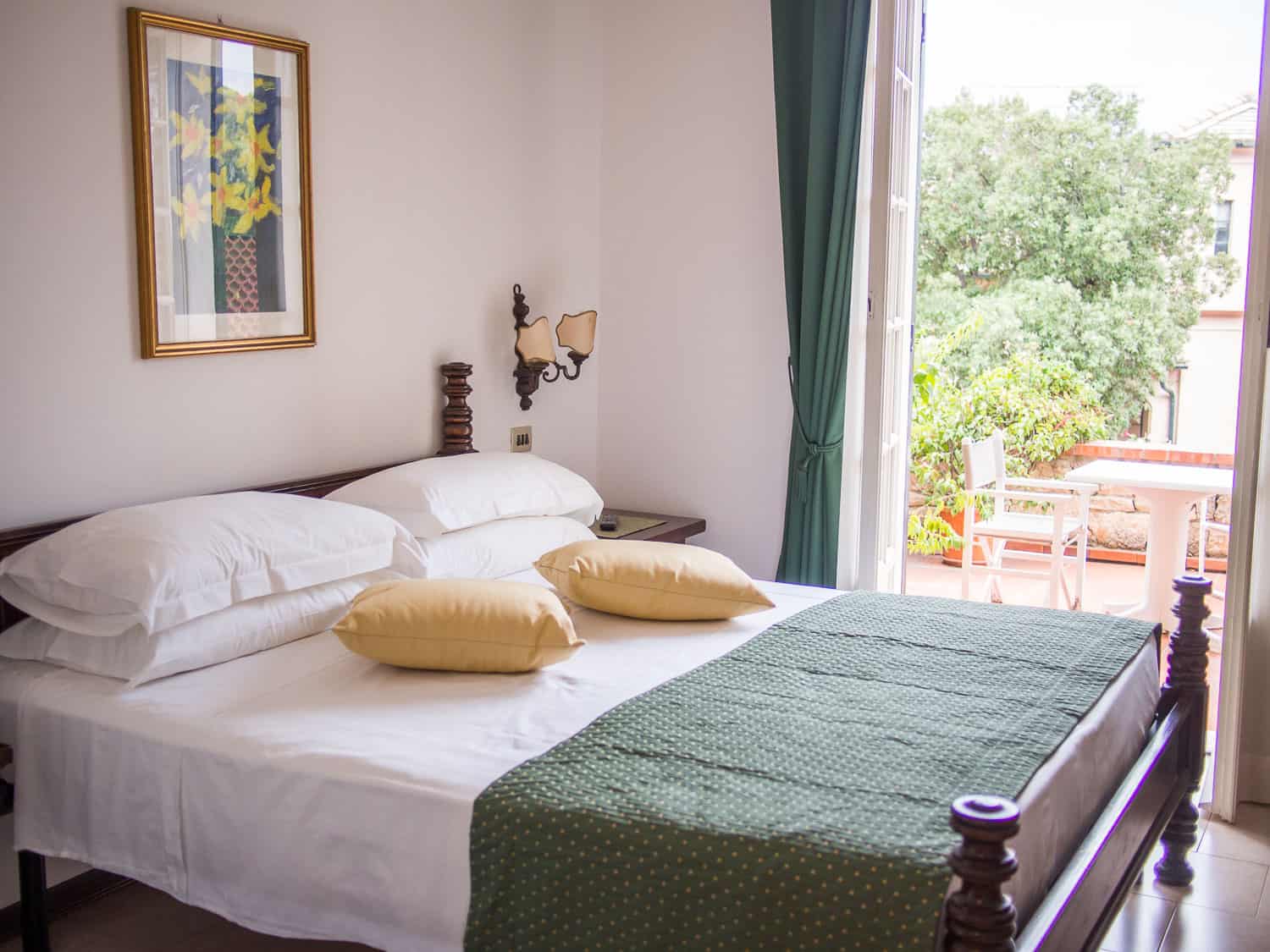 What you are paying for at Hotel Punta Est are the facilities and stunning setting.
The restaurant has uninterrupted views of the sea and castle. It was heaven to enjoy a leisurely breakfast with this view.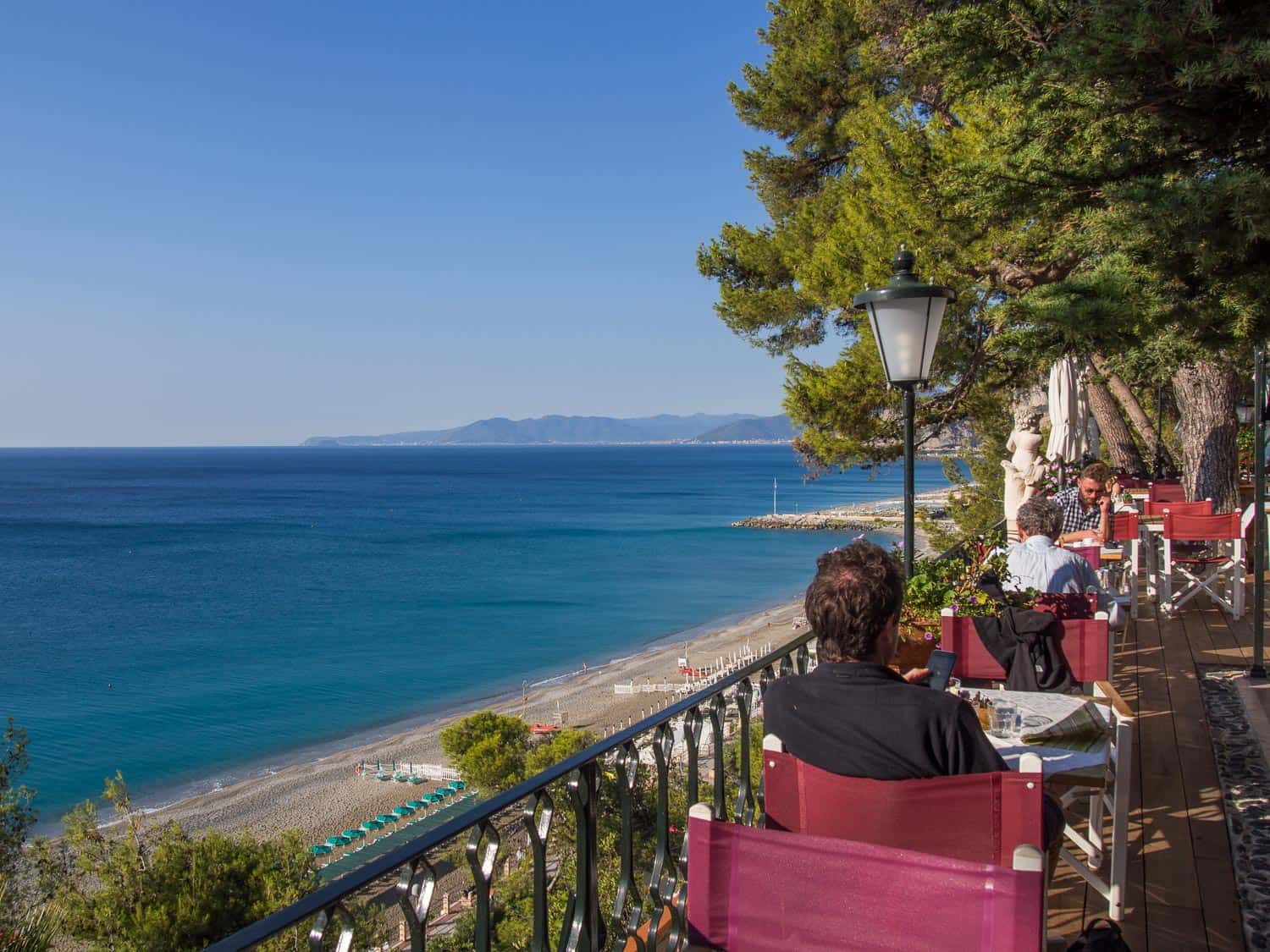 There are multiple terraces, all with sea views and lush vegetation, so there are plenty of hidden spots to relax.
The pool is lovely, although you can't see the sea if you are lying on a lounger (it's a hard life!).
There's an honesty bar so you can help yourself to drinks and ice-creams.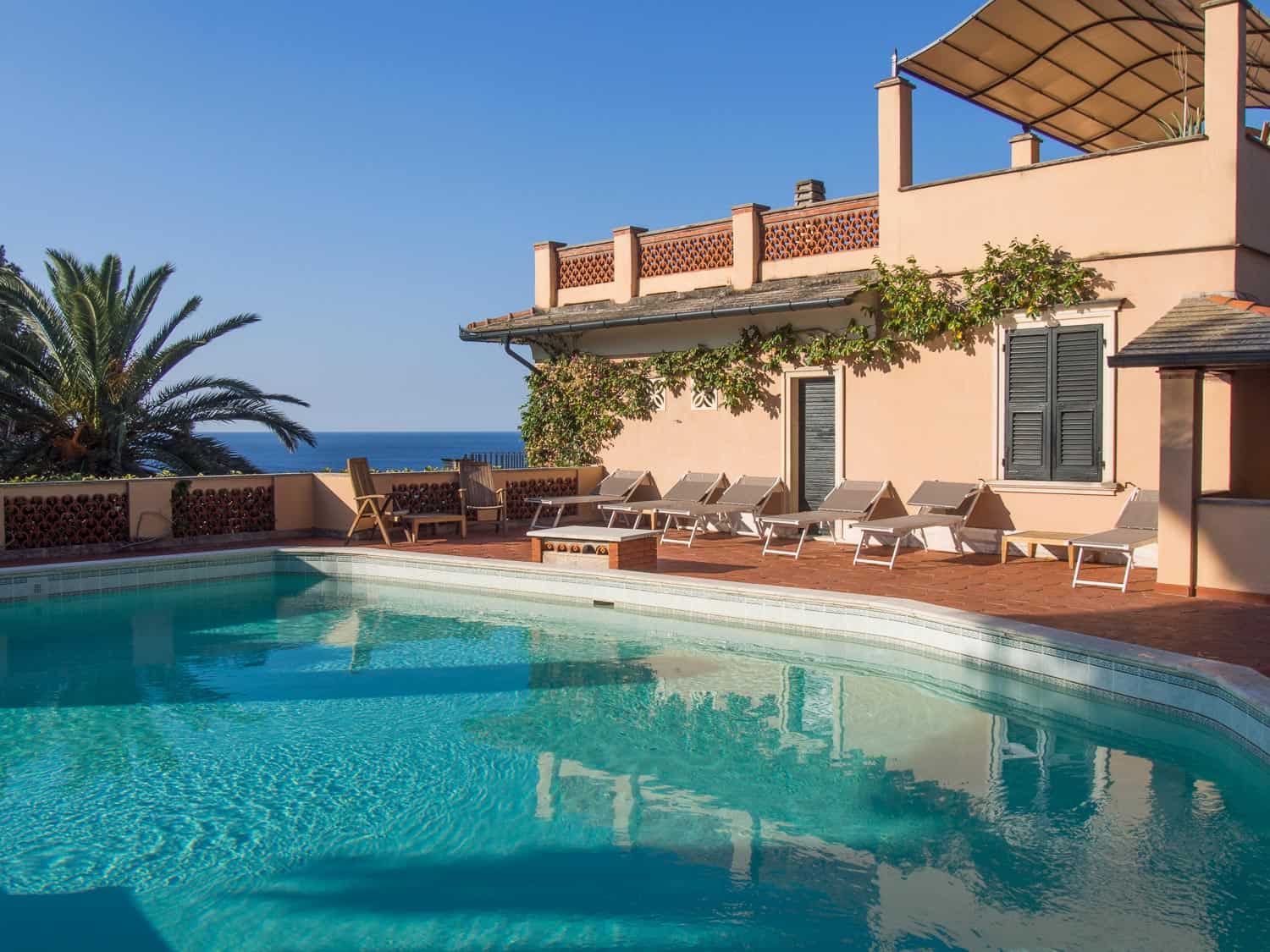 The terrace by reception has comfy chairs and a bar, so it's a good spot for a sunset aperitivo.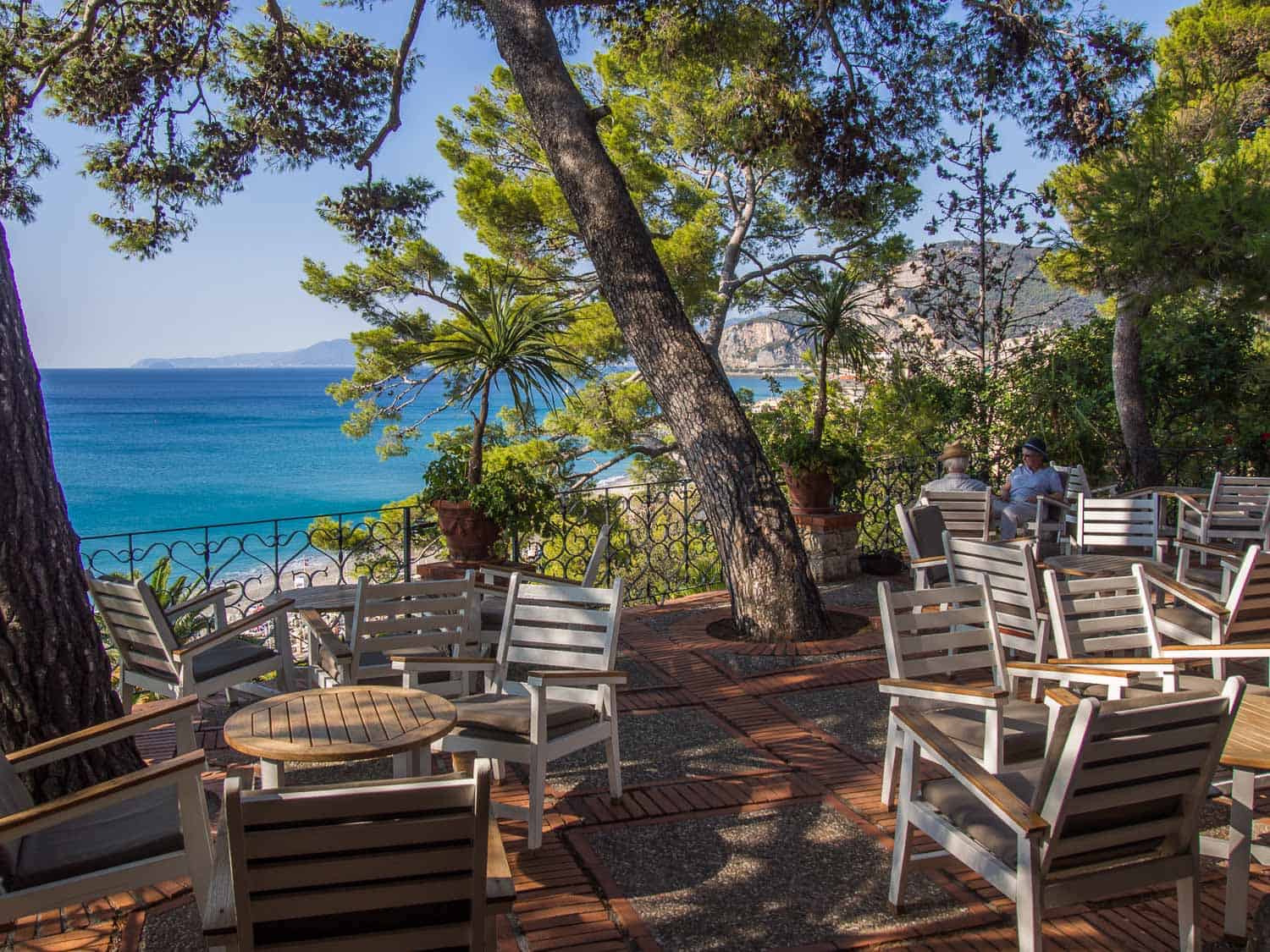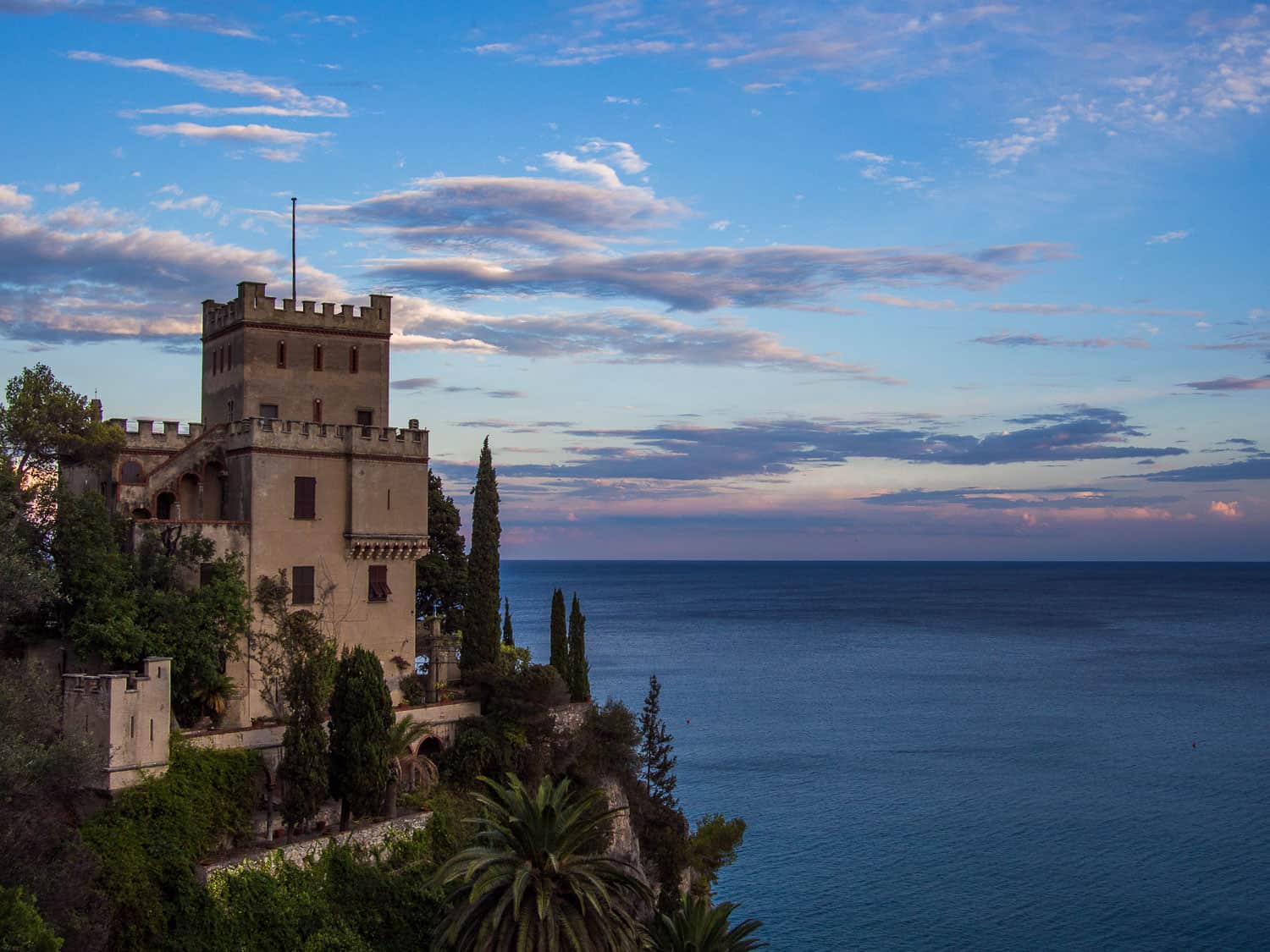 On our first afternoon there was a torrential downpour, but we still found plenty to do.
The games room has huge windows to enjoy the view (dramatic in a storm), comfy sofas, a pool table (where we discovered we are terrible at pool), piano, chess sets, books, TV, computer, and printer.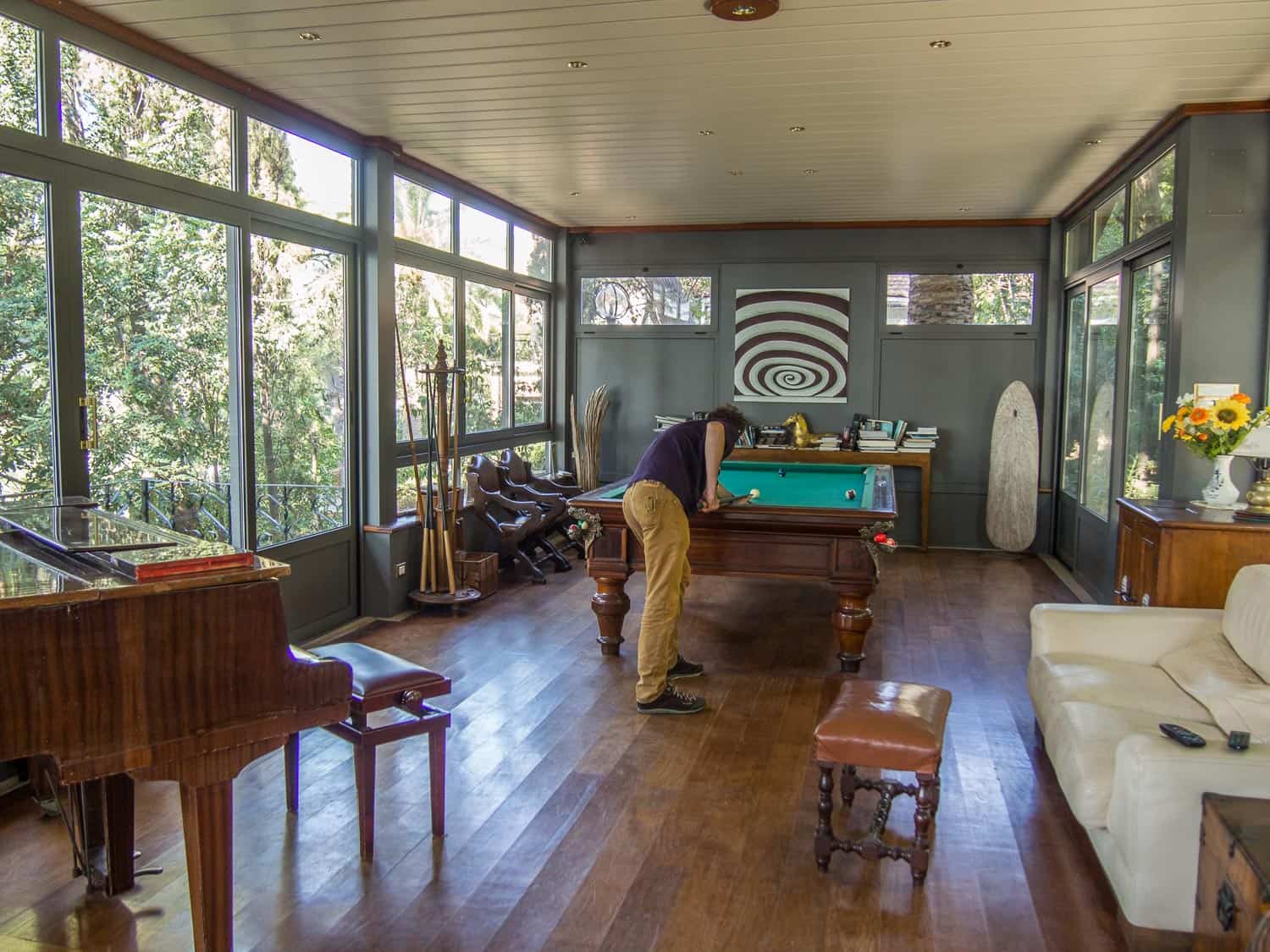 Best of all is the grotto.
We descended down a narrow spiral staircase into what felt like a well shaft—we just kept going down and down.
Eventually we reached a cave with amazing rock formations and a hot tub. It is such a unique place to relax and perfect on a rainy afternoon.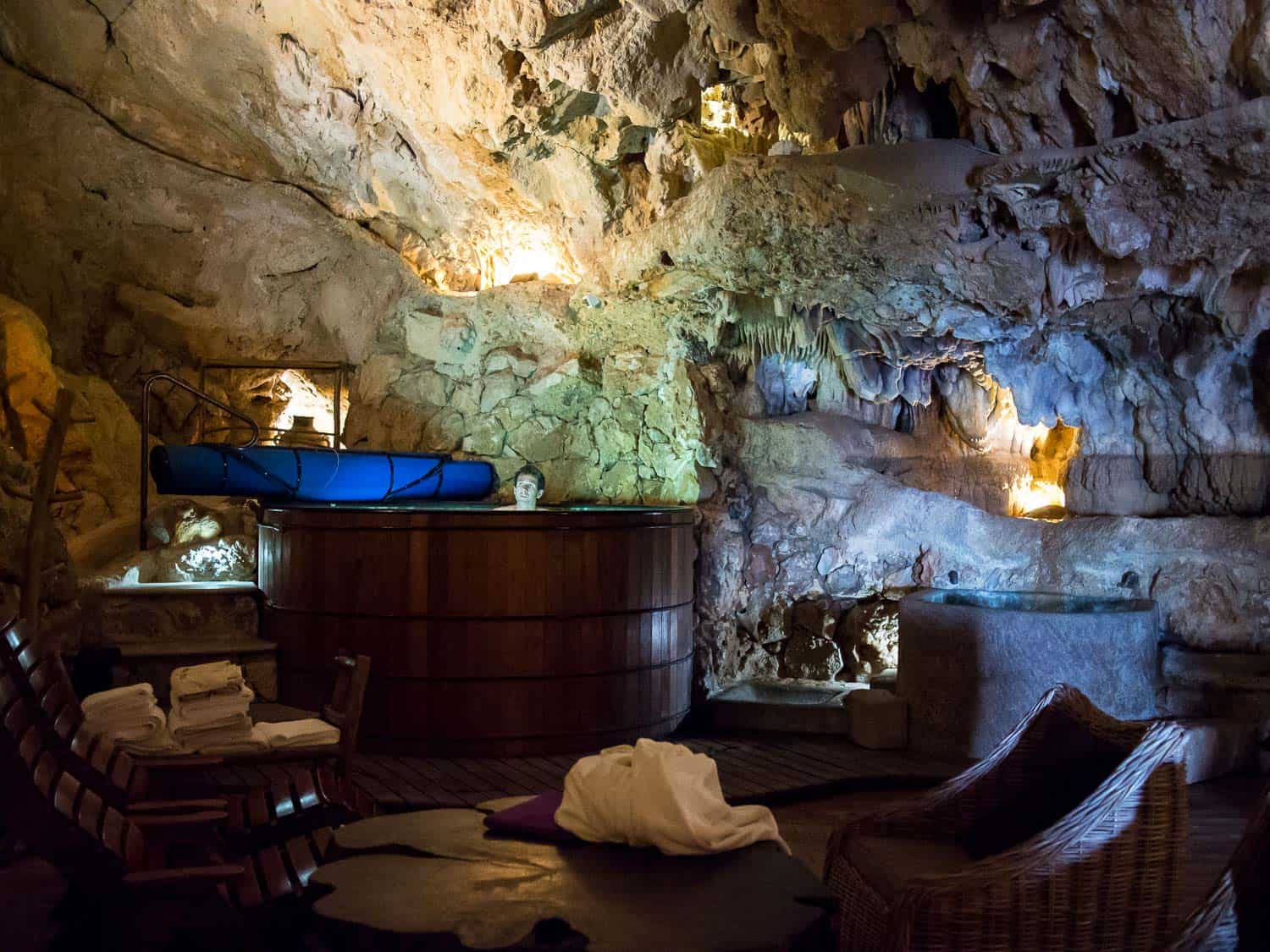 We don't usually eat in hotel restaurants, but the rain kept us from going out. We were pleasantly surprised as the menu marked vegetarian and vegan dishes, which is rare in Italy.
There was plenty of choice for us and the food was good—we had vegetable soup, pesto pasta, and pasta with a spicy tomato sauce.
Breakfast was a highlight. This is Italy, so there is no hot food, but we had plenty to choose from in the delicious buffet—focaccia, cheese, muesli, cakes, fruit tarts, pastries, fruit. There's even a gluten-free section.
The croissants were the best we had in Italy, and it was hard to resist stuffing ourselves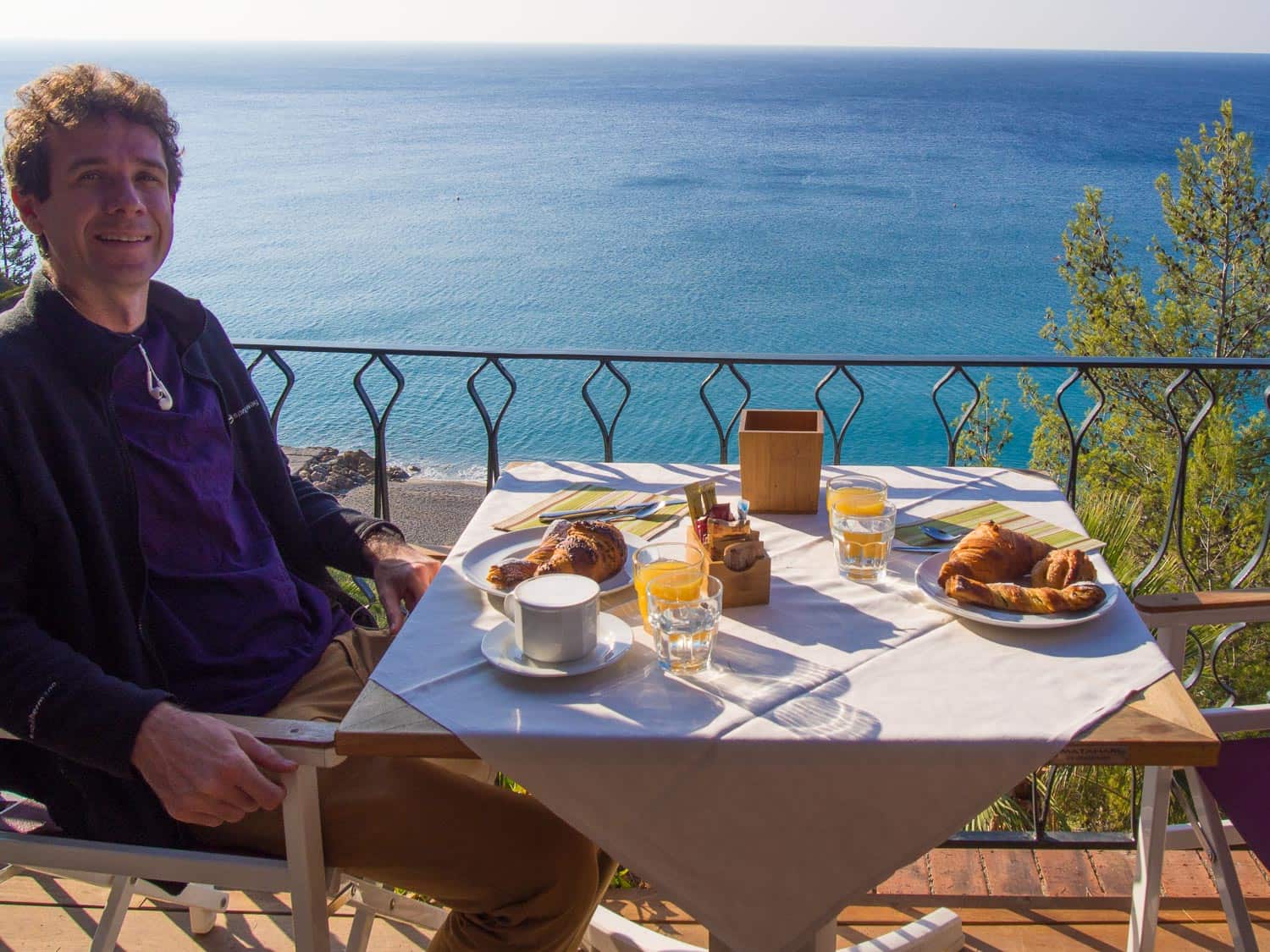 If you have the budget, I recommend staying at Hotel Punta Est. While the rooms are nothing special, the setting truly is. We felt far away from town but were only a short walk down to the beach.
It's quiet, relaxing, the service is excellent, the grotto is unique, and the breakfast with a view is the perfect way to start the day.
Check availability for Hotel Punta Est here.
Other Accommodation in Finale Ligure
For cheaper accommodation in Finale Ligure, look on Vrbo for apartments. There are some wonderful, affordable options including many with sea views.
You can also check Booking for hotels and B&Bs in Finale Ligure.
Unless you want to be close to the beach, it's worth considering staying in Finalborgo. It's charming, has great restaurants and can be cheaper.
Finale Ligure Restaurants
Ai Cuattru Canti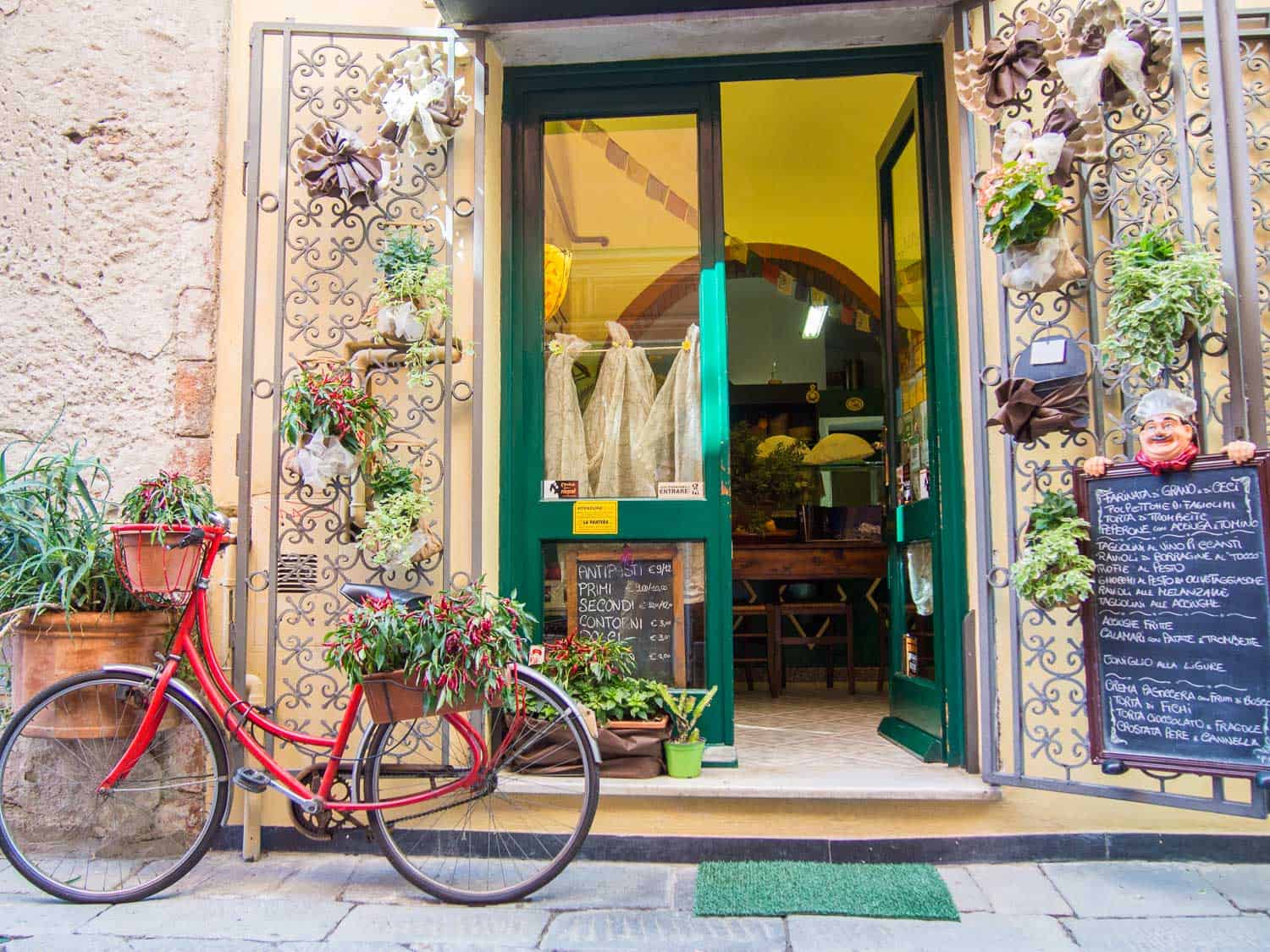 What a find! Ai Cuattru Canti is everything I want from an Italian restaurant.
It's on a quiet street in Finalborgo and the bright red bike adorned with chile plants was enough to tempt us in alone.
It's a tiny family-run place with only seven tables so book or get there early.
We arrived at 12, and they let us sit and wait until the food was ready. The friendly owner explained the options on the blackboard menu.
We started with the mixed antipasti, which was vegetarian and featured delicious vegetable tarts and a superb farinata (chickpea flour pancake) with onions.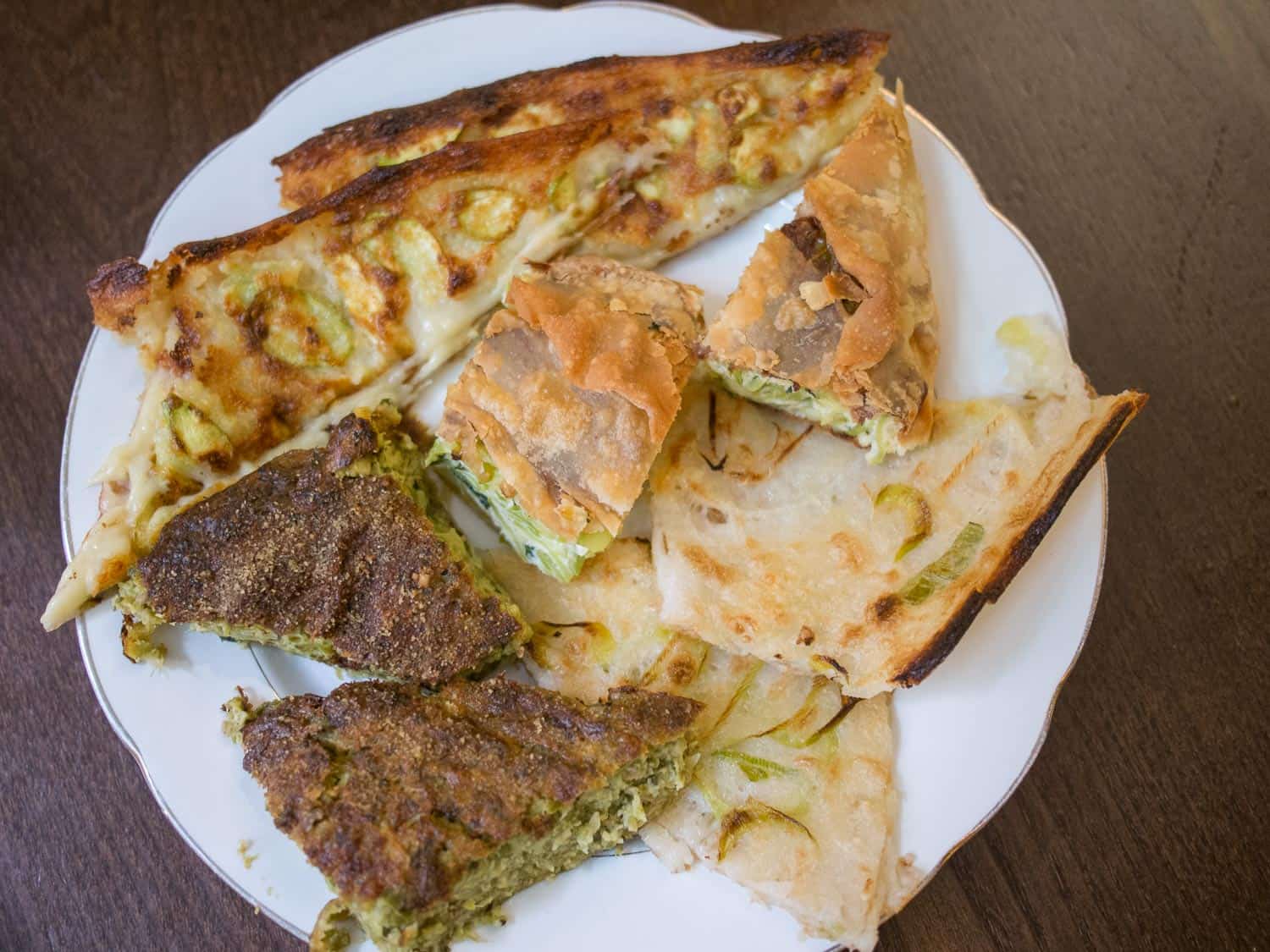 Our main courses were just as good. Liguria is the home of pesto, and I'd been eating it every day over the previous week, but this was the best I had.
It was served on the classic trofie pasta with green beans and potatoes and was delicious.
Simon also loved his aubergine ravioli with tomato and aubergine sauce. Sadly, we didn't have space for their desserts.
It was also a bargain compared to what we paid elsewhere on the Riviera.
Don't miss Ai Cuattru Canti for simple, delicious home-cooked food.
Gnabbri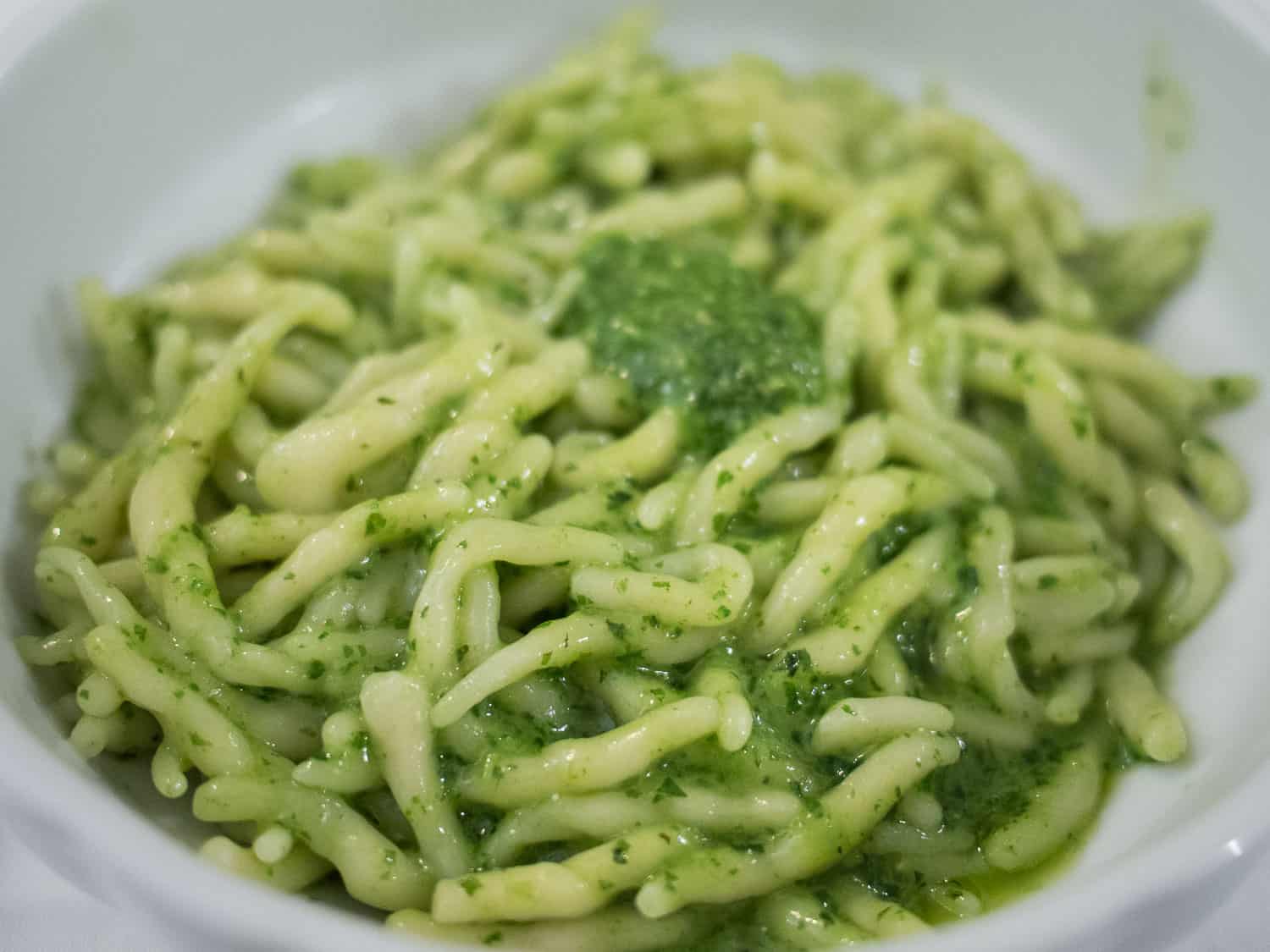 Our final meal was in the centre of Finale Ligure Marina. We didn't have a reservation and struggled to find a table.
We chose Gnabbri at random but enjoyed our meal there.
They made us a vegetarian version of their mixed antipasti, which came with vegetable tart, zucchini flan, couscous, and donut-like potato focaccia.
The pasta dishes—trofie al pesto and pansoti alla salsa di noci (ravioli with walnut sauce) were also good.
How to Get to Finale Ligure
By Plane
The nearest international airport to Finale Ligure is Genoa (GOA).
You could also fly to Milan or even Nice in neighbouring France.
By Train
The train station is called Finale Ligure Marina.
It's about an hour from Genoa and 1 hour 10 minutes from Ventimiglia on the French border where you can change for trains to France.
From Ventimiglia, the city-state of Monaco is 40 minutes away and Nice, France in an hour away by train.
If you are coming from elsewhere in Italy, you'll likely have to change trains in Genoa. Although there are occasional direct trains from Milan (2.5 hours) and Turin (2 hours 45 minutes).
You can find times and book tickets on TrenItalia (use Italian place names i.e Genova not Genoa).
The Intercity and Freccia trains need to be booked in advance, but the regional trains don't.
Getting Around Finale Ligure
It's easy to walk everywhere in Finale Ligure and Finalborgo.
As Hotel Punta Est is at the far end of town from the station, we took a taxi when we arrived.
Finale Ligure Map
Is Finale Ligure Worth Visiting?
When you are planning your trip to the Italian Riviera, don't overlook the other side.
Finale Ligure is definitely worth visiting! It has a long sandy beach, dramatic mountains for hiking and climbing, a gorgeous medieval village, delicious food, and lower prices.
Outside of July and August (when Italians flock to the beach), you may well have it to yourself.
More Italy Posts
Liguria
Elsewhere in Italy
If you enjoyed this post, pin it!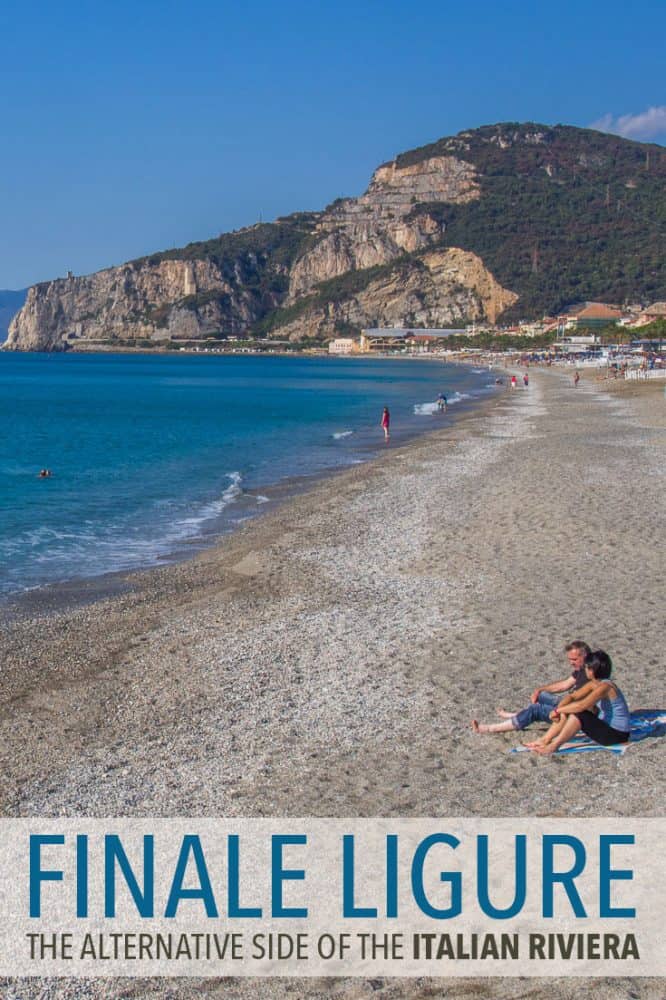 Thank you to Hotel Punta Est who hosted us in Finale Ligure.