This page contains affiliate links. Please read our disclosure for more info.
Barolo is a small wine region in the Langhe area of Piemonte in northern Italy. Of course, people come here for the wine, but there are many more reasons to visit including the delicious food. The Slow Food movement originated nearby and this is a region that takes its food seriously. Expect to spend hours savouring multiple courses of rich dishes featuring fresh truffles, egg pasta, delicious cheeses, and local hazelnuts, all accompanied by glasses of the superb wines.
Piemonte is a meat-heavy region (local specialities include vitello tonnato cold sliced veal and carne cruda all'Albese chopped raw meat), but there is still plenty on offer for us vegetarians. Every menu we looked at had at least one meat-free dish and staff understood the concept of vegetarianism and were happy to explain our options. Vegans will struggle more as most pasta is made with eggs and cheese is frequently used, but I'm sure they could put together something—there are plenty of veggies too.
You'd struggle to find a bad meal in the Barolo villages, whether you are eating in a Michelin starred restaurant or simple trattoria. These are the restaurants we enjoyed the most—all are vegetarian-friendly.
As we were staying in Castiglione Falletto we were lucky to be in walking distance of Ristorante Le Torri. This upmarket restaurant has gorgeous views of the surrounding vineyards and hills from its terrace, but make sure to book in advance to get an outside table. Although we sat inside, the view from our window seat was still lovely.
There are plenty of options for vegetarians. For antipasti we shared the melanzana parmigiana (aubergine with tomatoes and cheese), which was a little heavy but delicious, and a wonderful vegetable strudel in a decadent parmesan fondue. It's not a dish we've eaten in Italy before and shows the influences of Piemonte's northern neighbours.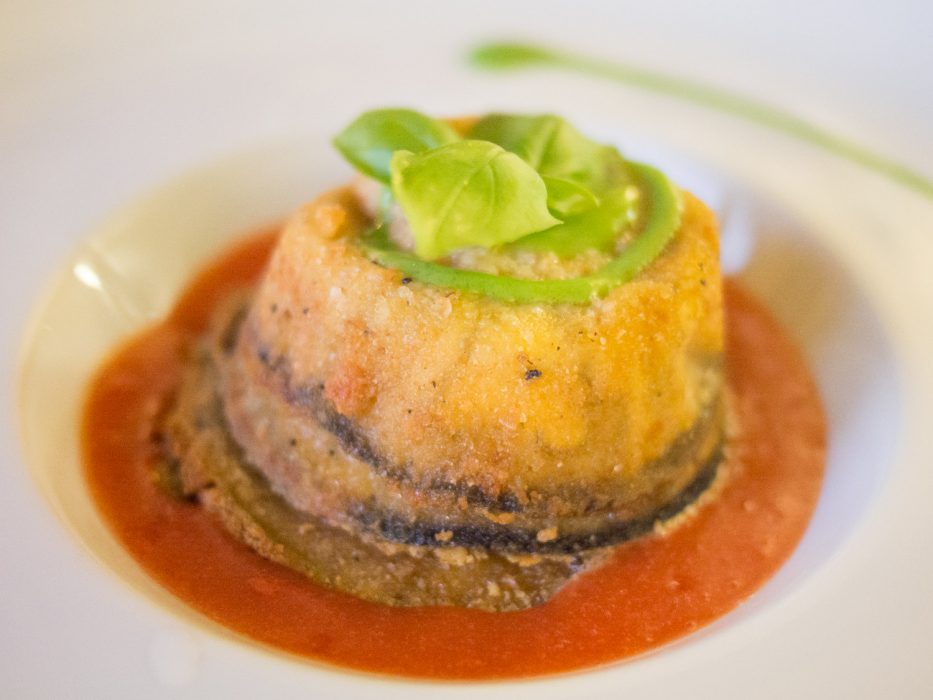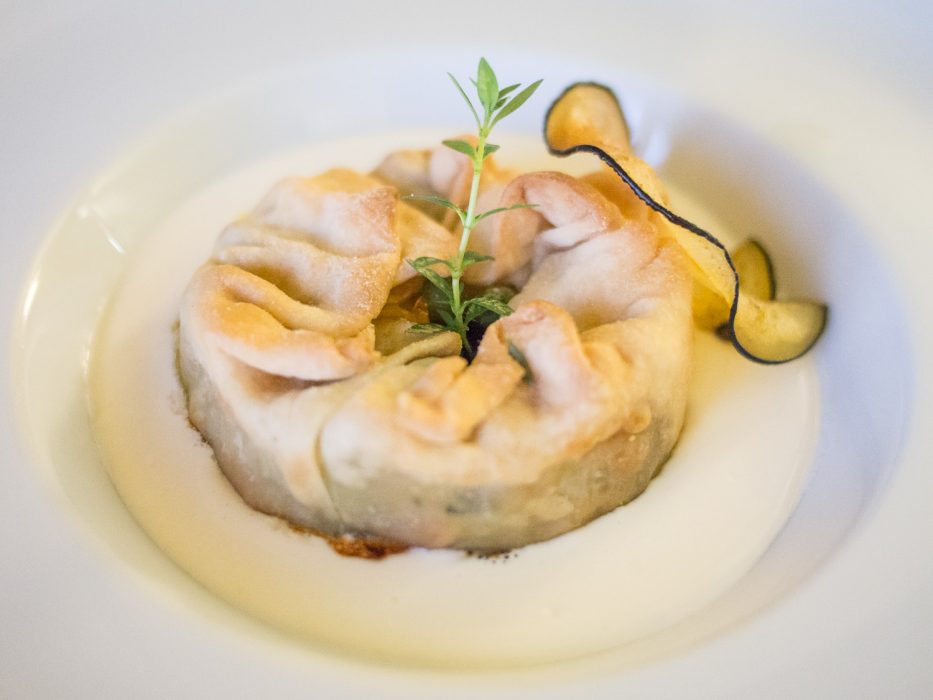 For primi we had gnocchi al Castelmagno, potato dumplings served with a local cheese that was a little too pungent for me but Simon loved it. I preferred the green ravioli del plin (top photo), pasta stuffed with cheese and lemon and served in a tomato sauce. Wine is available by the glass as well as from their long list of bottles. We loved our glass of Dolcetto red.
The food was so good that we couldn't resist ordering two desserts. Both the white chocolate and apricot mousse and the chocolate souffle were wonderful, especially paired with a glass of Moscato d'Asti.
The food, wine, view, and service were so good that we ate at Le Torri twice during our week-long stay in the Langhe.
You must be prepared for Trattoria dai Bercau—make sure you are hungry and have the energy for a three-hour endurance test of eating. This rustic, family-run restaurant has outdoor seating and a casual atmosphere. There's no menu but if you explain you are vegetarian they are happy to create something special.
The meal starts with a selection of antipasti—they just keep bringing around more dishes until you say basta! As we had a special vegetarian menu we were each brought a plate of three dishes—grilled aubergine with mozzarella and tomato, yellow pepper and cheese tart, and a Piemonte version of caponata, vegetables in balsamic vinegar. We thought that was plenty but a mushroom tart in cheese fondue came afterward. We're not the biggest mushroom fans so if we liked it, you know if was good.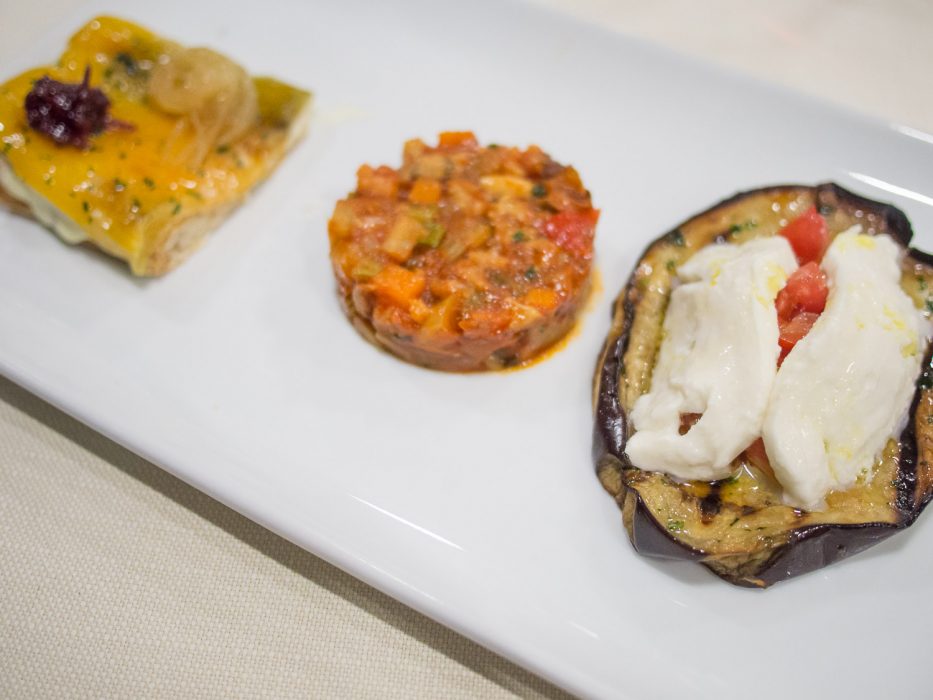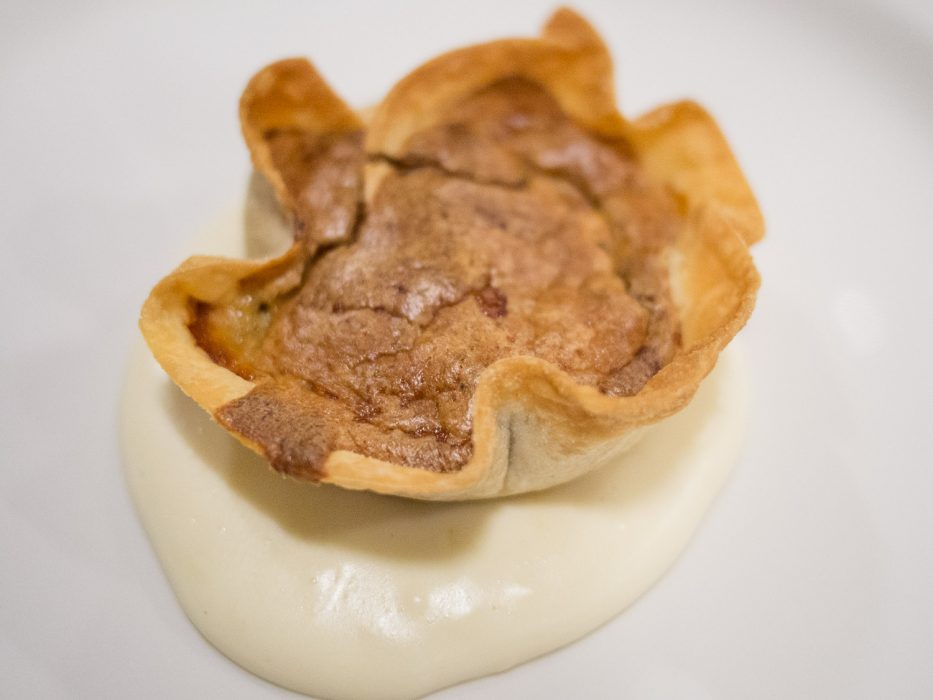 Moving on to the primi, a few options were explained to us and we chose the two vegetarian pasta dishes—tajarin (long thin egg pasta) with black truffles and gnocchi with a tomato and olive sauce. They were brought around family-style and served at our plate with the owner shaving the truffles directly onto our pasta. Honestly though, I've never really got truffles and it was a little tasteless to me—I preferred the gnocchi.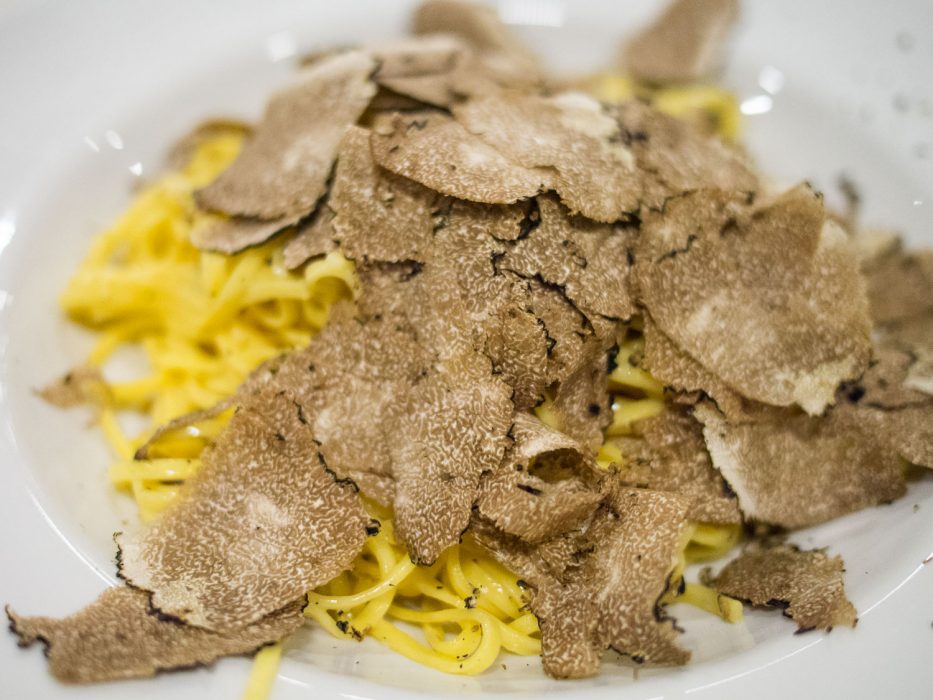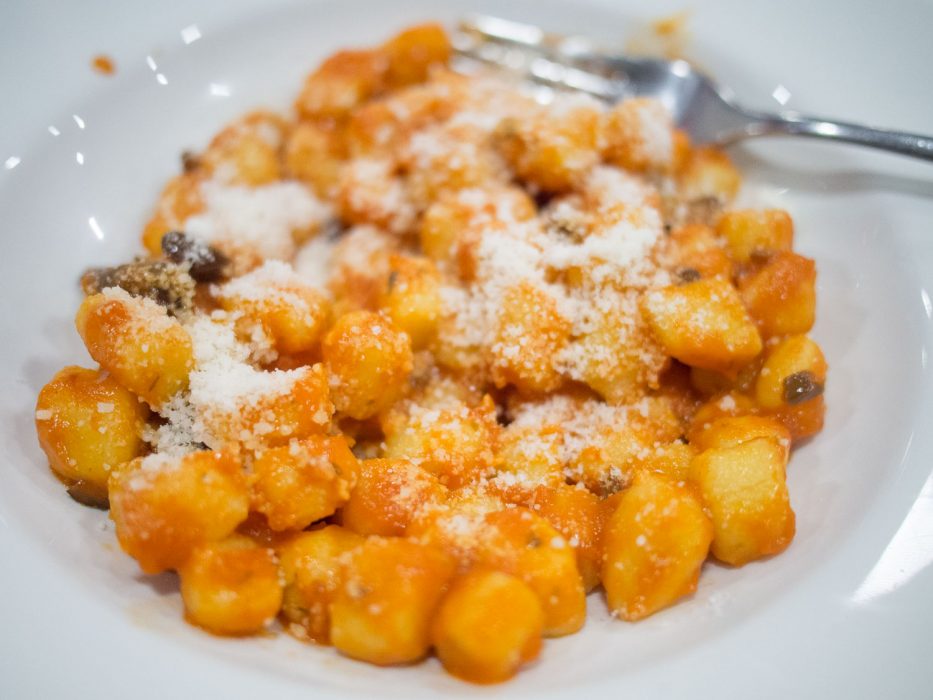 The second main course or secondo is usually just meat dishes, but they offered us a fried mushroom dish. Sadly we had to pass. We did manage to squeeze in a melting chocolate cake for dessert.
Verduno is home to a rare variety of wine called Pelaverga. We ordered a half litre of their house variety (only €6) and loved it—it's pale, fruity, slightly sparkling, and easy to drink.
Trattoria dai Bercau is a unique experience with delicious food, relaxed atmosphere, and reasonable prices.
At this casual osteria you can choose to sample local wines with a snack or have a more substantial meal. There's a small menu on a chalkboard that changes daily and mixes traditional with more unusual dishes. There's at least one vegetarian dish for each course. Wine is available by the glass from €3.50.
We started with a salad of creamy burrata cheese with peach, grilled onions, hazelnuts, and a peppery olive oil. It was the perfect combination. Our main was a vegetable lasagna with romesco sauce (made from almonds and red pepper). It was unlike any lasagna we'd had before but very good.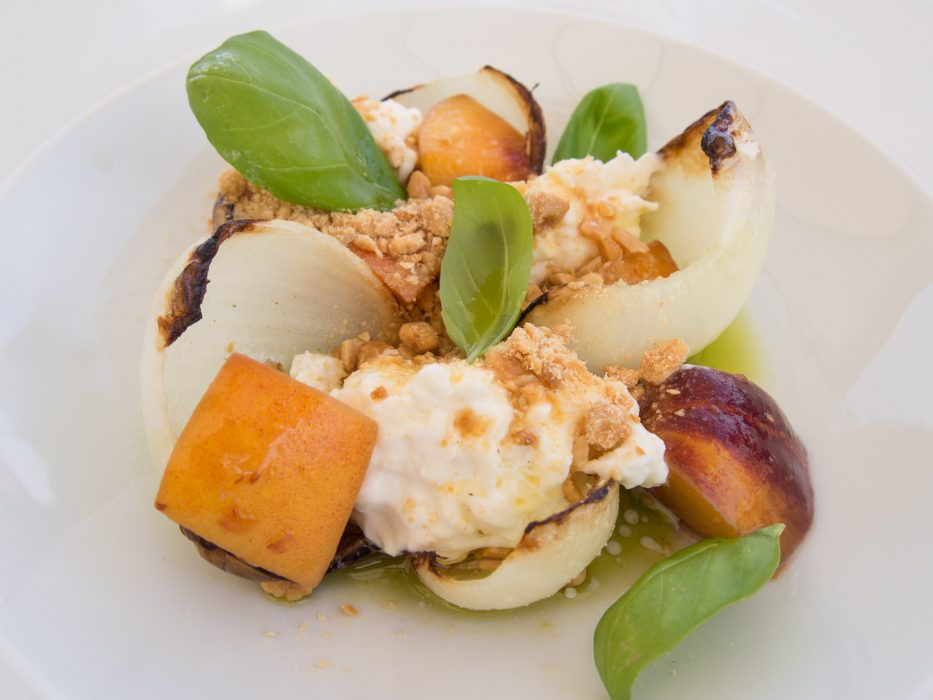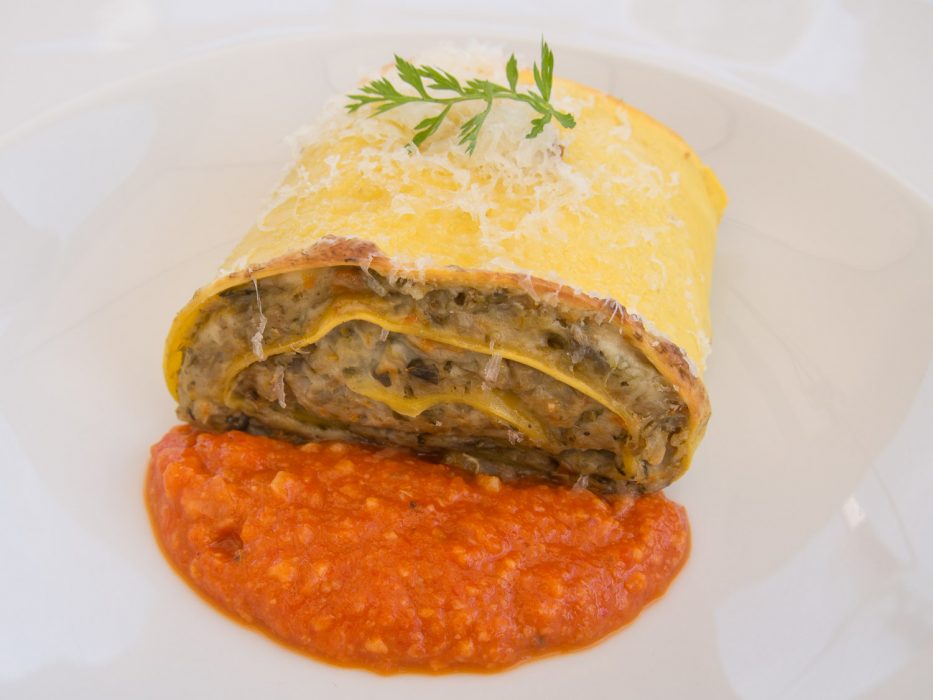 La Morra is worth visiting for the views alone (head up the bell tower if it's open) and More e Macine is a nice place for a light lunch or glass of wine and cheese.
Of course, in the village of Barolo we had to have our first taste of Barolo wine, and La Vite Turchese was the perfect place to do so. Our flight of four Barolo wines (€19) came with an explanation (complete with map) of the different areas they come from and how this affects the taste.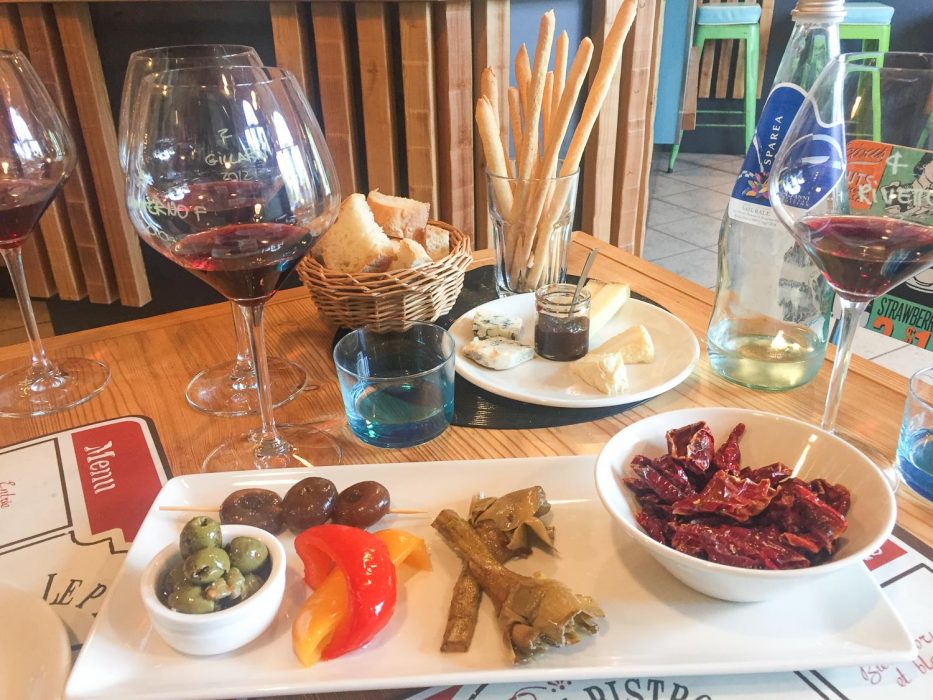 La Vite Turchese is a wine bar and shop rather than a restaurant, but food is available if you are drinking. We chose the cheese and vegetable plates for a light lunch and these also came with a detailed explanation of exactly where the food originated from. All the cheeses were local and we loved the creamy goats cheese from a small artisan farmer so much that we bought a round to take away. Paired with the excellent grape must jam (no added sugar) it was divine.
Eating and drinking in La Vite Turchese is a lovely way to spend an afternoon. It's ideal if you want to learn about and taste the local wines accompanied by some delicious food. There are plenty of wines and gourmet food products to take home too (and they ship).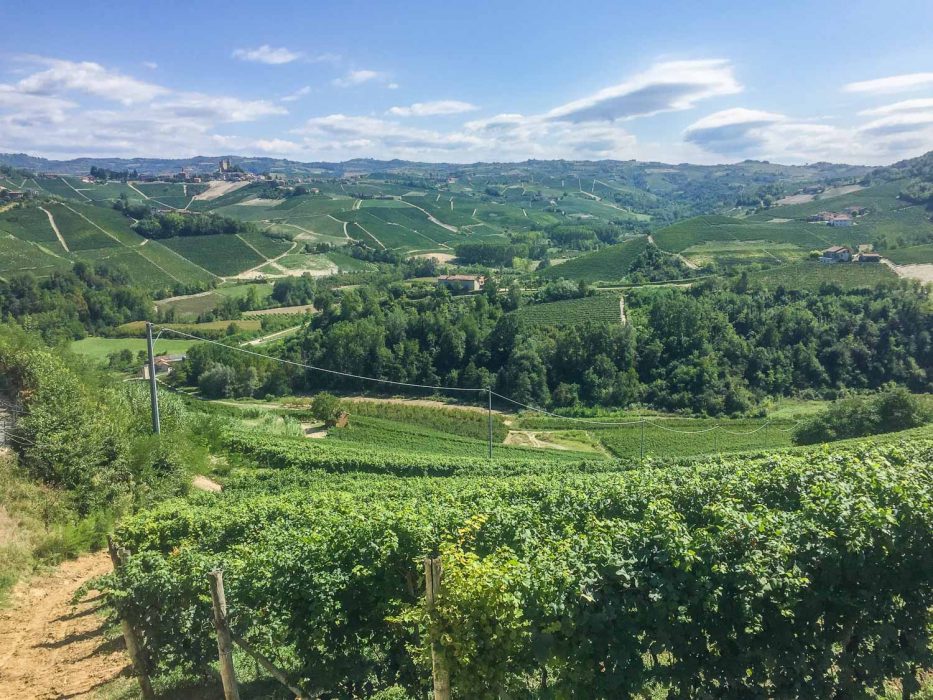 Bar la Terrazza da Renza has the best view of all the restaurants we visited (book in advance for the best spots). There's no pasta on the menu—instead there's a set menu of five antipasti for €20. I don't recommend it for vegetarians though. Everything contained meat and although they made us a vegetarian platter, the frittata, tomato salad, and mushrooms weren't terribly exciting. If you do eat meat, it's worth visiting for the views and the food is supposed to be good.
Barolo Restaurants Map
The food was so good in the Barolo and Langhe area that we wished we'd had the stomach space to try more restaurants. There are so many great options to choose from. See the blogs Girl's Gotta Drink, Piemontemio, and Wine Words Wisdom for more suggestions.
For more about the Barolo wine region, see our post about why you should visit the Langhe in Piemonte.
If you enjoyed this post, pin it!