This page contains affiliate links. Please read our disclosure for more info.
With its extreme weather, Iceland is not a country where you want to be unprepared. This Iceland packing list shows you what to pack to stay warm and dry and avoid paying high prices to buy extra clothes in Iceland.
We visited Iceland in late September, officially autumn, but it felt distinctly wintery with temperatures from –2ºC (28ºF) at night up to a maximum of around 5ºC (40ºF) during the day.
Iceland's weather is unpredictable, and at any time of year, you should be prepared for cold weather, rain, and strong winds. Seriously, the wind is intense!
Contents
Video: Iceland Inspiration
If you are looking for inspiration for your Iceland trip, check out our video on the best places to visit on the Snaefellsnes Peninsula.
What to Wear in Iceland
Layers
The best way to dress for Iceland is with layers. This Iceland packing list could work as a basis for a trip at any time of year.
In the summer, add some extra t-shirts in case the sun comes out (and maybe skip the thermal underwear).
Average temperatures in Reykjavik in summer range from 9ºC to 14ºC (48 – 57ºF) and with wind chill it can feel colder. You could get lucky with sunny 20ºC (68ºF) days.
In winter, just add a heavier jacket and maybe snow boots and a balaclava. Reykjavik average temperatures range from -2ºC to 2ºC (28 – 36ºF).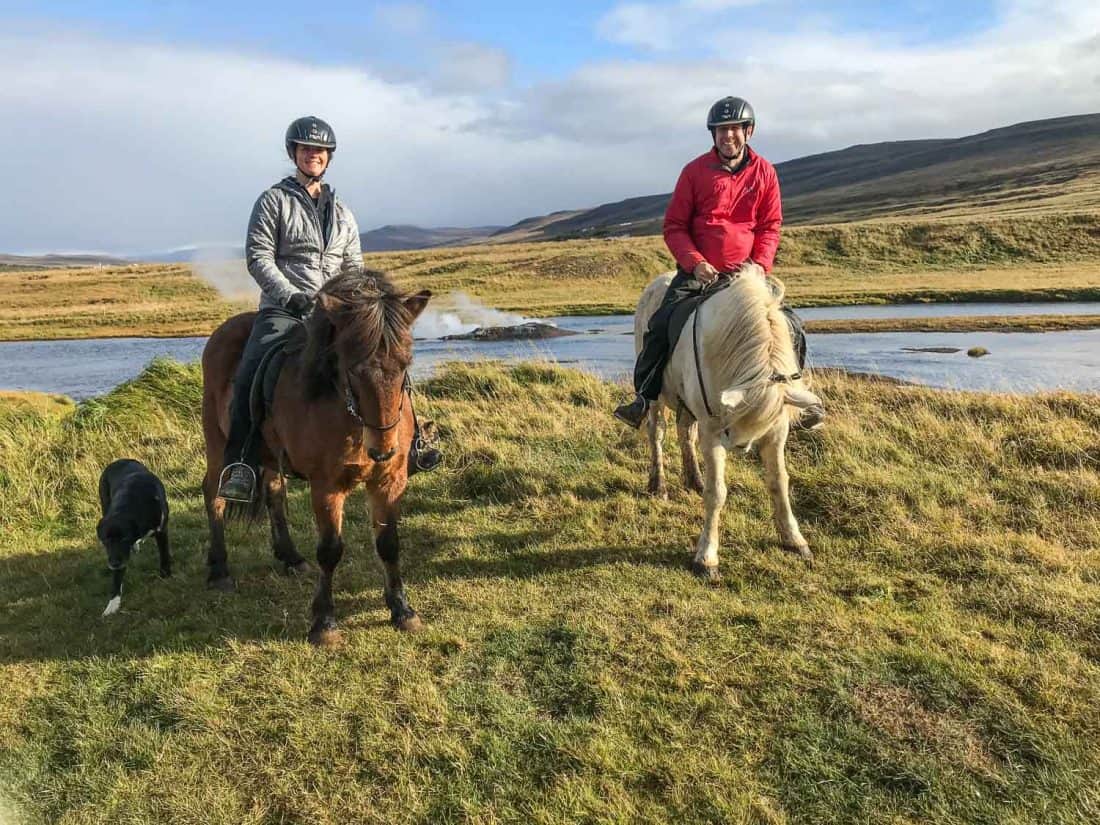 Merino wool is our favourite fabric for layering as it's warm but lightweight, dries quickly, and is odour-resistant so you can wear it multiple times before washing. It's soft and doesn't itch like other wool.
As a base layer, we love Icebreaker 200 Oasis long sleeve tops—available for women and men.
We also packed merino Smartwool socks, which are so cosy and again, don't smell. Our favourites for Iceland were the thicker crew socks.
Icebreaker merino medium crew hiking socks are also excellent.
Merino wool is quite pricey, though, so I also packed cheaper alternatives from Uniqlo. Their Heattech thermal range isn't as warm, but it's soft and comfortable and works well for layering.
REI also makes affordable base layers that will keep you warm—see the midweight crew top for women and midweight half-zip top for men.
What We Wore
I feel the cold so wore quite a few layers. On a typical day I wore a long sleeve base layer, sweater (or two), fleece, lightweight down jacket, thermal leggings under jeans, hat, gloves, thick socks, and hiking shoes.
Simon usually wore a t-shirt, long sleeve merino wool top, fleece, down jacket, Bluffworks trousers, hat, gloves, thick socks, and hiking shoes. He often wore waterproof over trousers as extra warmth for his legs.
It can rain at any time so you'll also need a waterproof jacket. Umbrellas are useless because of the wind.
See our complete packing list below.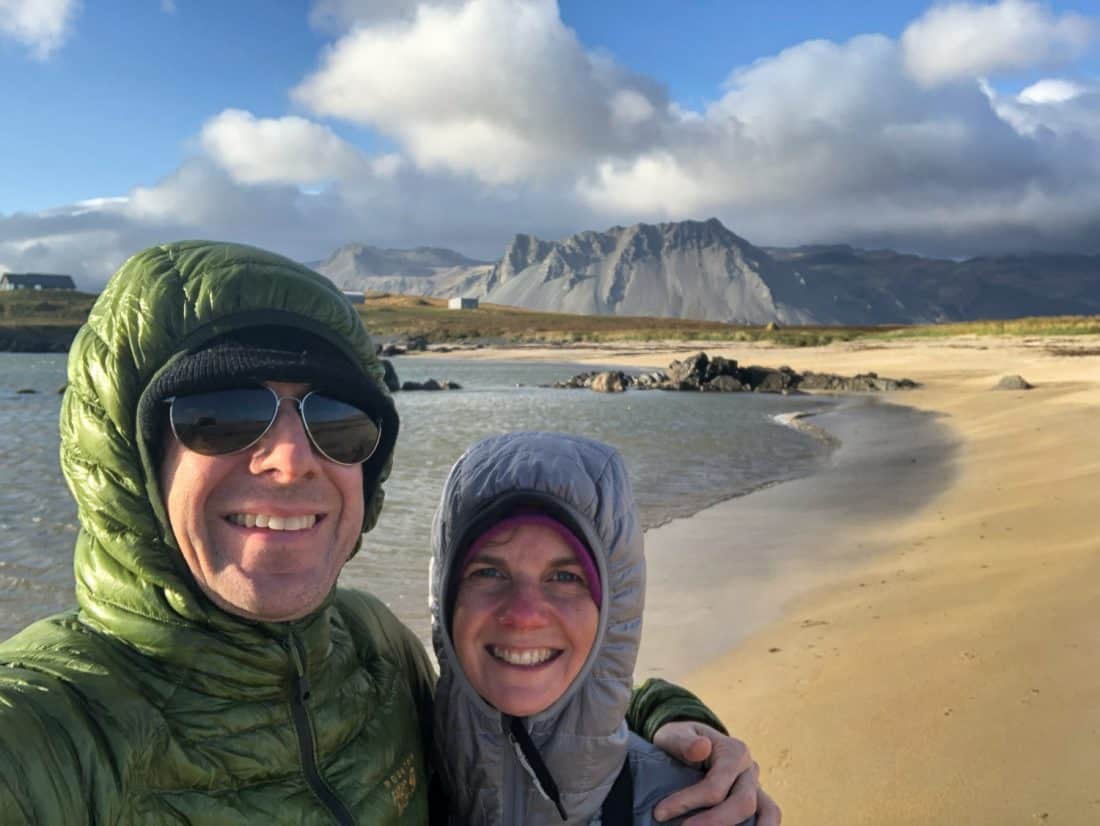 Do You Need Hiking Boots for Iceland?
The best shoes for Iceland are waterproof and comfortable with rugged soles.
Even short walks to major sights in Iceland can involve rocky, muddy trails so decent shoes or boots with non-slip soles are important.
It's best if they are waterproof—look for shoes with GTX in the name to show they are made with Goretex.
Many visitors wear hiking boots in Iceland, and if you already have a comfortable pair then bring those (wear them on the plane to save space).
We were fine with hiking shoes, even when walking on snow on the glacier. In winter, you might prefer boots.
My current hiking shoes are Oboz Sypes waterproof shoes and Simon's are Keen Targhee III waterproof shoes.
If you want a comfy second pair of shoes, consider the Allbirds Wool Runner Mizzles (available for men and women).
These cosy wool sneakers look good enough for city wear but are water-resistant (not fully waterproof) and have enough traction for short hikes (I've actually hiked 8 miles in them).
I find them much more comfortable than hiking shoes and boots. See my Allbirds Mizzles review for more details.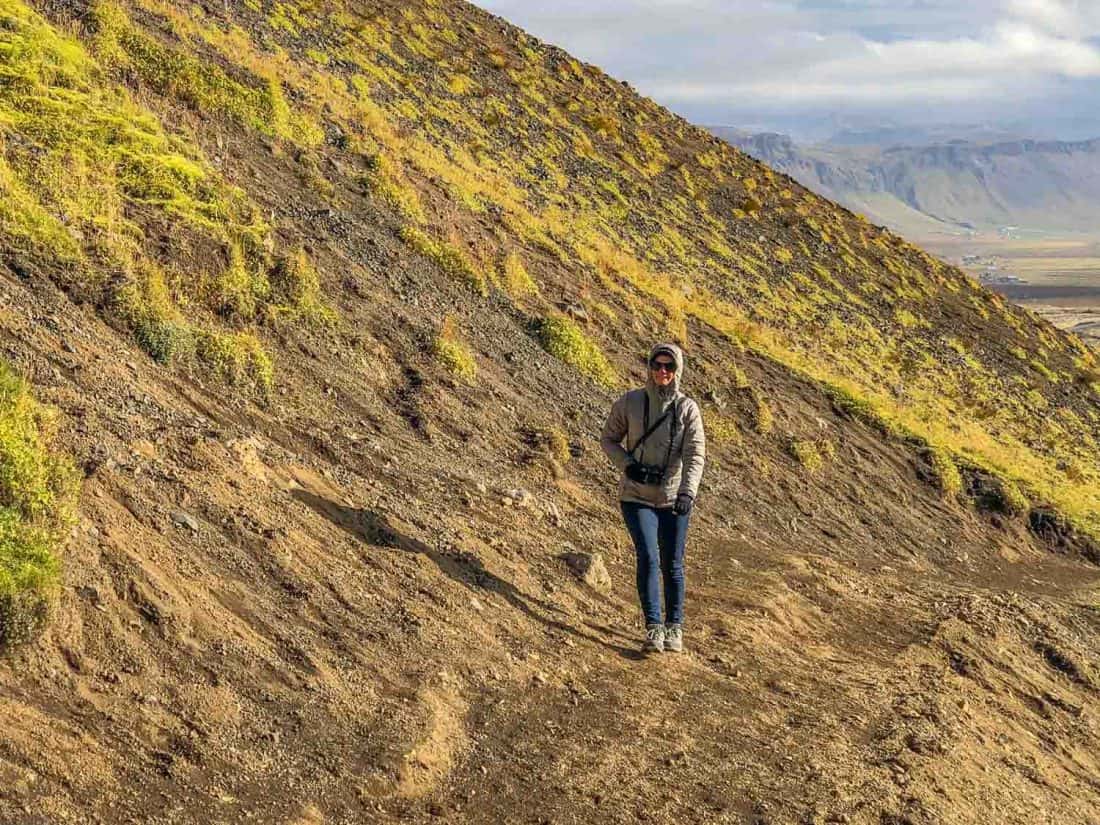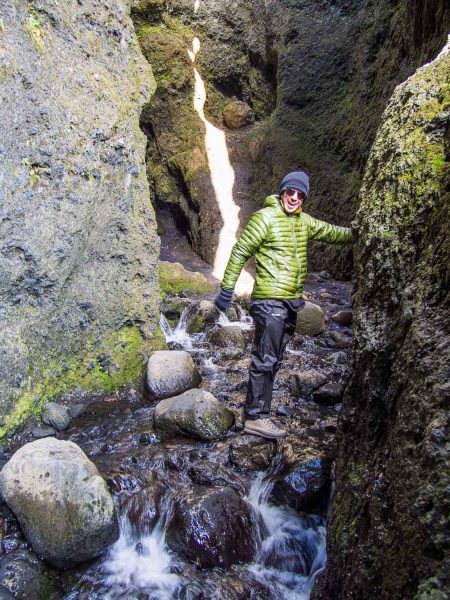 Packing For Iceland in a Carry On
Despite the cold weather, we still managed to pack for Iceland in one carry-on backpack each. We wore our bulkiest items on the plane and used compression packing cubes to save space.
If you are struggling to fit everything in, compression sacs are even better at saving space.
Read our carry on packing tips and post on how to pack light for winter travel for more ideas.
We were in Iceland for 12 days and did laundry after a week (our Airbnb had a washing machine and dryer).
Travel Insurance
Don't forget travel insurance—it's essential in case anything goes wrong and you need medical treatment or to be evacuated home.
If you are planning to do some adventure activities in Iceland, make sure your insurance allows it.
Two insurers that we've used and recommend (and both cover COVID-19) are:
SafetyWing – A good value option available worldwide. It's designed for longer trips (as a monthly subscription) but works for short trips too. Children under 10 are free.
True Traveller – We used them for our Iceland trip, but they are only available for UK or EU residents. Policies are a bit more comprehensive and include cancellation cover (if you purchase in your home country).
Our Iceland Packing List
Here's exactly what we packed for our 12 days in Iceland:
Luggage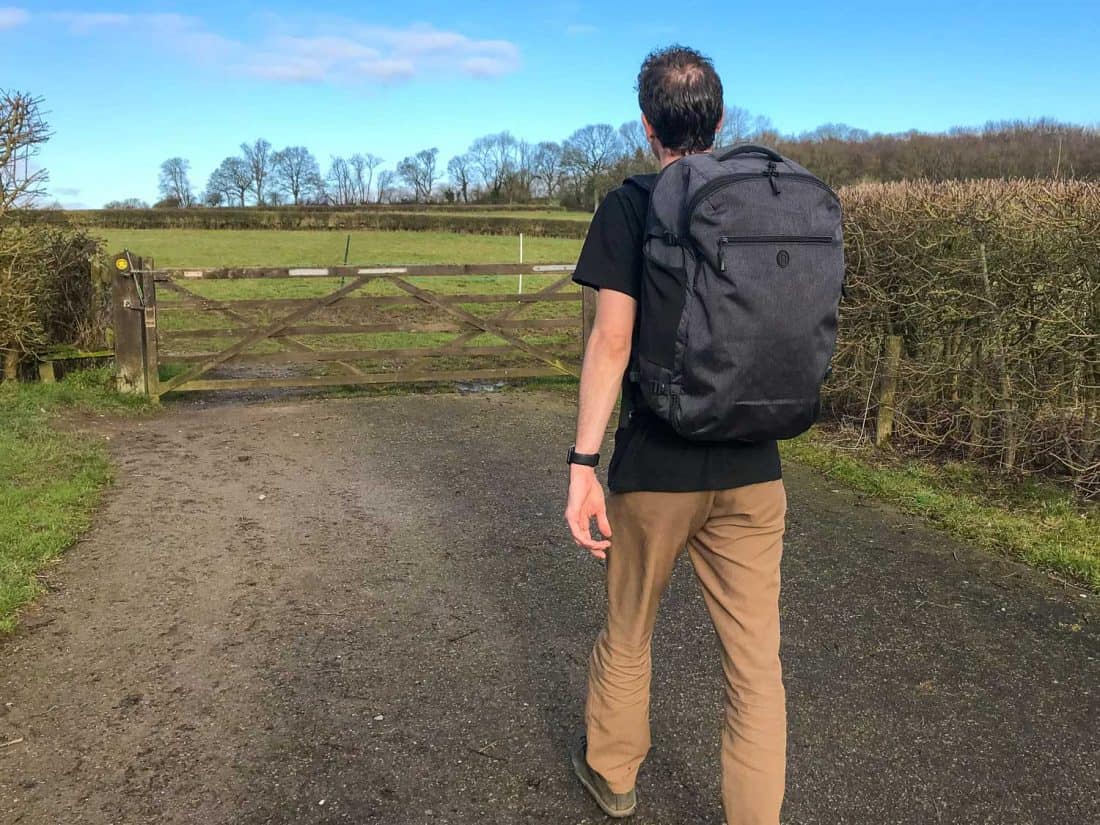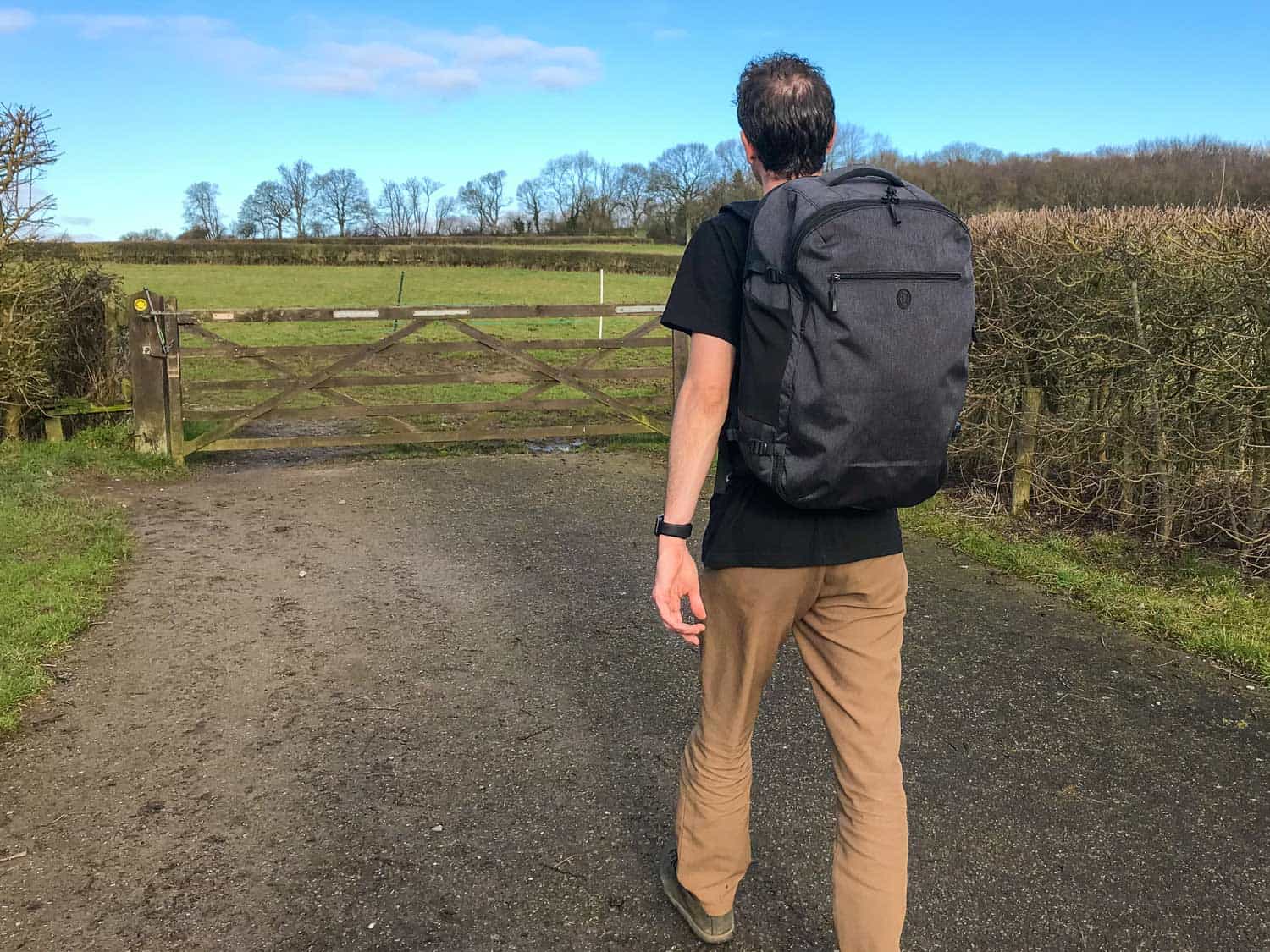 Many of the budget airlines that fly to Iceland (we flew with Easyjet from London) charge for checking luggage, so you'll save money by travelling with just a carry-on bag.
We travelled to Iceland with a single carry-on-sized backpack each, but we have since switched to rolling luggage.
We both have the Away Bigger Carry-On, which we love, but it may be over the size restrictions of some budget airlines (so far I've flown on 10 airlines including Easyjet with no problems).
The smaller Away Carry-On is a safer bet if you don't want to risk having to gate-check your bag.
As you'll likely be road tripping in Iceland, I don't think it matters if you travel with a backpack or suitcase.
A backpack is usually easier to get on the plane as a carry-on (a suitcase stands out more), but a suitcase is easier to roll around airports and deal with in queues.
Tortuga 40L Backpack (Simon) – It's the maximum size you can take on a plane and fits a ton of stuff. It looks stylish and is very durable. Simon had the Setout, but it's no longer available. The Outbreaker is a good alternative.
Osprey Farpoint 40 Backpack (Erin) – A smaller and cheaper alternative to the Tortuga. I used mine for over four years of full-time travel. I had the men's version which was fine.
Packable Daypack – We took this on the plane as a personal item (mostly full of food) and used it as our daypack when exploring each day. See my guide to the best packable daypacks for a range of options. The Matador Freefly16 is my current top pick.
Packing cubes – Essential to organise your things and fit more clothes in. I took two ultralight Eagle Creek Spectre compression cubes, while Simon uses Peak Design packing cubes, which have a compartment to store dirty laundry.
Erin's Clothes
Here's a women's packing list for Iceland.
3 long sleeve tops – The warmest is my Icebreaker Oasis merino wool top and I also packed two Uniqlo Extra Warm Heattech tops which are soft and light. Both are quick-drying and odour-resistant.
Tank top – I mostly used this for yoga and sleeping in, but it could have been an extra layer.
2 Sweaters – One lightweight merino/cashmere blend (which dries quickly) and one a thicker cotton/nylon/wool blend. I wore them both for extra warmth. Similar options are this Kari Traa Molster Knit Sweater and Icebreaker Cool-Lite Momentum Crewe Sweater.
Fleece hoody (North Face) – Light but warm and the hood was useful when it was windy. The wind was so powerful I often wore a hat and two hoods.
Jeans – I wore these most of the time. They are not a good choice on rainy days as they take ages to dry, but you could wear waterproof trousers over them. Since visiting Iceland I have discovered Acai outdoor jeans, which would be ideal as they are water resistant, dry more quickly, and are super comfy with large pockets.
Hiking trousers/leggings – I had the PrAna Halle pants, but I don't find them hugely flattering so didn't wear them much. They are more practical than jeans for long hikes (which we didn't end up doing) and rainy days. Next time I'd bring fleece-lined leggings instead. For more ideas see my post on the best travel pants for women.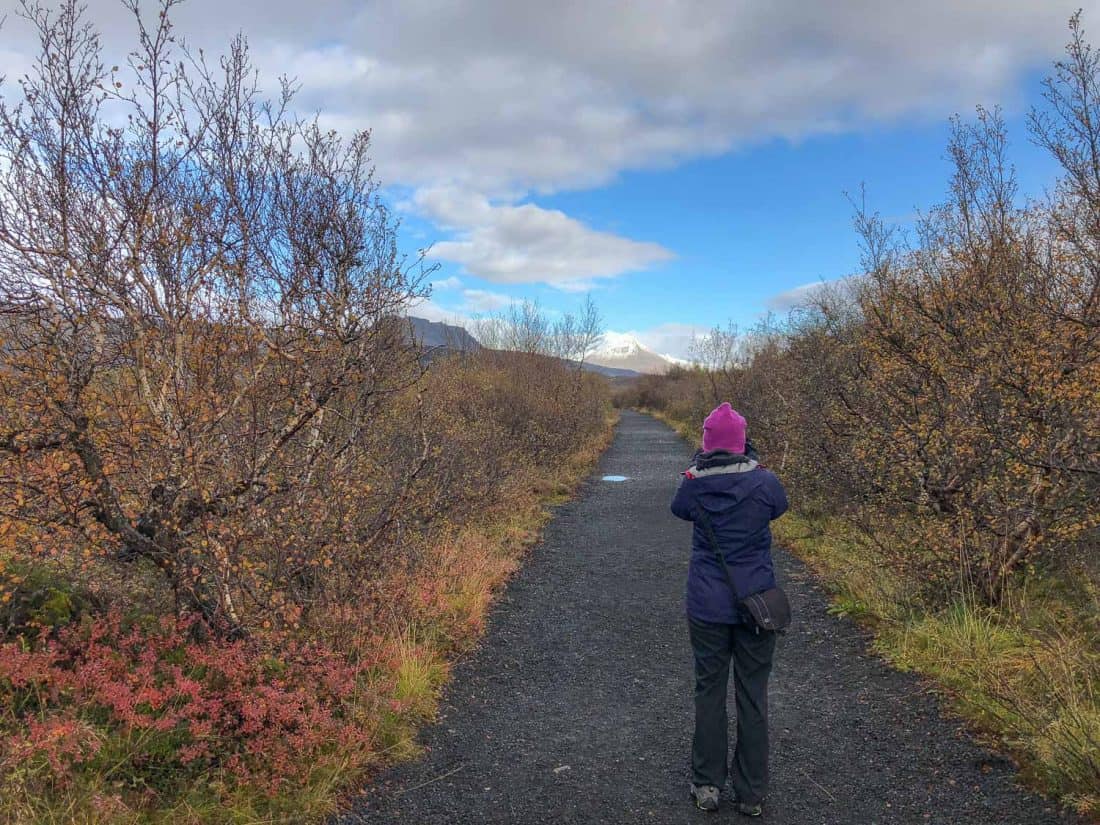 2 Leggings – To wear under trousers, around the house, and for yoga. My Uniqlo Heattech ones are really light and comfy, but in winter, warmer thermals would be better.
Rain Pants – To wear over my other pants. I didn't actually use these, but they are a good idea in case you get a lot of rain.
Patagonia Nano Puff Hoody Jacket – This synthetic down jacket is warm but amazingly light and it packs down into a small pouch.
Packable Waterproof Jacket – I like the Marmot Precip Eco Jacket, which is lightweight, packs down into its own pocket, and has pit zips, a decent hood, and two pockets. I wore it over my Patagonia jacket on rainy days and when I needed any extra layer against the wind. In winter, you'll want something more robust like the Arc'teryx Zeta SL rain jacket.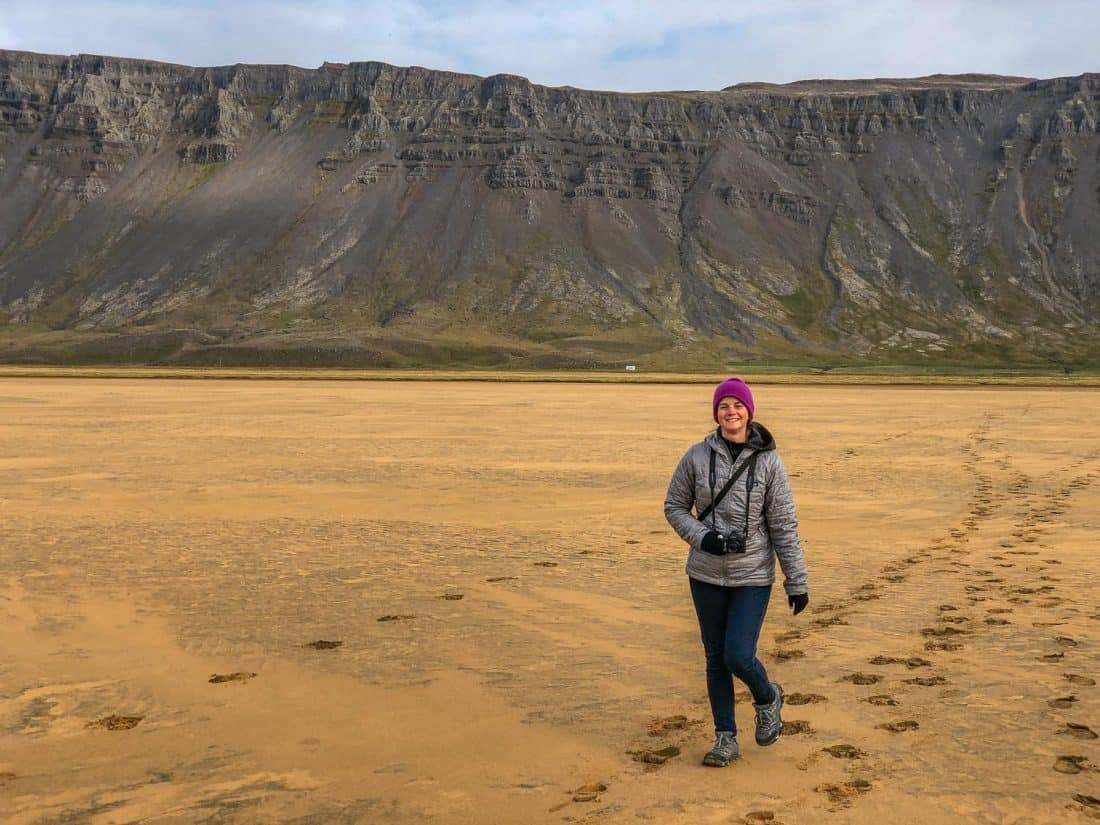 Beanie Hat – I had a lightweight cashmere hat but next time I'll take a thicker hat to protect my ears from the wind. My current favourite is the Allbirds Pom Beanie made from super soft merino wool.
Fleece headband – I mainly brought this for running but sometimes wore it under my fleece hood as it stayed in place better than my hat.
Gloves – I had cheap thin magic ones but could have done with warmer gloves like these as my hands got cold.
Scarf – I rarely wore it and wished I'd had a Buff or neck warmer instead as it's more practical in the wind. In winter, you might want a balaclava to protect your face from the cold wind.
7 underwear – Mostly ExOfficio which are the best for travel as they are comfortable, lightweight, quick-drying, and odour-resistant.
7 socks – Mostly merino wool. My favourites are the cosy Smartwool Classic Hike Full Cushion crew socks. The only time my feet were cold was on the glacier despite wearing two pairs of socks.
2 bras – One was a sports bra.
Bikini – Don't forget a swimsuit for the many hot springs and outdoor swimming pools. They are heated so you can swim at any time of year.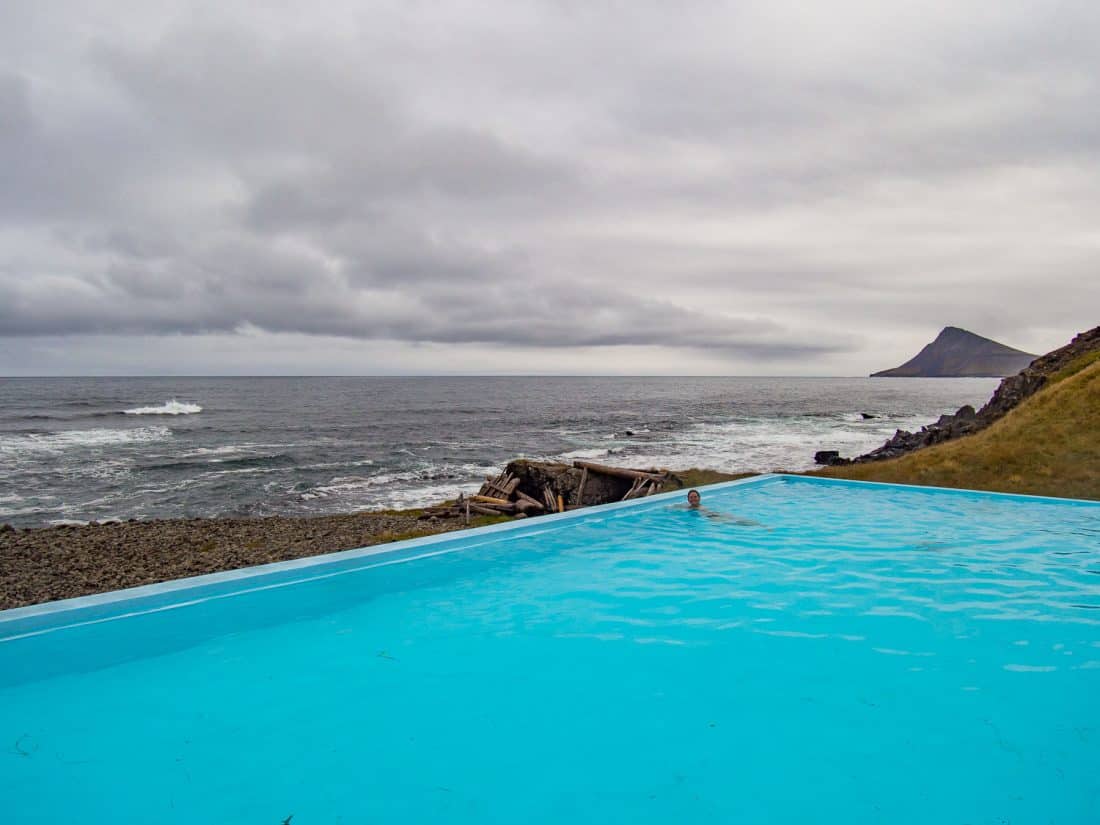 If you want a second pair of shoes for around town, I love Allbirds Wool Runners which are cosy, warm, and feel like slippers. Or the Allbirds Wool Runner Mizzles would be more practical for Iceland as they are water-resistant and have extra traction.
I also brought a few t-shirts but didn't wear them.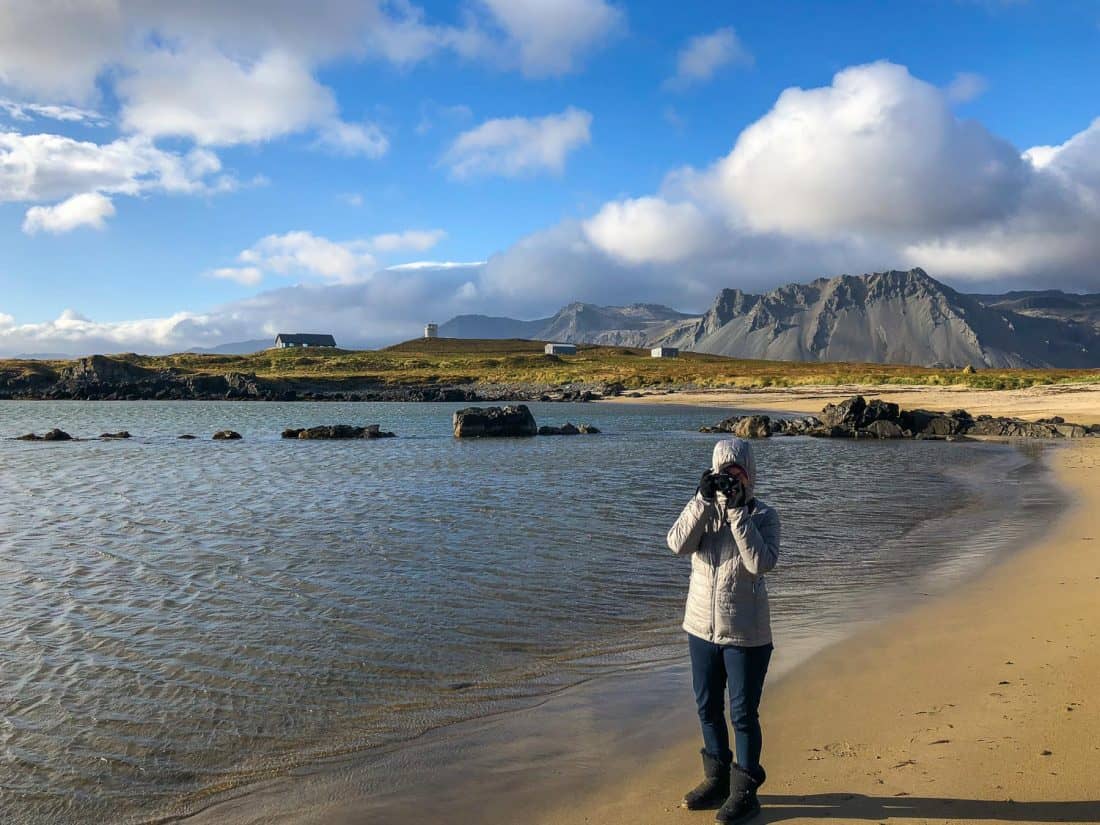 Simon's Clothes
A men's packing list for Iceland:
5 T-shirts – His favourites are the Bluffworks Threshold t-shirt and Icebreaker Tech Lite made from merino wool which regulates temperature and doesn't smell.
Icebreaker Long Sleeve Merino Top – Warm, light, and odour-resistant.
Bluffworks Meridian Shirt – The most practical travel dress shirt as it's wrinkle-free and odour-resistant. Useful if you want to sample Reykjavik's nightlife and restaurant scene.
Aviator Jeans – These are ideal for travel as they are super comfortable and come with hidden zipped pockets. Simon has the dark indigo colour, which looks good for dinners out.
Bluffworks Pants – The most functional and stylish travel trousers Simon has found. They are lightweight, wrinkle-free, quick-drying, and have hidden zipped pockets. He has worn them hiking, horse riding and to weddings. They were a little thin for Iceland so would be best with thermal underwear underneath.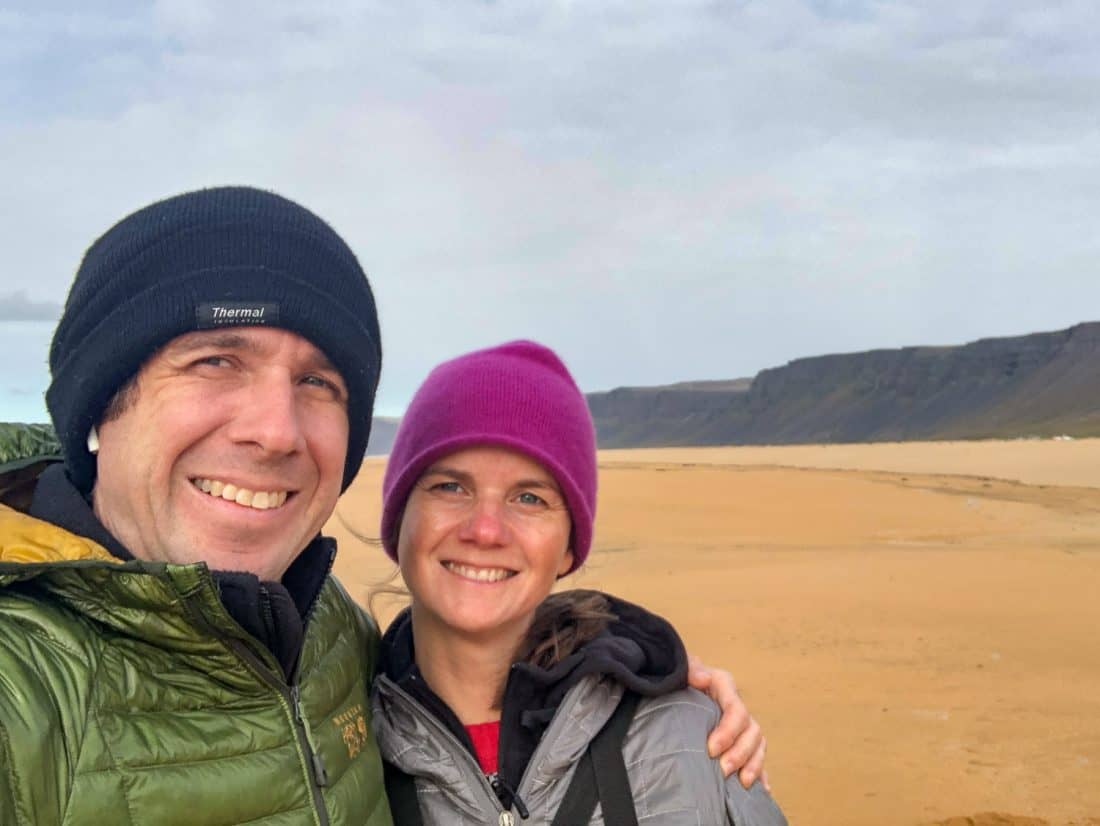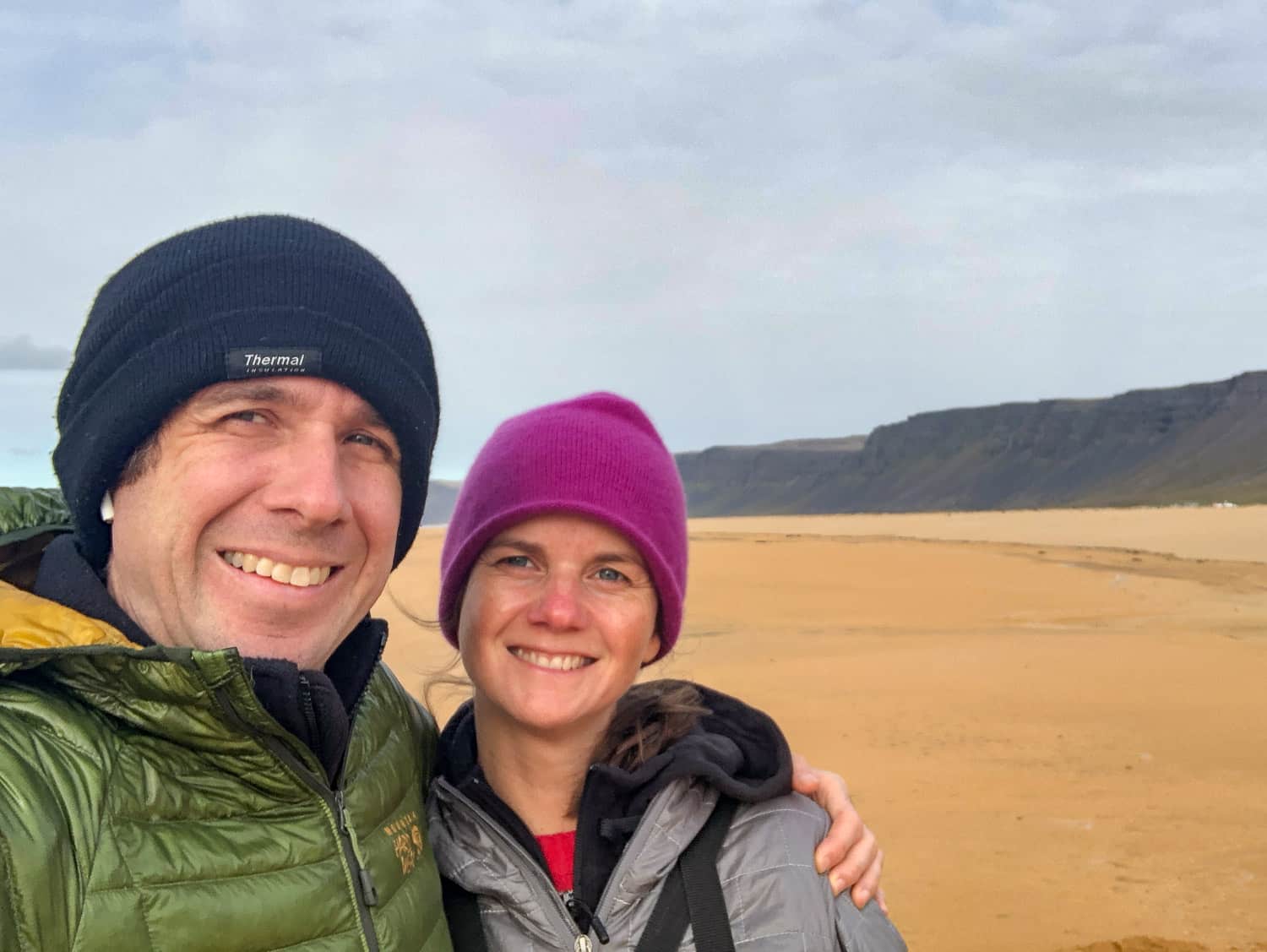 The only thing he missed was thermal underwear for under his trousers, but his rain pants worked as an extra layer.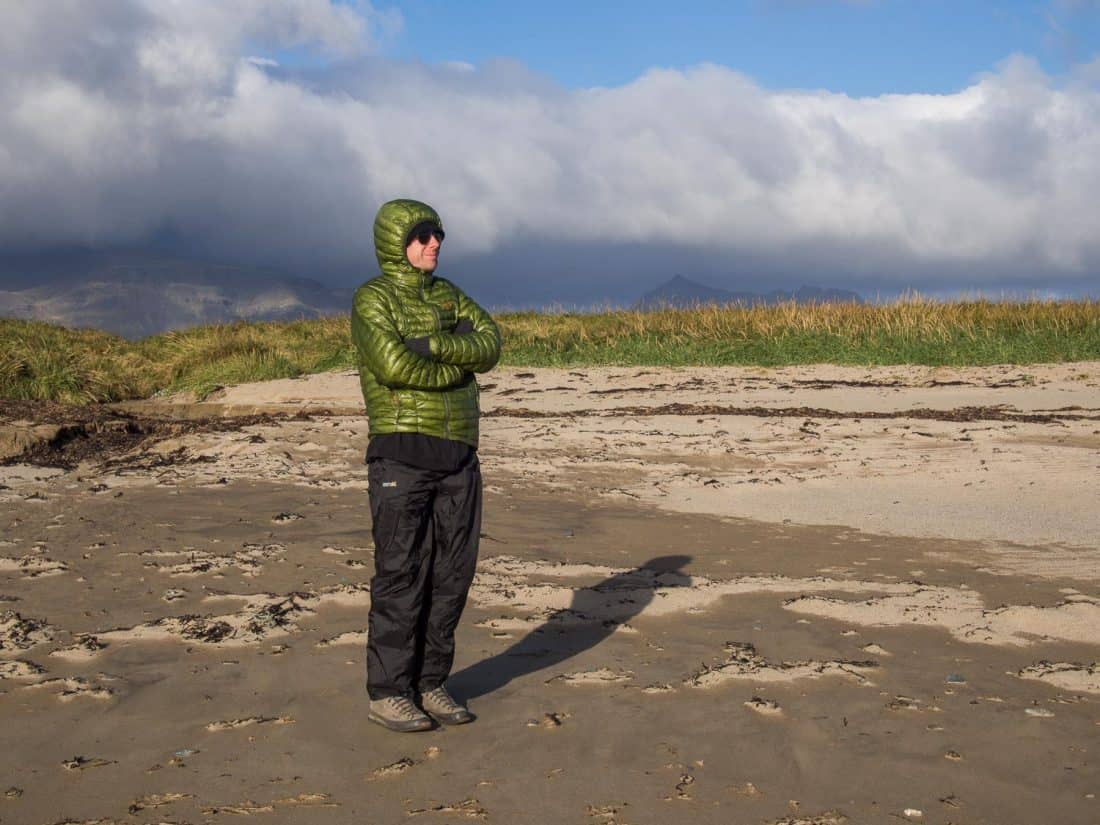 Other Iceland Essential Items
These are other useful things to pack for Iceland.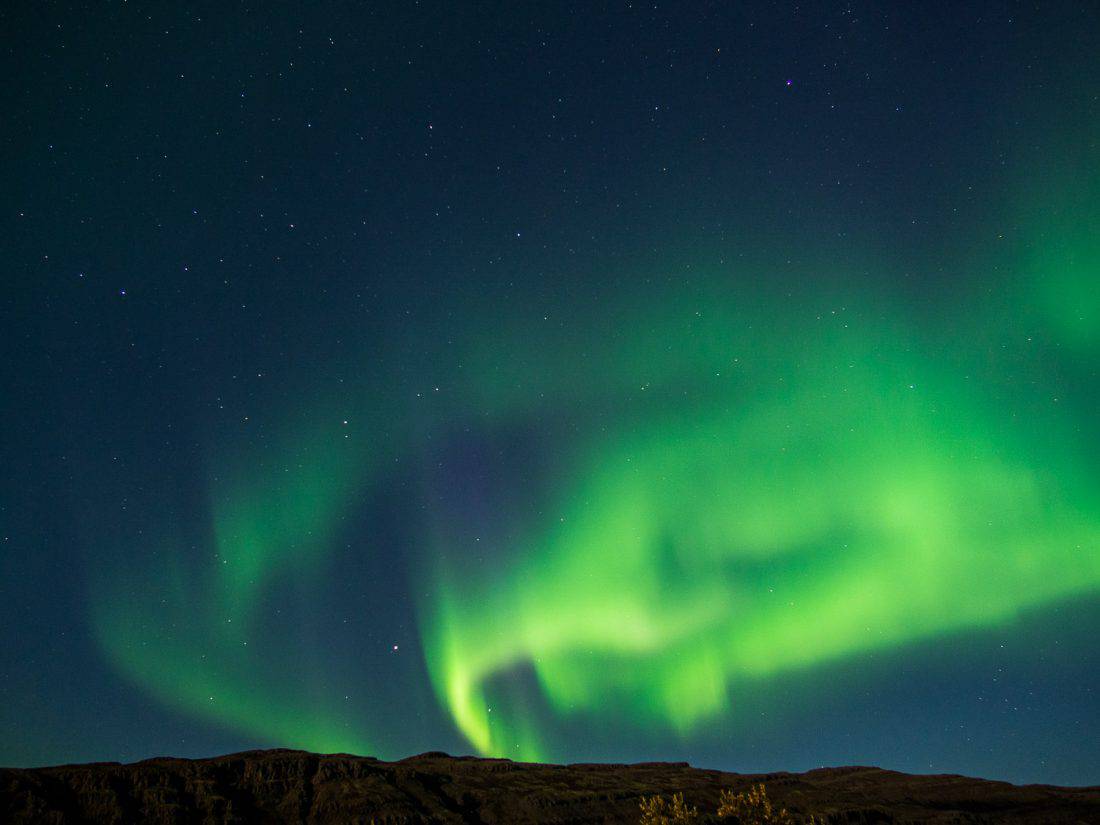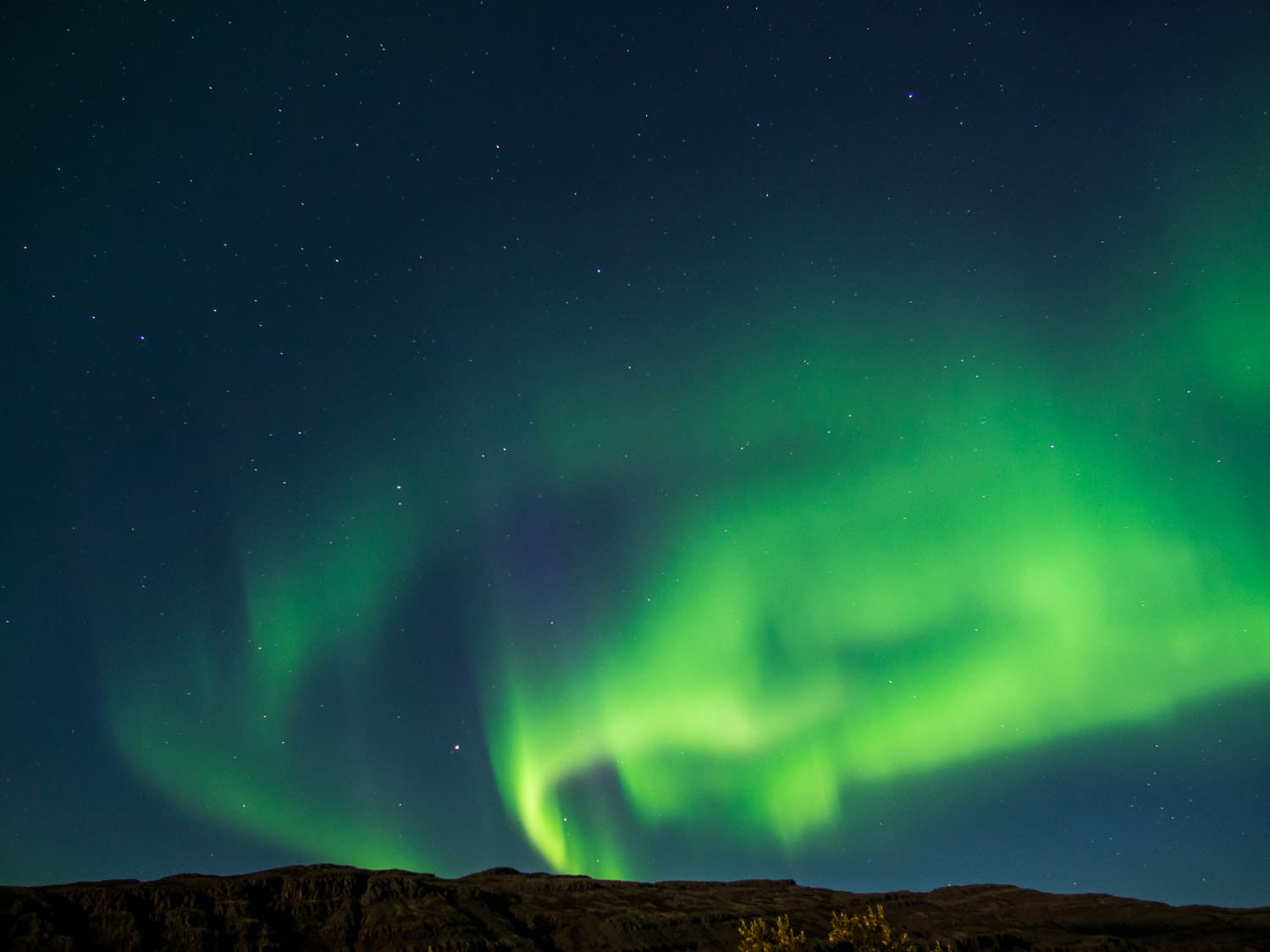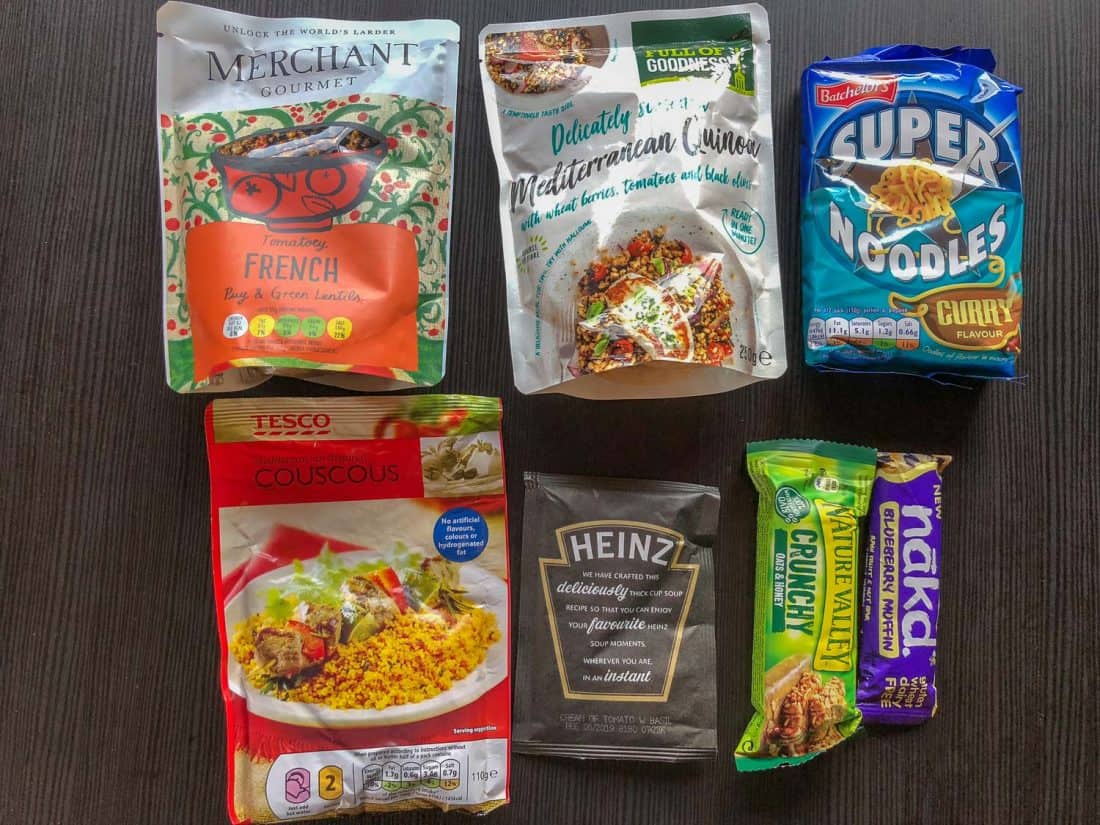 Chip and pin debit or credit card – Cards are king in Iceland (you can get away without any cash) and you'll need one with a pin to use the self-service petrol pumps.
Yoga Paws – I did yoga every day and these little yoga mats for hands and feet stopped me slipping and took up hardly any space.
We also packed our usual electronics and toiletries, which you can see in our carry on packing list.
More Iceland Tips
Read our other Iceland posts to help plan your trip:
Enjoyed this post? Pin it!