This page contains affiliate links. Please read our disclosure for more info.
Planning a trip to Iceland is more complicated than to many countries. With its stunning volcanoes, lava fields, fjords, beaches, and waterfalls, it's no wonder that visitor numbers to Iceland have surged in recent years.
But many tourists underestimate how dangerous this wild and remote island can be.
Some take unnecessary risks and end up needing to be rescued, which is putting strain on Iceland's volunteer rescue service. Visitors have even been injured or killed after accidents on glaciers, beaches, and cliffs.
This can be avoided, though, and there's no reason you can't have a wonderful, incident-free trip by following these Iceland travel tips.
I also include advice for making the most of your vacation in this beautiful country, quirky facts that make Iceland such a unique place to travel, and the latest travel restrictions.
Contents
Are There Any Iceland Travel Restrictions in 2023?
No, since February 2022, there are no longer any COVID-19 restrictions for visitors at the border or in the country. You do not need to show proof of vaccination or a negative test.
I still recommend that you make sure your travel insurance covers COVID-19 medical expenses.
An excellent budget option is SafetyWing, which we've used in the past. It's available to most nationalities and is especially good value for families as kids under 10 are free.
If you want a policy with cancellation cover, check out Heymondo (available worldwide with 5% off for our readers) and True Traveller (for UK and EU residents).
Video: Planning an Iceland Vacation
When is the Best Time to Visit Iceland?
I would happily visit Iceland at any time of year as each season offers a different experience.
Summer
Many people consider the summer months of June to August the best time to visit Iceland.
This is when the weather is warmest, although that doesn't mean it's hot. In Reykjavik average temperatures in July range from 9 – 14ºC (48 – 57ºF) and it can be colder in the north.
Summer is the time of the midnight sun with daylight hours ranging from 21 hours in late June to 18 hours in early August.
This is the best time of year for hiking, driving the Ring Road (as roads are clear), and seeing whales and puffins. Most attractions and cafes are open.
The downsides of visiting Iceland in the summer are that it's much busier and more expensive.
Spring and Autumn
To avoid the crowds and high prices, it's worth considering visiting in the shoulder season months of April/May (spring) and September/October (autumn).
The weather is cold at this time of year but not as extreme as the winter and there's a good amount of daylight for exploring.
It's also possible to see the northern lights in these months, although you'll have more of a chance in April and October.
The downside is that some attractions and cafes are closed.
We loved visiting Iceland in late September when it wasn't very busy.
We had around 12 hours of daylight and temperatures of –2ºC (28ºF) to 5ºC (40ºF). We enjoyed autumn colours in some locations, the first snowfall on the mountains, and even the northern lights.
See my guide to visiting Iceland in September for more on what to expect.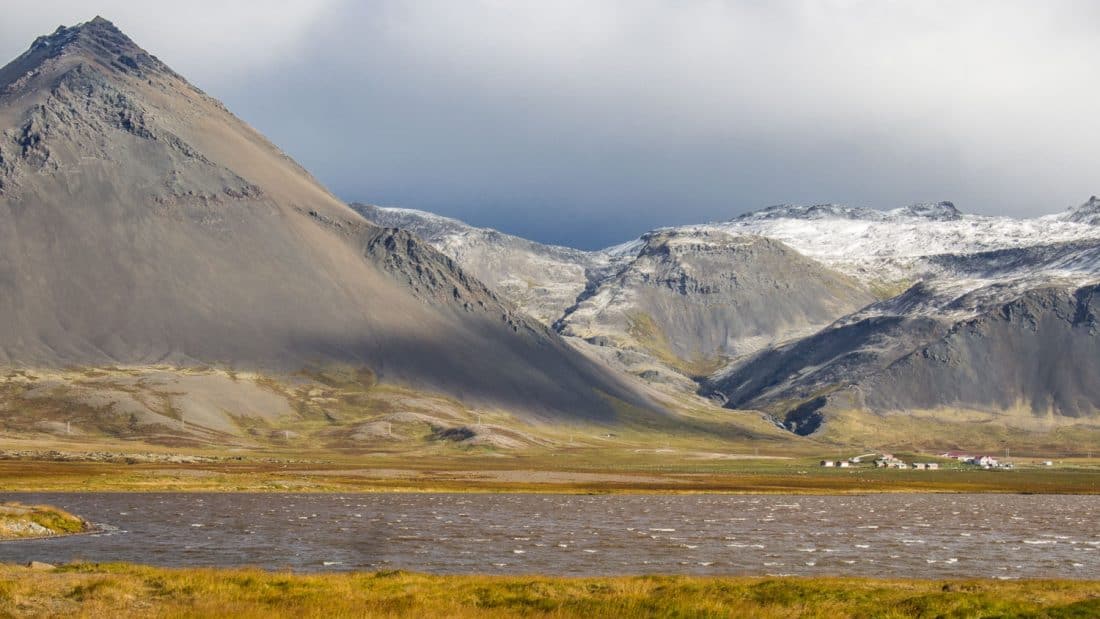 Winter
Iceland's winter from November to March is the quietest and cheapest time of year to visit.
This is the best time of year to visit Iceland for the northern lights, beautiful snowy landscapes, and winter activities like ice caves and dog sledding.
The weather is cold but not as cold as you'd expect (around 0ºC/ 32ºF) and daylight is limited for exploring (only four hours in late December/early January).
The roads are often covered in snow and not all parts of the island are accessible at this time of year—it's best to stay south. If you aren't a confident driver, stay in Reykjavik and take tours.
How Long Should You Spend in Iceland?
The average length of stay in Iceland is around seven nights.
I recommend visiting for at least five nights—this is enough time to see some of the highlights within a few hours of Reykjavik such as the Golden Circle and Snaefellsnes Peninsula.
If you want to drive the entire 1332km (828 miles) Ring Road, which circumnavigates the island, the minimum time needed is one week. 10-14 days would be much better, though.
We visited Iceland for 12 nights and liked not being too rushed. We were able to have a couple of rest days when the weather was bad. See our western Iceland itinerary for details of where we went.
What's the Best Way to Travel in Iceland?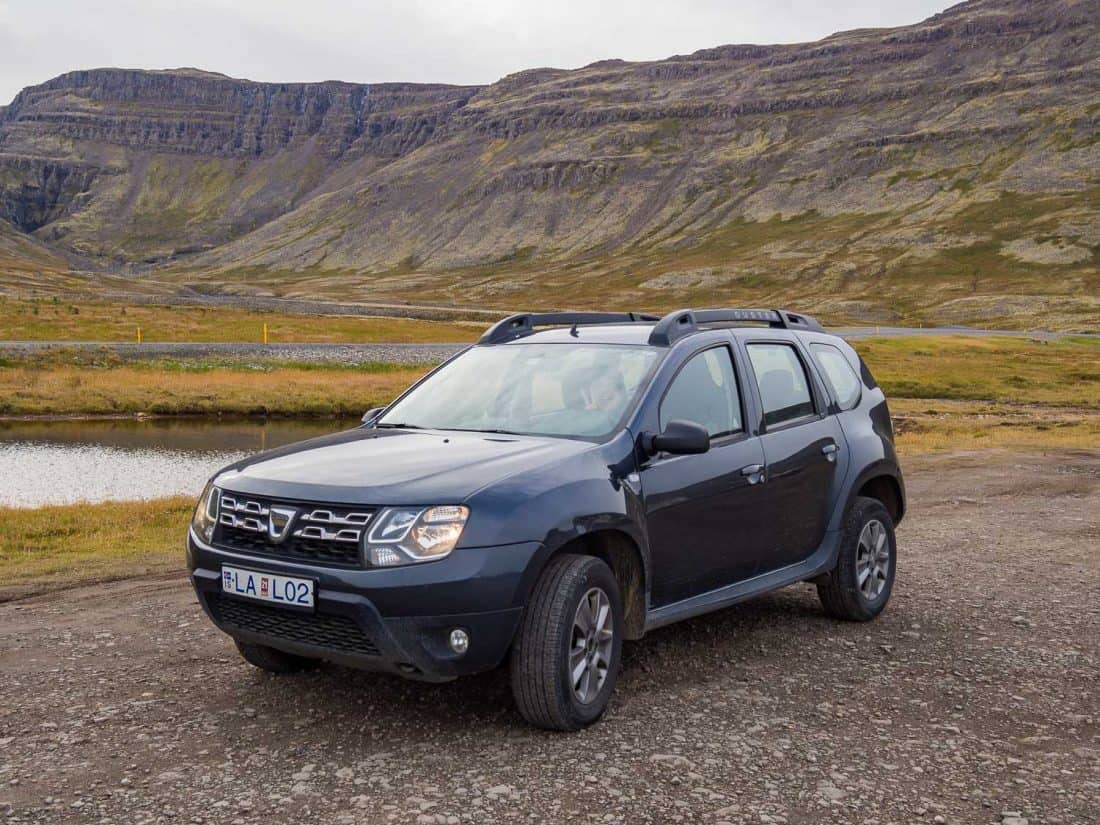 Public transport is very limited so the best way to tour Iceland is with your own vehicle.
Rent a Car
If you can drive, the best way to see Iceland is to hire a car and do a self-drive trip around the island.
We used Rental Cars to find the best deal. We rented a 4WD car, which we appreciated on bumpy gravel roads in the Westfjords, but it isn't strictly necessary for most Iceland trips.
We found driving around Iceland easy—there aren't many roads so it's difficult to get lost and there's good cell phone signal for using Google Maps.
Renting a campervan is also a popular way to tour Iceland in the summer. You must park in designated camping zones, though.
Take Tours from Reykjavik
Another way to explore Iceland is to base yourself in Reykjavik and take day tours. You can get a shuttle bus from the airport into the city (which is very walkable).
See Get Your Guide for a wide variety of trips such as the popular Golden Circle tour, whale watching on a luxury yacht, Jökulsárlón Glacier Lagoon, and many more.
This is the best option if you can't or don't want to drive or are visiting in winter and aren't confident driving on snowy roads. It's also a good way to travel if you are visiting Iceland on your own.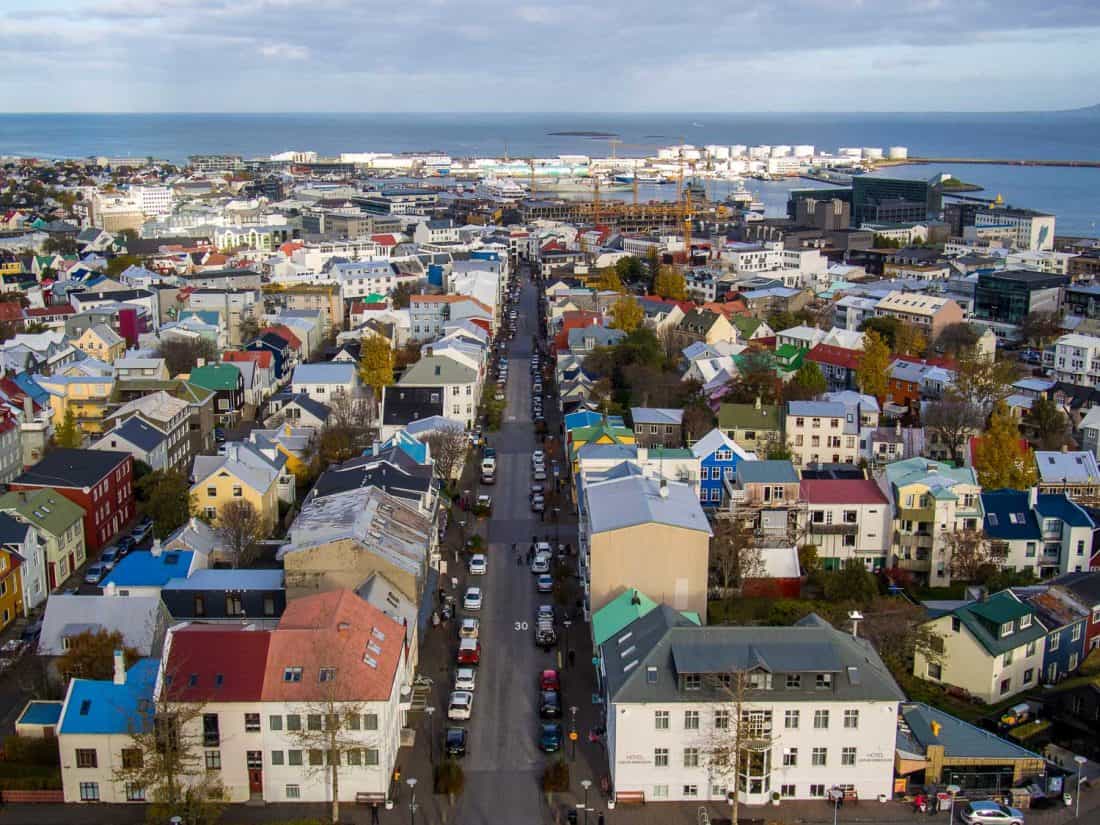 Before You Arrive in Iceland
Save up – Iceland is expensive and you'll enjoy your vacation more if you aren't worrying about every penny (on chilly days we really appreciated those hot chocolate and cake breaks). Find out how much our Iceland trip cost.
Consider visiting in the off-season – Iceland gets very busy in the June to August summer months, so avoid the crowds by visiting at a different time of year.
Plan your itinerary – See our off the beaten track Iceland itinerary for trips of 7 to 12 days or follow the classic ring road around the country (at least 10 days is recommended). Roads in the north are often impassable in winter so stick to the south—here's a 5 day Iceland winter itinerary.
Book your accommodation – Especially if you are travelling in the summer high season, you need to book far in advance. You can use sites like Vrbo to find self-catering cabins and save on high restaurant costs. Search on Booking for hotels, guesthouses, and cottages.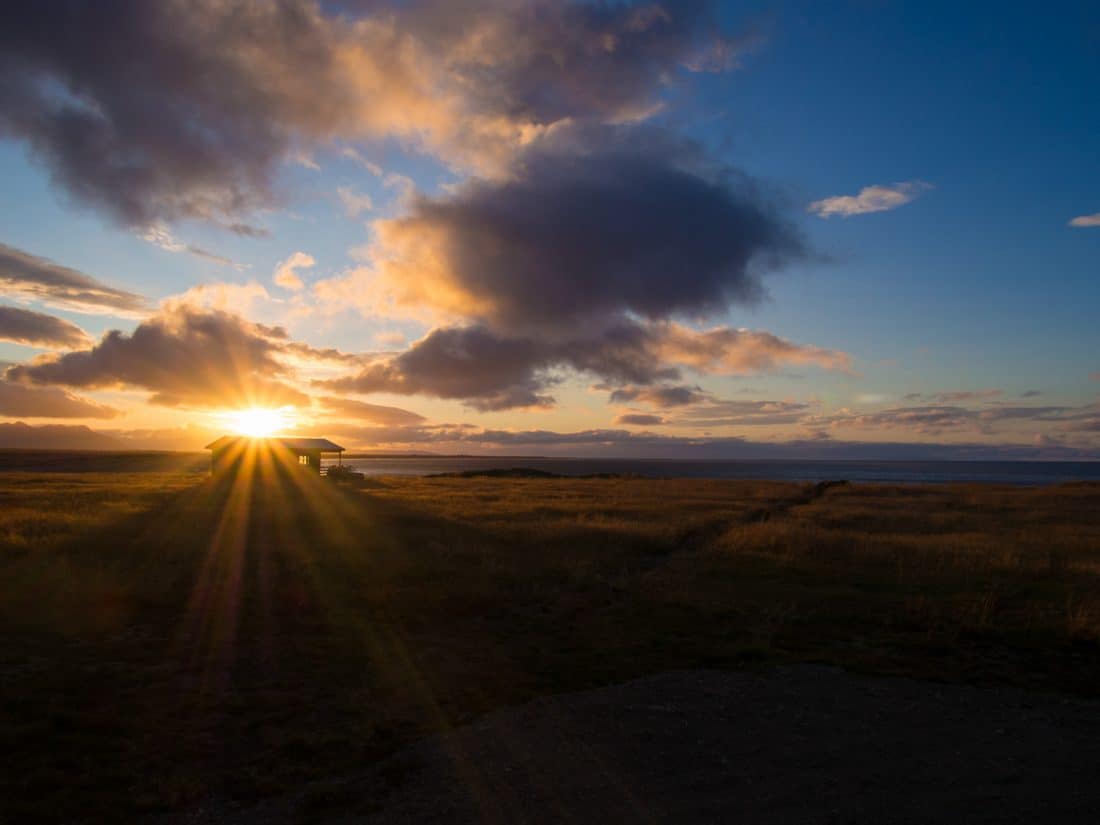 Buy travel insurance – It's essential in case anything goes wrong. We recommend SafetyWing (a budget option available worldwide), True Traveller (for UK and EU residents), and Heymondo (available worldwide)—they all cover COVID-19.
Book the Blue Lagoon – Iceland's most popular attraction can book up weeks in advance. It's near the airport so most people visit after their flight arrives or before they depart. We skipped it because it's expensive (around $80), crowded, and we found some gorgeous, isolated hot springs in the Westfjords instead.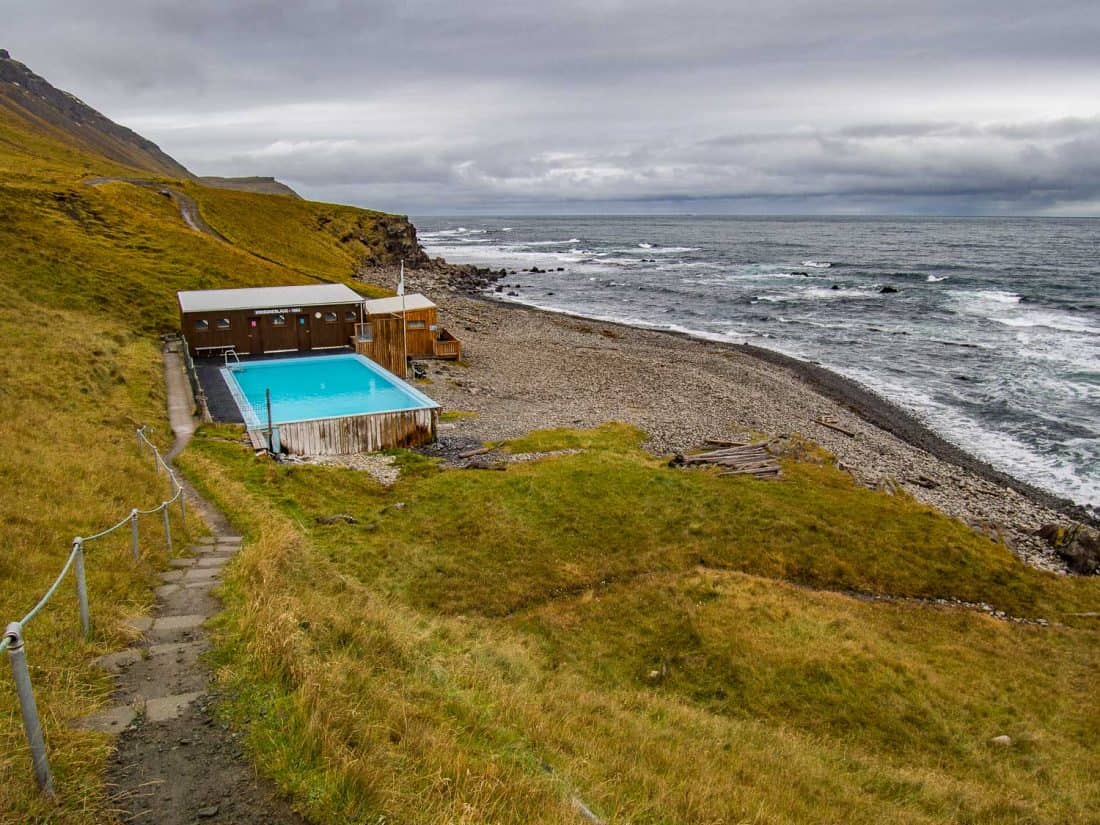 Read The Little Book of Tourists in Iceland by Alda Sigmundsdottir – For tips by a local on travelling safely and responsibly and to understand the impact the tourism boom has had on the country. If you have time for more than one book, see my picks of the 10 best Iceland books to read before you visit including non-fiction and fiction.
Pack the essentials – In every season you'll need warm layers (merino wool is great), waterproofs, waterproof hiking shoes or boots, swimsuit and travel towel (for hot springs), tripod (for northern lights photography), and sunglasses (the sun is often low). See our Iceland packing list for what we took.
Bring a chip and pin debit or credit card – You'll need it for self-service petrol pumps.
Don't worry about cash – Cards are accepted everywhere. We only needed a small amount of cash on our Iceland trip (about 3000 Icelandic krona worth $21) for unattended hot springs and toilets.
Read safetravel.is – For tips on staying safe on your Iceland vacation. You can also give them your travel itinerary so they'll be able to respond if you don't reach your planned destination.
Planning a Trip to Iceland: Dos and Don'ts
DO:
Be flexible – The volatile weather can mean tours are cancelled or hikes or drives would be too dangerous.
Check road.is before setting out each day – For details of road conditions and closures.
Take a walk through a lava field – They are incredible! Our favourites were on the Snaefellness Peninsula.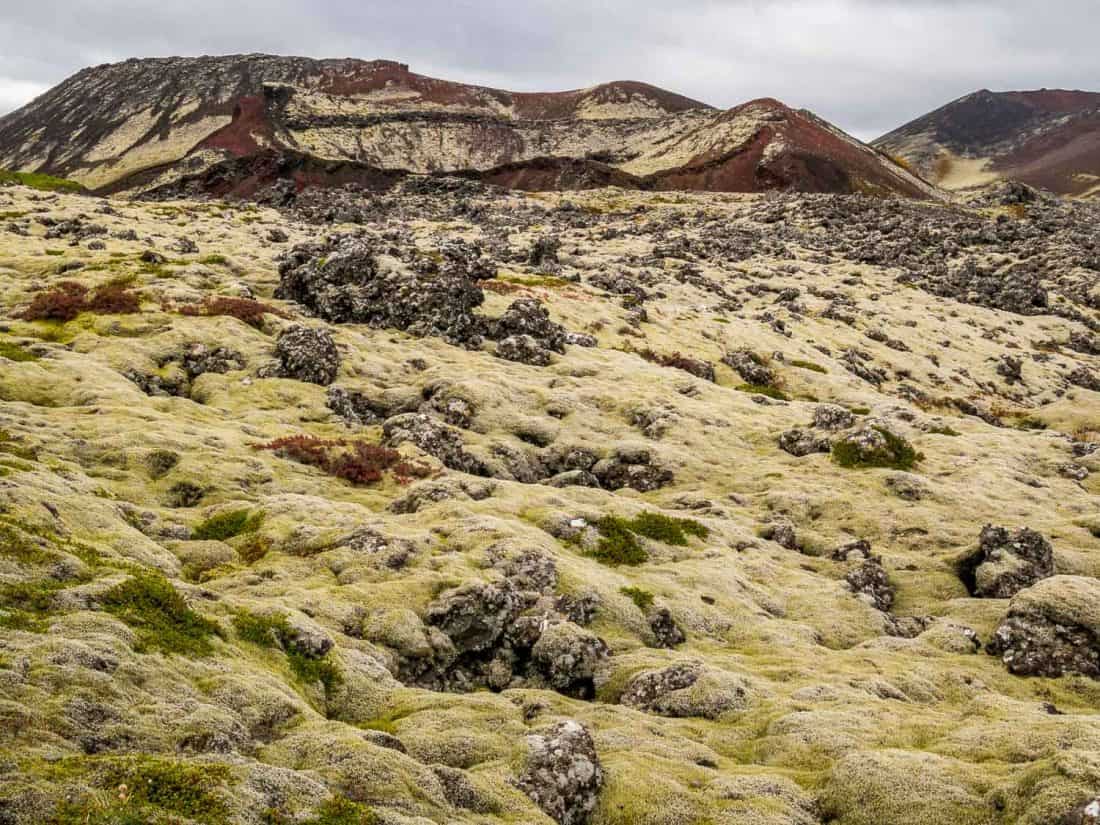 Expect to see many waterfalls – They are everywhere! My favourite was Dynjandi in the Westfjords.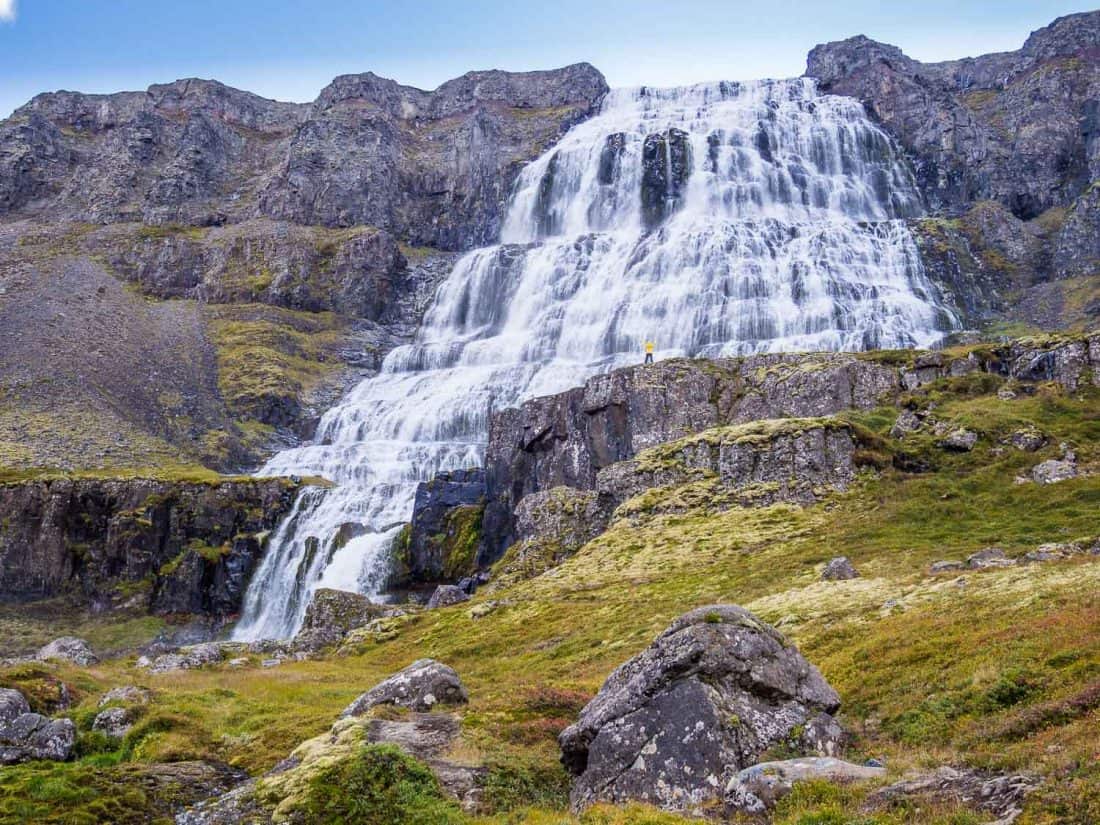 Drink the tap water – It's pure and delicious. Bring a lightweight, foldable water bottle like the Vapur with you.
Look out for the northern lights from September to mid-April – We used the Aurora app and Vedur website to see our chances. We got lucky on a 30% chance day and saw them outside our Bjarkarholt cabin in the Westfjords. It's best to stay in the countryside where there's no light pollution. If you don't have a car, you can take a northern lights tour from Reykjavik.
Use a tripod and long exposure – To take photos of the northern lights. Most of mine were taken in manual mode at f2.8 with a 10 second shutter speed.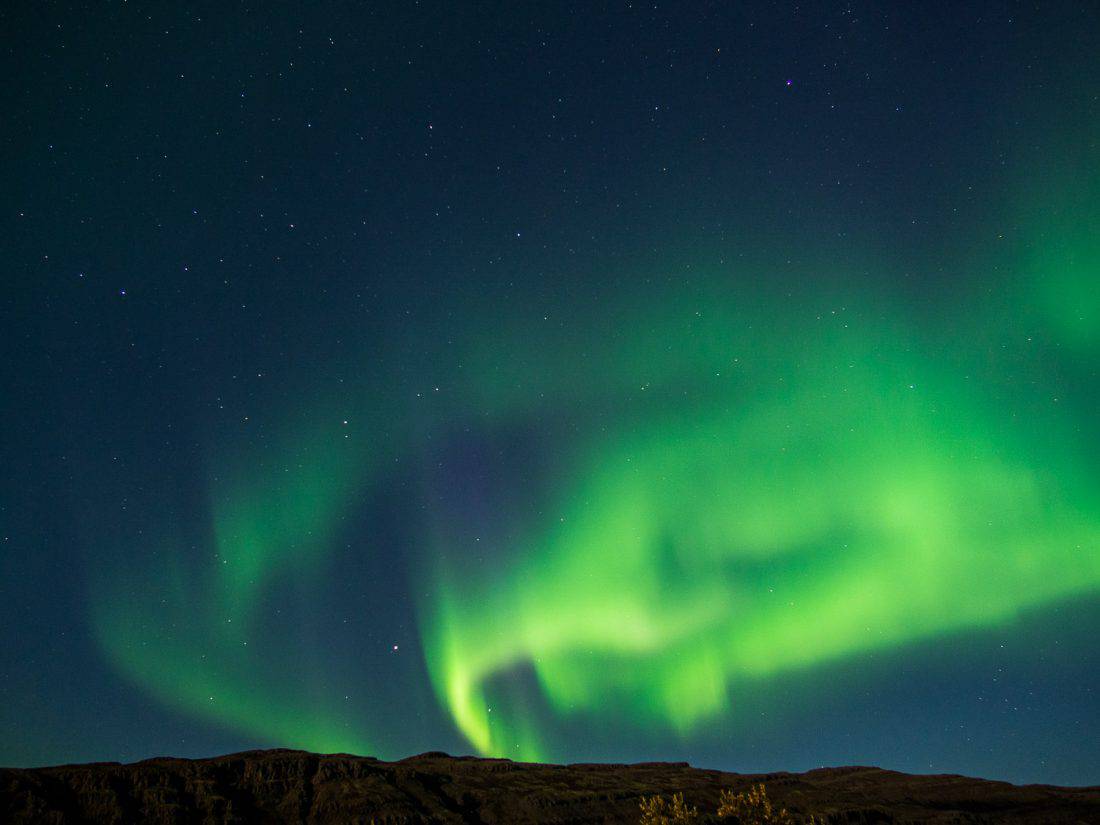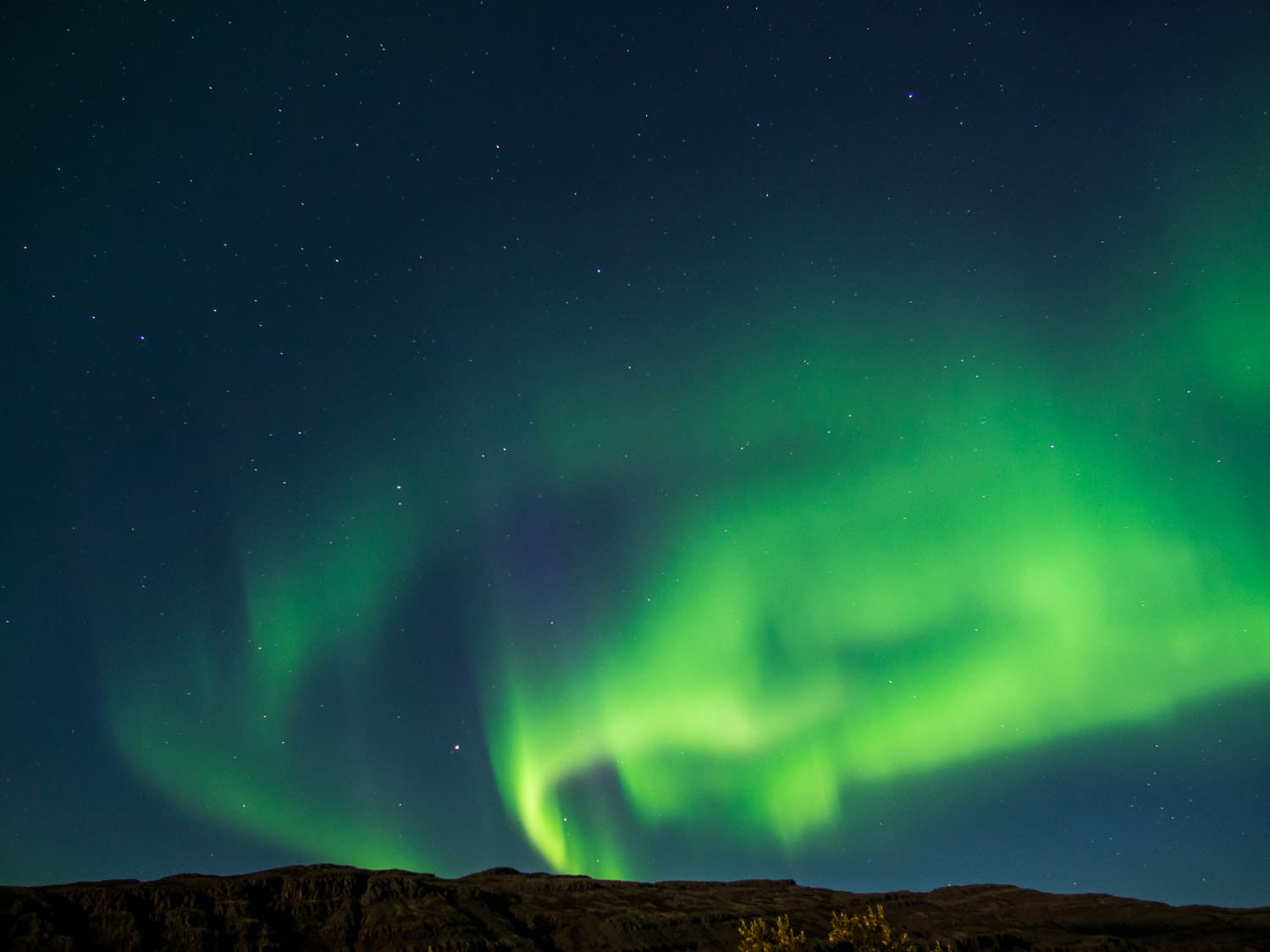 Enjoy the midnight sun – If you visit Iceland in the summer when it's light almost 24/7.
Drive with your headlights on at all times.
Be careful of sheep on the road – And always report it if you run one over (you won't be fined).
Fill up with petrol when you can – You might not come across a petrol pump for a while.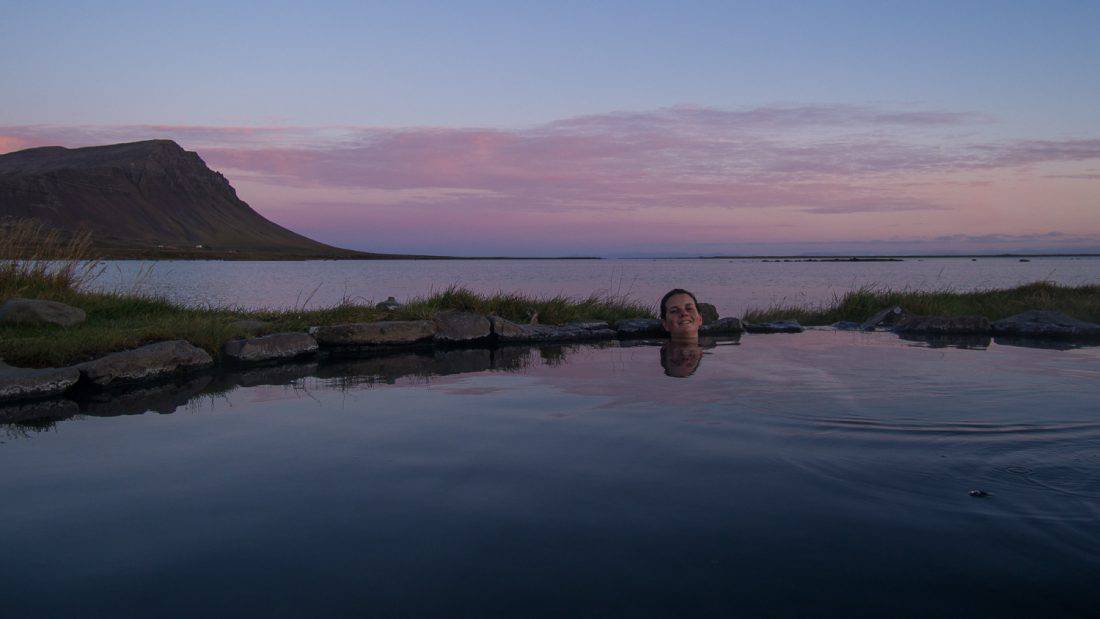 Relax at geothermally heated swimming pools and hot pots – You'll find them in even the smallest towns and it's so lovely to swim in warm water when it's cold outside.
Shower naked thoroughly (without your swimsuit!) before entering a hot spring or pool – Public nudity isn't a big deal in Iceland and you'll draw far more attention to yourself if you don't. They are very strict about this! There are separate male and female showers. You wear your swimsuit in the pool.
Use the toilet whenever you find one (they are in short supply) – Be prepared to pay, usually around 200 ISK ($1.40). It's worth keeping a small amount of cash for this.
Admire the cute wooden churches everywhere.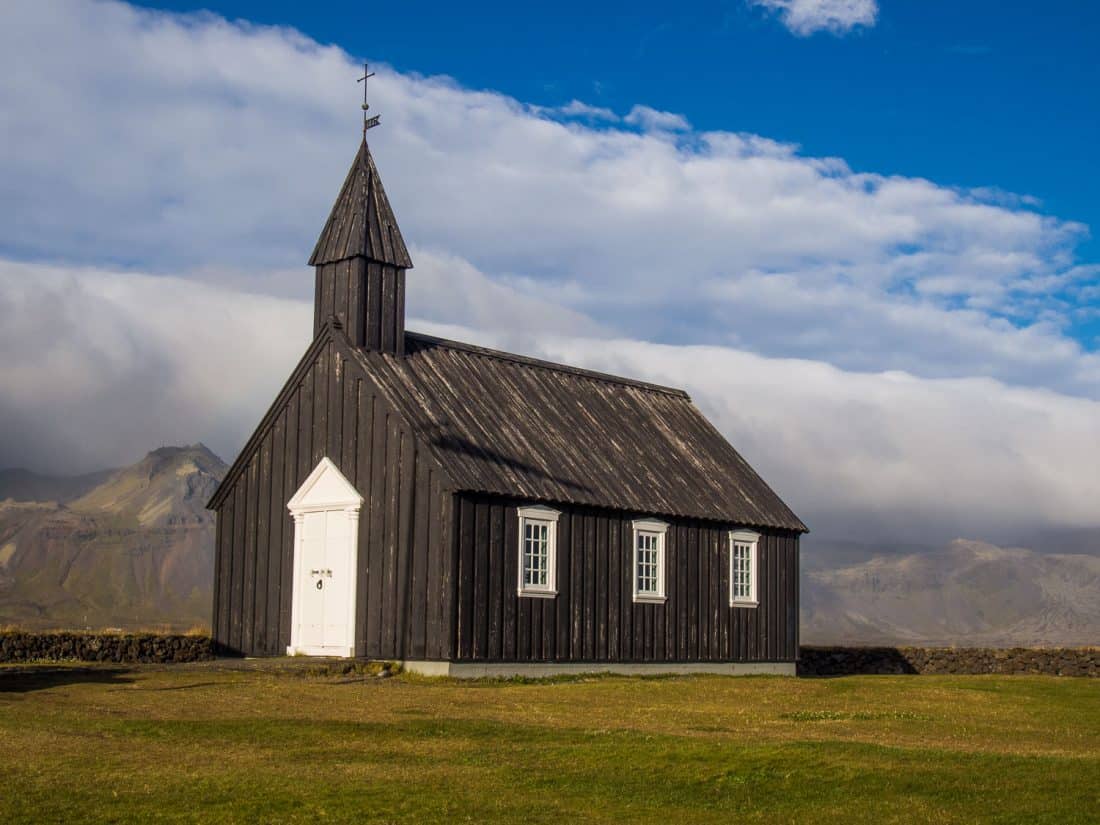 Look out for seals – We saw them three times lazing on rocks by the sea.
Ride an Icelandic horse and try its unique, smooth pace, the tölt.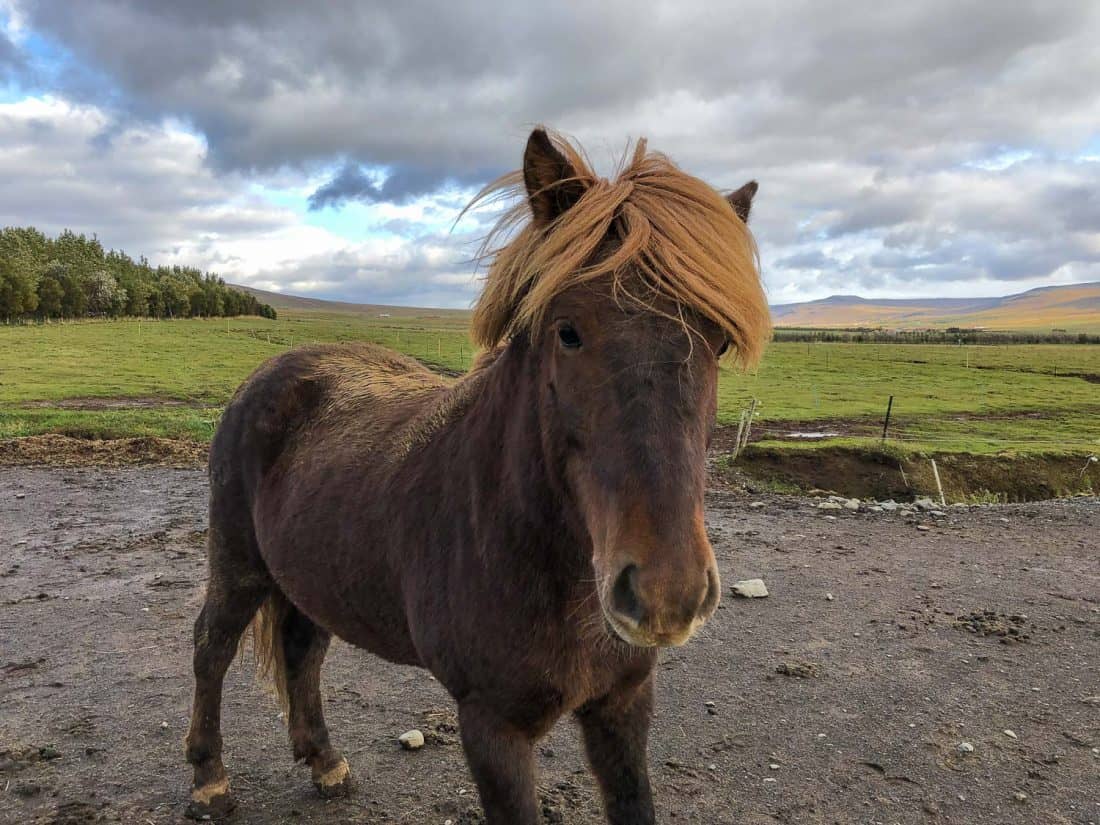 Create a playlist of Icelandic music – I will forever associate Of Monsters and Men with epic drives through the mountains. Iceland has a huge number of talented bands—check out Björk, Sigur Rós, Solstafir, Ásgeir, Múm and many more.
Read books by Icelandic authors – It's a very literary country. Nobel Prize-winning Halldór Laxness is the most famous author, and reading the classic Icelandic Sagas from the 13th and 14th centuries will give you a greater understanding of the country as famous sites from the stories are everywhere. See my 10 favourite books about Iceland including fun, quirky, and mysterious novels.
Take a walk on a beach – It's unlikely to be sunbathing weather, but Iceland's dramatic black, golden, and red beaches are perfect for wild walks.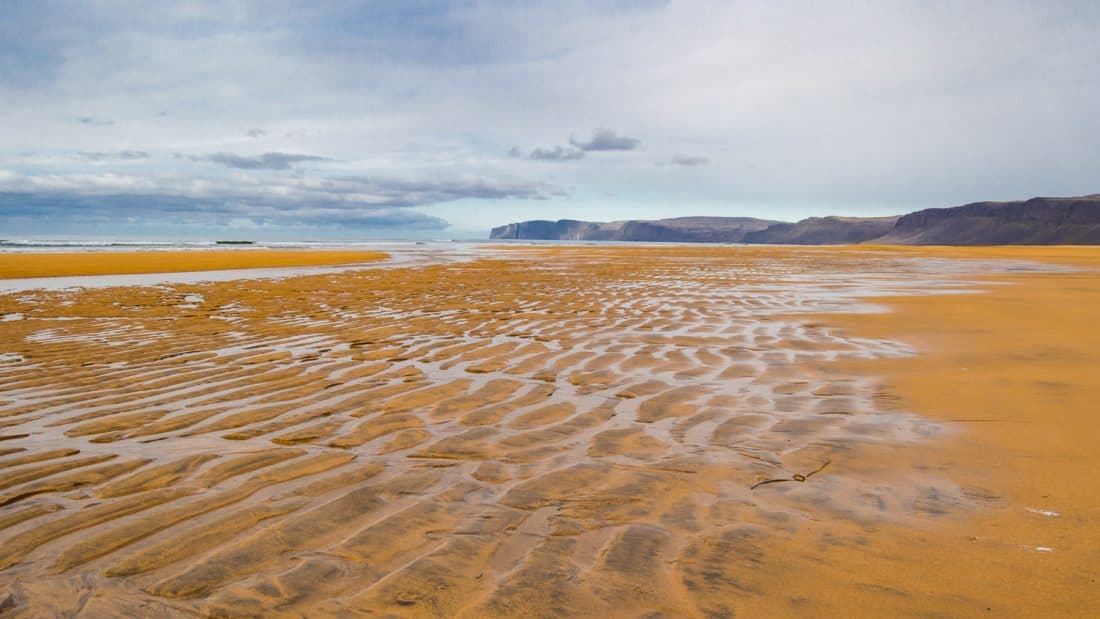 Shop at Bonus supermarket – It's the cheapest place to self-cater.
Pack a picnic if you are road tripping – There often isn't anywhere to stop for lunch, especially outside the summer when remote cafes close.
Stock up on alcohol at Duty-Free on arrival at the airport if you want to drink – It's much cheaper than in the state-run liquor stores (the only place you can buy booze).
Enjoy delicious hot chocolate and cake (or a cinnamon bun) at one of Iceland's excellent cosy cafes.
Check Grapevine, a free English language newspaper – For what's on in Reykjavik and enjoy its legendary nightlife and music scene on weekends.
Call everyone by their first name – Titles aren't used in Iceland. Instead of surnames, Icelanders use patronymics (or less commonly matronymics) made up of their father's (or mother's) name plus "son" (son) or "dóttir" (daughter). E.g. Björk Guðmundsdóttir is Gudmund's daughter.
DON'T:
Underestimate the weather – Icelandic weather changes fast and can be dangerous. Check the Vedur website or download their app for weather forecasts. Always be prepared with extra layers and waterproofs.
Drive in a storm – Strong winds can blow cars off the road or volcanic rocks into your windscreen in scary sandstorms.
Stop on the road – I understand, you will feel the urge to take a photo every few minutes, but always pull over into a parking area, even if the road seems empty.

Speed – Stick to the speed limit of 50 km/h in urban areas, 80 km/h on rural gravel roads, and 90 km/h on rural asphalt roads.
Feel the need to tip – It's not rude to do so, but it's not expected or customary.
Wild camp – This is now banned and you must park your campervan or put up your tent in a designated campsite.
Risk your life for a photo – Respect any barriers that have been put up.
Get too close to cliff edges or the surf – Tourists have fallen off cliffs and been killed by rogue waves (especially at Reynisfjara beach).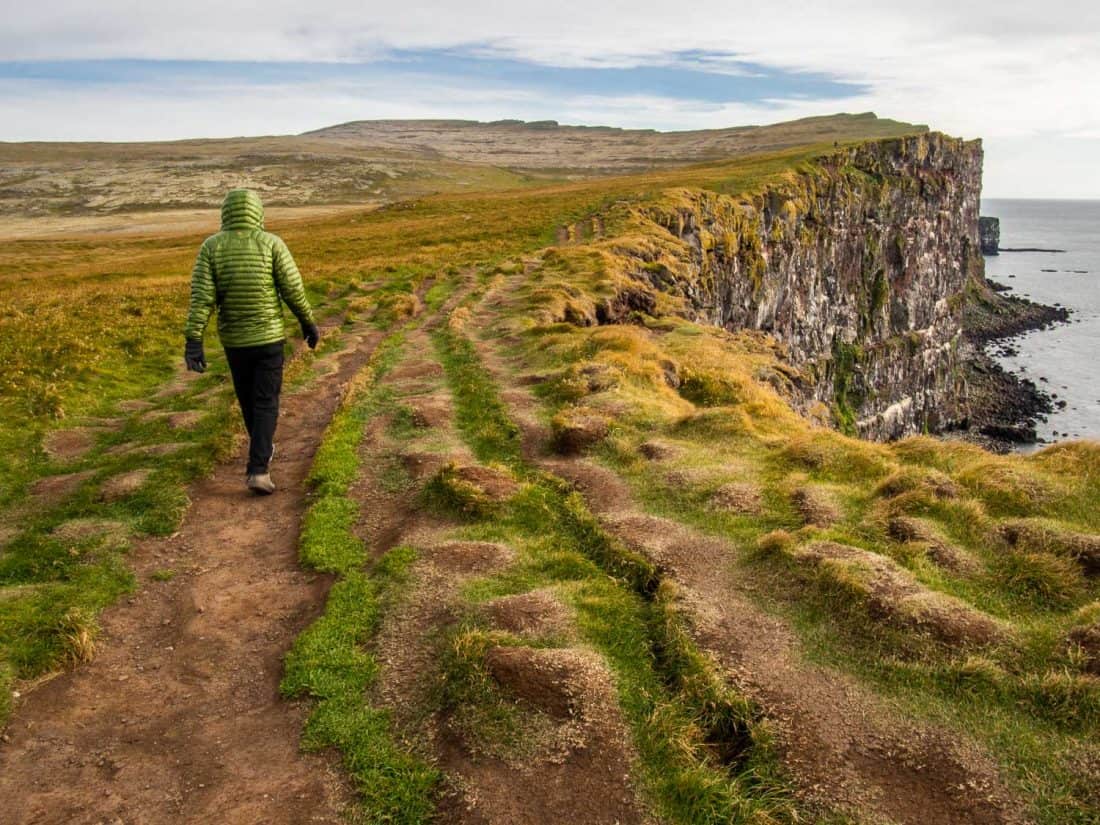 Walk on the ice at Jökulsárlón glacier lagoon – The ice is not stable and the water is dangerously cold.
Go onto a glacier without an accredited guide – There are hidden crevasses that you could fall into.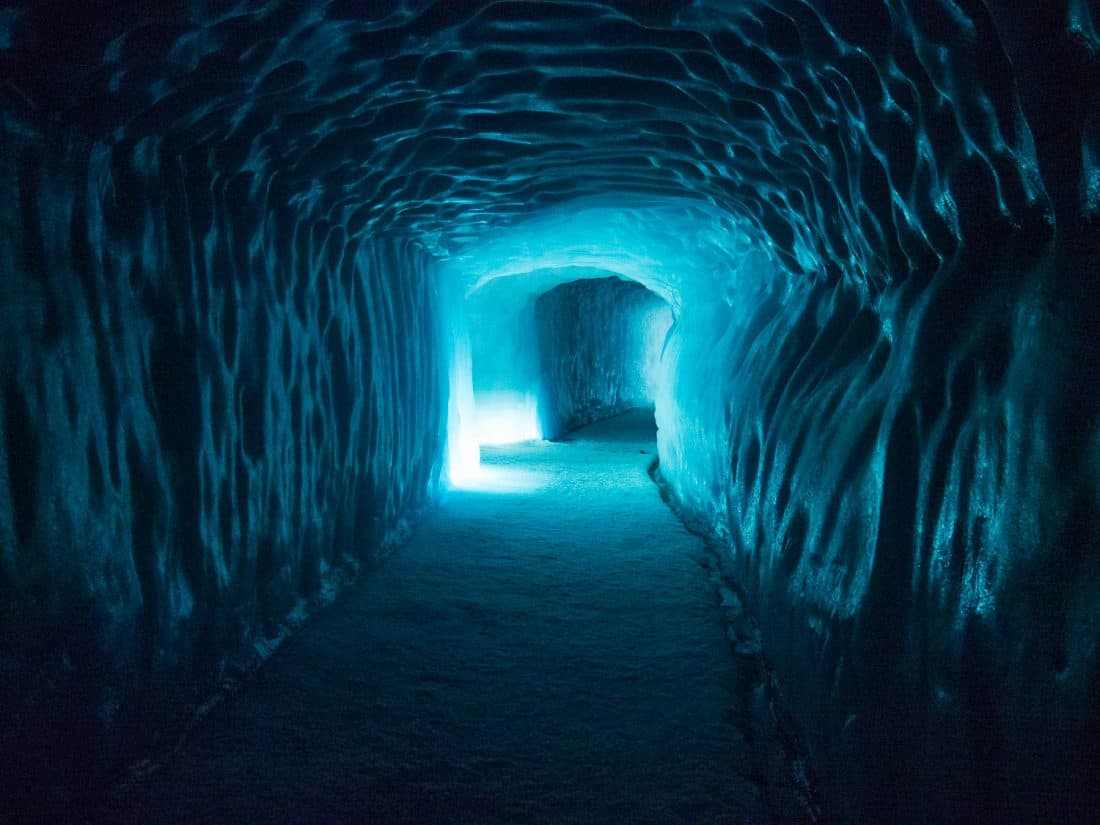 Drive on F roads without a 4WD vehicle
Drive off-road in any vehicle – It damages the landscape and you'll receive a high fine.
Worry about staying connected – Even the remote cabins we stayed in had good WiFi and we had 3G or 4G signal almost everywhere.
Feed horses – Yes, they are cute, but it is bad for their health. It's best to visit a horse farm like Sturlureykir, where can pay a small fee to interact with them (or go on a ride).
Take rocks or pebbles as souvenirs
Litter – Have some respect for this beautiful place.
Ask Icelanders if they believe in elves (aka hidden people) – The majority do not, although they understand that many of their ancestors did and they are part of their heritage.
Rush – Iceland's a stunning country, take your time and enjoy it.
I hope this post has answered any concerns about how to plan a trip to Iceland. Let me know if you have any questions in the comments below or share your own Iceland travel tips.
More Iceland Reading
If you enjoyed this post, pin it!