This page contains affiliate links. Please read our disclosure for more info.
Are you wondering how much does an Iceland trip cost? The simple answer is that it's not going to be cheap. Our Iceland road trip is the most expensive trip we've ever taken, but it was 100% worth it.
Iceland is like nowhere else we've visited and has truly spectacular scenery.
During our 12-day road trip we hiked up volcanic craters, wandered through lava fields, lazed in hot springs, rode cute Icelandic horses, snowmobiled across a glacier, spotted seals and an arctic fox, gazed at the northern lights, walked along red, black, and golden beaches, and saw so many waterfalls.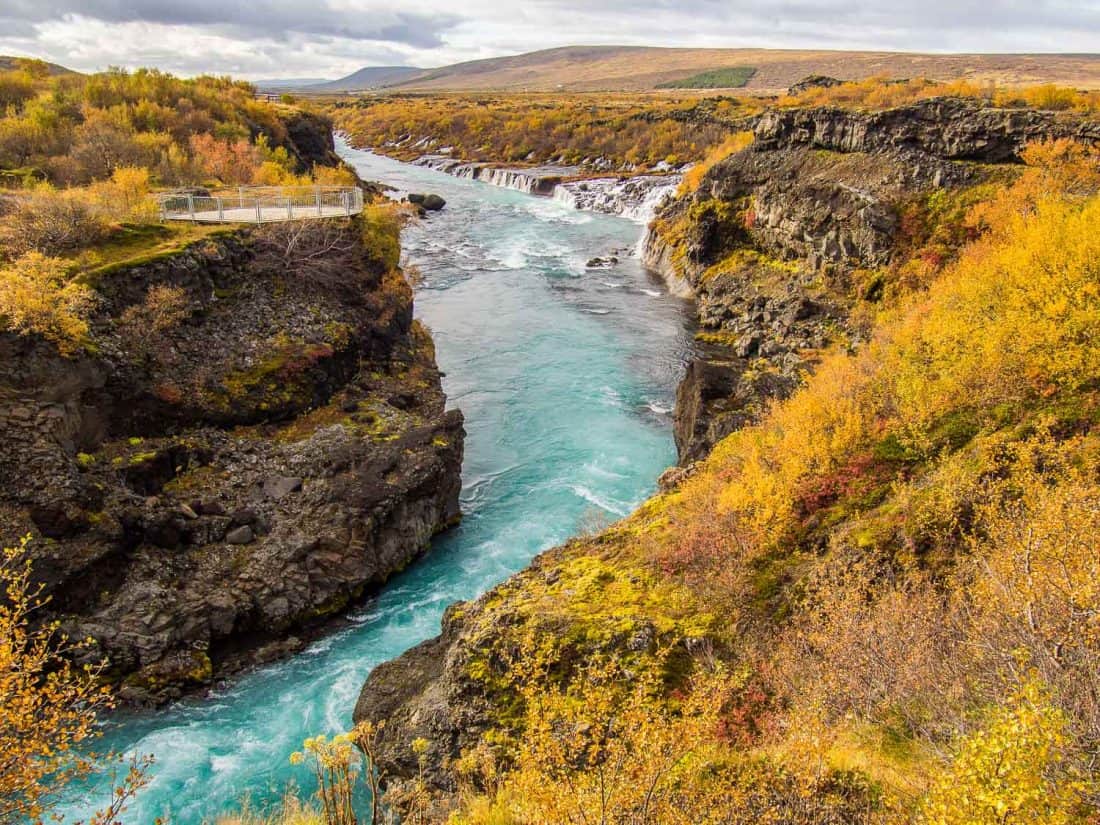 See our Iceland itinerary for details of what we did and where we stayed.
We travelled in Iceland on a mid-range budget. We rented a 4WD rather than a compact car for more comfort on gravel roads, we stayed in comfortable self-catering cabins with private kitchens and bathrooms, cooked most of our meals, and did a few expensive activities.
You certainly could spend more by choosing luxury hotels and eating out every day.
Or it is possible to travel in Iceland on a budget by camping or staying in guesthouses with shared bathrooms and skipping paid activities (there's so much to see for free).
Contents
Video: Iceland Inspiration
If you are looking for inspiration for your Iceland trip, check out our video on the best places to visit on the Snaefellsnes Peninsula.
Cash Vs Credit Cards in Iceland
You don't need much cash in Iceland as credit cards are accepted almost everywhere.
We withdrew 10,000 Icelandic króna from an ATM at the airport (which charged a fee), but we only needed 3000 ISK for unattended hot springs and toilets (where you put the fee in a box).
Make sure you bring a chip and pin credit or debit card for the unattended petrol pumps (or buy a pre-paid gas card from petrol stations when you arrive).
Our Iceland Travel Budget
Here's our total Iceland trip cost for two people on a 12-night road trip in September 2018 (in British pounds, Icelandic Krona, and US Dollars):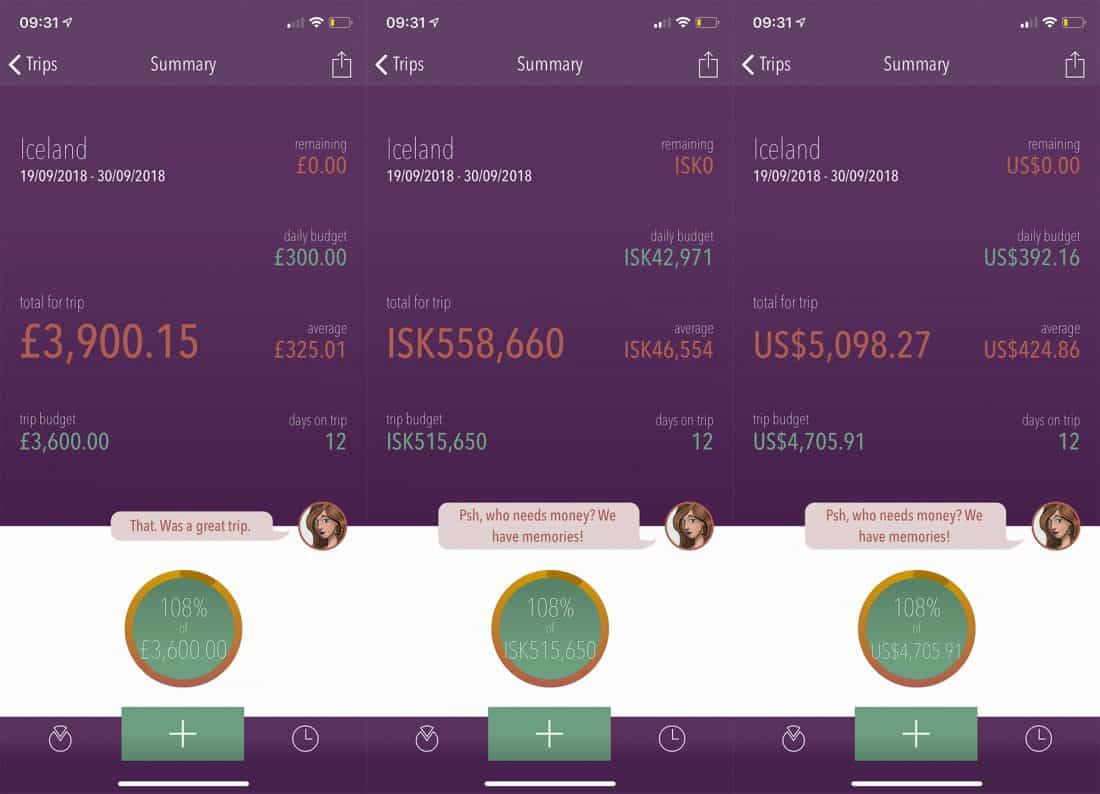 Our average daily spend was £325/ $425 which is £163/ $213 per person. We were a little over our budget but weren't strict about our spending. Here's what we spent it on: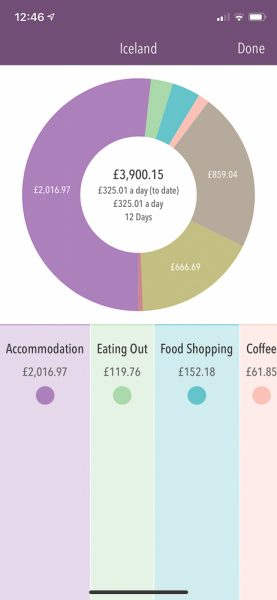 Note: The current exchange rate is approximately 1 GBP = 175 ISK (Icelandic krona), 1 USD = 130 ISK and 1 EUR = 150 ISK.
Transport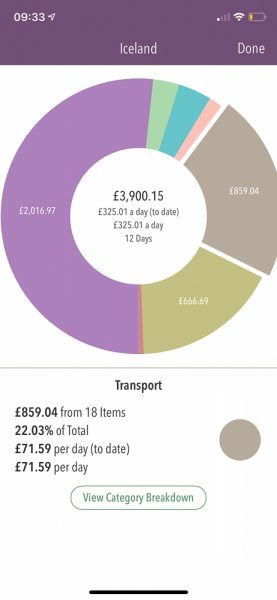 22% of total. £72/ $94 a day
Transport was the second biggest category of our Iceland trip budget.
Renting a car is the best way to explore Iceland as public transport is minimal (and only runs in summer) and the best places to visit are in remote areas.
You don't need a 4WD for most Iceland trips (unless you are driving F roads which most people don't), but we chose to rent one for more comfort and higher clearance on the many bumpy gravel roads in the Westfjords.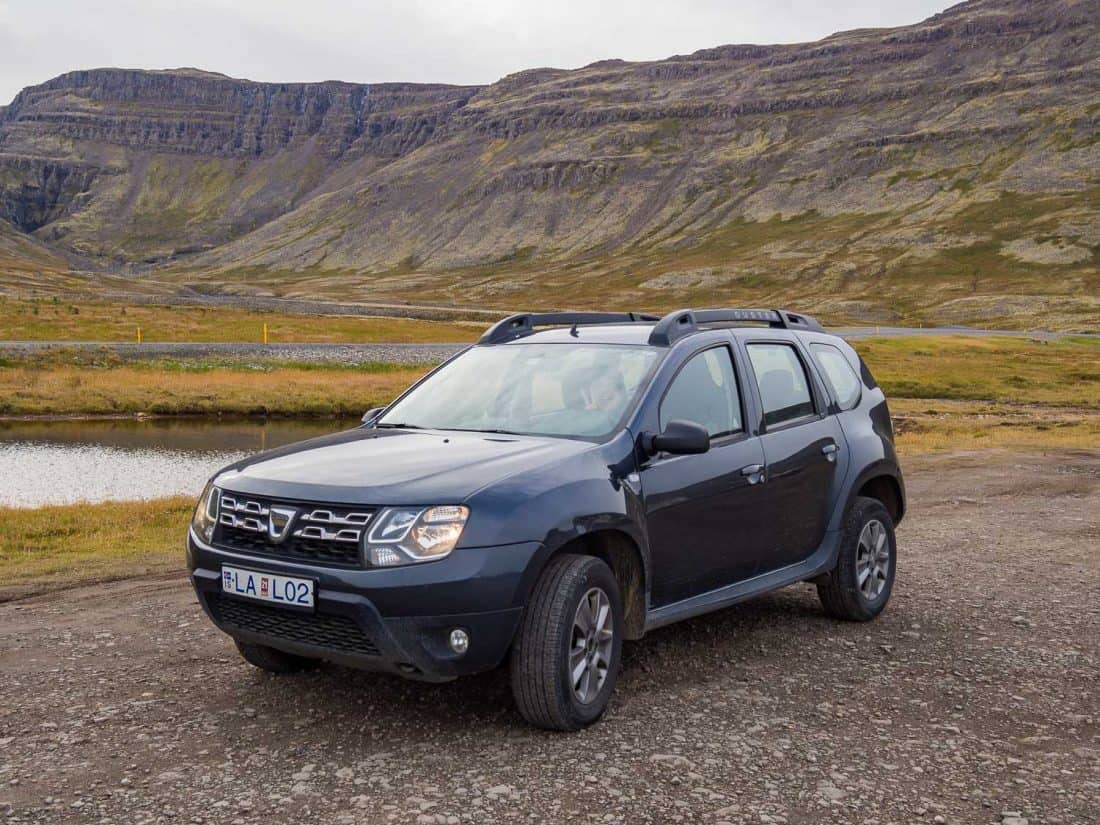 We used Rental Cars to find the best deal and booked a Dacia Duster compact 4WD with Budget who have an office at Keflavik airport (many companies require a shuttle bus to their office).
It cost about £50 ($65) a day for a 12-day rental. A compact car would cost half that.
Make sure you check what insurance your rental includes and what the deposit is—it can be up to $3000 with local companies.
I recommend buying a separate car hire excess insurance policy. We have an annual policy that covers multiple trips and is far cheaper than getting extra insurance with the rental company.
We spent 22,870 ISK ($195) on petrol for the whole trip driving 1686km (1048 miles).
Our other transport costs were a toll road fee near Bogarnes (on the way to the Snaefellsnes Peninsula) of 1000 ISK ($8.50) and the Baldur ferry from Stykkishólmur to the Westfjords which cost £87/ $115 for two adults and one car.
Iceland Without a Car
If you don't want to rent a car, you could base yourself in Reykjavik and take day tours such as this Snafellsness day tour, the classic Golden Circle Tour, or a South of Iceland full day tour. Most day trips cost from US$60 to $130.
Taking a tour is a good idea if you are visiting in winter and don't feel confident driving on snowy and icy roads.
Flights to Iceland
Our Iceland travel budget doesn't include our flights as these will be different for everyone depending on where you are coming from.
We flew London Luton to Keflavik (KEF) with Easyjet which cost £55 each there and £78 back. We paid extra for front row seats which included priority boarding and a personal item in addition to our main carry on.
It would have been cheaper if we'd booked further in advance. I booked our whole Iceland trip three weeks before.
From the US there are no longer cheap flights with WOW Air (the airline shut down in 2019), but you can get a free stopover when travelling with Icelandair between North America and Europe.
I always search Kiwi to find the best flight deals.
Accommodation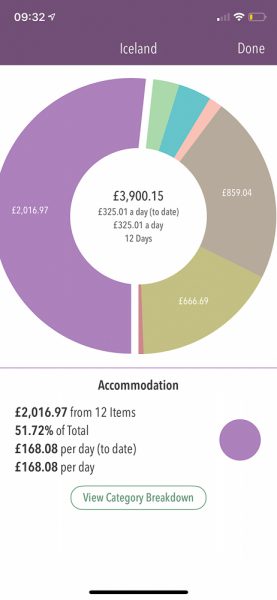 52% of total. £168/ $220 a day
Accommodation was by far our biggest Iceland expense.
We chose self-catering cabins and apartments as we wanted to stay in remote areas and be able to cook for ourselves (vegetarian options are limited outside of Reykjavik).
We didn't stay anywhere super fancy, but we chose places with views and more style when possible.
Overall I was surprised by how simple the accommodation was for the price—we averaged £168/ $220 a day. Bedrooms are almost always twin beds pushed together with separate duvets.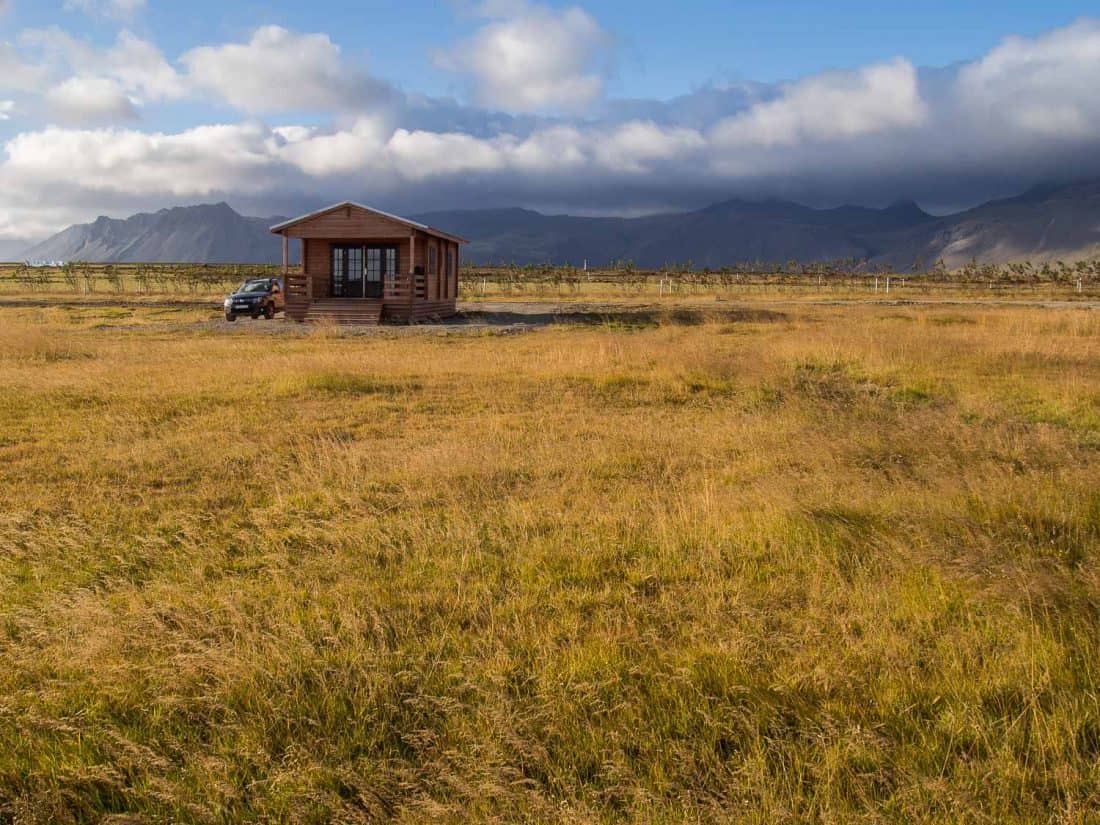 We found our accommodation on Booking and Airbnb and I also recommend searching for unique cabins on Vrbo.
We booked three weeks in advance, but I recommend booking further in advance for more choice—this is essential in summer.
Here are the places we stayed with the cost per night for two people from cheapest to most expensive. All had two bedrooms, kitchen, heating, and good WiFi (except where noted).
Bjarkarholt Guesthouse, South Westfjords £131 ($171) – Basic apartment but good location across the road from a quiet hot spring and we saw the northern lights outside. Convenient for the ferry.
Hlemmur Apartments, Reykjavik £135 ($176) – Comfortable apartment walkable to everything. No longer available but City Comfort Apartments is a good alternative in the same area.
Airbnb in Húsafell, West Iceland £154 ($201) – Modern, well-decorated cabin in the woods with a hot tub on the terrace and good kitchen. No WiFi but we had 4G signal.
Airbnb in Ísafjörður, North Westfjords £171 ($224) – Cute house overlooking the fjord and close to the centre of town. Sadly it's no longer available.
Airbnb in Hólmavík, East Westfjords £198 ($259) – Large, rustic house with homely details and great sea views. Basic bathroom and small beds but it has a handy washing machine and dryer.
Cabin at Tradir Guesthouse, Snaefellsnes Peninsula £219 ($287) – Simple cabins between the mountains and the sea. It would be a great place to see the northern lights (but too cloudy when we were there). Our favourite for views and isolated location. It has now closed—see our Snaefellsnes Peninsula guide for other suggestions.
See our Iceland road trip itinerary for more detailed accommodation reviews.
We travelled in the September shoulder season which we found the best time to go to Iceland. Costs may be higher in the busy summer months of June to August and would be lower in the winter.
Guesthouses with shared bathrooms (and sometimes shared kitchens) would have been cheaper at about £100 ($130) a night. All our accommodation had two bedrooms so they'd be better value if you're travelling in a group.
Camping with a tent or camper van would be the cheapest option, but you must park in a designated campsite and it isn't advisable outside the summer months (it was close to freezing at night in September).
Food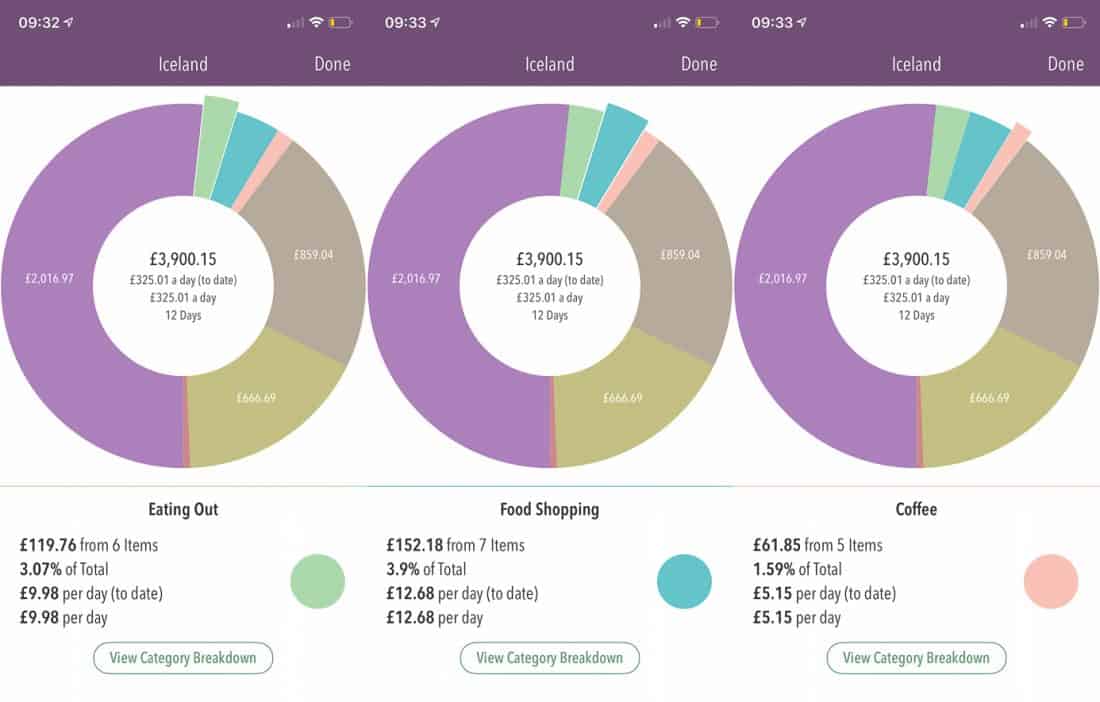 8.5% of total. £28/ $37 a day
This includes our eating out, food shopping, and coffee budgets. We self-catered all of our meals except for the last two days in Reykjavik which has some excellent vegetarian-friendly restaurants.
We brought some food from the UK (granola, packaged lentils, couscous etc.) and then stocked up at the discount Bonus supermarket where prices are fairly reasonable. We also bought bread from bakeries and homemade jam from a roadside stall.
See our Iceland packing list for exactly what we brought with us.
Our total spent on food shopping in Iceland was £152 ($200) or £13 ($17) a day for two people.
We also regularly stopped in cafes for coffee/hot chocolate and cake—our average spend was £14.50 ($19) for us both per visit.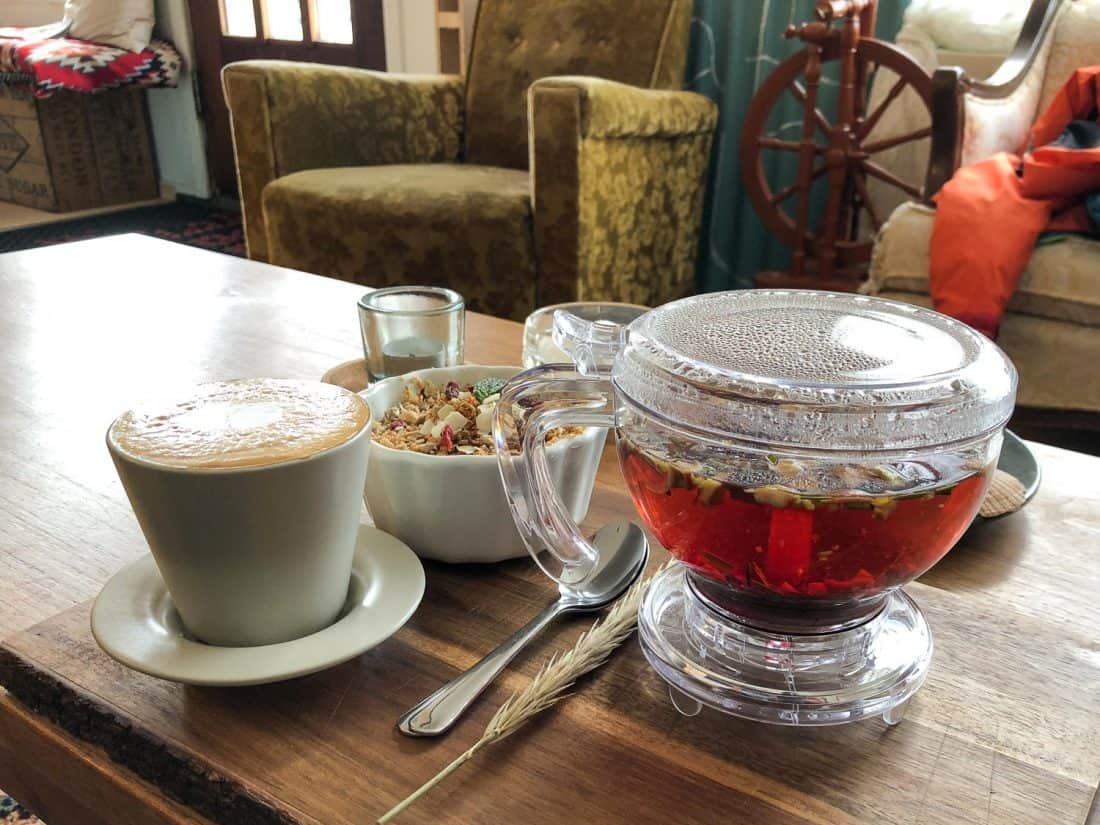 We only ate out for two meals in casual restaurants in Reykjavik and the average cost was £43 ($55) for two people.
Main dishes usually cost around 3000 ISK (£20 /$26). Costs will be a lot higher if you add a bottle of wine which is usually from £40 ($52). A beer costs from £5 ($6.50) and can be a lot more.
Alcohol is expensive so we only drank in Reykjavik and a bottle of Prosecco (£11/$14) that we bought at the airport on arrival (the cheapest place for booze) to enjoy in the hot tub at our cabin.
Our food budget would have been a lot higher if we had eaten out for every meal. We could have reduced costs by self-catering in Reykjavik and skipping the cafe breaks, but Iceland has lovely cafes so that would have been a shame.
Tap water is drinkable so we didn't spend anything on water. We took our Vapur foldable water bottles with us.
Entertainment
17% of total. £56/ $73 a day
You don't need to spend anything on entertainment in Iceland as natural attractions like waterfalls and national parks are free.
There are some interesting activities, though, and we paid for hot springs and geothermal swimming pools (a classic Icelandic experience not to miss), a few museums, and two pricier activities.
The most popular attraction in Iceland is the Blue Lagoon which costs about $80 and must be booked in advance. We saved by visiting local hot springs and pools instead.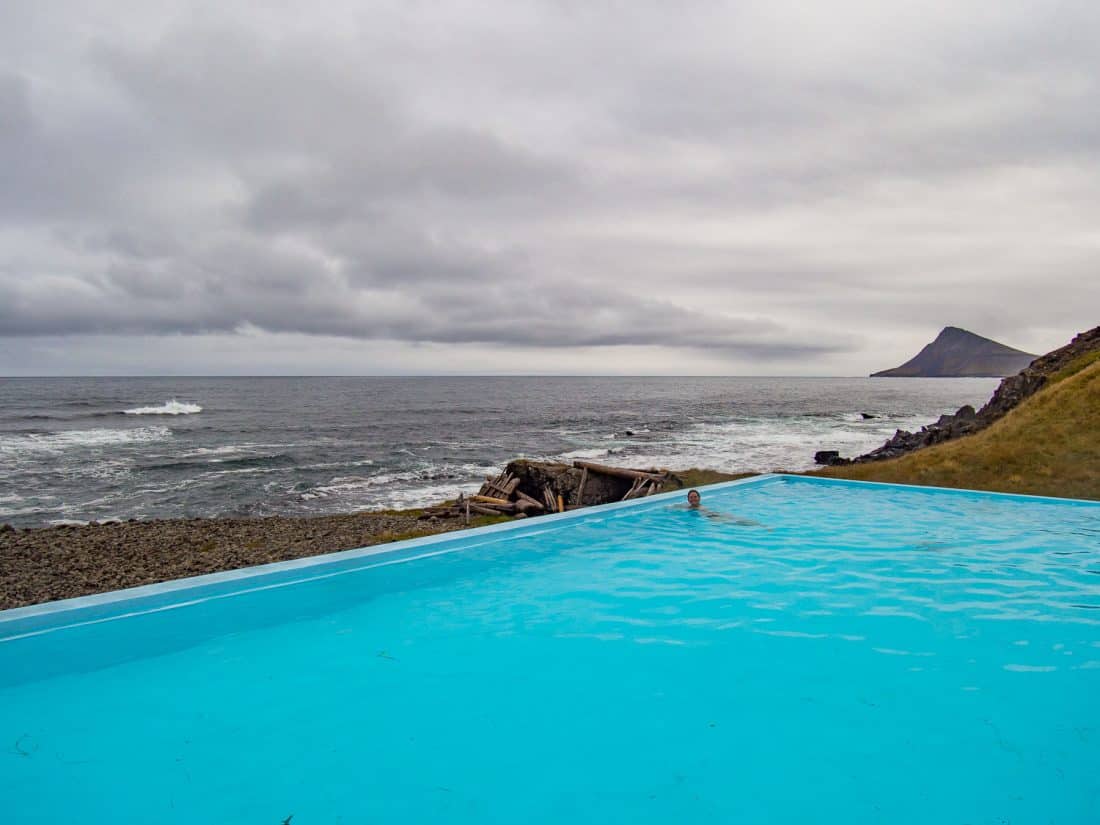 Our Iceland activities included (with the cost per person from cheapest to most expensive):
Hot pot at Birkimelur swimming pool, Westfjords – 700 ISK ($6)
Krossneslaug swimming pool, Westfjords – 700 ISK ($6)
Hallgrímskirkja church tower for the view, Reykjavik – 1000 ISK ($8.50)
Museum of Sorcery and Witchcraft, Hólmavík – 950 ISK ($8)
Arctic Fox Centre, near Ísafjörður – 1200 ISK ($10)
Reykjavik Art Museum (three sites) – 1650 ISK ($14)
Drinks (four) on a night out in Reykjavik – 5600 ISK ($48)
Horse riding (one hour) – 8500 ISK ($73)
Snowmobiling into the Glacier tour – 29,900 ISK ($255)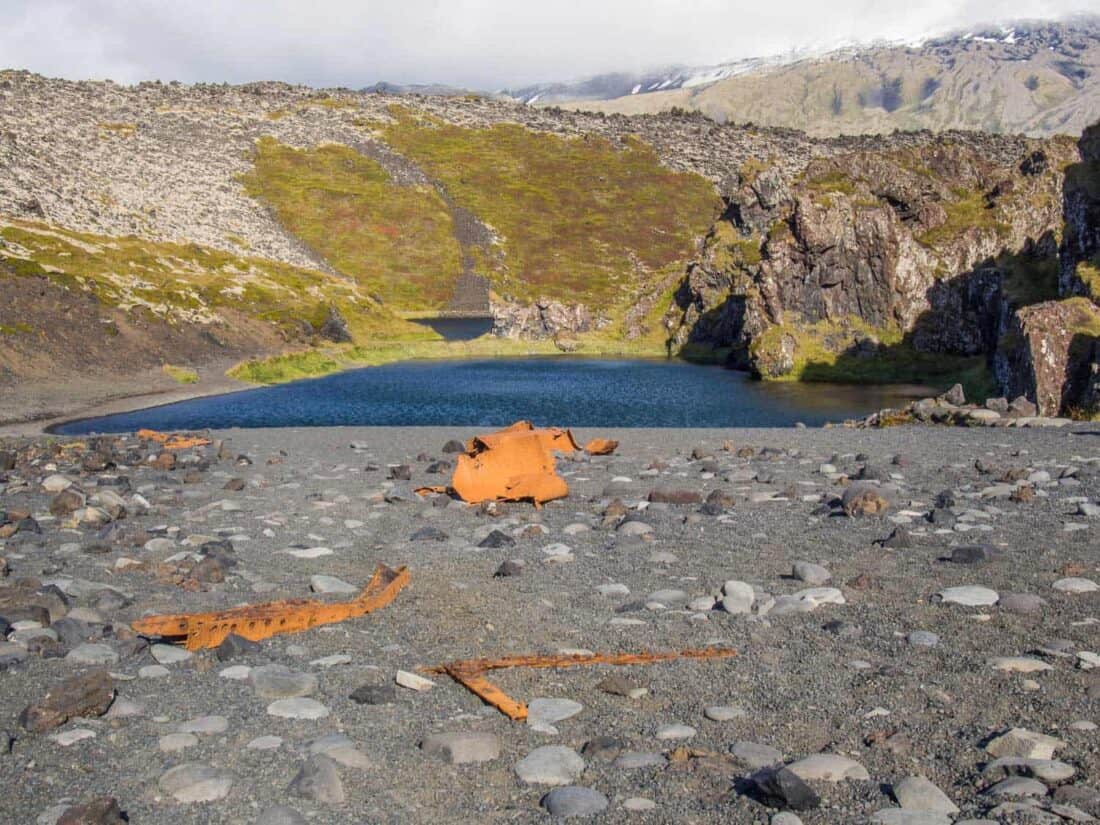 Miscellaneous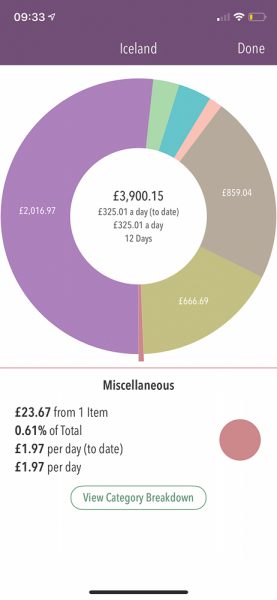 0.5% of total. £2/ $2.60 a day
This was gifts we bought at the airport on departure.
We didn't need to buy a SIM card as our UK data/call plans work for free anywhere in the EEA or EU.
If you don't have an EU SIM you can get a Siminn SIM Card and data plan for 2900 ISK ($25) in Iceland.
Iceland Expenses Not Included Above
Books
I found the Lonely Planet Iceland guidebook very useful when planning our trip.
I highly recommend The Little Book of Tourists in Iceland by Alda Sigmundsdottir for tips by a local on travelling safely and responsibly.
Read my picks for the 10 best books about Iceland to read before you visit.
Travel Insurance
Travel insurance is essential in case anything goes wrong. We bought insurance with True Traveller, who we've been using for years and are excellent value for UK residents.
SafetyWing is another affordable option and is available worldwide.
Car Hire Excess Insurance
Most car hire companies in Iceland have high excess amounts that you have to cover if you have an accident. They will offer expensive insurance to reduce the excess but it's much cheaper to buy a separate policy.
An annual worldwide car hire excess policy costs about £40.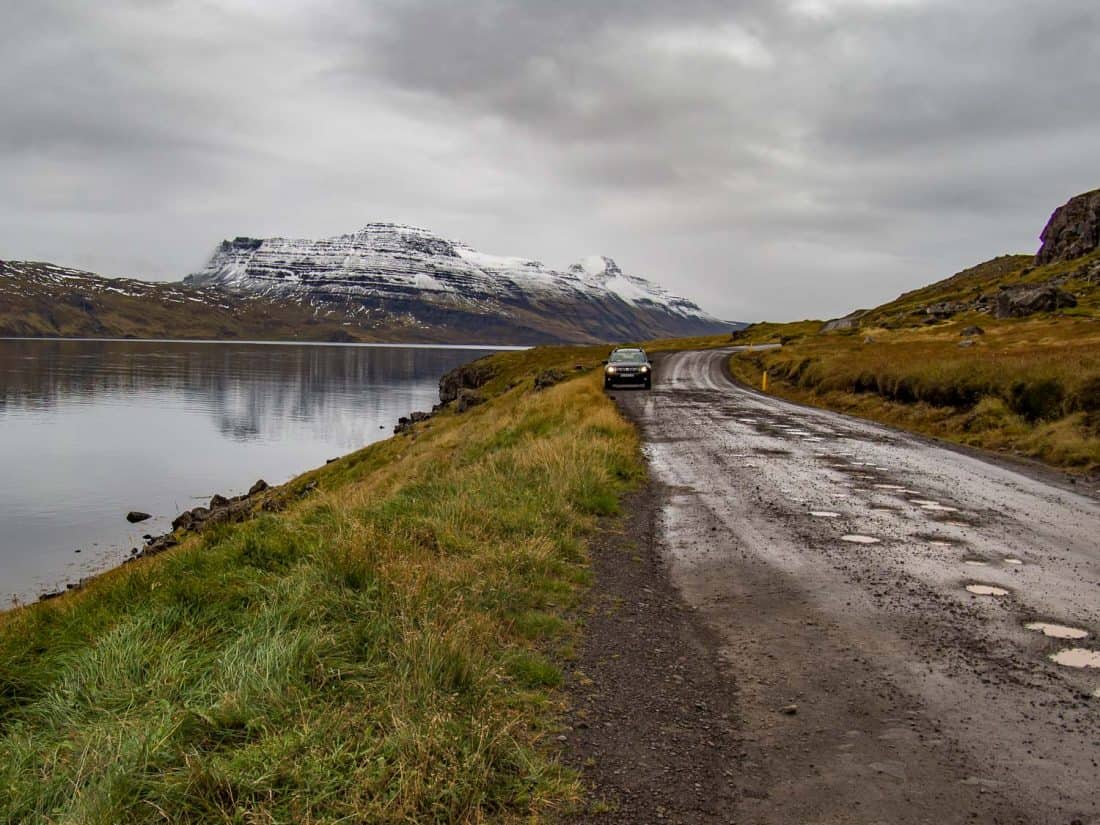 Don't be put off by the high cost of travelling Iceland. It's a stunning and unique place that's well worth the price.
More Iceland Reading
If you enjoyed this post, pin it!