This page contains affiliate links. Please read our disclosure for more info.
Iceland blew our minds with its otherworldly landscape of volcanoes, lava fields, hot springs, mountains, glaciers, fjords, wild beaches and so many waterfalls.
We're not the only ones impressed by the scenery of this remote island in the North Atlantic—tourist numbers have risen exponentially in recent years–from under 500,000 in 2010 to over 2 million in 2019.
In a country with a population of just 337,000 this has had a major impact, both good (it helped the economy after the crash) and bad (impact on the environment and overcrowding at some sights).
This Iceland itinerary, which we followed on our 12 day road trip in late September, aimed to get us off the beaten path, beyond the typical Ring Road circuit around the island.
We skipped the most crowded attractions like the Golden Circle and Blue Lagoon and instead discovered hidden waterfalls, hot springs, and dramatic beaches which we had all to ourselves.
We found you don't need to visit famous attractions in Iceland because there's a gorgeous sight around every corner.
Our unconventional Iceland road trip focused entirely on the west of Iceland.
We started in the Snæfellsnes Peninsula, just a two-hour drive from the airport and full of everything Iceland has to offer in a compact area.
We continued by ferry to the remote Westfjords in the far northwest of the island for breathtaking fjords and isolated hot springs that make the rough gravel roads worthwhile.
On the way back down we stopped in Husafell in West Iceland for horse riding and glacier snowmobiling.
Although we had 12 days you could easily follow this route with 10 days in Iceland or even see the highlights in a week—I have included suggestions on how to adapt it for a 7 day Iceland itinerary.
Below you will also find a map with everything mentioned.
Contents
Iceland Road Trip Tips
When to Visit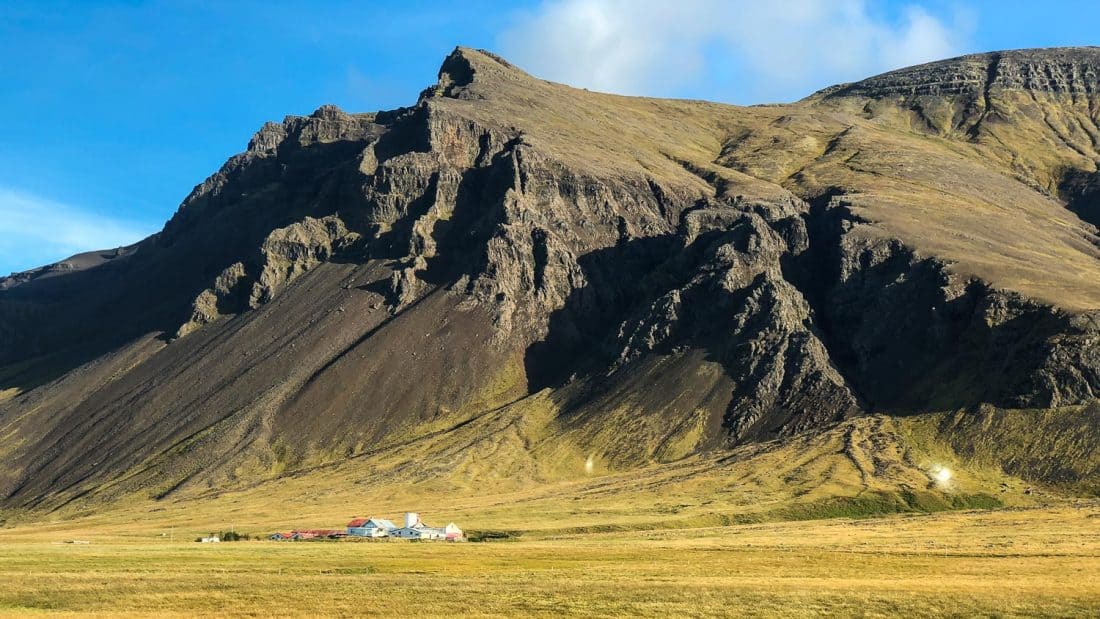 Our Iceland road trip was during the shoulder season at the end of September.
The roads in the Westfjords are often impassable in the winter (November to March), so this route wouldn't be possible then (see this Iceland in winter itinerary instead or focus on the Snæfellsnes).
As I was writing this in early October some of the roads we drove closed for a few days, so May to September would be the safest months.
The busiest months are from June to August when you can experience the midnight sun and milder weather, but you'll need to book accommodation far in advance (unless you camp).
We thought Iceland in September was an ideal time to travel. It was less crowded than the summer, although some remote cafes, museums and tours were closed for the season.
It had a wintery feel with temperatures ranging from –2ºC to 5ºC and some snow on the mountains, but the roads were drivable.
You can also see the northern lights from September until mid-April.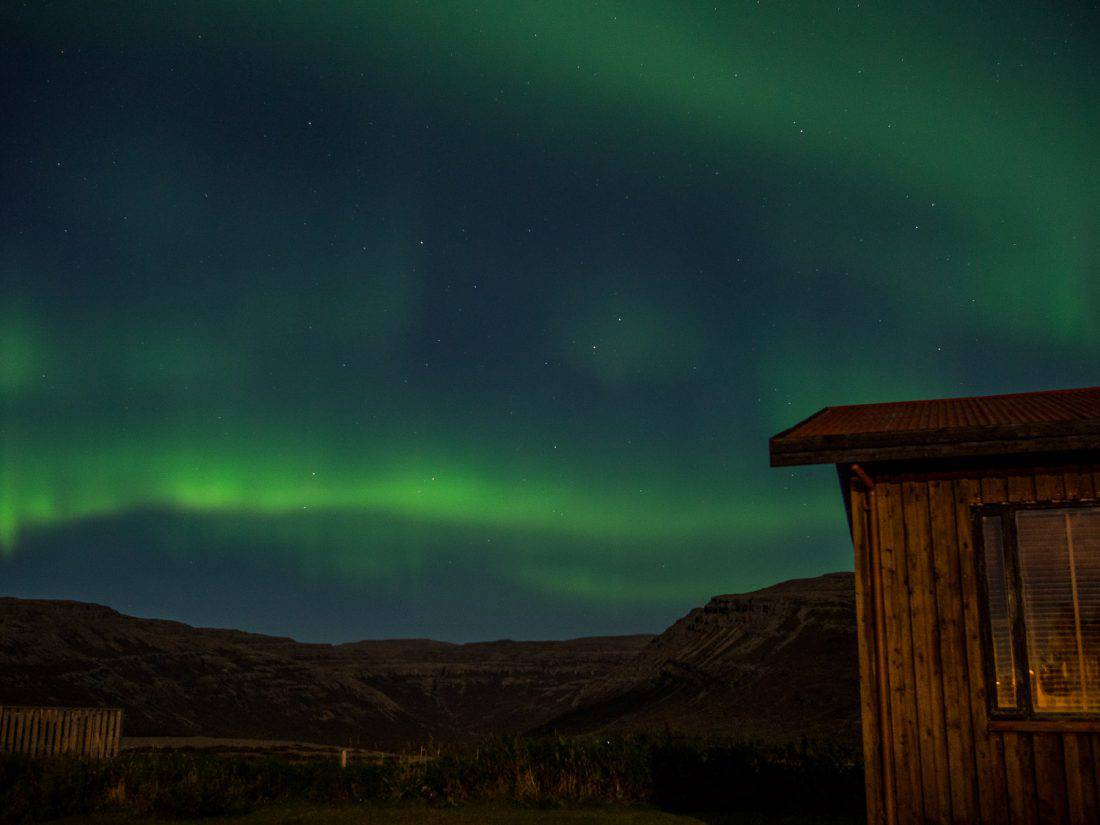 Weather changes fast in Iceland, so it's important to check the websites Vedur (for weather forecasts, also has an app) and Road.is (for road conditions) every day during your trip.
Car Hire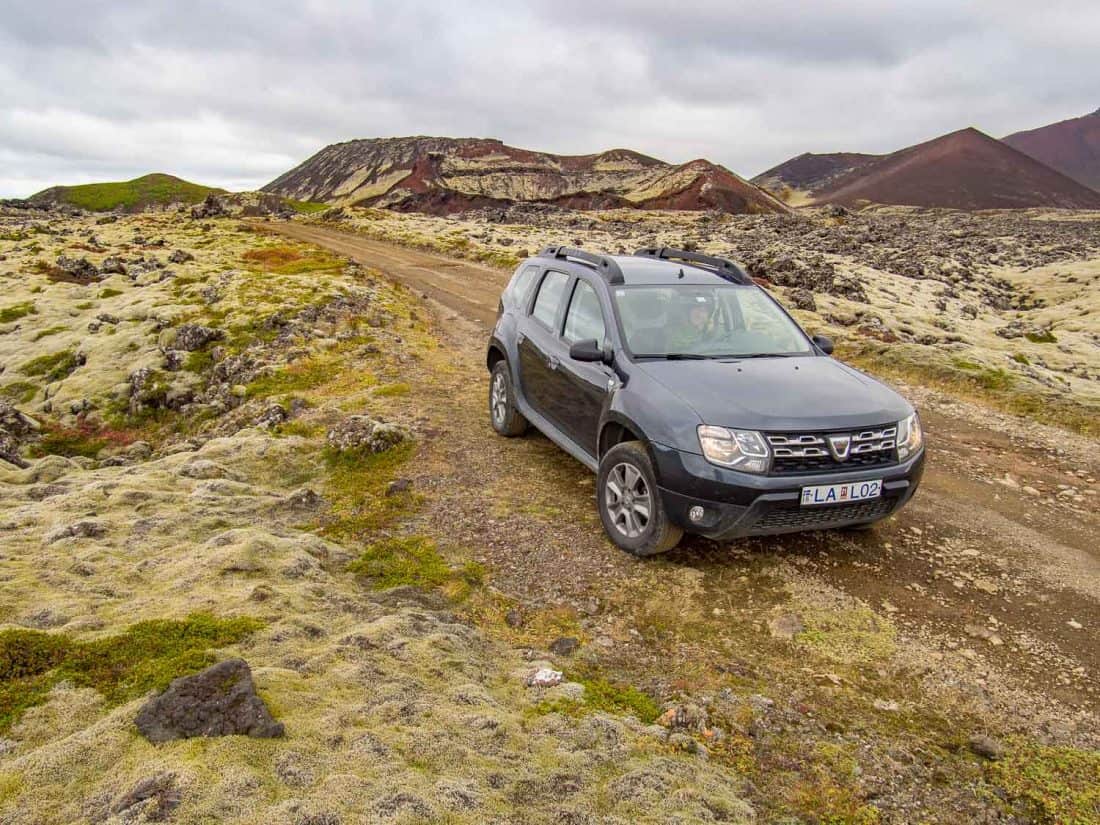 You need a car to follow this itinerary, although you could visit places like Snaefellsnes on day tours from Reykjavik.
A 4WD is not necessary, but we chose to rent one because many of the roads in the Westfjords are bumpy gravel.
We were glad we had our Dacia Duster (a compact 4WD) for extra comfort and higher clearance.
We used Rental Cars to find the best deal and booked with Budget who has an office at the airport (although it had longer queues than the other onsite companies).
We did consider booking with a local company, but most of them charge a lot extra for even the basic insurance and are located a shuttle bus ride from the airport.
We had a separate UK annual car hire insurance policy which covered the excess.
This is much cheaper than purchasing full insurance through the rental company.
In Iceland you drive on the right and need to keep your headlights on at all times while driving.
The speed limit is usually 50 km/h in urban areas, 80 km/h on rural gravel roads (although we barely managed more than 50 km/h) and 90 km/h on rural asphalt roads. The driving was mostly easy with very little traffic.
Most petrol stations are self-service and you'll need a chip and pin credit or debit card. If you don't have one you can buy a pre-paid fuel card.
SIM Card and Directions
Iceland is very well connected. We had good WiFi in all of our accommodation except one and had 3G or 4G almost everywhere in the country.
We used our Three UK SIM card, which you can use elsewhere in Europe but roaming charges may apply. Be sure to check with your provider before your trip.
If you don't have an EU SIM, you can buy a Siminn card at the airport.
We used Google Maps for directions. It was mostly accurate, but some Airbnb addresses didn't work and we asked hosts for directions in advance.
It wasn't difficult to find our way around as there aren't that many roads in Iceland.
Accommodation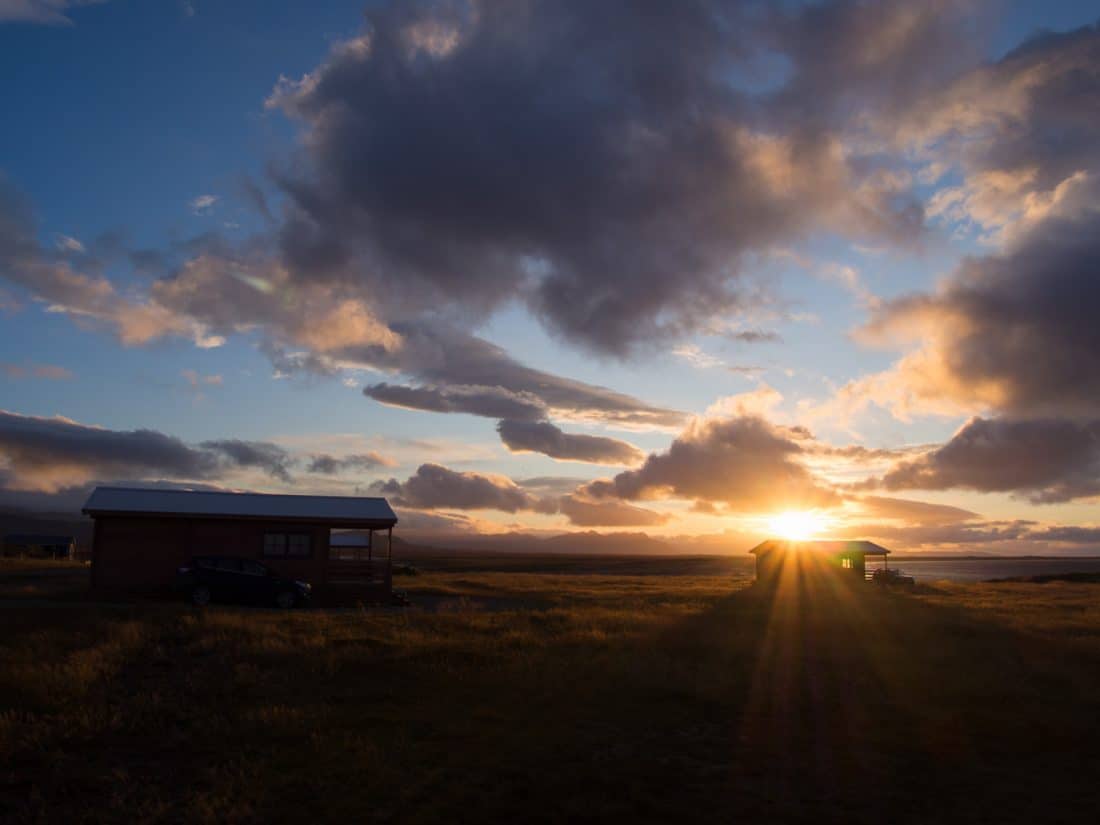 We stayed in self-catering cabins and apartments because we wanted to stay in remote areas without restaurants, we're vegetarian (veggie choices are limited outside the capital), and restaurants are expensive (generally at least £20 /$26 for a main dish).
We found our accommodation on Airbnb and Booking.com. I booked three weeks in advance but I'd recommend planning a trip to Iceland further in advance for more choice— this is essential in summer.
Everywhere we stayed had self check-in (usually with a lockbox), so we didn't have to commit to an exact arrival time.
Accommodation is expensive—our average spend was £168 ($228) a night, but we did choose places with more style and views when possible. All our accommodation had two bedrooms so it'd be better value if you're travelling in a group.
Guesthouses with shared bathrooms (and sometimes shared kitchens) would have been cheaper at about £100 ($130) a night.
Camping with a tent or campervan would be the cheapest option but note that you can no longer wild camp—you must park in a designated campsite.
Food and Drink
We self-catered all our meals except in Reykjavik. The Bonus supermarket is reasonably priced and we passed three of them on this route (Bogarnes, Stykkishólmur, and Ísafjörður).
We also bought some food from the UK for easy meals, but this wasn't really necessary as the supermarket was well stocked.
Even if you aren't self-catering, it's worth stocking up at Bonus for snacks and lunch ingredients as there usually isn't anywhere to stop for lunch. We ate sandwiches in our car most days.
The tap water is drinkable and excellent quality. I recommend packing a collapsible water bottle like the Vapur which we travel with.
Cafes are excellent in Iceland and we treated ourselves to coffee/hot chocolate and cake whenever we came across one.
Alcohol is expensive so we only drank twice—a bottle of Prosecco that we bought from Duty-Free on arrival at the airport (the cheapest place to buy alcohol) and on one night out in Reykjavik (when drinks averaged £9.50/ $13 each).
What to Pack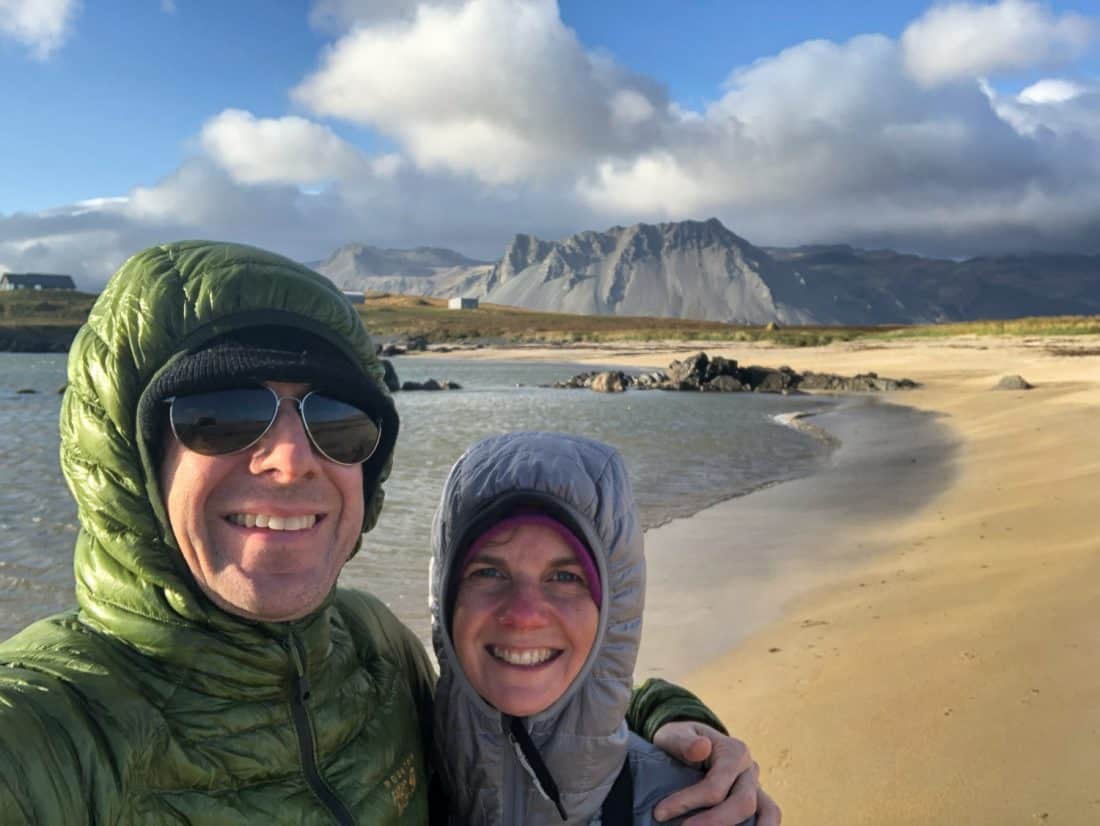 Make sure to pack lots of layers and waterproofs. See our Iceland packing list for exactly what we packed—we managed to stay warm and still fit everything into one carry-on backpack each (avoiding airline luggage fees).
Things that we found especially useful for Iceland were a tripod (for northern lights photography), travel towel (for hot springs), travel coffee mug (there's often nowhere to stop for one), and foldable water bottle.
Iceland Money and Costs
The current exchange rate is approximately 1 GBP = 168 ISK (Icelandic krona), 1 USD = 133 ISK and 1 EUR = 143 ISK.
Credit cards are accepted everywhere in Iceland so many travellers get by without cash.
We withdrew 10,000 ISK at the airport (the ATM charged a fee), but we only needed about 3000 ISK in the Westfjords for unattended hot spring fees (you leave the money in a box) and toilets.
We spent £325 ($443) a day for two people in Iceland.
See our budget post for exactly how much our Iceland trip cost.
We didn't try to keep to a particular budget and you could travel for less by choosing cheaper accommodation with shared bathroom (or camping) and a 2WD instead of a 4WD rental car.
We also did a few expensive activities, but most attractions in Iceland are free.
Our costs don't include flights to Iceland. We flew London Luton to Keflavik (KEF) with Easyjet which cost £55 each there and £78 back.
We paid extra for front row seats which included priority boarding and a personal item in addition to our main carry on. It would have been cheaper if we'd booked further in advance.
From the US there are no longer cheap flights with WOW Air (the airline shut down in 2019), but you can get a free stopover when travelling with Icelandair between North America and Europe.
You can search Kiwi for the best flight deals.
Responsible Travel
As visitor numbers have grown so much in Iceland, it is even more essential to travel responsibly.
See my post on the dos and don'ts to follow in Iceland to avoid making common mistakes.
I also recommend reading The Little Book of Tourists in Iceland by Alda Sigmundsdottir for tips by a local on travelling safely and responsibly.
Travel Insurance
Travel insurance is essential in case anything goes wrong on your trip.
We used True Traveller as always—they are the best deal we've found for UK residents. SafetyWing and Heymondo are also good options we've used that are available worldwide.
Our Iceland Westfjords Itinerary
Our Iceland Snæfellsnes and Westfjords road trip was for 12 nights and we drove 1686km (1048 miles) focusing entirely on the western side of the island.
You could easily reduce this trip to 10 days as we ended up having two rest days (in Ísafjörður and Husafell) due to bad weather.
The distances between locations aren't long but there are lots of things to see along the way.
Our travel and sightseeing days were usually around six or seven hours. This was quite tiring for us and we appreciated the rest days, but some people are happy to put in 12 hour days (in the summer/shoulder season at least when there's enough light) and fit more in.
We preferred having two night stays everywhere to avoid moving around too much (and by the end we were still sick of packing/unpacking), but you could reduce some stays to one night.
The New Westfjords Way or Iceland Ring Road 2
Since we completed this West Iceland itinerary, the roads have been improved in the Westfjords and a new 950km (590 mile) route around the area called Vestfjarðaleiðin or Westfjords Way has opened.
This is being branded as Ring Road 2 to encourage visitors to go beyond the popular Ring Road 1 which loops around Iceland.
Our Westfjords itinerary below includes most of the Westfjords Way. Driving times might have improved since we drove it, but I would still allow plenty of time for the many photo stops.
In particular, there is a new tunnel, Dýrafjarðargöng, which makes the journey from Dynjandi waterfall to Ísafjörður quicker.
7 Day Iceland Itinerary
If you only have a week in Iceland, you could focus on the Snæfellsnes Peninsula (2 nights) and Westfjords (4 nights in 2 locations) with a night in Reykjavik at the end.
Just note that it's at least a six-hour drive from Ísafjörður in the Westfjords to Reykjavik.
Our Iceland Road Trip Map
This map shows our Iceland road trip route between overnight destinations with the blue lines and red pins.
Note: The distances of each leg of our journey are taken from Google Maps (which we used for navigation) and the times are the actual time it took us, usually including stops along the way as there is always plenty to see.
Day 1 Keflavík Airport – Snæfellsnes Peninsula (2 nights)
Distance: 196km (122 miles)
Time: 4 hours including 1.5 hours of breaks in Bogarnes and Gerðuberg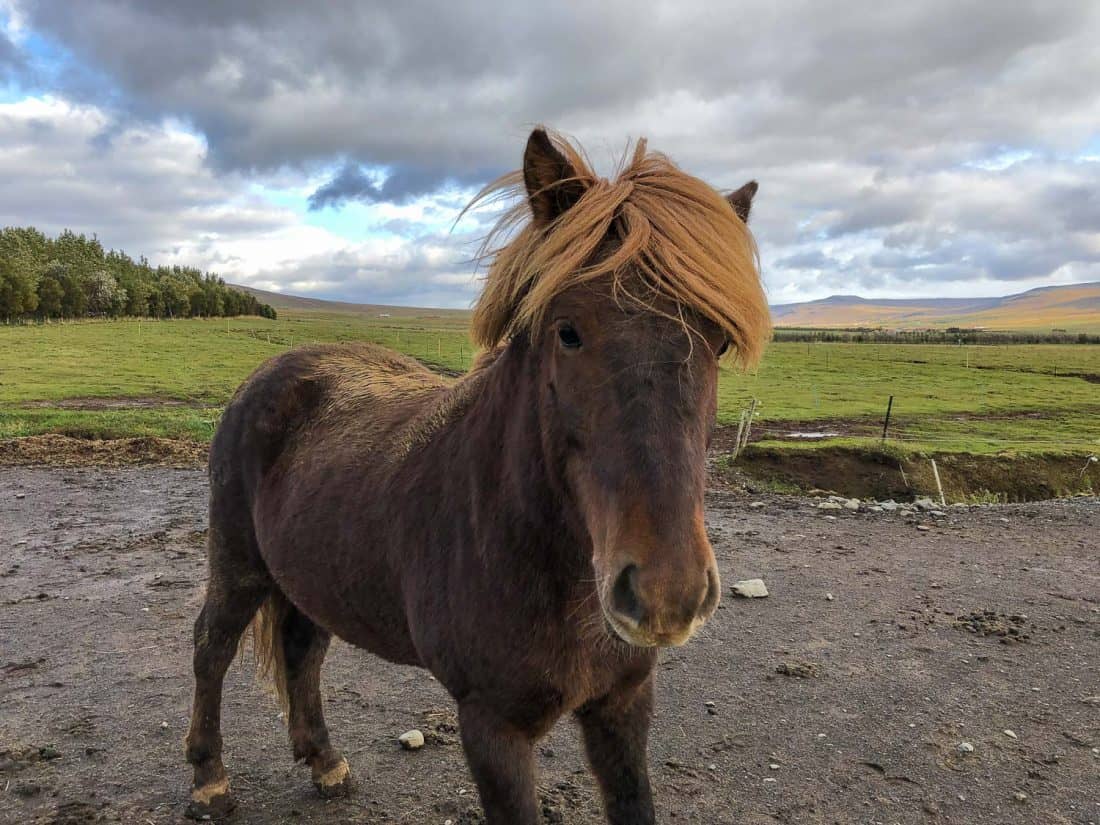 With an early flight arrival, no checked baggage, and no queue at immigration we were out of the airport with our rental car at 9 am, 40 minutes after our official arrival time.
Driving through the barren lava fields we felt like we'd arrived on a different planet.
We had decided to leave Reykjavík until the end of our stay and drove past it on our way to the Snæfellsnes Peninsula.
Past the capital the scenery became more dramatic with the crevasses of mountains glowing in the morning light.
We even saw our first Icelandic horse, a common sight on our trip with their long flowing manes.
The small town of Borganes was our first stop. We arrived 30 minutes before the discount supermarket Bonus opened at 11 am so went next door to Geirabakari Kaffihus, a bakery/cafe with sea and mountain views and giant chocolate-covered cinnamon buns.
The bakery was converted into a Papa John's pizza restaurant for the filming of the movie The Secret Life of Walter Mitty with Ben Stiller.
Once we'd stocked up in Bonus we continued on our way.
The scenery of lava fields and craggy mountains was just stunning and the hardest thing was not being able to take photos (do not stop on the road in Iceland!). Our only stop was the Gerðuberg Cliffs, a wall of basalt columns.
After checking into our cabin, we continued 4km further down the road to Ytri Tunga, a beach that's home to a seal colony. We got lucky and saw a few lazing on rocks and swimming in the sea.
We had a relaxed afternoon at the cabin. We could have fit more in but we were tired after a 4am start.
Where to Stay in Snæfellsnes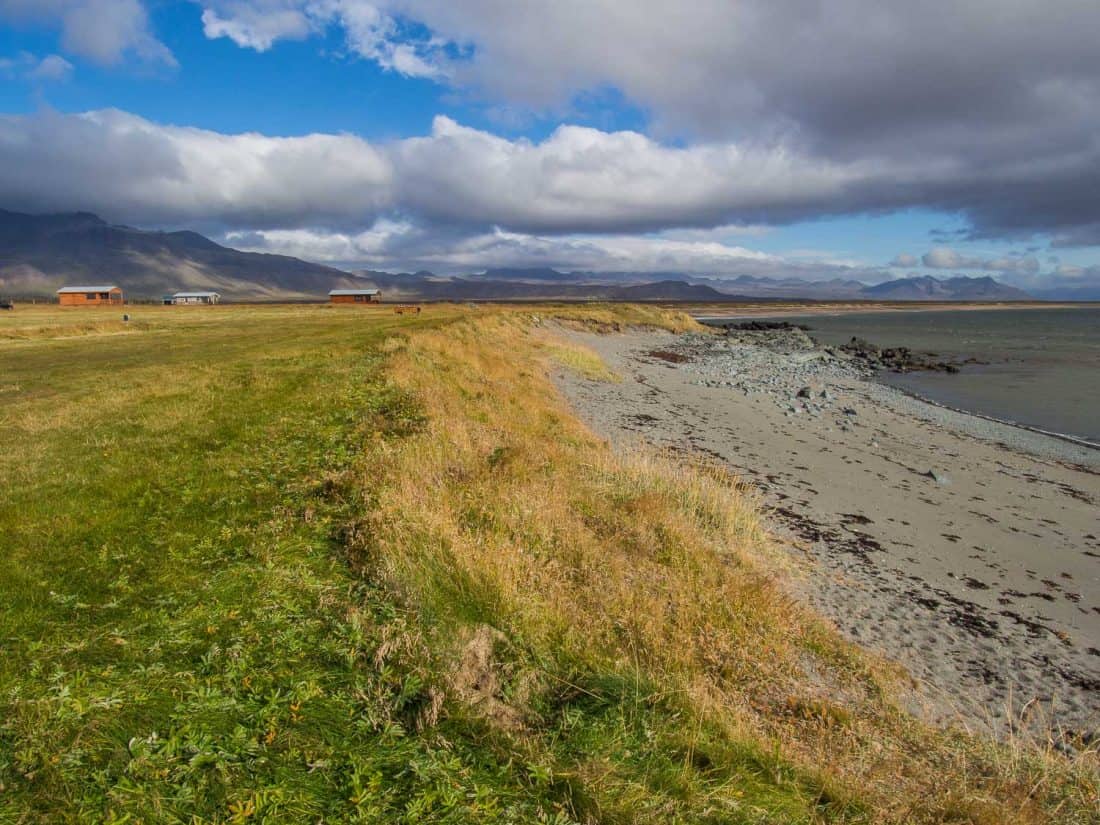 We stayed in a cabin at Tradir Guesthouse, a horse farm on the isolated south coast. Unfortunately, it has now closed.
An alternative on the south coast is Hotel Búdir, which has outstanding views near the famous black church.
Day 2 Snæfellsnes Peninsula
Distance: 175km approximately (109 miles)
Time: 7 hours including many breaks and walks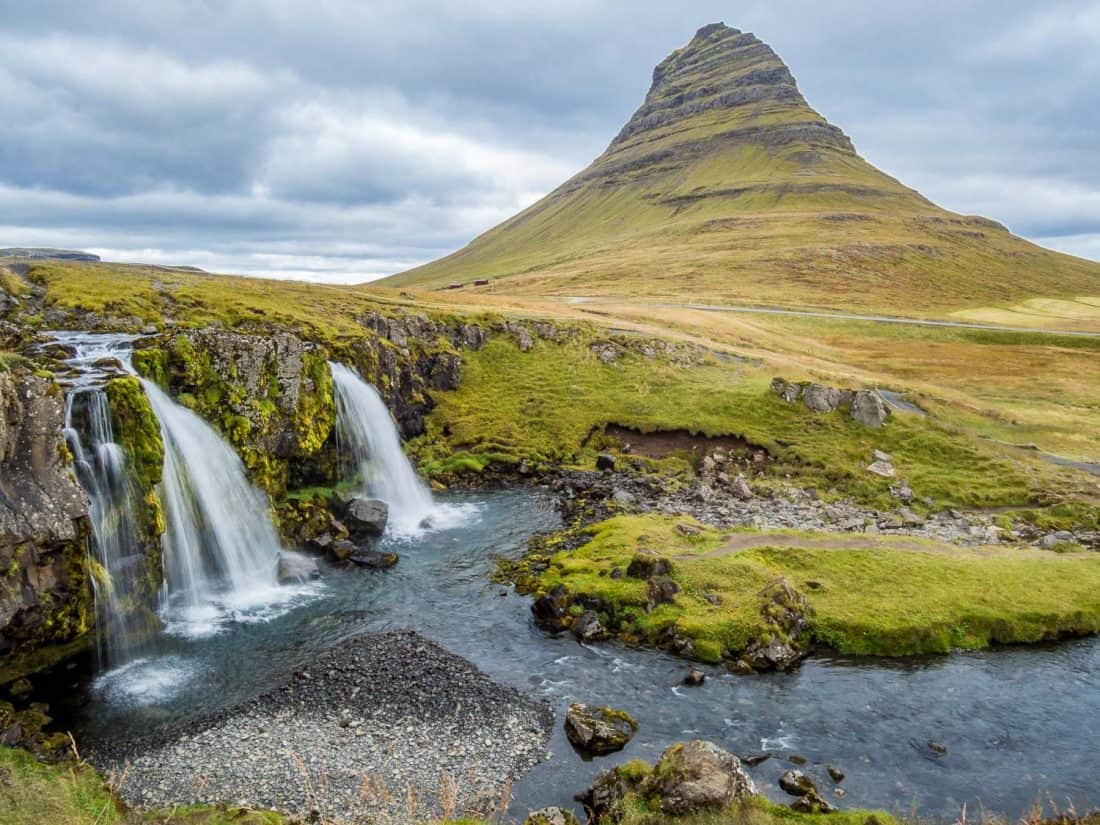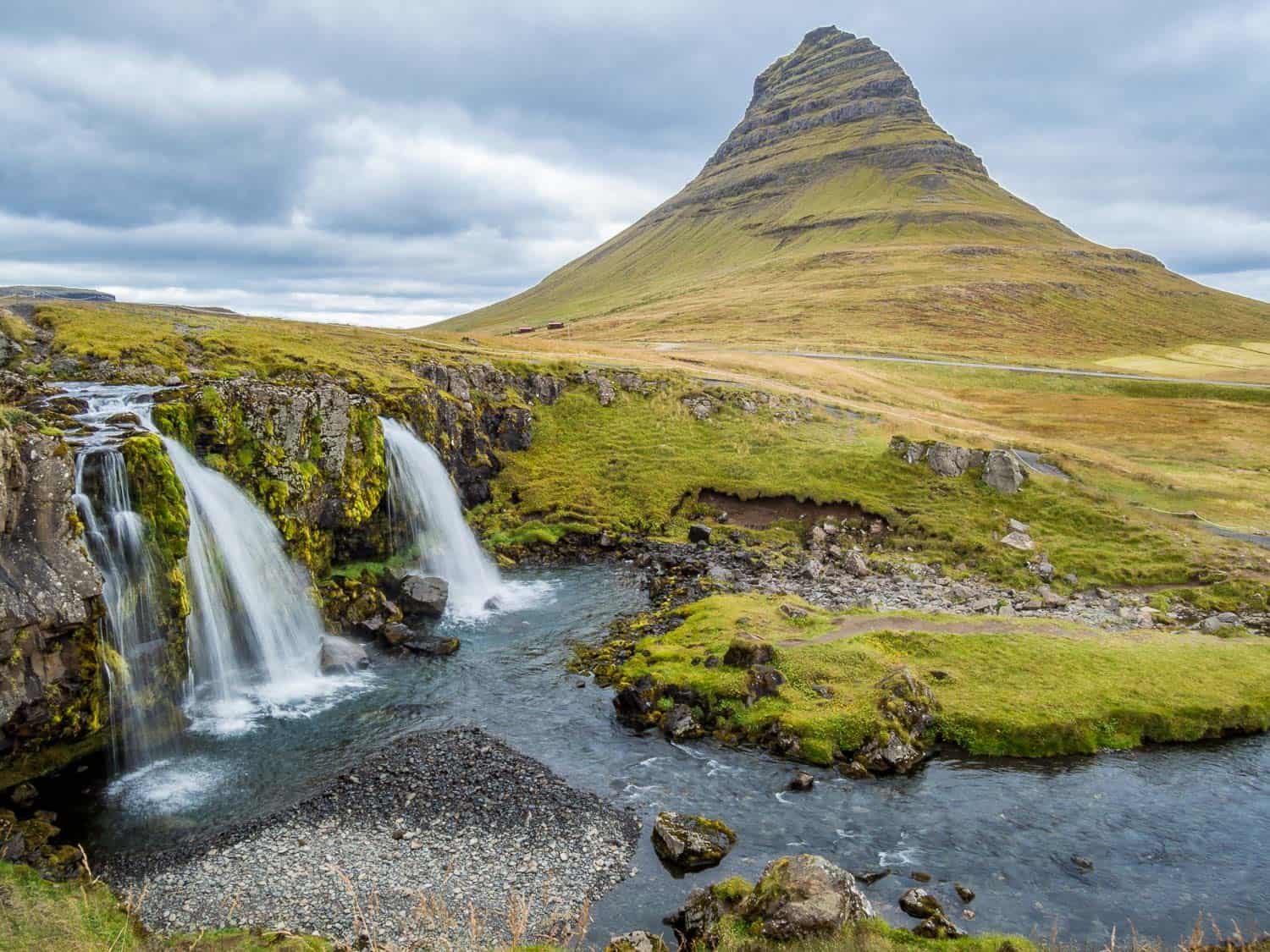 Today was spent driving to the main sights of the Snæfellsnes Peninsula. We had planned to go horse riding on the beach at Lysuholl in the morning, but it was cancelled due to high winds.
It was an absolutely gorgeous drive past mountains, volcanic craters, waterfalls, beaches, horses, red-roofed farmhouses, and cute wooden churches.
We constantly wanted to stop and take photos and there are plenty of short walks and sights to wander around along the way.
We experienced the crazy changeable Icelandic weather—gale-force winds and the odd experience of standing under a blue sky but feeling sleet being blown off a nearby mountain.
Highlights of the day included Bjarnarfoss and Kirkjufellsfoss waterfalls, Djúpalónssandur black pebble beach, and the spectacular hike through the lava fields along the coast between the teeny towns of Hellnar and Arnastapi.
See our guide to the Snæfellsnes Peninsula for more details on where to stop.
Day 3 Snæfellsnes – South Westfjords (2 nights)
Distance: 146km (91 miles) plus ferry
Time: 8 hours including 2.5 hour ferry and stops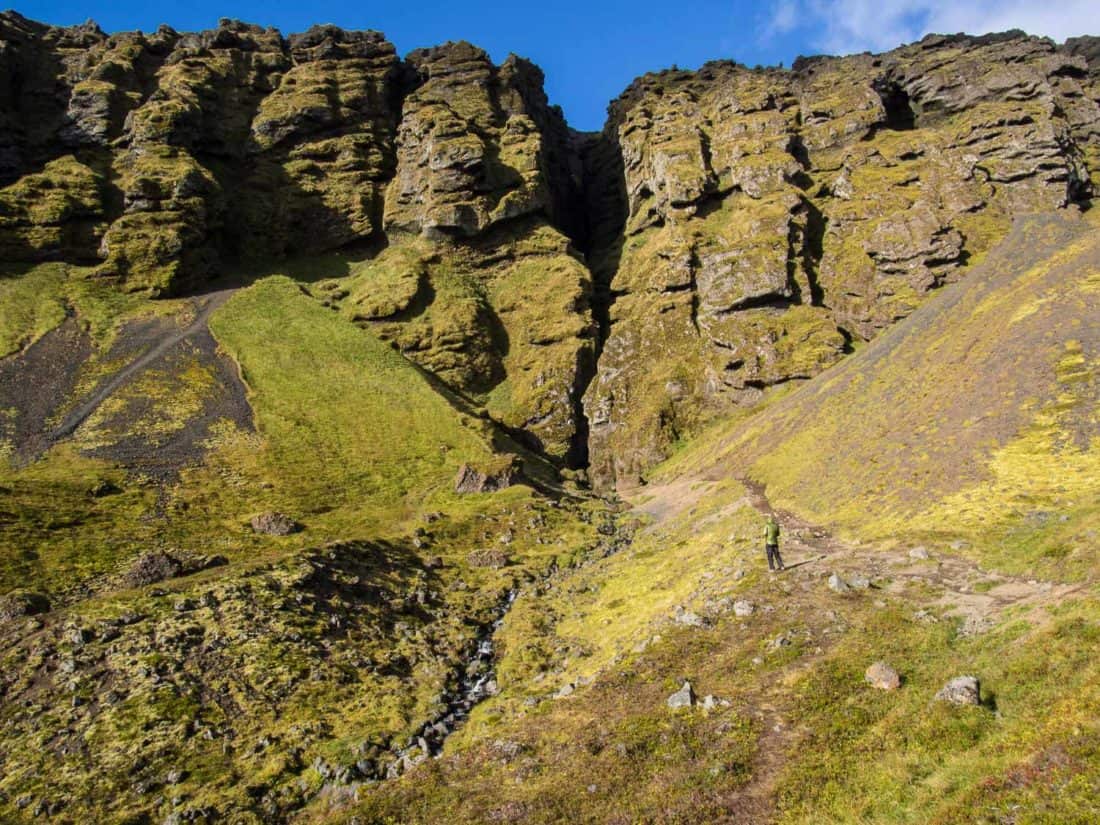 We woke up to the mountains covered in snow and a "feels like" temperature of –1ºC.
Disappointingly our horse riding was cancelled again because of the wind, so we explored more of the peninsula including Rauðfeldsgjá Gorge, the spectacular mountain pass 56 over to the north coast, the extraordinary Berserkjahraun lava fields which most visitors overlook, and the cute, colourful town of Stykkishólmur.
Our Snæfellsnes Iceland guide has more information.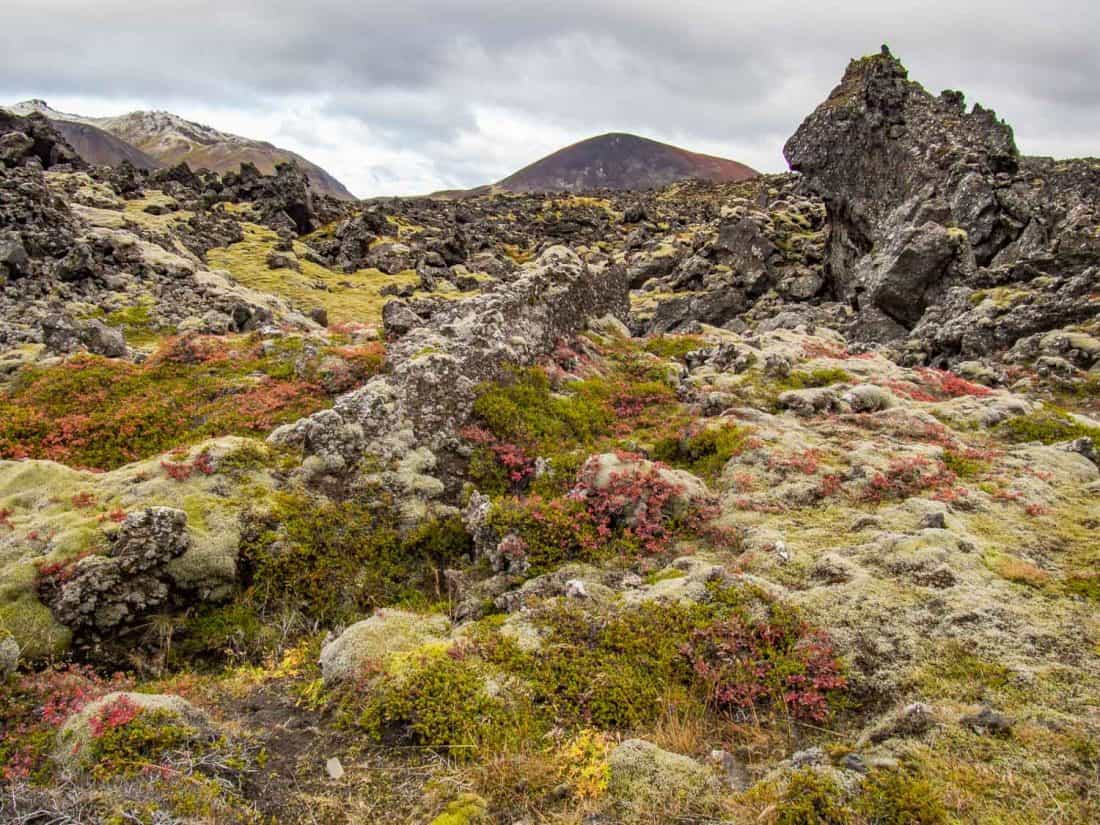 Our ferry to the Westfjords departed at 3.30pm from Stykkishólmur. As we hadn't printed our ferry tickets, we had to pick them up from the Seatours ticket office in the harbour.
The Baldur ferry isn't cheap (for two adults and one car it was £91/ $115), but it saved us at least four hours of driving and gave Simon a break.
The journey was easy and smooth with comfortable lounge style seating. There's a pricey cafe and WiFi on board (and we had phone signal the whole way!).
You can also stop over on Flatey Island but that's more of a summer destination.
The ferry arrives at Brjánslækur in the southern part of the Westfjords. There's not much there except a basic looking restaurant, but it was only a 15-minute drive to our guesthouse.
Where to Stay in South Westfjords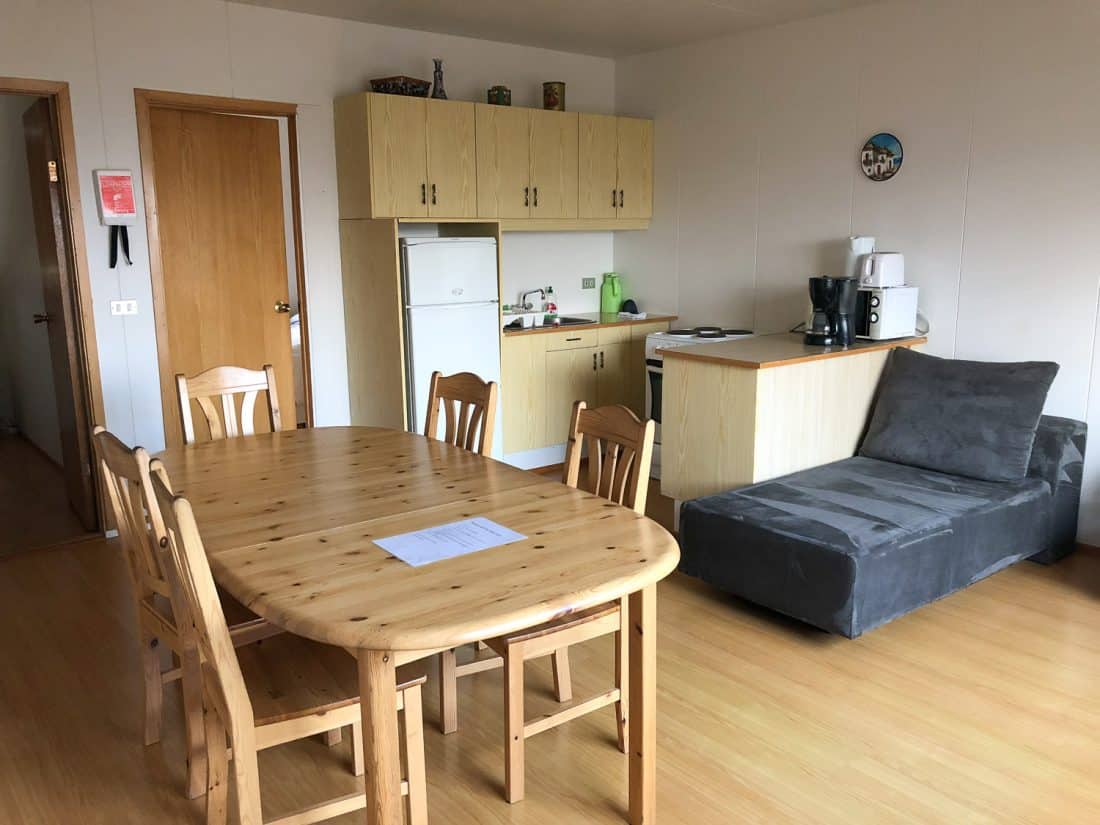 Accommodation is limited in the southern Westfjords. The biggest town is Patreksfjörður, which has a population of just 660.
We liked the look of Guesthouse Stekkaból there but decided against having to share a bathroom and kitchen.
Instead, we rented a cabin at Bjarkarholt Guesthouse (which also has rooms with shared bathroom and kitchen).
It's in a teeny hamlet between the ferry terminal and Patreksfjörður and worked well as a base for exploring the area.
There are four apartments in one building so it's not totally private. They are pretty simple, but there's a lovely view of the mountains from the two bedrooms.
They are kept warm with underfloor heating, the WiFi was decent, and the kitchen had all the basics (including an oven). You have to make and strip your own beds.
Although it wasn't our favourite accommodation, it has two big selling points—we saw the northern lights just outside and it's across the road from a quiet hot spring overlooking the sea.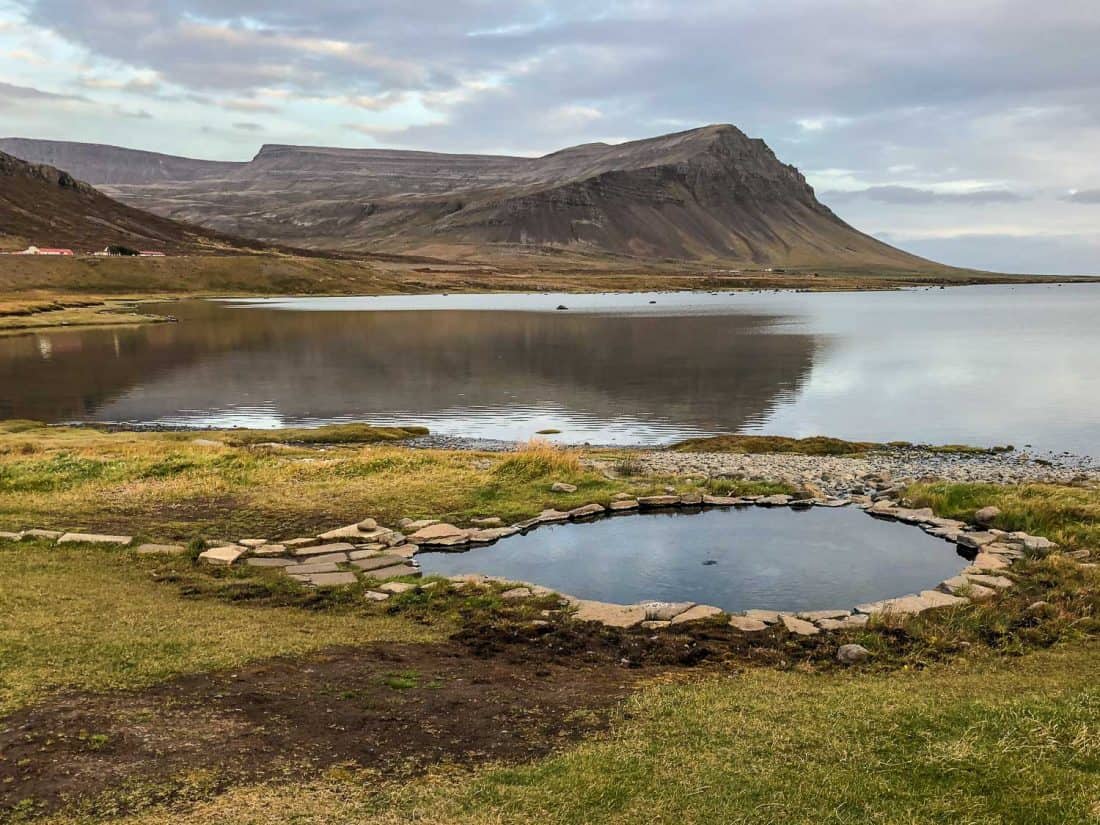 Day 4 South Westfjords
Distance: 168km (104 miles)
Time: 6 hours including stops and walks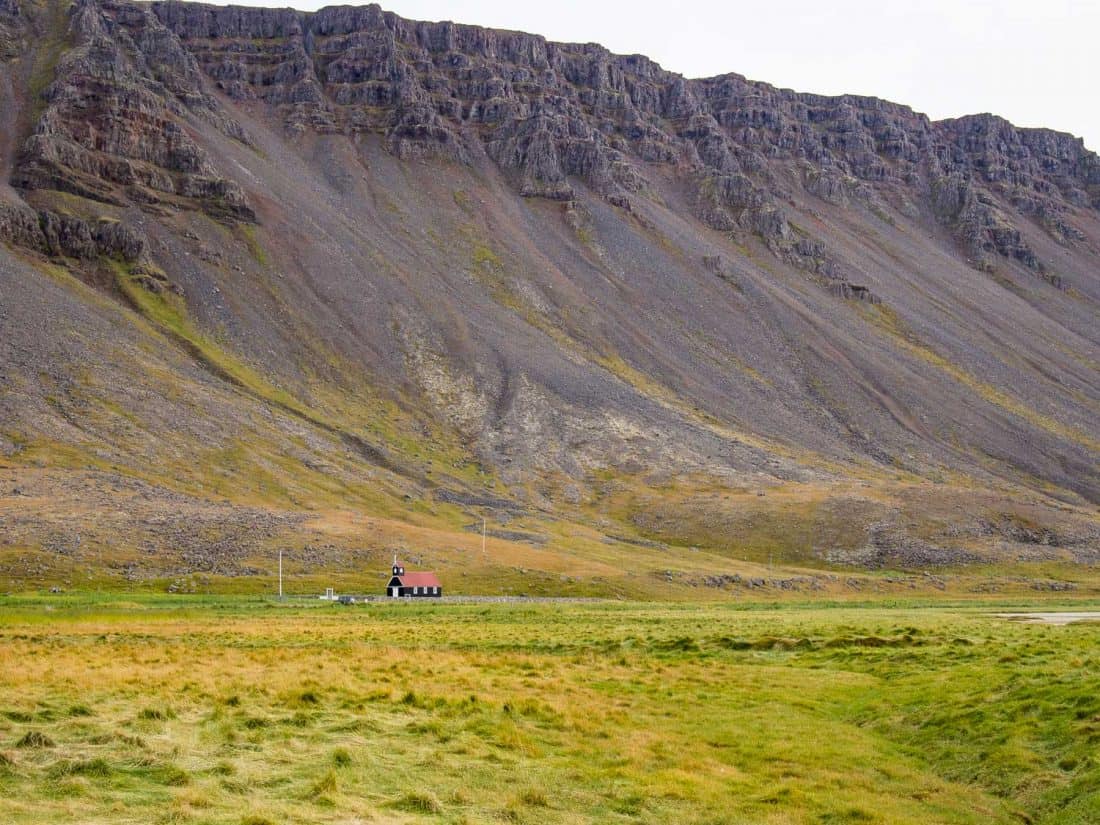 I'm glad we had one full day to explore the southern Westfjords because there are some beautiful sights and the gravel roads are exhausting.
Our goal for the day was to get to Látrabjarg, the westernmost point in Iceland. Our first stop was Garðar BA 64, an old steel whaling ship built in 1912 that was run aground in 1981 when no longer safe for service. You can now see it rusting away beside the fjord.
From here the driving became more difficult as we took the steep winding gravel road 614 over the mountains to Rauðasandur Beach. The view of this 10km long beach coming down the mountain is stunning.
When we arrived we were unclear where to park and walk on the beach as it was full of water channels.
We continued on (after turning right at the bottom of the mountain) until we reached a little black church with a blue P parking sign outside.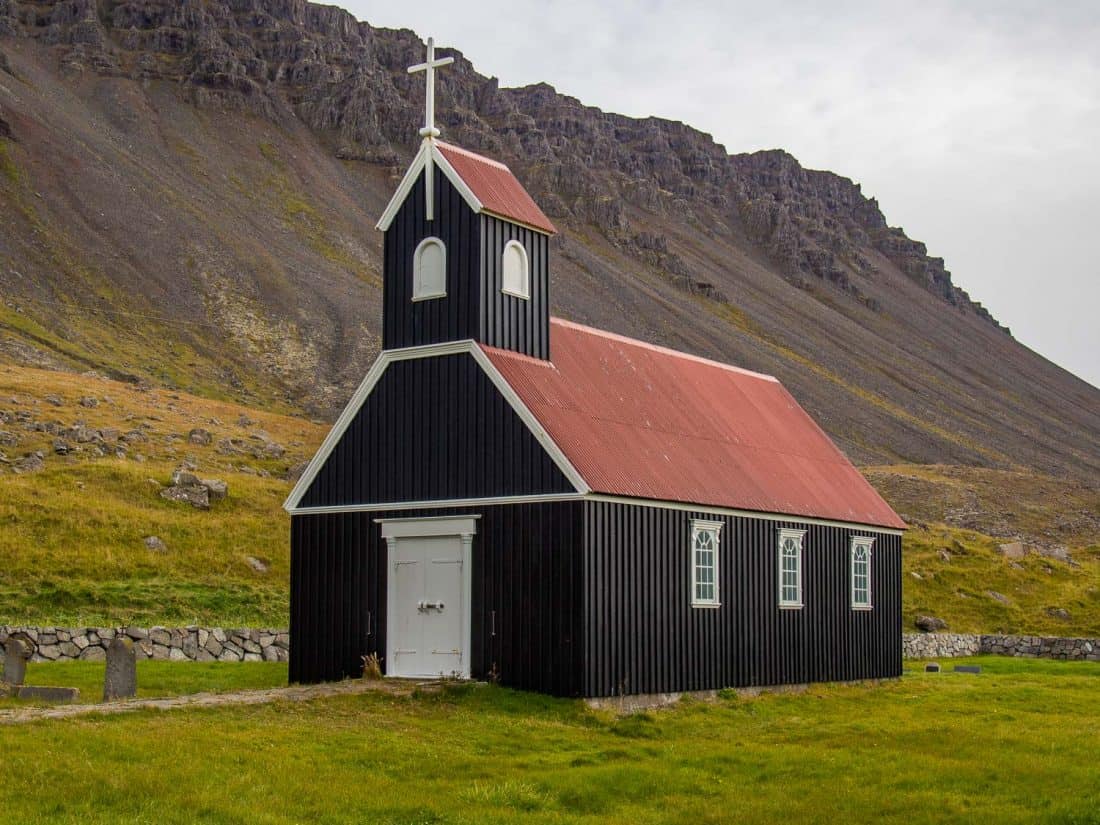 There was no one else around, but we saw a sign for a walking trail a little further down the road.
We hopped over the chain gate and walked on the gravel road and grassy path for 1.5km (just under a mile) until we finally reached the edge of the beach.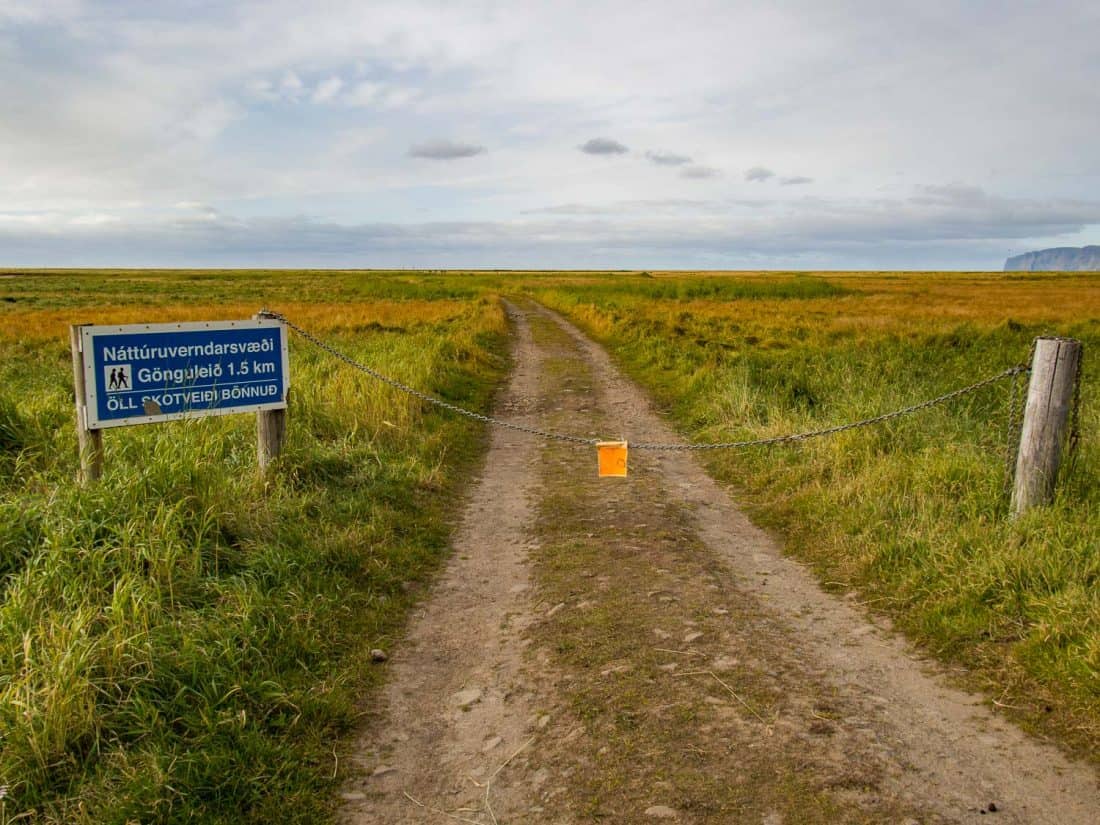 This wasn't the quick beach stop we'd imagined, but it was a beautiful walk and we had it all to ourselves.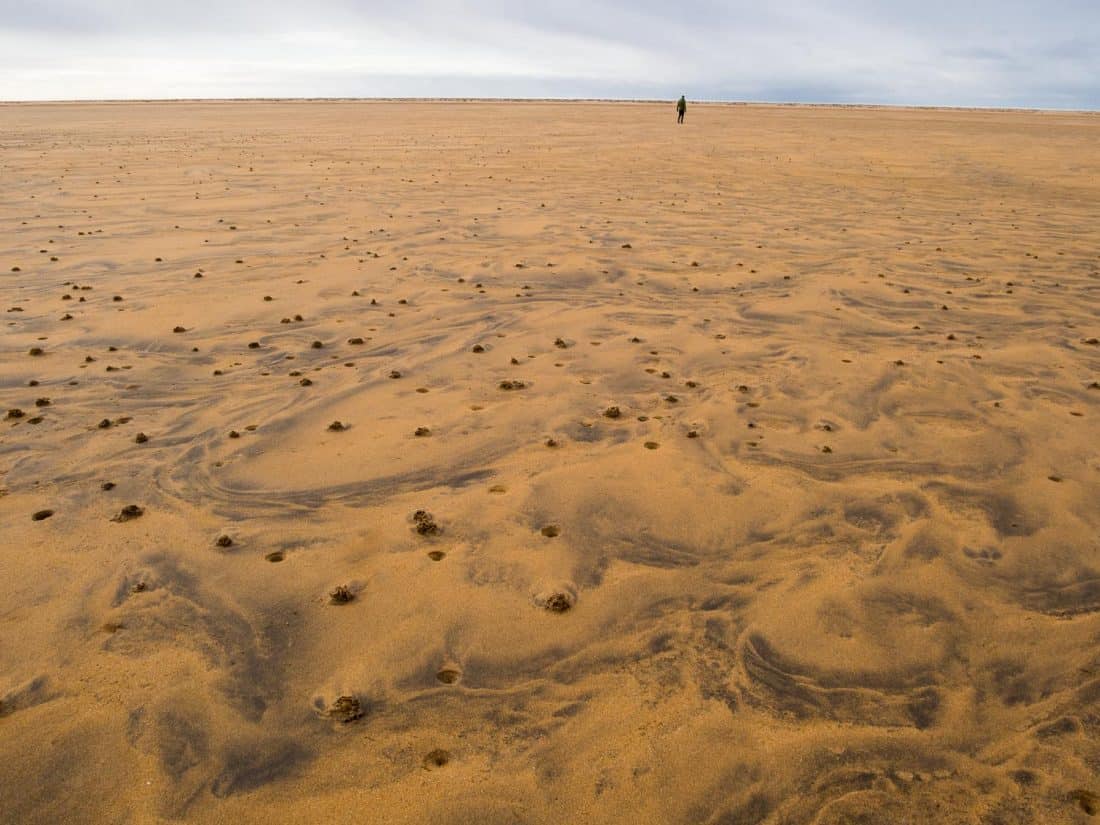 Rauðasandur means Red Beach and the sand is a mix of red and orange and yellow and black swirls like marbled chocolate.
It's an epic beach, the biggest we've ever seen, both wide and long. We walked another 1km and still hadn't quite reached the sea (a channel stopped us getting all the way), but it's a rewarding walk seeing all its changing forms with flat-topped grey mountains behind.

On the drive back over the precarious mountain pass we stopped to assist a car with a flat tire.
Another car stopped to help and said they'd had a flat that morning so we drove the rest of the day nervous that we'd be next (thankfully, we weren't).
The road 612 to Látrabjarg Cliffs is less steep than the 614, but it's in just as bad condition with many potholes in the gravel road which made it slow going and exhausting.
The coastal scenery made it all worthwhile, though, including the view of the huge white sandy Breiðavík Beach from above.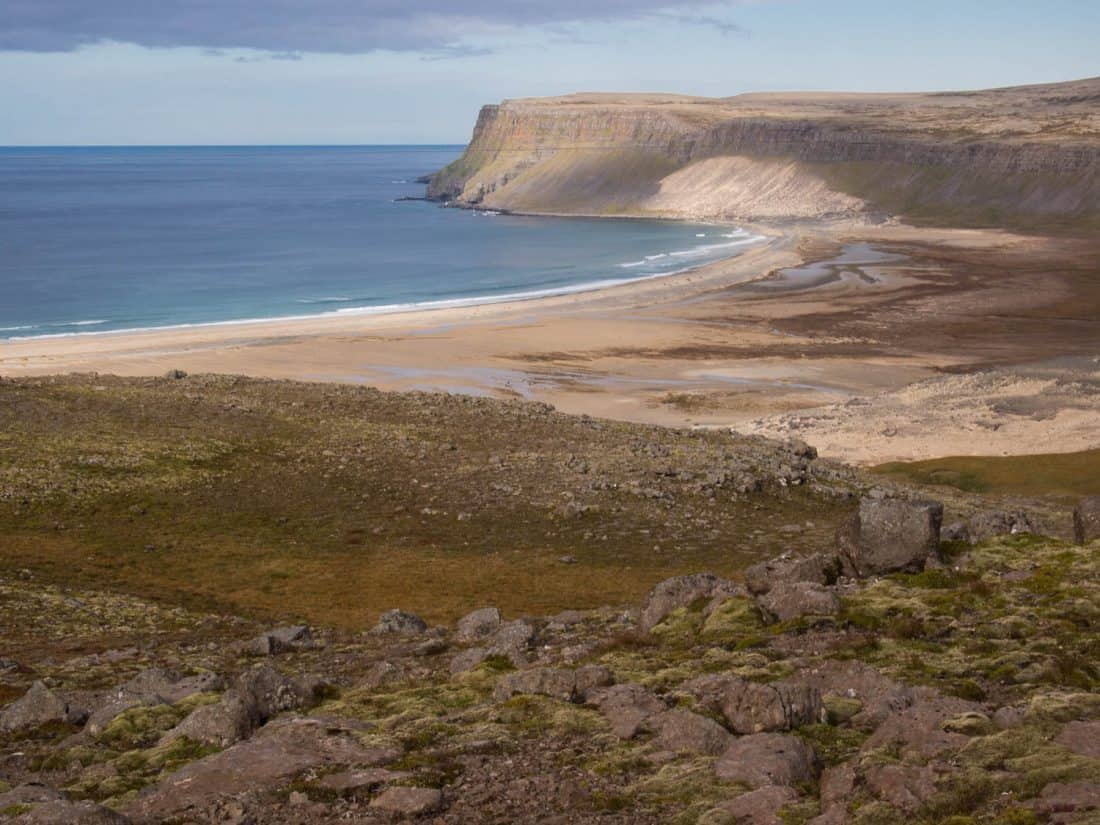 The only toilet is by the road at a small campsite just before the cliffs.
Látrabjarg Cliffs are known as one of Europe's largest bird cliffs, home to thousands of birds including puffins.
Sadly they only nest here in the summer so we didn't see any at the end of September.
We still enjoyed a walk along the cliffs, being careful not to get too close to the crumbling edge as it's a very long way down.
The cliffs stretch for 14km and you can walk as far as you'd like before turning back.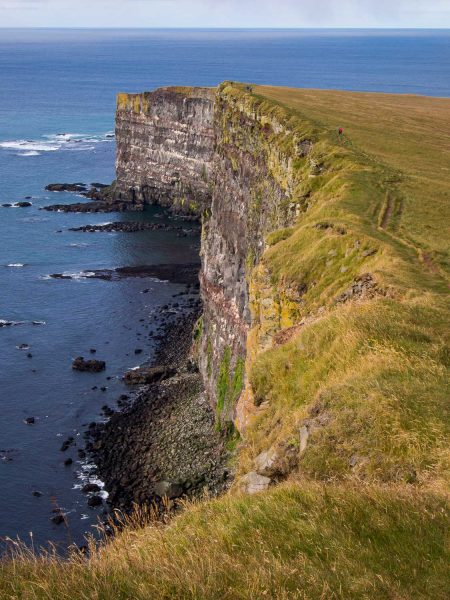 Just before we returned to the parking lot we were delighted to spot an arctic fox, a rare sight that made up for the lack of birds.
Back at our cabin we had our best evening in Iceland.
A sunset soak in the hot pot across the road was the ideal way to relax after the long drive.
The water was the perfect temperature on a chilly evening and there's a gorgeous view of the sea and mountains.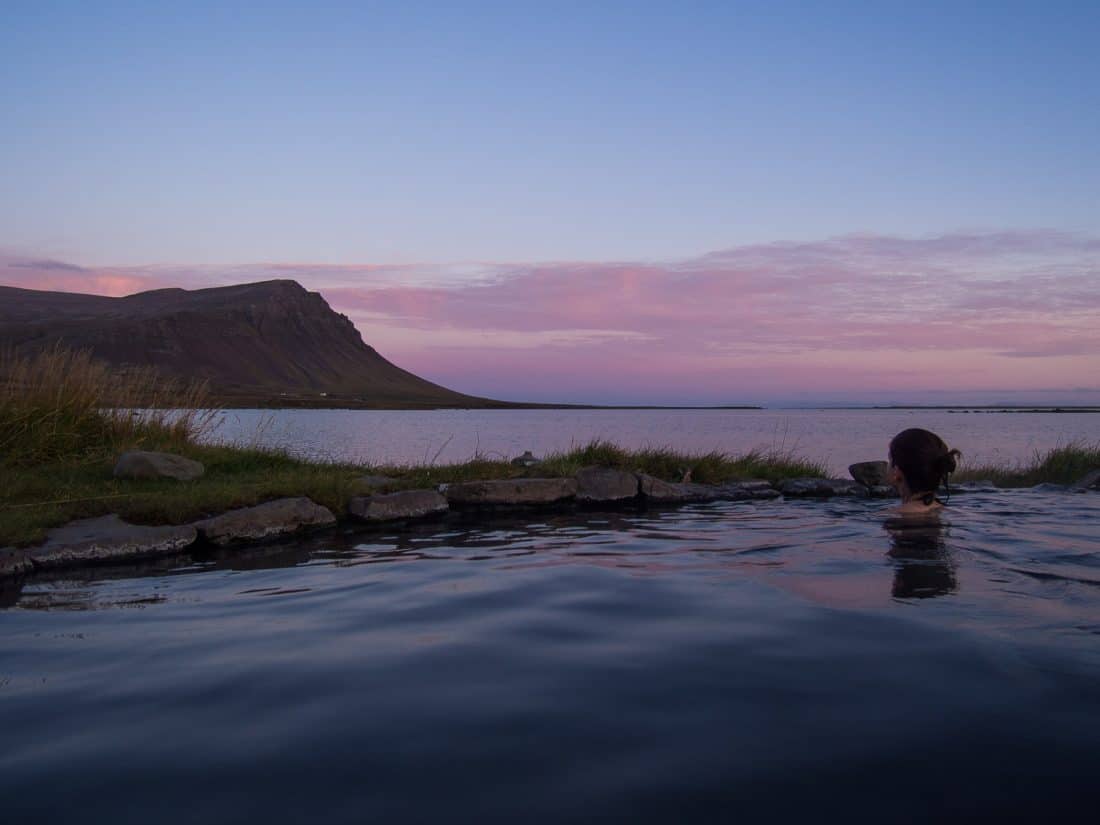 It's part of the unattended Birkimelur Swimming Pool—just pay 1700 ISK ($13/ £10) in the box.
The showers weren't open and the outdoor pool looked rather grotty, but you may well have it to yourself.
There are many other geothermal hot pots and pools in this area that we didn't have time for including Helluluag, Reykjafjardarlaug and Pollurinn.
To top the night off, at 10pm we saw the northern lights outside our cabin!
It was the first time we'd seen them and it was extraordinary to see the sky lit up in constantly changing swirls and twists and pulses.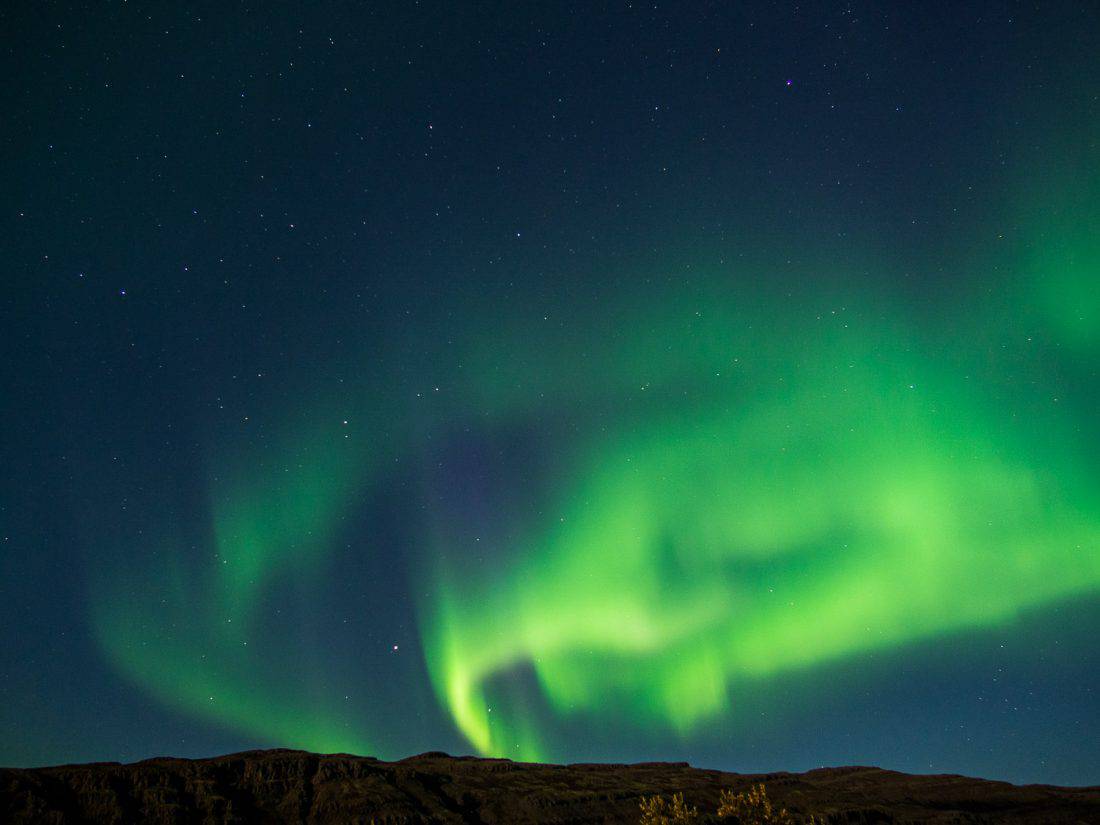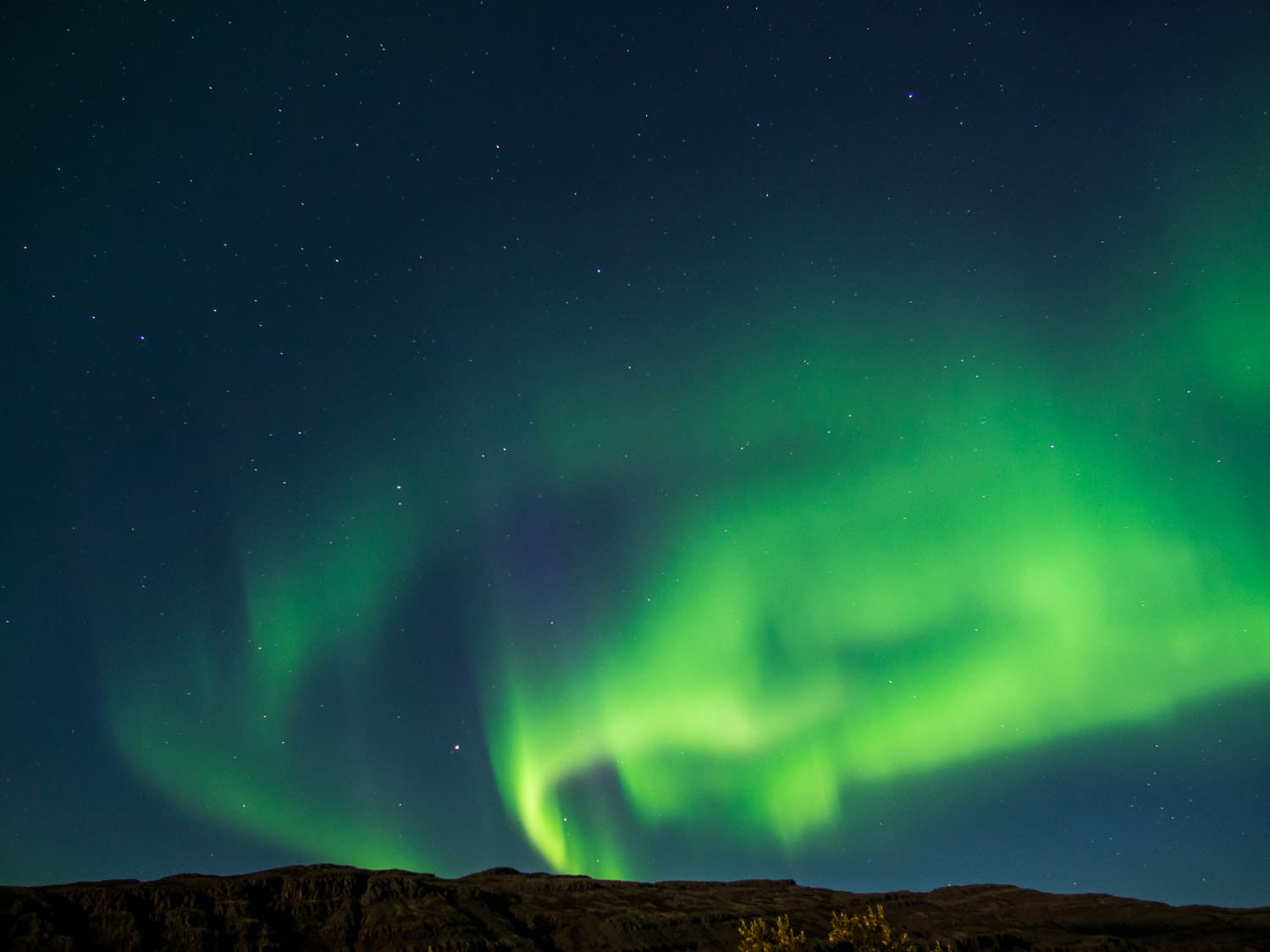 It was pale green to the eye but appears much brighter on camera (my tripod for long exposures was essential). Amazing!
Day 5 South Westfjords – Ísafjörður (2 nights)
Distance: 136km (85 miles)
Time: 4.5 hours with 1.5 hour break at Dynjandi (this will take 45 mins less now with the new tunnel)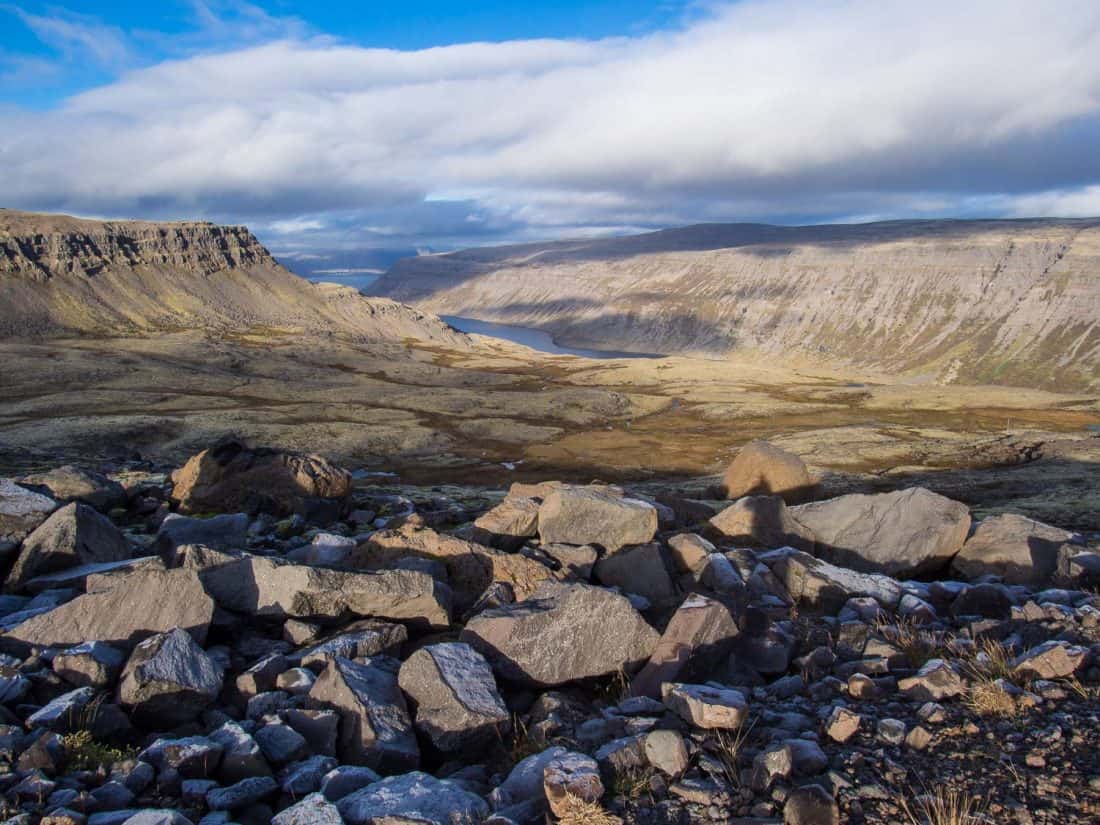 Every drive in Iceland is beautiful but the journey up to Ísafjörður had us exclaiming in awe even more than usual.
Road 60 is another gravel road up into the mountains, but it's worth it for the views of mountains, waterfalls, small lakes (some partly frozen), and frosty lava fields.
Driving down the mountain towards the fjord was even more spectacular.
Dynjandi waterfall is on the edge of the fjord and was my favourite waterfall in Iceland.
We spent an hour and a half there exploring and eating our packed lunch. There are picnic tables and toilets with a 200 ISK fee.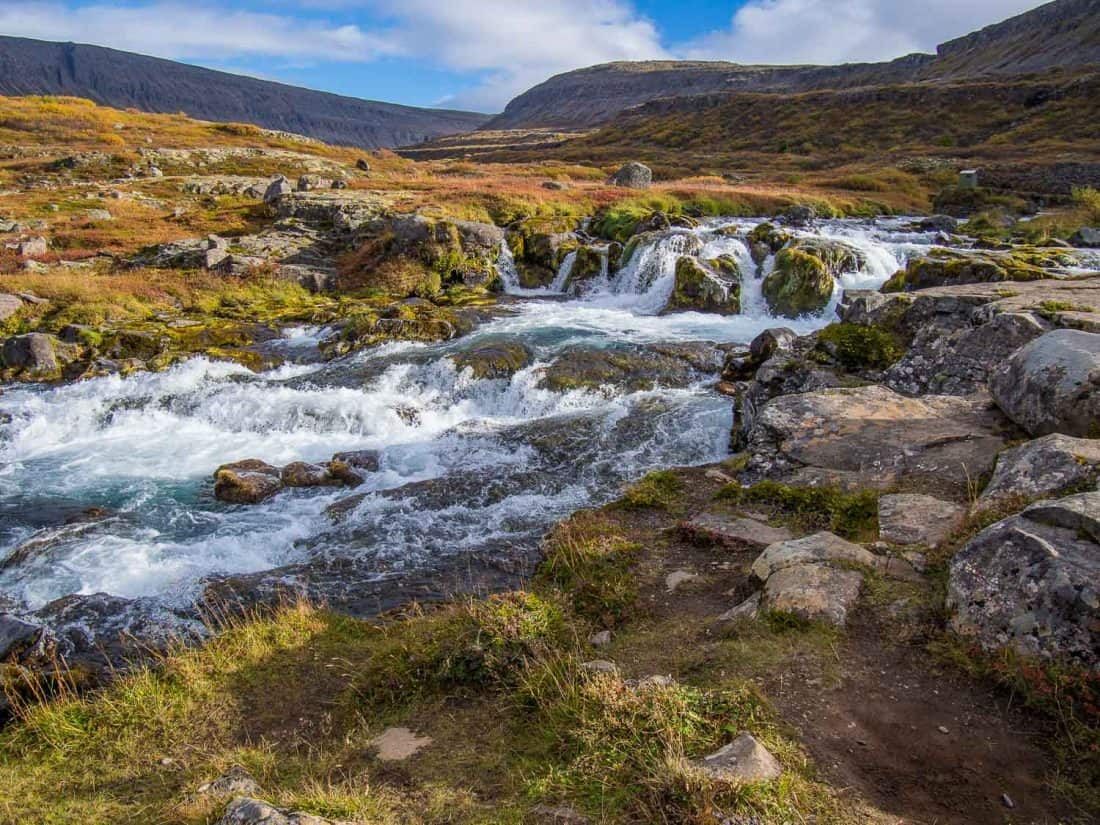 What makes Dynjandi so special is that it's a series of small falls that you pass while walking up to the main falls (a 1.2km walk).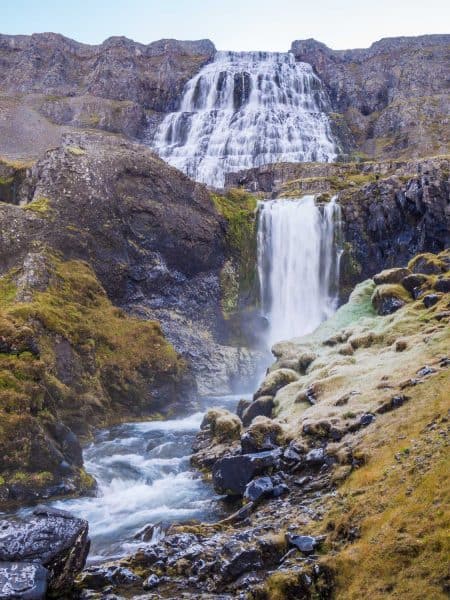 You definitely want to walk up (in decent shoes as the path is rocky and muddy and can be icy near the top) to enjoy the various viewpoints.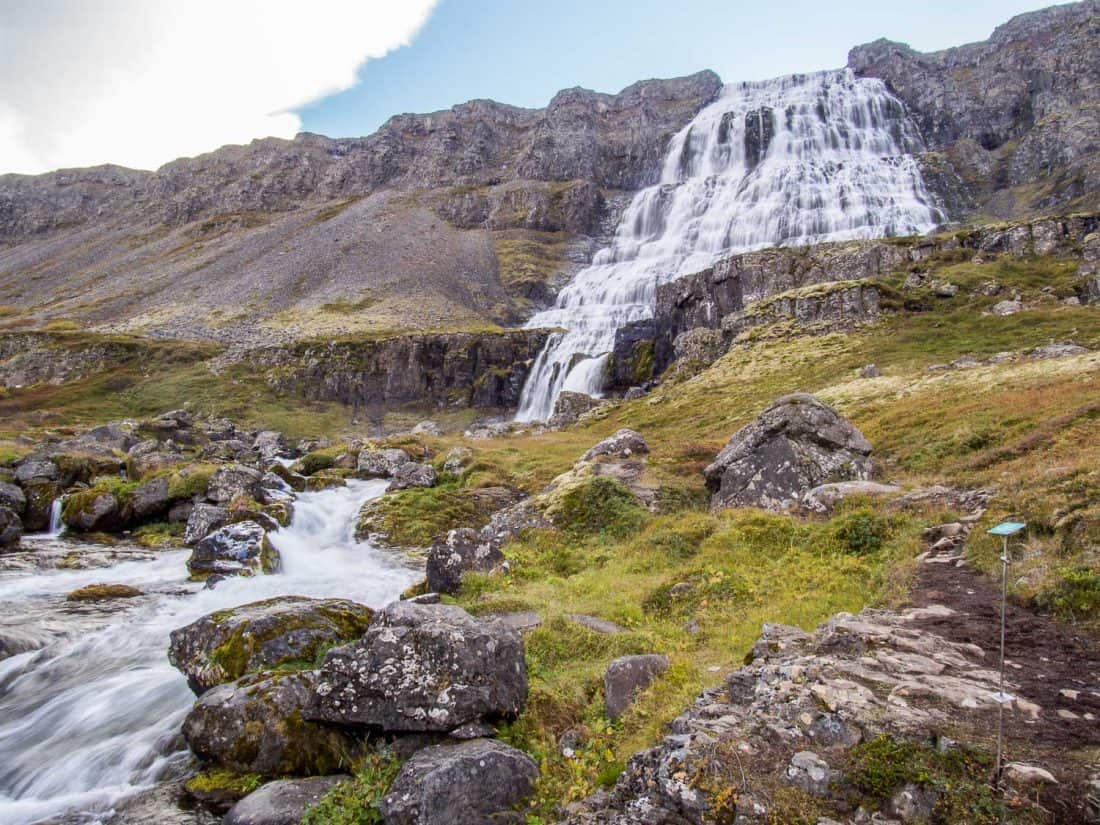 The huge wide main falls are even more impressive as you get closer and the views of the fjord at the top are stunning too.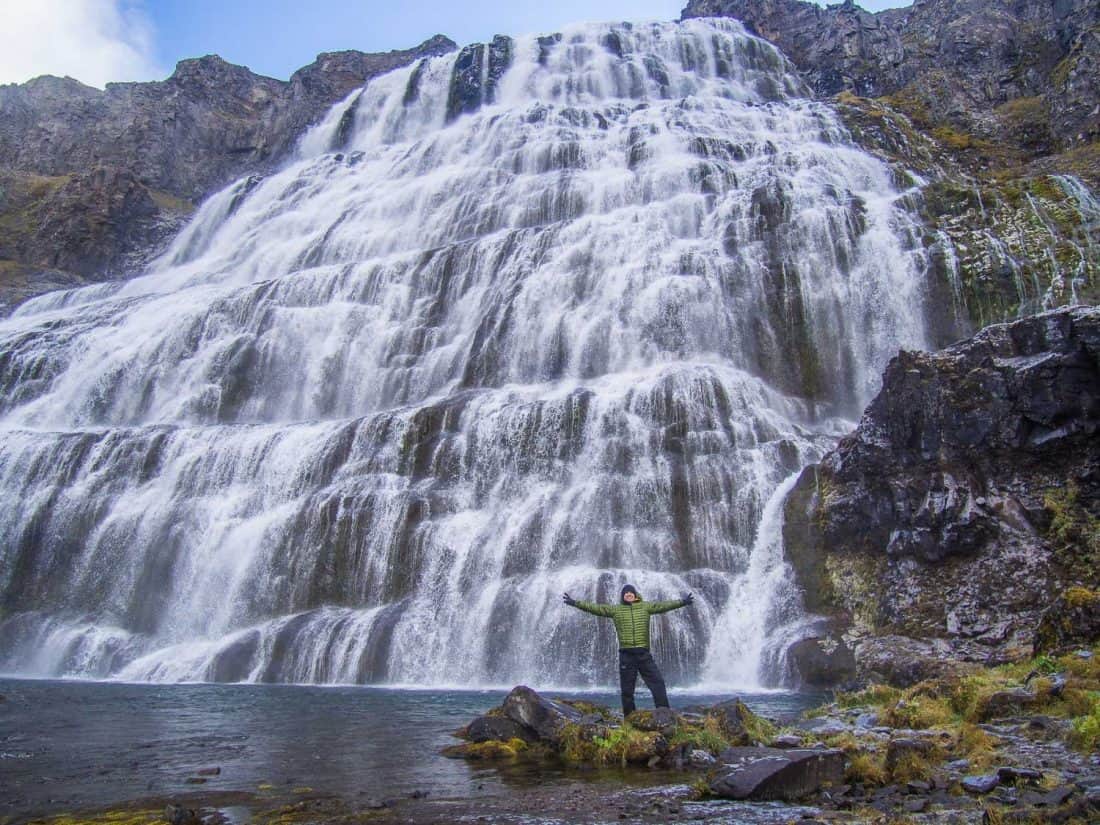 Although there were 15 cars in the car park when we arrived, there's plenty of space and we had the top to ourselves for ages. I couldn't stop taking photos as it's just so gorgeous!
We continued north on the scenic but bumpy road around the fjord (with a view of the falls on the other side) and up and over snowy mountains.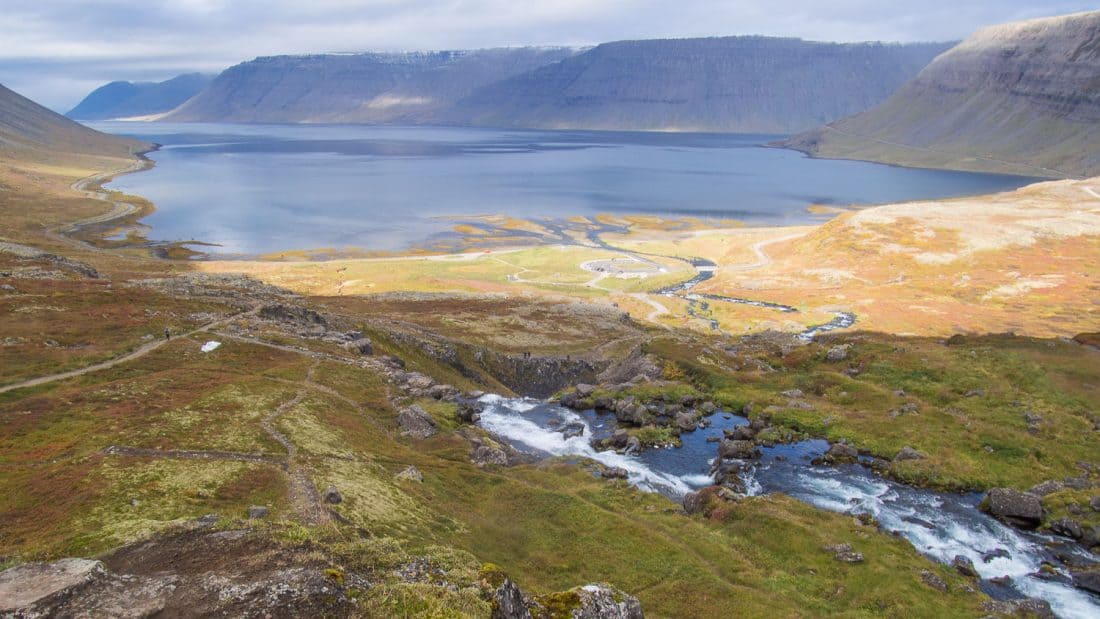 Thankfully the road is paved from Þingeyri, although to reach Ísafjörður you have to drive through a 6km long single lane tunnel!
Ísafjörður is the largest town in the Westfjords (population: 2600) and has a beautiful location between the mountains and sea.
With multiple supermarkets and restaurants, it felt like the big city after our remote travels.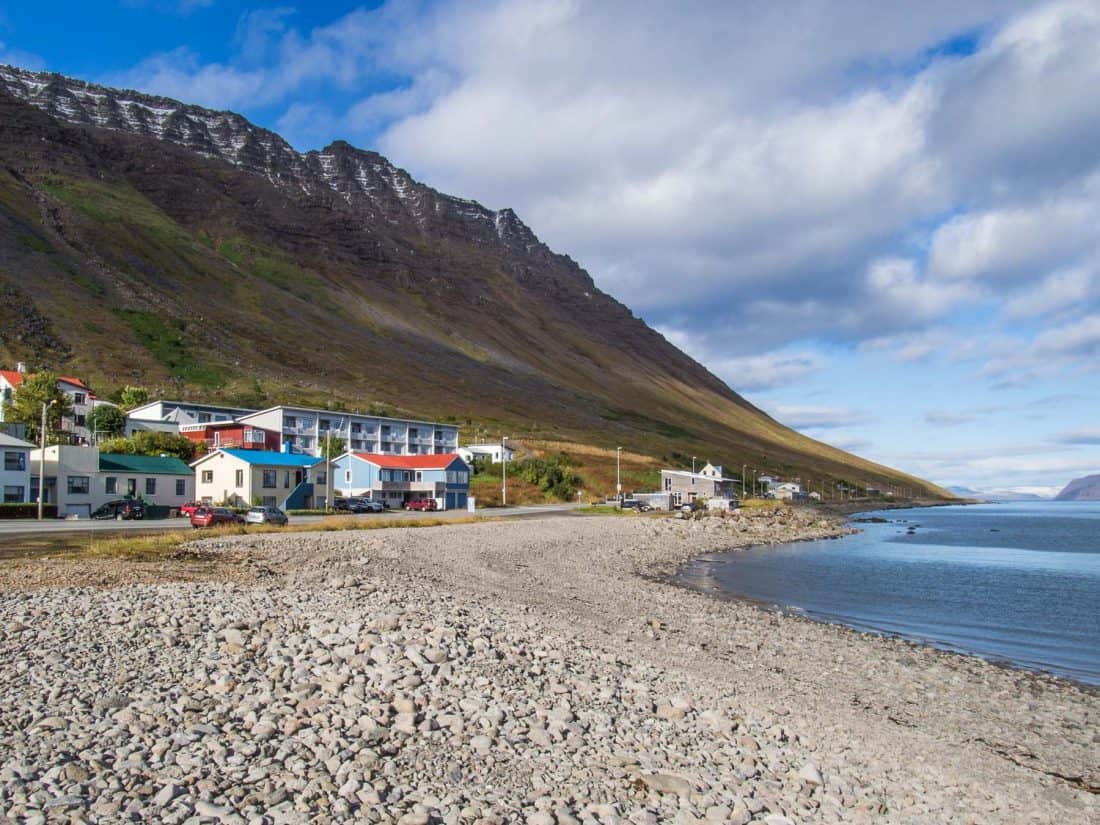 We took advantage with doughnuts and coffee in Bakarinn Kaffihaus (everywhere else was closed on Sunday).
It was the first place where it felt there were more locals than tourists (this might feel different on cruise ship days) and was very quiet.
Where to Stay in Ísafjörður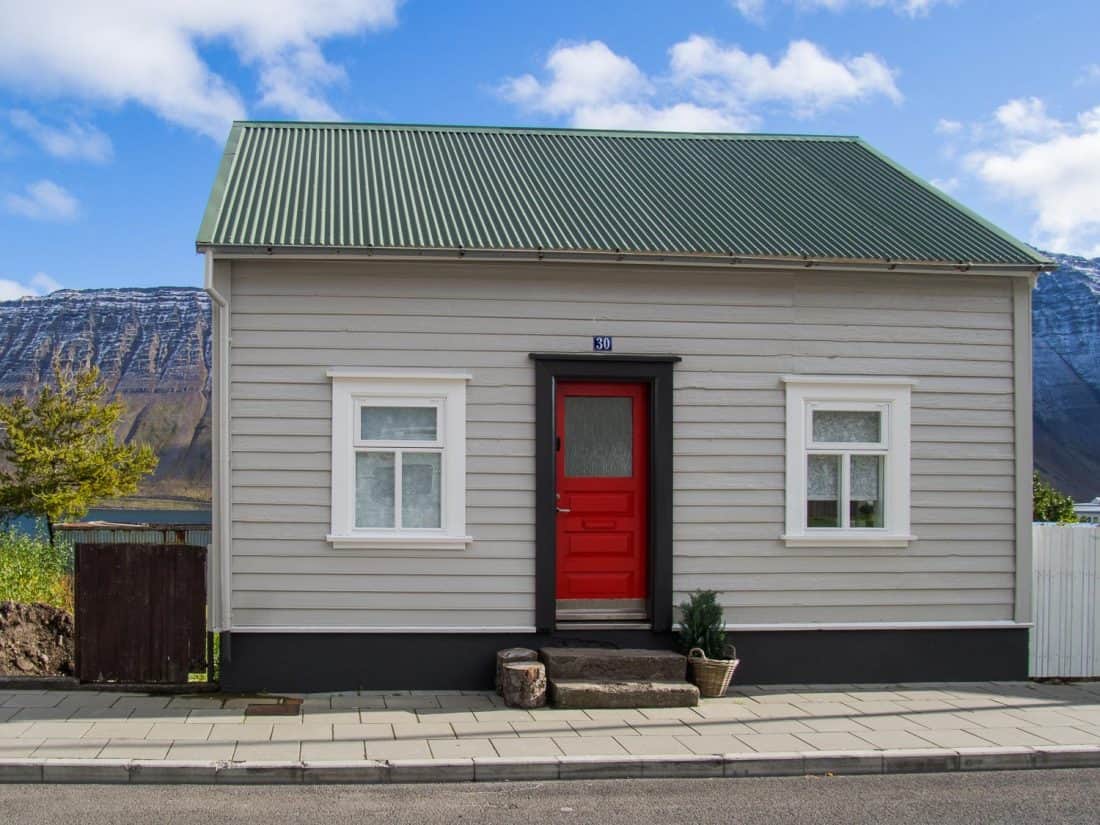 We stayed in a wooden house near the centre, but sadly it's no longer available.
The two-bedroom Tangs apartment looks like a stylish and central alternative.
Day 6 Ísafjörður
Distance: 0km
We'd originally planned to go kayaking and hiking, but it rained all day so we had a much-appreciated rest day instead and enjoyed our lovely little house.
We did venture out in the afternoon to visit the intriguing Museum of Everyday Life but discovered it's only open in the summer except by prior arrangement.
We consoled ourselves with delicious cake in Húsið—a busy restaurant full of locals that has live music on weekends.
Day 7 Ísafjörður – Hólmavík (2 nights)
Distance: 221km (137 miles)
Time: 4 hours including museum stop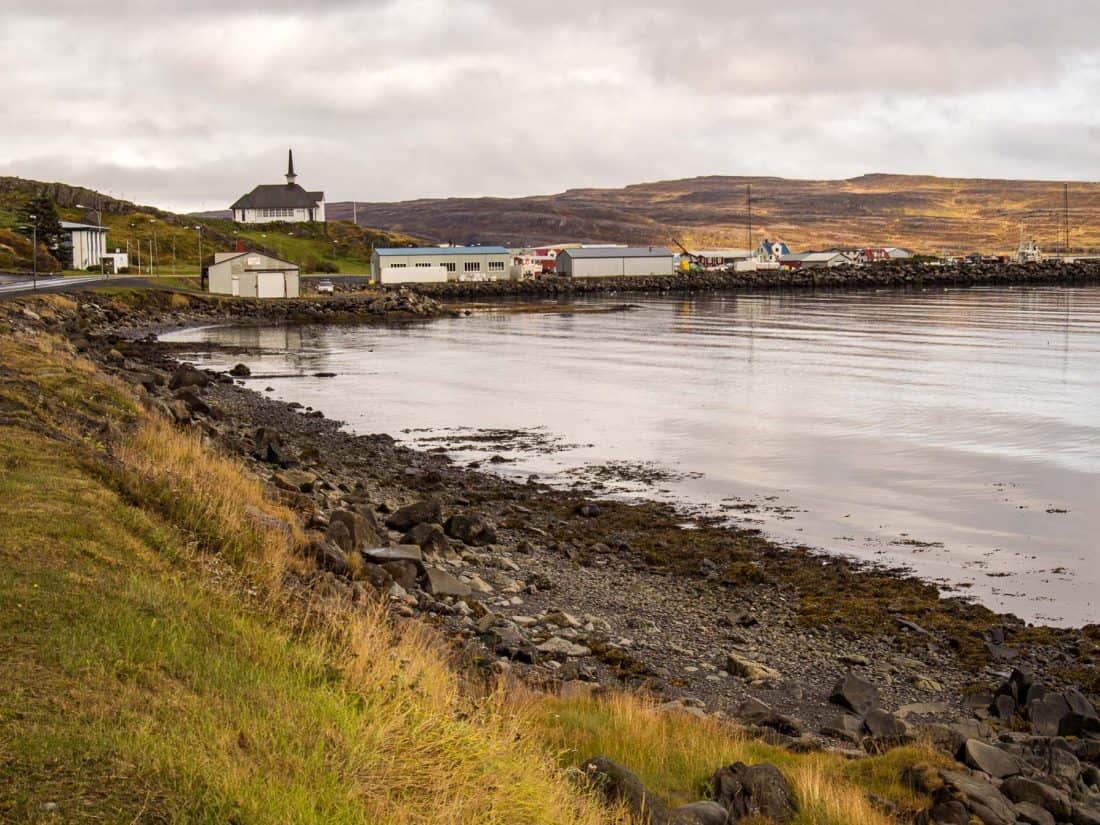 The drive to Hólmavík doesn't look far on the map but it weaves in and out of fjords so takes a while.
Just 20 minutes into our trip we stopped at the Arctic Fox Centre (1200 ISK/ $9/ £7) to learn more about the adorable fox that we'd seen a few days before.
A couple more fjords along we took a break at a seal lookout where a kind local has left a box with binoculars, guestbook, and homemade rhubarb jam (leave 1000 ISK in the honesty box—it's delicious!).
We saw about 15 seals lazing on the rocks just out at sea.
If you visit in summer or book in advance, you can enjoy cakes or waffles at Litlibaer, a cafe in a historic turf house just past the seals.
After much more fjord weaving and a mountain drive through a snowstorm, we descended to Hólmavík, a tiny seaside town (population: 506) in the eastern Westfjords.
The main attraction is the Museum of Icelandic Sorcery and Witchcraft (1200 ISK/ $9/ £7) which tells of the area's history of witch-hunting in the 17th century when mostly poor men were convicted of witchcraft and some were burned to death.
Many of the spells used are on display including a gruesome pair of necropants—trousers made from the skin of a dead man believed to produce an endless supply of money.
It's worth a stop if you are passing through.
Where to Stay in Hólmavík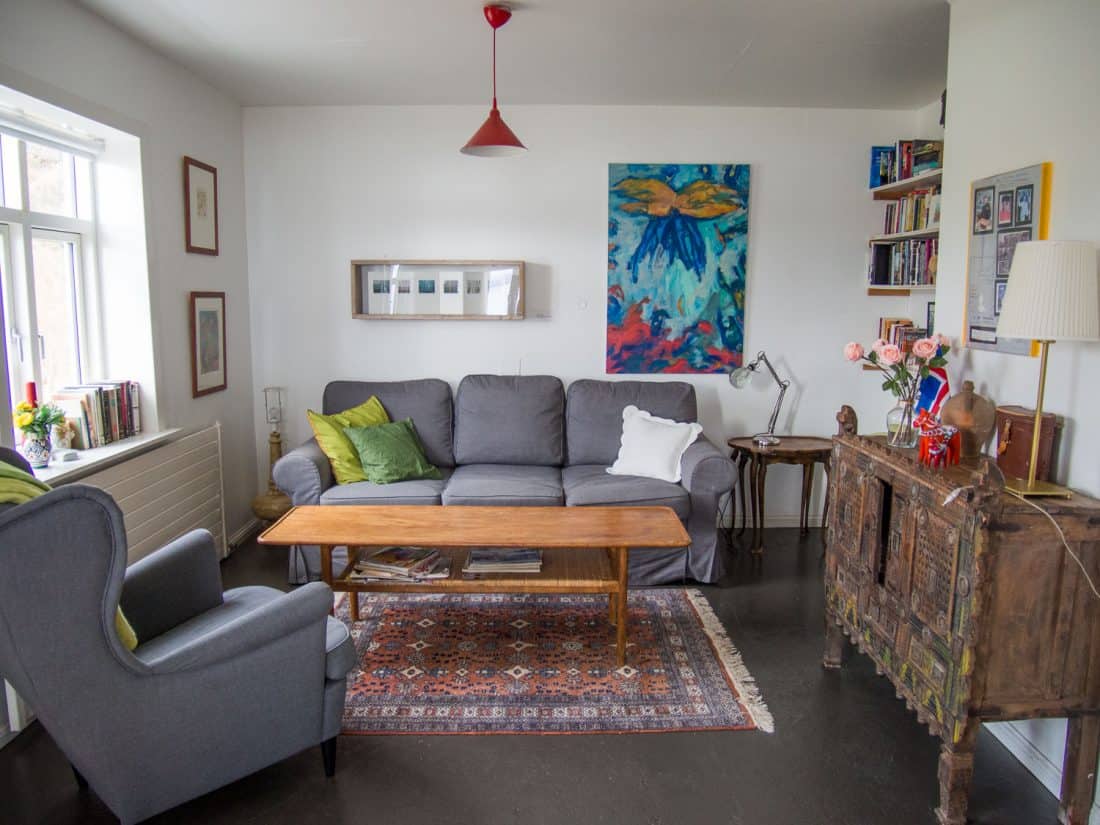 Accommodation is limited in the area. We rented this rustic Airbnb house by the sea that used to be a cafe.
The wooden house is full of character and homely touches and has fantastic sea views—in the summer you can even see whales.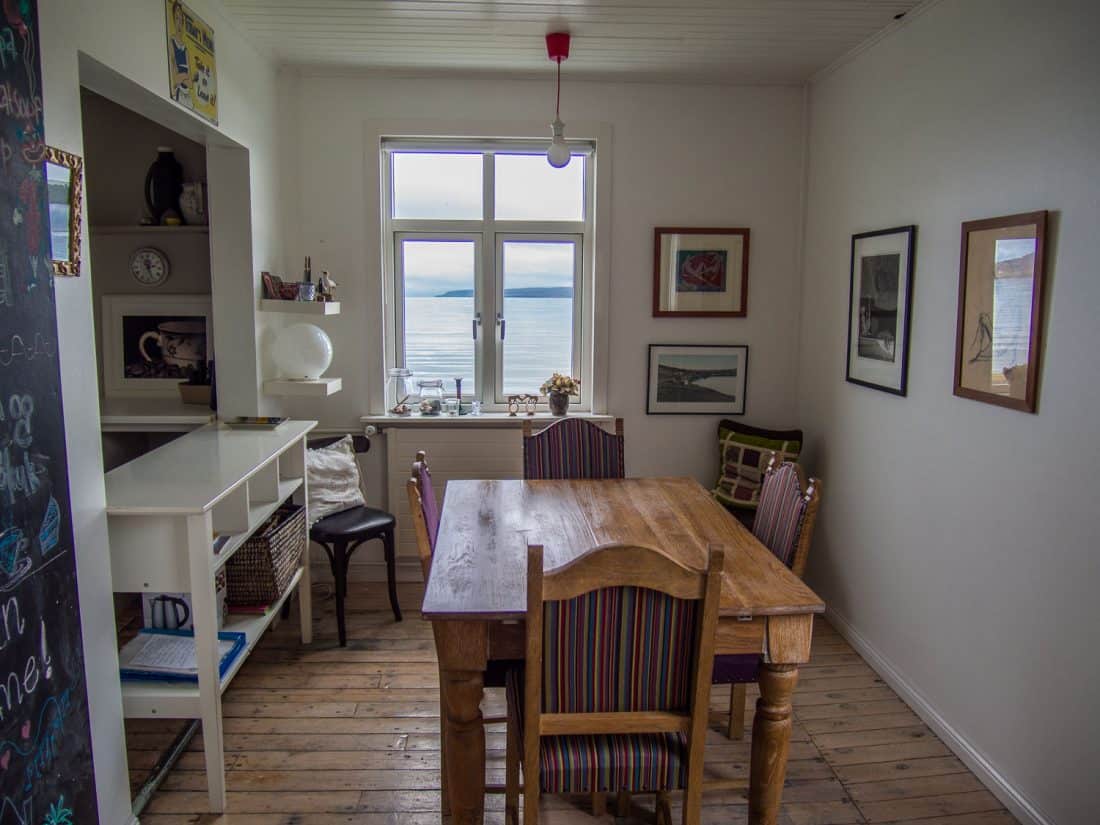 Downsides are that communication with the host was very slow (I had to message three times to get check-in details), the shower is in a basic utility room separate from the toilet, and you have to walk through the single bedroom to get to the double (which has two very small but comfortable double beds).
It's also on the main road in town—not that it is at all busy, but we preferred more isolated locations away from street lights.
Finna Hótel Guesthouse is a cheaper option in Hólmavík.
You could also stay further up the coast at Malahorn Guesthouse in Drangsnes or the remote Hotel Djupavik.
Day 8 Strandir Coast
Distance: 214km (133 miles)
Time: 6 hours including 2 hours at the pool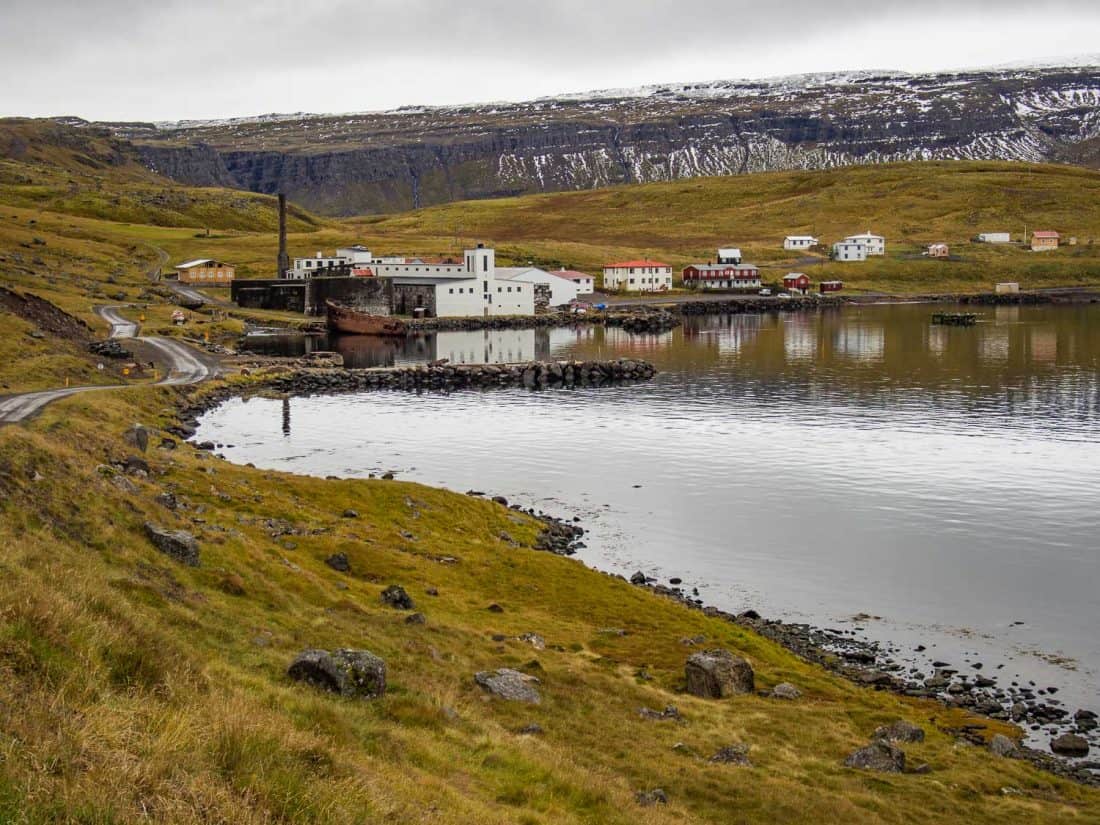 A local was rather surprised when we said we stayed in Hólmavík as it's not on most tourist itineraries.
We chose it as a base for exploring the remote Strandir, a sparsely populated and dramatically beautiful coastal region.
It was not an easy drive on a bumpy, potholed gravel road that sapped our energy as we weaved in and out of fjords.
The mountains got bigger and the scenery more dramatic the further we went north, passing just a few tiny hamlets including Djúpavík where the old herring factory has been converted into an exhibition space (it seemed to be closed in September). We encountered very few other vehicles on the way.
The hamlet Nordurfjordur has a single self-service petrol pump and a cafe (closed in September, of course).
Over the mountain above the town (follow the sign before town, not Google Maps directions) was our ultimate destination, Krossneslaug, an outdoor geothermal swimming pool overlooking the sea.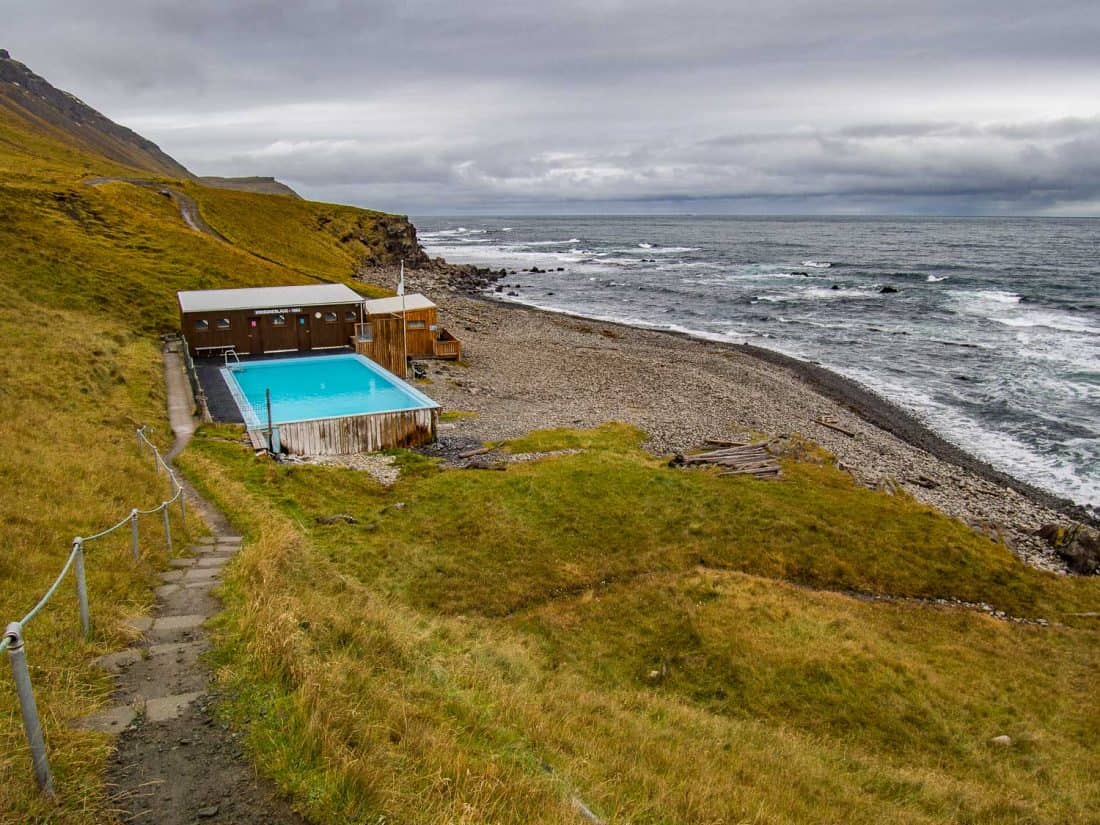 Any vague regrets we had about skipping the famous Blue Lagoon vanished when we slipped into the warm water.
We had the pool to ourselves and felt like we'd reached the end of the world as we looked out over the waves crashing onto the pebble beach, just south of the Arctic Circle.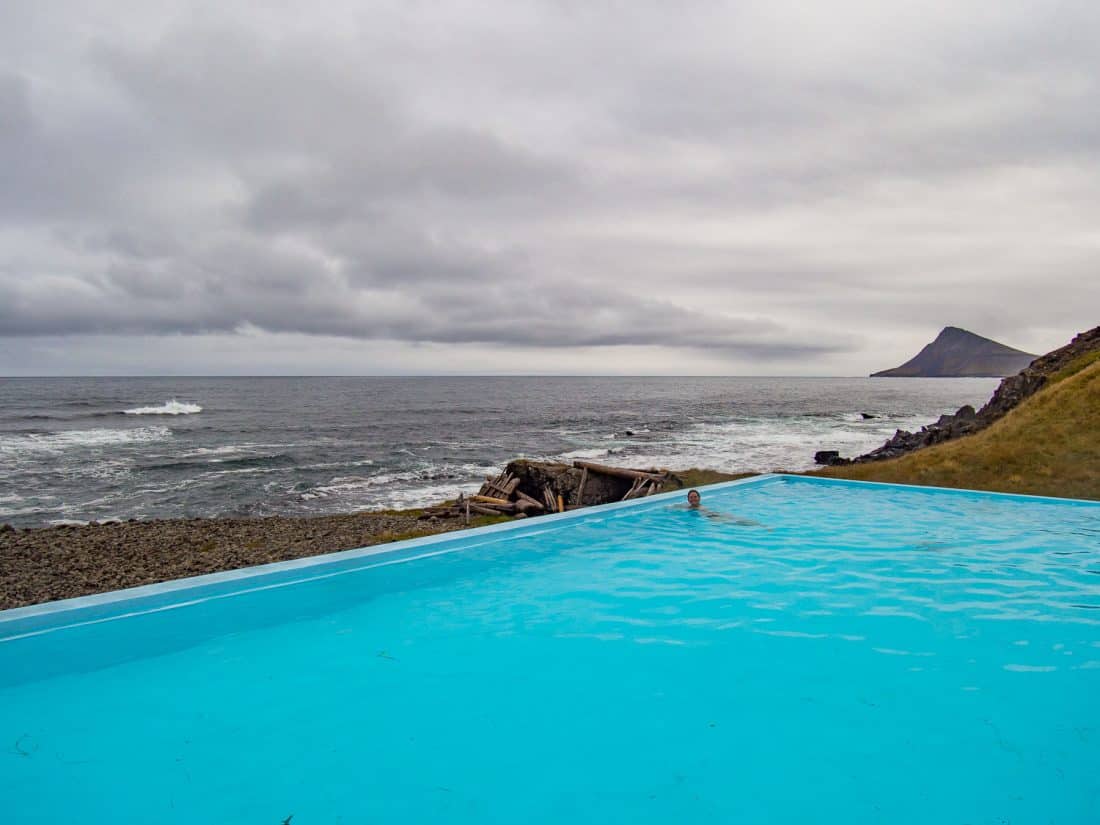 The pool is a comfortable temperature even in cold weather and there's also a warmer hot pot.
It was such a relaxing experience and made the difficult two-hour drive worthwhile.
The pool was unmanned when we visited but you can pay the 700 ISK fee into a box (they also provide bank details).
Make sure you follow the strict Icelandic pool etiquette and shower thoroughly naked before putting on your swimsuit.
There are male and female changing rooms and showers with soap and shampoo.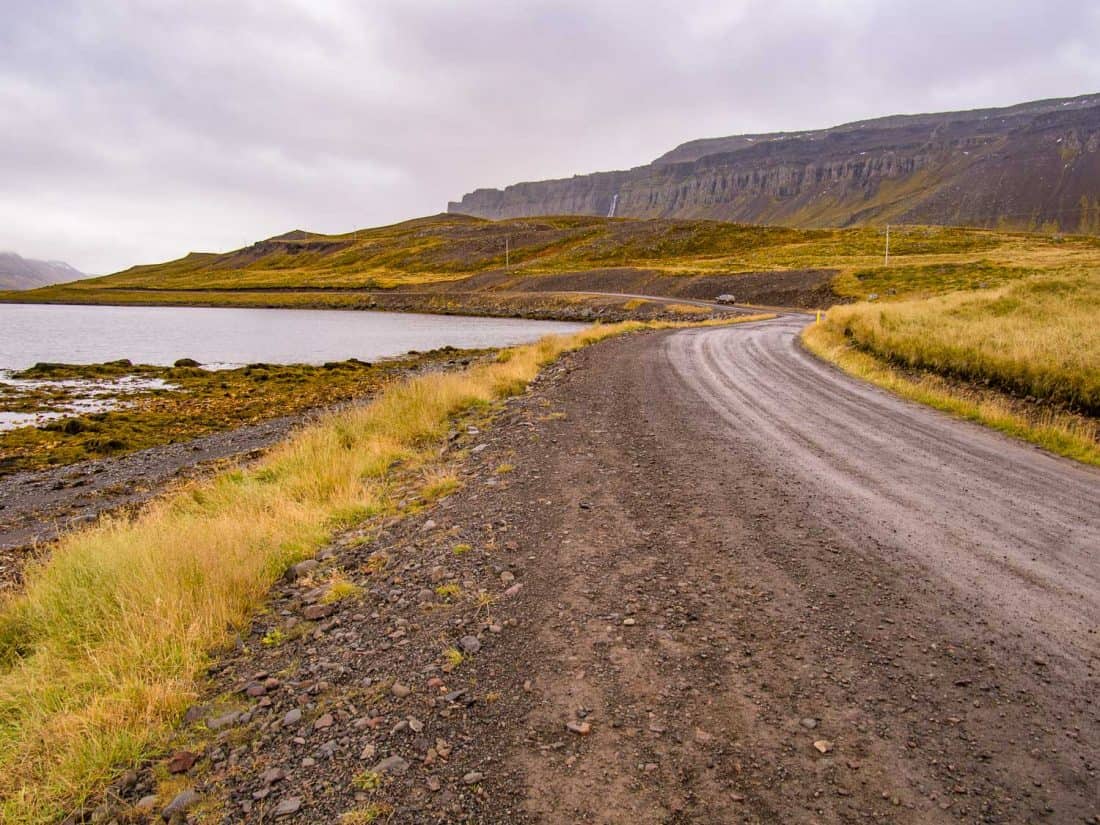 There's no choice but to drive the same tiring but beautiful road back.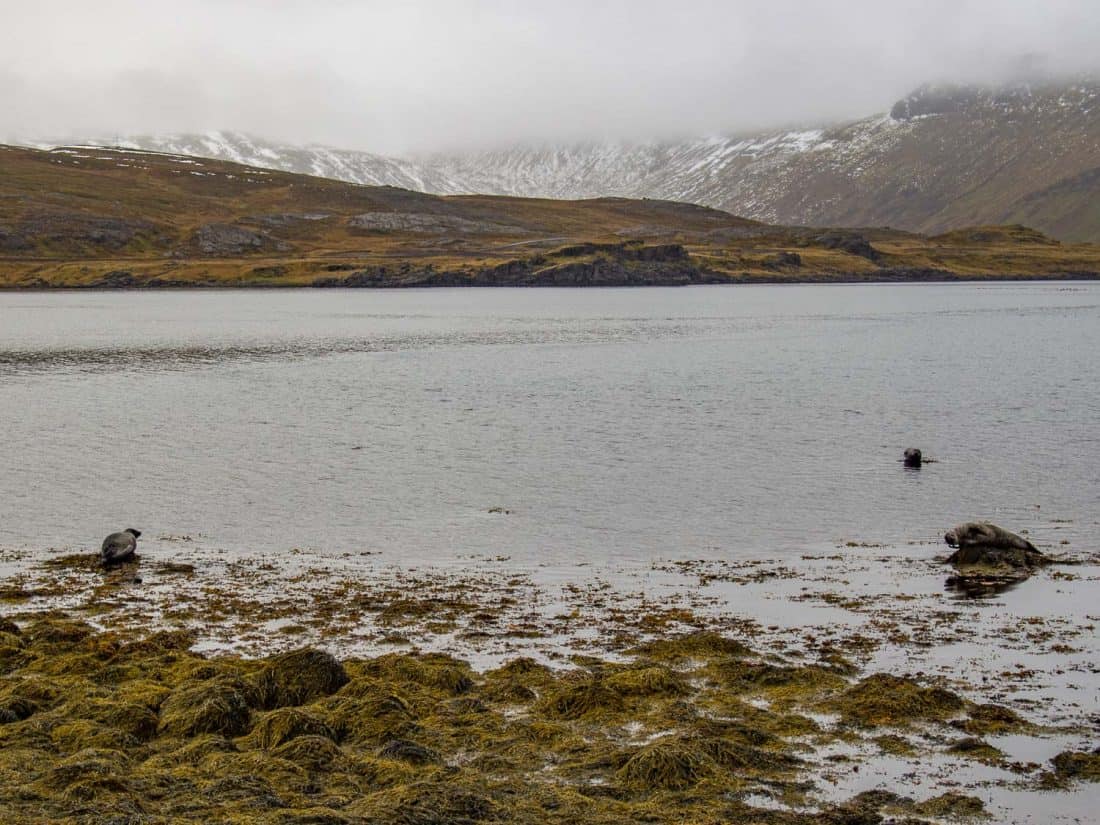 Day 9 Hólmavík – Húsafell (2 nights)
Distance: 185km (115 miles)
Time: 6 hours including waterfall stops and horse riding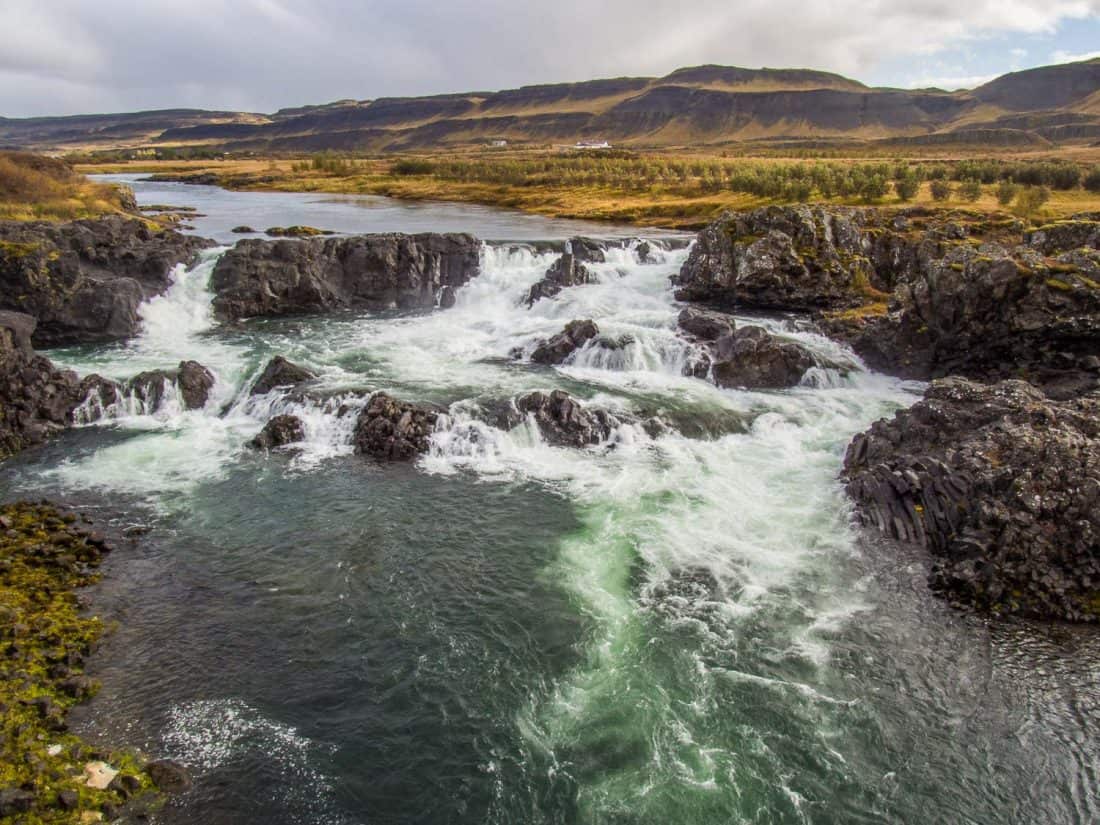 Driving south through snow and fog and rain and shine and rain we hit the Ring Road 1 and things instantly felt busier. (I mean for Iceland, i.e. seeing a car every few minutes).
Glanni Waterfall is not a popular stop, though, but it's worth the five-minute walk there from the golf hut (self-service in the off-season with the cafe and toilet closed).
It's not tall but is wide and powerful and there are some hiking trails nearby.
We finally got to go horse riding at Sturlureykir Horse Farm. It's an informal family-run place with 60 horses that's been in the same family since the late 1800s.
On our hour-long ride (10,000 ISK/ £59/ $75) we rode along the river where a hot spring emerges from the middle.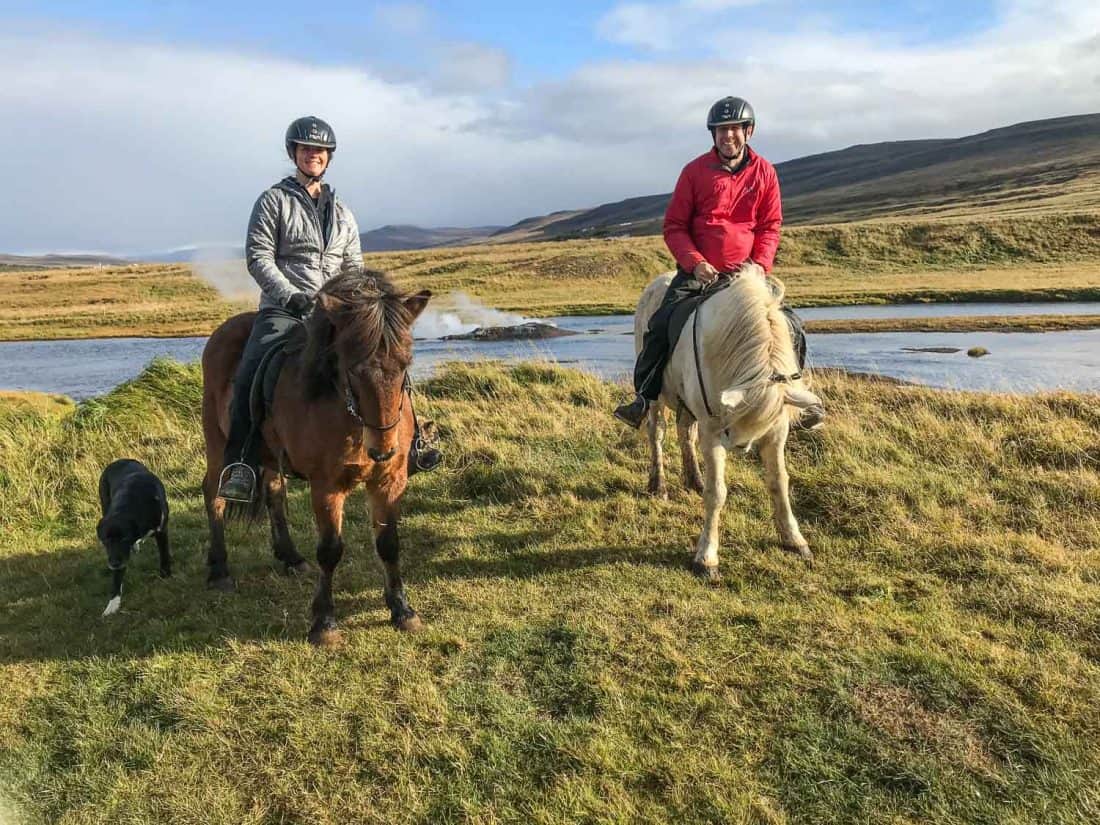 Our lovely Icelandic horses were lively and we enjoyed their unique smooth pace the tölt and I couldn't resist letting my eager horse head off on a nice canter.
If you don't want to ride you can pay 1800 ISK (£11/ $13) to visit the adorable horses.
This includes coffee/hot chocolate and their homemade rye bread, which is cooked for 24 hours in a hot spring and is delicious, moist and almost cake-like.
On our way up to Húsafell we stopped at Hraunfossar waterfall, one of our busiest stops so far with lots of cars in the car park and a cafe (with good chocolate cake) and toilets.
It's a large enough area that it didn't feel crowded, though.
Hraunfossar isn't a tall waterfall but it's very wide with lots of small falls gushing into the turquoise river below.
It looks especially beautiful in the autumn when the bushes above it turn shades of orange.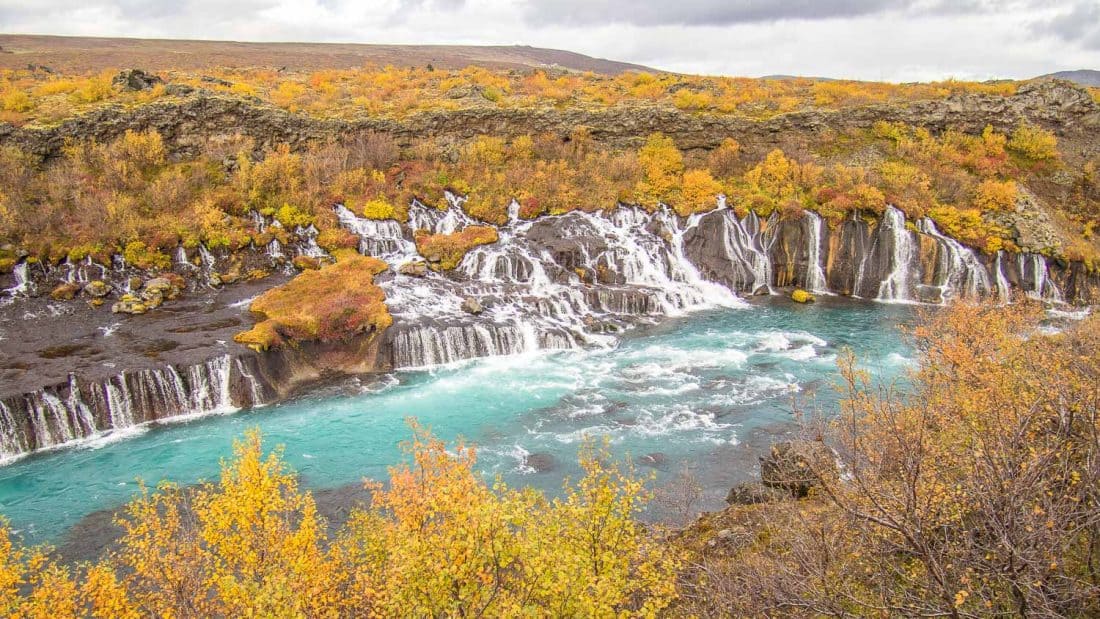 You can walk to various viewpoints and to the neighbouring waterfall Barnafoss which is more like a series of rapids with a furious gush of water coming through the rocks.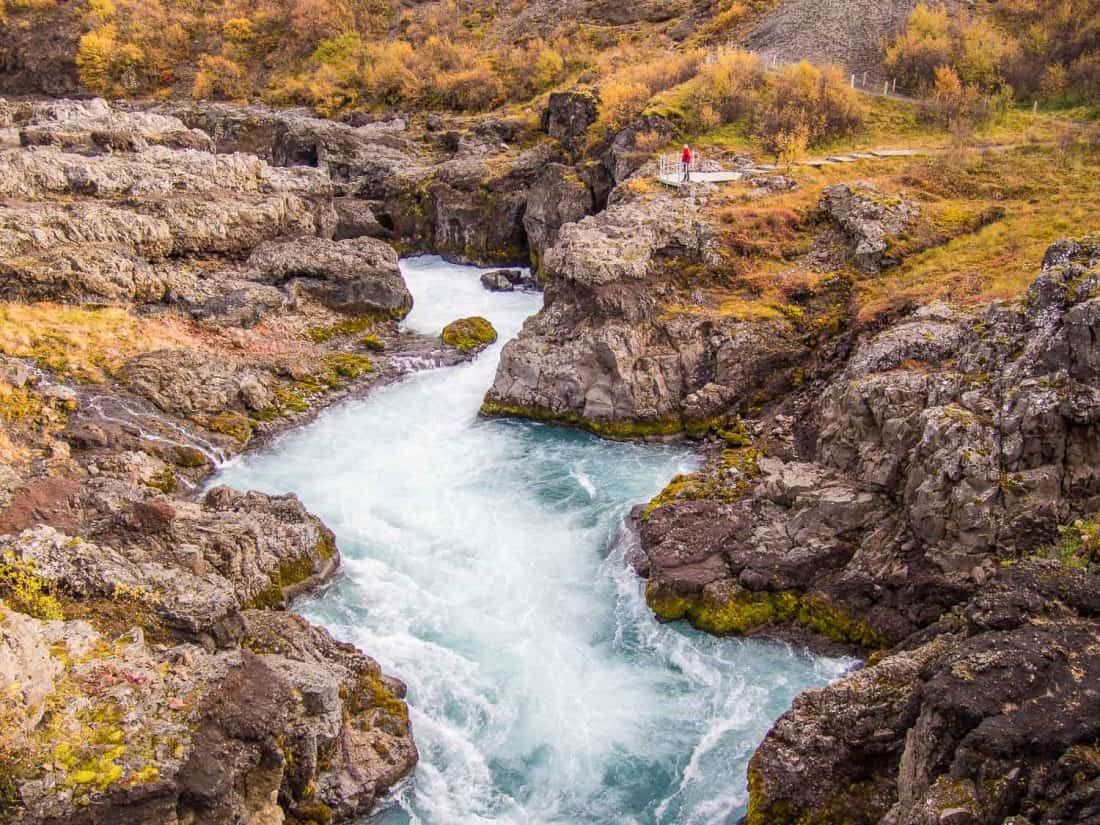 Our destination for the night was Húsafell, a small resort consisting of a hotel, campsite, holiday cabins, cafe, small expensive shop, golf course, and swimming pool.
It's a good base for trips up the Langjökull Glacier and there are lots of hiking trails nearby.
Where to Stay in Húsafell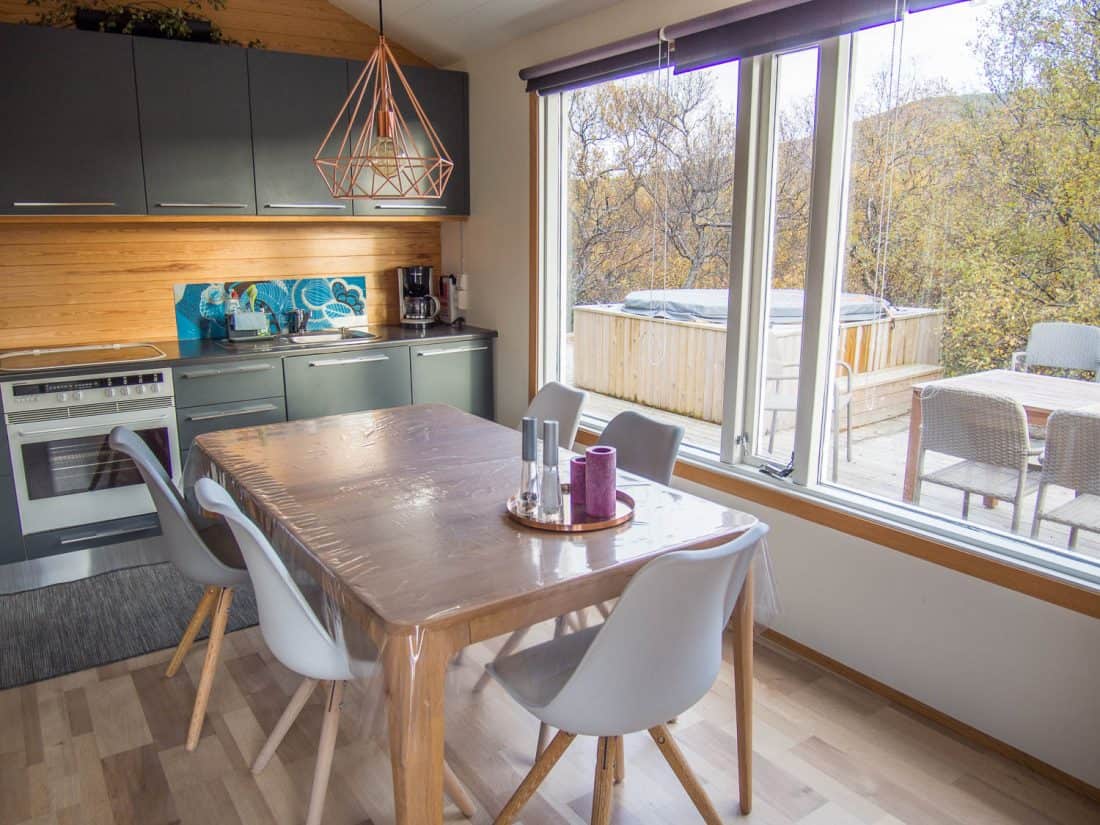 We stayed in this modern Airbnb cabin in a small birch woods a 10-minute walk from the centre of Húsafell.
There are quite a few cabins nearby but in September it was very quiet.
The lovely living space included a well-equipped kitchen, large couch and dining table, and windows overlooking the trees.
The two bedrooms were small but comfortable. There was no WiFI but we had 4G signal, and the underfloor heating kept the place toasty.
The large terrace includes a hot tub, table and BBQ. We'd hoped to see the northern lights from our hot tub but it was too cloudy—it was wonderfully relaxing anyway.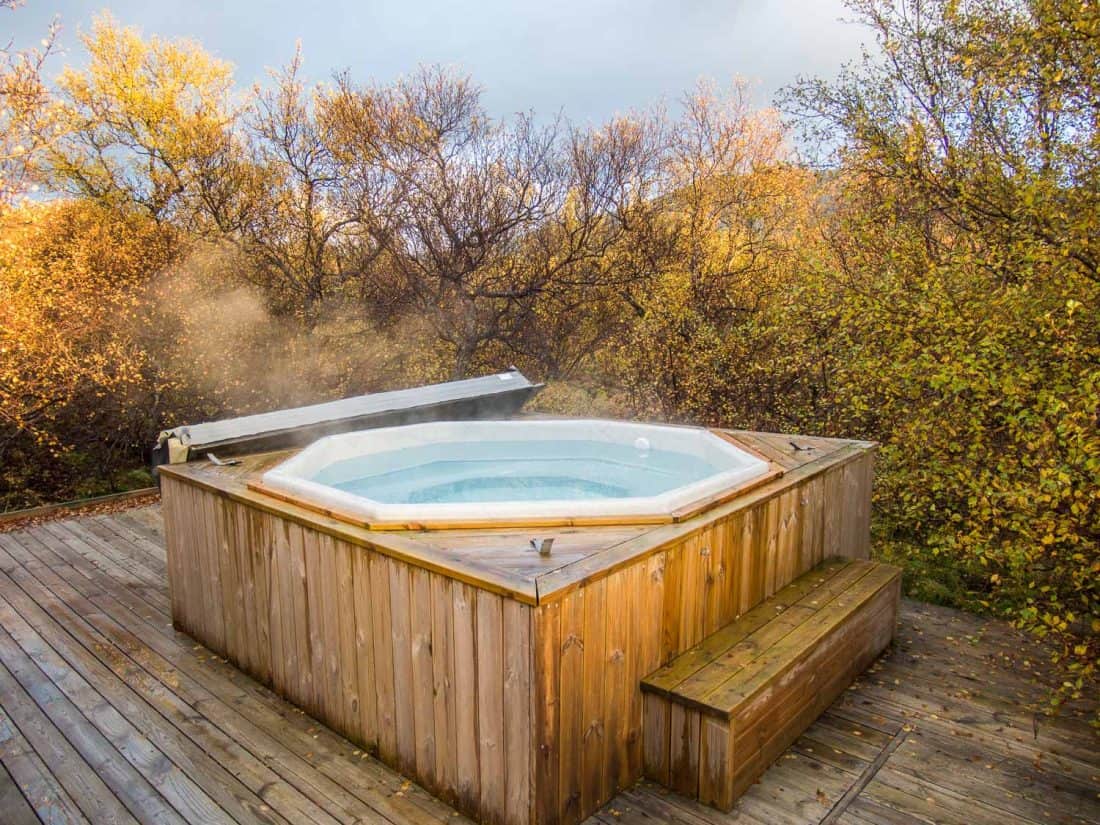 If you'd prefer a hotel, Hotel Húsafell gets excellent reviews for its modern rooms, gorgeous views, and onsite restaurant.
Day 10 Húsafell
Distance: 0km
Our snowmobiling tour on the glacier was cancelled due to a storm and it was too rainy and windy to hike so we had a rest day.
Day 11 Húsafell – Reykjavik (2 nights)
Distance: 130km (81 miles)
Time: 1 hour 45 minutes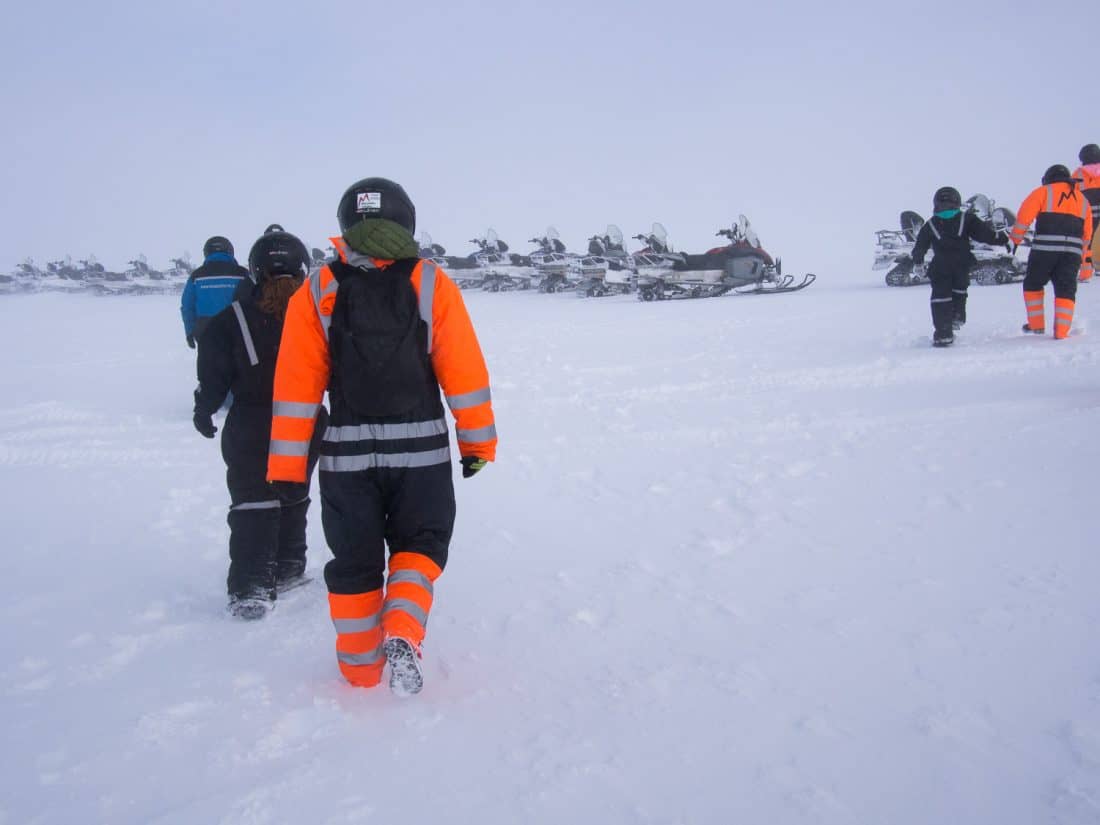 Our rescheduled snowmobiling trip departed from outside Hotel Húsafell at 10am.
We'd booked the Snowmobiling Tour with Mountaineers of Iceland which included a visit to the humanmade ice tunnel Into the Glacier.
It's quite a mission to get up on the glacier—a bumpy 30-minute minibus ride to the first base, a second super truck ride through the snow to the snowmobile base camp where we geared up in overalls and helmets, then another truck to the snowmobiles.
There was fresh snow on the glacier and it felt wonderfully wintery.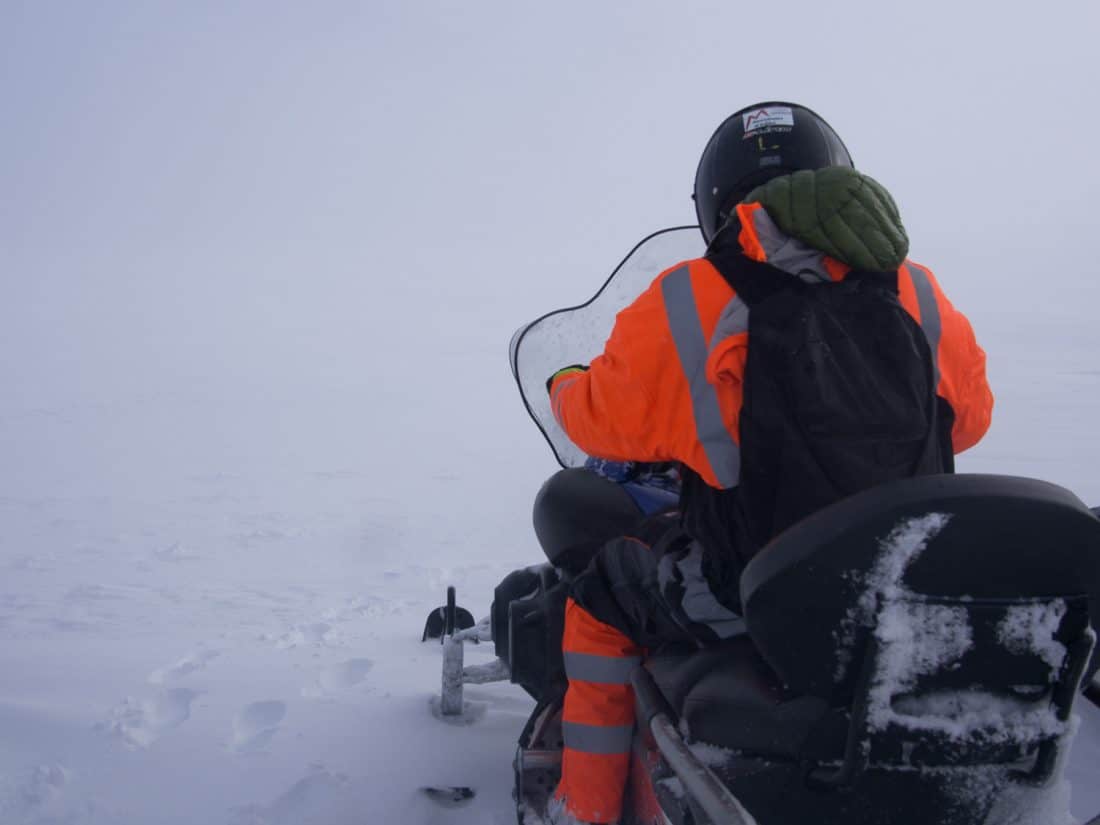 The snowmobiling was fun but we were in a huge group (over 20 snowmobiles) and had to drive single file so couldn't get up much speed.
It was also only a 10-minute ride each way to the ice tunnel, and it's two people per snowmobile, so if you both want a turn you have a very short amount of time driving.
At the Into the Glacier ice tunnel we had to wait 15 minutes in the freezing cold (why couldn't we have ridden around for longer?) for other tour groups to start.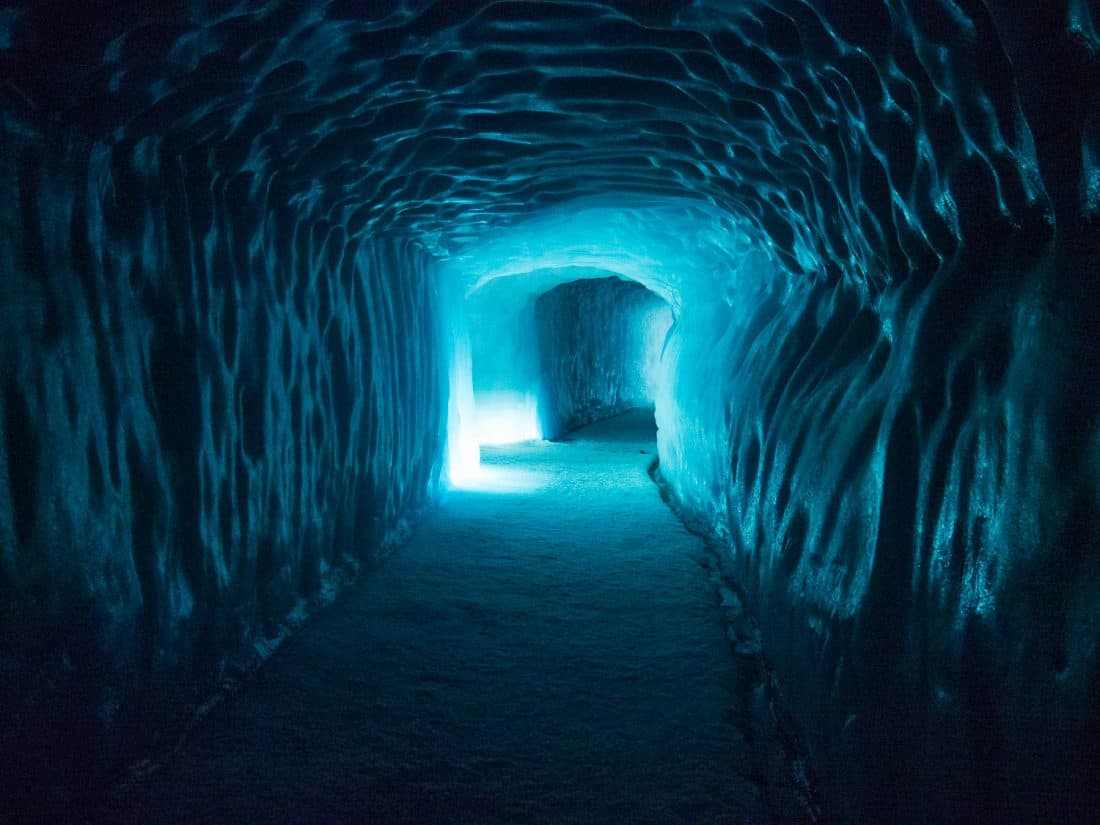 Once inside we put on crampons and followed the guide around the tunnels and ice caves including a chapel for weddings (!) and a bar for events.
We learnt about glaciers including how they are constantly moving, advancing and retreating.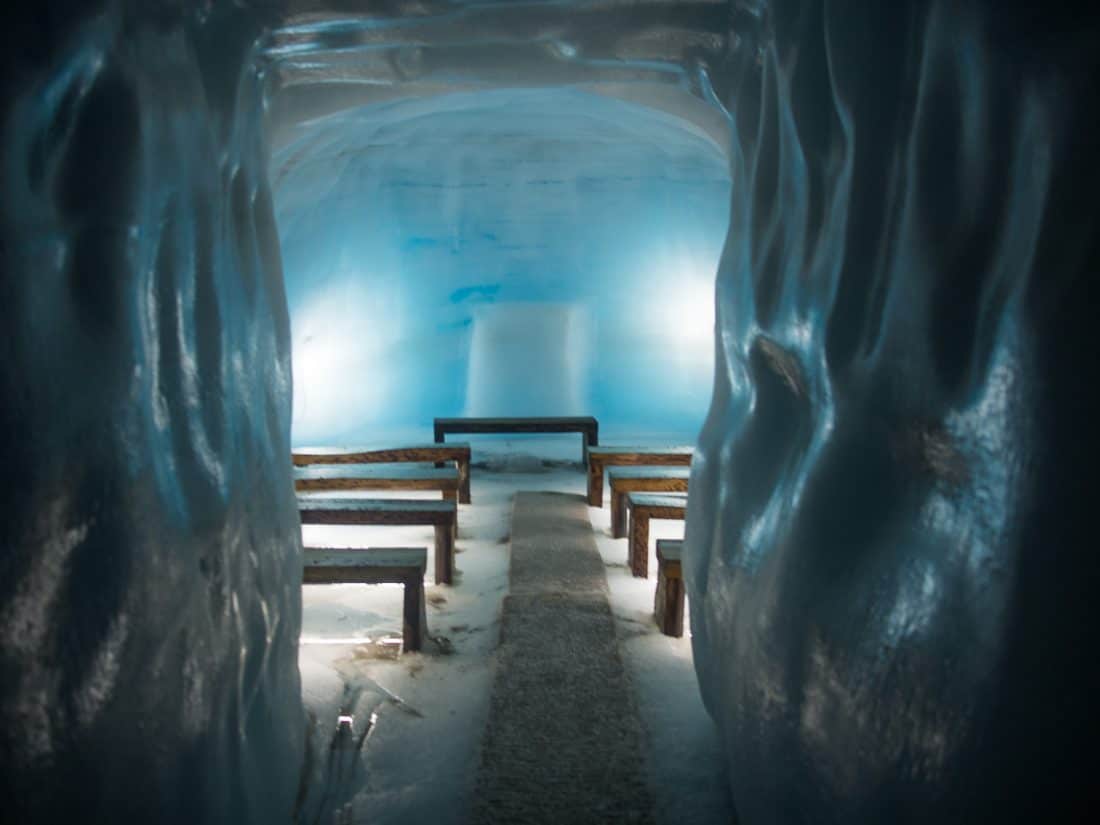 We were glad we saw it but would have preferred more time snowmobiling and less in the tunnel.
It was the most expensive day tour we've ever taken (nearly £200/ $257 each) and I'm not entirely sure it was worth it.
You can also book a snowmobiling tour without the tunnel, but that could have the same overcrowding issue.
We arrived in Reykjavik in the early evening and it felt odd to be in a city again, amongst traffic and people, however small and laidback Iceland's capital is.
At least we had plenty of restaurants and bars to choose from.
Where to Stay in Reykjavik
We stayed in an apartment a short walk from the centre and across the road from the excellent Hlemmur food hall.
It's no longer available, but excellent alternatives in the same area are City Comfort Apartments and Midgardur by Center Hotel.
Day 12 Reykjavik
Distance: 0km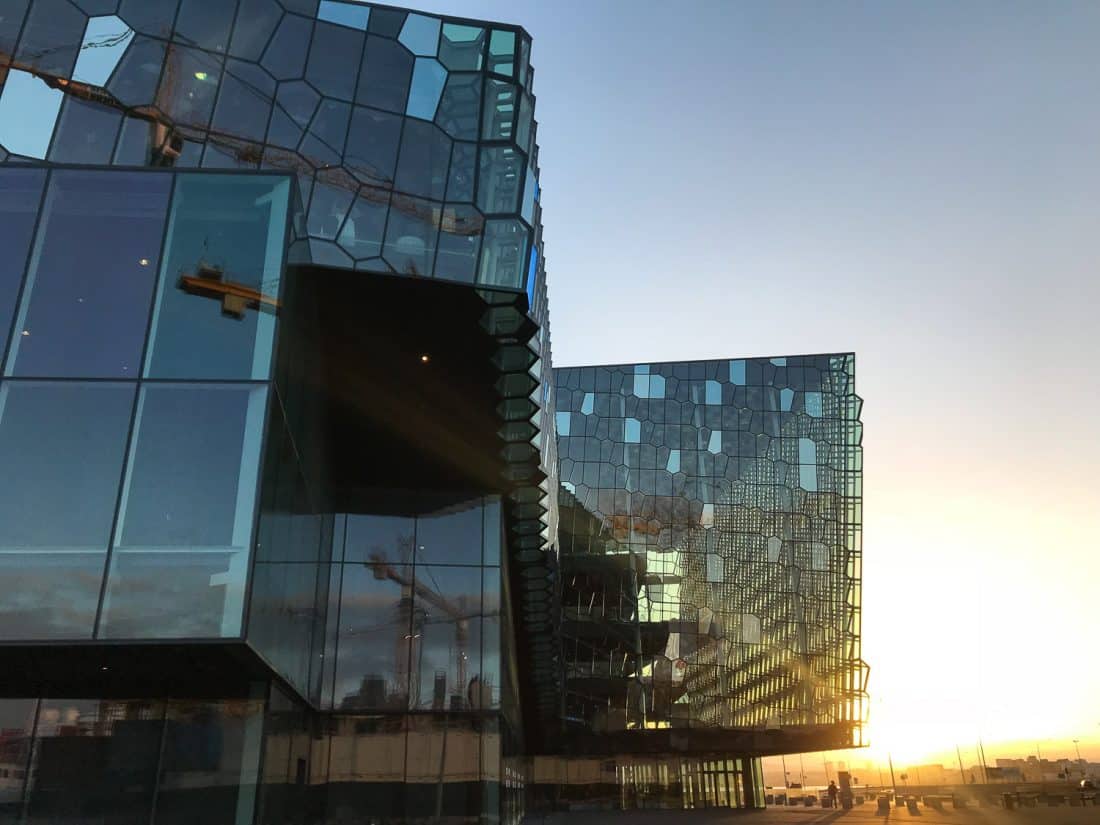 On our final day, I went on an early morning run along the seafront and past the Harpa concert hall.
Later we climbed the tower at Hallgrímskirkja church for views of the city. Tower fees are 1300 ISK/ £8/ $10 adults, 200 ISK/ £1/ $1.50 children.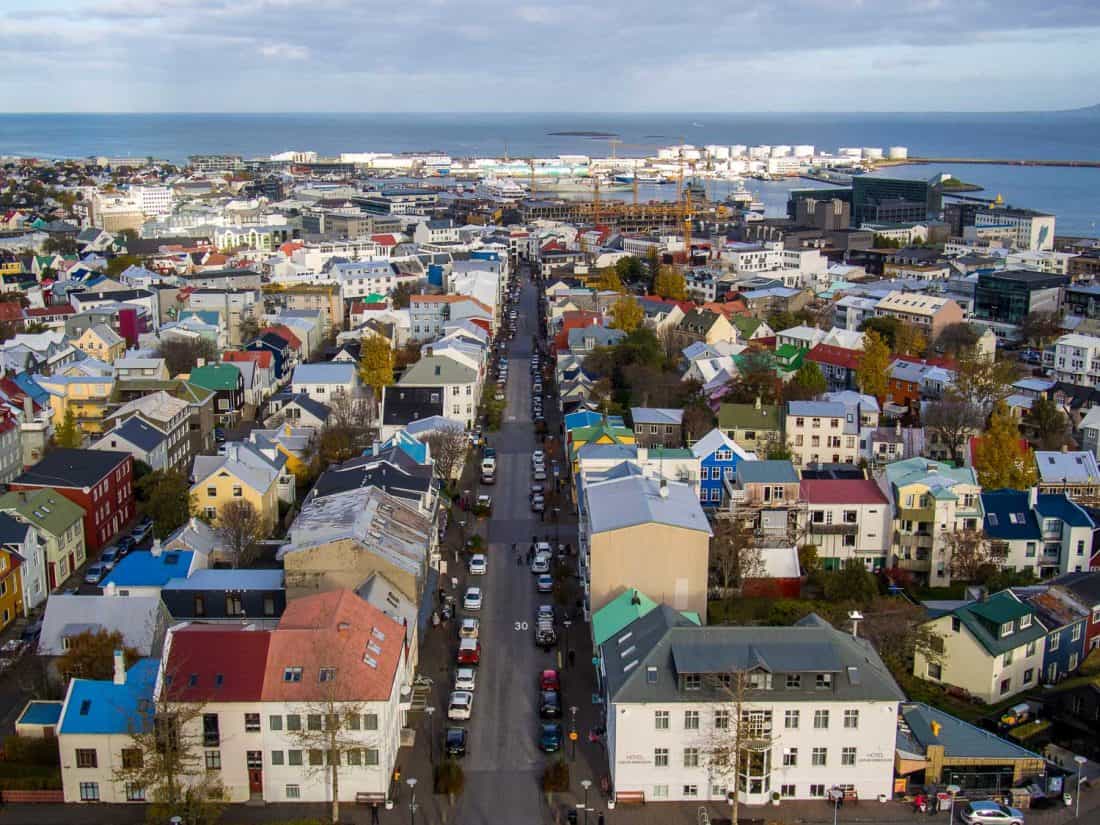 Reykjavik Art Museum has three sites but we had a late start and only made it to two. One ticket gives you entrance to all three at 2150 ISK/ £13/ $16 adults, free for children.
Ásmundarsafn features the sculptures of the Icelandic sculptor Ásmundur Sveinsson in his old house and studio.
It's a small but lovely space with artwork inside and in the garden and we were the only visitors.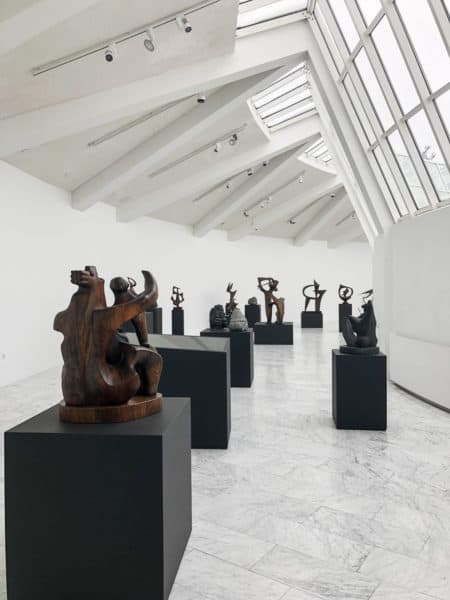 The Kjarvalsstaðir branch was much busier, with lots of locals enjoying cake in the cafe, and features landscape paintings of Iceland's highlands from the last century.
Reykjavik has some excellent food. The cinnamon buns from Braud & Co are huge and delicious—the main branch on Frakkastígur (near the church) gets busy, but you can avoid the queues by visiting their stall in the Hlemmur Mathöll, a stylish upmarket food hall.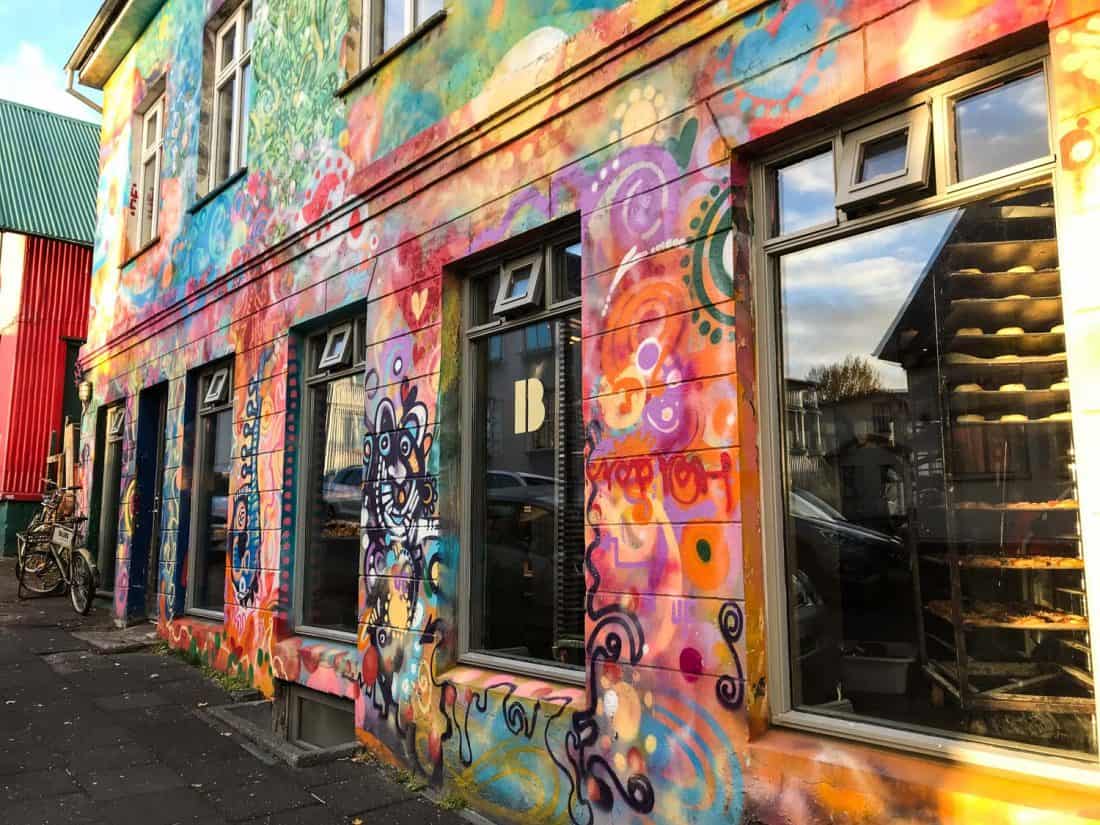 We also ate dinner at the food hall which includes tacos, Vietnamese, soup, salads, burgers, and coffee.
We had wonderful creative Icelandic tapas at Skál! which has plenty of vegetarian options.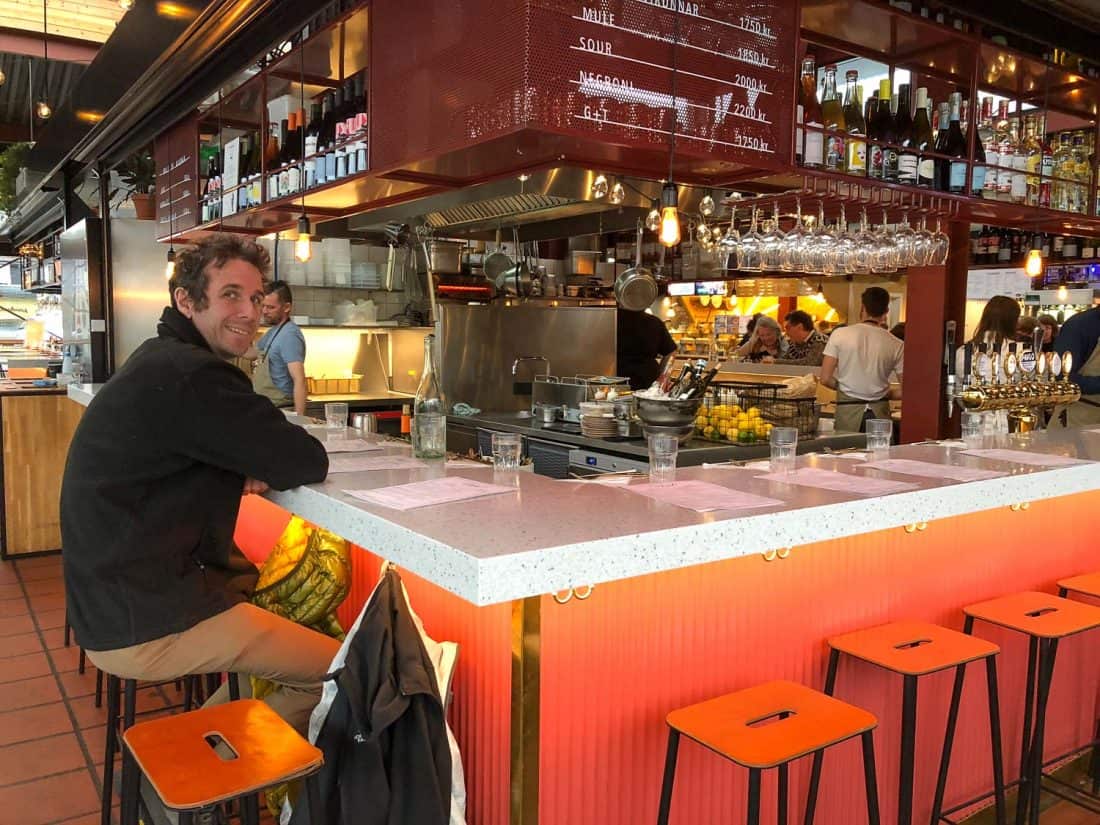 We followed it with salted caramel ice cream made with liquid nitrogen.
To learn more about Reykjavik's food culture why not try this Foodie Adventure Walking Tour with a Local?
Early the next morning it was sadly time to leave Iceland.
Is It Worth Going off the Beaten Track in Iceland?
Absolutely! If you have the time for a road trip exploring Snæfellsnes and Westfjords regions, following our itinerary would make for an unforgettable experience.
The country exceeded our expectations with its otherworldly beauty and we can't wait to return.
More Iceland Reading
If you enjoyed this post, pin it!