This page contains affiliate links. Please read our disclosure for more info.
The Snæfellsnes Peninsula is often called Iceland in Miniature as you can see everything the country has to offer in one area: volcanic craters, lava fields, a glacier, waterfalls, fjords, hot springs, black and golden sand beaches, lush meadows, and cute fishing villages of colourful wooden houses.
It was the first destination on our Iceland road trip as it's just a two-hour drive north of the airport.
On our trip we aimed to get off the beaten path, and while the peninsula isn't exactly empty, it's far less crowded than the popular Golden Circle and is a great alternative if you only have a short time in the country.
In this Snaefellsnes Iceland guide, I share travel tips for a visit, my favourite places on the peninsula, a map of the top attractions, and recommendations on where to stay.
Contents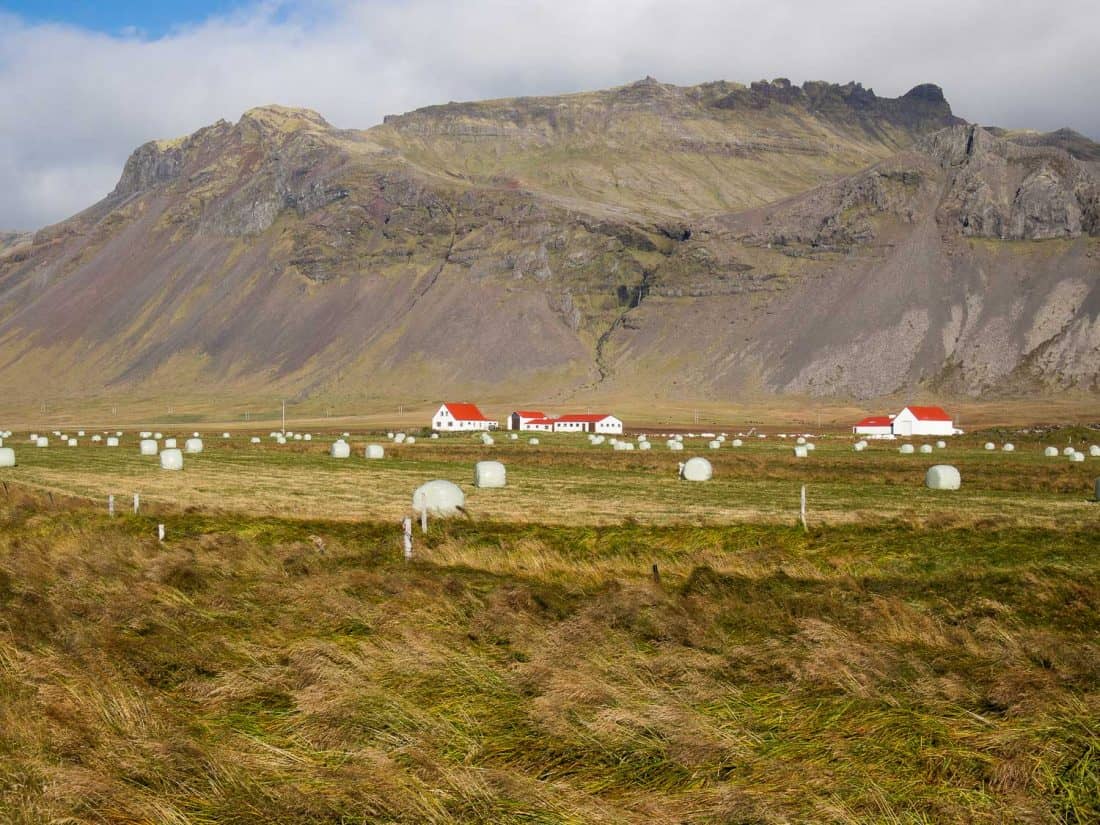 Video: Snaefellsnes Highlights
Watch our video on the best things to do in Snaefellsnes Peninsula.
Snaefellsnes Iceland Tips
Where is the Snaefellsnes Peninsula?
The Snaefellsnes Peninsula is located on the western coast of Iceland north of the capital Reykjavik and south of the Westfjords (a large peninsula in the Northwest).
See the map below for locations of all the top places to visit in Snaefellsnes.
How Far is Snaefellsnes from Reykjavik?
Gerðuberg Cliffs, the first stop on the Snaefellsnes Peninsula, is 120km from Reykjavik airport, which takes about 1.5 hours to drive.
Kirkjufellsfoss waterfall, one of the most popular attractions on Snaefellsnes, is 180km from Reykjavik airport and takes about 2.5 hours to drive.
How Long to Spend in Snaefellsnes
You could do a Snæfellsnes day trip from Reykjavik, but there's so much to see that I recommend staying at least two days.
We had two nights in the area (with 1.5 days to explore) and wished we'd had another night.
I can even imagine spending a week in the area and exploring at a relaxed pace.
While you could see all the sights below in one long day, with a few extra days you can take your time and perhaps go hiking, horse riding, caving, or kayaking.
Snaefellsnes Self Drive vs Tour
The best way to explore the Snæfellsnes is by driving yourself (we rented a car at Keflavik Airport through Rental Cars) as you can travel at your own pace and stop at less well-known sights.
The roads are quiet, easy to navigate, and are mostly paved.
If you don't want to drive, this Snaefellsnes day tour from Reykjavik is popular.
See our Iceland itinerary for road trip tips and our exact route.
What's the Best Time of Year to Visit Snæfellsnes Peninsula?
The Snæfellsnes Peninsula is a great destination at any time of year. The summer (June to August) is busiest, but you'll have the best weather and can experience the midnight sun.
We visited Iceland in late September and had cool temperatures but smaller crowds, and we got to see the first snow appearing on the mountains.
See our Iceland packing list for what we took with us to stay warm.
It's one of the best areas to visit in the winter as the roads are usually passable (with winter tires) and you can enjoy long sunsets and the northern lights. It would be gorgeous covered in snow.
Read more tips on planning a trip to Iceland to make the most of your stay and avoid making common mistakes.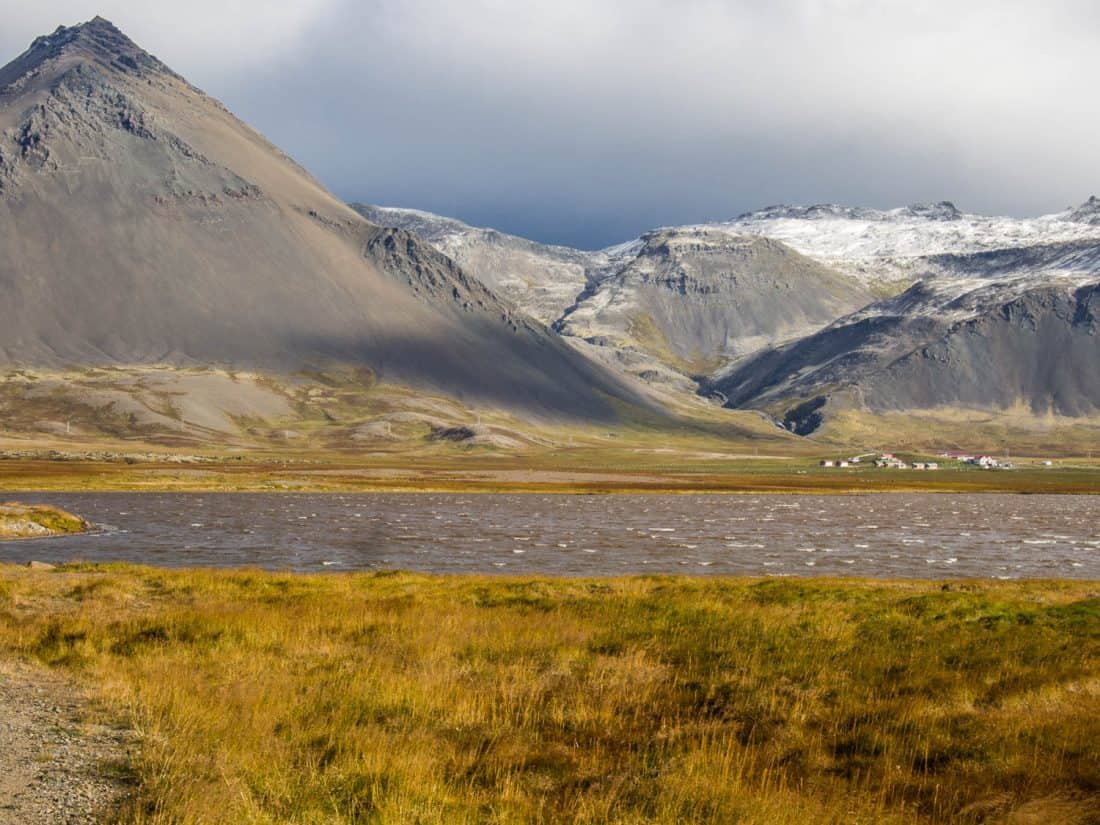 Where to Stop on the Way to Snæfellsnes Peninsula
There are no large towns on the peninsula, so it's best to bring everything you need with you.
There is a Bonus supermarket in Stykkishólmur, but we didn't make it to this side of the peninsula until the end of our stay.
If you are coming from the airport or Reykjavik, Borgarnes is a good place to stop on the way up to stock up on supplies at Bonus supermarket.
The bakery cafe Geirabakari Kaffihus is next door and you can enjoy a chocolate-covered cinnamon bun with a sea view—it was featured in the film The Secret Life of Walter Mitty as Papa John's Pizza.
History buffs might want to visit the Settlement Centre in Borgarnes.
Travel Insurance
Don't forget travel insurance for your Iceland trip—it's essential in case anything goes wrong and you need medical treatment or to be evacuated home.
Two insurers that we've used and recommend (and both cover COVID-19) are SafetyWing (excellent value especially for families and long-term travellers) and Heymondo (more expensive but includes cancellation). Both are available worldwide.
The Best Things to Do in Snæfellsnes Peninsula
Below I've listed the best stops on the peninsula in a clockwise direction (starting on the south coast) to make it easier to put together your Snæfellsnes itinerary, but you could travel in either direction.
You'll find a Snæfellsnes map at the end of this post.
All these destinations are free, but you might want to budget for coffee and cake at a cafe in one of the cute towns. I recommend taking a packed lunch for the most flexibility.
1) Gerðuberg Cliffs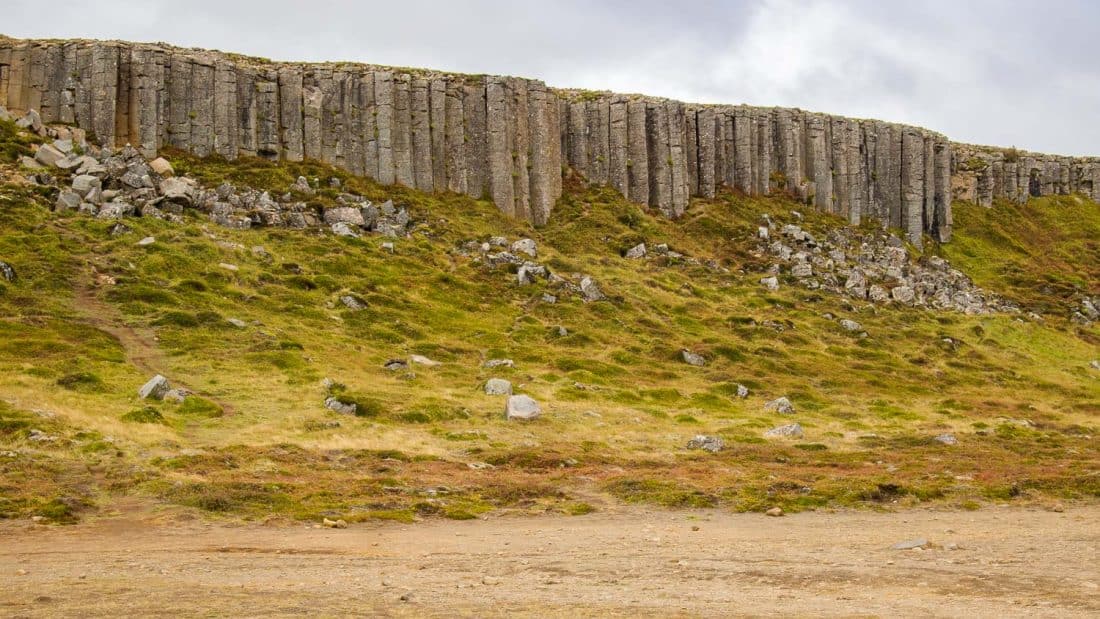 As you enter the peninsula it's worth a quick stop just off the main road 54 at the Gerðuberg Cliffs, a wall of basalt columns.
You can walk the length of the cliffs to really appreciate their massiveness, but we didn't last long because of the powerful wind that almost knocked us off our feet.
2) Ytri Tunga Seal Beach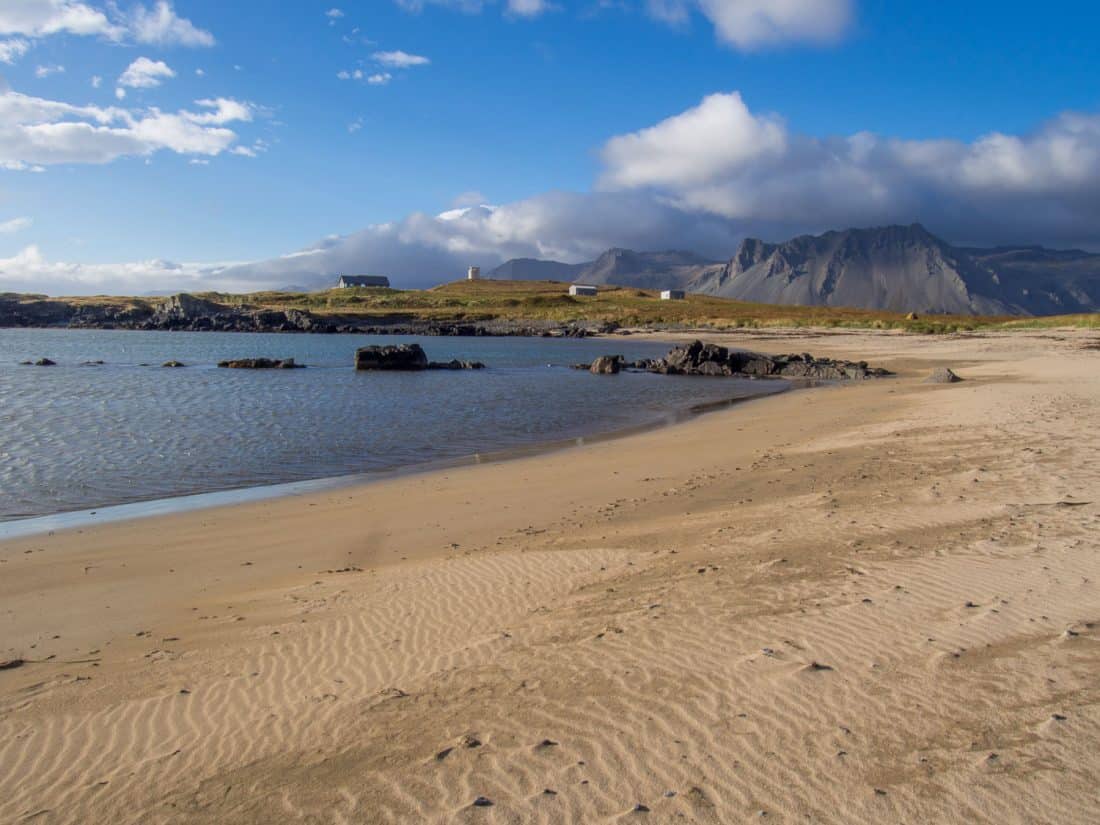 The next stop along the south coast of the peninsula is Ytri Tunga, a beach that's home to a seal colony.
Summer is the main seal season, so we didn't have high expectations, but the golden sand beach was a lovely place to stroll in the beautiful Icelandic light with cute farm buildings and volcanic mountains in the background.
We got lucky, though, and saw two Harbour seals lazing on the rocks and a number of others swimming in the sea.
I didn't have my zoom lens and they were too far away to get a good photo.
The information sign asks visitors to keep more than 50 meters away from the seals to avoid disturbing them.
The turnoff to Ytri Tunga down a short gravel road isn't marked from the main road, but the Google Maps location is correct.
Head right from the parking area and look out for the seals on the rocks between the two beaches.
3) Bjarnarfoss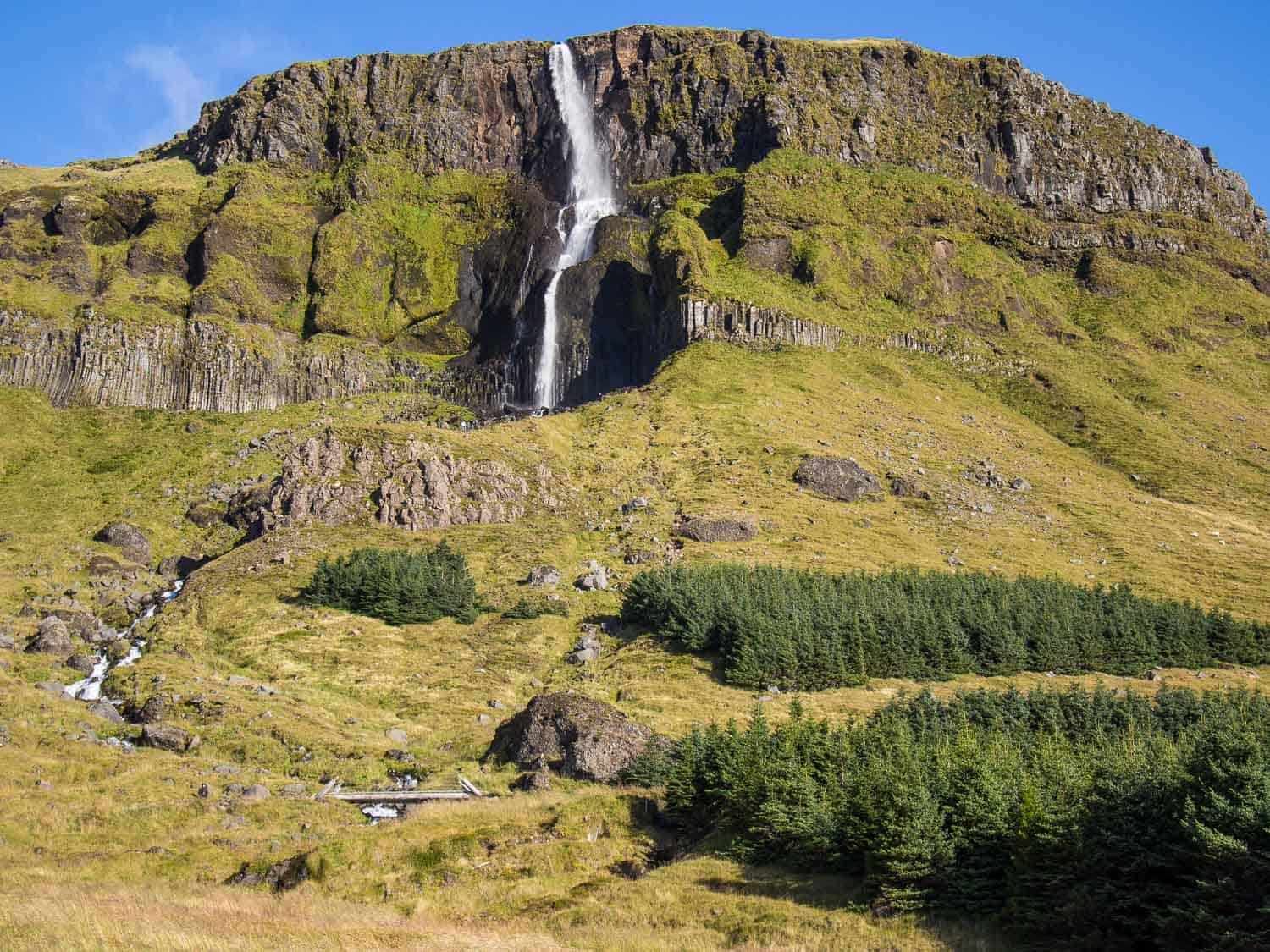 Bjarnarfoss is a little-known waterfall that we discovered at random while driving past, but it turned out to be Simon's favourite in all of Iceland.
The narrow but tall falls tumble down the side of craggy green mountains just off the road 54 before it goes over a stunning mountain pass to the north coast.
You can see the waterfall from the road, but it's well worth parking and doing the short walk up to the bottom of the cascade.
4) Búðakirkja Black Church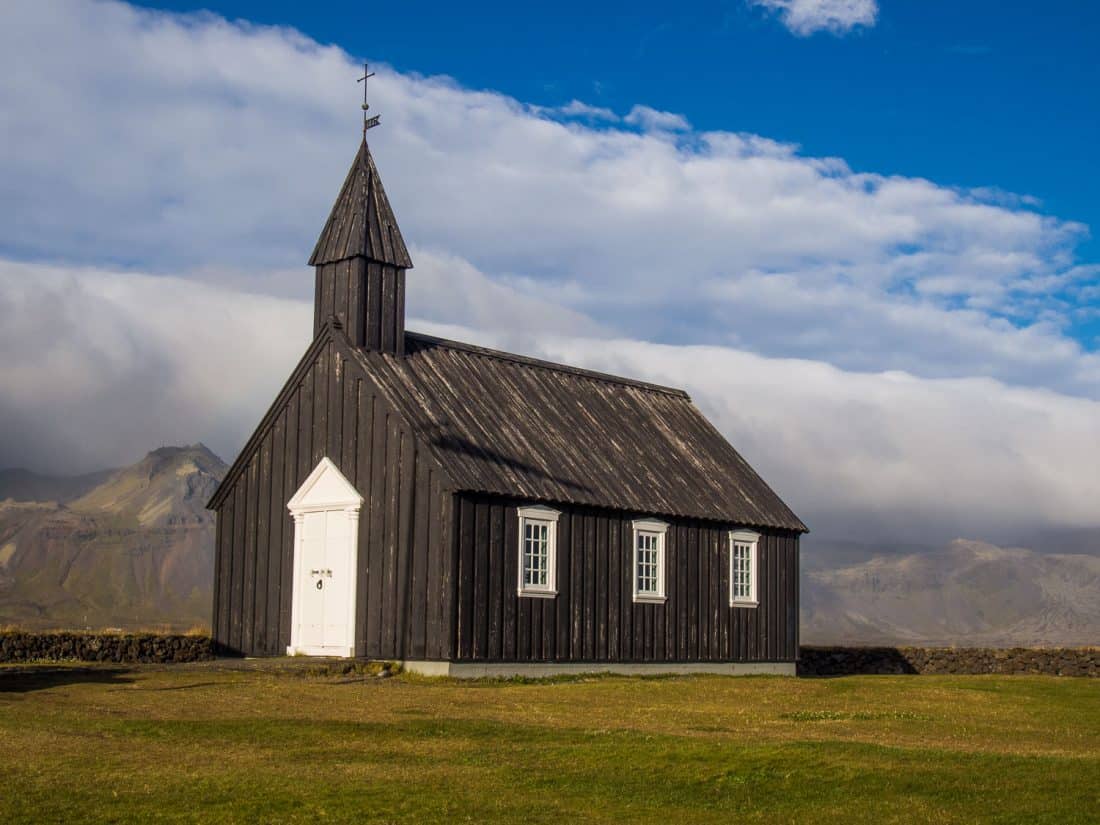 Búðakirkja is a little black wooden church in the hamlet Búðir (which seems to consist of a hotel and this church) that was originally built in the 19th century.
It has an isolated location amongst the Budhahraun lava fields just above the sea.
We parked at Hótel Búðir and walked up. There are stunning views of the mountains here, and you can also do longer walks through the lava fields.
We planned to go horse riding at nearby Lýsuhóll where you can ride on the beach and through the lava fields, but our trip was cancelled on both mornings due to high winds.
They also have a hot spring there, but it's only open in the summer.
5) Rauðfeldsgjá Gorge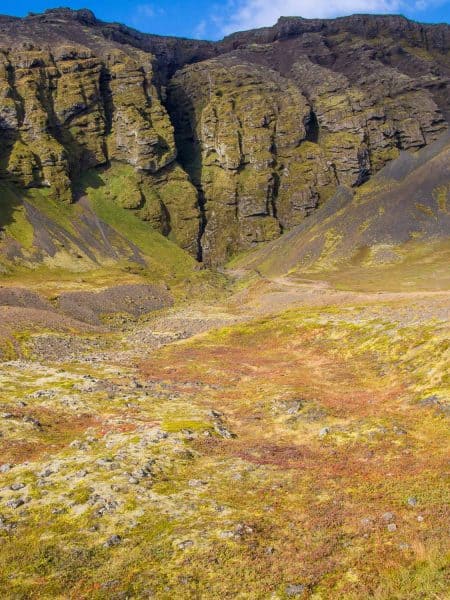 Rauðfeldsgjá Gorge is a mysterious looking place, an imposing craggy mountain blanketed in fuzzy green moss.
The gorge itself isn't obvious—you need to walk about 10 minutes from the parking lot up the hill to reach the narrow opening where a stream gushes out.
It's easy to enter the canyon but to go any further you have to clamber on rocks over the small falls. It becomes trickier the further you go in. We were glad for waterproof shoes.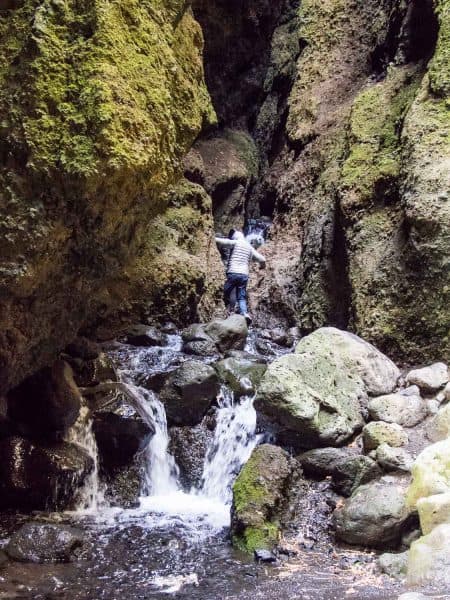 6) Arnarstapi to Hellnar Hike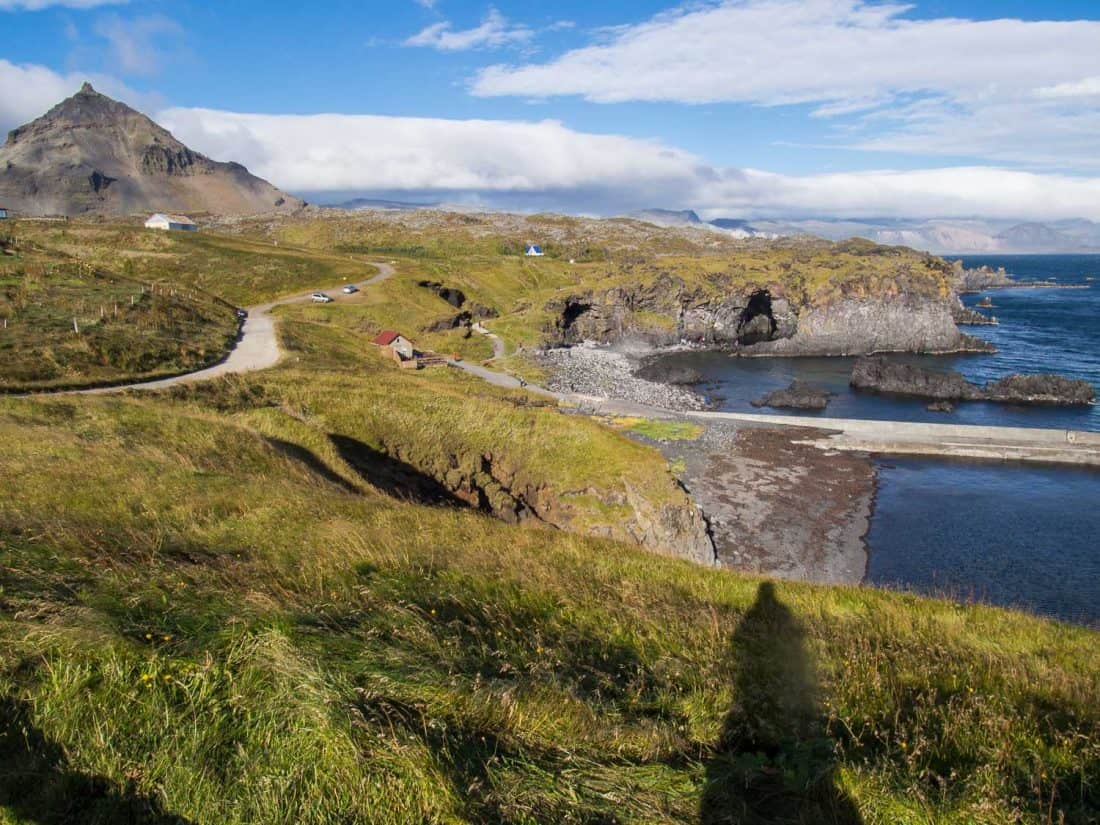 Our favourite thing to do in Snæfellsnes Peninsula was the coastal hike between the teeny towns of Arnarstapi and Hellnar.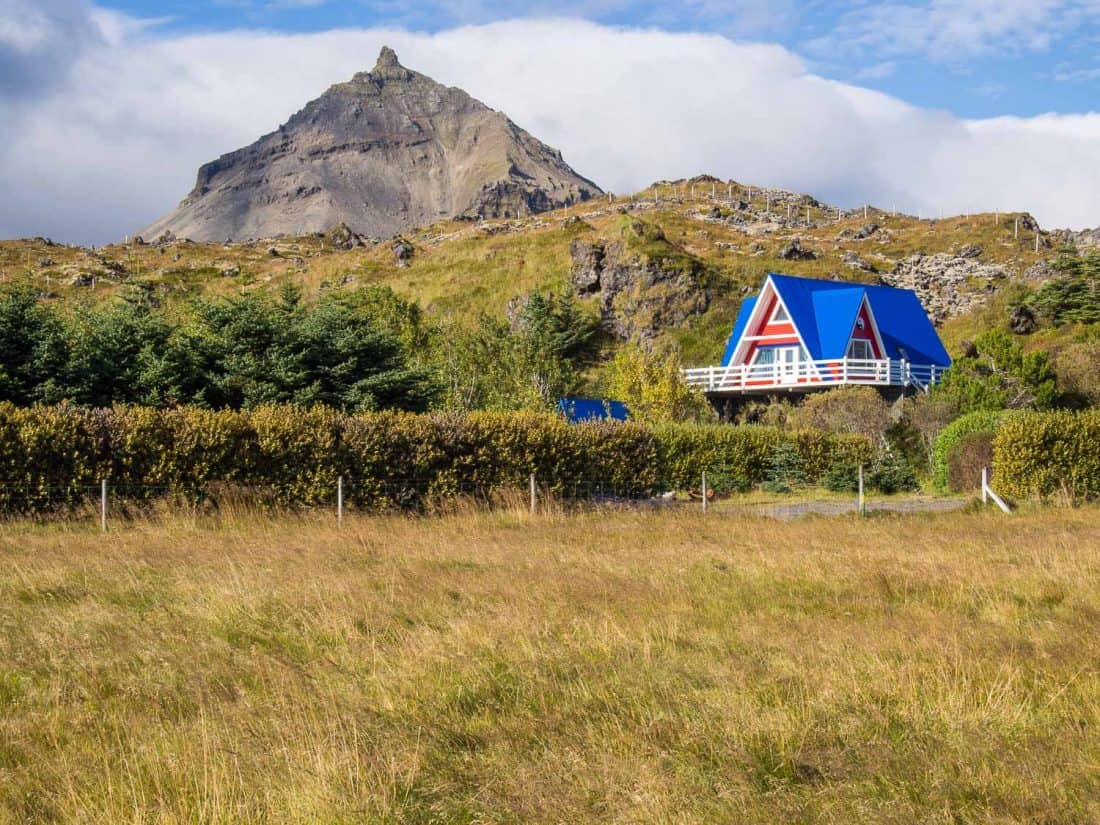 You walk through mossy lava fields with spectacular views of rugged cliffs, towering black lava formations, sea caves, and the pyramidical mountain, Mt. Stapafell.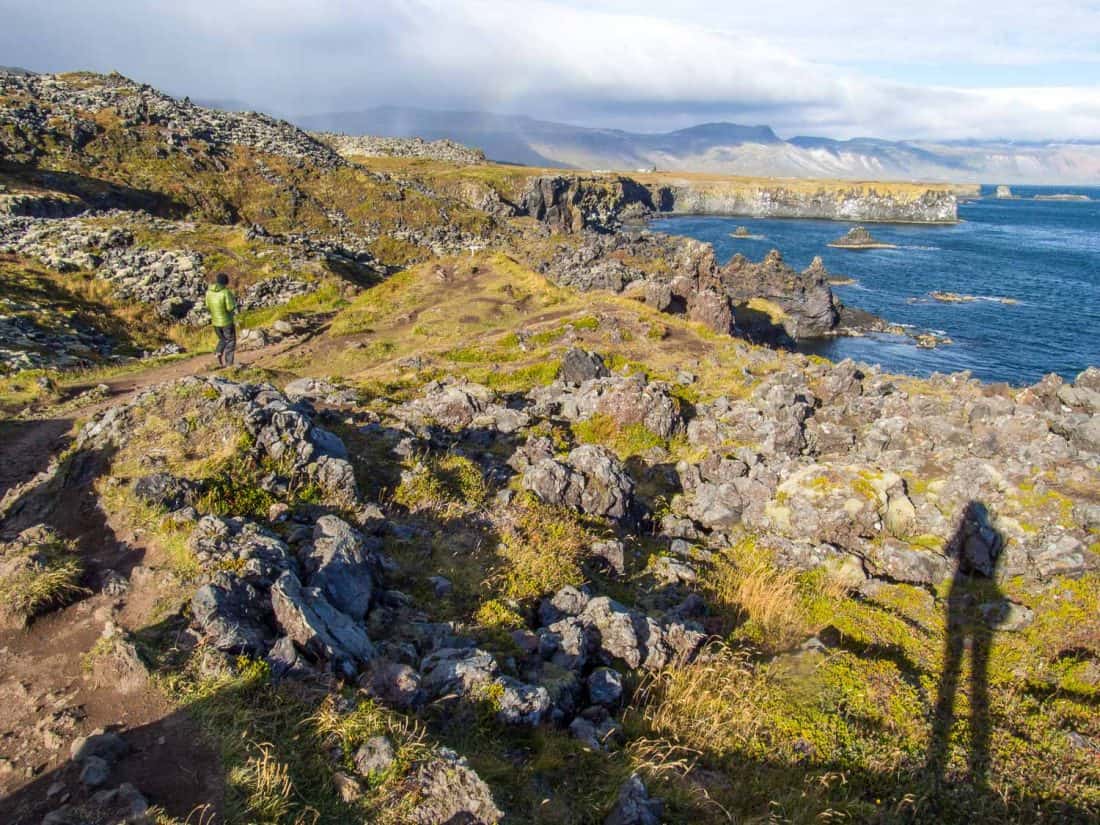 We started in Hellnar, but you can begin in either town as you'll have to return the way you came to get back to your car.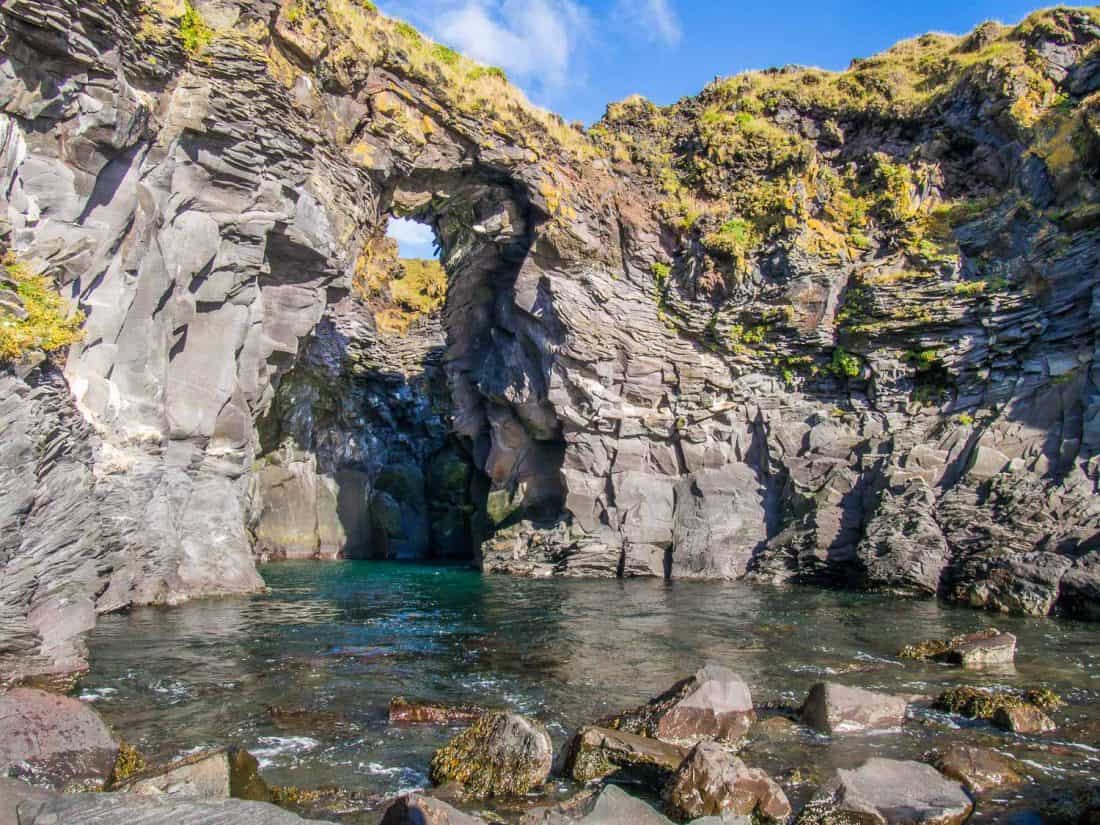 To get to the trail we drove through Hellnar to the car park and started from Hellnar View Point (marked on Google Maps). The trail was obvious from there.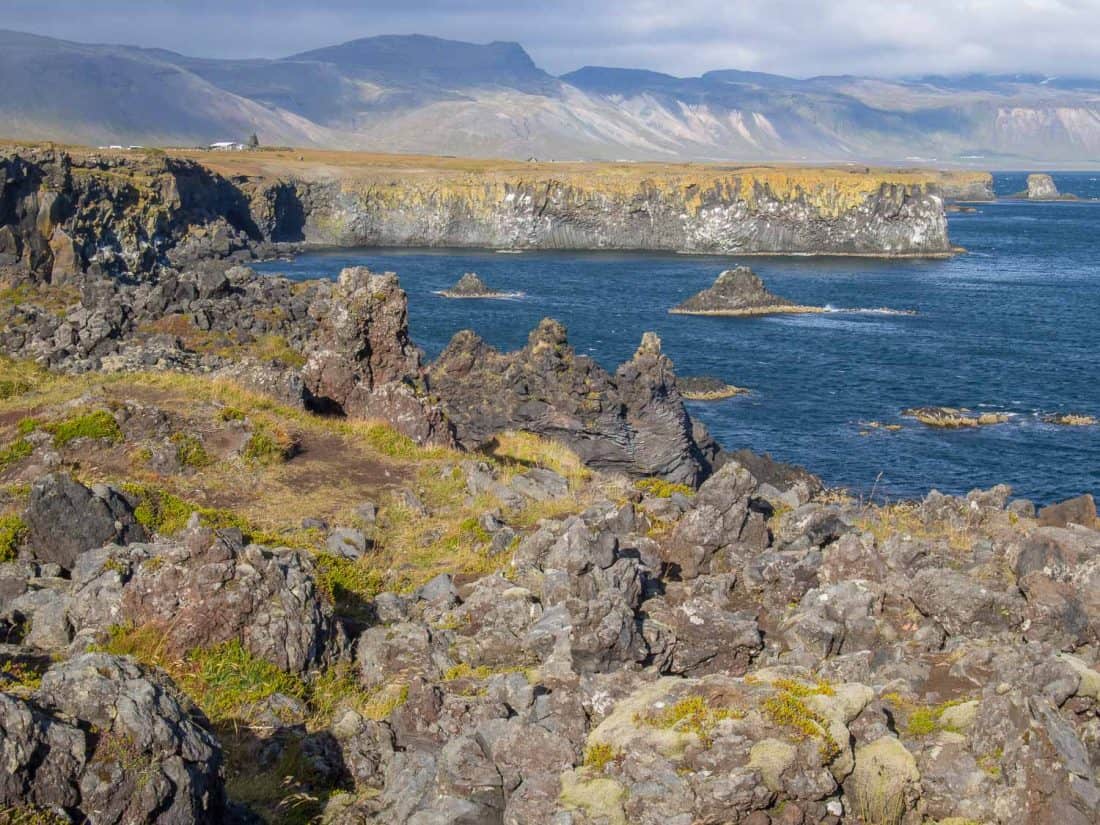 It took us 1.5 hours total for the return walk of just over 6km (3.7 miles). You will want to stop and take photos often!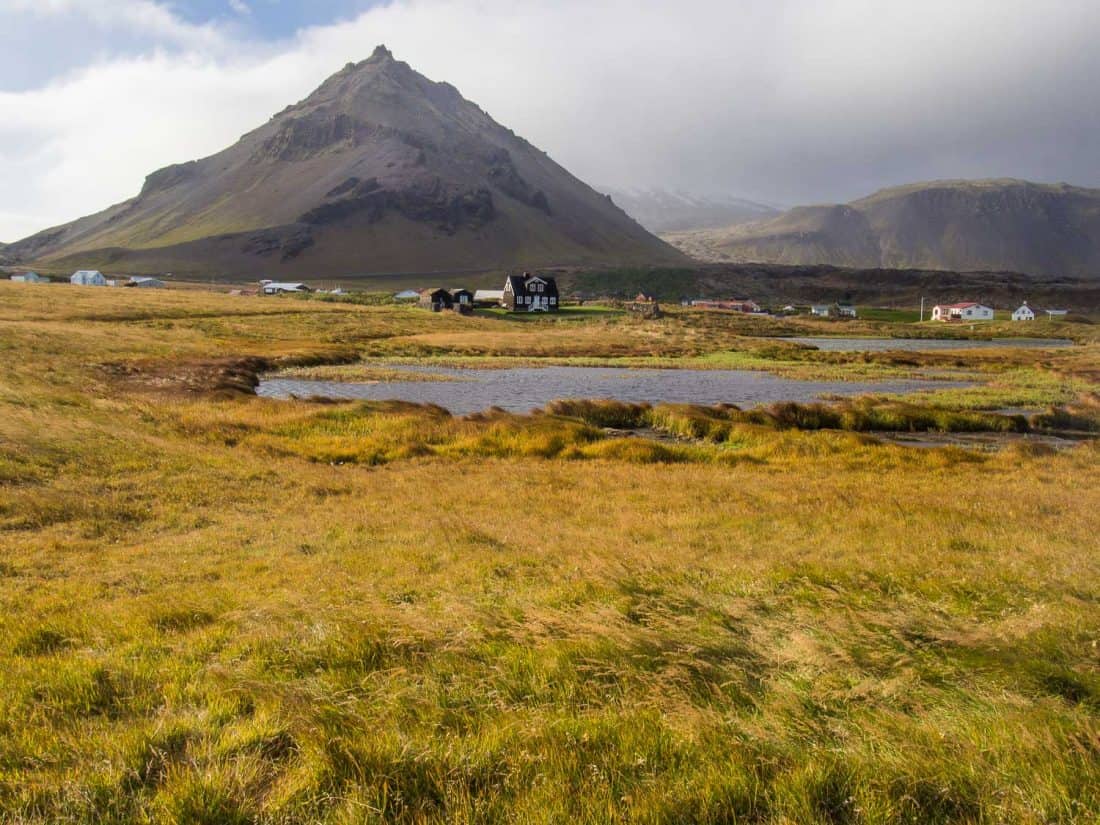 The Fjöruhúsið Café is located near the start of the trail in Hellnar.
With beautiful views overlooking the water, it would be a great spot to treat yourself to cake after your hike. It had closed by the time we finished our walk at 5pm, though.
7) Lóndrangar Basalt Cliffs
Lóndrangar Cliffs are another worthwhile place to visit on a Snæfellsnes tour.
We didn't have time to stop, but we saw the basalt sea stacks as we drove past.
If you can, take the time to walk along the beautiful cliffs and look out for puffins in summer.
8) Snæfellsjökull Glacier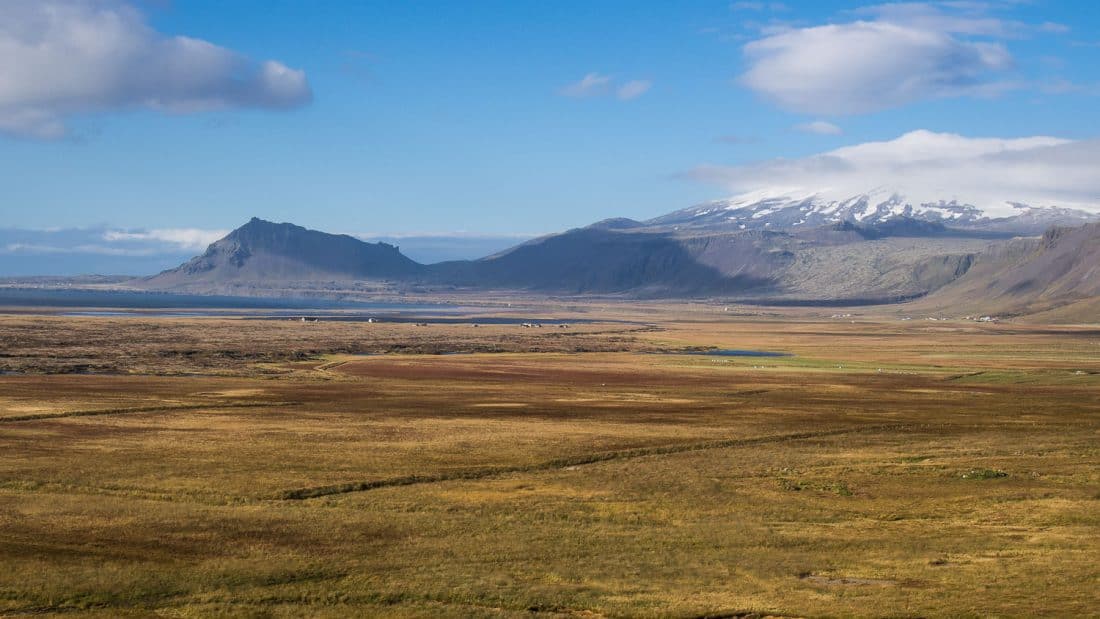 Snæfellsjökull is a 700,000-year-old glacier and volcano at the tip of the peninsula and is famous for being featured in Jules Verne's novel Journey to the Centre of the Earth.
In the summer you can take snowcat, snowmobiling, or hiking tours on top of the glacier, but in September we had to enjoy the view from afar.
You can do tours into the Vatnshellir lava cave under the glacier all year round.
The glacier is part of the beautiful Snæfellsjökull National Park that you are now driving through on this route.
9) Djúpalónssandur Black Beach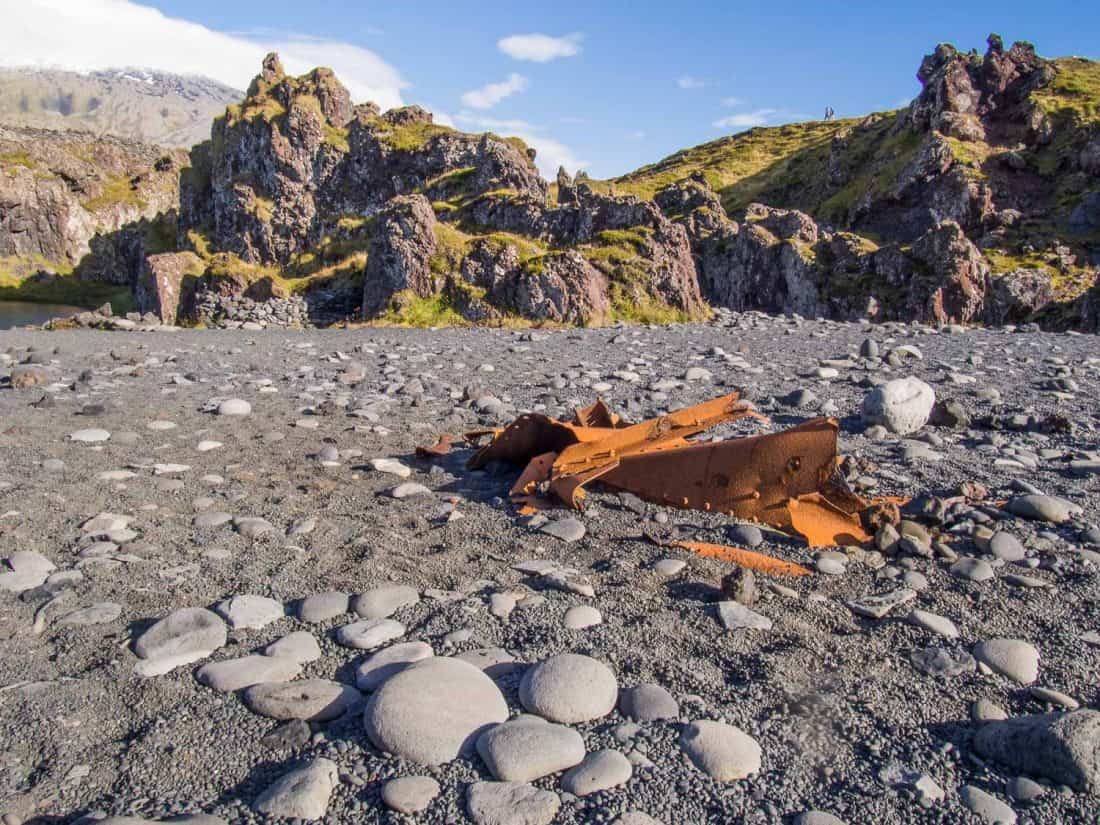 Djúpalónssandur beach was one of the busiest places we visited in Iceland with a number of tour buses in the parking lot—get there early if you can.
It's well worth braving the crowds, though, and if you have time to follow one of the longer hiking trails, it'll be much quieter.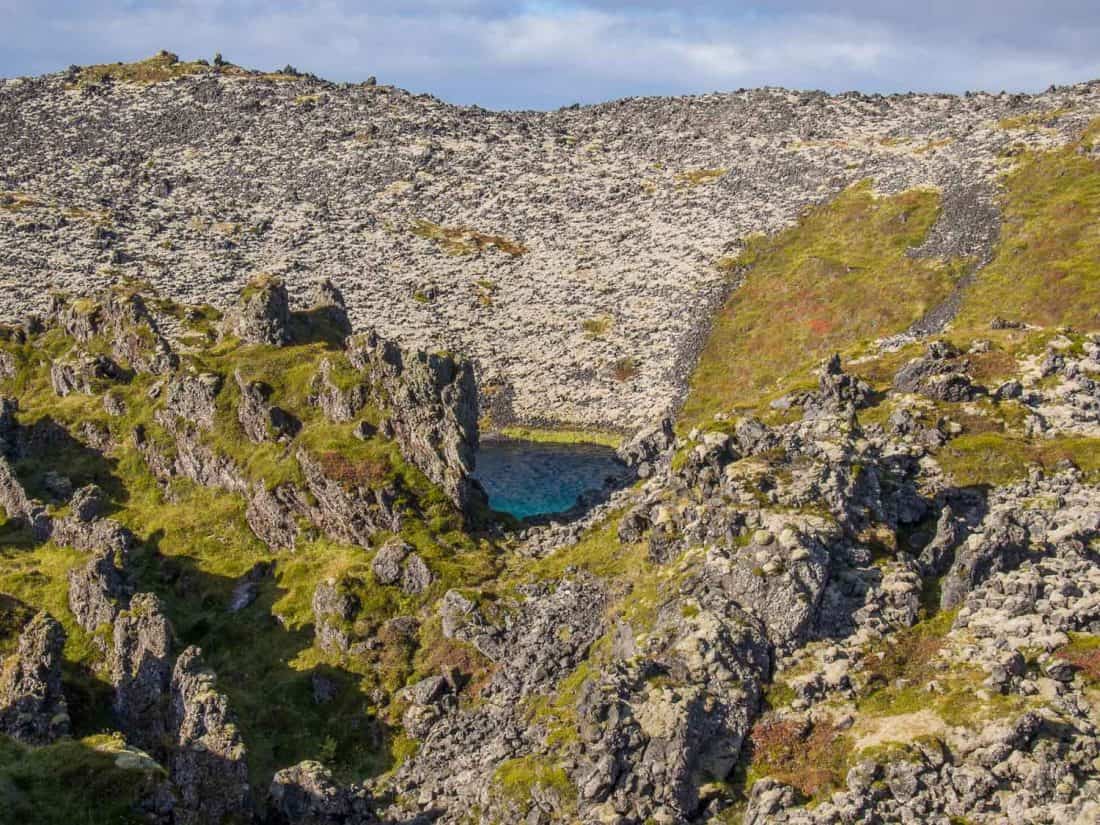 To reach the beach follow the footpath through the lava wonderland of huge mossy volcanic towers (as much the attraction as the beach itself).
The black pebble beach is wide and long and features lifting stones that were used to test the strength of fishermen (the strongest got hired) and the scattered remains of the shipwreck of a British trawler from 1948.
There's a small freshwater lagoon backed by Snæfellsjökull glacier on the opposite side from the sea.
Take advantage of the toilets at the car park as they are in short supply on this route.
10) Saxholar Crater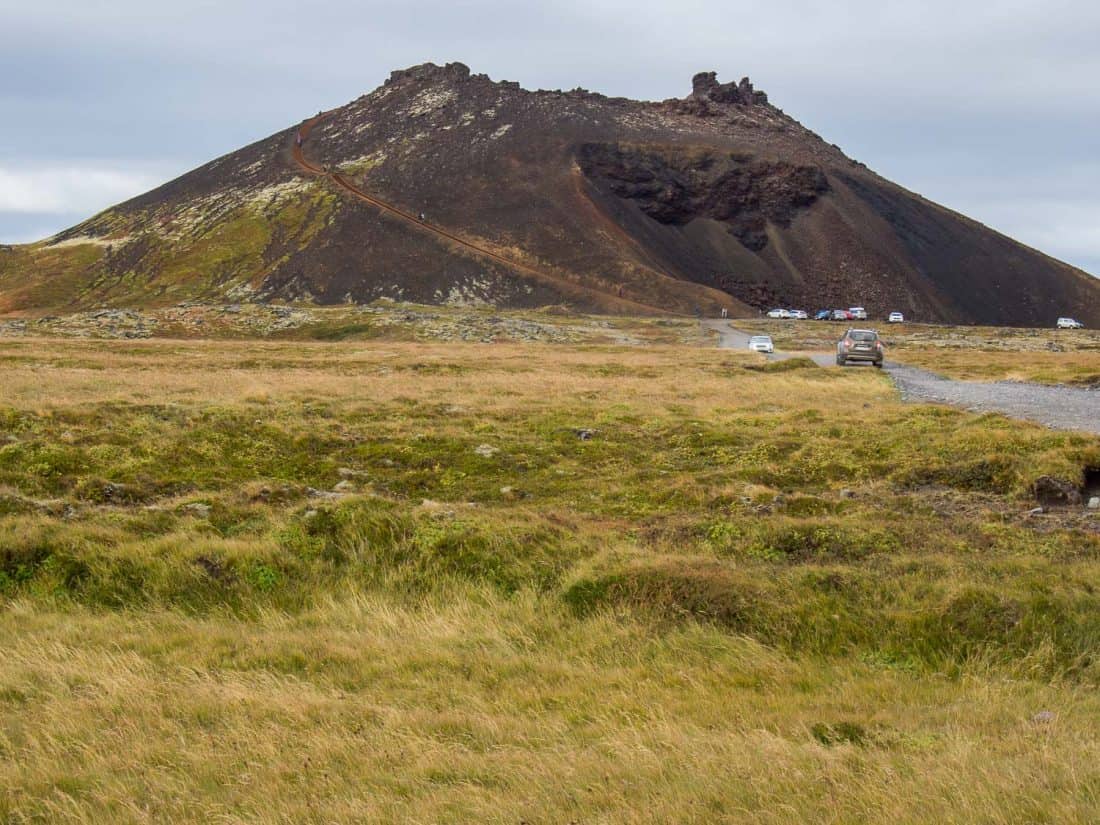 Saxholar Crater was another unplanned stop that caught our eye from the road. The 109m crater was formed by a volcanic eruption 3–4000 years ago.
A staircase has been constructed up the side to protect it and it only takes about five minutes to reach the top.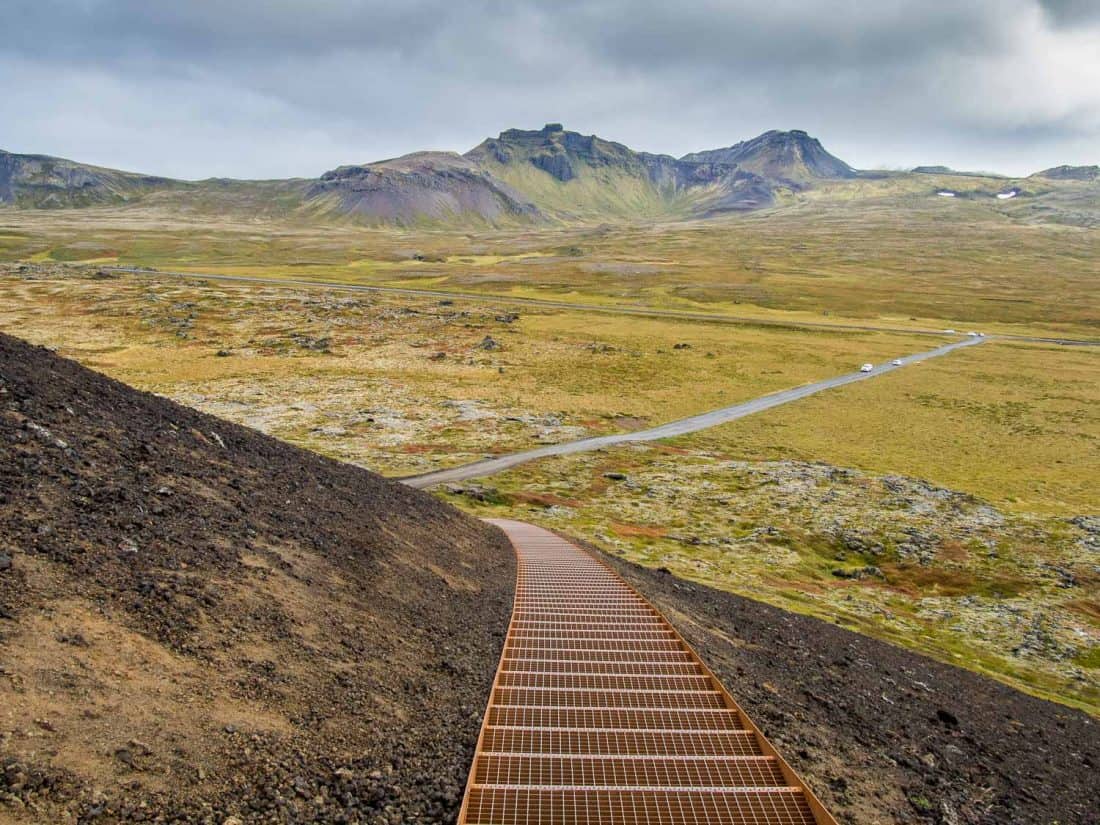 It's fascinating to see inside the crater and there are fantastic views of the lava fields, mountains, and sea.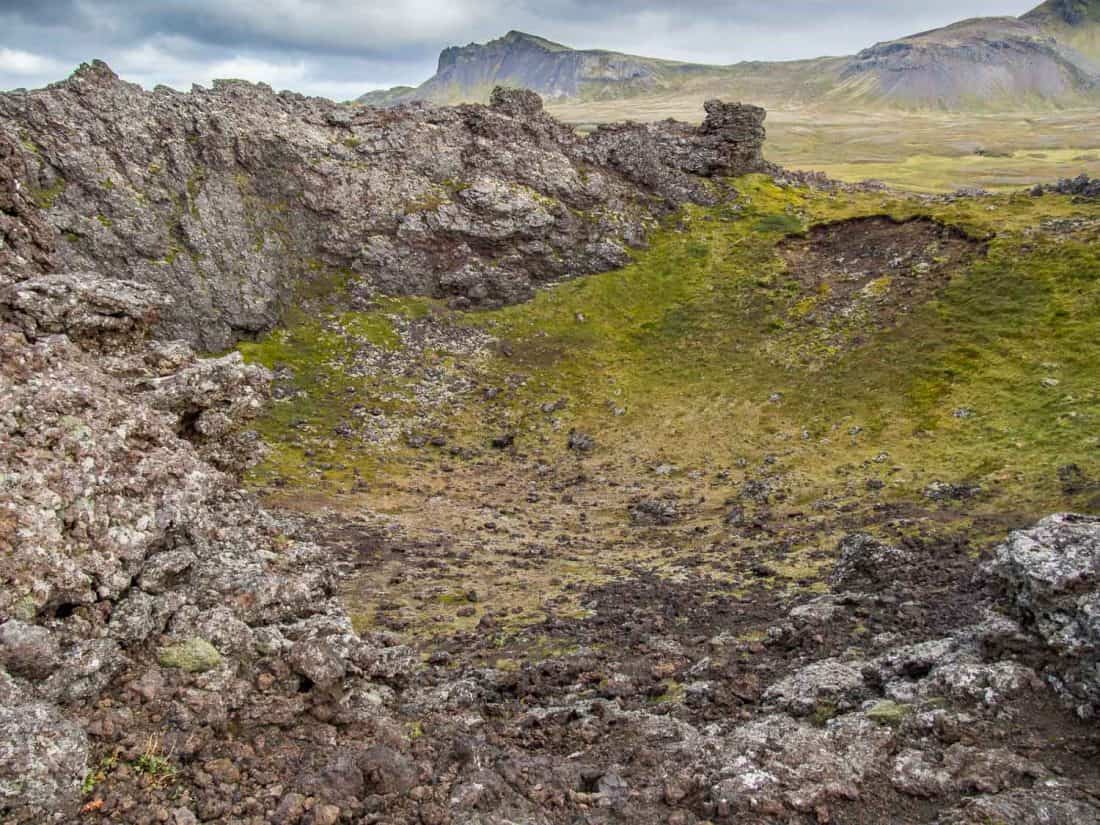 If you have extra time, a reader recommends the uncrowded Svöðufoss waterfall, which is about 15 minutes beyond Saxholar just past the tiny village of Rif.
The car park is down a gravel road off the main road, and from there it's a 20-minute walk to the waterfall. Or you can enjoy the view from afar at the car park.
11) Kirkjufellsfoss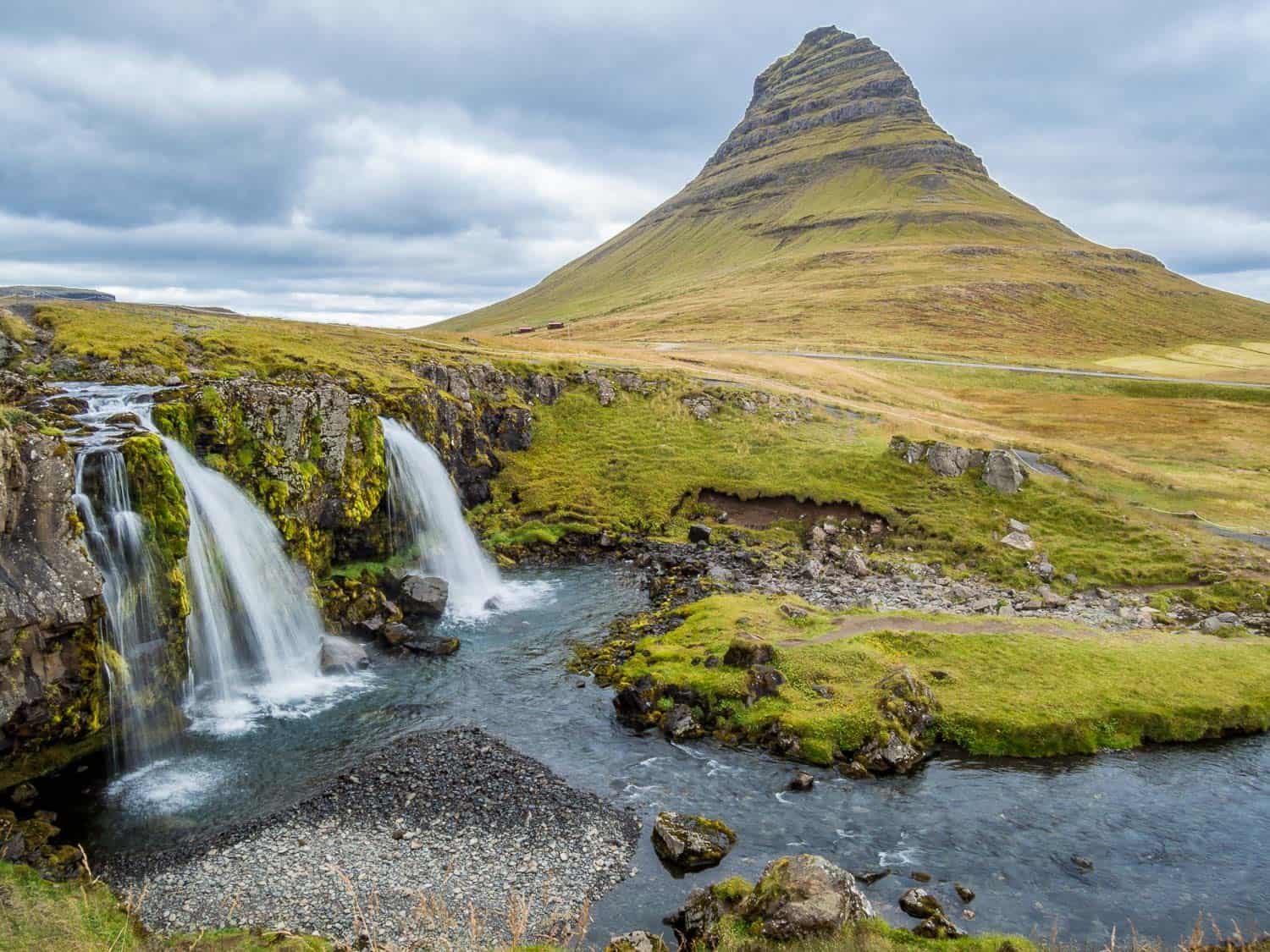 Kirkjufellsfoss is one of the most photographed waterfalls in Iceland, not because it's very big but because it has the uniquely shaped Mt. Kirkjufell as a backdrop, a mountain that appeared in the Game of Thrones TV show.
This is another place you'll want to arrive early. At midday the car park was busy, but we managed to get a space and were lucky that everyone seemed to leave when we were taking photos.
To see the famous view follow the footpath over the bridge.
It is beautiful but to be honest was a little anti-climatic—there are just so many gorgeous places in Snæfellsnes that it didn't feel particularly special.
Toilets are hard to find in Iceland so after visiting the waterfall we continued five minutes down the road to the tiny town of Grundarfjörður.
We stopped at Kaffi Emil for hot chocolate and cake (and to use the loo). It's now closed but Græna Kompaníið looks like a good alternative (open 12 – 6pm).
12) Berserkjahraun Lava Fields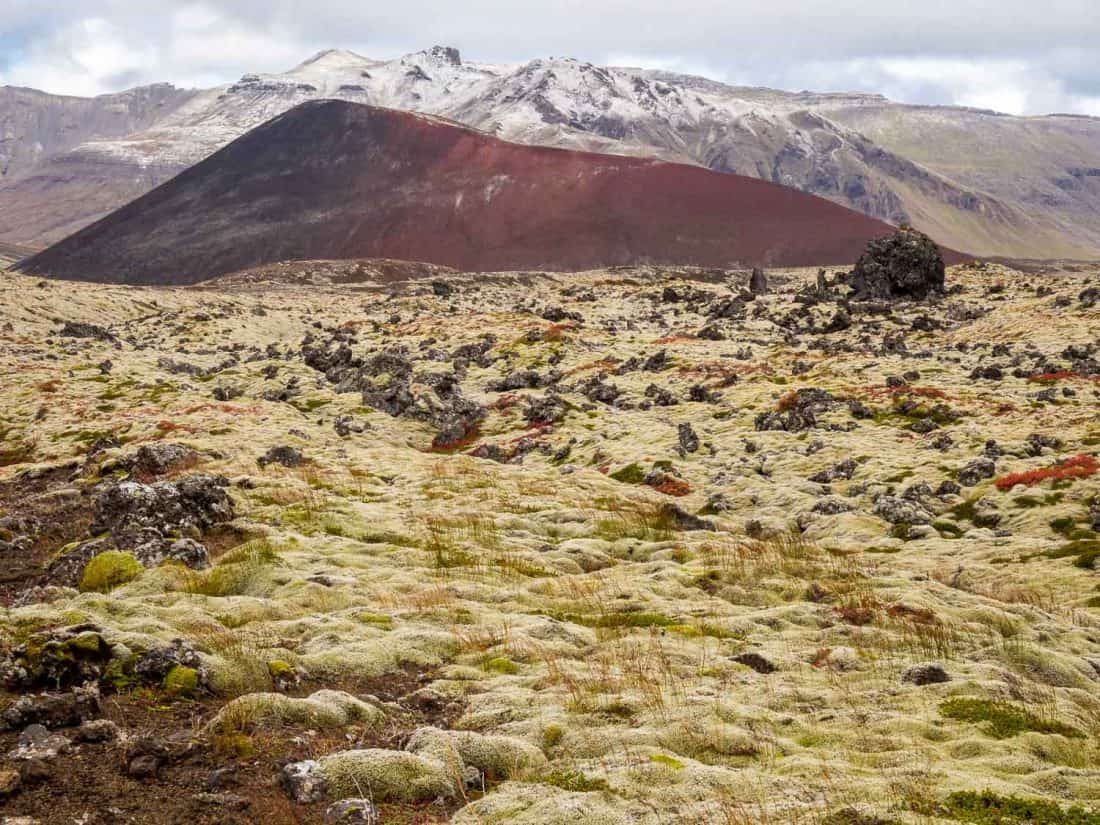 The Berserkjahraun lava fields were one of the most extraordinary places we visited in all of Iceland and most people don't know about them.
It's an otherworldly place with fields of black volcanic rock and weirdly shaped lava towers covered in pale green moss and bright red blueberry bushes.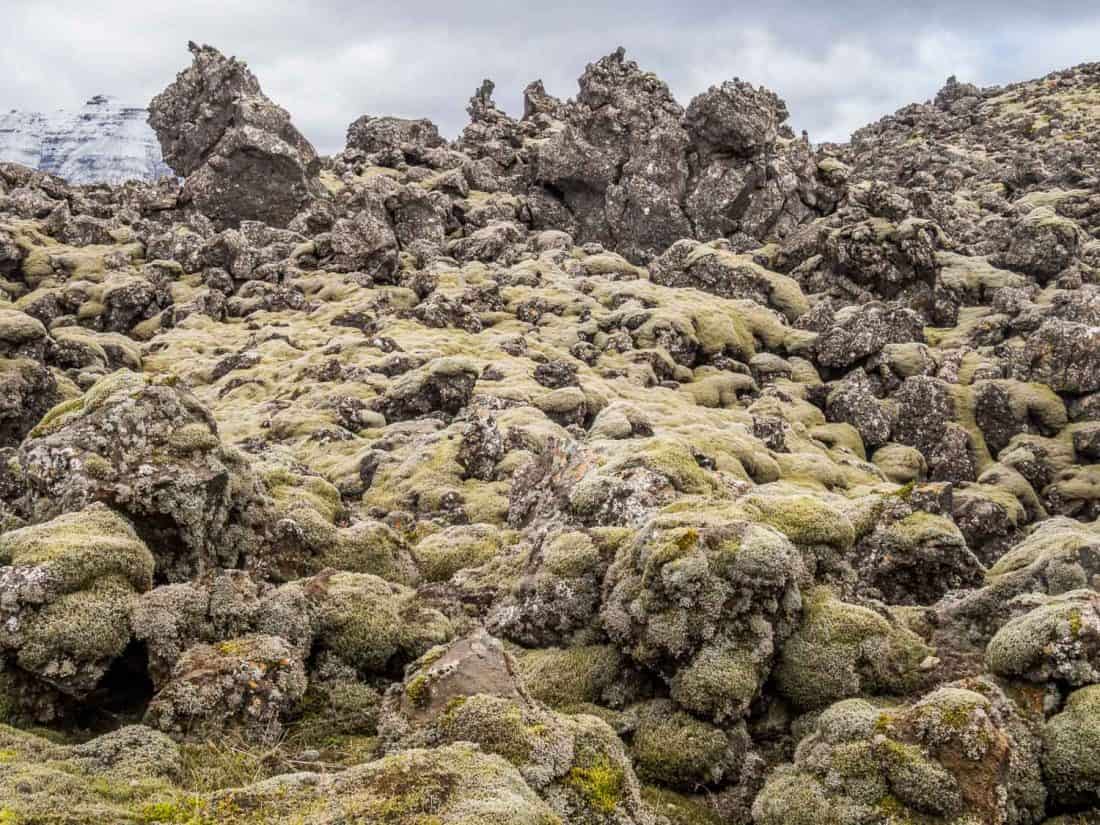 Behind them rise snow-topped mountains and red volcanic craters.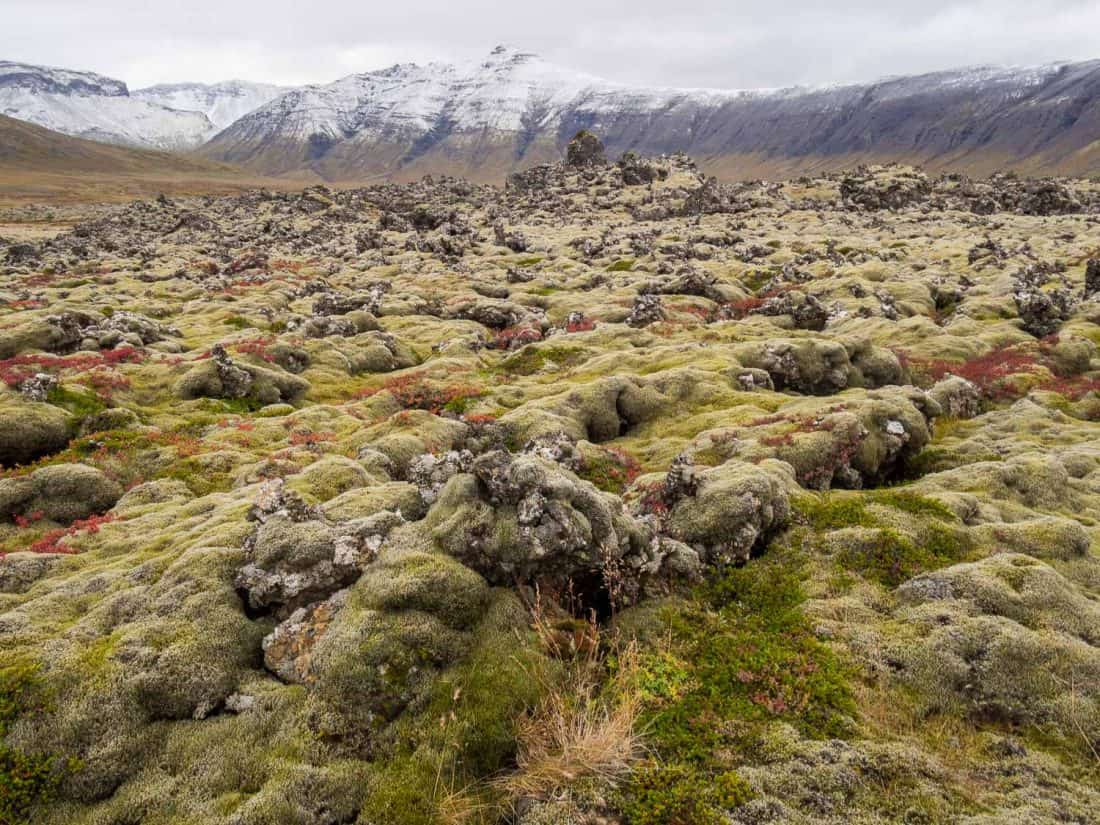 We felt like we were alone on another planet—we only saw two other cars near the end of the drive.
You can access Berserkjahraun by driving down the narrow dirt road 558—it's rather rough so take it slow.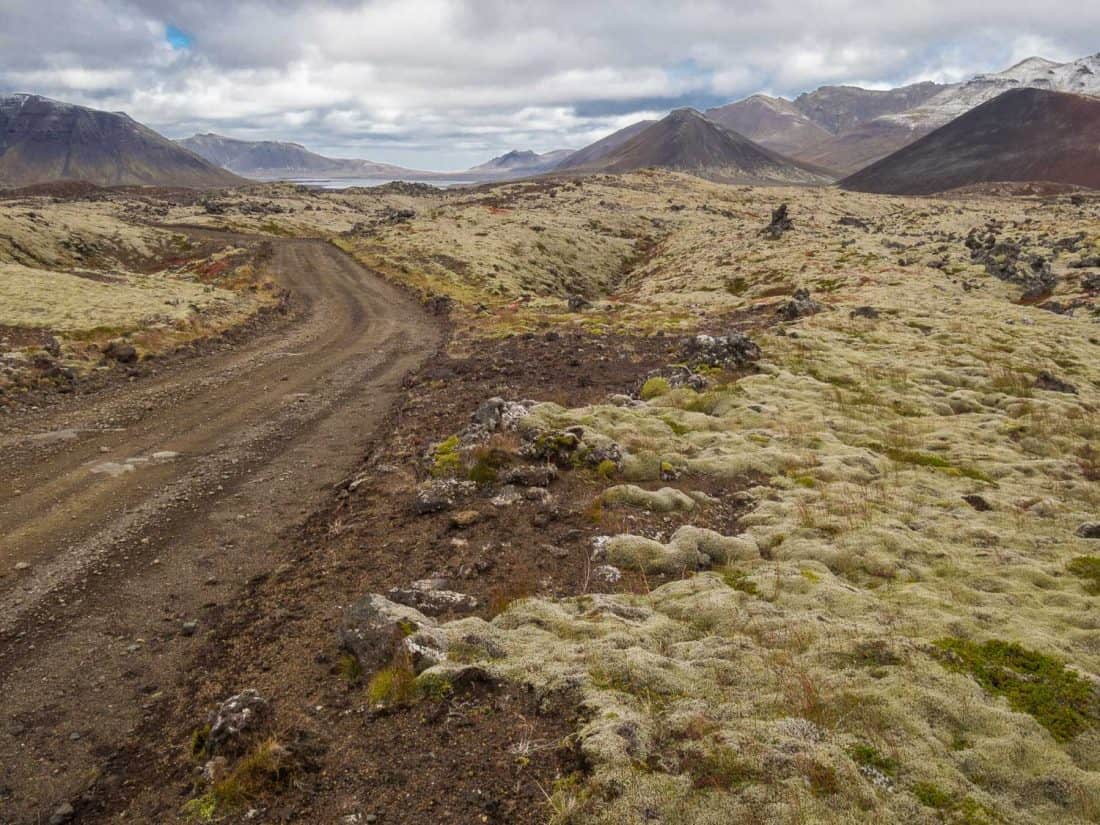 We did a loop starting off the 54 just past the junction with 56 and continued to the other end which emerges further along the 54 (between Grundarfjörður and Stykkishólmur).
See the map at the bottom of this post where I've marked the entrances (it doesn't matter which way you drive it).
We spent 30 minutes driving the road (with a few stops), but we could easily have spent much longer in this special place.
13) Stykkishólmur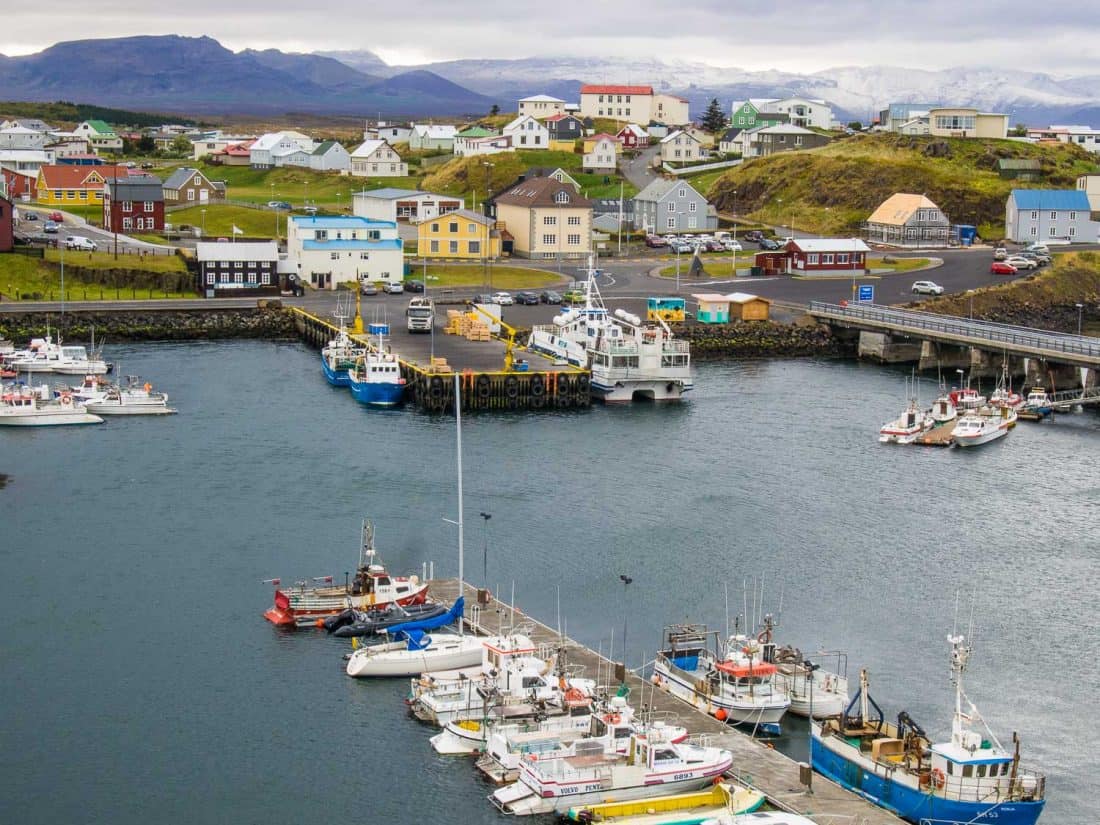 Stykkishólmur is a cute colourful seaside town that appeared in the film The Secret Life of Walter Mitty.
It's the largest town on the Snæfellsnes Peninsula, but with a population of just 1200 it's still a quiet place. There is a Bonus supermarket for supplies.
I recommend wandering around the historic wooden buildings, seeing the futuristic church Stykkishólmskirkja, and walking around the harbour and up the steps at Sudansey cliff for views of the charming town.
We had coffee and cake at cosy Cafe Nu, which has sadly now closed.
If we'd had more time, we would have visited the unusual Library of Water. Another quaint museum Norska Húsið (Norwegian House) may also be worth a visit.
From Stykkishólmur we took the 2.5 hour Baldur ferry across Breidafjordur bay to the Westfjords and continued our Iceland road trip.
You can also stop off at the remote Flatey Island.
14) Road 56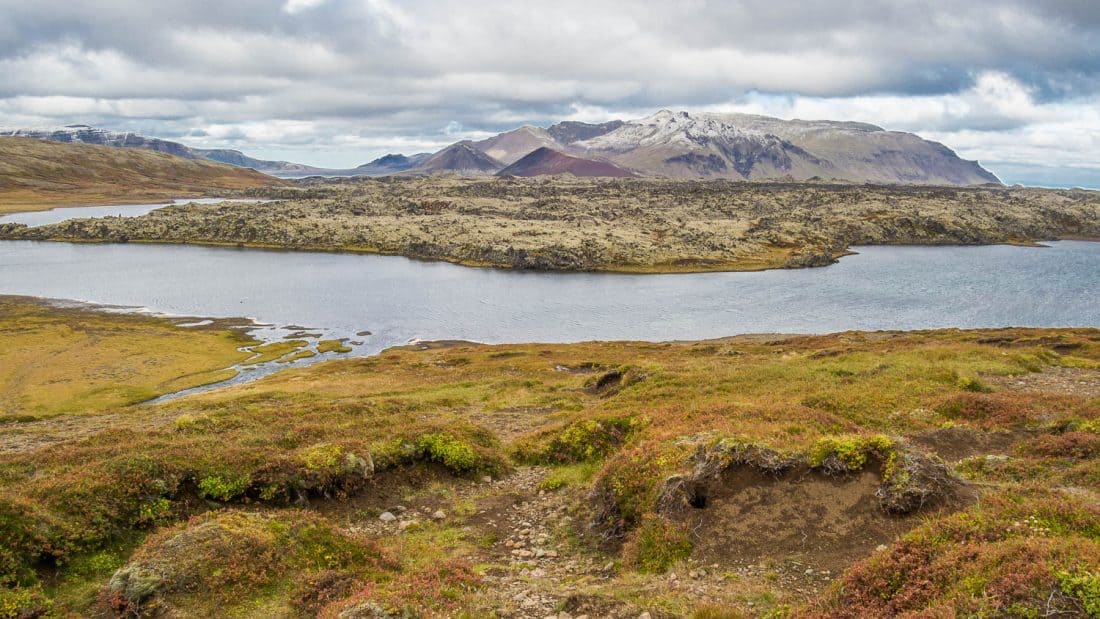 It's hard to pick a favourite in an area of stunning drives, but Road 56 was probably the most scenic we drove in the Snæfellsnes.
The mountain pass connects the north and south coasts of the peninsula and has incredible views.
We ate our packed lunch at a viewpoint overlooking a lake with a backdrop of green and red and snow-sprinkled mountains and the Berserkjahraun lava fields.
Snaefellsnes Peninsula Map
Where to Stay in Snaefellsnes Iceland
The Snæfellsnes Peninsula is small enough that you could use the north or south coast as a base.
Most people stay on the north coast where there are a few small towns—Stykkishólmur and Grundarfjörður have the most choice of accommodation.
We're glad we stayed on the more isolated south coast—just stock up before you arrive as there are no shops.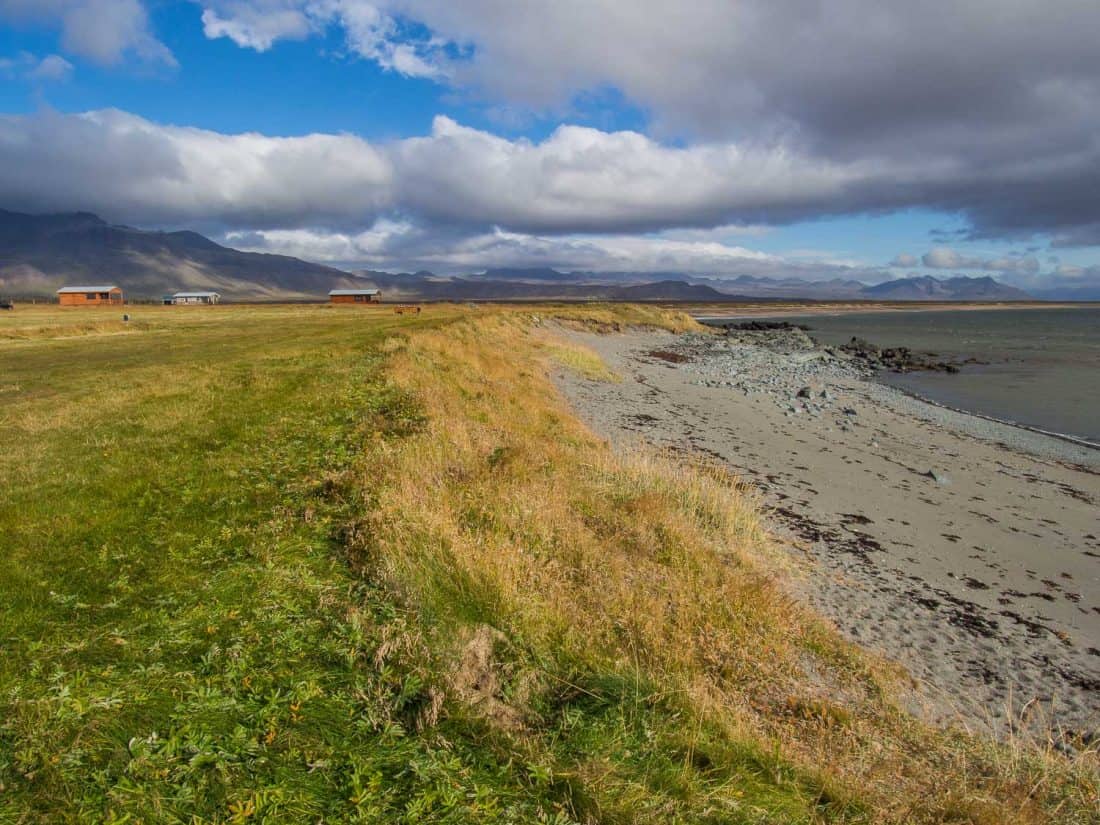 We stayed in a cabin at Tradir Guesthouse, but it has sadly closed.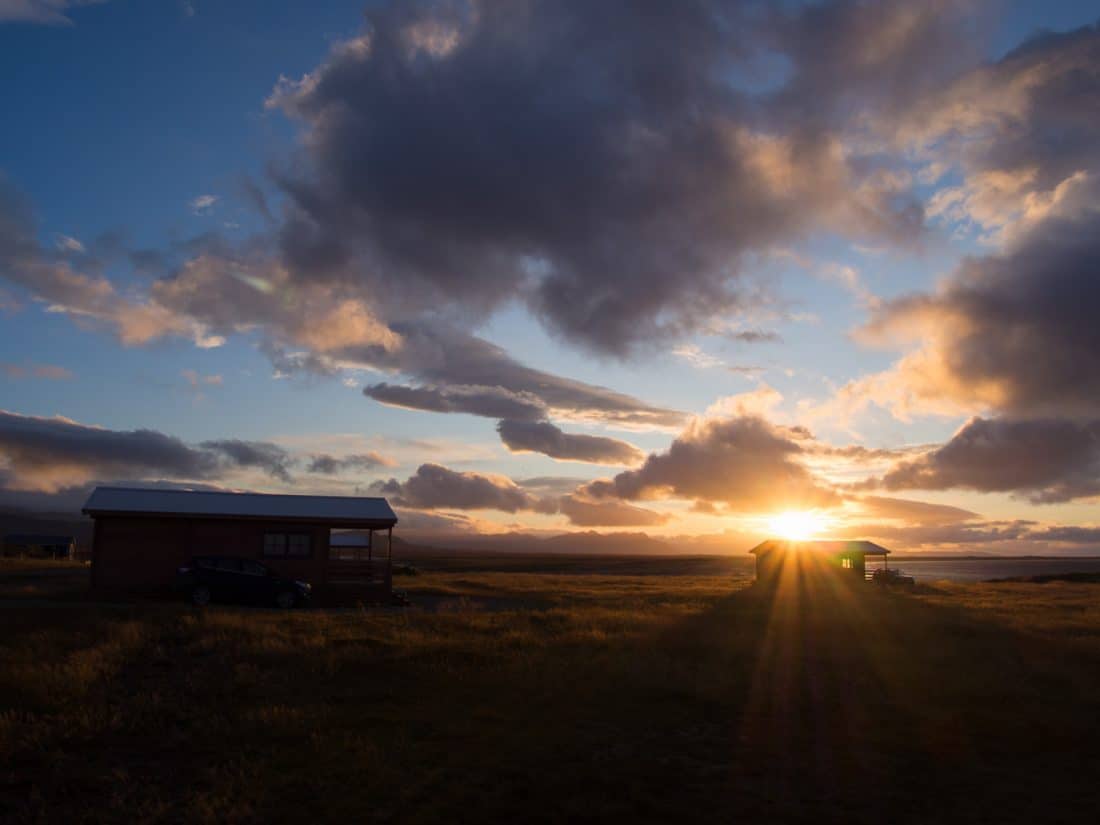 Snaefellsnes Accommodation
As we're vegetarian and wanted to stay in more remote locations, we chose self-catering accommodation.
You can search on Vrbo for cottages to rent.
For hotels and guesthouses on the peninsula, look on Booking.
Here are a few suggestions of highly rated places to stay:
Budget
Guesthouse Hof – A budget option with rooms with shared bathroom, kitchen and jacuzzi. In a quiet location near the seal beach on the south coast.
Kirkjufell Guesthouse – Simple double rooms with private bathrooms, shared kitchen, and views of the famous mountain.
Mid-Range
Arnarstapi Cottages – Tiny but cute cottages near the Arnarstapi to Hellnar hike.
Hotel Búdir – Comfortable rooms in an isolated and gorgeous location amongst the lava fields near the black church. There are outstanding views and an onsite restaurant. A good place for seeing the northern lights.
Is Snaefellsnes Peninsula Worth It?
Yes, Snaefellsnes Peninsula is absolutely worth visiting! It's a magical place with so much to see and do in a compact area.
It's easily accessible from Reykjavik and the airport and can be visited year-round. We'd love to return in winter to see it covered in snow!
I hope I've inspired you to visit beautiful Snaefellsnes. Let me know your favourite stops in the comments below.
More Iceland Tips
If you enjoyed this post, pin it!