This page contains affiliate links. Please read our disclosure for more info.
We visited Colmar on a whim. I saw a photo of this small town in the Alsace region of France, close to the German border, and decided we should visit without knowing much about it. It was a good decision.
Colmar is so pretty that it doesn't feel real. Said to be one of the places that inspired Disney's Beauty and The Beast, it certainly feels as if you've stepped straight into a fairytale.
Cobblestone streets run next to canals lined with half-timbered houses in shades of rose, sky blue, lemon, peppermint, and apricot, many dating back to the 14th century.
The olde worlde buildings are distinctly Germanic but feature elegant French shutters. It can be hard to remember you're in France, but locals speak French, and the bakeries are full of croissants and pain au chocolate.
In this guide, you will find out the best things to do in Colmar, where to stay and where to eat. At the end, there is a map with everything mentioned.
Contents
Where is Colmar, France?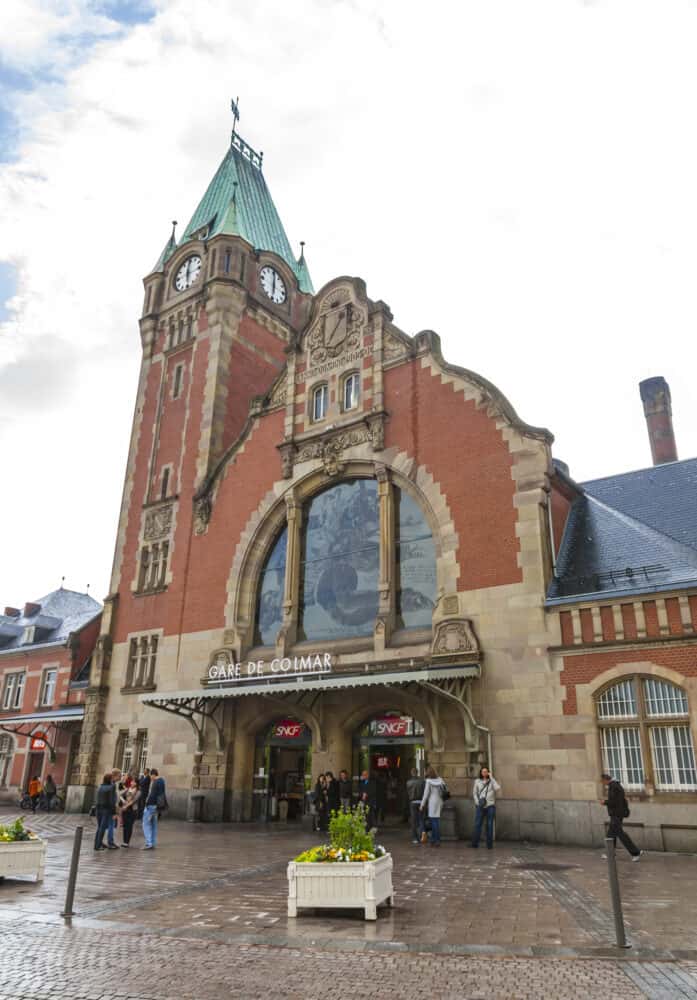 Colmar is in the North-East of France along the border with Germany in the Alsace region. It is also close to Switzerland.
Given its location and convenient train station, 10 minutes walk from the town centre, visiting Colmar could not be easier.
You can book all trains on the SNCF website.
We visited Colmar as part of a month-long train trip around Europe. If you are doing something similar then we would recommend getting an Interrail (EU) or Eurail (Non-EU) pass.
From Paris: The Paris to Colmar train journey is 2 hours and 20 minutes on the TGV. Most trains require you to change at Strasbourg, but there are a few direct trains from Paris Gare de l'Est. Single fare from €60-€115 (£50-£95).
From Strasbourg: The train from Strasbourg is a short 30-minute ride with regular trains throughout the day. Single fare from €5-€15 (£4-£13).
From Basel: 43 minutes by train. Single fare from €5-€16 (£4-£14).
History of Colmar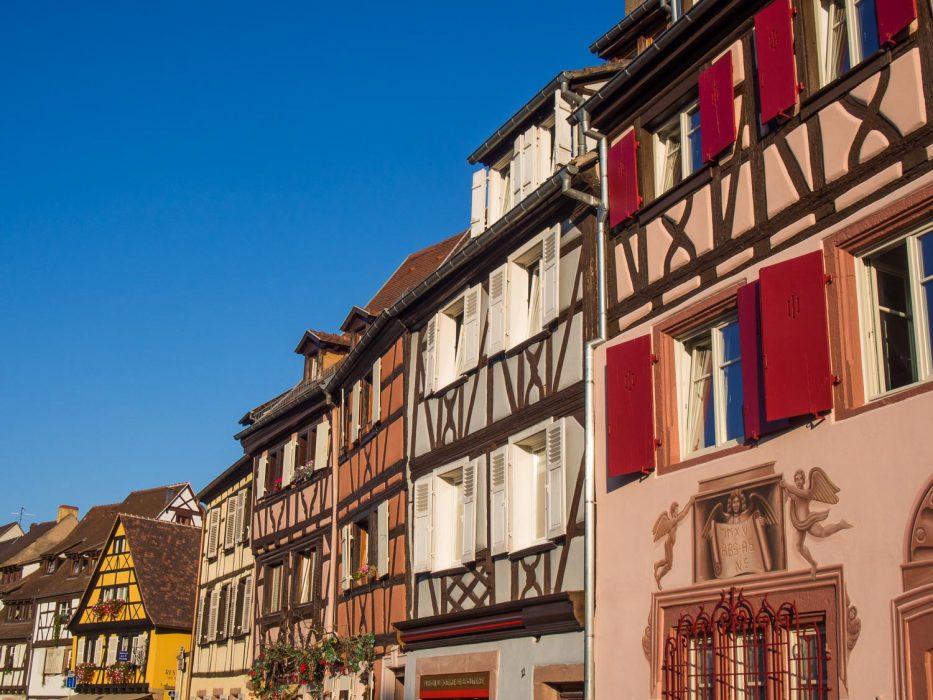 It is no surprise, given its location, that the village of Colmar has had an eventful past with France and Germany, passing between the powers over the centuries.
In 1673, France conquered Colmar, only for Germany to claim the Alsace region in 1871. Germany retained the town until after WWI, when it returned to the French.
Inevitably Colmar was re-occupied by the Germans during WW2. The last town in France to be liberated at the end of the Second World War, it has remained under French control ever since.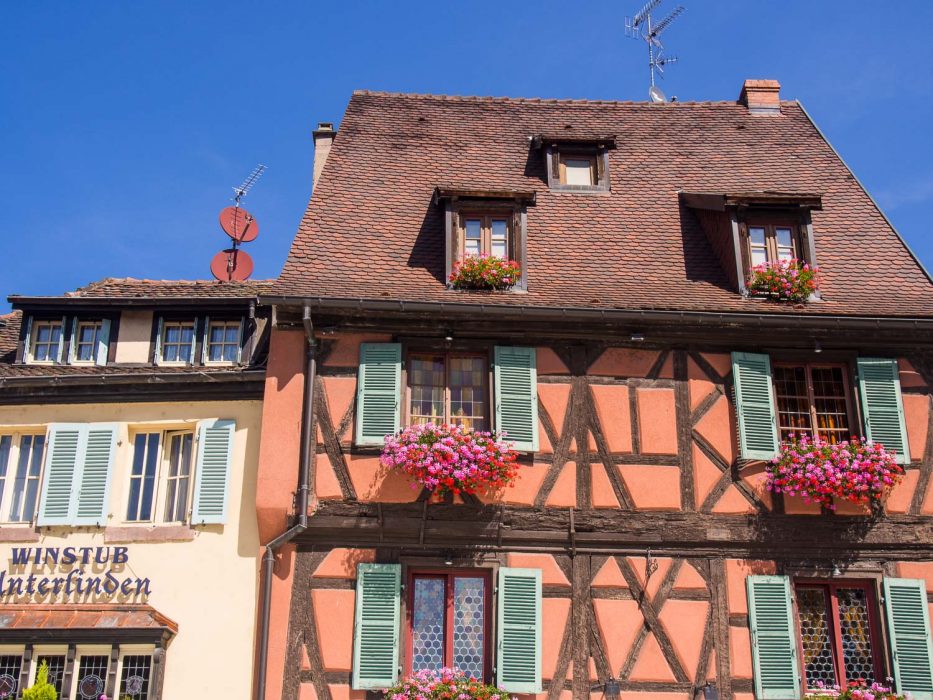 This dizzying history with its blend of influences is on full display throughout the town, through its buildings, food, drink and culture.
The Best Things to Do in Colmar
1) Admire the Attractively Decorated Architecture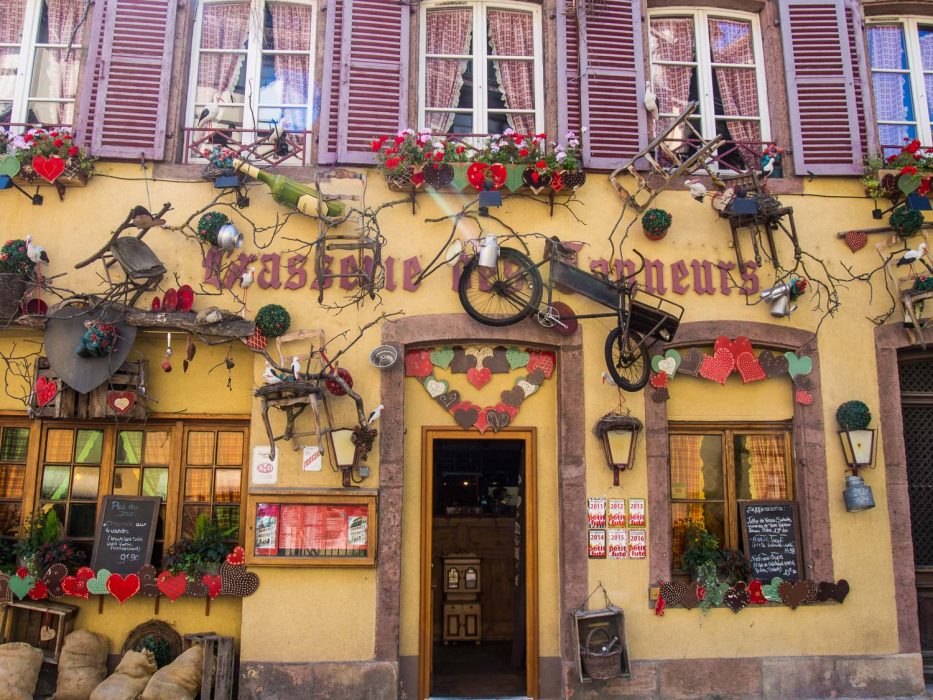 Whilst Colmar is a compact place to explore, you could easily spend a whole day wandering and admiring the architecture alone.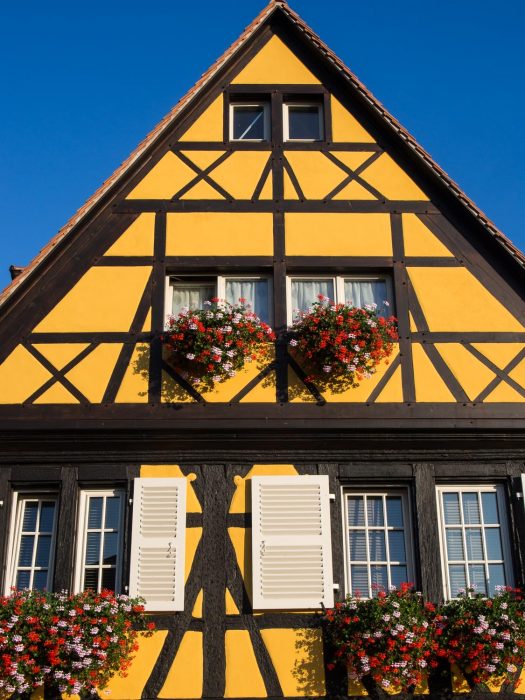 Not only can you see the German-French influence, but the buildings trace back to medieval and Renaissance roots.
During the Renaissance, when the town was prosperous, citizens were urged to put their wealth on display through their decorations.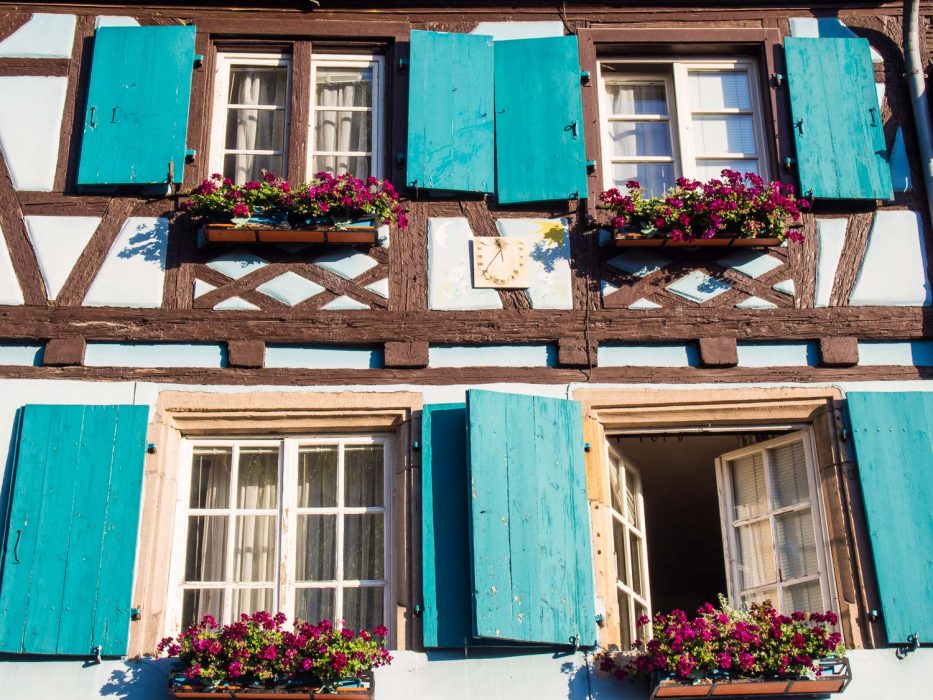 Locals are still rightfully proud of their attractive homes, decorating them with pots of geraniums, colourful shutters, wrought iron lamps and signs, and often even more bizarre adornments.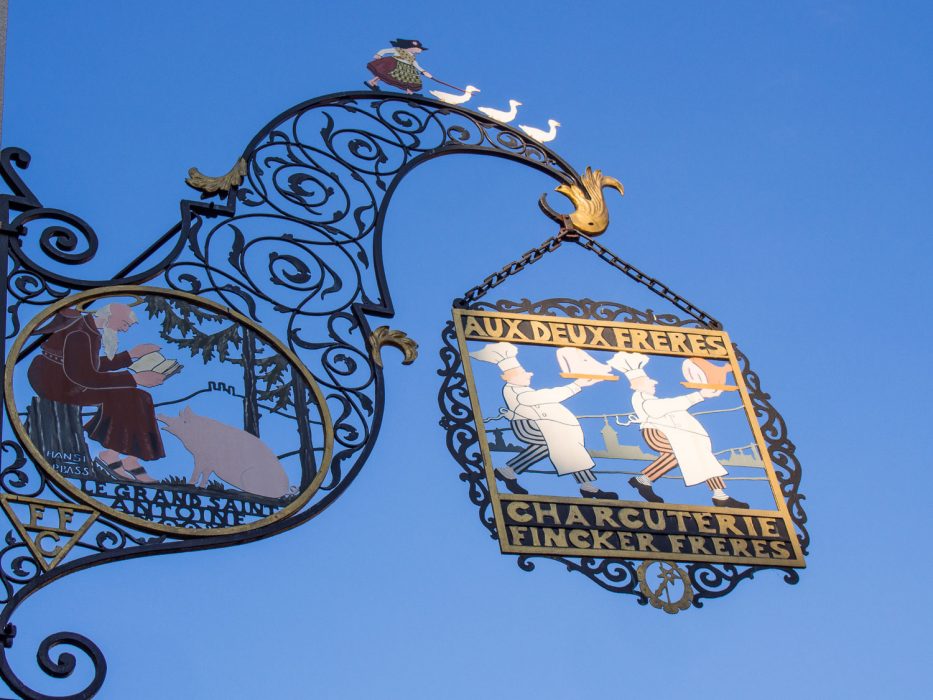 As we wandered the streets, we felt like we'd stepped into the pages of a picture-perfect fairytale.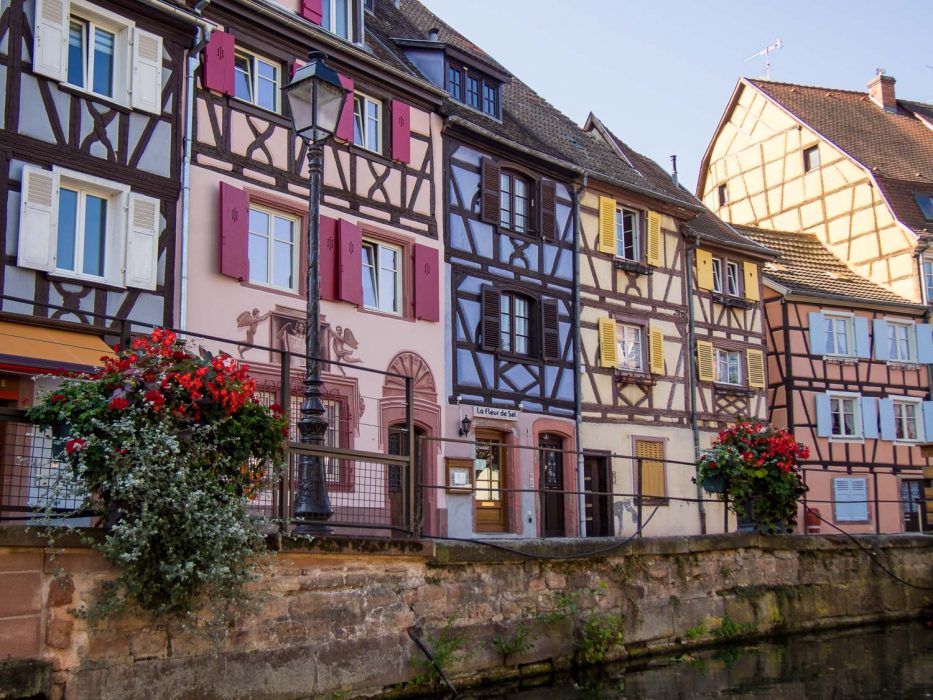 2) Explore Little Venice Colmar by Boat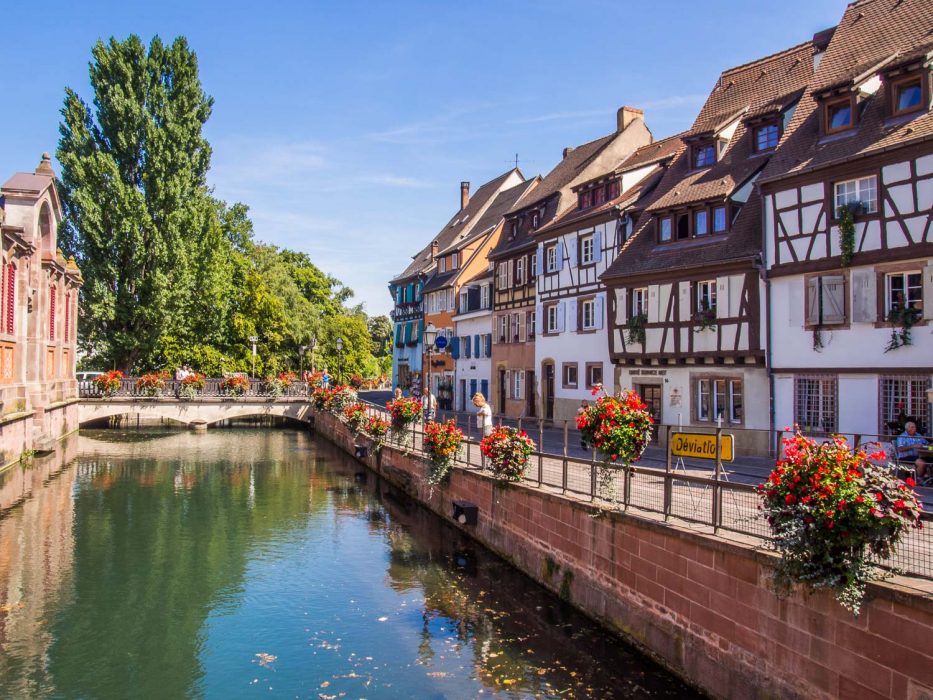 The most picturesque area of Colmar is Little Venice, a short but charming canal with the river Lauch stretching between Pont Saint-Pierre and Rue des Tanneurs.
Merchants used to sell their wares from flat-bottomed boats along the canal. Interestingly, the different coloured buildings represented the traders who occupied them: blue for fishmongers, white for bakers, yellow were cheesemakers, green for grocers, and pink for the less ahem family-friendly type of trade!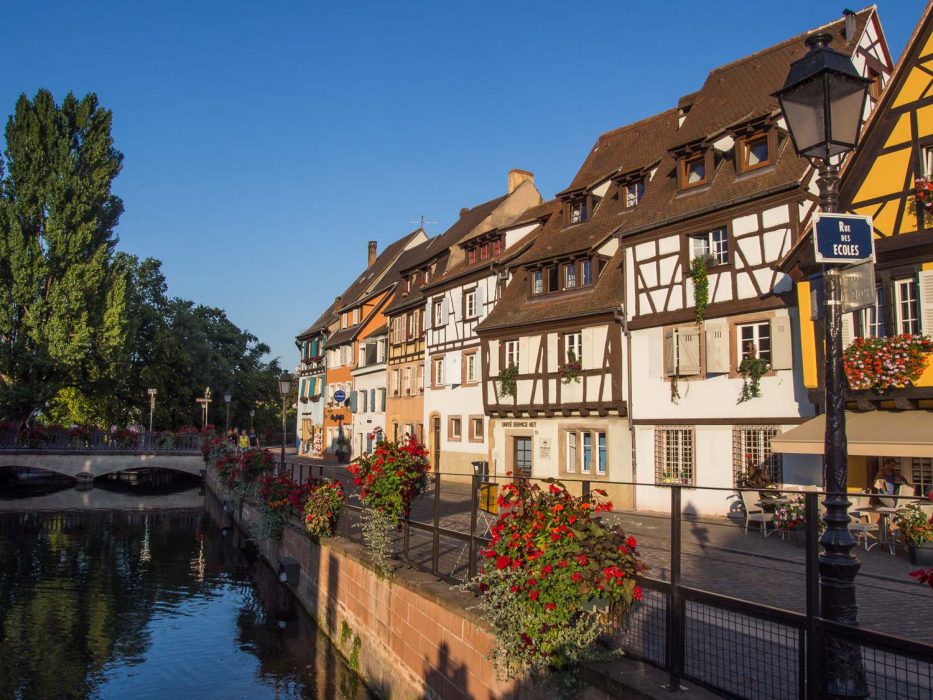 We enjoyed the view from the bridge at Quai de la Poissonnerie and got another perspective from the water on a 25-minute boat ride.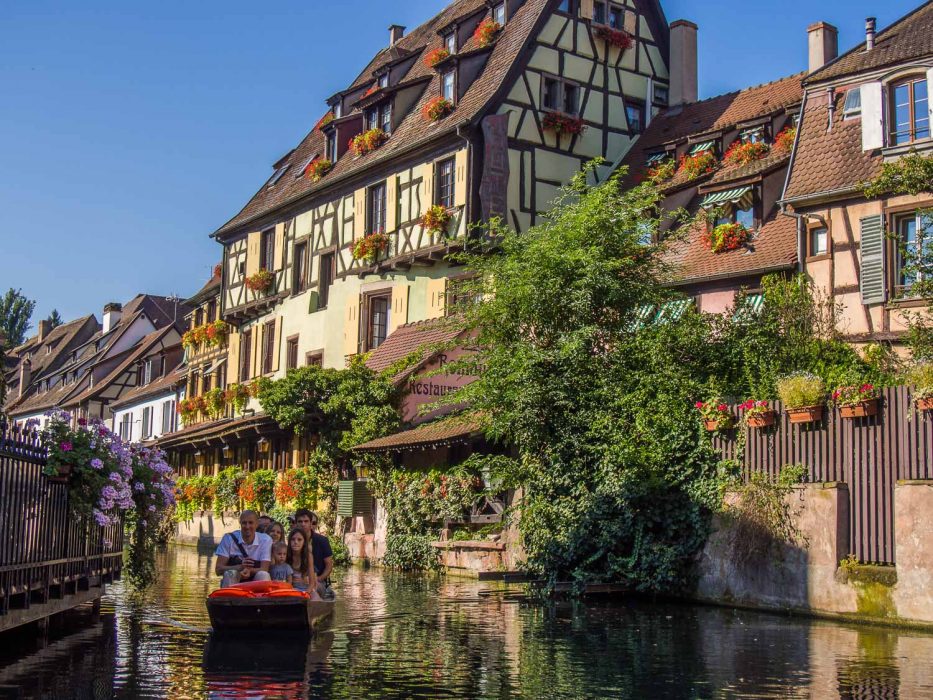 We took a boat trip with Sweet Narcisse, which cost €7 for 25 minutes (€4 for children 4-10, free for children under 4). Tours run every 15 minutes from 9.45am – 11.45am/ 1.45pm – 6.45pm in the summer. Times vary in winter. Booking online is advised.
3) Take a Self-Guided Tour of the Historic Centre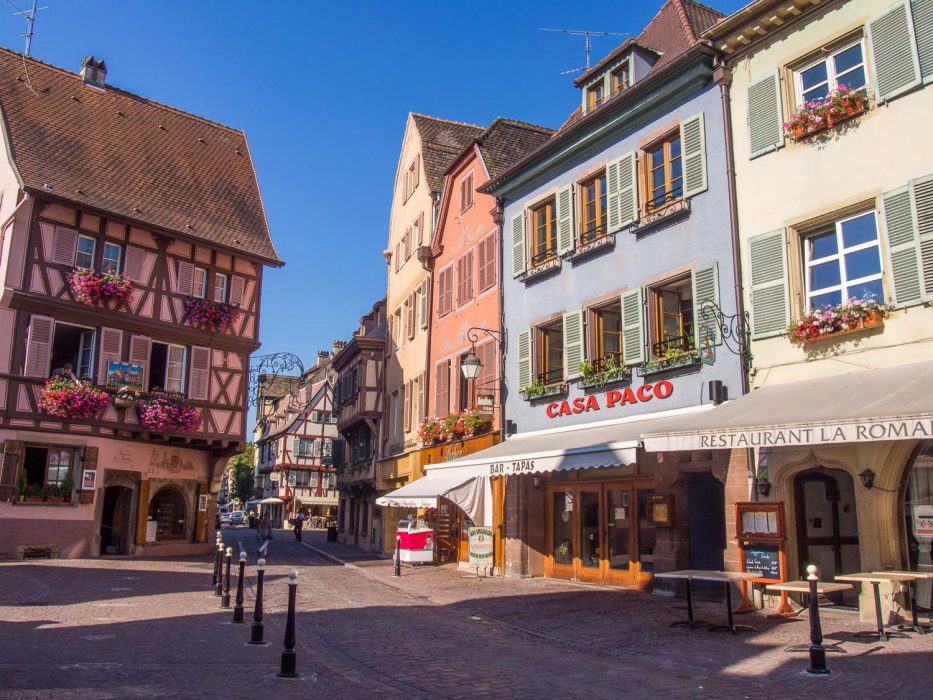 Colmar's historic centre is pedestrianised and compact—we never ended up more than 15 minutes from our apartment. The streets are lined with cobblestones, so it's easy to feel like you've stepped through time.
We followed the self-guided walking tour on a map from the tourist office multiple times during our two-day stay. The Discovery Trail is handily signposted with gold triangles and an etching of the Statue of Liberty.
The famous statue's sculptor Auguste Bartholdi was born in Colmar. A miniature replica of Lady Liberty welcomes people into the north of Colmar.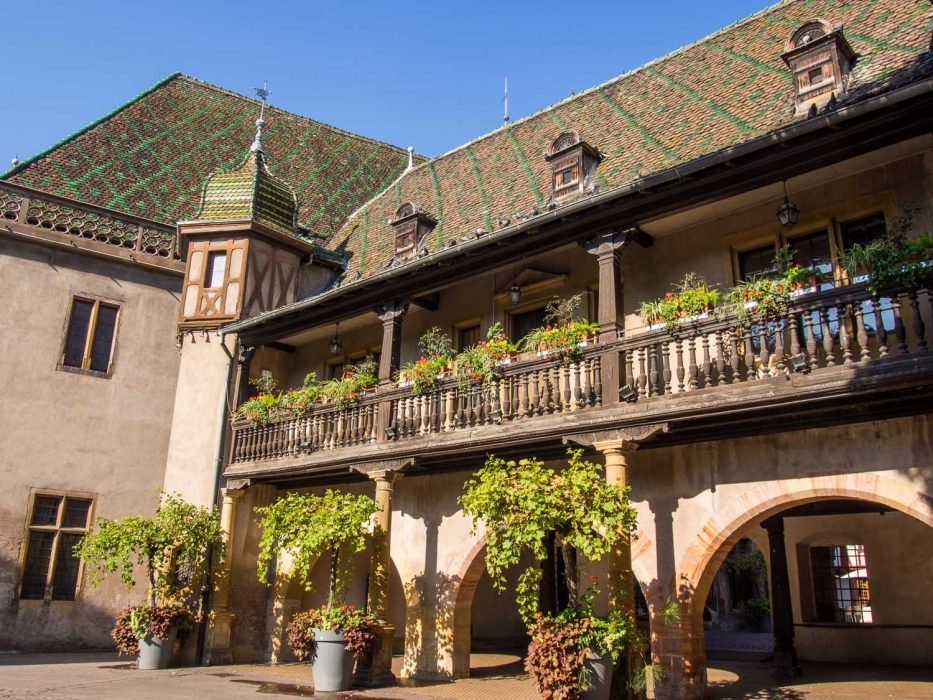 The best Colmar attractions in the historic centre include the Koïfhus (The Old Customs House, the oldest public building in Colmar dating back to 1480), the Tanners District, the Pfister House, the House of Heads and the Covered Market.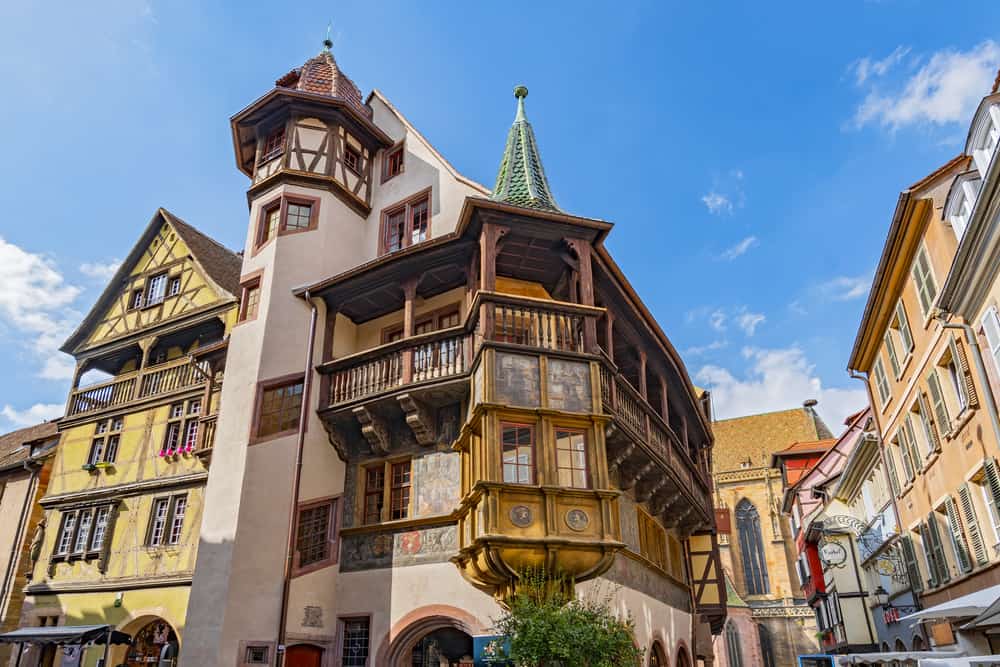 Be sure to visit the Schwendi Fountain, designed by Auguste Bartholdi in 1898. Although not officially the fountain that inspired the one featured in Beauty and the Beast, it's so uncannily similar that it's one of the best Colmar tourist attractions for Disney fans!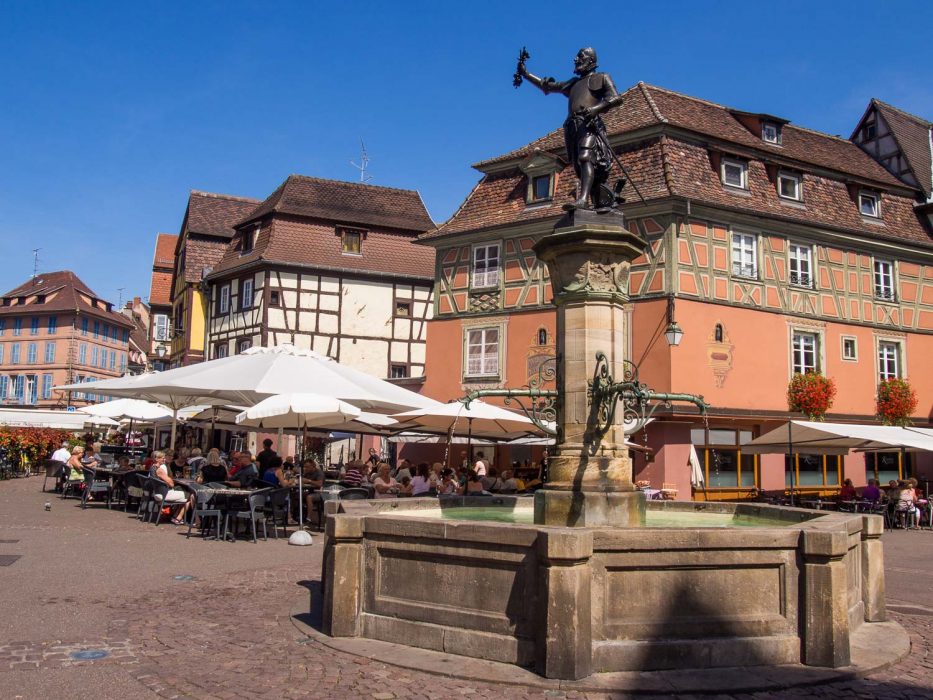 The afternoons can get busy, mainly with older holidaymakers from France and Germany following the Alsace wine route, but the crowds never felt overwhelming.
At 7 am on my morning run, I had the streets to myself; even at 10 am, they were quiet.
To learn more about the history of Colmar, why not try this private guided tour, or try this fun self-guided scavenger hunt for those who want to channel the Davinci Code!
4) Visit Saint Martin and Saint Matthieu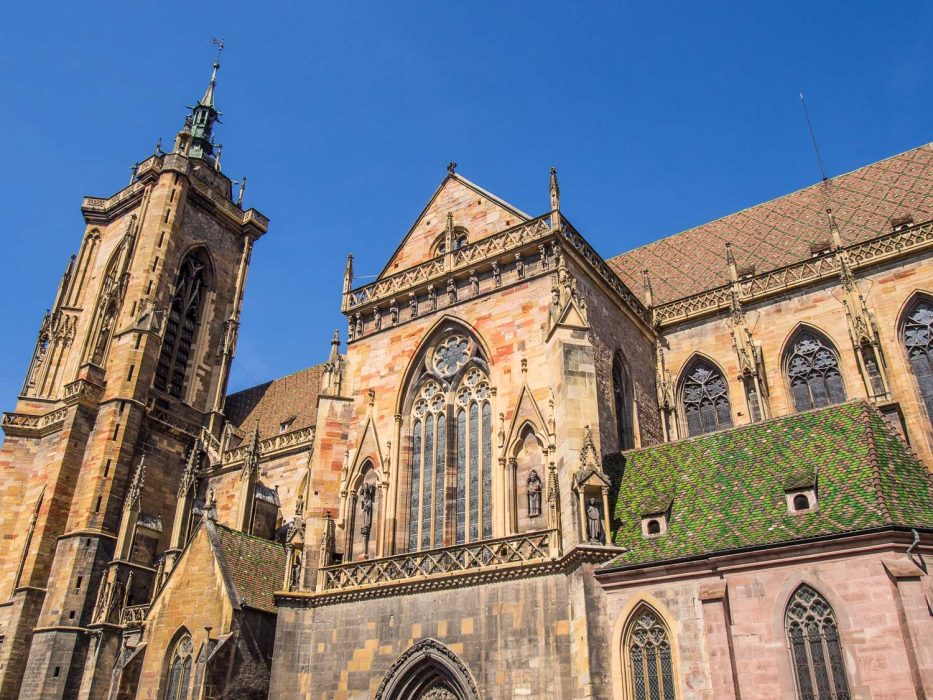 Despite its small size, the town features two substantial 13th-century churches, Gothic Saint Martin (often mistakenly called the cathedral) and Protestant Saint Matthieu.
Roman catholic Saint Martin was built between 1235 and 1365 and has been restored several times over the centuries. It's a striking church built in the gothic style with red and gold stones. Look out for the Alsation colourful roof tiles.
Saint Matthieu protestant church was constructed in 1292. It has had several renovations through the ages, including a ceiling lowered and re-raised and converted into a hospital in the 16th century.
It's an impressive building to visit with a famous Silbermann organ from 1732. With its superb acoustics, the church is one of the main venues in Colmar's annual International Music Festival.
Both are free to enter and explore and worth adding to your Colmar itinerary.
5) Make a Gourmet Picnic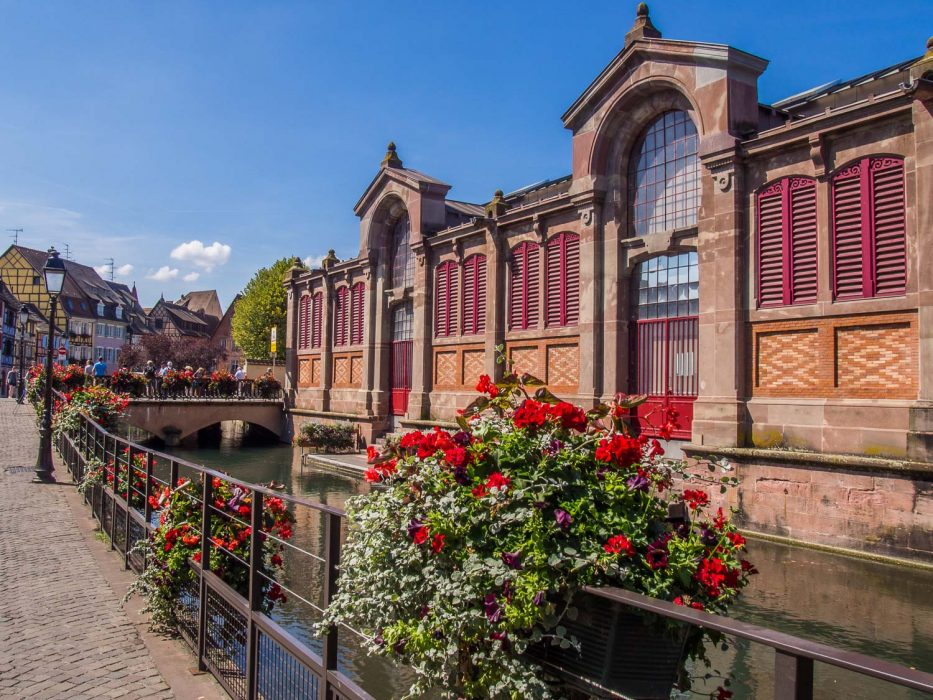 The centre is full of classy boutiques and shops selling local gourmet products—white wine, cheese, sausages, chocolates, salted caramels, jars of sauerkraut, and bretzels (salty or sweet pretzels).
The covered market is an excellent place to pick up picnic supplies, perfect for a bike ride (see below).
7) Visit Eguisheim Village by Bike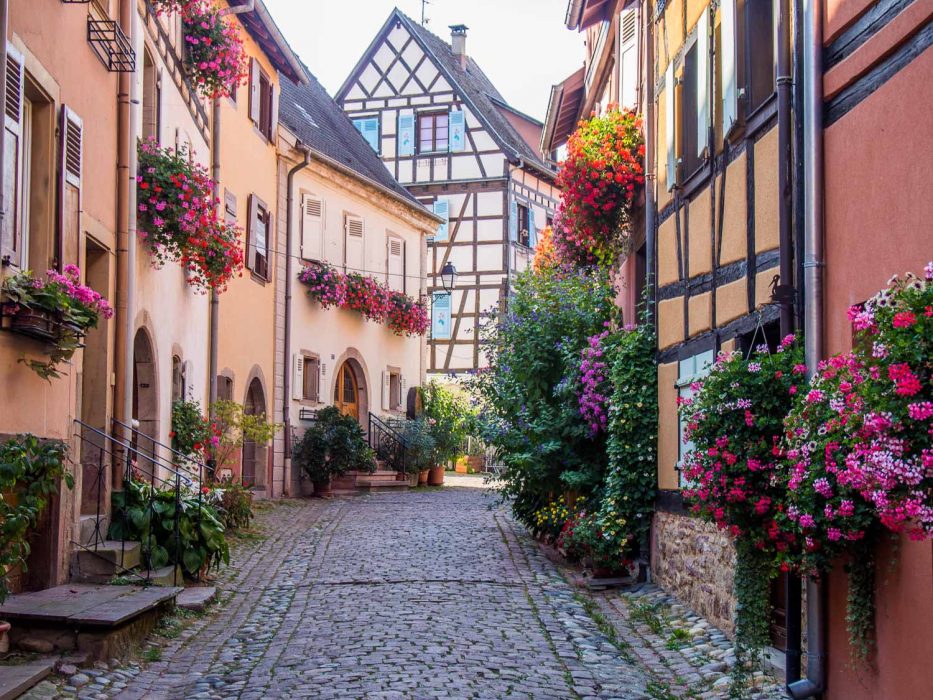 One of our favourite things to do in Colmar was hiring bikes to cycle to one of the nearest villages on the Alsace wine route, Eguisheim.
We didn't think it was possible, but the quiet village of Eguisheim is even cuter and prettier than Colmar.
The colourful, half-timbered houses are similar to Colmar's, but the narrow cobblestone streets run in concentric circles around the central square.
The flower displays are even more extravagant, and some of the 16th-century buildings tilt precariously.
Eguisheim is 7km from Colmar along a flat route. It took us 25 minutes to cycle along the main road (the Alsace wine route).
It was a bit busy but had lovely views of the hills and vineyards. On the way back, it took us 30 minutes on a much quieter route along the river and through corn fields and vegetable farms.
We rented bikes from Colmar Velo next to the train station. A city bike costs €8 adult/ €6.50 child for a half day and €11 adult/ €9 child for a full day.
Hybrid bikes are available at €13 adult/ €9 child per day, and electric bikes are €33 adult/€9 child per day. You need ID and a €150 deposit per bike (by card is fine).
Advanced booking is recommended, and rentals include a map, helmets and a puncture repair kit. Child seats are also available upon request for €4 per day.
Why not pair a bike ride with a wine tasting tour with this Alsace Vineyards and Wine Villages Private Bike Tour that starts just outside Colmar and includes bike hire.
8) Go Wine Tasting Along the Alsace Wine Route
Stretching 170km from North to South of the region (Strasbourg to Colmar), the Alsace Wine Trail is the oldest wine route in France.
The famous route takes in Colmar and other picturesque wine-growing towns and villages (a whopping 70+!) and winds through lush green hills and vineyards.
The region produces delicious dry whites, sweet sparkling varieties, and rosés. Unsurprisingly you will also find outstanding Rieslings, Gewurztraminers, and Pinot Gris.
Exploring the wine trail further is more than enough enticement for us to return to the Alsace region!
Why not try this 4 Wonders of Alsace tour that offers pickup/ drop offs from your accommodation in Colmar.
Where to Eat in Colmar
Restaurants are quite expensive, and as the local cuisine isn't ideal for vegetarians, we stuck to homemade meals of baguettes, cheese, and salad (the Monoprix is also good for supplies).
Organic restaurant L'Arpege has a vegetarian lunch menu, but it was fully booked when we visited.
We did enjoy an aperitif of local white wine, cheese, and tasty vegetable dips at L'Un des Sens wine bar.
Other popular food and drink places in Colmar include:
Where to Stay in Colmar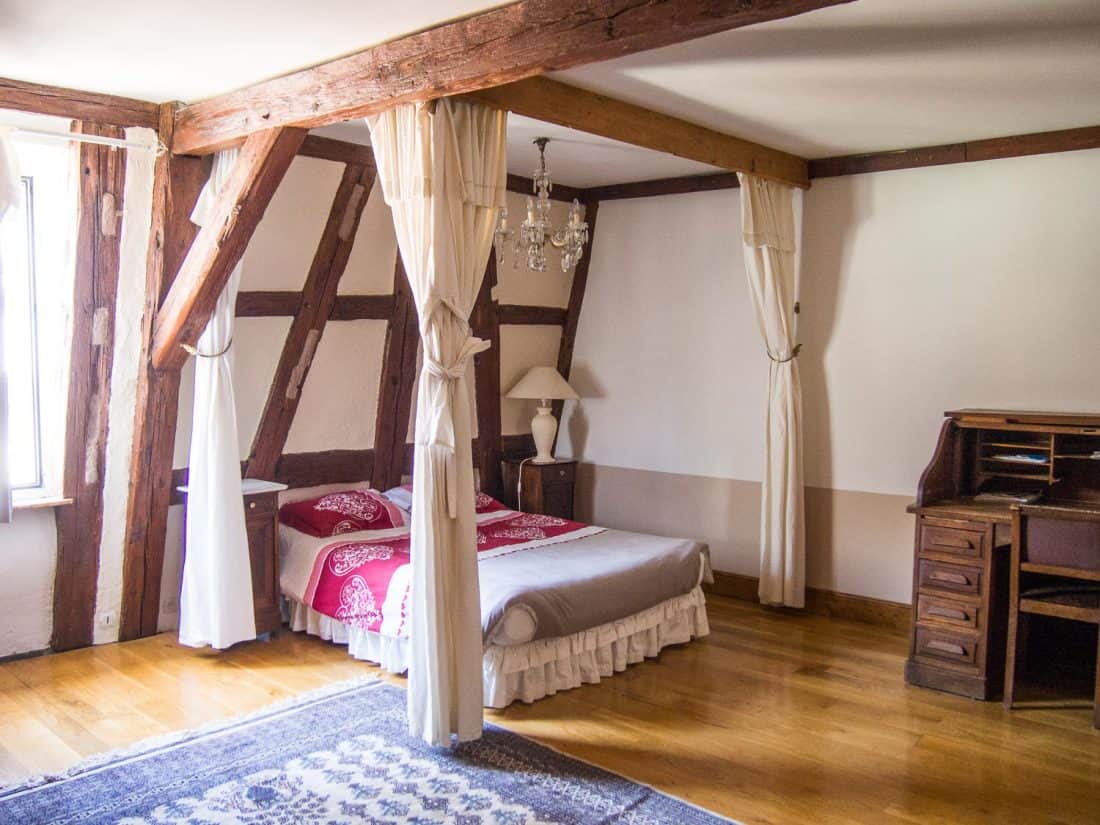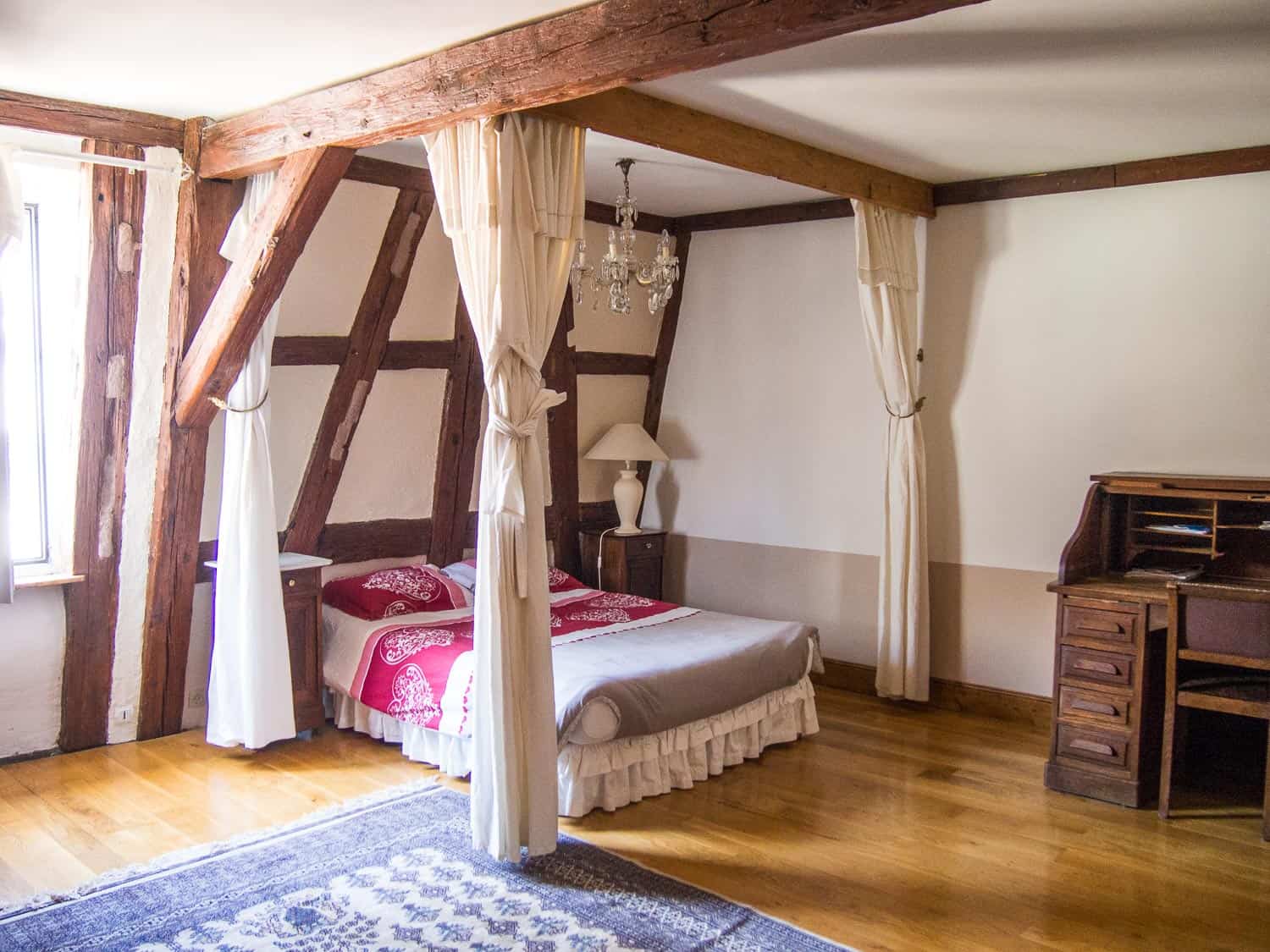 Basing yourself in the historic centre or Little Venice makes sense, given all the main attractions. However, like in any touristy neighbourhood, the accommodation will be more expensive.
Staying in Saint-Léon, North Colmar, or near the train station will give you less pricey options.
You will most likely be in a charming historic building wherever you decide.
We stayed in an apartment in an atmospheric old building on Rue Des Têtes. Unfortunately, the exact place is no longer available, but the highly rated Appartements des 2 Têtes are in the same building and have modern amenities. The location is ideal.
Other Colmar Accommodation
Some other tempting hotel and self-catering options include:
Search for more apartments and hotels in Colmar here.
Colmar Alsace France Map
Is Colmar Worth Visiting?
Yes, absolutely! We only had two nights in Colmar, but if we had more time, we would have explored more of the pretty Alsace wine villages such as Ribeauvillé, Riquewihr, and Kaysersberg.
Colmar is one of the most picturesque towns we've visited. A fairytale land that doesn't feel quite real.
More France Posts
If you enjoyed this post, pin it!