This page contains affiliate links. Please read our disclosure for more info.
Paris lives up to the hype. The elegant boulevards, iconic architecture, beautiful parks, and delicious food really do make this a magical city and one we never tire of exploring.
Even if you only have one day in Paris (perhaps on a London to Paris day trip), you can still see (and eat) a lot.
On our last visit, we had one full day in the city on our way from London to Italy by train.
We focused on the major sights and put together an itinerary that would be ideal for first-time visitors to Paris wanting to make the most of a short stay.
In this post, you will find our perfect Paris day trip itinerary, a loop that takes you to the city's classic sights and beautiful neighbourhoods with some tasty treats along the way.
At the end, there is a map with everything mentioned.
Contents
When to Visit Paris
Our Paris in one day trip was in April, but you could follow this route at any time of year—just dress appropriately.
In spring, wear layers as the weather is very changeable—we had a mix of sun and clouds with variable temperatures.
Our packable down jackets were ideal as when Simon got too hot, he could stuff his inside our daypack.
In winter, I recommend getting an early start to make the most of the daylight.
One Day in Paris Itinerary
We started in Jardin de Plantes as it was just across the river from our hotel, but you could start at any point. There are no ugly sections on this route—it is all gloriously Parisian.
This itinerary does involve a lot of walking—we walked about 14 miles/22.5 km (30,000 steps) in seven hours (10.30am – 5.30pm) and were exhausted by the end.
I have included suggestions of where you could reduce the route or take the metro.
I do think walking is the best way to see this beautiful city, though, and there are plenty of cafes and parks along the way for breaks.
We love exploring the city at our own pace, but if you'd prefer to have a guide show you around, this Paris Highlights tour takes you to many of the attractions we visited and includes Eiffel Tower access.
Breakfast – Blé Sucré
There's no need for a hotel breakfast in Paris—affordable bakeries selling delicious croissants and pastries are everywhere.
Luckily our favourite bakery was only a 10-minute walk from our hotel (the Timhotel Paris Gare de Lyon).
The croissants and pain au chocolat at Blé Sucré (7 Rue Antoine Vollon) were as good as we remembered—huge and perfectly flaky. As it's always busy, we took our pastries to eat in the park opposite.
See these suggestions for the best croissants in Paris if you want somewhere closer to your hotel.
Another fancier breakfast option would be Angelina tea house near the Louvre. I have included it later in the itinerary, but there's no reason you couldn't start there.
Jardin des Plantes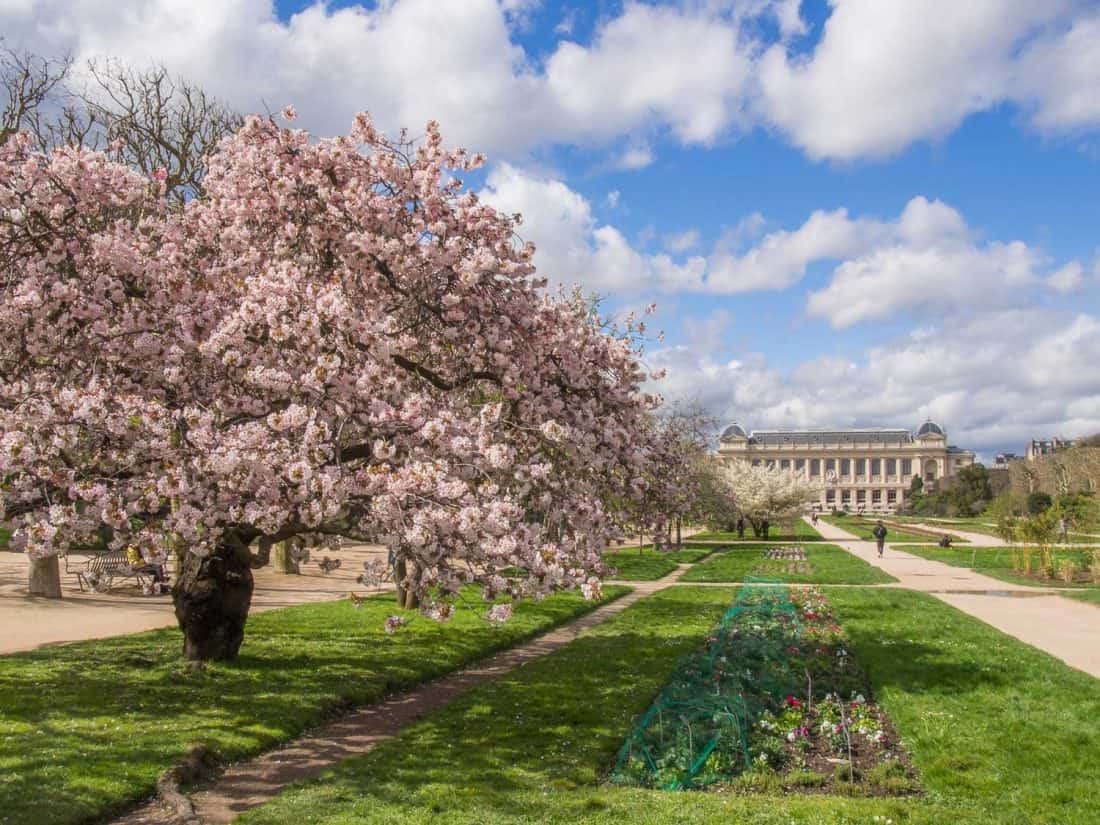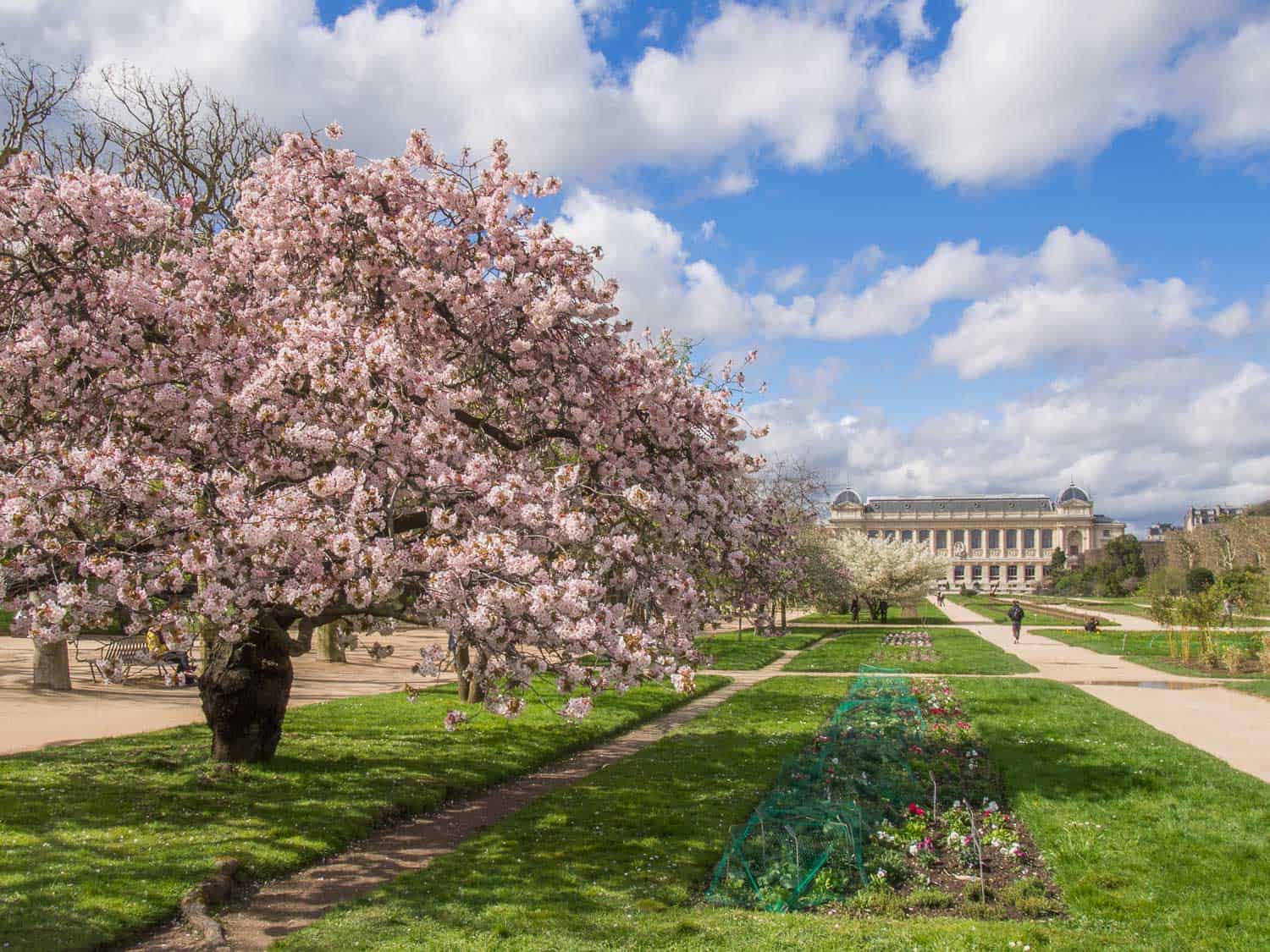 After breakfast we headed across the Seine enjoying views of Notre-Dame as we walked over the Pont d'Austerlitz.
Jardin des Plantes is the main botanical garden in France and dates back to 1626. Entry is free and it's a lovely place for a stroll.
In early April, flowers had just been planted in the formal beds that line the broad walkways and the pink and white cherry blossom trees were blooming.
You can also visit the Natural History Museum in the gardens, but it is closed on Tuesdays when we visited.
Latin Quarter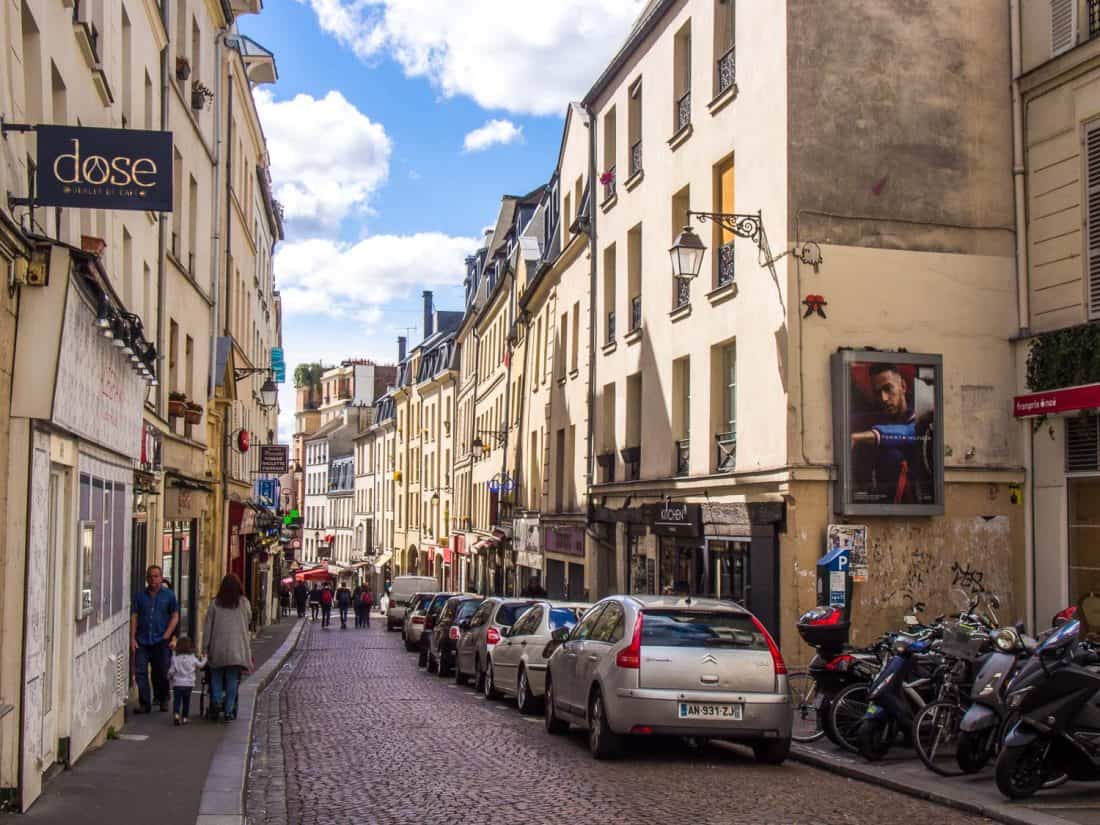 The area of Paris on the Left Bank between the Seine and Luxembourg Gardens is known as the Latin Quarter.
It's home to the Sorbonne University, one of the oldest colleges in Europe, and got its name from the theology students who spoke in Latin until the French Revolution.
This iconic neighbourhood can be touristy, but it's still charming, and the narrow winding streets are a good place to wander and discover little bistros, independent boutiques, and cosy bookshops.
The market street Rue Mouffetard is one of the most typical and historic streets to explore.
Pantheon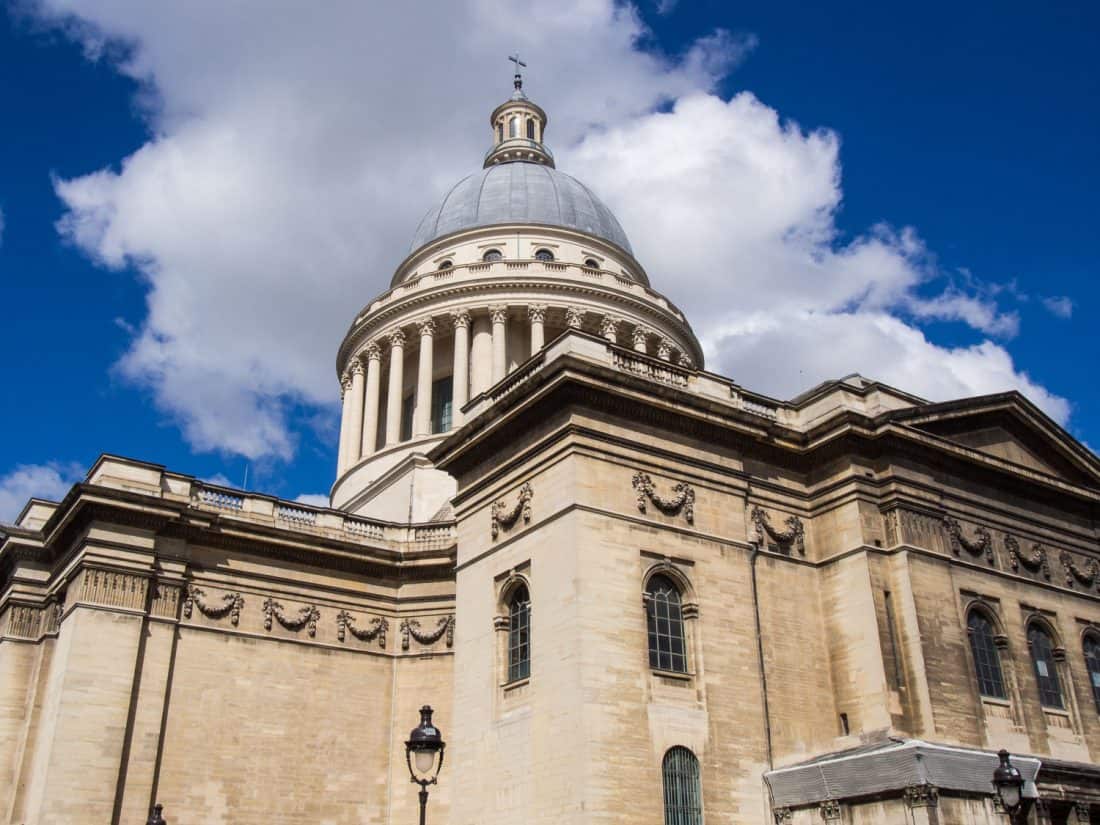 One of the major sights of the Latin Quarter is the grandiose Pantheon, which was originally a church until the French Revolution and now contains the tombs of many famous French figures including Victor Hugo, Marie Curie, and Alexandre Dumas.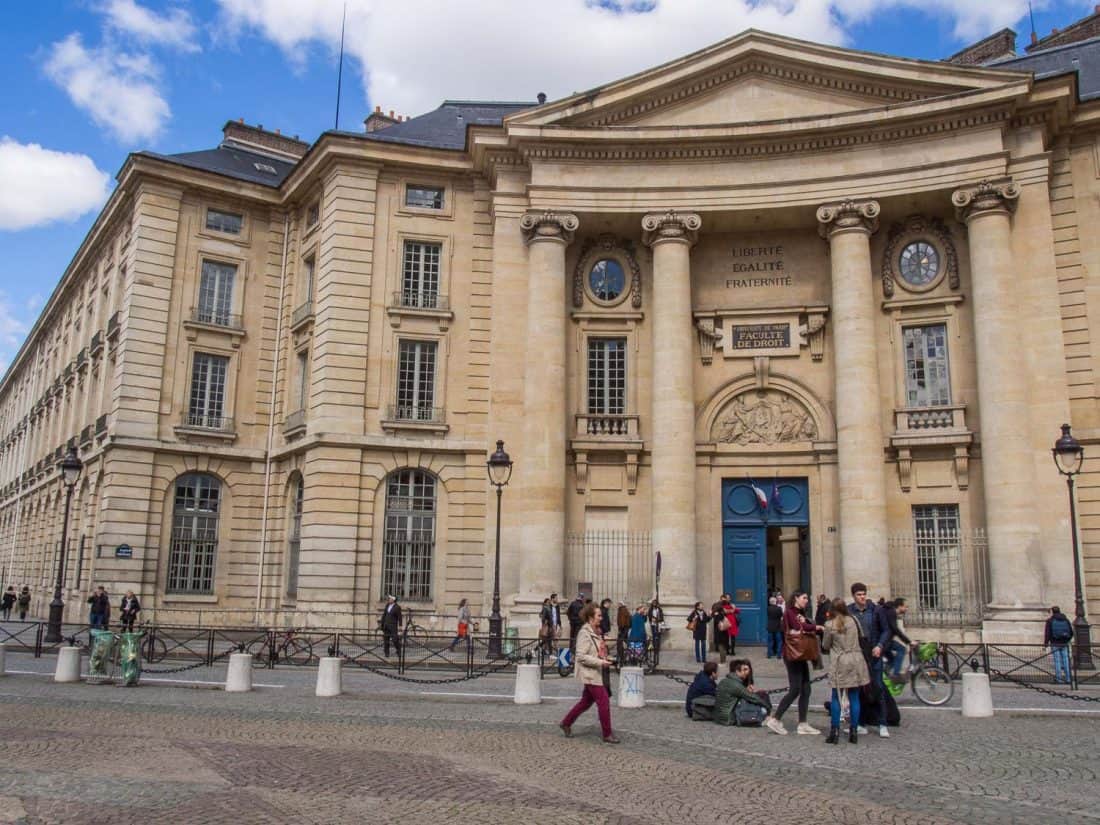 It's worth admiring the Pantheon from outside (like we did) even if you don't go inside (tickets cost €11.50 adults/ free for children).
The mammoth building is very imposing and is surrounded by more grand buildings including the curved facade of the Law Faculty of the Pantheon-Sorbonne University, the Sainte-Geneviève Library, and the Saint-Étienne-du-Mont church.
The area was buzzing with students enjoying their lunch break in the sun.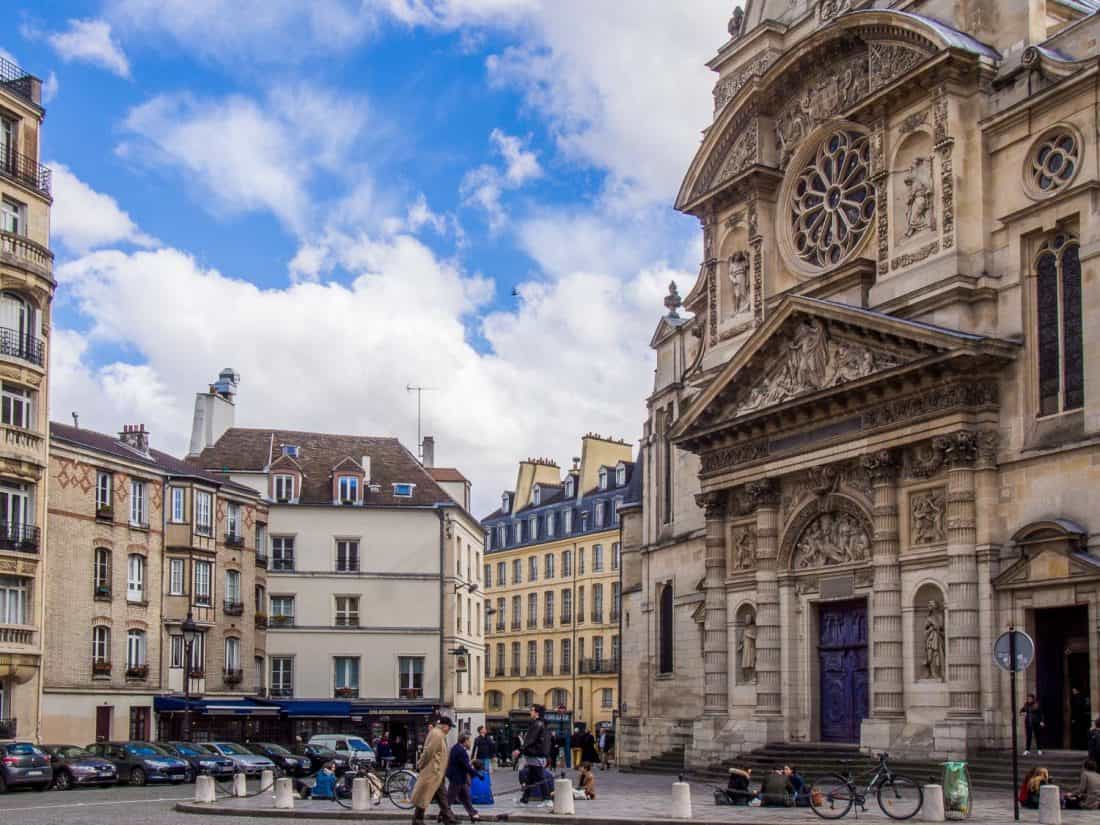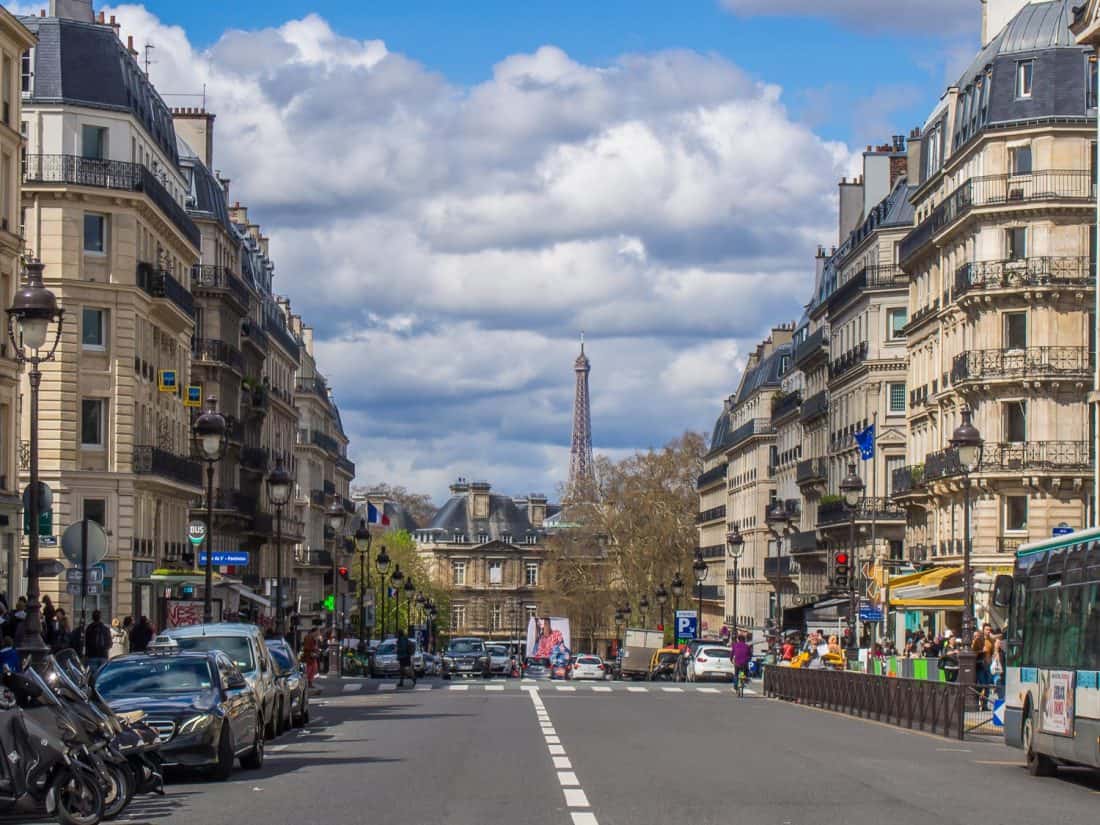 Jardin du Luxembourg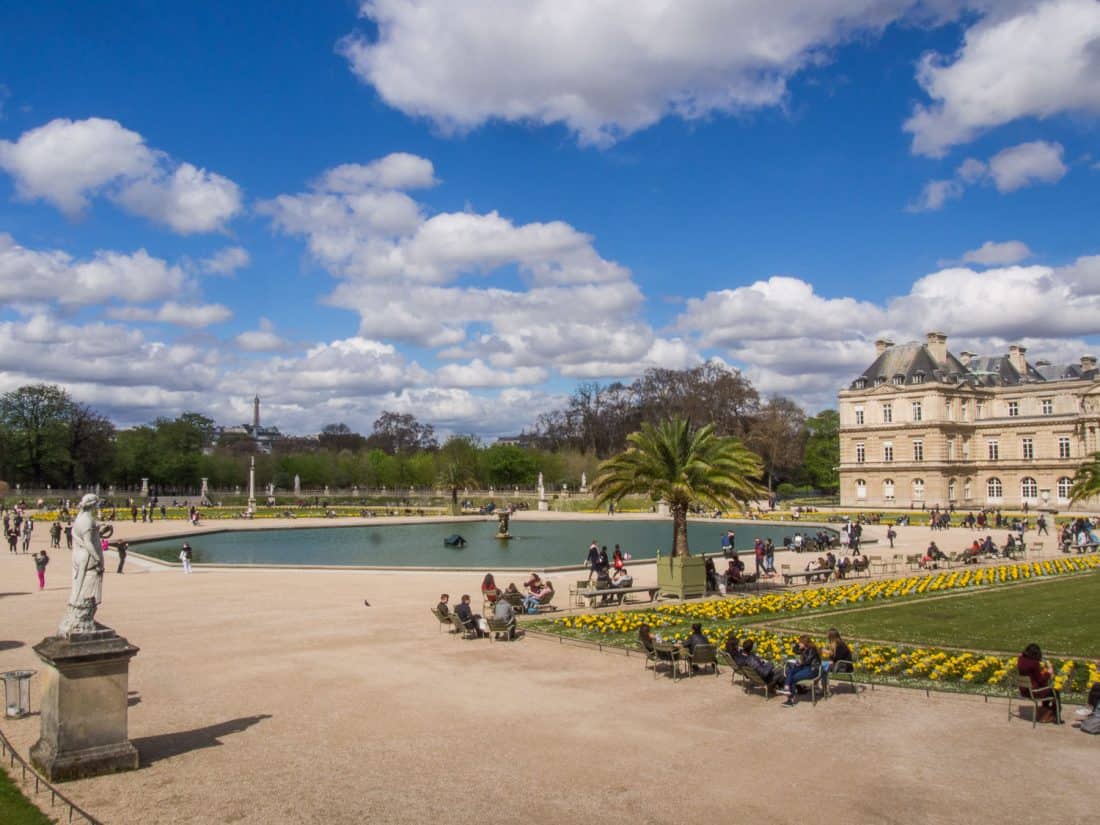 Luxembourg Gardens dates back to 1612 and is one of the most popular parks in Paris.
There's plenty to explore, but it's also a good place to take a break as there are lots of chairs, so pull one up and admire the fountains and magnificent Luxembourg Palace.
The tulips were blooming and we realised why everyone raves about spring in Paris (we'll forget about the pouring rain we arrived to the night before!).
Saint Germain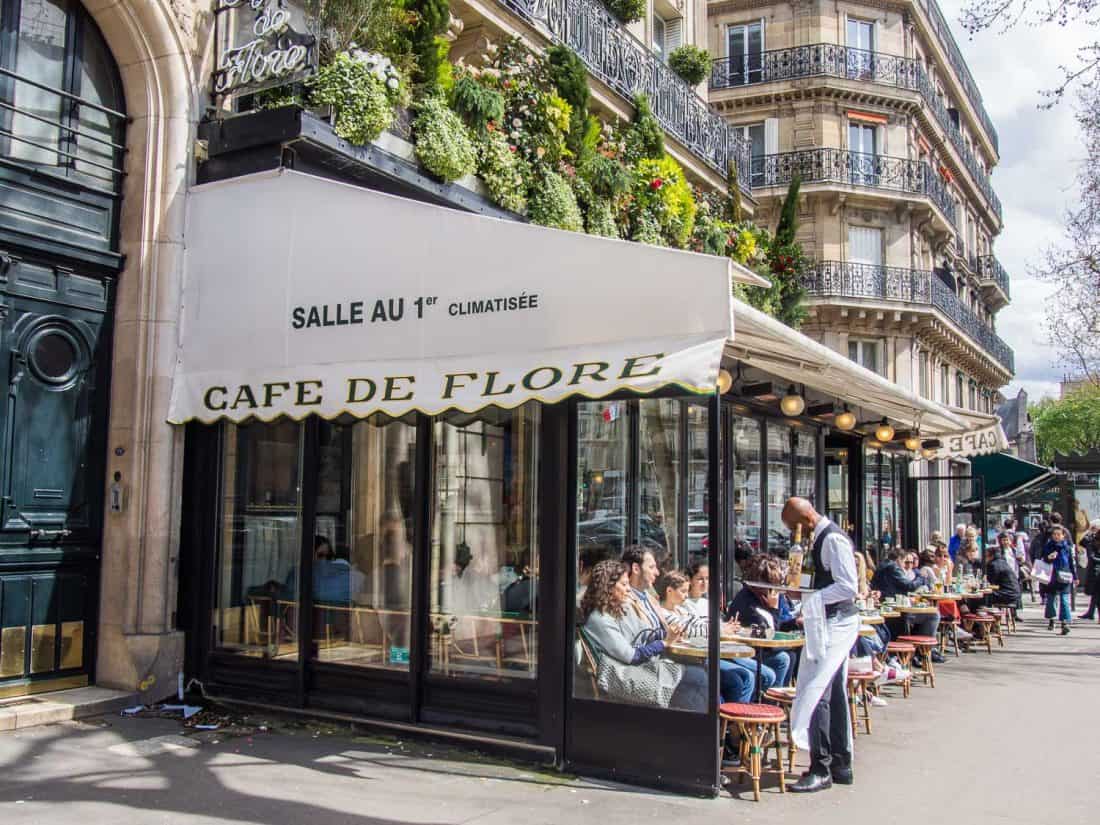 Continue through Sant Germain, the quintessential Parisian neighbourhood of elegant buildings, charming streets, and picturesque squares.
This chic area is full of interesting-looking (but pricey) shops selling antiques, clothes, paper, chocolate, macarons (Pierre Hermé is our favourite) and more.
You can take a break at one of the classic cafes like Les Deux Magots which was frequented by writers and artists including Hemingway, Sartre, and Picasso. The outdoor tables were packed on a sunny spring lunchtime.
Hot Chocolate at Café de Flore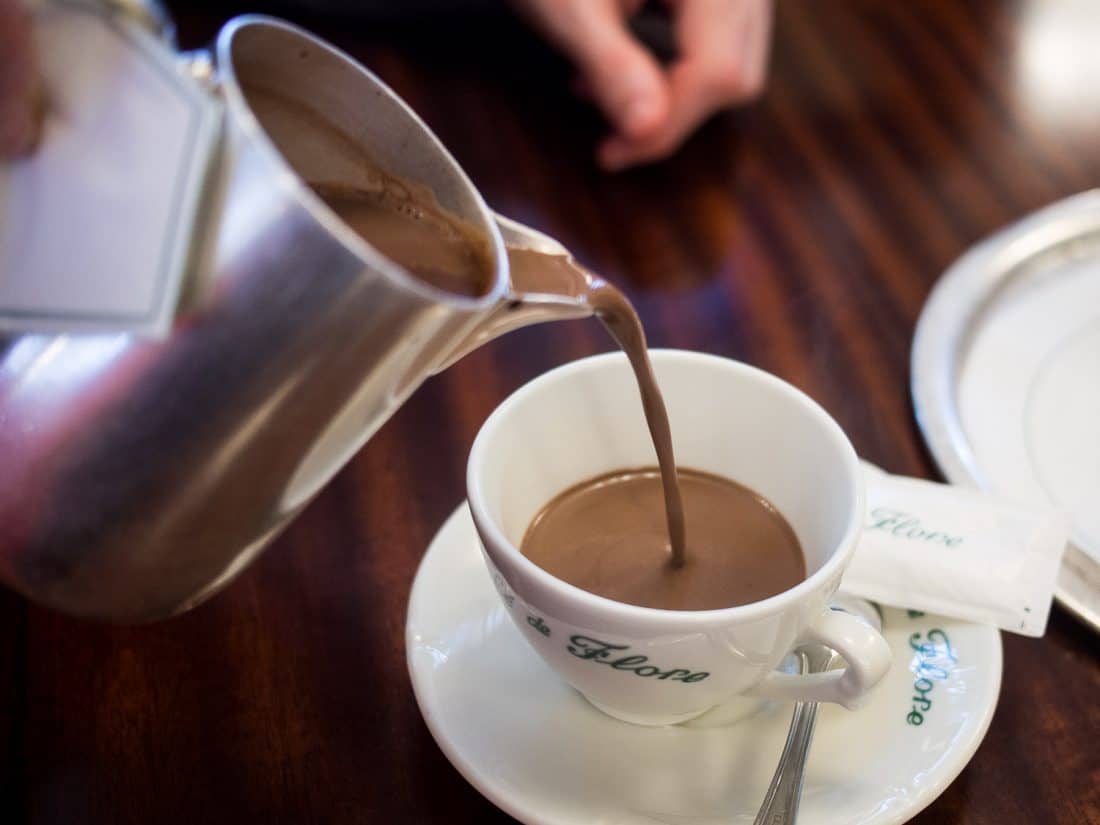 By this point, after nearly three hours of walking, we were in definite need of a break.
We'd eaten breakfast too late to want lunch, so we went to Café de Flore (172 Boulevard Saint-Germain), known to make some of the best hot chocolate in Paris (the food is reportedly average), and another hangout of the early 20th century intellectuals.
We knew what we were getting into—it is touristy—so we weren't too shocked by the €7.80 price tag for a Special Flore hot chocolate, and it was excellent—rich, thick and intensely chocolatey.
Café de Flore has a classic bistro vibe with red booth seating, mahogany tables, gold-rimmed Art Deco mirrors, and waiters in long white aprons and black waistcoats. It all feels very Parisian.
Although we enjoyed our drink, I prefer the chocolate and extravagant decor of Angelina (see below), so you could stop there for your hot chocolate break instead.
Option 1: Eiffel Tower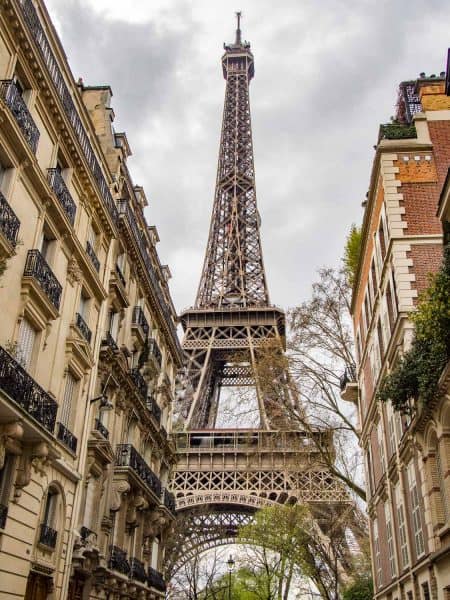 Our plan for the day was rather ambitious, and at this point we were due to visit the Rodin Sculpture Museum and continue to the Eiffel Tower.
We realised we didn't have the energy for both, so we left the museum for another visit and walked 40 minutes from the cafe to the Eiffel Tower.
Along the way we strolled down the stylish Boulevard Saint Germain and stumbled upon random grand buildings and stunning squares.
We ended up at the east pillar of the Eiffel Tower, walking down a narrow street with it looming above us.
We didn't climb the tower as the queues are horrendous, but it was impressive to see it up close.
If you want to go up, it's essential to book your tickets in advance here to avoid the queues.
You could also save your legs by taking the metro from Saint-Germain des Pres station to Champ de Mars Tour Eiffel—take line 4 two stops to Saint-Michel then switch to the RER C train.
Option 2: Cross the Seine River
Although we were glad we did the walk to the Eiffel Tower, it is a long detour from the rest of this itinerary and adds about 3.7 miles / 6 km.
A shorter route after Café de Flore would be to walk down to the Seine, walk along the Left Bank until the magnificent Alexandre III bridge, cross over, and continue down the opposite side to the Louvre area. You could combine this with Option 3.
Option 3: Art Museum
Rather than trek all the way to the Eiffel Tower, you might decide to spend part of the day at an art museum, one of the most popular things to do in Paris.
If it's your first trip to Paris, you might feel like you have to visit the Louvre, but don't feel any pressure to do so—honestly, the Mona Lisa is rather disappointing.
If you're not that into art, you'll probably have a much better day in Paris wandering the streets and chocolate shopping.
It's worth seeing from the outside, though, which is why it's a stop later on this route.
If you really want to visit the Louvre, buy your tickets online in advance or at least use the quieter Carrousel entrance in the mall below the museum. Note that it's closed on Tuesdays. These Louvre tips will help you make the most of your visit.
I think the Musée d'Orsay is a better choice if you only have time for one art museum in Paris.
It's not as crowded, the old train station setting is beautiful, and there's a stunning collection of Impressionist art by Monet, Degas, Cézanne and more. It's closed on Mondays.
Other options are the Musée de l'Orangerie for Monet's Water Lillies (closed Tuesdays) and the Rodin Museum for sculpture (closed Mondays).
Walk Along the Seine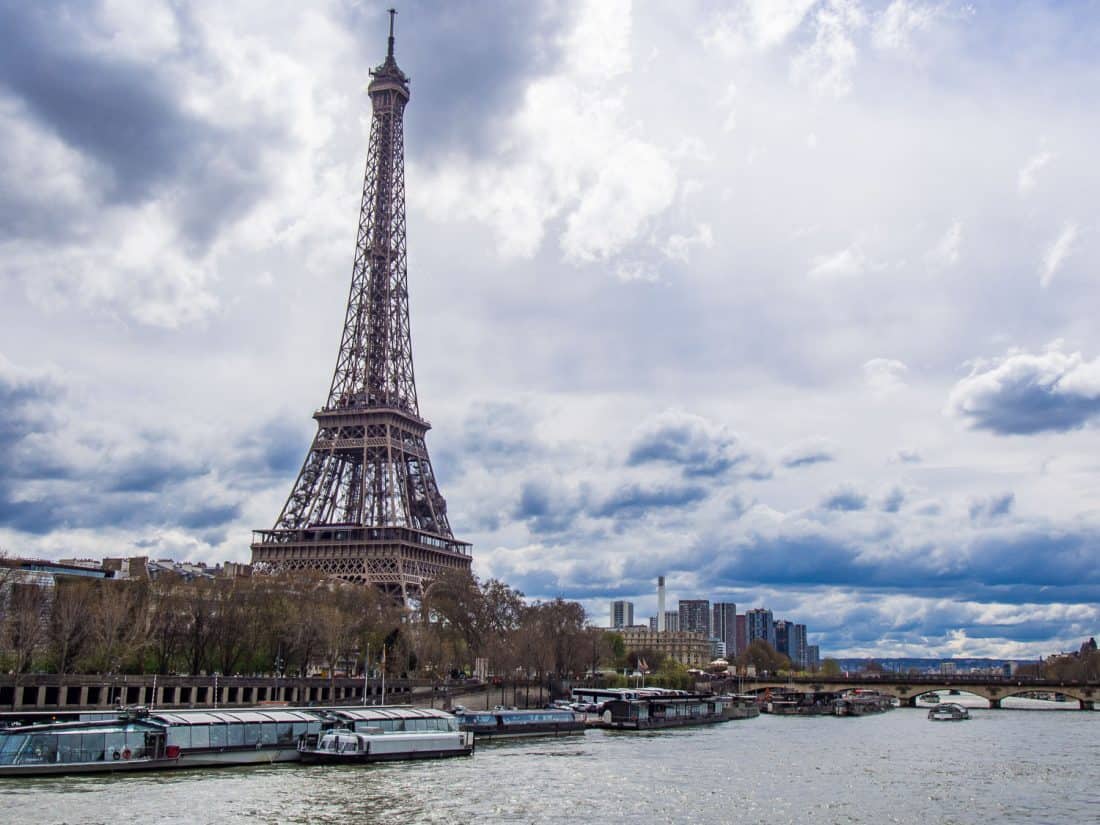 Whichever option you choose, you'll next cross the Seine.
From the Eiffel Tower cross the Pont d'Iena and you'll get fantastic views of the tower from the other side.
From here we took a long walk along the river. There are many sights to enjoy along the way including the incongruous gold domes of the Holy Trinity Russian Orthodox Cathedral, the ornate Alexandre III bridge, and the Grand Palais.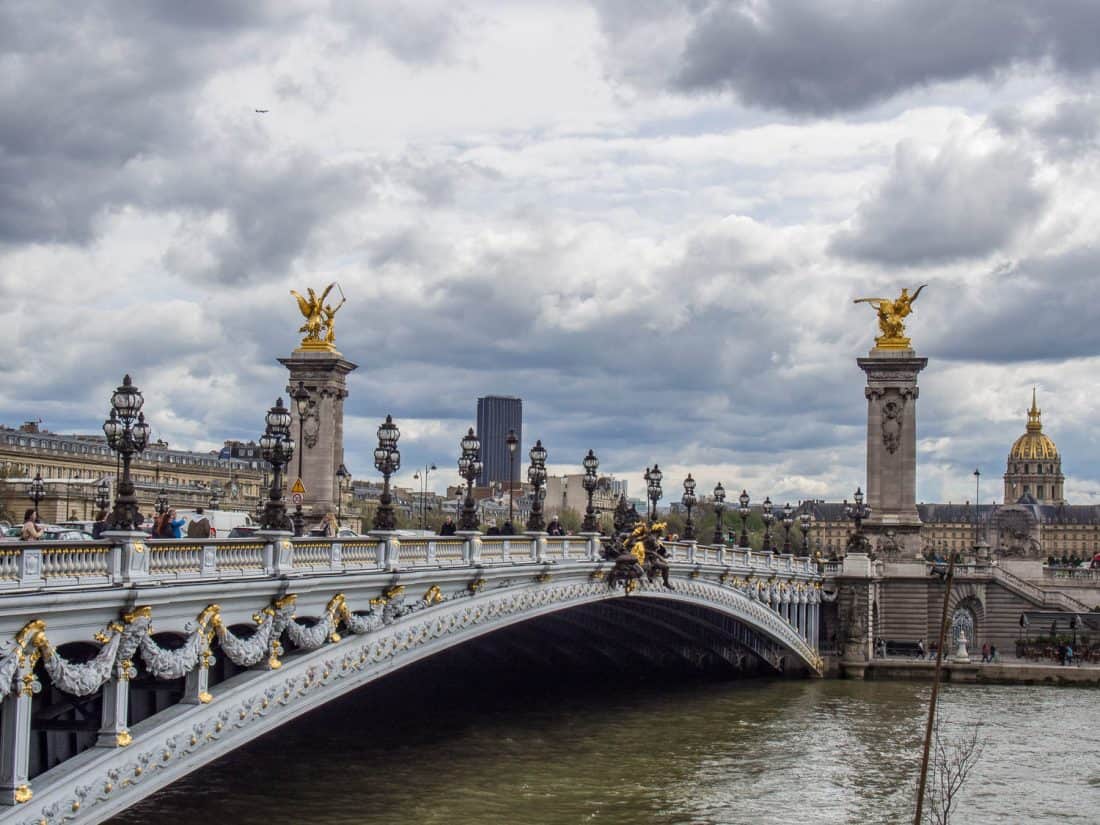 If you are very energetic, you could take a detour to see the Arc de Triomphe and Champs-Élysées, both major Paris attractions, but honestly not our favourite part of the city.
If you are feeling tired, take the metro to Concorde and continue with the itinerary.
Place de la Concorde and Jardin des Tuileries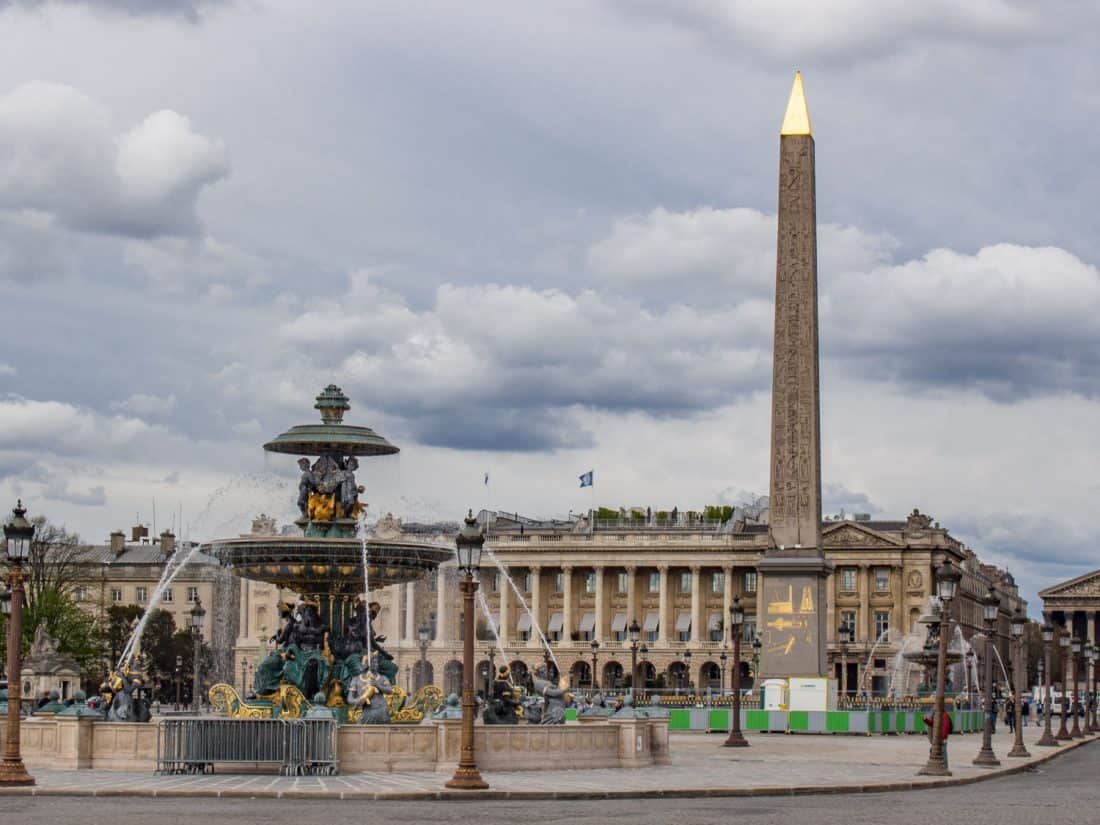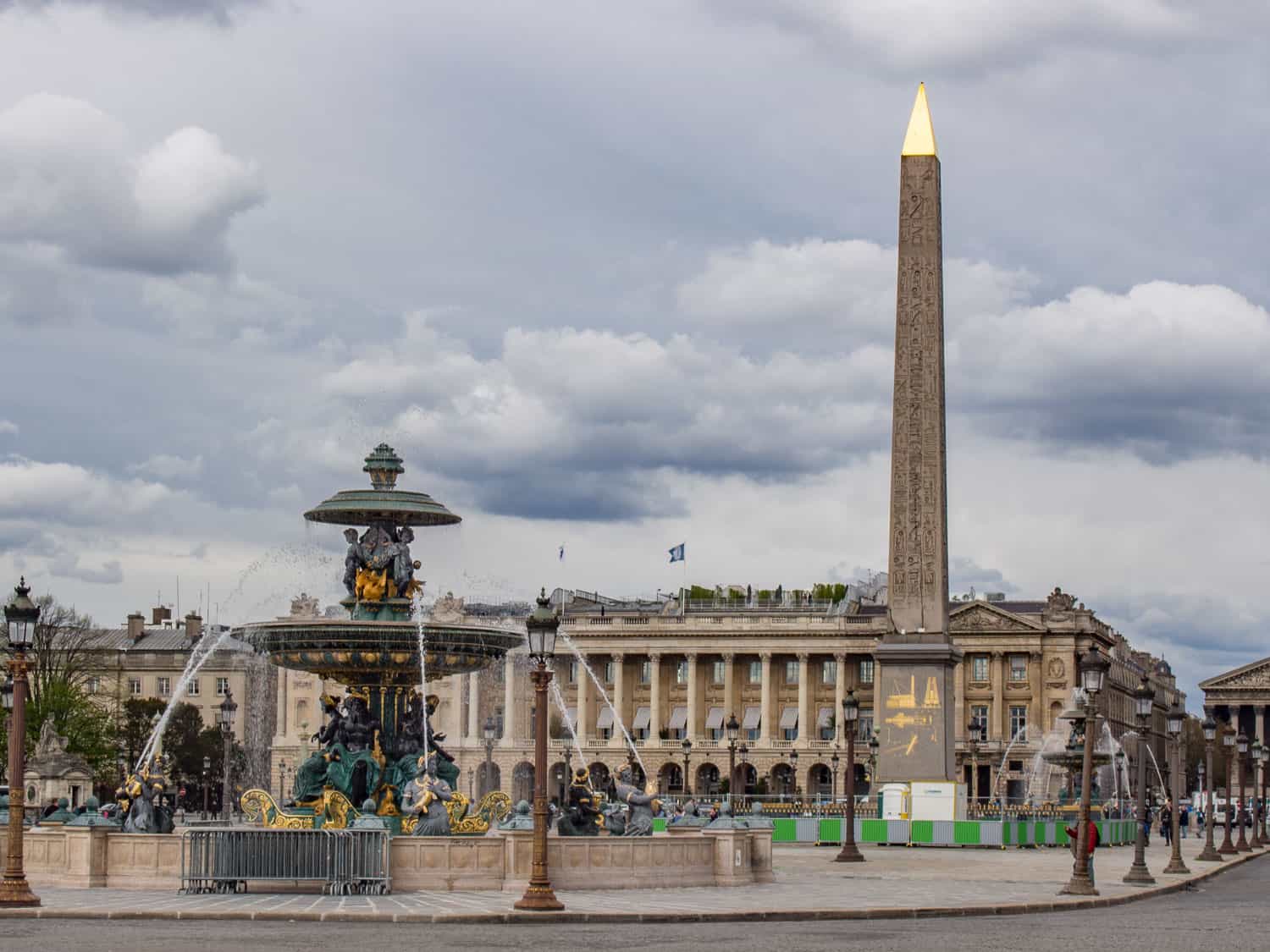 Once you reach Place de la Concorde walk through this grand square, which is the largest in Paris and features an Egyptian Obelisk and two fountains.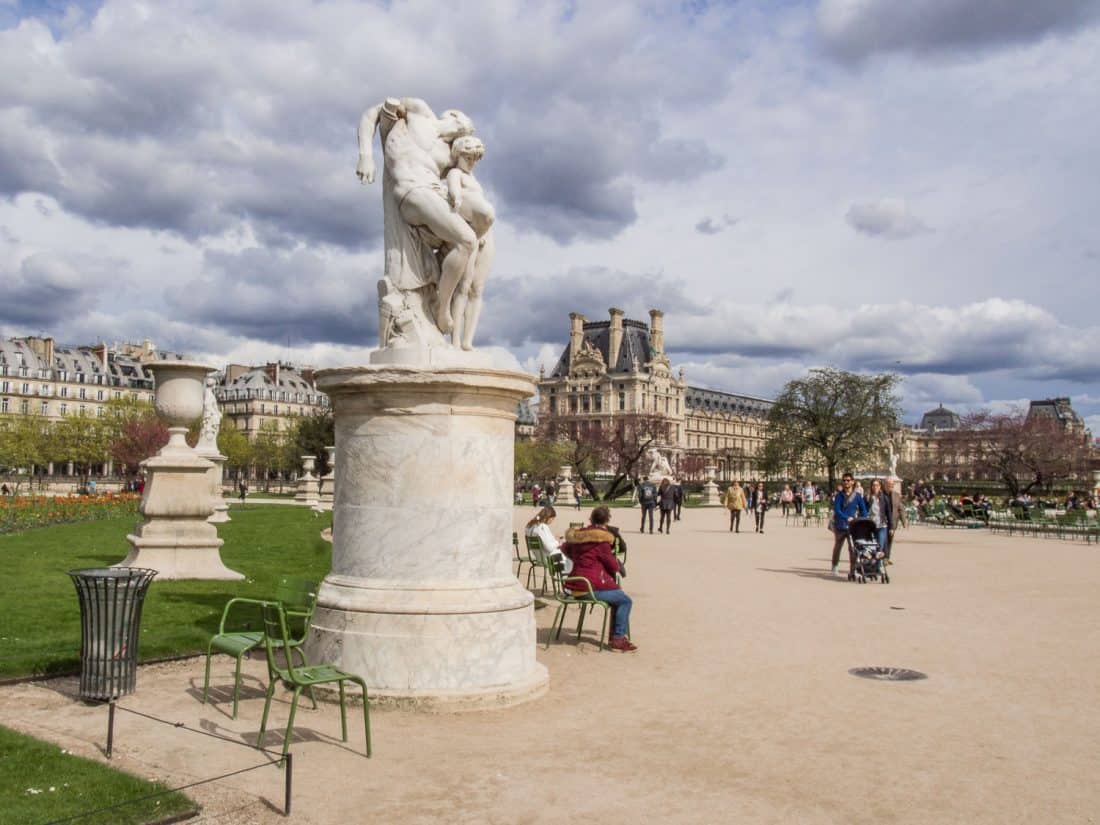 It leads into the Jardin des Tuileries where you can ride the Ferris wheel, relax on chairs by the pond, and stroll the wide boulevards past fountains and statues. We took a break on some of the chairs here.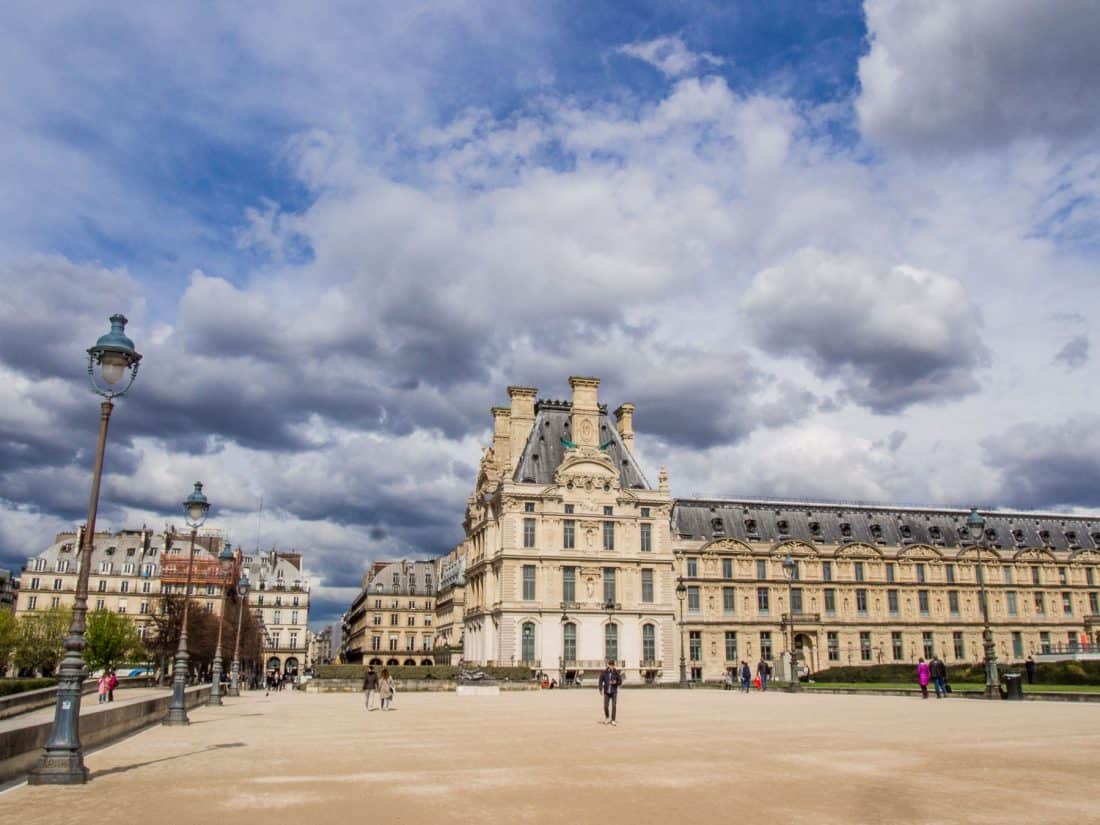 Louvre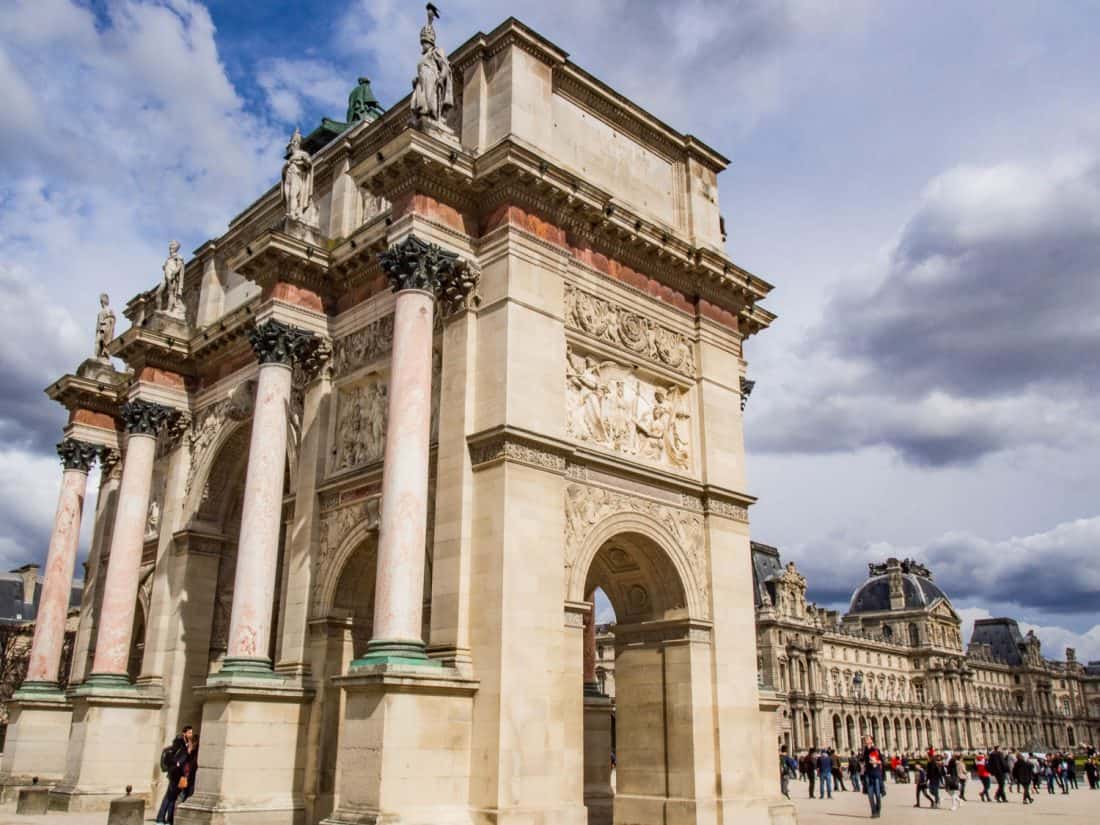 From Jardin des Tuileries walk through the Arc de Triomphe du Carrousel (a smaller version of the famous arch) to the Louvre.
Even though I don't think it's worth braving the crowds to go inside unless you are a major art buff, it's well worth visiting the courtyard to see the splendid Louvre Palace contrasting with the modern glass pyramid entrance.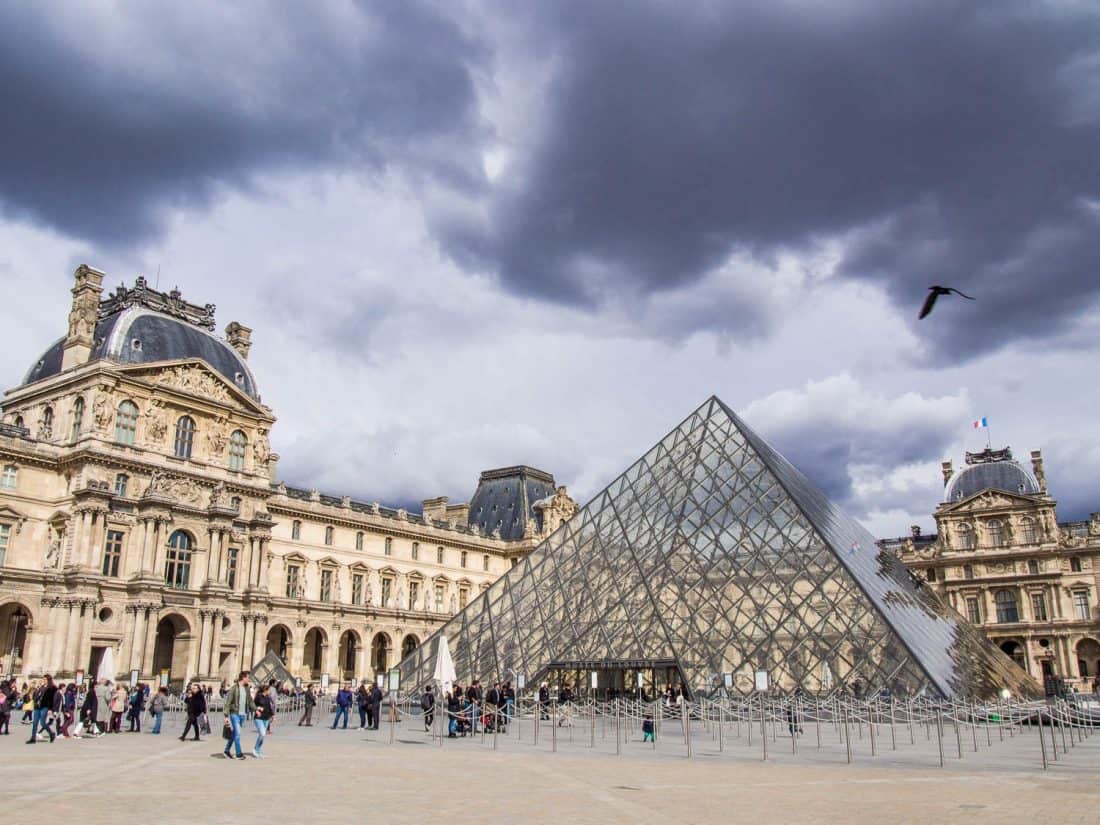 La Maison du Chocolat Shop
It wouldn't be Paris without sweet treats. Usually, our favourite place for macarons is Pierre Hermé (which has branches all over the city), but on this trip we decided to try somewhere different.
La Maison du Chocolat has a branch in the upmarket Carrousel du Louvre shopping centre under the museum.
As you'd expect from a Parisian chocolate shop, all the products are exquisite, delicious, and pricey (€2 for a macaron or €1.20 for a small chocolate). You can buy gift boxes or choose a selection in a bag for yourself. It's all wonderful, especially the chocolate and passionfruit macarons.
Read about the best chocolate shops in Paris for more ideas.
Angelina: An Alternative Hot Chocolate Stop
Instead of Café de Flore (or as well as, if you can manage it), you could stop at the Angelina tea house (226 Rue de Rivoli) next to Jardin des Tuileries.
The African hot chocolate is even more decadent than at Café de Flore and the elegant Belle Époque decor makes you feel like you've stepped back in time.
Île de la Cité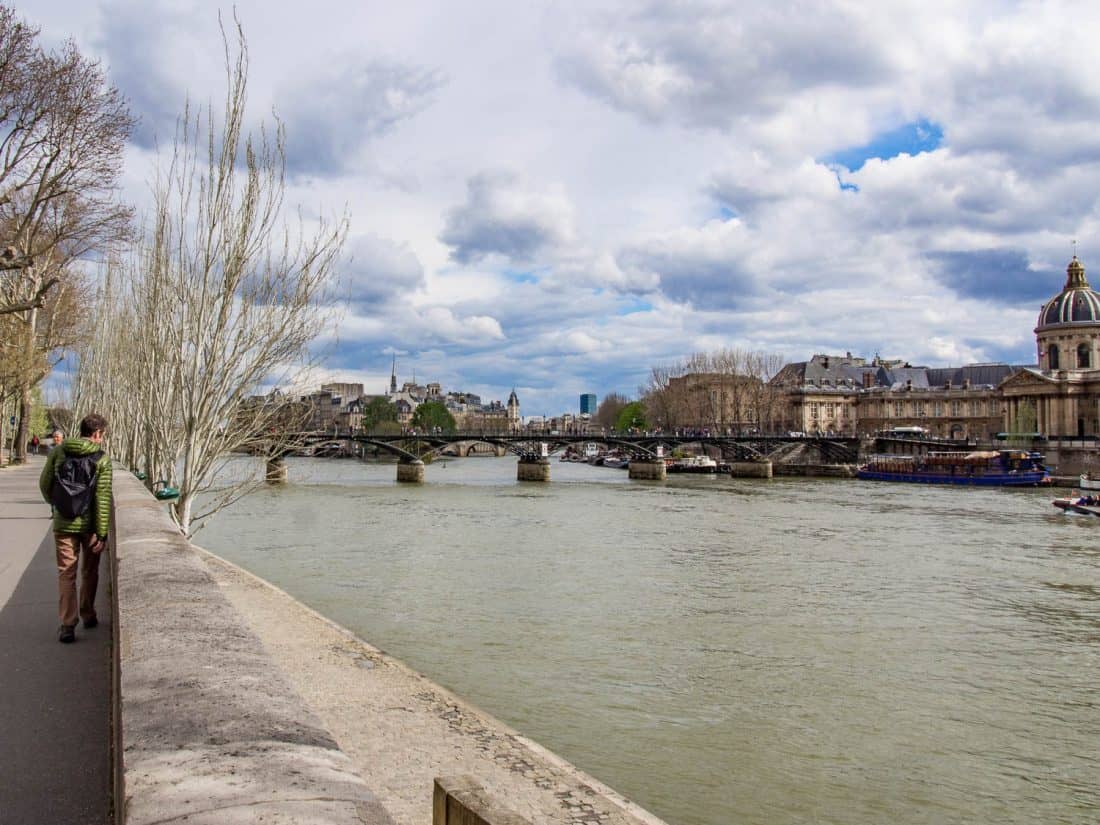 After the Louvre, continue your stroll along the Seine—the views are beautiful all the way. Remember to turn around to see the Eiffel Tower behind you.
Île de la Cité is a picturesque little island in the Seine that's home to the famous Notre-Dame Cathedral.
We crossed over to the island on the Pont Neuf and walked through the pleasant triangular square Place Dauphine.
We were exhausted, thirsty, and in need of a toilet at this point and really should have stopped for a break at one of the bars here.
Instead, we continued on, and it became very touristy very quickly.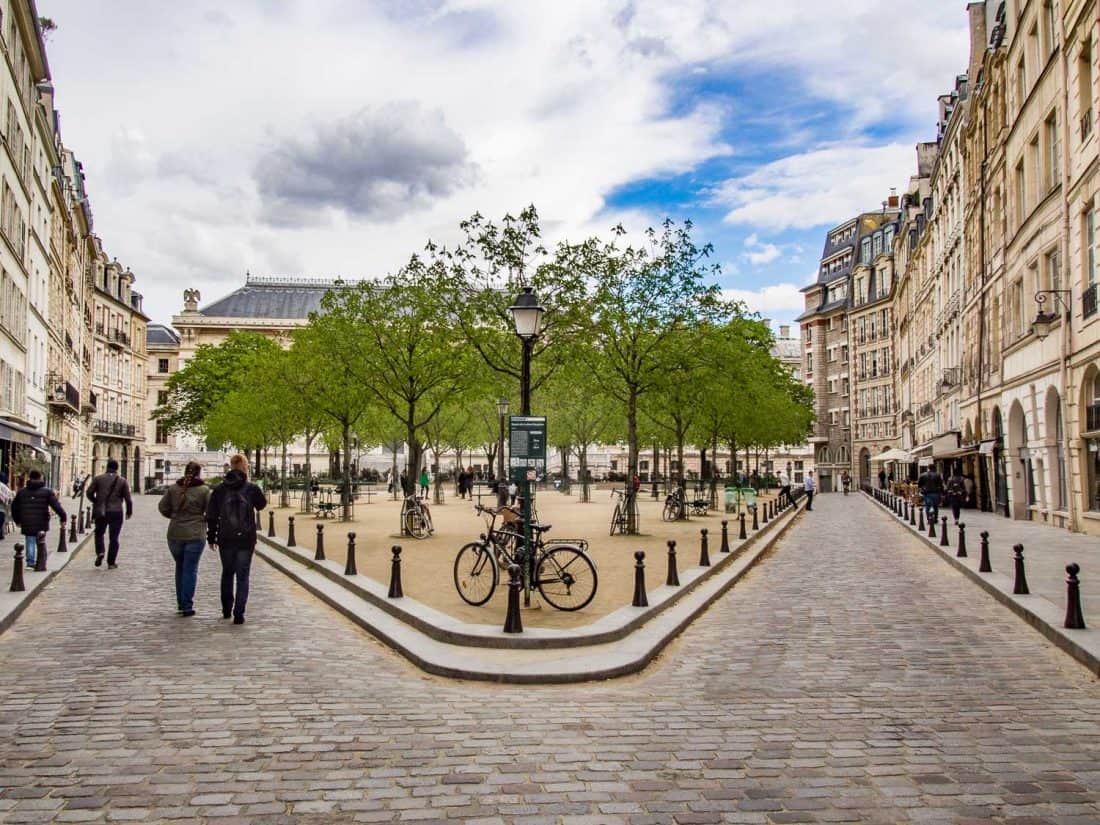 Notre-Dame is a masterpiece of Gothic architecture and dates back to the 13th century.
Tragically a massive fire in April 2019 destroyed the spire and most of the roof of the cathedral. It is being rebuilt but this could take five years or more.
It's no longer possible to go inside Notre-Dame, but you can still see the outside from a distance.
Why not try this Notre Dame Outdoor Walking Tour with Crypt Entry to find out more about the ongoing restoration work?
An alternative place to visit on the island is Sainte-Chapelle, a 13th-century gothic chapel with stunning stained glass windows.
The queues are long so it's worth buying a skip the line ticket in advance as it costs the same as purchasing it onsite (€11.50).
From Notre-Dame we crossed to the quieter neighbouring island Île Saint-Louis and stopped for a much-needed drink at La Chaumiere en l'Ile.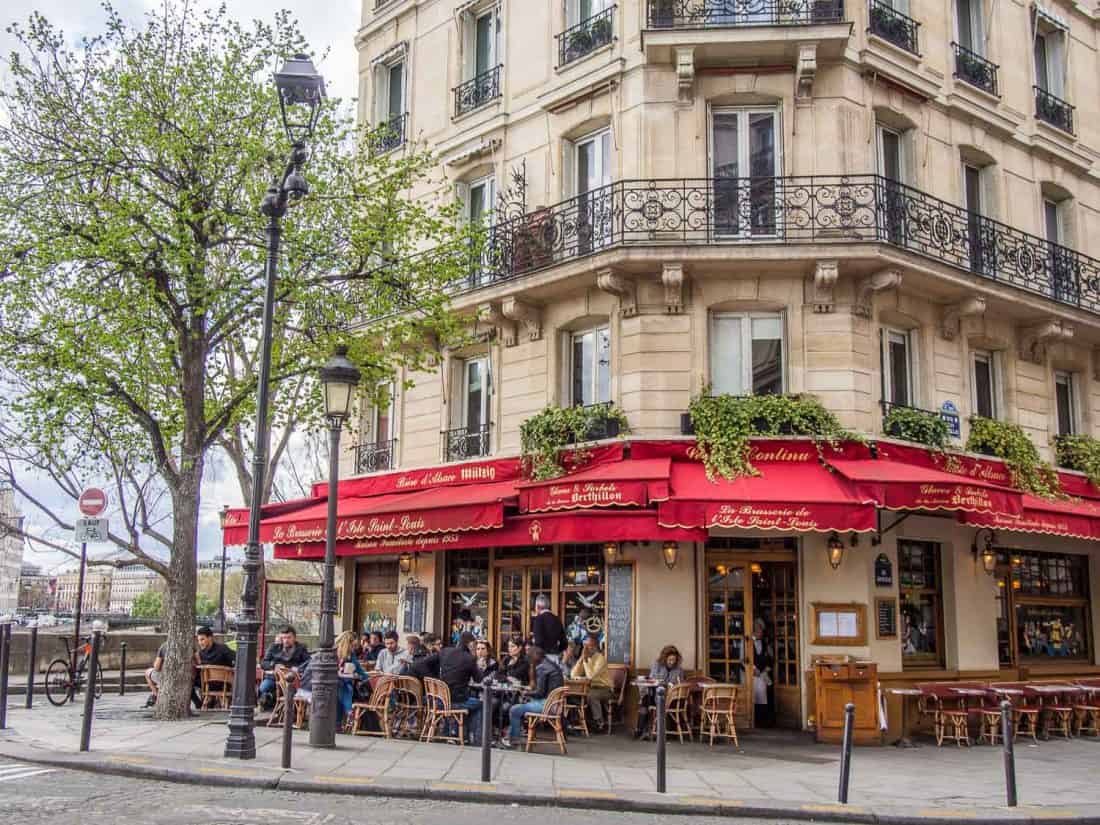 From here we returned to our hotel for a break before dinner.
Le Marais for Dinner
We planned to head to Le Marais neighbourhood for dinner, and I do recommend this if you have the energy.
We couldn't face any more walking so ended up at upmarket vegan restaurant Gentle Gourmet near our hotel, which unfortunately is now closed.
In Le Marais there are plenty of options for dinner. If you are on a budget (or vegetarian), this area is known for its falafel—L'As du Fallafel is the most famous but there are many others. The grilled vegetable pitta sandwiches at Miznon also sound delicious.
For something more traditionally French, Breizh Cafe is one of the best places for galettes and crepes in Paris and they have vegetarian options. It's popular so make a reservation, get there early, or be prepared to wait. It's on our list for next time.
While you are in the area, it's also worth seeing Le Village St Paul and Place des Vosges.
Where to Stay in Paris
If you are in Paris for a night or two, I recommend either staying somewhere on this route (St Germain or the Latin Quarter would be ideal) or if you have an early morning train, choose a hotel close to the train station.
Gare du Nord is where the Eurostar train arrives and departs for London, and Gare de Lyon is the main station for travelling south (including the TGV to Italy).
Gare de l'Est is a 10-minute walk from Gare du Nord and is for trains east such as to gorgeous Colmar.
Where We Stayed Near Gare de Lyon
We stayed near Gare de Lyon (only two stops on the RER D train from Gare du Nord) because our train to Italy left at 6.30am.
We stayed in an ensuite classic double room at the Timhotel Paris Gare de Lyon. It's one of the most affordable options in the area (prices from €148 a night) and is only five minutes walk to the station.
It's clean and comfortable but the rooms are small and the WiFi didn't work in our room (request one with a better signal). While it's nothing special, it's fine for a night or two.
Hotels Near Gare du Nord
These are about a five-minute walk from Gare du Nord, perfect if you have an early Eurostar train.
Hotels in St Germain
If you want to stay in the heart of the action, St Germain is one of the most beautiful neighbourhoods in Paris and perfect for this one-day itinerary. It isn't cheap, but a few affordable options can be found.
Hôtel Bel Ami – A chic five-star hotel in an ideal location just steps from Cafe de Flore.
Millésime Hôtel – Elegant rooms and friendly staff.
Hotel Clément – One of the most affordable options in this area with small but comfortable rooms.
Our Paris Costs
For two nights/one day in Paris we spent £367 for two people (£184 per person) which is broken down as:
Eurostar train (one way) £88
Metro (2 single tickets) £3.31
Hotel (2 nights) £161.42
Food and drink £114
You could reduce expenses by choosing cheaper accommodation (likely with shared bathroom), avoiding cafes, and buying a baguette and cheese for dinner rather than eating in a restaurant (we usually happily do this in Paris).
On a previous trip we managed to spend £30 a day per person—see our Paris on a budget guide for details.
Of course, prices may have increased considerably since our last visit.
How to Get to Paris
Eurostar from London to Paris
The fast, comfortable Eurostar train is the best way to travel from London to Paris.
The journey from London St Pancras International to Paris Gare du Nord takes from just two hours 16 minutes, and there are trains almost every hour during the day.
The cheapest tickets cost £44, but you'll need to book far in advance (up to 180 days) and travel off peak to get the best rates.
We paid £44 each for tickets on a Monday afternoon in April booking three months in advance. You can book on the Eurostar website.
If you are travelling with an Interrail or Eurail pass the Eurostar is included but you must book in advance and pay a seat reservation fee of €30.
London to Paris Day Trip
It is possible to visit Paris in a day from London on the Eurostar. On weekdays the earliest train departs London at 6.01am and arrives in Paris at 9.21am or the 7.01am train arrives at 10.21am.
There are return trains back every hour until 9.09pm (which arrives in London at 10.30pm), so you could have up to 12 hours in the city—more than enough time for this Paris one day itinerary. Return tickets can be as low as £78 if you book months in advance.
On Sundays, the earliest train is at 8.01am (arriving 11.20am), so you'll have more time if you travel on a different day.
Don't forget to bring your passport and remember that Paris is an hour ahead of London.
If you don't want to organise your day trip yourself, see this London to Paris day tour which includes train tickets, guided tour, and boat trip.
From Other European Destinations
Search on Rail Europe for trains from other destinations in Europe to Paris and Kiwi for cheap flights.
Getting Around Paris
Although most of this route is on foot, you will likely need to take the metro or RER train from your hotel or train station.
Metro tickets are valid on both systems and you can buy them from machines in the stations.
A single ticket costs €2.10 or if you'll be travelling on the metro a lot, you can buy a one-day Mobilis pass valid in zones 1–2 for €8.45.
You can plan your route on Google Maps, the RATP website, or see a map here.
Paris in a Day Map
Is it Worth Visiting Paris in One Day?
Absolutely! Even if you only have time for one day in Paris, it's worth visiting the City of Lights. It's a walkable city and you can see a lot on a short break, plus enjoy some delicious treats along the way.
More France Posts
If you enjoyed this post, pin it!