This page contains affiliate links. Please read our disclosure for more info.
Last year we celebrated with a sunny hike up Lion's Head and a delicious meal in Cape Town. This year we drove the length of England in the snow after spending the week in the hospital with a dying relative. Obviously we weren't in the mood to celebrate.
Despite its sad ending it has been another amazing year on the road with travels to new countries (South Africa, Namibia, Oman) and old favourites (Japan, Bali, Thailand). It was also the year of the road trip as we got off the beaten track by renting a car or motorbike.
We still relish the freedom of nomadic life even as we were ready for something different over the winter—the novelty of cold days and being closer to family for a while. The beauty of our lifestyle is that we have that choice.
Here's a look back at the highs of year eight which took us to eight countries, mostly in Africa and Asia.
South Africa
I covered many of our South Africa highlights in last year's nomadiversary post including the incredible safaris we did and living in Cape Town, one of our new favourite cities. We totally fell for this stunning country and here are some more top experiences from the beginning of year 8.
Franschhoek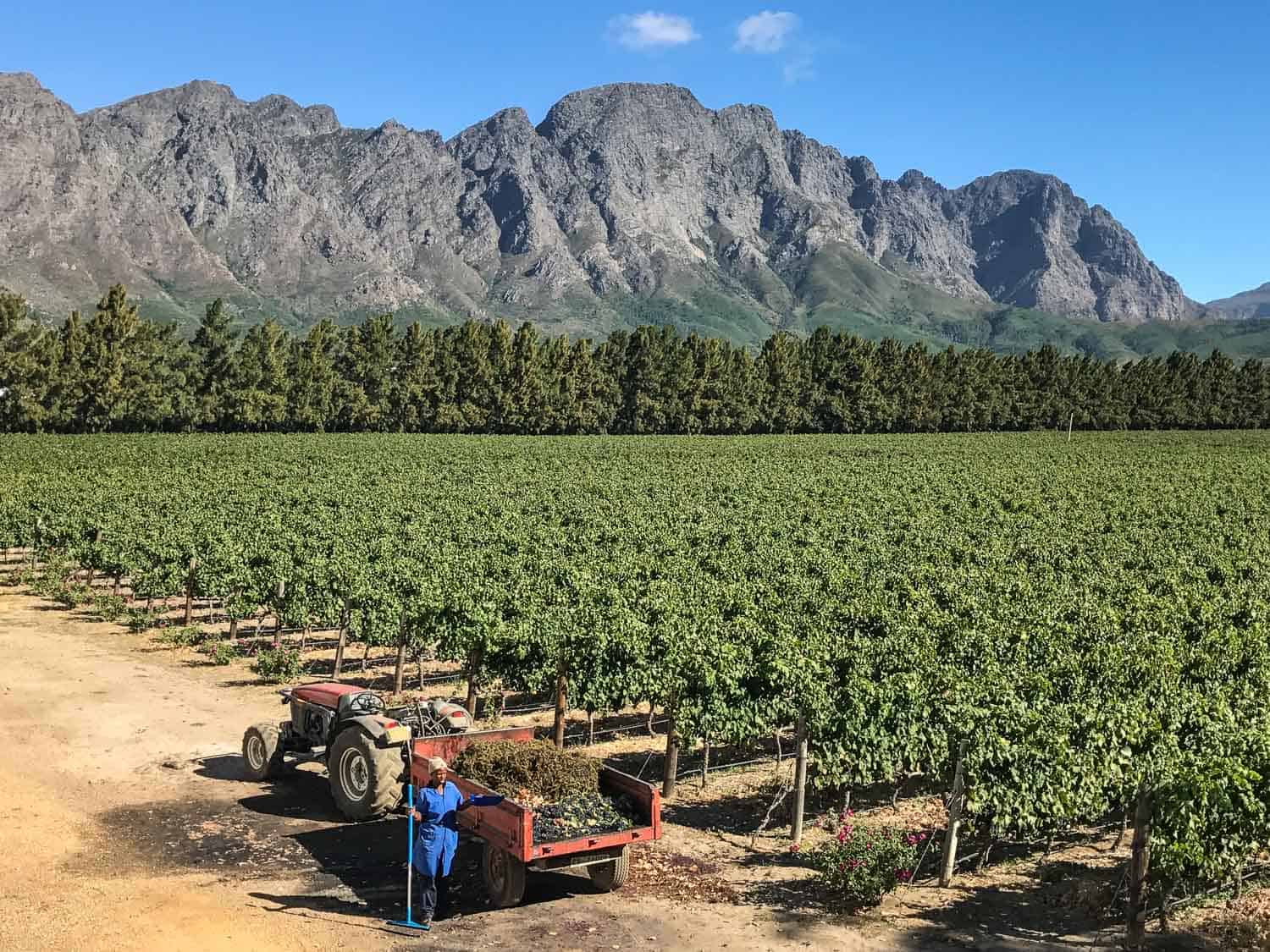 We took a side trip from Cape Town to Franschhoek in the Cape Winelands and it was glorious! This charming town is one of the oldest and most scenic settlements in South Africa and is surrounded by vineyards and craggy mountains.
We winery hopped on the fun wine tram, ate at gourmet restaurants, picnicked on a wine estate, and enjoyed the scenery by the pool at our wonderful boutique guesthouse La Providence (one of our favourite places to stay in South Africa).
Another highlight was visiting Babylonstoren, a historic Cape Dutch farm. We toured the magnificent organic gardens, sampled their wines, and ate a gorgeous meal at Babel. We will definitely stay at this special place on our next visit.
A Decadent Birthday Trip
As if our Franschhoek trip wasn't decadent enough, just a few weeks later we celebrated my birthday in serious style. First up was an incredible 12 course meal with wine pairing at La Colombe, just outside Cape Town and one of the top 100 restaurants in the world. It was possibly the best meal of our lives and we couldn't believe we were there for four hours!
Seriously, the food in Cape Town is amazing—read about our favourite Cape Town restaurants here.
Simon then arranged a surprise weekend away to the tiny seaside town of De Kelders. We stayed at Sea Star Cliff Lodge, a gorgeous boutique hotel with insane sea views. We spent most of the weekend on the terrace sunbathing, drinking bubbly, watching the sunset, and stargazing.
On our way back to Cape Town we stopped at Betty's Bay to see penguins and later in the week took a spectacular helicopter ride over the city. What a week!
Namibia
Road Trip Across Namibia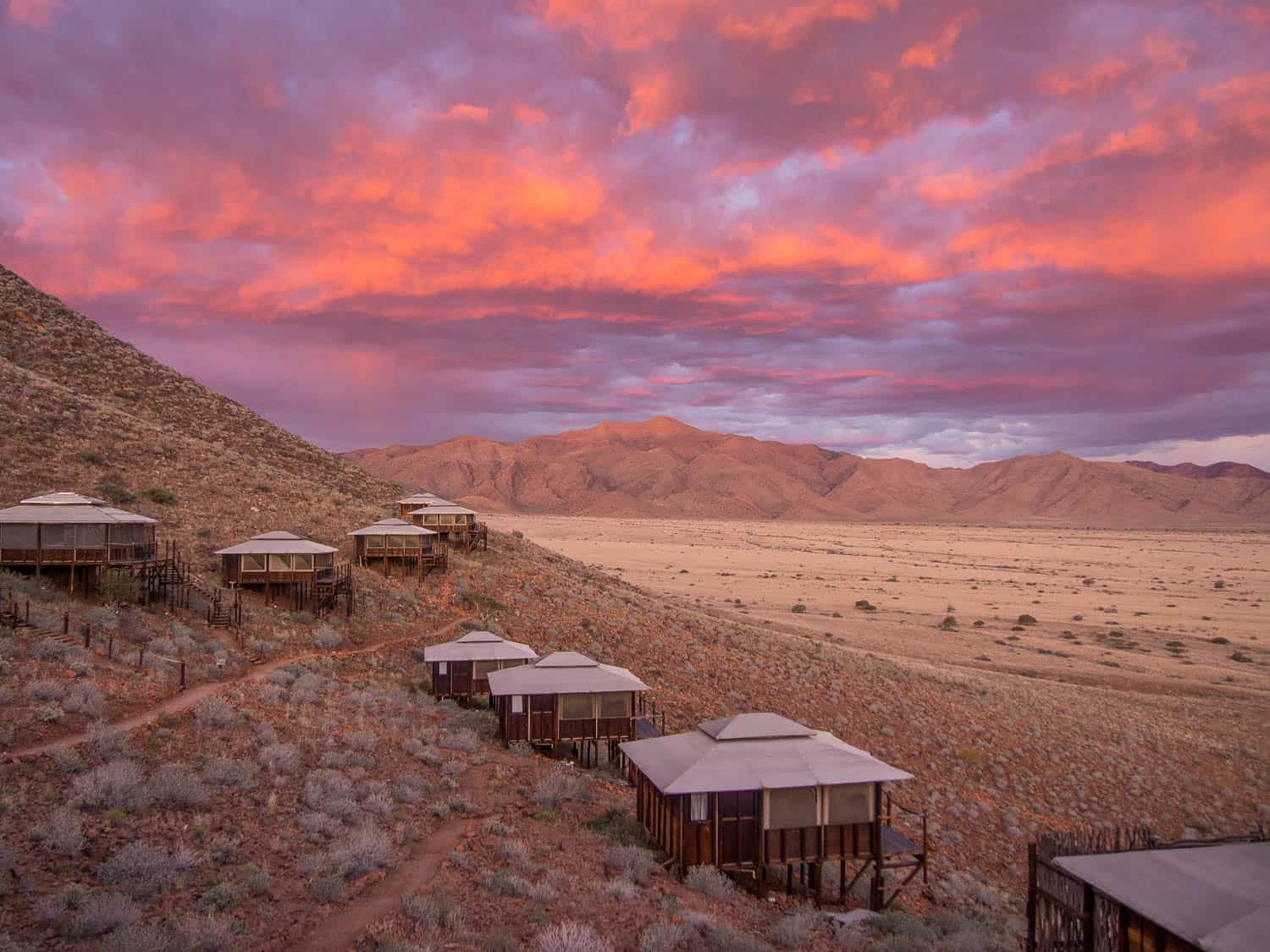 We were sad to leave South Africa after three months but excited for our next adventure—road tripping across Namibia for two weeks! It's a wild, beautiful, empty country and we visited some of the most remote places we've ever been. We loved the diverse landscapes, plentiful wildlife, spectacular sunsets, and the pure tranquility.
Seeing Cheetahs and Leopards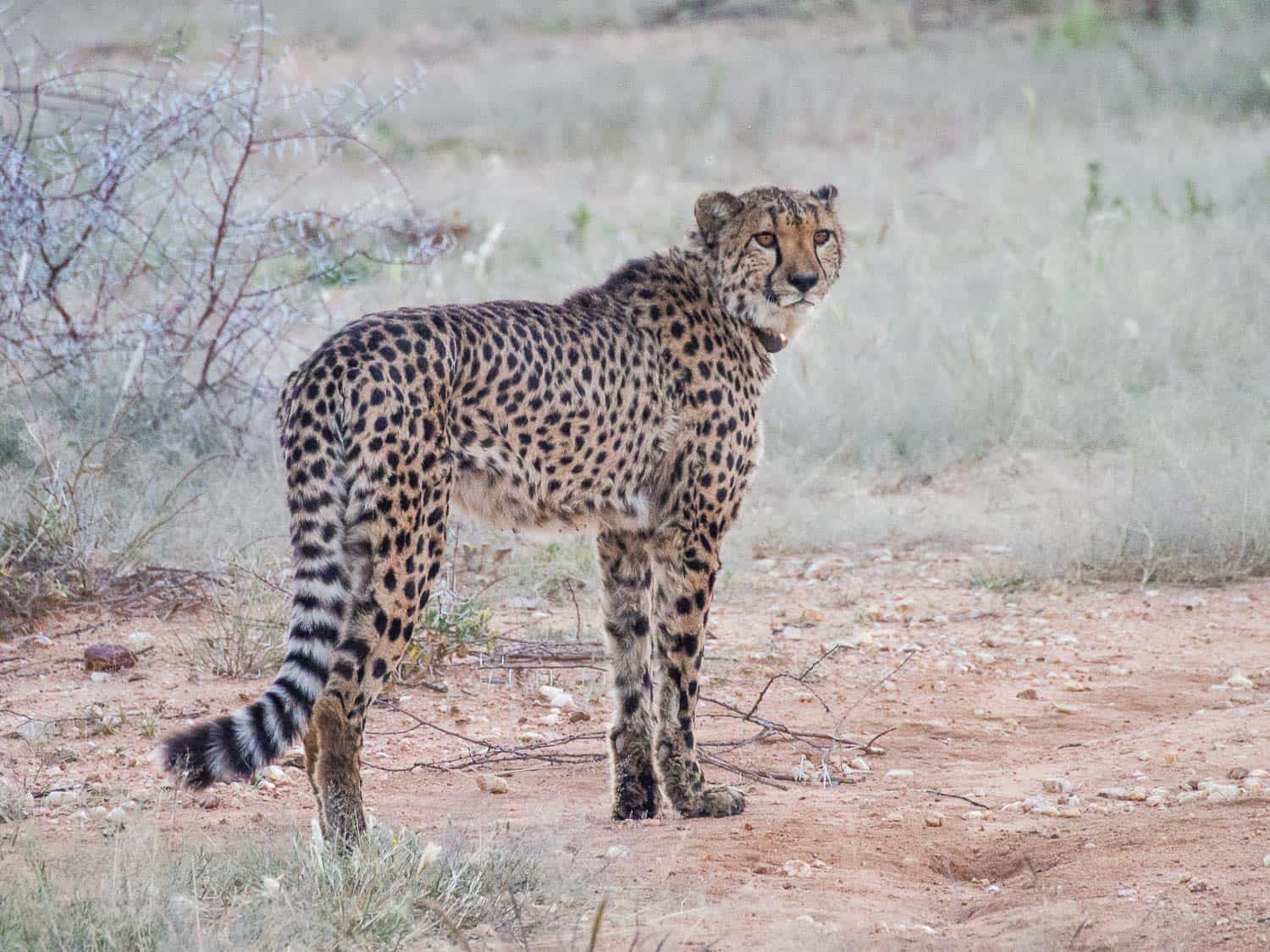 One of our road trip stops was Okonjima Nature Reserve, home to the Africat Foundation which researches, rescues, and rehabilitates big cats. We did two safari drives and managed to see both cheetahs and leopards. The cheetah safari was especially exciting as it's done on foot! It was incredible to walk so close to these rare, beautiful creatures.
Kayaking with Baby Seals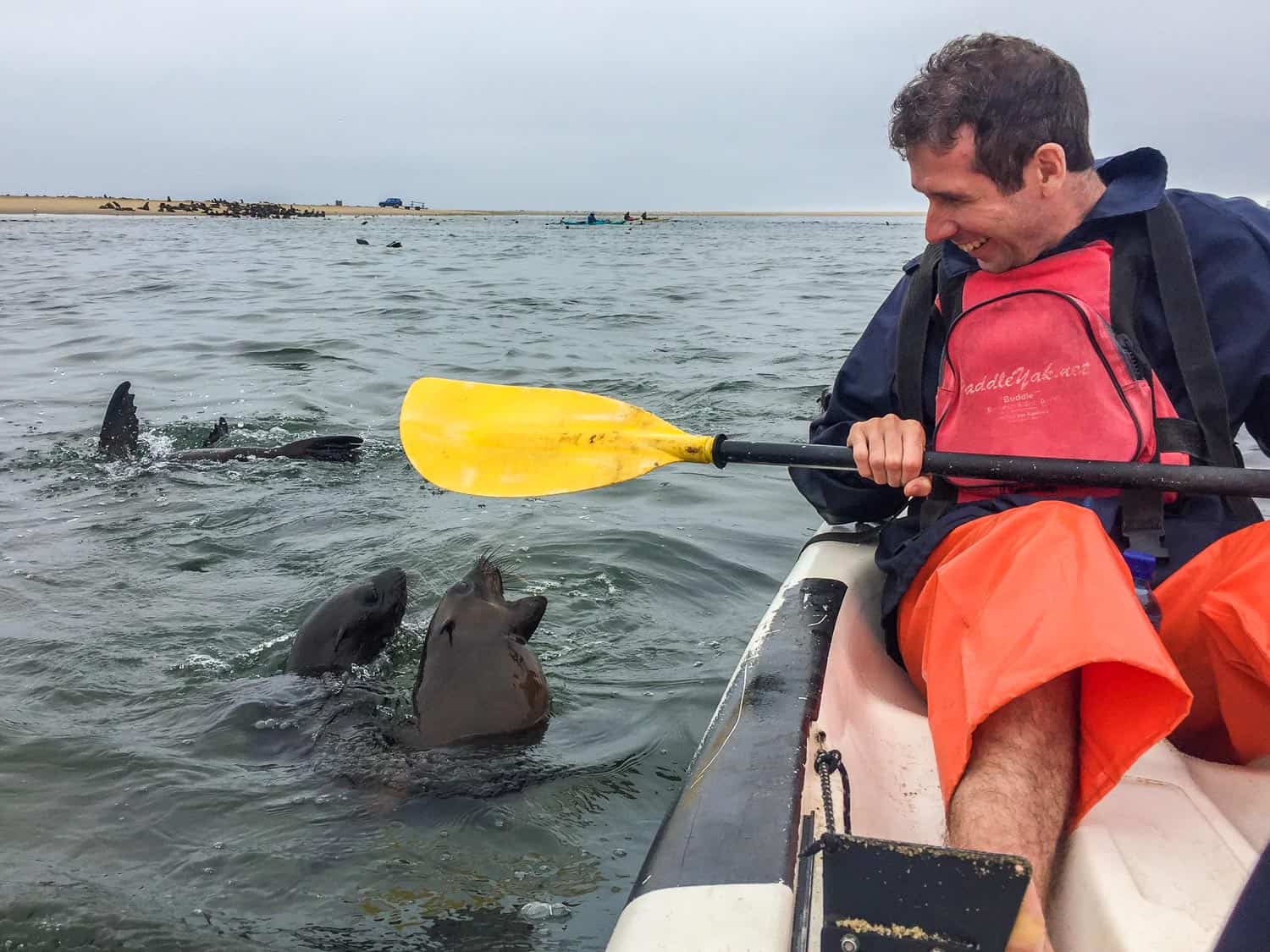 Oh my, kayaking with baby seals is one of the best things we have ever done! Near Walvis Bay there's a colony of tens of thousands of Cape Fur seals. We only had to paddle a short distance before we were surrounded by hundreds of adorable seal pups. They were playful and curious, nibbling on our paddles, diving and jumping in and out of the water, and swimming alongside us. It was such a special experience.
Climbing Big Daddy Sand Dune
Another Namibia highlight was climbing Big Daddy, one of the world's tallest sand dunes at Sossusvlei. It certainly wasn't easy as we sunk into the sand and the furious wind whipped sand into our faces, but we felt like we'd entered another, dreamlike world with orange dunes stretching for miles and the stark white salt pan below. Plus we got to run down the side afterwards!
Indonesia
Living in Ubud, Bali
Ubud is our favourite place to set up a temporary home. We love the gorgeous rice fields, fascinating Hindu culture (so many temple ceremonies!), delicious vegetarian food, and the ease of renting a villa with a private pool.
We spent five months here over the summer focusing on work, researching new vegetarian restaurants, doing lots of yoga, and enjoying the views from our villa. For our anniversary we splurged on a tasting menu at the fancy Ritz Carlton hotel.
Bali Road Trip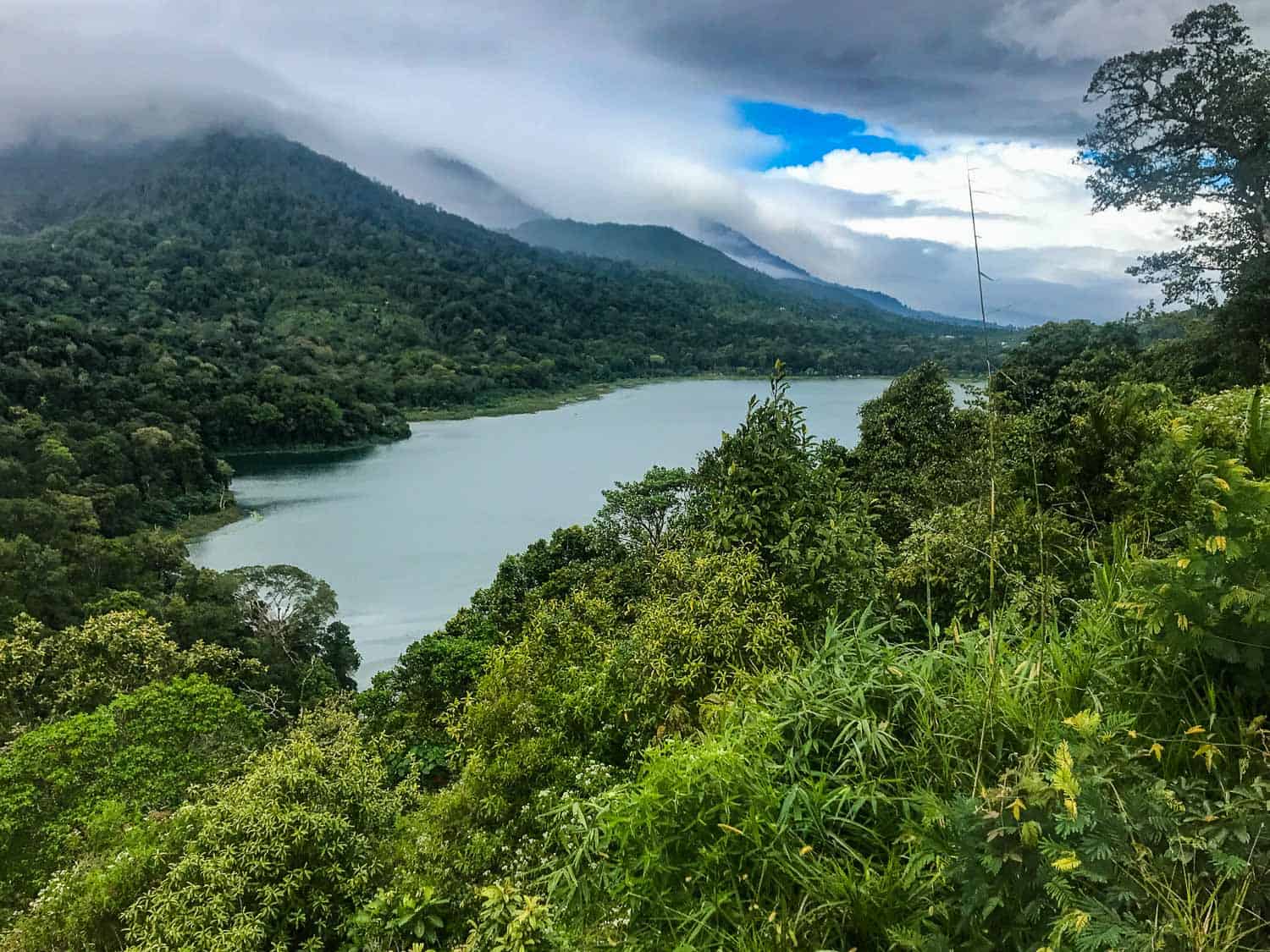 Honestly, we've never been big fans of Bali outside of our Ubud bubble, but our five-day motorbike trip to the north and west of the island changed that. We discovered just how stunning the island is and how it's possible to escape the crowds, even in high season.
We hiked to waterfalls in the mountains of Munduk, snorkelled at Menjangan Island, and relaxed in the tiny surf town Balian Beach. Along the way we enjoyed views of gorgeous rice terraces, lakes, and jungle ravines from the back of our trusty scooter.
Japan
Tokyo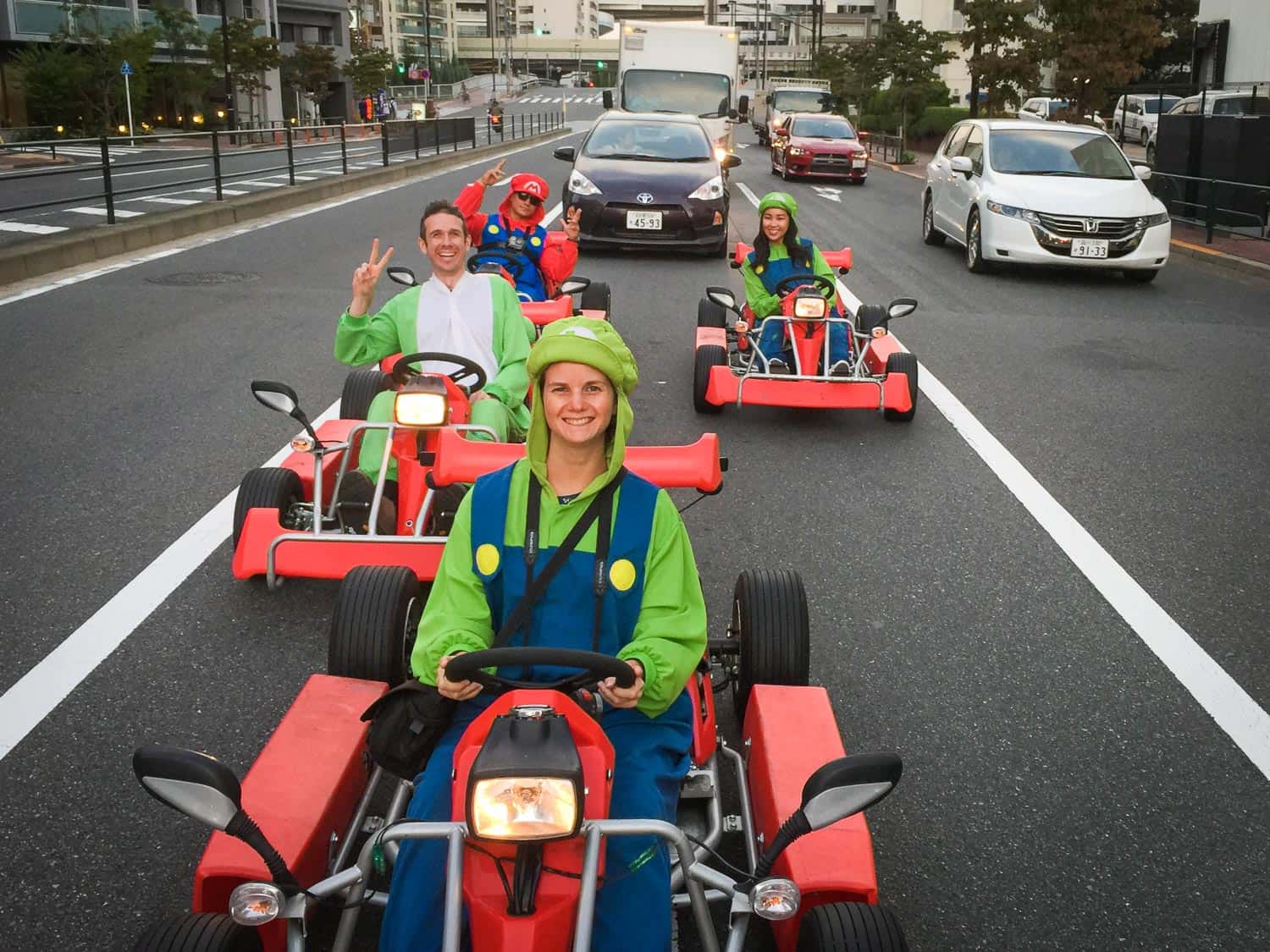 Oh, Japan! It felt so good to be back and our second trip only confirmed that this is one of our favourite countries.
In 2011 Tokyo didn't compare to our favourite city Kyoto, but this time we really enjoyed exploring the giant metropolis. We loved seeking out its quieter spots, even in the midst of seemingly chaotic neighbourhoods like Shinjuku (our pick for the best area to stay in Tokyo).
We did crazy things like drive go-karts on the roads dressed as Mario characters and experienced sensory overload at the insane Robot Restaurant and the epic arcades. We also enjoyed traditional Japan at temples and with an exquisite 12-course lunch in a serene private tatami room at Bon.
Japan Train Trip
From Tokyo we took off with a 7-day Japan Rail Pass (the best way to explore the country) for a whirlwind trip to some of the spots we missed last time. We strolled the forest temples of Nikko, gazed in awe at Mount Fuji at Lake Hakone, soaked in an onsen bath, explored the traditional wooden houses of Takayama, and participated in a tea ceremony in Kanazawa. We loved every minute.
Read our Japan itinerary for more details.
Japanese Food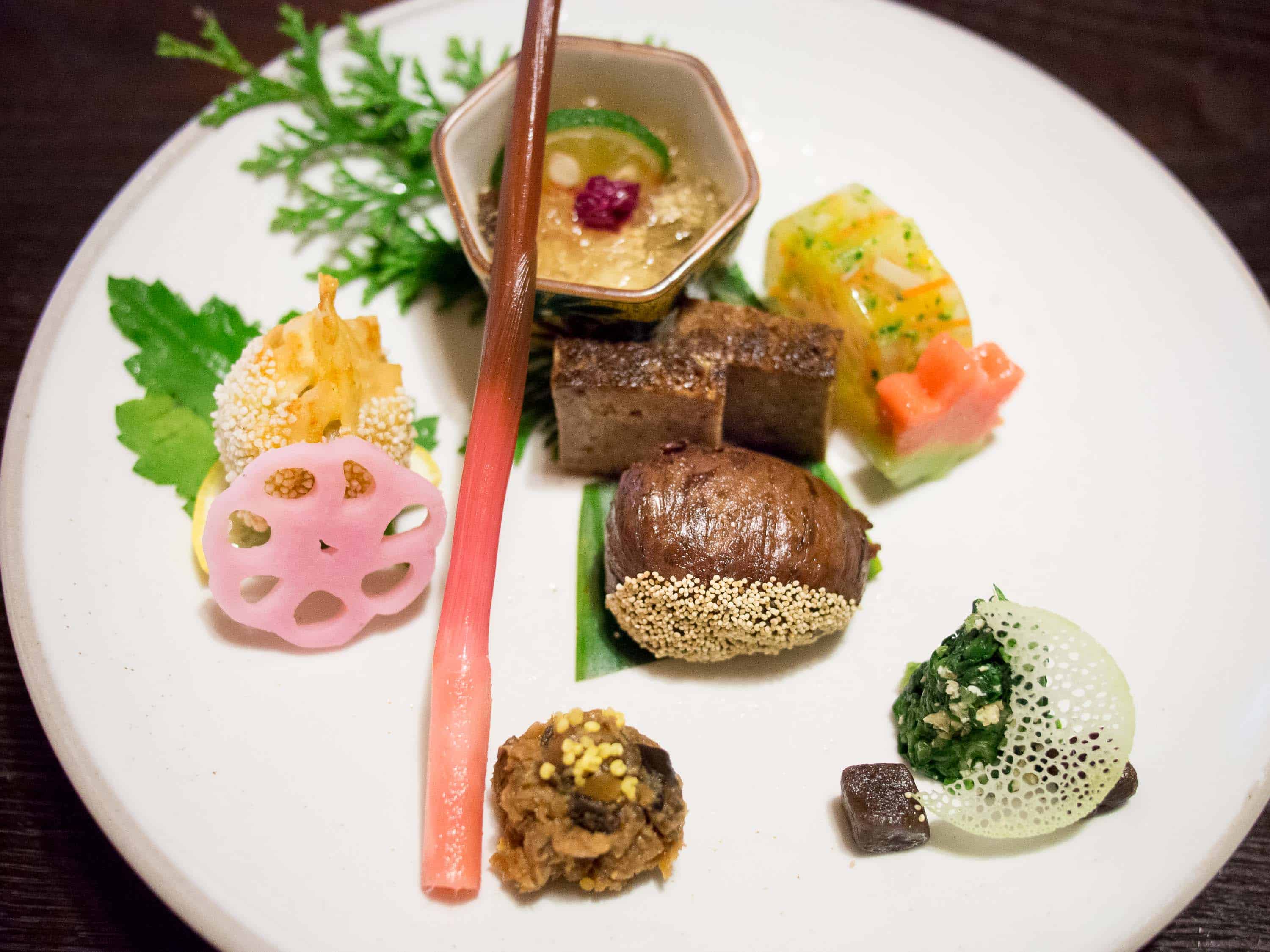 Japanese food is so good! Yes, even for vegetarians (with some advance planning). We enjoyed sushi and ramen for the first time (including ordering ramen from a vending machine!), experienced a 12 course Zen Buddhist vegetarian meal, and ate tempura, soba noodles, okonomiyaki, Japanese curry, divine tofu, and so much more.
Thailand
Living in Koh Phangan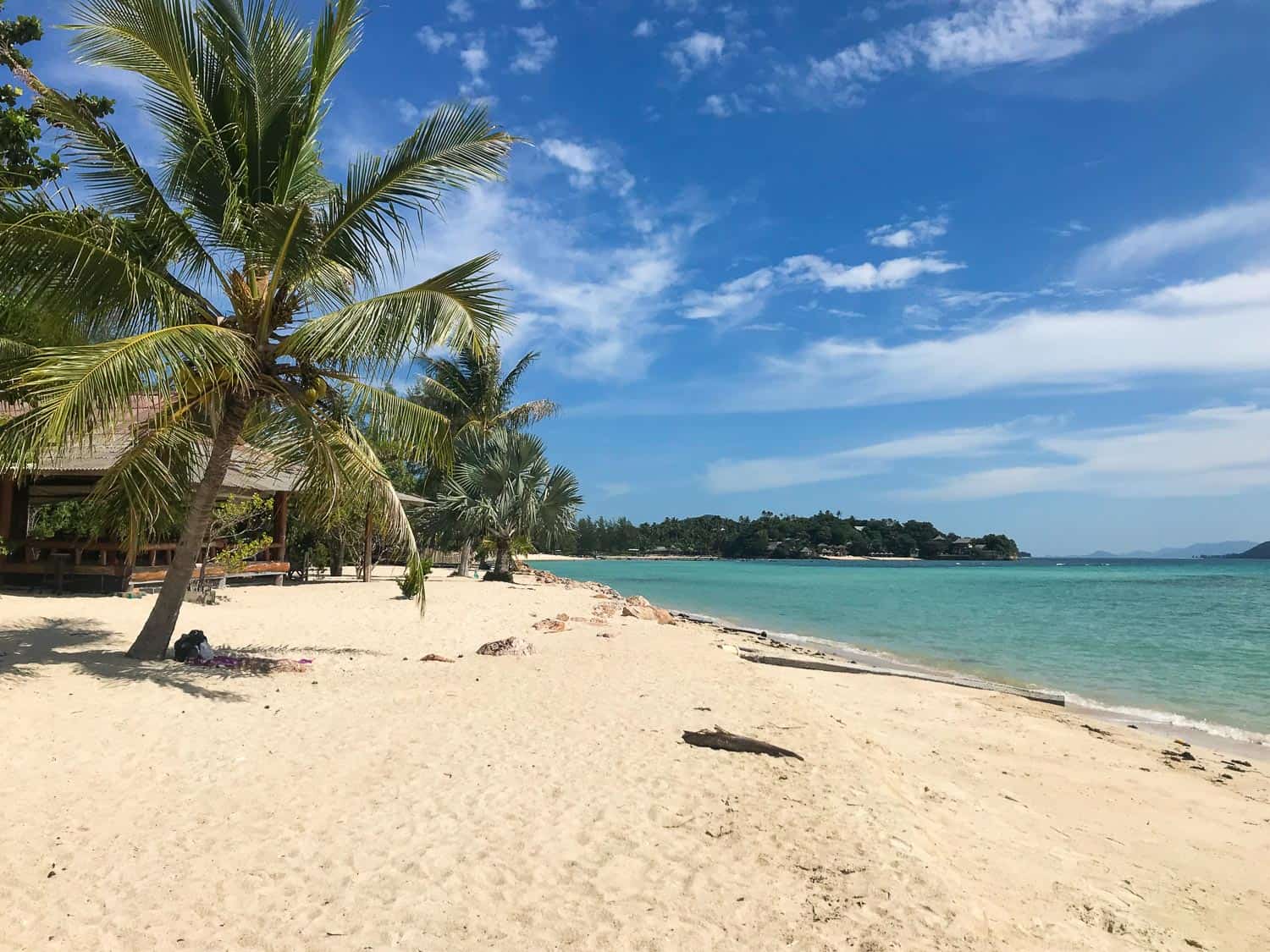 Thailand is somewhere we used to visit often as it's a great, affordable digital nomad destination for getting some work done, but it had been over three years since our last visit. Rather than go to our usual haunts of Chiang Mai and Koh Lanta, we tried somewhere different.
Koh Phangan is known for its backpacker parties, but we found it easy to avoid all that by staying near the quiet village of Sri Thanu which has more yoga studios and vegetarian restaurants than bars. We rented a cute wooden house by the sea and used the surprisingly good wifi to get some work done. It was a very quiet life but it was just what we needed.
Oman
Road Trip Around Oman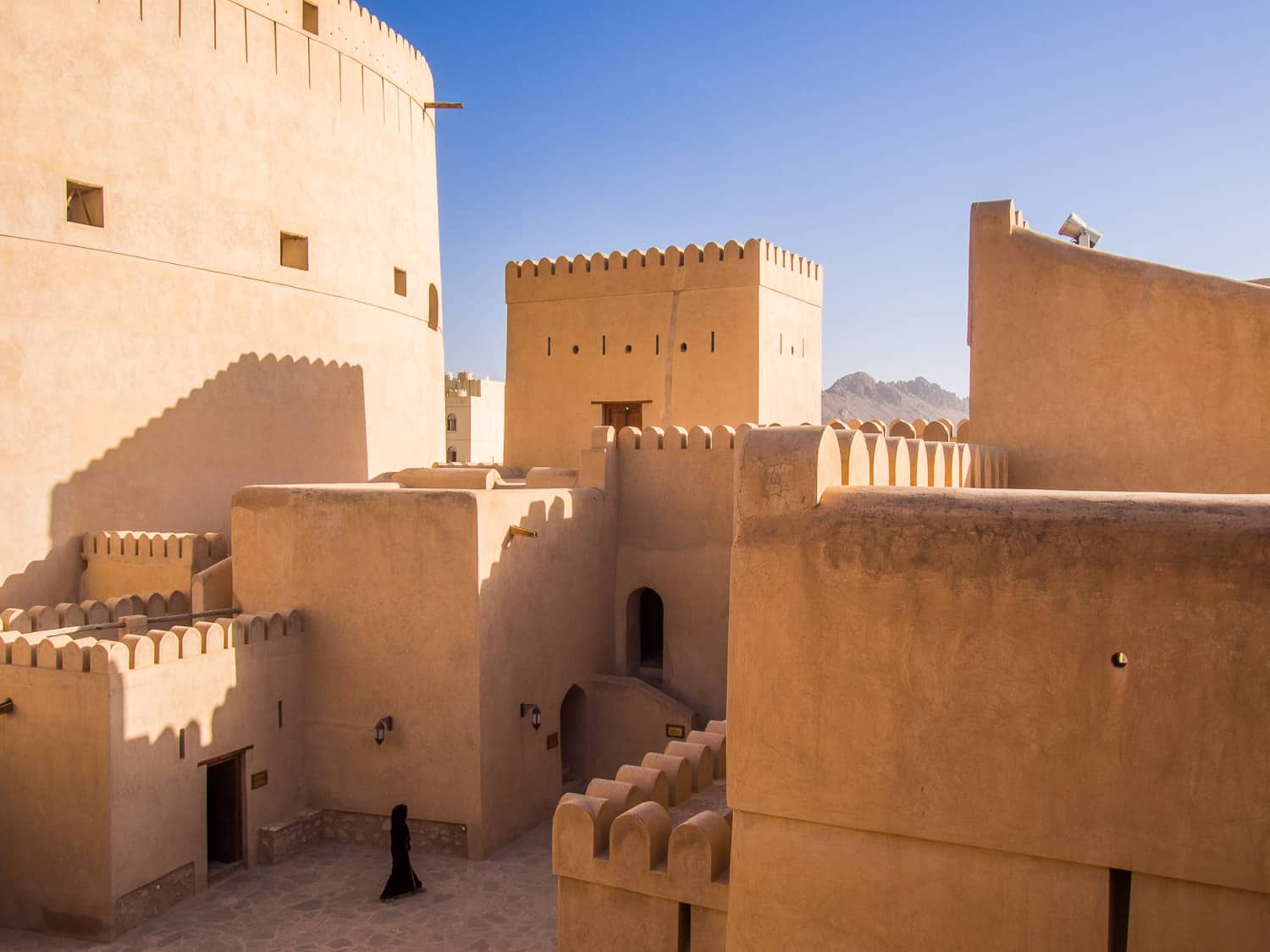 Another road trip to end 2017! Oman was a new country for us and we spent 10 days exploring this little-visited destination, one of the safest in the Middle East.
We visited stunning mosques and sandcastle-like forts, hiked up sand dunes and along the rim of Oman's Grand Canyon, swam in the crystal green waters of wadis, and took long walks on empty beaches.
United Kingdom
A Christmassy Christmas
After many Christmases abroad we decided to celebrate at home for the second year in a row. We loved being with friends and family and doing all the Christmassy things like wander the festive markets and lights in London, enjoy a Christmas afternoon tea, and visit the festive-themed Harry Potter Studio Tour (it's amazing and a must for HP fans!).
Simon also recorded a song with his London band, we scored last minute front row seats to the Glengarry Glenross play with Christian Slater, and I took part in my first Park Run.
A Cosy Winter
Unlike last year we didn't flee for warmer climes after the New Year but stayed in England for the whole winter! As leaving winter behind was one of the reasons we left the country eight years ago, this was kind of odd for us but we discovered that we really enjoyed the novelty of the cold.
We've had a series of housesits in Somerset, Dorset, Lancashire, and Stratford Upon Avon (found on Trusted Housesitters). We especially loved being in the countryside—chilly walks across the fields with dogs during the day and cosy nights by the fireplace. We even had snow!
A highlight was training for my second half marathon (I'm running the London Landmarks Half on 25th March for Alzheimer's Society). It turns out winter running is so much easier than running in the tropics! Despite falling over on muddy forest trails and running in subzero temperatures in the snow, I've loved every minute of it and can't wait for the race (and am just a little nervous :) ).
Ups and Downs of Our Business
Last year one of our highlights was a significant increase in income, most of it passive from affiliate commissions on this site and our travel budget app Trail Wallet.
While our income did increase slightly again in year 8, it has been a mixed year business-wise. The worst thing was a decrease in our Google traffic to this site (our main source of visitors). For seven years our traffic increased each year and then suddenly, unexpectedly, it started to decline last year. It was frustrating not being able to work out why. Was it because we switched over to a secure site? Or updated those posts? Have we offended Google somehow? Is there just more competition?
We couldn't figure it out and it was a scary time feeling like our business was slipping away from us.
But we're feeling more positive about it now and our income wasn't affected as much as you'd expect. Simon finished our new web design (which I love!), our Google traffic is recovering a little, and our Pinterest traffic is increasing (we hired our first virtual assistant to manage it for us last year). I have learnt a lot about SEO and am working on updating many of our old posts. We have hope and realise that this is just the nature of the business.
We have lots to look forward to in year 9—a return to our beloved Italy, exploring some new European destinations, and Simon is finally working on his dream of making an adventure game.
As always, thank you for your support as loyal readers and cheerleaders of Trail Wallet and The Carry-On Traveller book.
If you enjoyed this post, pin it!