This page contains affiliate links. Please read our disclosure for more info.
Our amazing two week Namibia road trip took us to some of the most remote places we've ever been. We climbed giant sand dunes, kayaked with thousands of seal pups, enjoyed spectacular sunsets, and got up close to cheetahs, leopards, and rhinos.
Namibia is a wild, beautiful, and empty country that most travellers overlook. This is a shame as it's an easy and safe place to self-drive and is perfect for first time visitors to Africa.
Contents
Our Namibia Road Trip Itinerary
Our road trip was a total of 15 nights starting and ending in the capital Windhoek and focusing on central and northern Namibia. We drove 2658km (1652 miles) in April 2017, which is at the end of Namibia's summer rainy season. The winter dry season from July to October is a better time for a Namibia safari.
Okahandja (north of Windhoek) – 2 nights
Okonjima Nature Reserve – 1 night
Etosha National Park (outside park) – 2 nights
Etosha National Park (inside park) – 1 night
Damaraland – 2 nights
Swakopmund – 3 nights
Sossusvlei – 3 nights
Windhoek – 1 night
You could drive this route in 10 days by skipping a few places or moving at a faster pace. While covering the main attractions of Etosha, Swakopmund, and Sossusvlei in a week is technically possible, distances are long and it would be very rushed.
If you have longer than two weeks to travel Namibia, you could also explore further south including Lüderitz, Kolmanskop, and Fish River Canyon.
Road Trip Namibia Map
Note: The distances of each leg of our journey are taken from Google Maps (which we used for navigation) and the times are the actual time it took us. I've noted if we stopped for a break.
Day 1 Windhoek Airport – Okahandja (2 nights)
Distance: 137km
Time: 2 hours 15 minutes (with a 20-minute supermarket shop)
We flew from Cape Town to Namibia and arrived at the airport around midday. We could have pushed ahead to Okonjima, but they were fully booked, so we spent our first few nights just north of Windhoek. Windhoek is not a particularly exciting city, so we were happy to start our trip in the countryside outside the small town of Okahandja.
The Elegant Farmstead turned out to be a lovely place to settle into Namibia. The gravel road to get there off the B1 was very rough at the end of the rainy season, but we were welcomed warmly and shown around the beautiful grounds dotted with cacti and long grasses. There are plenty of places to relax—day beds in the garden, loungers by the pool, swinging chairs in the bar, or couches in the lounge or terrace overlooking a waterhole (although there were no animals around at this time of year).
There's a one hour marked walk around the grounds, but we didn't see much and even at 9 am it was too hot. Much better was the sundowner drive. This isn't a safari area so we didn't expect much, but we saw giraffes, springbok, impala, kudu, oryx, roan antelope, ostriches, and warthogs. Watching the spectacular sunset up a hill overlooking the miles of empty plains made us feel like we were really in Africa.
If time is limited you could skip this stop, but if you want to break up the journey north, The Elegant Farmstead is a great stopover.
Accommodation and Food
Our room at The Elegant Farmstead was simple but comfortable and had air conditioning. The sweet treat and bedtime story left on our bed at turn down was a nice touch.
As in most lodges in Namibia, breakfast, afternoon cake, and dinner are provided as there's nowhere else to eat (lunch is on request). The four-course dinners were quite tasty, but (as is typical in Namibia) our vegetarian main wasn't terribly exciting and consisted of mostly vegetables.
Day 3 Okahandja – Okonjima Nature Reserve (1 night)
Distance: 179km (get Google directions to Okonjima Nature Reserve not Okonjima Plains Camp)
Time: 2 hours 30 minutes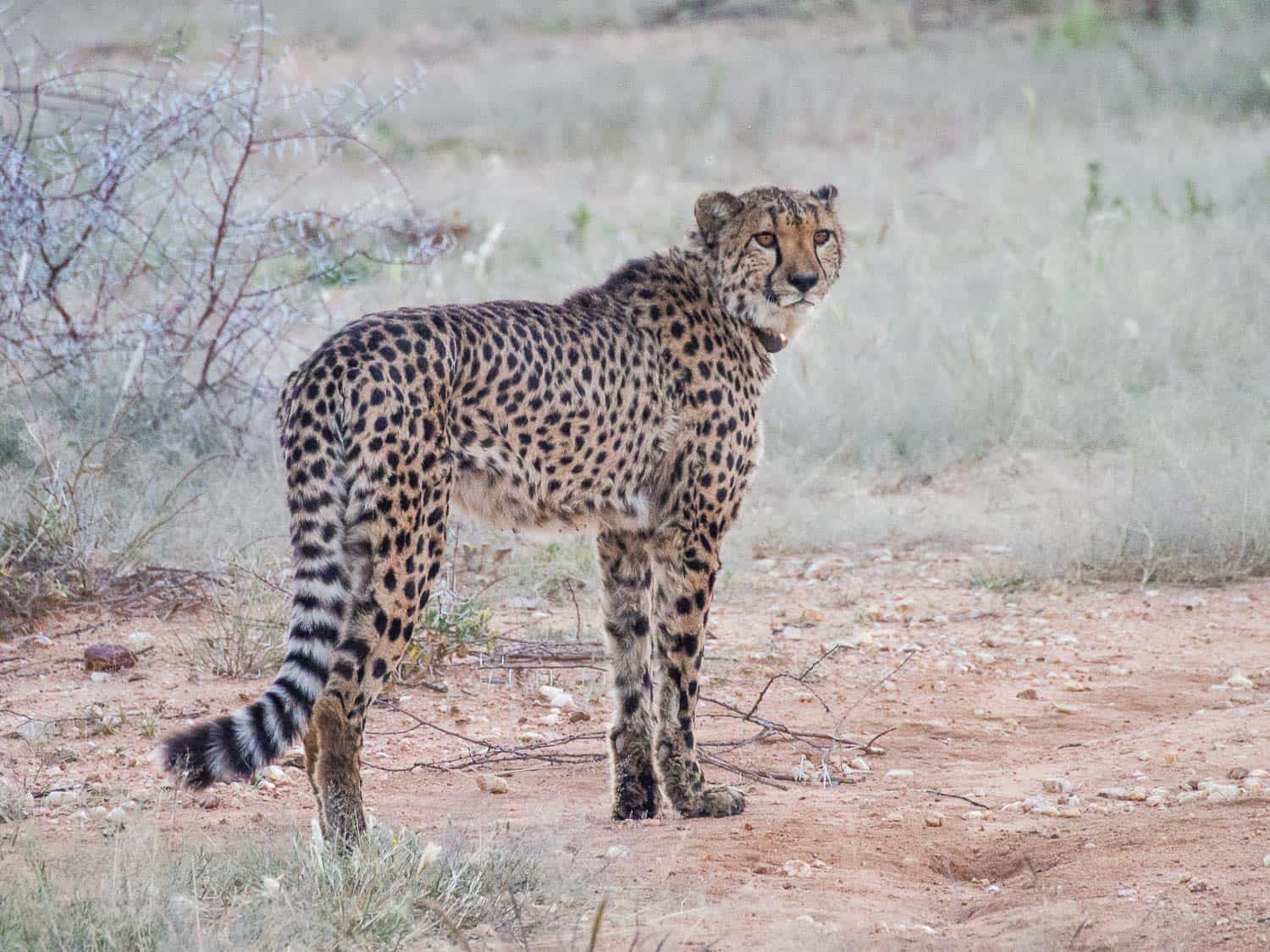 Okonjima Nature Reserve is home to the Africat Foundation which researches, rescues, and rehabilitates big cats. The highlight is the cheetah and leopard safari drives that take place each afternoon and early morning. Although the reserve is fenced to protect the cats from wandering onto neighbouring farms (and getting shot), it's so huge that it felt just as wild as the unfenced Kruger reserves we visited in South Africa.
On our first afternoon we did a leopard drive. The leopards are radio collared but there's no guarantee you'll find them. We followed the beeping signal off road in search of them but they were hidden in the dense bush (the downside of this time of year) and we had to give up.
Instead we went in search of cheetahs, which is done on foot! It was incredible to get up close to these rare, beautiful creatures. As the sun began to set we watched them wake up, stretching and yawning and finally walking off for the evening hunt.
The next morning we looked for leopards again, and it didn't take long for us to find a female leopard and her twin cubs. The mother disappeared on the hunt, but we watched the 9-month-old cubs for ages as they darted in and out of the long grass.
Okonjima is well worth a stop on the way to Etosha as it's one of the best places in the world to see cheetahs and leopards. It's expensive (and activities are extra) so one night is enough, but two would allow for more relaxation and chances of seeing the big cats.
Accommodation and Food
We stayed in a standard room at Okonjima Plains Camp (the Bush Camp is more luxurious). It was nicer than we expected with a big window overlooking the bush—we saw warthogs but wished we had more time to enjoy the view. We loved hearing the crazy night sounds of animals barking and hooting.
Rates include a breakfast buffet, afternoon tea (the cakes in Namibia are superb), and a three-course dinner. It was the only place we stayed that included some protein in the vegetarian option—chickpea and vegetable stuffed peppers. Meals are served in the huge barn-like lounge/restaurant with floor to ceiling windows overlooking a waterhole. We saw lots of warthogs and one even came into the restaurant!
Day 4 Okonjima Nature Reserve – Etosha National Park (Mushara) (2 nights)
Distance: 322km
Time: 4 hours 10 minutes (with petrol stop)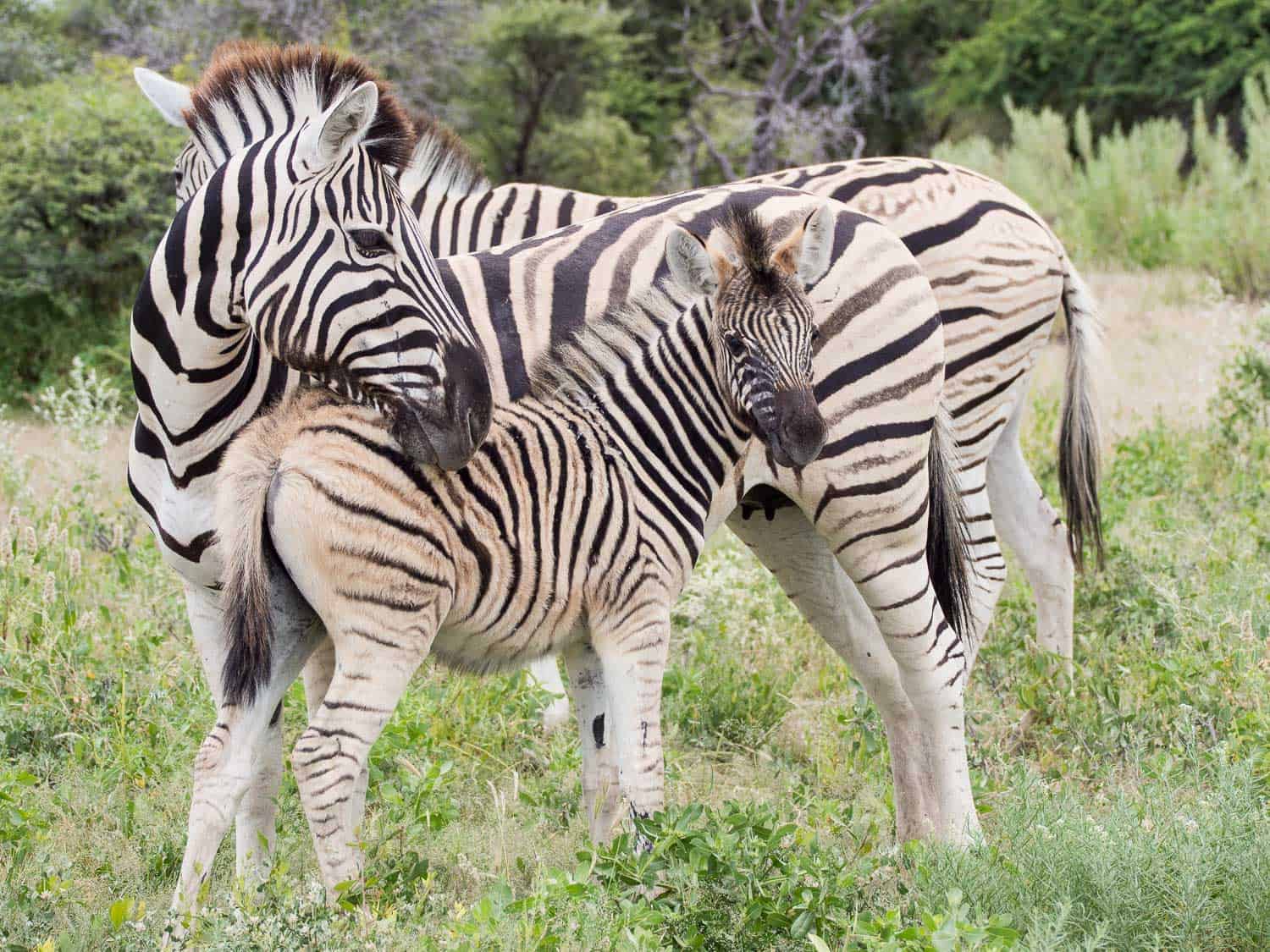 Etosha National Park is one of the most popular places to visit in Namibia and self-drive safaris are easy. It's a huge park so it makes sense to divide your time between two lodges. Accommodation outside the park is nicer, but you won't be able to be in the park for sunrise and sunset.
We started at Mushara Lodge, just a 10-minute drive to the Von Lindequist Gate on the eastern side. We entered the park when it opened at 6 am for our first self-drive safari. Etosha drives focus on visiting the waterholes that edge a massive salt pan. The problem in April was that there was so much water everywhere that animals didn't need to go to waterholes. Elephants also move to a different area so we didn't see any.
You'll see much more in Etosha during the dry season, but in one morning we still managed to spot two black rhinos (one walked across the road in front of us!), jackals, zebra, giraffe, impala, springbok, oryx, blue wildebeest, and kudu. A highlight was seeing two distant cheetahs walking across the plains. We rarely saw any other cars.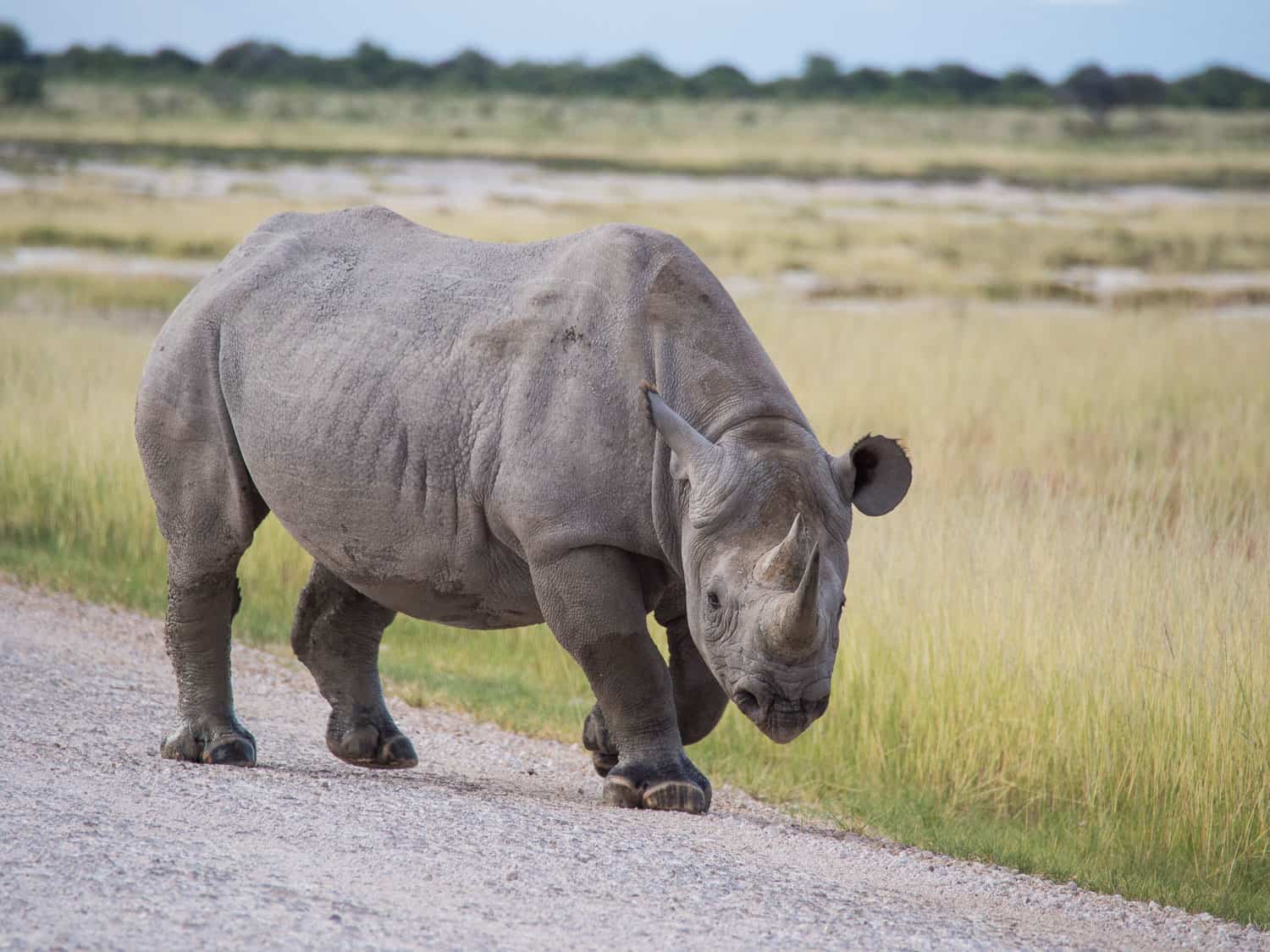 Accommodation and Food
Mushara Lodge has a comfortable bar and lounge area, large pool, and lovely gardens where we saw warthogs, impala, squirrels, and plenty of birds.
Our cottage was our most luxurious accommodation in Namibia with a high thatched ceiling, windows on three sides, comfortable bed, armchairs, fridge, A/C, and a powerful rain shower in the ensuite.
Although the staff were a little confused by our vegetarianism, the chef managed to provide us with some decent options. The first night was a BBQ with entertainment and the second was a three-course dinner. Breakfast (helpfully served from 5.30 am) is the usual continental buffet plus eggs and meat to order. Lunch was extra—I liked the roast vegetable and pesto focaccia.
Day 6 Mushara Lodge – Halali Camp, Etosha (1 night)
Distance: 89km
Time: 4 hours (with wildlife viewing)
We left at 6 am for the drive to Halali, one of the government-run camps in the centre of the park. We took our time and looked for wildlife on the way, but it was a lot harder to spot animals than on the eastern side. We still saw one rhino, ostriches, zebra, wildebeest, and impala, but there were long stretches when we saw nothing at all.
The main reason to stay in a camp inside the park is to visit the waterholes lit up at night. Of course, at this time of year we saw nothing.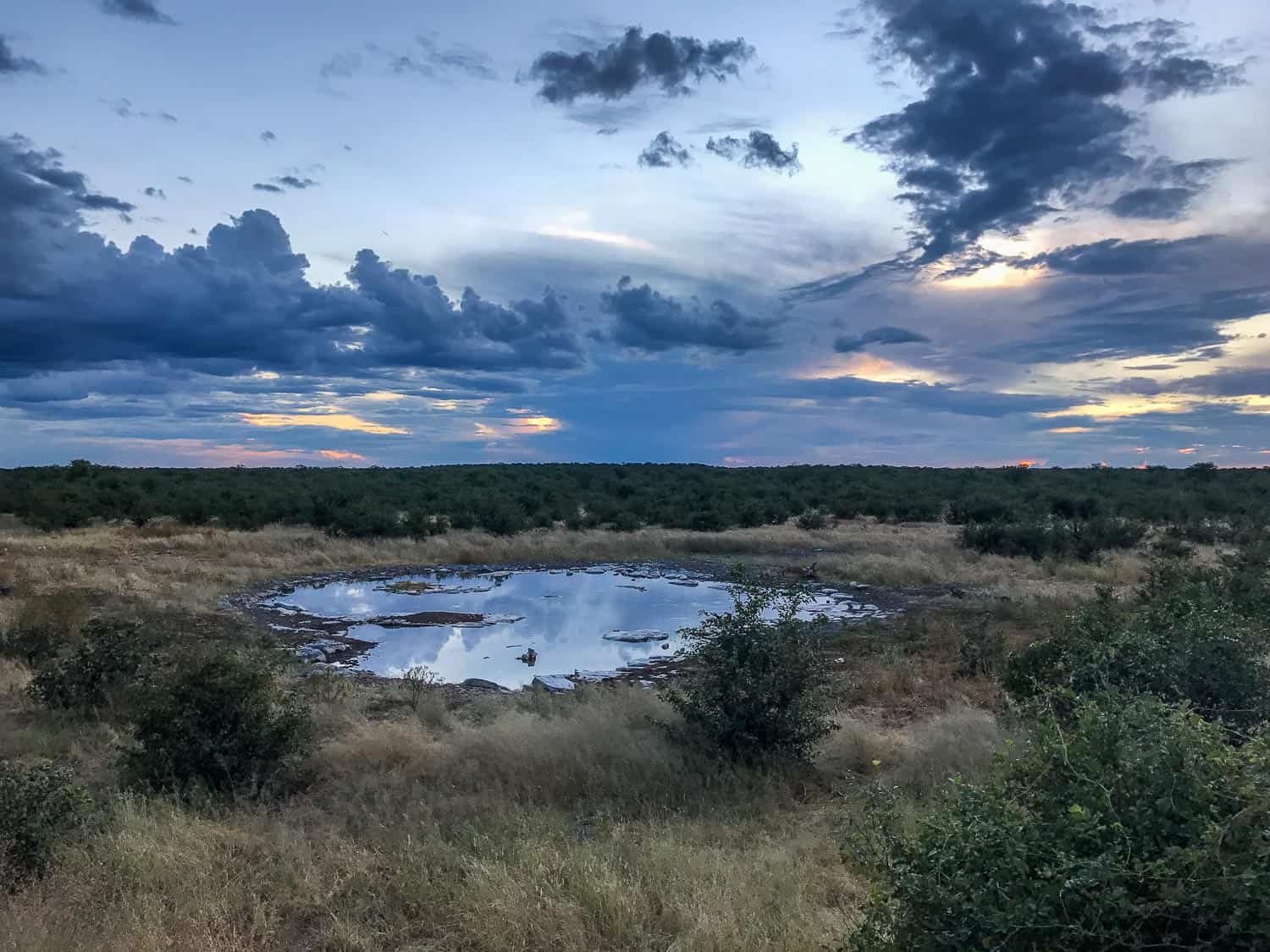 Accommodation and Food
Halali Camp was a disappointment. It felt run down, the staff wasn't helpful, and the food was the worst of our trip. There is a pool where we could hang out when we arrived too early to check-in.
Our honeymoon suite (the only room available) was better than we expected with a proper double bed (usually it's two singles) below a skylight, fridge, A/C, armchairs, and a small, rather unattractive garden with a cold jacuzzi.
I wouldn't recommend Halali unless you are visiting during the dry season and want to see animals at the waterhole. I heard that the Okaukuejo and Dolomite camps are better. Most accommodation in Namibia national parks books up quickly.
Day 7 Halali – Damaraland (2 nights)
Distance: 333km
Time: 5 hours 30 minutes
Wow, what an adventure! After exiting from the Anderson Gate, we took the longer route to Damaraland via the C40 to minimise the amount of time we had on gravel roads as we didn't have a 4WD. We still had two hours on dirt, sand, and gravel roads through remote countryside.
We had no signal on our phone, which made us nervous as we drove through sandy river beds, deeply rutted dirt, and flooded sections of road. We were 100km from the nearest town with no houses around.
Thankfully we made it to Huab Lodge without breaking down. Damaraland is a vast, wild and scenic area with a few far-flung lodges. We've never stayed anywhere so remote before, and although we felt a little uneasy at first, the staff made us feel welcome, and we soon settled in.
Huab Lodge wasn't my first choice but popular spots like Grootberg Lodge and Damaraland Camp book up far in advance (and some are extremely expensive). Huab isn't fancy, but it's comfortable and relaxed in a tranquil and scenic location surrounded by craggy mountains. There's an open-sided lounge/dining area, pool, and hot springs.
Most of the time we just relaxed and enjoyed the view, but we did do the afternoon drive. It wasn't particularly exciting, but we saw some oryx, mountain zebras, springbok, and plenty of birds. Unfortunately, there are no longer desert elephants in this area. The skies were spectacular as we drove back as the sun set.
Accommodation and Food
Our thatch and stone room at Huab Lodge was fairly simple but had big windows with wonderful views of the dry riverbed and mountains. As the lodge is solar-powered, there's a fan rather than A/C (which we could have done with). Amazingly it had the best WiFi of our trip.
As usual, the food was fine, just not very exciting for vegetarians.
The only issue we had with Huab was the communal meals with the hosts and guests. Dinner would have been fine, but three formal meals at set times each day were too much for us introverts. Of course, they are a good way to meet other guests and how well you get on with them makes a big difference to how easy the meals are.
Day 9 Damaraland – Swakopmund (3 nights)
Distance: 388km
Time: 7 hours (with a one-hour petrol/lunch break)
It's a long, exhausting drive to the coast, mostly on bumpy gravel roads through bleak, empty desert. The area around Uis is the most scenic with red rocky hills and the Brandberg Mountain. We stopped at Cactus and Coffee—a literal oasis in the desert—for a tasty lunch of toasted sandwiches and cake. Take advantage as it's rare to find anywhere to stop in Namibia.
The desert stretches to the Atlantic Ocean and the Skeleton Coast feels just as bleak with shipwrecks decaying in the sea. It's often foggy on the Namibian coast and it's colder than the rest of the country.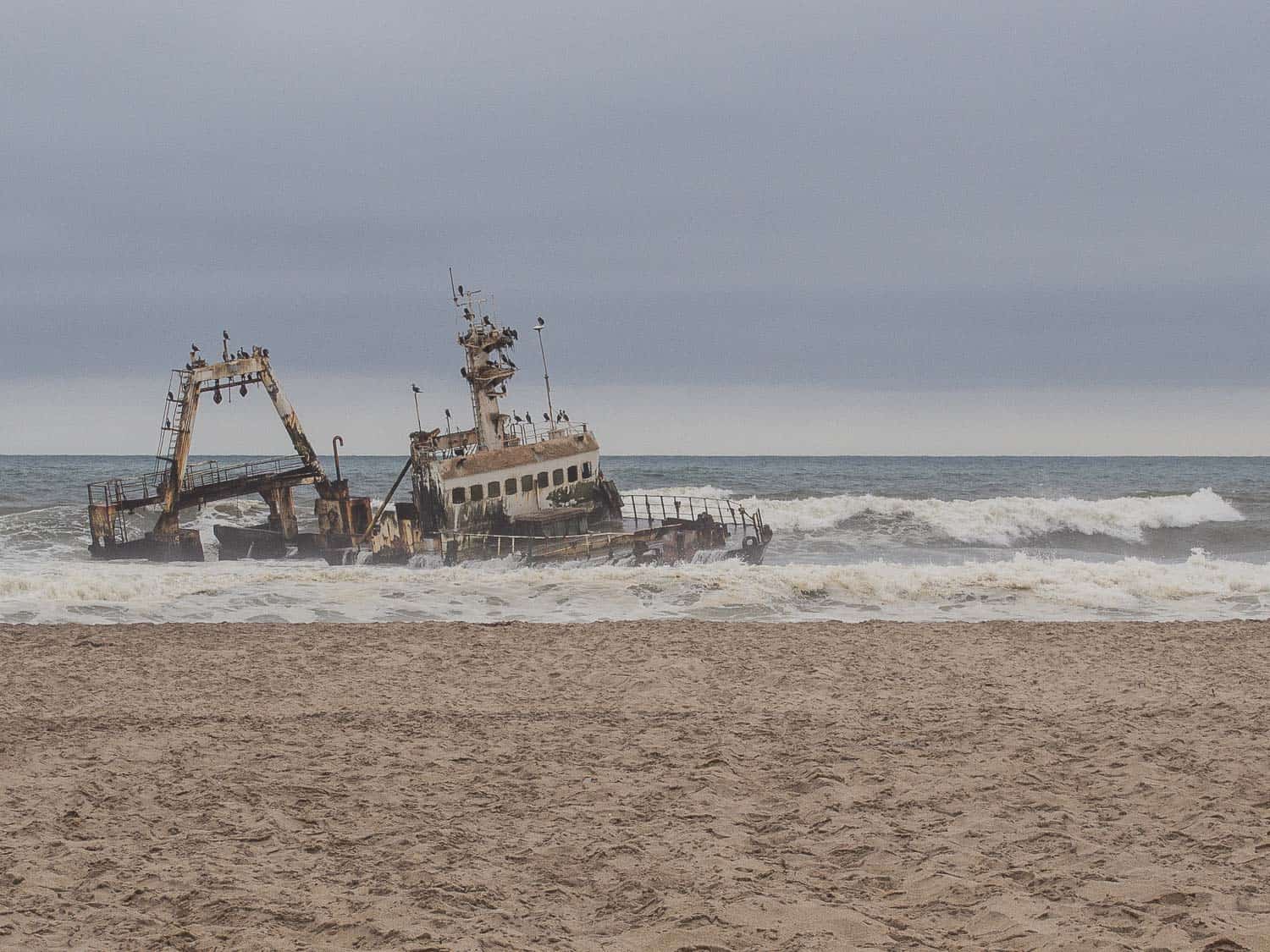 Swakopmund is a small beach town with German architecture, a few good cafes, and lots of adventure activities. You can go skydiving, sand boarding, horse riding and more.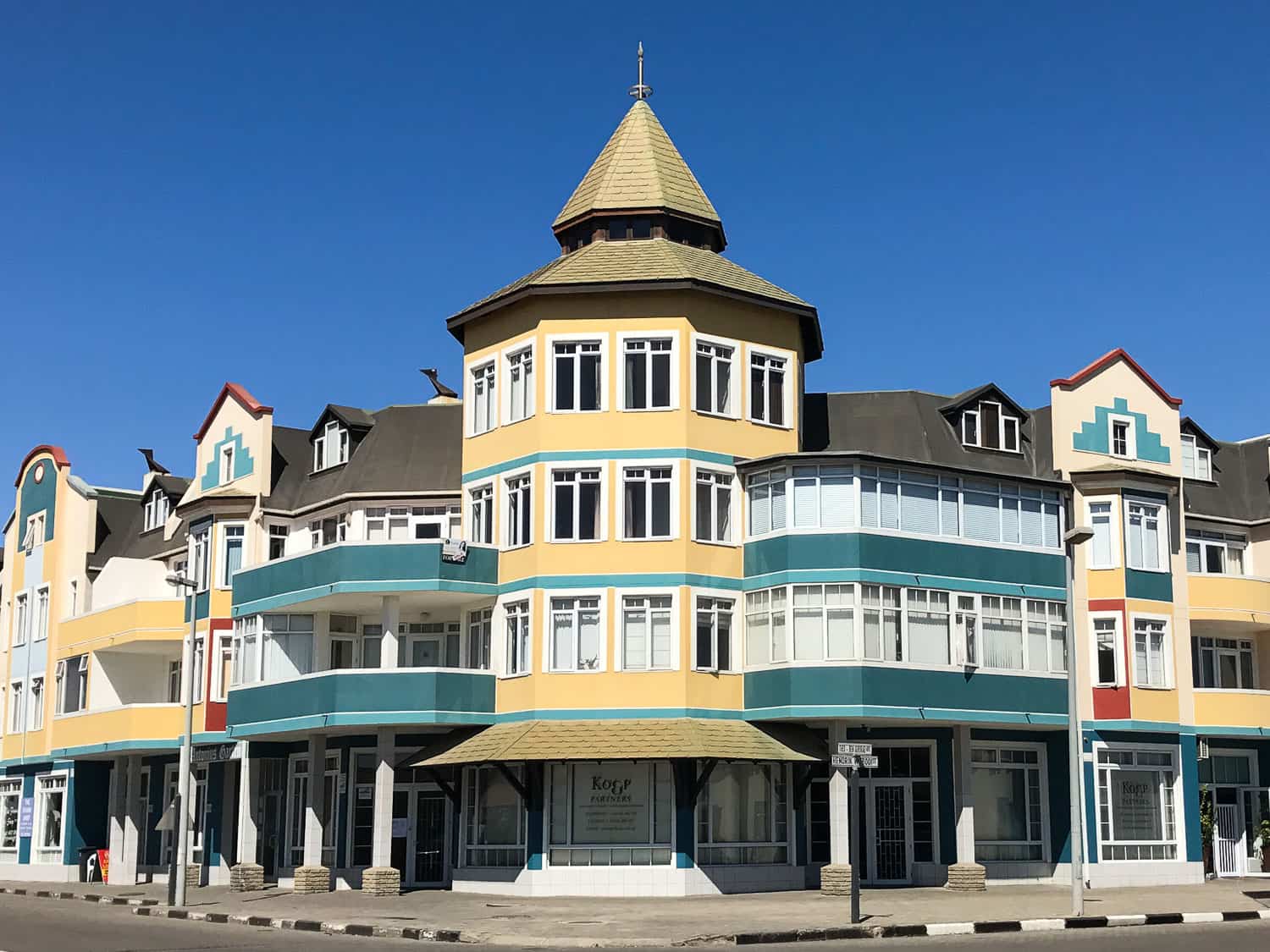 We went kayaking with seals with Namibia Kayak Tours and it was one of the best things we've ever done. The trip starts from nearby Walvis Bay with a 45 minute 4WD trip through sand to Pelican Point. On the way we passed a massive salt mine and saw flamingos, pelicans, jackals, and thousands of cormorants.
The colony of tens of thousands of Cape Fur seals stretches along the coast and is incredibly noisy, making strange farm-like noises of barks, grunts, and baas.
We only had to paddle a short distance from the shore before hundreds of seal pups surrounded us. They are adorable! Like puppies, they are playful and curious, nibbling on our paddles, diving and jumping in and out of the water. When we paddled on they often swam alongside us.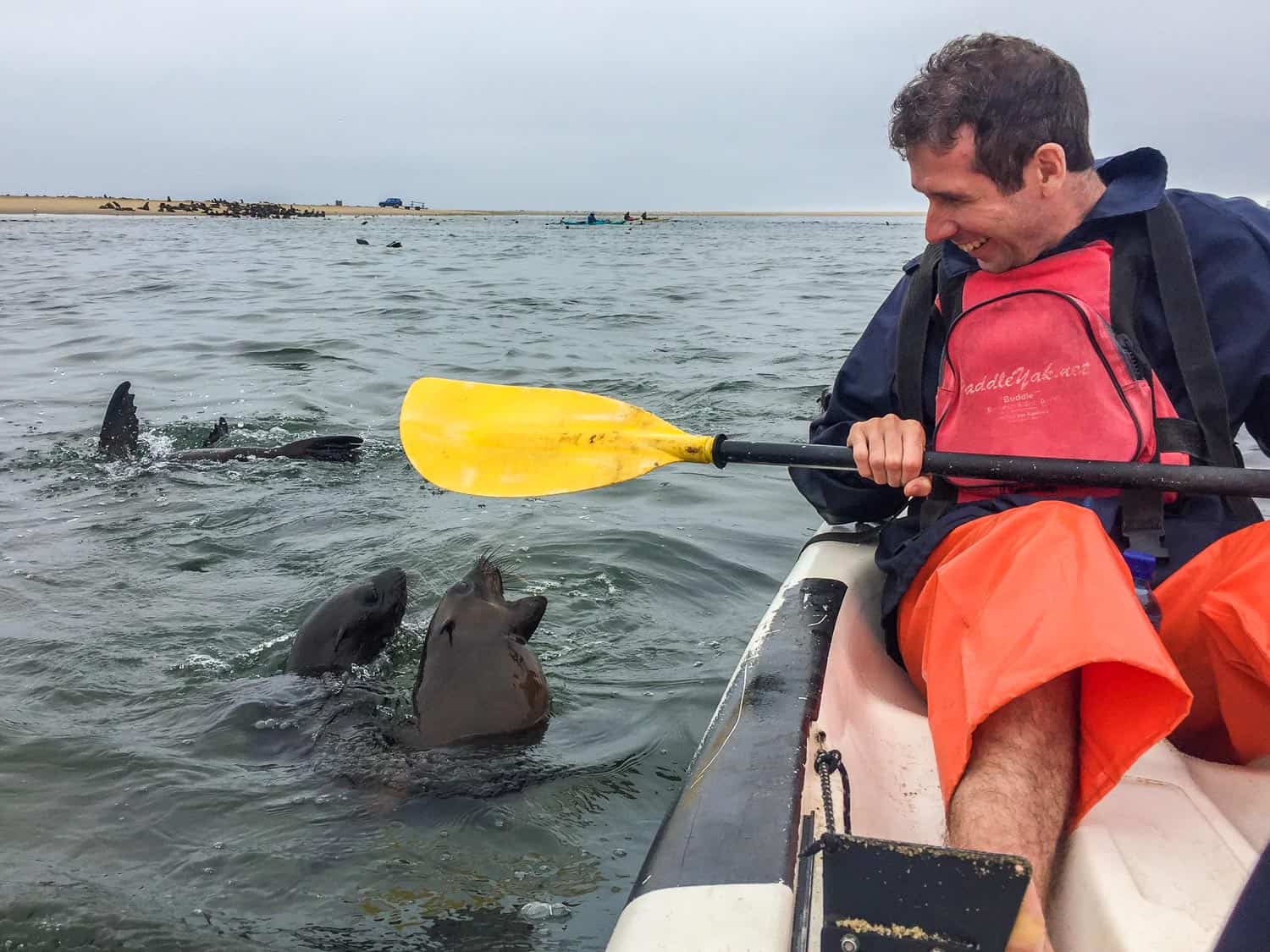 We highly recommend this trip, even if you don't like kayaking (you barely have to paddle). It's a unique experience and much better than viewing the seals on a crowded boat trip (plus all the boat trips feed the seals to encourage them to jump onboard, which we're not comfortable with).
Accommodation and Food
Swakopmund has a wide range of accommodation, but as we were there at Easter the affordable guesthouses were booked up. We stayed at Swakopmund Luxury Suites in a comfortable, modern room with a Nespresso machine, good WiFi, fridge, and soft dressing gowns. It felt a little lacking in character after the lodges but was ideally located a few minutes walk from the sea (the promenade is great for walking or running).
You are given a voucher for breakfast which you can use in four cafes—the best was Cordes & Co.
You can find more guesthouses and hotels in Swakopmund here.
Many people rave about the food in Swakopmund, but it's all about the seafood and meat. Vegetarians won't starve but options are uninspired. There's Indian at Garnish, pizza at Secret Garden Bistro, and good toasted sandwiches, salads, and cakes with a sea view at Farmhouse Deli.
Day 12 Swakopmund – Sossusvlei (3 nights)
Distance: 294km
Time: 4 hours 30 minutes (with a quick stop at Solitaire)
Another long drive through emptiness. The gravel road was so uncomfortable that we were too demoralised even to stop for the obligatory photo opportunity at the Tropic of Capricorn.
Everyone stops at the teeny settlement of Solitaire to fuel up, eat their famous apple pie (so good), and take photos of the rusty abandoned cars. There's also a cafe and shop. It's a bizarre place.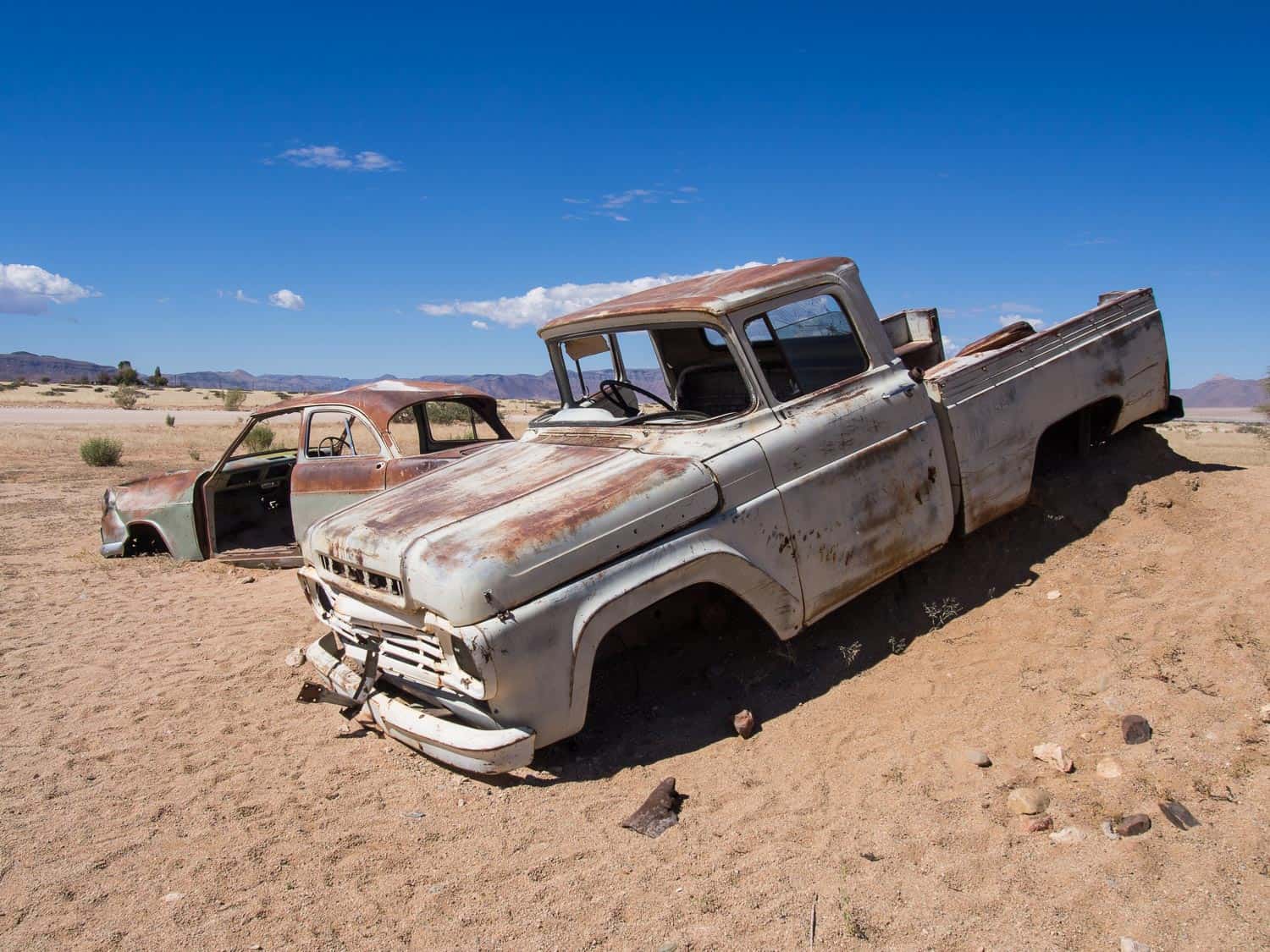 Sossusvlei is a salt and clay pan surrounded by tall dunes in the Namib-Naukluft National Park, but it often refers to this whole area of the southern Namib Desert. It was our favourite place in Namibia.
We stayed just past Solitaire at Moon Mountain Lodge, an hour drive from the entrance to the park and over two hours from the most famous area of Deadvlei. The best place to stay is Sossus Dune Lodge inside the park so that you can watch the sunrise at the dunes, but it gets booked up far in advance.
We got there as early as we could to climb the tallest sand dune, Big Daddy. Climbing dunes isn't easy. It was hot, a furious wind whipped sand into our faces and legs, and we sunk into the sand at every step. But it's well worth it.
The experience felt dreamlike, as if we'd entered another world. Orange dunes stretch for miles all around with a bright blue sky above and the stark white salt pan below. It's magnificent.
It took us an hour and a half to reach the top and five minutes to run down the side! We walked back through the surreal 900-year-old blackened dead trees in the Deadvlei clay pan.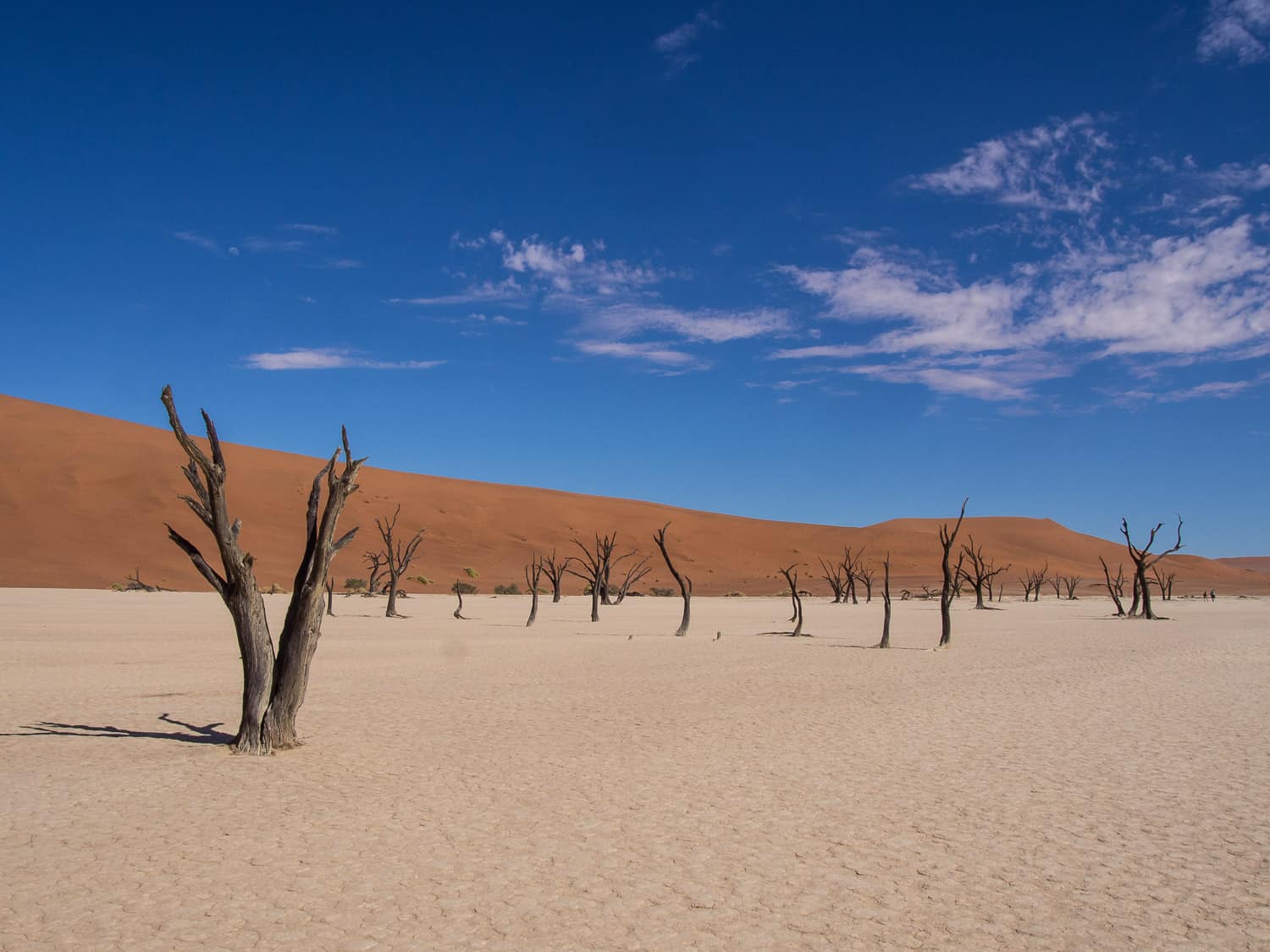 It's an incredible place and was the perfect way to end our trip.
Accommodation and Food
If you can't get accommodation inside the park, Moon Mountain Lodge is a good option closer to Swakopmund and Windhoek. The setting is spectacular on a hill above the desert with red mountains on the horizon. It almost didn't feel real, like we were in a watercolour painting. The sunsets and stars are dazzling.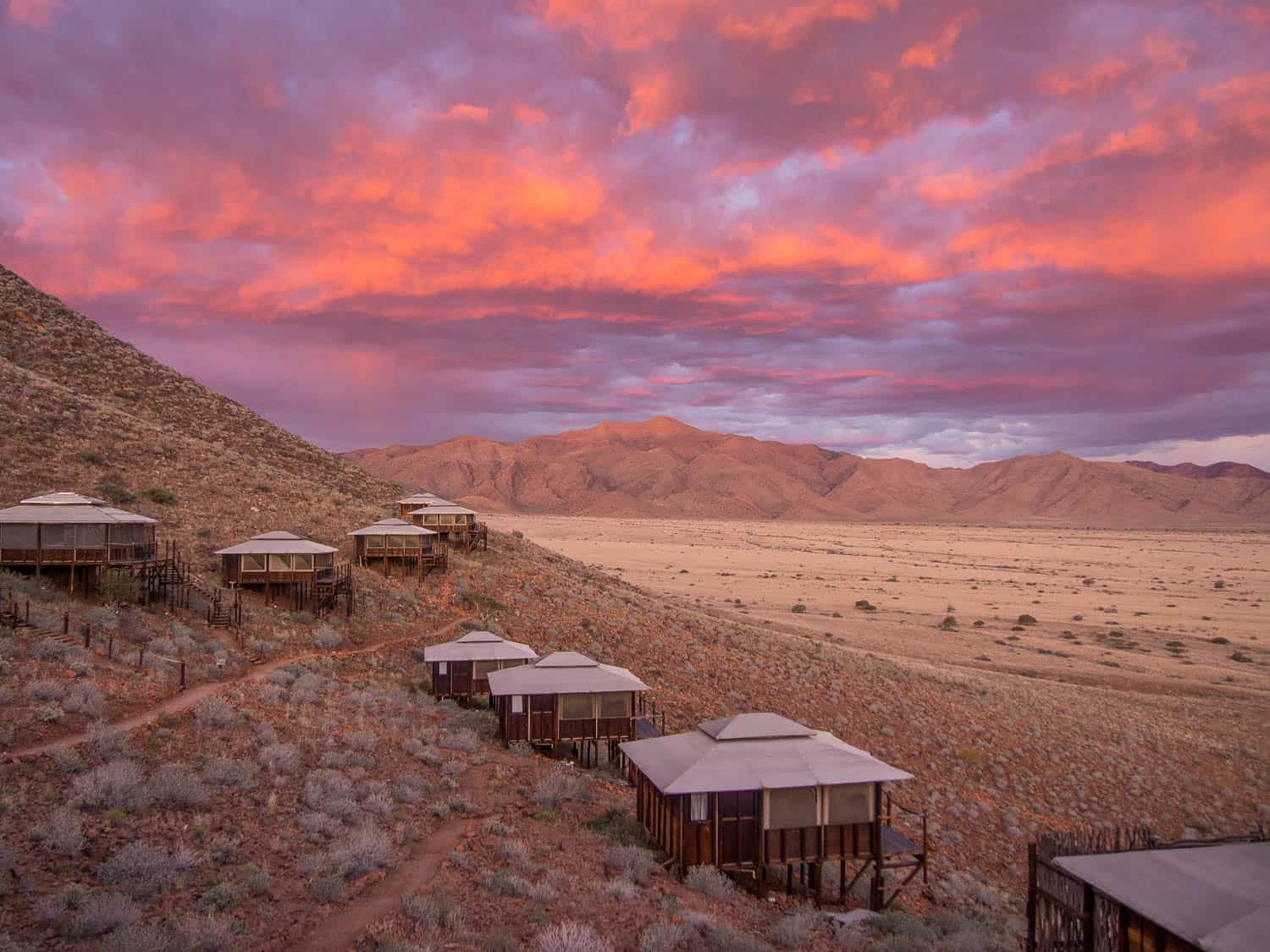 Rooms are permanent tents with proper beds and bathrooms. They are not luxurious, but it's not camping either. In April they were boiling without A/C or a fan, but they have private plunge pools to cool off. You can zip down the sides for panoramic views.
Decent meals are buffet style and they made us an extra vegetarian dish.
Our biggest issue at Moon Mountain was the service. Other than the friendly Assistant Manager, everyone seemed confused and even ordering a drink was hard work.
It's worth putting up with the downsides for the incredible location though.
Day 15 Sossusvlei – Windhoek (1 night)
Distance: 282km
Time: 4 hours 15 minutes (with a quick stop at Solitaire)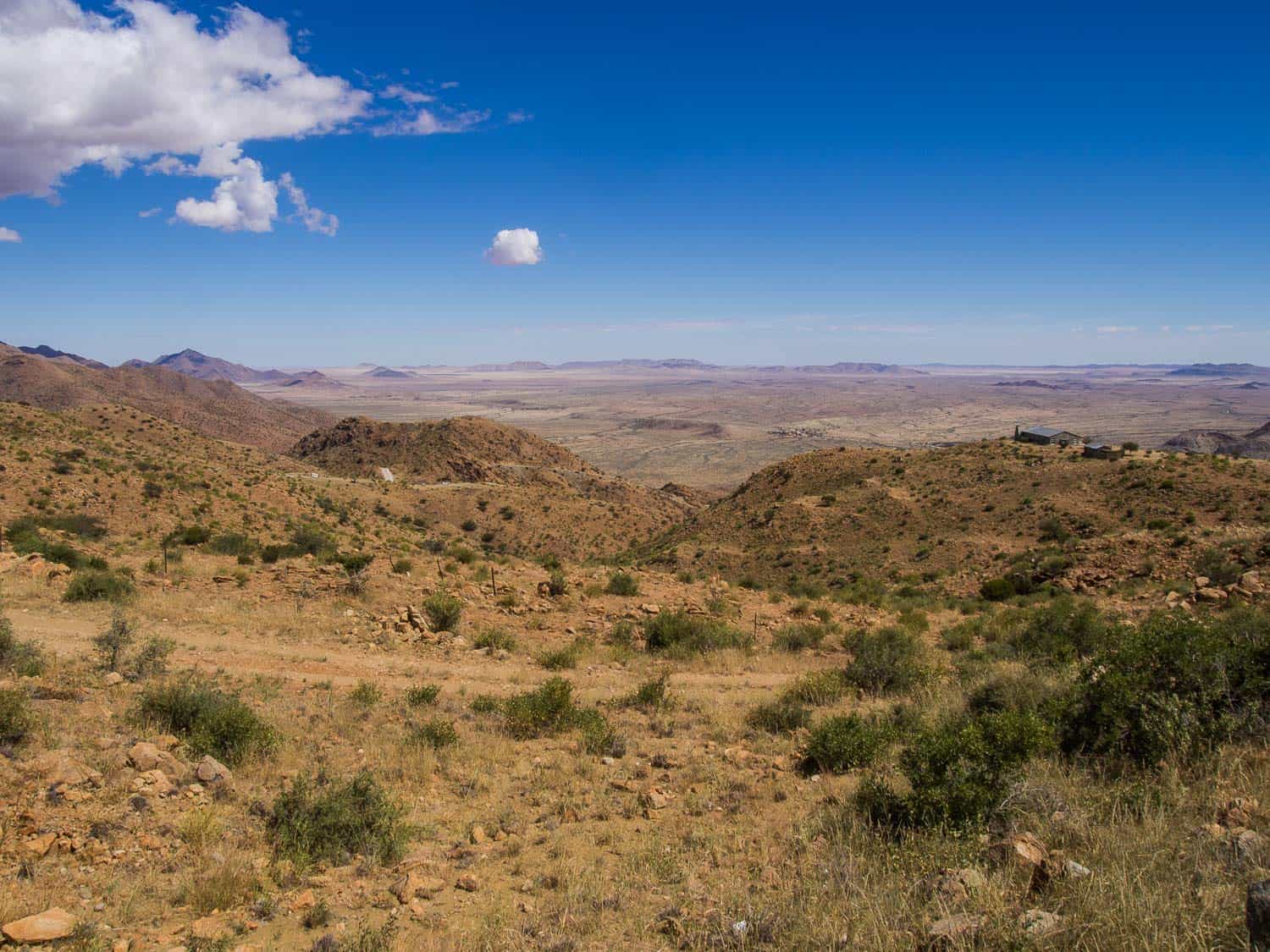 Most of the journey to Windhoek was on empty gravel roads, some of them very bumpy. Driving over the steep Spreetshoogte Pass was a highlight with spectacular views.
We were too tired to do anything in Windhoek (and there's not much to do).
Accommodation and Food
Caothinha Guesthouse was simple but pleasant with all the amenities we needed, a friendly owner, and a small pool. It's in the suburbs about a 10-minute drive from the centre.
We had Indian for dinner at the Windhoek branch of Garnish, probably the best option for vegetarians.
You can find more guesthouses and hotels in Windhoek here.
Day 16 Windhoek – Airport
Distance: 49km
Time: 45 minutes (with final petrol stop)
Sadly our Namibia trip came to an end!
Namibia Travel Resources
Guide Book – The Bradt Namibia Guidebook is the best.
Accommodation – Booking.com is a good option for finding Namibia accommodation in towns. For more remote locations we used suggestions from the Bradt guide and The Cardboard Box.
Car hire – Search comparison sites like Rental Cars for the best deals. A 4WD is more comfortable on the gravel roads, but they are expensive and you can manage without one. We were glad we paid extra for a higher clearance SUV (Nissan X-Trail).
Care hire excess insurance – Buy a separate policy to cover the excess as it's far cheaper than getting a full insurance policy with the rental company.
SIM card + Google Maps – These made directions easy and we didn't need a Namibia road map. We bought an MTC SIM card and data plan from the airport.
Travel insurance – Essential in case anything goes wrong. We used True Traveller as always—they are the best deal we've found for UK/EU residents. Heymondo is another well-respected company we've used in the past.
Read our Namibia first impressions for more about what to expect on a road trip in Namibia, our Namibia budget for a breakdown of our travel costs, and our guide to everything you need to know to plan your own Namibia self drive trip.
If you enjoyed this post, pin it!