This page contains affiliate links. Please read our disclosure for more info.
Namibia is perfect for your first African road trip. It's a safe and accessible country with stunning attractions such as the rhinos and cheetahs of Etosha and the huge sand dunes of Sossusvlei. The roads may be rough, but at least there's no traffic and the scenery is wild and beautiful.
We have already shared our detailed Namibia road trip itinerary, and in this post I'll cover how to plan your own Namibia self-drive trip.
Contents
Visas
Many nationalities including citizens of the US, UK, EU, Canada and Australia don't need a visa for Namibia if your stay is for 90 days or less.
When to Go
The June to October dry winter season is considered the best time to visit Namibia. Days are warm, nights can be chilly, and the dry weather is the best time for a Namibia safari in Etosha National Park.
The rainiest and hottest weather is from December to March. We visited in April and had some rain but it didn't affect our trip. Temperatures were usually around 30ºC during the day and in the low 20sºC at night, although the Namibia coast is always cooler. Roads were in a rougher condition at the end of the rainy season than they would be in the dry season.
The biggest problem at this time of year was that it was difficult to see animals in Etosha as they don't need to go to the waterholes. We had some luck at the eastern edge of the park and saw rhinos, giraffe, zebras, many types of antelope, and even two cheetahs, but in the centre of the park we sometimes drove for hours without seeing anything.
If a self-drive safari in Namibia is important to you, go during the dry season. Otherwise, the country can be visited at any time of year.
Getting There and Away
Unless you are overlanding across Africa or driving up from Cape Town, you'll probably travel to Namibia by plane to Windhoek airport. We flew from Cape Town on Air Namibia and left to Johannesburg on British Airways.
Air Namibia has direct flights to Namibia from Frankfurt, Germany. From everywhere else you will need to transit via Johannesburg or elsewhere in Africa. Check Kiwi and Skyscanner for the best flight deals.
Arriving at Windhoek airport was easy. In less than an hour we had passed through immigration, withdrawn cash from an ATM, bought a SIM card at the MTC shop, and picked up our rental car. It helped that we only had carry-on bags so didn't have to wait for luggage.
Language
English is Namibia's national language and is widely spoken. Other languages commonly spoken are Afrikaans, German, and many African languages.
Should You Rent a 2WD or 4WD in Namibia?
The biggest decision to make when planning your Namibia self-drive trip is whether to rent a 4WD or regular 2WD car. It's a controversial issue and you'll hear very mixed opinions. Some people say a 4WD is essential while others manage in a compact car.
Most Namibia tourist attractions are accessible in a 2WD, but a 4WD (usually a Toyota Hilux) will be more comfortable on the long, bumpy gravel roads. A 4WD is recommended in the rainy season.
The major downside of a 4WD is that it's much more expensive—both the rental fee, excess amount, and fuel costs. We also heard that it's easier to roll a 4WD on a gravel road if you are inexperienced.
We decided to risk it with a 2WD and originally booked a Toyota Corolla for £421 ($556) for 15 days. But then our friends visited Namibia the month before us and lost a piece of the underside of their car from all the rocks bouncing around.
We decided it would be safer and more comfortable to rent a higher clearance SUV—a compromise between a sedan and a 4WD. We changed our booking to a Nissan X-Trail, which cost double the price at £810 ($1069).
We were happy with our decision as the roads were rough and uncomfortable in many places and it would have been worse in a smaller car. The only place we thought a 4WD would have been better was in Damaraland where we had to drive through flooded and sandy sections of roads in the middle of nowhere—we managed though!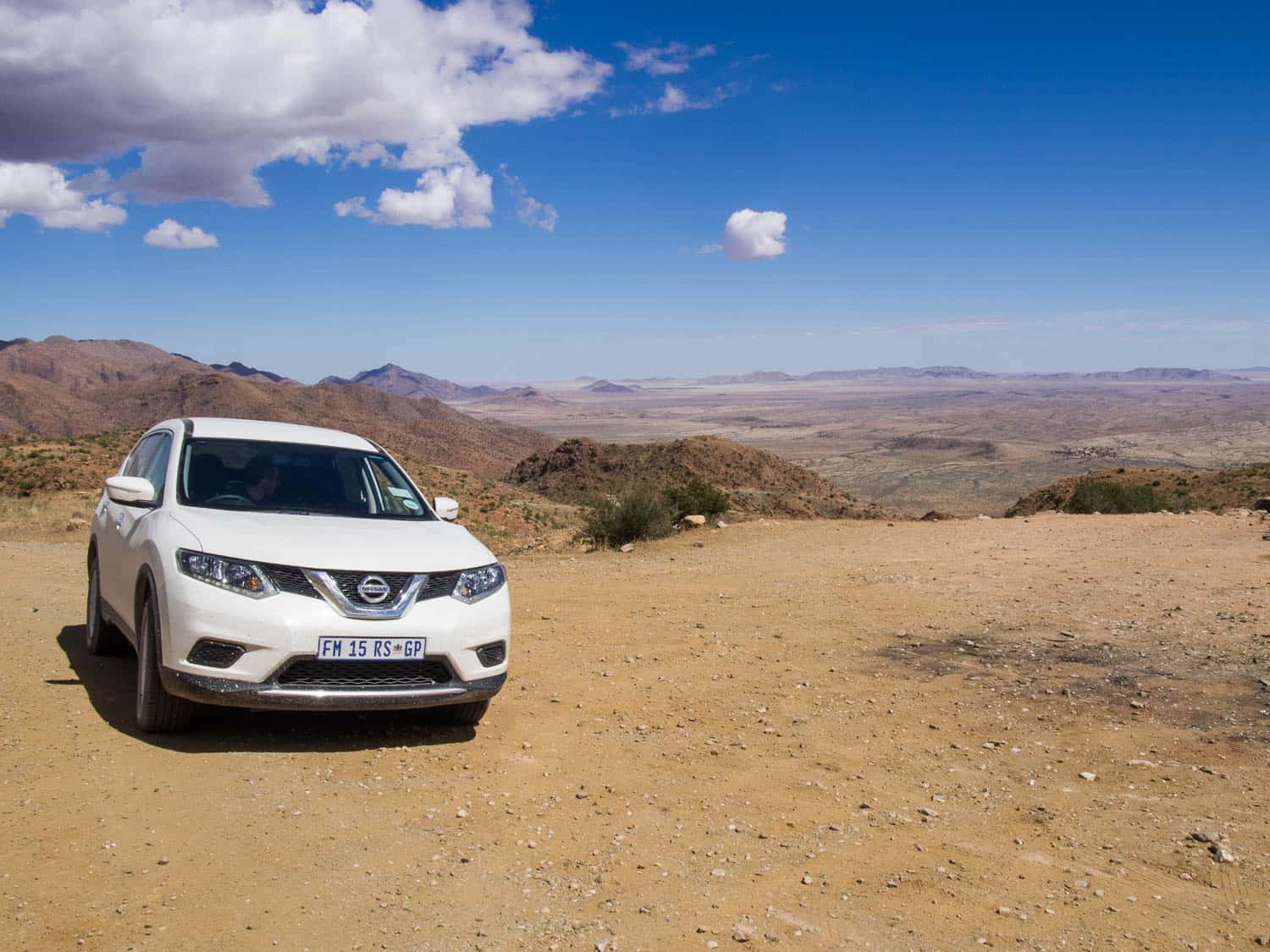 Car Rental
In high season book as far in advance as possible, especially for a 4WD.
If you decide to go with a 2WD, you can find the best rates on sites like Kayak and Rental Cars. We searched on Kayak and booked with Argus for a Thrifty car. We had no problems with them. The big companies have offices at the airport so you can start your road trip straight away.
For a 4WD you are better off renting with a local company. Their offices are in Windhoek (40 minutes from the airport) but most offer free pickup. You can see the Bradt Namibia guidebook and the Tripadvisor Namibia forum for recommended companies.
I have heard good things about Advanced and Safari Car Rental, but there are many options. Make sure you go with a reliable company as you do not want your vehicle breaking down in the middle of nowhere!
When you are comparing prices, include all the extra charges like additional driver fee and make sure you have unlimited kilometres.
You'll also need a credit card in the driver's name for a deposit—a hold of 10,000 NAD ($770) was put on our card and removed on return. For 4WDs I saw excesses up to €2500 ($3000).
We always buy separate excess car insurance as it's much cheaper than buying a policy from the car rental company. An annual worldwide policy with Questor cost us £52 ($67).
Make sure you check your spare tyre before you leave the rental place—you may well need it. Thankfully, we didn't, but I did download instructions on changing a tyre just in case.
Namibia Road Conditions
Distances are long and Namibia is a sparsely populated country, so you'll usually be driving on empty straight roads.
There are some tarmac roads in Namibia including the B1 which links Windhoek to Etosha. They are in good condition and there's not much traffic.
Most of the time you'll be driving on gravel roads. Some sections are well graded and relatively smooth, while others are corrugated, bumpy, and uncomfortable. We found Damaraland and Solitaire/Sesriem the worst areas. We were travelling in April, though, so it's possible that during the dry season the roads are in better condition.
As we didn't have a 4WD we often chose a longer route than included a tarmac B road, rather than drive entirely on C roads. This saved us time overall and was more comfortable.
Driving in Namibia Tips
Crime isn't a major concern in Namibia. The biggest issue is the gravel roads which cause many accidents. Here's how to keep safe:
On gravel roads
Drive slowly on gravel roads—never more than 80 kmph (we usually drove slower). Speeding is the biggest cause of accidents.
Stick to 3rd or 4th gear when driving on gravel.
Slow gradually using gears and brakes, not just brakes. Only brake on straight sections of roads, not on corners (there aren't many of these anyway).
Slow down when passing another vehicle coming in the opposite direction to minimise the damage from loose gravel and as you may lose visibility in the dust cloud.
Other driving tips
Drive on the left.
Don't drive in sand unless you have a 4WD and experience. We saw cars get stuck in the sandy section at Sossusvlei—take the 4WD taxi instead.
Keep snacks and water on hand for long drives. We stocked up at a supermarket in Windhoek when we first arrived.
Fill up whenever you pass a petrol station. We often drove for hours (five hours in one case) without passing one. We kept track of how many kilometres we were getting per tank of petrol so we could judge it.
Avoid driving at night as animals often wander into the roads.
Petrol Stations
It's a good idea to fill up when you can as there are long stretches without petrol stations. Keep cash on hand as they don't always accept cards.
Stations are not self-service so stay in your car and an attendant will fill up for you and often clean your windscreen. They can also check your oil, water and tyre pressure if you ask. It's customary to tip around 5 NAD—we usually gave more, especially if they cleaned the windows.
Directions
We bought a SIM card and data plan (see below) and used Google Maps for directions. The directions were always accurate, but unsurprisingly it took us longer than the estimated time—usually 30 to 60 minutes longer for a four or five hour journey.
There isn't cell signal everywhere, but if you start turn-by-turn directions when you have a signal (or on the lodge WiFi), they will continue even if you lose connection.
We didn't need a paper map, as there aren't many roads and it's not hard to find the way. I did write down the directions for each journey before we got to Namibia just in case we didn't have a signal for Google Maps.
Choosing Your Namibia Self-Drive Itinerary
The most popular Namibia itinerary is Windhoek—Etosha—Swakopmund—Sossusvlei—Windhoek (or the reverse). You can drive this route in 10 days. We had 14 days and included additional stops at Okonjima Nature Reserve and Damaraland. It's a good idea to break up the long drive from Etosha to Swakopmund.
There are many other places to visit in Namibia. If you have longer than two weeks or travel at a quicker pace, you could add some of the southern attractions including Lüderitz, Kolmanskop, and Fish River Canyon.
See our Namibia two week itinerary for our route, distances, journey times, and accommodation.
I recommend getting inspiration for what to do in Namibia from blogs and a guidebook (we used Bradt Namibia) and creating a custom Google Map with pins for all the places you are interested in visiting. You can then calculate how long it will take to travel between them (remember to add extra to Google's estimate) and work out a logical route.
Money and Costs
The local currency is the Namibian dollar (NAD), which is pegged to the South African rand and they are used interchangeably. The current exchange rate is 1 USD = 13 NAD and 1 GBP = 17 NAD.
Our accommodation always accepted credit cards, but not all petrol stations do so keep cash on hand. It's also useful for tipping lodge staff.
It's difficult to change Namibian dollars once you leave the country, so if you have South African rand (the ATM at Windhoek airport gave us rand) keep those for the end of your trip in case you have some left as they are easier to change.
Namibia is not a cheap country. We spent an average of £144/ $183 per person per day on our two-week road trip renting an SUV, staying in comfortable lodges, and eating out for every meal.
See our Namibia budget post for a detailed cost breakdown.
You could certainly travel Namibia for less, especially if you rented a compact car, camped and self-catered.
Namibia Accommodation
We stayed in comfortable, mid-range lodges that included breakfast and dinner (the exceptions are the towns of Windhoek and Swakopmund where you can eat out in restaurants). You can see exactly where we stayed in our road trip itinerary.
We booked all our accommodation in Namibia one to three months in advance and usually had to pay a deposit. Some popular lodges, especially in Damaraland, were already booked up, perhaps because we were travelling during the Easter holidays. Book camps in Etosha and other Namibia National Parks as far in advance as possible.
Camping is a cheaper option either in an ordinary ground tent or in one of the rooftop tents that can be rented with a 4WD.
Internet and Mobile Data Plans
WiFi is generally slow and it may only be available in common areas of lodges (or not at all). There were some surprises though like the good WiFi in our room at remote Huab Lodge.
A mobile data plan is a good idea for directions and can be faster than WiFi. We bought an MTC SIM card and 3GB data plan at their shop at Windhoek airport for 402 NAD ($31). They set it up for us and it was quick and easy.
Health and Travel Insurance
Malaria is present in the north of the country including Etosha National Park, so you might want to consider taking anti malarial pills. It's best to get a doctor's advice before you travel. As we were only in Etosha for a few days and the risk seemed low, we chose not to take pills and to cover up with Deet insect repellant.
Tap water is safe to drink in Namibia.
Travel insurance is essential in case anything goes wrong. We use True Traveller insurance, which is the best and cheapest option we've found for UK and EU citizens. If you are from outside Europe, we recommend Heymondo, which is a well-respected company with excellent coverage.
Food and Drink
As the most popular Namibia destinations are in remote areas, you'll eat most of your meals at your lodge. Dinner and breakfast are often included in the price and lunch is available at an extra cost.
Breakfast was always a continental style buffet with bread, cheese, meat, fruit, and cereal plus eggs and meat cooked to order.
Dinner is usually a buffet or a three-course set meal with no choice.
Namibia is a very meaty country, but we let our lodges know in advance that we were vegetarian (then double checked when we arrived) and they were always able to provide us with an alternative (even if it wasn't terribly exciting).
The German influence in Namibia means that the excellent bread and cakes (often provided as afternoon tea) are a highlight.
South African wine is available at restaurants and lodges in Namibia, and although it's more expensive than in South Africa, it's still good value.
What to Pack
A few items that would be useful:
Otherwise, we just packed our usual clothes, electronics, and toiletries in our carry-on size backpacks—see our carry-on packing list.
Our Namibia Blog Posts
Read these posts for more details about our Namibia experiences:
If you are visiting South Africa too, see our South Africa road trip itinerary for a one-month trip from Johannesburg to Cape Town.
We had a wonderful time road tripping across Namibia. I hope this post has helped you plan your own self-drive trip—let me know if you have any questions.
If you enjoyed this post, pin it!