This page contains affiliate links. Please read our disclosure for more info.
2017 has been the year of Africa and the year of the road trip. In January we drove across South Africa on a month-long road trip before settling in wonderful Cape Town for two months, and in April we spent two weeks driving around neighbouring Namibia. It's not a country that many people consider travelling to, or even know much about, which is a shame as it's one of the easiest countries in Africa to travel (as long as you don't mind driving) and has so much to offer with wild, diverse landscapes and plentiful wildlife.
Where is Namibia?
Namibia is located in south-west Africa north of South Africa, west of Botswana and south of Angola and Zambia.
I have much to write about Namibia including how to plan a Namibia self drive trip, our Namibia road trip itinerary, and our wonderful experiences in Etosha National Park and climbing the sand dunes of Sossusvlei, but I'll start with our first impressions.
Emptiness
One of the most striking things about Namibia is its emptiness. When we flew into the country we could barely see any roads, let alone houses, until we got very close to the capital Windhoek. It is one of the least densely populated countries in the world with only 2.4 million people in an area almost twice the size of California. If you are looking to get away from it all, Namibia is ideal.
We visited some of the most remote places we've ever been. On the drive from Etosha to Damaraland we spent hours on gravel roads without passing another car or house (there was one horse cart). We bounced along the rough roads in our 2WD, driving through sandy river beds and flooded roads, without phone signal, terrified of breaking down 100km from the nearest town. (Spoiler: we survived.)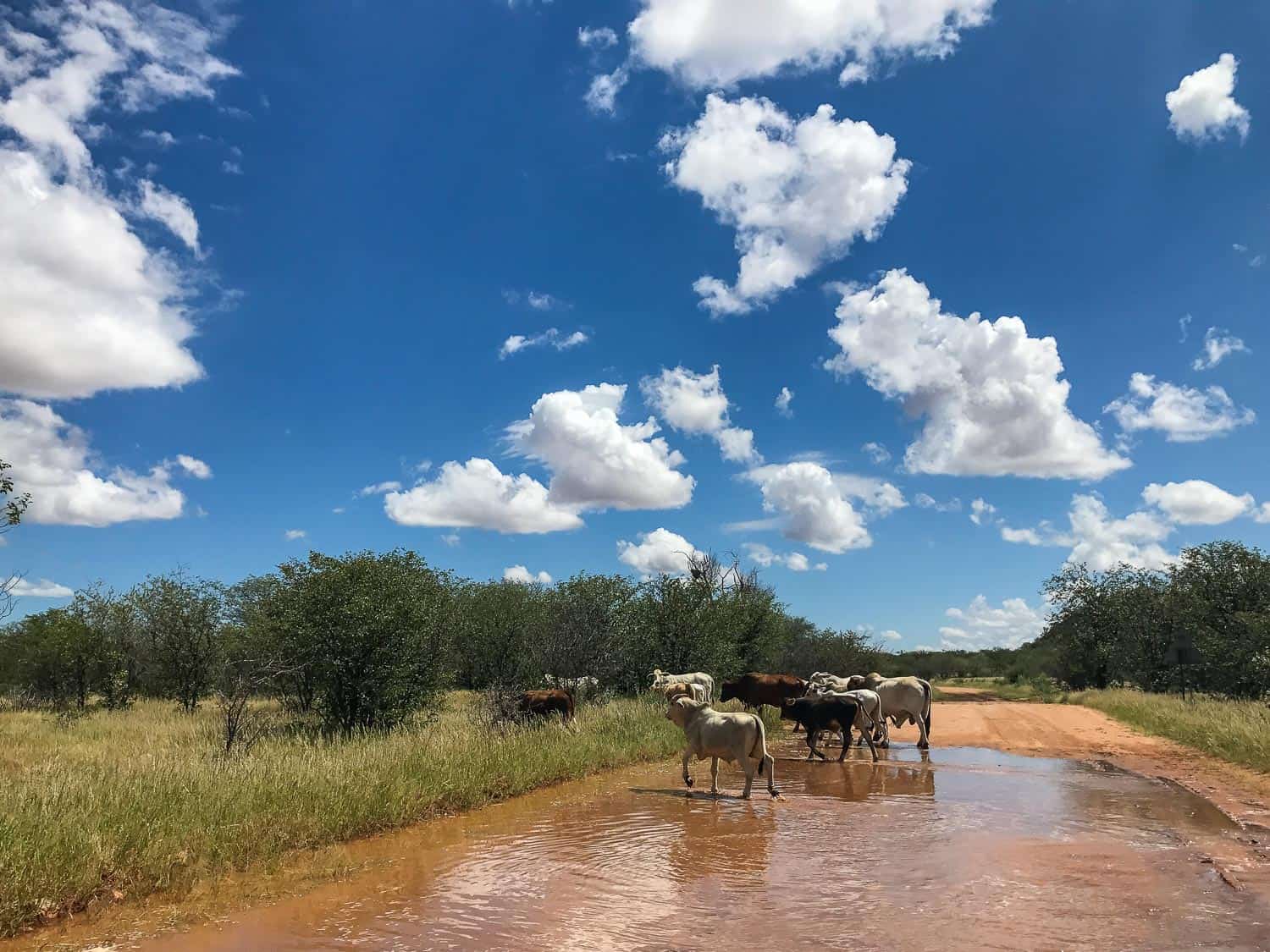 Gravel Roads
Having grown up in the UK, the lack of tarmac in Namibia is striking. The vast majority of the roads we drove on were gravel (and we followed a typical tourist route), some of them well-graded and fairly smooth, others rutted and uncomfortable. We didn't find a 4WD necessary but were glad we chose a higher clearance SUV (Nissan X-Trail) as there are an awful lot of rocks bouncing around. The driving isn't too difficult, though, and at least you never have to worry about traffic.
Easy Travel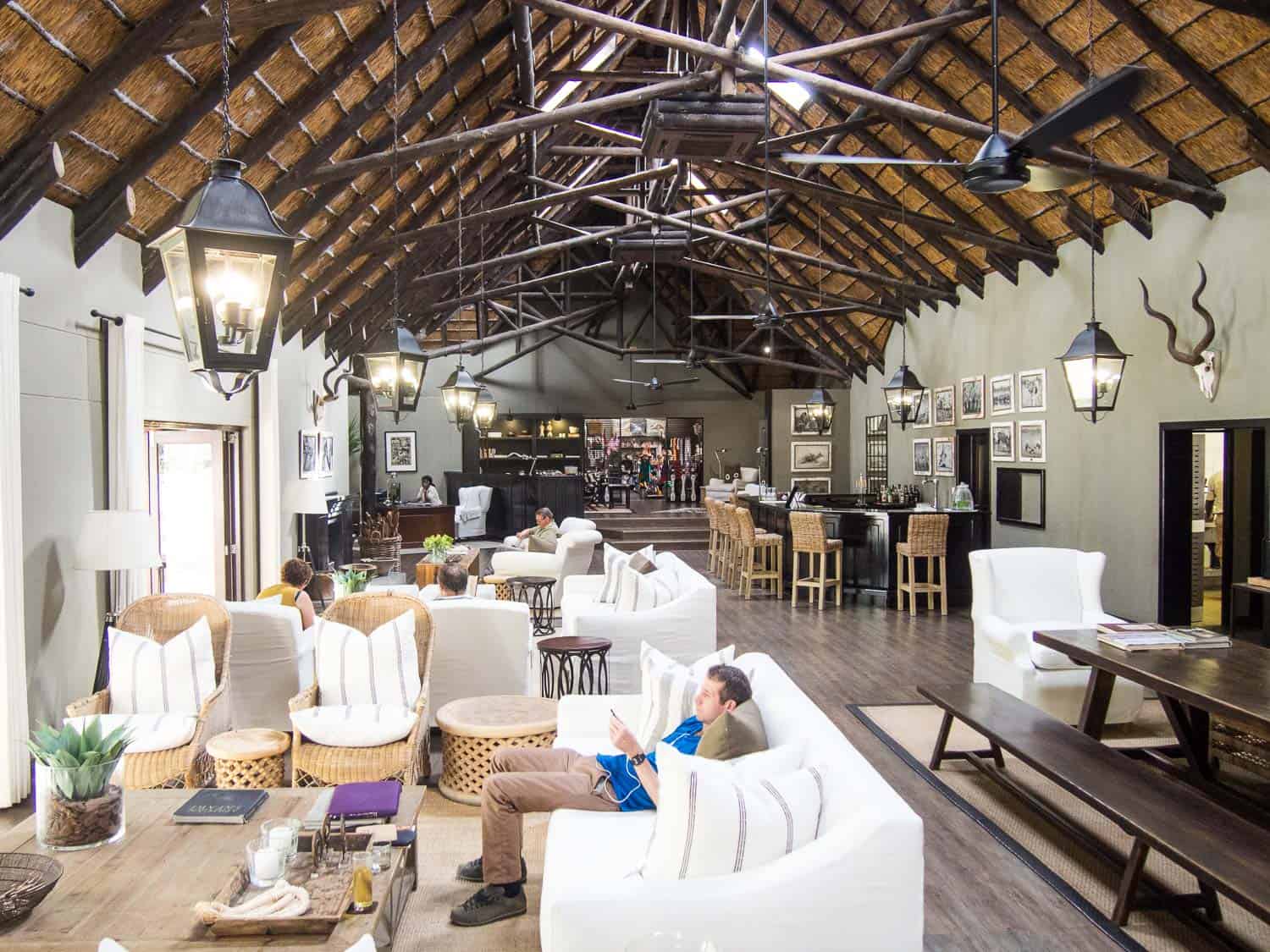 Namibia is an easy country to travel and the perfect introduction to Africa. Public transport is limited so travellers either self-drive (camping or staying in lodges) or take a tour. Roads are empty, crime rates are low, lodges are of a high standard, the water is drinkable, English is the official language, malaria is only present in the far north, and citizens of the US and most European countries can stay for up to 90 days without a visa. If you are coming from South Africa, you can even use the same currency as the South African rand and Namibian dollar are equivalent and used interchangeably.
I find limited choices makes travel easier (as in Cuba), and in Namibia you spend most of your time in the wilderness rather than towns (of our eight destinations we only stayed in two towns). This means you rarely eat in restaurants (so there are no decisions to make) but instead cook for yourself (if camping) or eat set meals at your lodge (which is what we did).
Diverse Landscapes
Before our trip the image I most associated with Namibia was of the huge, orange sand dunes of Sossusvlei in the Namib Desert. Climbing the Big Daddy sand dune, one of the highest in the world, was definitely a highlight of our stay, but the country is so much more than that. The north was green after the rainy season with the animals of Etosha hiding in the long grasses, the Skeleton Coast has some of the bleakest desert scenery we've experienced, and the drive from Sossusvlei to Windhoek took us over the dramatic Spreetshoogte mountain pass, surprising after so much flatness.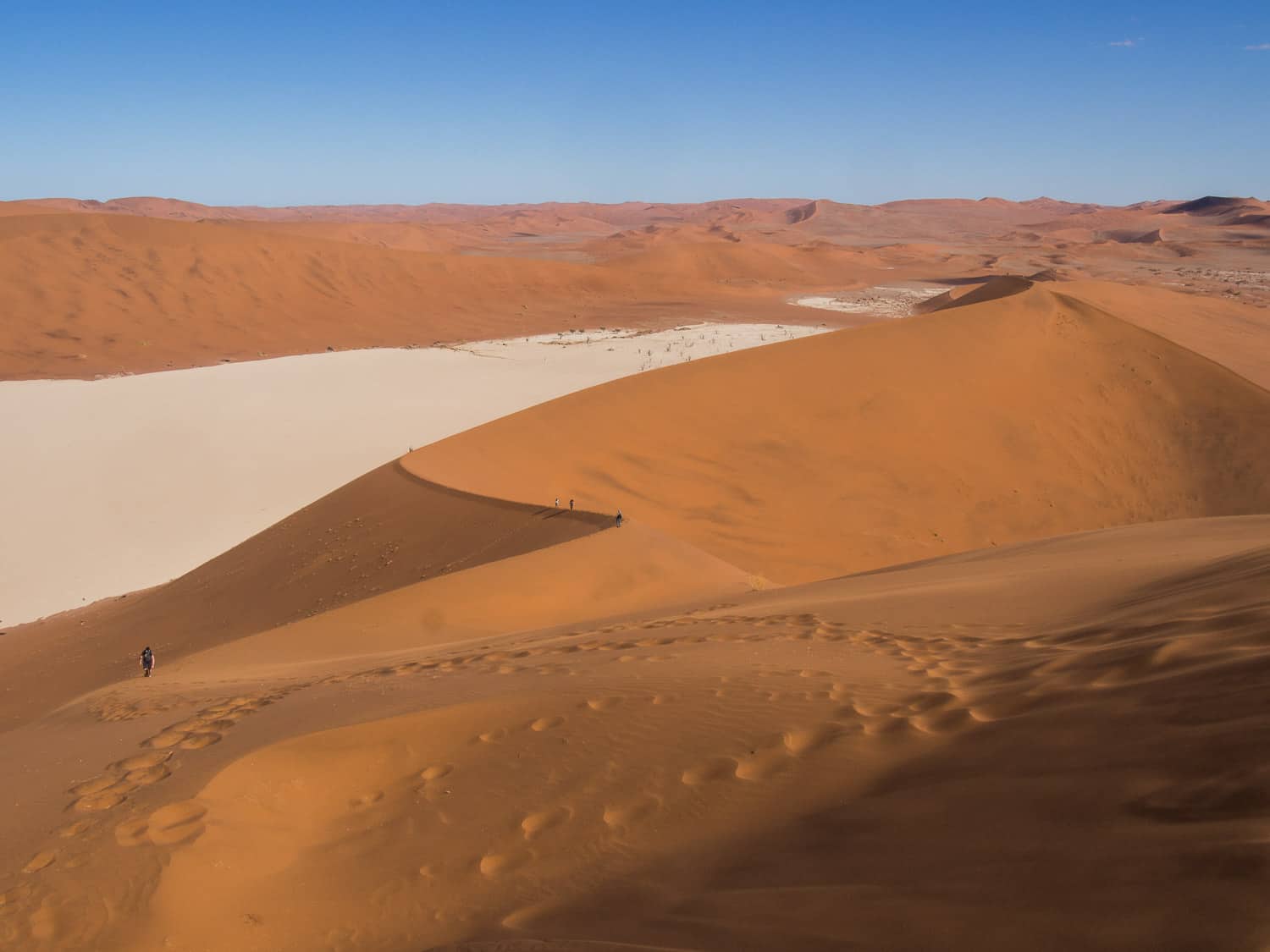 Wildlife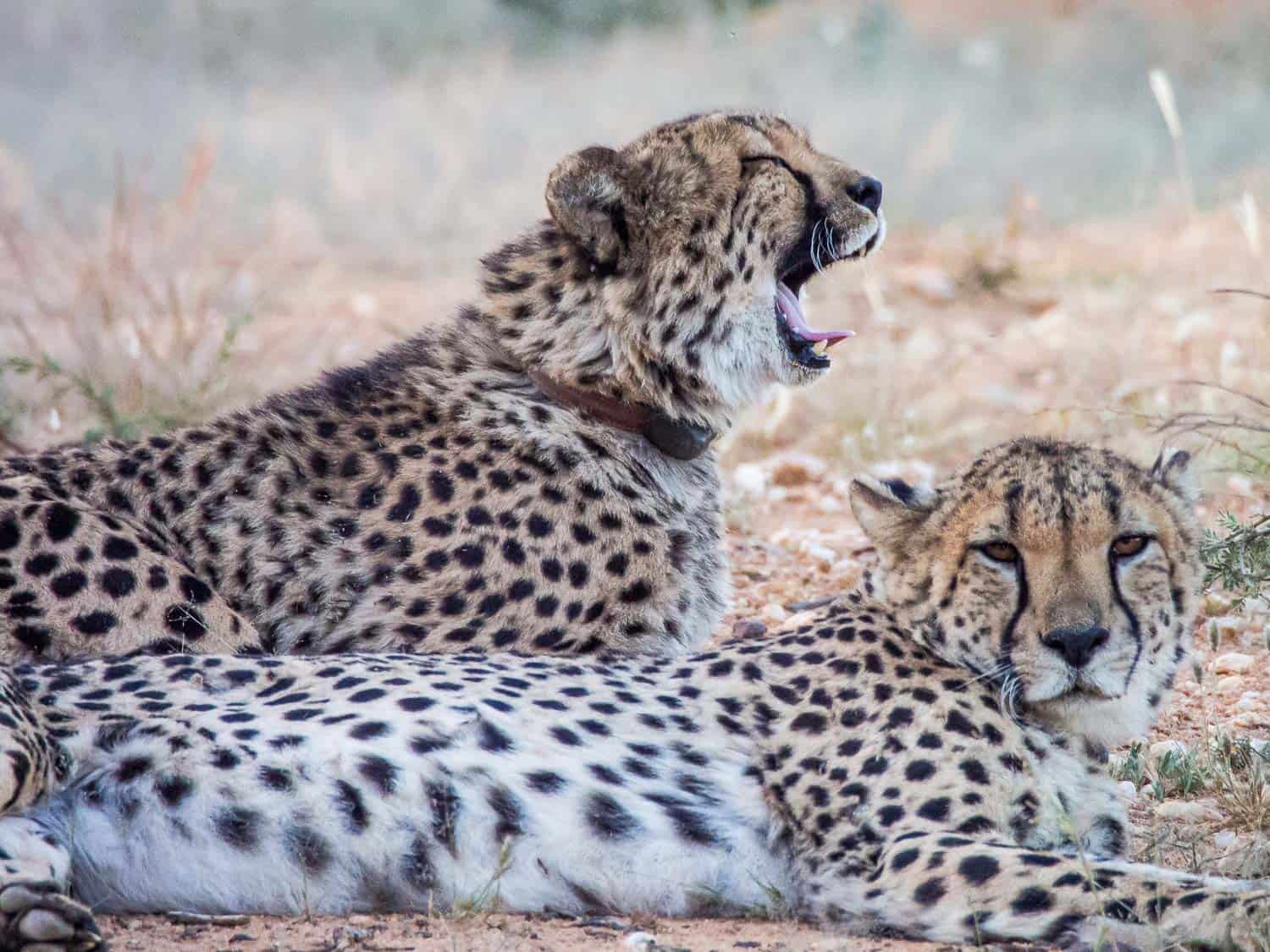 In Nambia we had some of our favourite wildlife encounters ever. We kayaked in the midst of thousands of seal pups, as curious and adorable as puppies. We walked within a few metres of three magnificent cheetahs. A warthog walked into our lodge's restaurant. Baboons ran in front of our car. We saw leopards, rhinos, flamingos, giraffes, zebras, ostriches, and many kinds of antelope. All this despite the fact that we were visiting at the end of the rainy season, the worst time for wildlife watching as the animals are camouflaged by long grass and no longer need to go to waterholes to drink.
German & South African Influences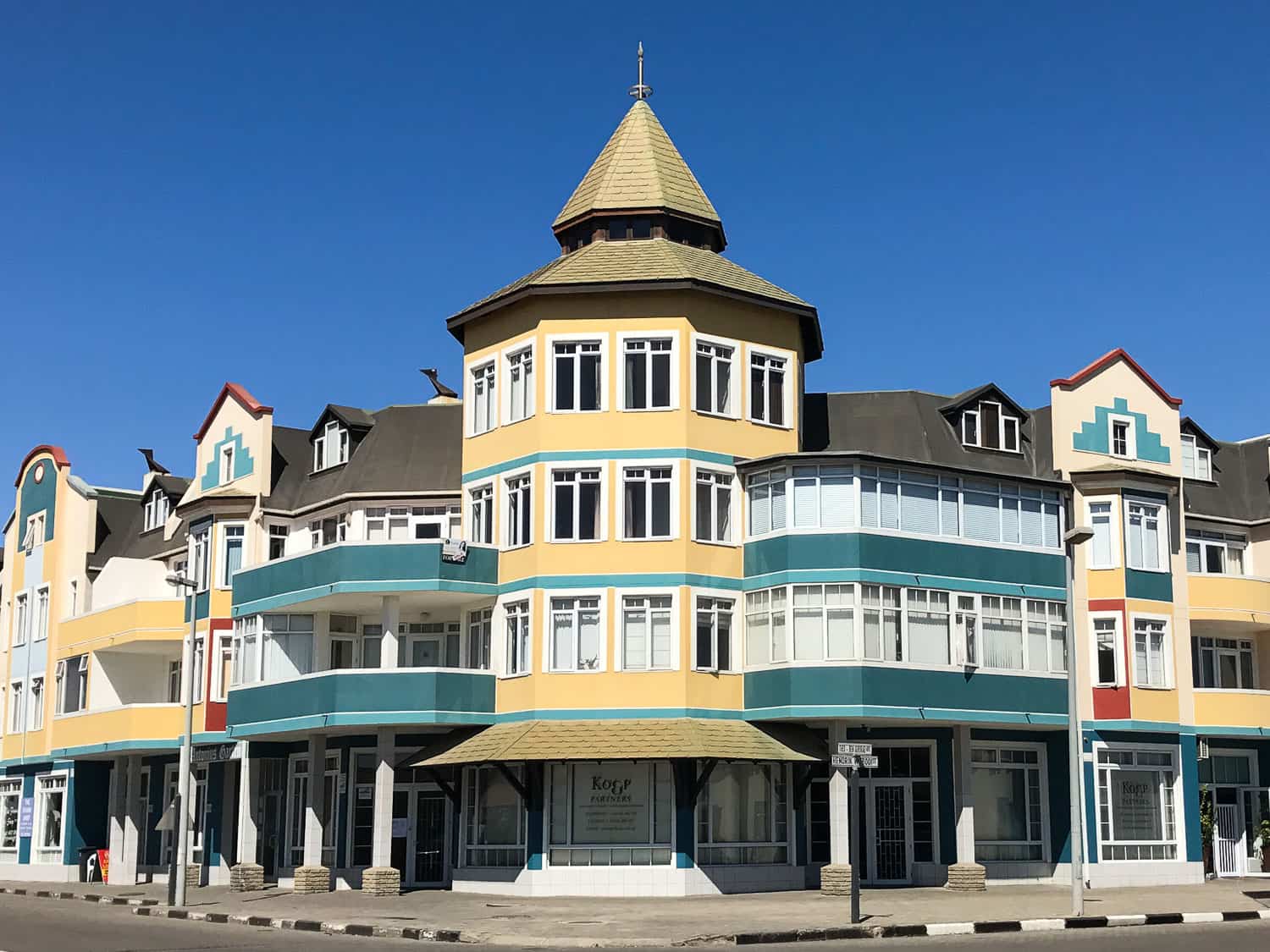 Namibia was a German colony from 1884 until 1915 and the majority of visitors are still from Germany. The German influence is felt everywhere from the food (lots of meat, excellent wholemeal bread, and delicious cakes and apple pie) to the architecture in some of the coastal towns like Swakokpmund and the fact that most beds are two twins pushed together with individual duvets (annoying).
Namibia was also part of South Africa until 1990 and as travellers it feels culturally quite similar. Afrikaans is widely spoken, the currencies are interchangeable, South African wine and Appletiser (yum) are readily available, locals love their biltong (dried meat), and the process in petrol stations is the same (no self-service, tip the attendant).
Politeness
Politeness is an African trait that we noticed in South Africa as well as Namibia. Everyone always greets you with "hello, how are you?" before getting down to business, whether it's a police checkpoint or the entrance gate to a National Park.
It's Not Cheap
Namibia is not a cheap country to travel in. You could reduce costs by camping, but we chose to stay in mid-range lodges which cost around £200 a night for two people including breakfast and dinner. Car hire is also much more expensive than in South Africa.
Some things are reasonably priced—a bottle of wine for 160 NAD ($12/£9) in a lodge, a meal out for two in Swakopmund for 200 NAD ($15/£12), entrance to Etosha at 80 NAD ($6/£5)—but if you want to stay in comfortable accommodation, then the costs are going to add up. At £287 ($370/€339) a day it was the most expensive trip we've been on, but we don't regret it at all.
At £287 ($370/€339) a day it was the most expensive trip we've been on, but we don't regret it at all. See our Namibia budget for our cost breakdown.
It's Not Vegetarian-Friendly
Namibians like their meat—BBQs are common, game is often on the menu, and biltong dried meat is a favourite snack. We didn't find Namibia a difficult country to travel as vegetarians but veggies, don't go there for the food. We never went hungry but the meals weren't terribly exciting.
Lodges were happy to cater for us and usually understood the vegetarianism concept (we only got one "do you eat chicken?"), but the chefs don't seem to have training in meat alternatives. Beans and lentils don't exist outside of the one Indian restaurant in Swakopmund and Windhoek. Instead we usually got the same as the meat eaters without the meat—vegetables, rice/potatoes and Greek salad. At restaurants there was always at least one vegetarian option but it was just boring pasta, salad or stir fry.
At least the bread and cakes are good!
The Joy of Sundowners
The sundowner is one colonial tradition we can get behind. Enjoying the setting sun with a drink in hand (gin and tonic is a classic and we often chose a glass of South African white wine) is a wonderful way to end the day and we witnessed some spectacular sunsets in Namibia. Many lodges organise sundowner drives where they take you to watch the sunset and hopefully see some wildlife along the way.
Road Signs
Namibia has the best road signs!
We had a fantastic time driving around Namibia and highly recommend it for your first trip to Africa. It's an easy introduction to the continent with many amazing animals and epic landscapes to enjoy.
Read our Namibia road trip itinerary for details on where we went during our two week trip and our top tips on planning a Namibia self drive trip.
If you enjoyed this post, pin it!