This page contains affiliate links. Please read our disclosure for more info.
Bali is one of our favourite digital nomad destinations and we've visited twice for stays of five months. Here's our experience of how to get a 60-day Indonesian tourist visa in Singapore, which is extendable up to six months.
Many nationalities (including the UK and US) can enter Indonesia without a visa for stays of up to 30 days, but this can't be extended.
If you want to stay in the country longer, it's best to get a visa in advance. On our last visit we applied for a visa in London, which has stricter requirements than most embassies in Asia.
Singapore is a good place to get your Indonesian visa as it's close by, and if you are flying from Europe (or South Africa as we did), you might pass through here anyway. There's lots to do in the city while you wait for your visa—see our 3 day Singapore itinerary for ideas.
We found the visa application process easy and it only took a few days (if you don't have time, there are agents that can process it in a day, but you'll pay a lot more).
This post is based on our experience in 2017, but I updated it in 2019 with changes to the process. In 2021 Indonesia are not currently issuing tourist visas as their borders are closed for the foreseeable future.
Contents
Preparing the Documents
As with any visa application, you'll save time and stress by preparing your documents before you visit the embassy.
You can check the website of the Indonesian Embassy in Singapore for the required documents for a 60-day tourist visa.
These are the documents needed:
Completed visa application form – You can download the form from their website. It's only one page and is fairly straightforward. We left blank the sections for "Name of Firm in Singapore" and question 7 which asks for a reference (you only need this if applying for a social visa). For the address in Singapore we used Simon's brother's address where we were staying. I am sure you could use a hotel address instead.
Original passport, with more than 6 months validity
One copy of the passport
One copy of return e-ticket – This is the trickiest requirement as we didn't know when we'd be leaving Bali. The ticket also needs to be dated within 60 days even if you are planning to extend your visa. We chose to buy a Premium Flex ticket from Bali to Singapore with Air Asia which allows you to change the date twice for free (so we'll change the date and hopefully use it when we leave). It was quite expensive at £94 ($121) per person. A cheaper option is to buy a cheap ticket from anywhere in Indonesia to anywhere in Malaysia and don't use it. You can find the best fare by searching from Indonesia to Malaysia on Skyscanner. Choose whole month (the month your visa will expire) to find the cheapest date. I found fares from £15 ($19).
One passport size recent colour photograph – You can find photo booths at shopping malls and some MRT stations in Singapore. We used one in Bukit Junction mall which cost S$7.
One copy of Singapore ID Card (Work permit, Employment Pass, S-Pass, Dependant Pass, Student Pass, Permanent Resident) or Embarkation card – We didn't have this and it was no problem.
Fee of S$75 in cash only – This is equivalent to US$53 or £41.
NEW: Declaration Letter – Since we got our visa they have added a requirement for a printed and signed letter from you stating that you are visiting Indonesia for tourism only and not to work.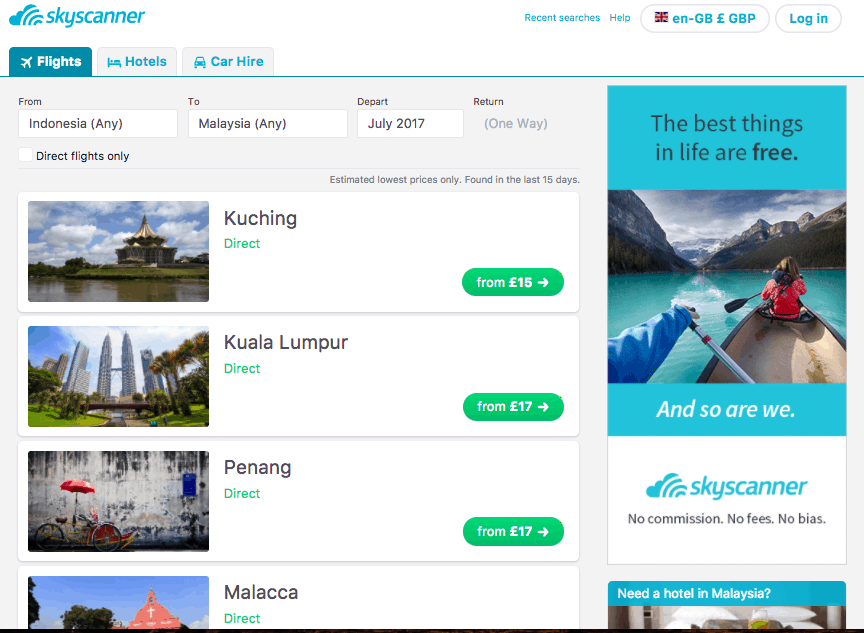 We also brought a copy of our flight ticket from Singapore to Bali, just to be on the safe side.
You will also need a photo ID (we used our driving licences) to enter the embassy. You exchange your ID for a visitor pass and they return it to you when you leave.
There is an office inside the embassy where you can get photocopies and passport photos done, but you'll save time if you do them in advance.
Applying for the Visa
The Embassy of the Republic of Indonesia is located at 7 Chatsworth Road, Singapore. We got a taxi there, but you could also get the MRT to Orchard and walk for 15 minutes through pleasant residential streets. Or use Google Maps to get public transport directions from your hotel.
The embassy opening times are:
Submission: 9am – 12pm Monday – Friday
Collection: 3pm – 4pm Monday – Friday (two working days later)
They are closed on both Indonesian and Singapore public holidays, so check these in advance.
Note that there is a strict dress code: no shorts, short skirts, tank tops or flip flops.
We arrived at 9.10am on a Tuesday after a public holiday. There was a long queue outside the embassy which we waited in for 15 minutes. At the entrance gate we exchanged our photo ID for the visitor pass.
Inside the embassy there are offices for photocopies and photos straight ahead as well as vending machines. We followed the crowd left to the first floor of the application building. As you enter a staff member checks your documents and gives you a queue number if everything is in order (we did hear someone being asked for their return ticket).
We took a seat and waited for our number to come up on the screen. Visas are processed at counters 4 and 5. We didn't have to wait too long. At the counter we gave over our documents, the woman cut down our photos and glued them to the forms, and we were told they'd be ready the next day at 3pm. We had expected it to take two working days.
We were given a receipt which we took to the cash counter (no queue) to pay our S$75 fee.
We were out 40 minutes after we arrived and it was all very easy. Although the crowds had looked bad, not everyone is applying for a visa so it doesn't take too long.
Collecting the Visa
We had plans the next day so we returned two days later at 3pm and collected our passports within 15 minutes—just make sure you join the queue at counters 4/5 (there are no queue numbers for collection).
The visa is single entry and is valid for 90 days, which means you have to enter Indonesia within that time. You can stay in Indonesia for 60 days once you enter.
Extending A Tourist Visa in Bali
A 60-day tourist visa can be extended four times for 30 days at a time allowing a total stay of 180 days. It's easiest to use a visa agent to extend it for you. Otherwise, it involves three trips to the immigration office in Denpasar each month.
When we stayed in Bali for five months in 2015/16 we used Elizabeth who has an office opposite Alchemy in Penestanan, Ubud and in 2017 we used Bali Viza. Read our guide to getting an Indonesia visa extension in Bali.
Applying for an Indonesian tourist visa in Singapore was quick and easy, so we recommend it if you are in the area.