This page contains affiliate links. Please read our disclosure for more info.
Planning a trip to Cuba isn't as simple as it is for Mexico or Central America. Before you go you'll want to get your visa and money sorted, read up on its complicated history, and do any online planning before you get there as you can't rely on the internet. Despite taking a bit more effort we think it's worth it as this vibrant, magical and confusing Caribbean island is unlike anywhere else we've travelled.
Is it Legal to Travel to Cuba?
The US has had an embargo against Cuba since 1960 and Americans can only legally visit the country with a license or as part of an authorised tour group that involves cultural or educational exchanges with Cubans. Technically it's not legal for Americans to visit Cuba independently but in practice many do by travelling via another country such as Mexico.
Visiting Cuba isn't a problem for other nationalities and it is a popular tourist destination for Canadians and Europeans.
Visas
You need a visa in advance to visit Cuba. We bought ours from the Cancun airport in Mexico—a staff member was handing out forms in the check-in queue. It cost US$25 each and is valid for 30 days which can be extended for another 30 days.
Getting There and Away
We flew to Havana from Cancun, Mexico which is one of the nearest and cheapest entry points. Our return flights with Cubana cost US$282 each. Cubana also fly from Mexico City, Colombia, Canada and a few European cities.
On arrival at Havana airport a taxi to Havana Vieja costs 25 CUC (Cuban convertible pesos).
It's important to keep aside 25 CUC in cash to pay the exit tax on departure.
Money
The money situation is the most complicated thing about visiting Cuba so you need to be prepared in advance.
Bring Cash
ATMs are unreliable in Cuba and only available in a few cities so it's not a good idea to depend on them and if your card is issued by a US bank it definitely won't work. Credit cards aren't often accepted either so it's best to bring all your spending money in cash. We brought Mexican pesos, but euros, Canadian dollars, and British pounds are also good options. You can bring US dollars but you'll be charged a 10% fee to change them. For a list of currencies accepted and the current exchange rates see the Banco Central de Cuba website. You are looking at the Compra rate.
Dual Currency
The other thing you need to be aware of is that Cuba has a dual currency system. Most of the time you will spend convertible pesos (CUC, pronounced kook) but it's worth changing a small amount to Cuban pesos (CUP) or moneda nacional which is what locals earn and spend (except for luxury items which they need CUC for). Using moneda nacional gives you access to street food like peso pizza which is very inexpensive. 1 CUC is about equivalent to US$1, and 1 CUC buys 24 CUP. It sounds confusing but you get the hang of it once you are there.
Make sure you spend or exchange your Cuban currency before you leave as it can't be traded internationally.
We've written more about the complicated money situation in our Cuba travel costs post.
Costs
We spent £29/ $44 per person per day in Cuba. I would advise budgeting $50 a day per person if you are travelling as a couple but if you are a solo traveller it will be more difficult to keep to that as you have to pay the same as a couple for accommodation.
For more details about exactly what we spent that amount on see our post How Much Does it Cost to Travel in Cuba?
It's important to take some contingency money and be careful to stick to your budget in Cuba as once you run out of cash you may not be able to access any more.
What to Bring
Everything you might need. Although the availability of products like toiletries has improved in Cuba shops are still pretty bare and it's cheaper to stock up on things like suncream, deodorant, insect repellant, and medication before you go.
We also recommend bringing snacks which are hard to find in Cuba. We brought homemade oatmeal and raisin cookies and granola bars and were glad of them for bus journeys and hikes.
A small bottle of hot sauce would definitely liven up meals here.
Although Cuba is generally a hot country make sure you bring a sweater and trousers as it can get chilly when it rains. We went from sweltering temperatures in Havana to being freezing in the rain in Viñales.
Language
We found that most Cubans didn't speak much English, so it's a good idea to have some basic Spanish at least. Cubans are friendly and willing to help you out though so if you don't speak Spanish bring a phrasebook and dive in.
When to Go
The high season is between December and April when temperatures are cooler. Cuba Junky has a useful weather breakdown. We visited in late February/early March and it was hot and sunny (around 30 C) except for a rainy spell when we were in Viñales and temperatures plummeted.
Is Cuba Safe?
Cuba felt like one of the safest countries we've visited. The crime rate is low and a local told us that a tourist is only likely to be robbed if they do something stupid like leave their wallet on the table when they head to the dance floor.
The biggest problem in Cuba for tourists is the jineteros or hustlers who can wear you down. Havana was the worst for these and we were often approached by young guys or couples on the streets. They'd start off asking us where we were from or for the time, but they would always end up asking us for money or wanting to take us to a bar, where we'd no doubt be footing the overpriced bill. They are never aggressive though.
Another thing to be aware of in Havana is the milk scam. We were approached a few times in shops by a woman with a child asking us to buy milk. This isn't necessary as the Cuban government guarantees children a milk ration, and they will sell the milk (which you'll pay a premium for) back to the shop.
Where to Go
We had two weeks in Cuba and followed this fairly typical itinerary. We didn't have time to get more off the beaten track as we like to travel slowly and 4-5 nights in each place was ideal for us (although we'd spend a month in Havana if the internet was better). We thought our route provided a good mix of what Cuba has to offer.
Havana – Museums, art galleries, live music, gorgeous architecture, and the iconic malecón.
Viñales – Hikes and other outdoor activities in the stunning scenery surrounding this chilled out small town.
Trinidad – A UNESCO World Heritage site with colourful colonial architecture and beaches and hikes nearby.
Other popular destinations are Cienfuegos, Santiago de Cuba, and Baracoa. Varadero is a popular beach destination with many all inclusive resorts and Maria La Gorda has excellent diving.
Getting Around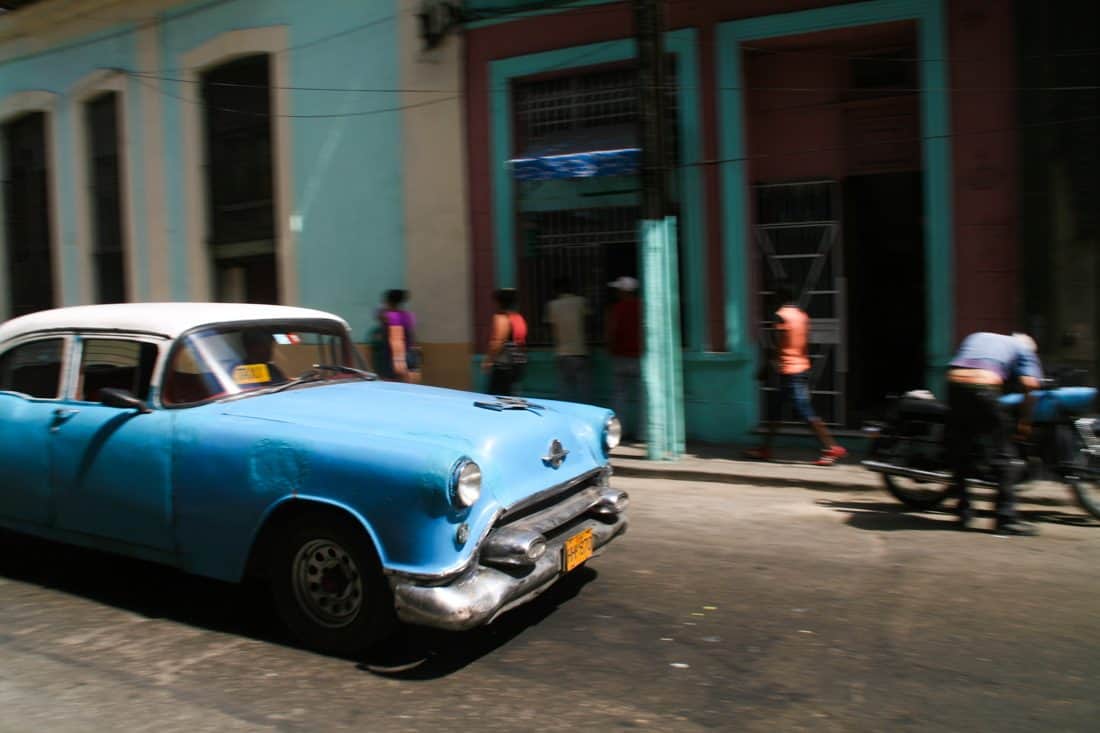 Most tourists use the Viazul buses which are comfortable, air conditioned and reliable. It's a good idea to book your bus at least a day in advance. When we were travelling from Havana to Viñales the bus was booked up two days in advance and we had to change our plans.
This is the route we took:
Havana to Viñales: 4 hours, 12 CUC
Viñales to Trinidad: 9 hours, 37 CUC
Trinidad to Havana: 6 hours, 25 CUC
See the Viazul website for timetables and pricing.
It is possible to travel on local transport for much less but it's difficult to get information about it and we've heard it's uncomfortable, unreliable and frustrating. It's probably not a good option unless you have plenty of time.
Renting a car would be a great way to explore the island as traffic is minimal and roads are in decent condition but rentals are pricey.
Accommodation
We recommend staying in casas particulares where you rent a room in a Cuban home. There are many advantages:
It's cheaper than hotels from 20-30 CUC a night for a clean, simple double room with private bathroom, A/C and often a fridge.
You get to meet locals, learn about Cuban life, and have access to a great source of local knowledge. All of our hosts were incredibly friendly and helpful.
It's really easy as once you stay at your first casa your host will recommend their friends and relatives to stay with around the country. They'll make the booking for you and the new host will often pick you up at the bus station. Easy and stress-free.
The food is much better than in restaurants (from what we heard—we only ate at our casa and from street stands). All casas provide breakfast (3-5 CUC) and most do dinner (7-8 CUC). Portions are huge and they will cater for vegetarians.
We booked our first casa in Havana via Cuba Junky. You just browse their listings and then send a message which goes direct to the owner. As internet access is limited in Cuba you might need to contact a few to get a response. We stayed with Roly & Irma who were lovely and had a fantastic location in Habana Vieja on a quiet street but close to everything.
You can now also book casas online on Airbnb, which has rooms from $10 a night—sign up here for $39 off your first stay.
You will also find many casas by wandering the streets and looking for the blue sign that says Arrendador en Divisa.
Internet
There is internet in Cuba but it's so bad we didn't bother using it. It's not very easy to find, it's dial up (so painfully slow) and it's expensive.
Outside of Havana WiFi is not an option and you'll have to use internet cafes. To use WiFi in Havana you have to go to the big hotels which charge $8 an hour ($6 for non WiFi). We met a couple who said they thought Hotel Parque Central had the fastest internet but according to the Havana Good Times app there is a five hour minimum charge (update: we've since heard you can buy one hour cards for 7 CUC). They also said that their Canadian site worked pretty well but their site on an American server was painfully slow.
Most websites aren't restricted but Skype and Paypal don't work because they are American.
Food
"You know the three great triumphs of the Revolution, don't you?" He looked at me quizzically. "Education. Health. Athletics. And you know the three great failings of the Revolution?" He tilted his head. "Breakfast. Lunch. Dinner." Tom Miller, Trading with the Enemy
Sadly it's true. Cuba is renowned for its bad food so we came fully prepared with suitably low expectations. It actually wasn't quite as bad as we expected but it's by no means a gourmet destination.
Where to Eat
It helped that we avoided government-run restaurants which have a terrible reputation and instead ate in our casas particulares where the home-cooked meals are much better. Another apparently good option is paladares which are privately owned small restaurants, but we didn't go to one as like most restaurants in Cuba they aren't very vegetarian-friendly. It was easier and cheaper for us to request a vegetarian meal at our casas and they were always happy to do that, although be clear with what you can't eat.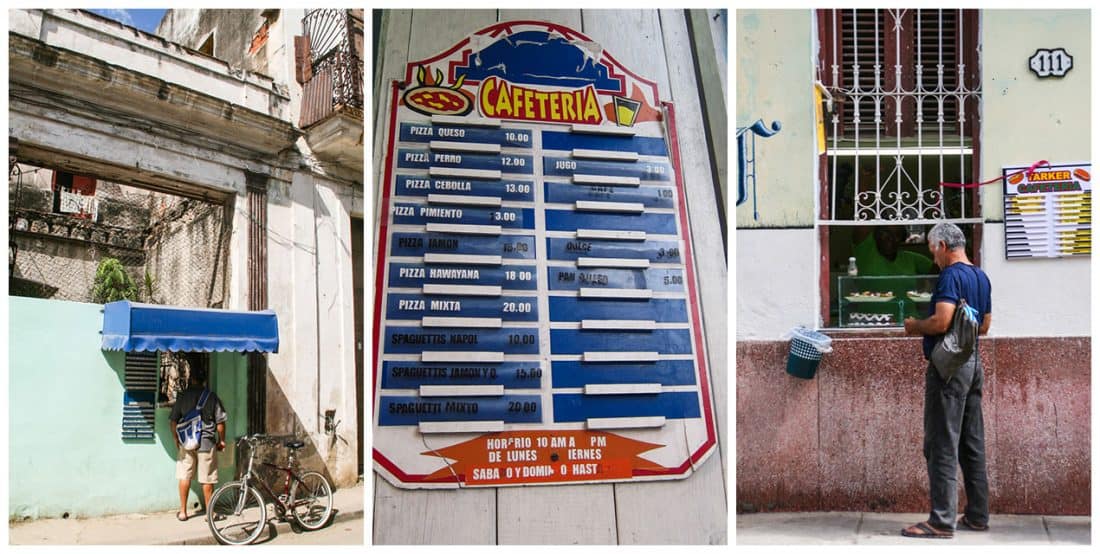 The other option is street food served from the hole in wall takeaways called cafeterias. You pay in CUP so they are very cheap and are a good place to chat with locals. Options are limited and not very healthy, usually consisting of ham sandwiches and peso pizza. As vegetarians peso pizza was a good option for us and only cost about 10 CUP ($0.42). We went for queso (cheese), cebolla (cheese and onion) or pimiento (cheese and bell pepper). It's by no means Italian-style pizza consisting instead of a smear of tomato sauce and salty cheese on a doughy base served on a piece of paper, but it's OK. It's often eaten folded in half.
What to Expect
Breakfast – The best meal of the day eaten at casas for 3-5 CUC. Portions are huge and include eggs, bread, cheese, fresh fruit, fresh juice, and coffee.
Lunch – We usually ate the snacks we'd brought from Mexico, had a peso pizza, or in Havana bought fresh corn on the cob and churros from the stalls on Calle Mercaderes.
Dinner – We ate peso pizza in Havana and at our casa elsewhere. It usually consisted of a bean soup, rice, a very simple salad, fried or boiled vegetables, and often fried plantains. Portions are enormous and the food is boring rather than awful. Next time we'll definitely take a bottle of hot sauce.
Water
Tap water isn't drinkable and it was sometimes difficult to find large bottles of water. They are quite expensive too at 1-1.50 CUC per bottle. We drink a lot of water and ended up spending £50/$76 on water during our two weeks.
Reading
Cuba is a complicated country and I think it's important to read up on it before you go to have a greater understanding of the situation there. Bear in mind that things are changing on the island and might not be the same now as they are in some of these books. For example most Cubans can now travel abroad without permission, homes and cars can be sold, and private entrepreneurship is slowly increasing.
Here are some books I recommend:
Lonely Planet Cuba – A useful introduction to the history and culture of Cuba and although we used the 2009 edition we found the prices very accurate.
Trading with the Enemy: A Yankee Travels Through Castro's Cuba by Tom Miller – American Tom Miller lived in Havana and travelled throughout Cuba for over eight months during the Special Period, a time of hardship and shortages in the 1990s after the fall of the Soviet Union. It's an entertaining and balanced account as Miller talks to everyone from a farmer in a remote rural area whose life improved immeasurably under the Revolution, to intellectuals who are more critical about the problems of the regime, as well as writers, poets, musicians, baseball players and a celebrity chef.
Enduring Cuba by Zoe Bran – Another honest travel narrative showing the reality for Cuban people in the 1990s, and insights into the history and culture.
Che Guevara: A Revolutionary Life by Jon Lee Anderson – Che is everywhere in Cuba and this epic book gives you an understanding of the man behind the myth as well as a history of the Revolution.
Waiting for Snow in Havana: Confessions of a Cuban Boy by Carlos Eires – A deeply moving, lyrical, and beautifully written memoir about a Cuban boy's memories of Havana before the Revolution, how the country changed in the years after Castro came to power, and his experience of being one of the 14,000 unaccompanied children sent to the US in the early 1960s.
Havana Dreams: A Story of a Cuban Family by Wendy Gimbel – The poignant story of four generations of Cuban women torn apart by the Revolution and exile. It centres around Naty, a socialite during the Batista era who had an affair with Castro and had his (unacknowledged) daughter. It's an interesting insight into the attraction of Castro and the romanticism of the Revolution in the early days before everything soured and everyone lost so much.
Dreaming in Cuban by Cristina Garcia – A dreamy, evocative novel that uses magical realism to tell the story of three generations of women divided by exile and their differing beliefs about the Revolution.
Our Cuba Posts
For more about our experiences in Cuba take a look at these posts:
Other Resources
Cuba Junky – A comprehensive resource to help you travel independently in Cuba.
Havana Good Time iOS app – Insider info from an American who has lived in Havana for 10 years. This app includes lots of great up to date recommendations for the city and practical info like where to find WiFi or how to navigate the transport system. (Update: sadly, this app is no longer available).
Insurance
Don't forget travel insurance for your Cuba trip. The best we've found is True Traveller (UK/EU citizens) and Heymondo (worldwide). Check that any activities you want to do like horse riding or scuba diving are covered by your policy as sometimes you have to pay extra. Read more about how to buy travel insurance.