This page contains affiliate links. Please read our disclosure for more info.
Many people are surprised that Cuba is not a cheap country to travel in. The average Cuban salary is around $25 a month after all, and travellers expect prices similar to those in Central America. But as we've said, Cuba is unlike anywhere else we've visited and you can't expect things to be that straightforward.
Cuba has a dual currency system: Cuban pesos (CUP) or moneda nacional are what locals earn/spend while convertible pesos (CUC) are what tourists spend and locals need for any kind of luxuries. 1 CUC is about equivalent to US$1, and 1 CUC buys 24 CUP. Tourists can use moneda nacional for a few things like street food which is very cheap but everything else (accommodation, transport etc) must be paid for with convertibles. It sounds confusing but you get the hang of it once you are there.
Cuba Travel Costs
Here's what we spent during our two weeks in Cuba visiting Havana, Vinales and Trinidad. These costs are for two people.
Currency: GBP
Summary

| Country | Total Spent | Days in country | Cost per day |
| --- | --- | --- | --- |
| TOTALS: | £1,440.25 | 25 | £57.61 |
| Cuba | £1,440.25 | 25 | £57.61 |
Breakdown

| Country | Accommodation | Food | Transport | Entertainment | Other | Total Per Day |
| --- | --- | --- | --- | --- | --- | --- |
| Cuba | £16.31 | £16.15 | £17.31 | £7.15 | £0.69 | £57.61 |
Currency: USD
Summary

| Country | Total Spent | Days in country | Cost per day |
| --- | --- | --- | --- |
| TOTALS: | $2,189.18 | 25 | $87.57 |
| Cuba | $2,189.18 | 25 | $87.57 |
Breakdown

| Country | Accommodation | Food | Transport | Entertainment | Other | Total Per Day |
| --- | --- | --- | --- | --- | --- | --- |
| Cuba | $24.79 | $24.55 | $26.31 | $10.87 | $1.05 | $87.57 |
This is the breakdown of how much this works out on an average daily basis.
We budgeted £70 a day which is about US$110 or 110 CUC for two people so we were pretty happy that we came in under budget at £58/ $88 a day or £29/ $44 per person. I doubt we could travel for that on any other Caribbean island.
Accommodation
We stayed entirely in casas particulares or homestays where Cuban families rent out one or two rooms in their homes. They are cheaper than the government-run hotels and you get the benefit of the wonderful hospitality and home-cooked meals. We paid between 20-30 CUC per room which were always clean, simple but comfortable, and equipped with private bathroom, hot water, A/C, and often a fridge.
As the price is per room accommodation costs are higher for solo travellers.
You can now book homestays online on Airbnb with rooms from $10 a night—sign up here for $39 of your first stay.
Food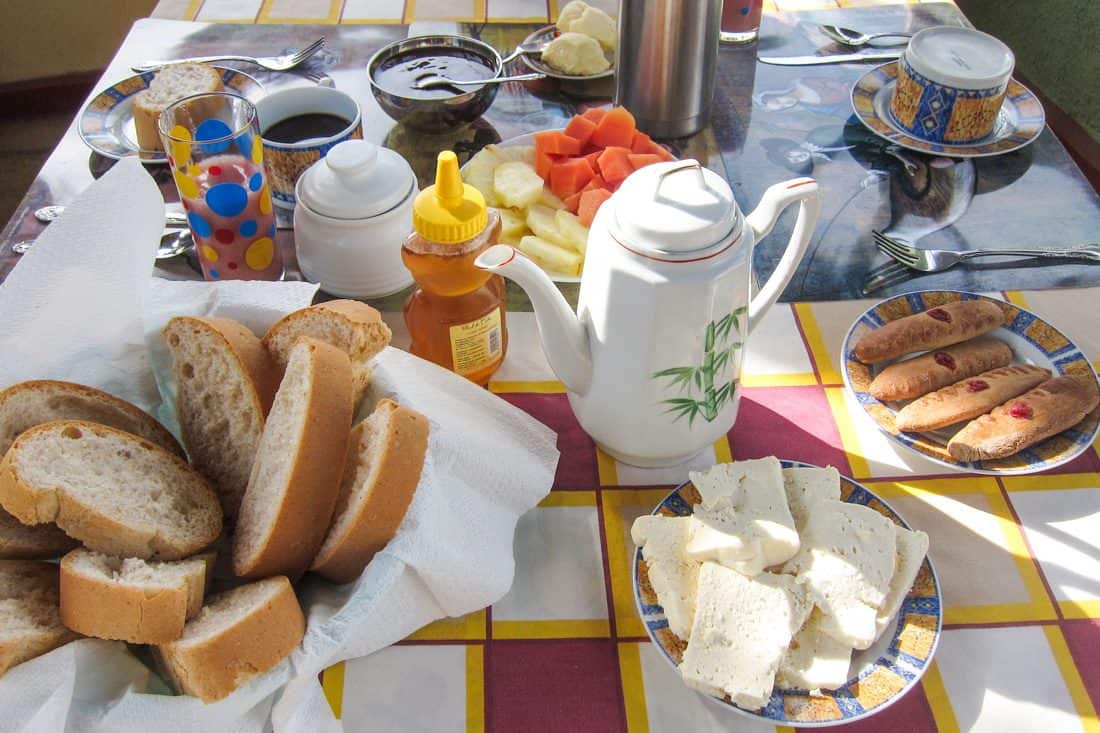 We ate in our casas for most meals. Breakfast was 3-5 CUC each and dinner was 7-8 CUC each—portions are huge. We also ate peso pizza from street stalls for about 10 CUP ($0.42).
Bottled drinking water is included in this category and was a substantial expense—we spent £50/$76 on water, but we do drink a lot of it.
Transport
We travelled by comfortable Viazul bus between cities (12-37 CUC for 4-9 hour trips).
A taxi from the airport into Havana is 25 CUC.
We paid US$25 each for a Cuban visa at Cancun airport.
Exit tax from Cuba is 25 CUC.
Entertainment
This includes a few nights out seeing bands, two private salsa classes, horse riding, and entrance fees to museums and galleries.
We only drank alcohol a few times so if you plan to drink a lot of mojitos (2-3 CUC each, more in Hemingway bars) this category will be higher.
Miscellaneous
This includes laundry and tips, often for the bathroom attendant. Tips are a must in Cuba as locals rely on them for access to convertibles.
Other Costs Not Included Above
Our return flights from Cancun to Havana with Cubana cost US$282 each.
Don't forget travel insurance—we use and recommend True Traveller for UK/EU citizens. Heymondo is another reliable option available worldwide.
Things to Know About Money in Cuba
The money situation in Cuba is more complicated than in other countries so you'll need to be prepared before you arrive.
There are some ATMs in big cities in Cuba but your card won't work if it's issued by an American bank. Although our British bank card may have worked the ATMs can be unreliable so we decided to take all our money in cash.
Outside of big resorts credit cards aren't commonly accepted. We didn't use ours.
As we were travelling from Mexico we took all our cash in Mexican pesos. Other good currencies to take are Euros, British pounds, and Canadian dollars. US dollars have a 10% exchange rate penalty so it's best to avoid them.
Only change some of your money at the airport when you arrive as rates are better in Havana.
We used one of the cadecas (change booths) to change money from Mexican pesos to convertible pesos. The one we used was at 257 Obispo in Habana Vieja.
We also changed 20 CUC (convertible pesos) to CUP (Cuban pesos or moneda nacional) which we mostly spent in street food stands on peso pizza. This was actually quite a lot for two weeks as Cuban pesos go far and can't be used for many items.
Prices in the Lonely Planet Cuba guidebook were surprisingly accurate, even though our guide book was an older version published in 2009 (the latest version is 2015).
For more Cuba tips see our post on planning a trip to Cuba and our travel resources page.
If you enjoyed this post, pin it!