This page contains affiliate links. Please read our disclosure for more info.
Cuba is one of the most interesting countries we have visited, and one of the most complicated. We were only there for two weeks so are by no means experts on the problems and merits of this controversial Caribbean island, but here we share a random selection of things we observed during our travels in Cuba.
People and Culture
1) Thanks to Communism, there is a refreshing lack of advertising, with one bizarre exception: there's a Red Bull ad on the side of the Viazal bus station in Havana.
2) However, Communist propaganda takes the place of advertising—billboards with slogans like "Patria o Muerte" (Homeland or Death) and commemorating 54 years of the revolution are common.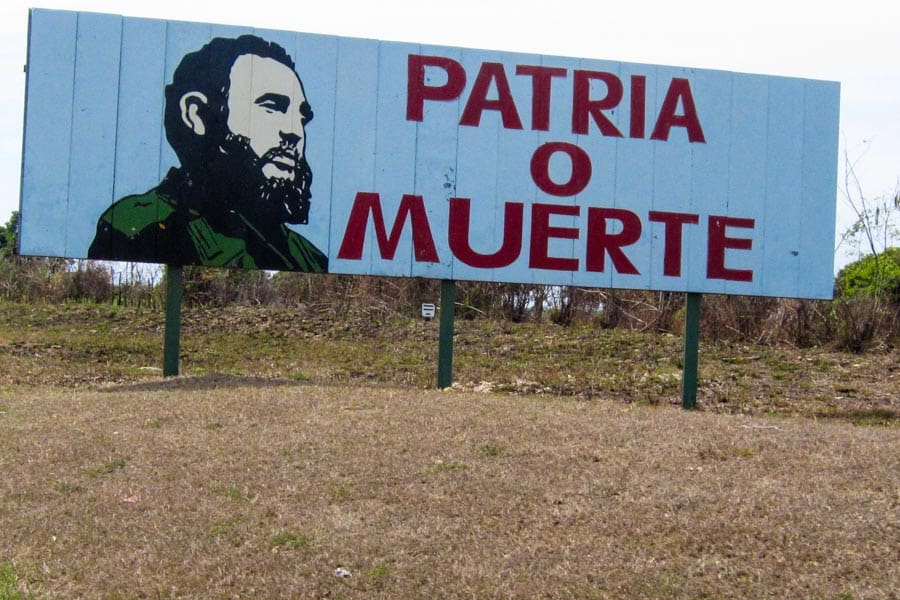 3) Che Guevara is still worshipped and his image is everywhere from tourist t-shirts to murals on walls.
4) Things are changing in Cuba—restrictions on international travel have been lifted, people can buy and sell their houses and cars, and open small businesses—although people disagree on exactly how much change there is.
5) Life is lived on the streets in tropical Cuba. People sit in doorways, peer down from balconies, and front doors are left open.
6) There is an extensive network of casas particulares where you can stay in Cuban homes. All our hosts made us feel at home and were warm, welcoming and friendly.
7) Cuba feels very safe and the locals assured us there is no violent crime.
8) Cuba has a dual currency, confusingly both called pesos. Cuban convertible pesos (CUC) are used by tourists and by Cubans who can get hold of them for luxury goods, and Cuban pesos (CUP) or moneda nacional which locals are paid in and tourists only need for street food.
9) Cuba was our only experience of people better dressed than us begging for money. Locals need hard currency for luxuries or international travel, and foreigners are the only way to get it.
10) Begging money from tourists is a job for some jineteros (hustlers) and one that can pay more than a qualified doctor's wage, as the average salary in Cuba is only $25 a month.
11) With one exception we didn't see anyone living on the streets or any signs of desperate poverty.
12) Santeria is a Cuban religion created by the mixing of Yoruba traditions brought by African slaves with Roman Catholic elements from the Spanish plantation owners.
13) Santeria is still popular in Cuba today although for visitors it can be quite hidden. We heard the frenzied drumming and singing of a Santeria ceremony next door at one casa, and another casa owner had created an altar within a cupboard featuring figures of one of the orishas (spirits), Babalú Ayé, associated with infectious disease and healing, with offerings of flowers, cigars, coins, crackers, and a lit candle.
14) In Cuban Spanish the "s" at the end of words is often dropped.
15) Cubans are passionate about baseball and you can find them arguing heatedly about it in the "hot corner" of Parque Central, Havana.
16) You can tell the Canadian and European tourists on day trips from the all inclusive beach resorts by their matching wristbands.
Transport
17) American classic cars from the 1950s and earlier are everywhere—but here they are workhorses not museum pieces.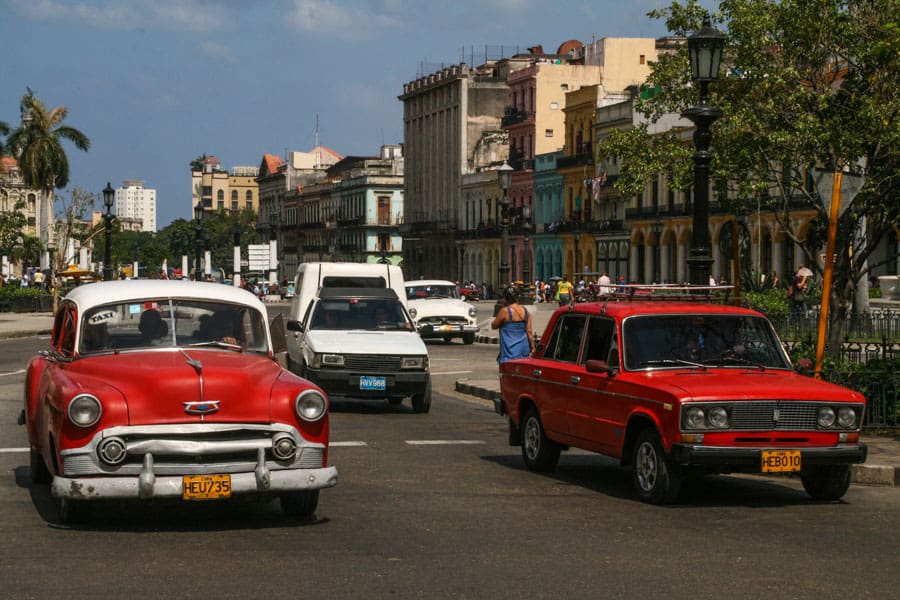 18) There are also lots of Ladas, showing the Soviet influence after the revolution.
19) Cubans had to adapt to difficult circumstances and one of their innovations was creating a stretch Lada.
20) Horse carts are still used as transport.
21) Cycle rickshaws are popular too.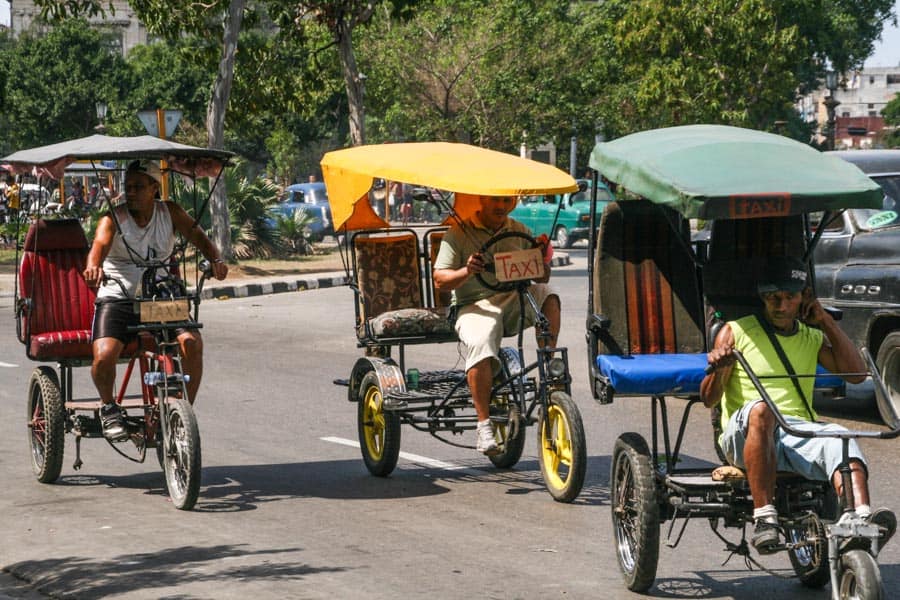 22) Outside of Havana there was very little traffic.
23) The TV in the bus waiting room showed math questions.
Shopping
24) Shops are often hidden behind curtains without window displays.
25) They are usually pretty bare, with everything on offer behind the counter and no self-service.
26) Often shops sell just one thing—meat sat out on the counter, eggs in trays of two dozen, one type of bread, or rum and beer.
27) Food shortages and rationing can result in long queues outside shops. Food was generally abundant at our casas but for a few days in Havana butter couldn't be found.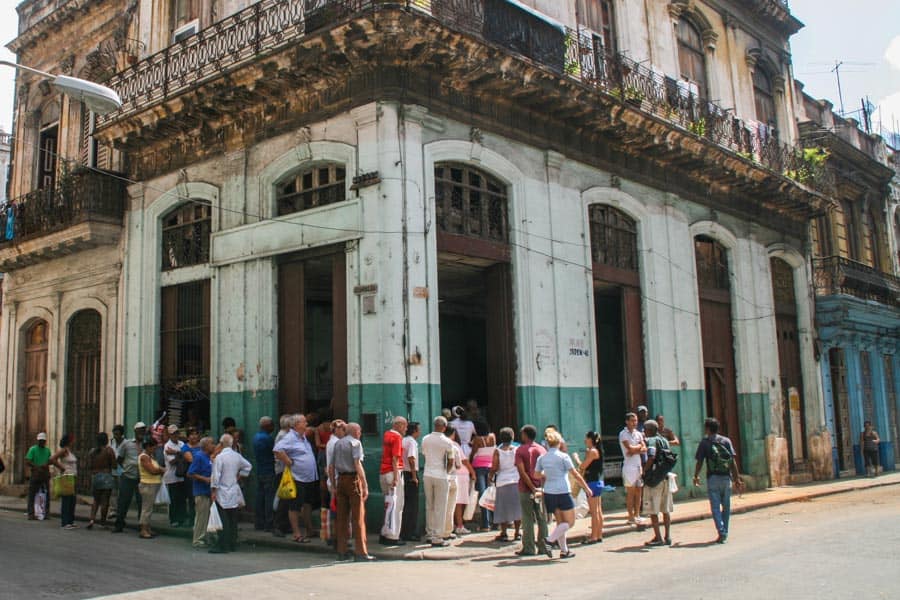 28) The need for queuing has resulted in an unusual adherence to someone's place in a queue. The etiquette is to ask who is the last in line by calling "el ultimo?" and then you know who you are behind.
29) Despite the lack of shops apparently everything—cellphones, clothes, TVs—is available on the black market.
30) On our flight from Cancun to Havana everyone was bringing a huge amount of luggage into Cuba, checking in multiple bags (the man in front of us had at least six), 40 inch flatscreen TVs, and appliances like cappuccino makers.
31) We were never given a plastic bag in Cuba and judging by these bags drying on the line, they are in short supply.
32) There's also a lack of packaging—our takeaway peso pizza came on a flimsy piece of paper, and we often saw people carrying colourful creamy cakes precariously balanced on a piece of cardboard, open to the elements.
Food
33) Although we saw chiles for sale on street vegetable carts they unfortunately never made it into our food.
34) Peso pizza is the cheapest thing to eat in Cuba. It's served from holes in the wall on the street for just 10 CUP ($0.42) and it's best to think of it as a separate food stuff from the Italian variety.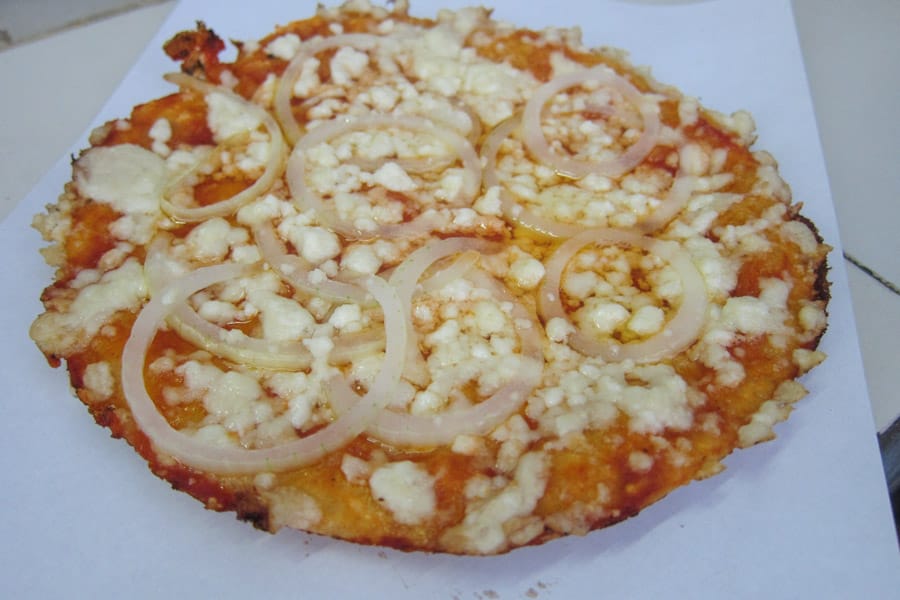 35) We managed to go two weeks without eating in a restaurant which we'd heard are awful (and which aren't very vegetarian friendly). We ate at our casas or from peso stands instead.
36) There are no international chains.
37) The most popular soft drink is tuKola, although Coca-Cola imported from Mexico can sometimes be found, at double the price.
38) Bottles of rum were easier to find than bottles of water.
39) Papaya is called fruta bomba in Cuba—don't use papaya which is slang for a woman's private parts!