This page contains affiliate links. Please read our disclosure for more info.
Food is everywhere in Mexico City, especially street food, but as vegetarians we had no idea what we could eat. It tempted but bewildered us and we kept our distance. We decided to take an Eat Mexico food tour of the city's markets which included plenty of street eats too. Food tours have become our favourite way of learning more about the culture of a new place, and they come in especially useful when you are looking for information on something specific like meat-free eats.
Eat Mexico was started three years ago by foodie Leslie, an American who used to live in Mexico City and now divides her time between there and New York. She has developed a network of trusted knowledgeable local guides to run the street food and market tours and she met us with Luis. Groups are kept small (maximum four people) and are personalised based on your interests. As we had booked last minute we tagged along on another woman's market tour, but Leslie usually recommends the street food tour for vegetarians. Still, we got to eat plenty of veggie eats and loved discovering the markets, which we could make the most of as we had a kitchen in our apartment.
We headed off to a traditional neighbourhood in the centre of the city, of neglected Art Deco buildings and blender repair shops (the workhorse of the Mexican kitchen is never thrown out).
Torta & Muffin
Our first stop was for a torta from a hole in the wall place that has been there for 60 years. These Mexican sandwiches are usually huge and stuffed full of a multitude of ingredients. Leslie likes this stall because they keep things simple—just turkey, avocado, and their delicious homemade chipotle sauce. We skipped the turkey of course and were amazed by how tasty an avocado sandwich could be, they are just so fresh and delicious here, and the chipotle sauce was the perfect counterpoint. We also picked some of the papaloquelite herb from the plant on the counter, which added a unique fragrant, citrusey flavour. Of course, this is Mexico so we couldn't resist some extra servings of salsa on the side.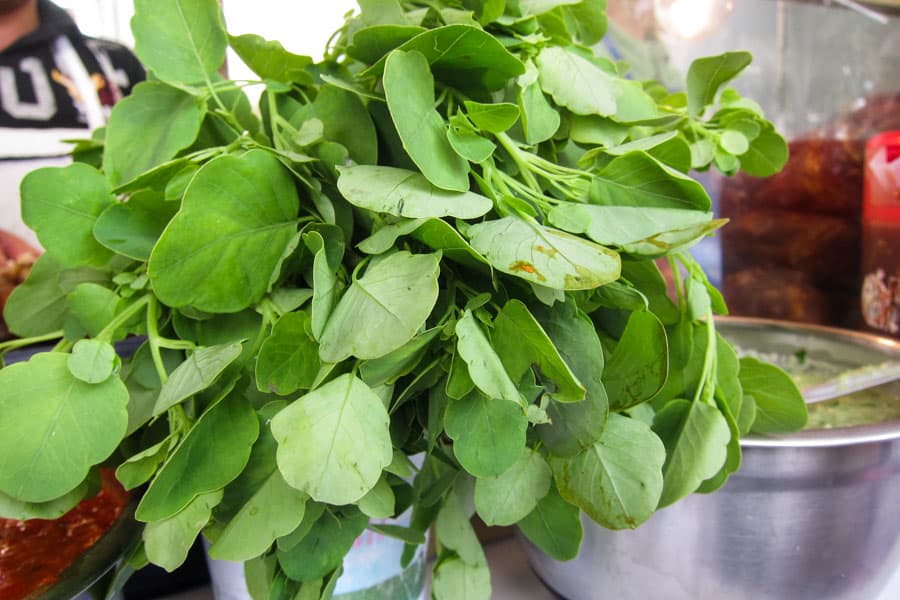 Next up was a Mexican muffin or panqué de nata, from another hole in the wall that sells only these. They are made with clotted cream rather than butter, and the result is a simple but light, moist and delicious muffin.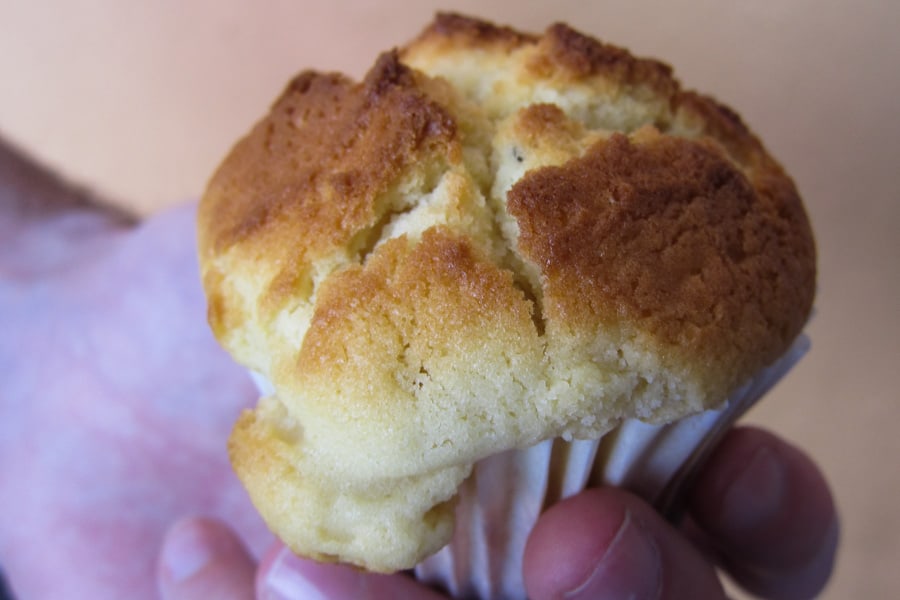 Mercado San Juan
There are a few San Juan markets in the area and we started with the gourmet market where the most famous chefs in the city come to buy their produce. You can get local and international specialties that aren't easily found elsewhere and the produce is of the highest quality.
The pristine stands are piled high with perfectly stacked fruit, and unusual items like these huge garlic cloves.
We stopped at a stall specialising in items from Oaxaca including seasoned grasshoppers and tiny shrimps, a good snack to go with beer apparently, cactus tortillas, and mosquito eggs (really? who knew those was edible?!). We stuck to the tamer stuff—queso oaxaca and roasted peanuts and garlic.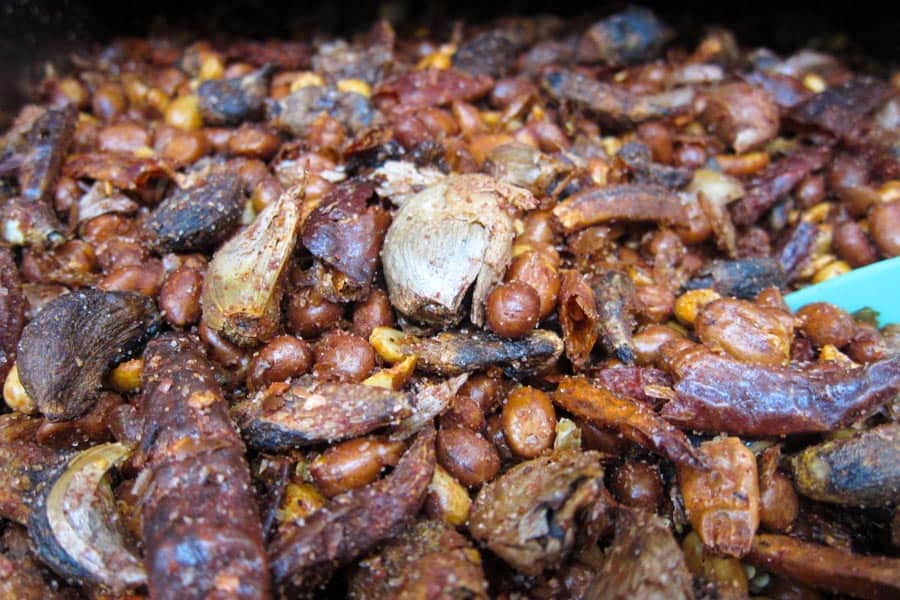 We moved on around the stalls, tasting as we went—caramelised figs, fresh mango that have just come into season, sweet mandarins, and mamey, a delicious dark orange fruit similar to zapote that we've only come across in Mexico, Cuba, and Little Havana, Miami.
We learnt about different varieties of dried chiles, including some vary rare ones, and saw huitlacoche or corn smut for the first time—it's a fungus that infects corn, and as we discovered later, tastes better than it sounds.
Vegetarians will probably want to skip the meat section of the market. Piles of dead baby goats covered in fur looked freshly killed, rabbits still have fluffy feet attached to an otherwise stripped carcass, and you'll fine delicacies such as ant larvae. It's full on, in your face, and as much as we dislike seeing dead animals we prefer this to the sanitised supermarkets where people buy their meat in convenient packages, safely protected from where their food comes from.
As in every Mexican market there are food stands serving cheap comida corriente meals—three courses and a drink for just 40 pesos (US $3.20) or so. But this is a gourmet market so there is also an excellent coffee stand run by a lovely owner who obviously cares deeply about the coffee he serves. Simon was transported back to Italy with his tiny cup of espresso ristretto, strong, smooth, and without the bitterness that sometimes accompanies strong coffee.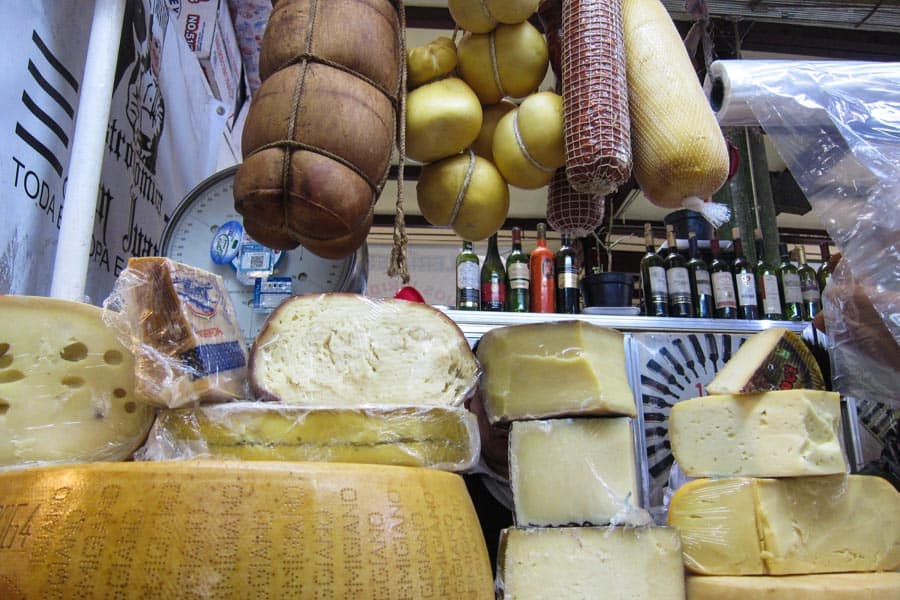 The best stand was saved until last—the cheese stall. While sipping a cup of Spanish tempranillo we were given samples of a range of cheeses—soft panela, stringy Oaxaca, morral with pistachios, a strong goats cheese, parmesan-like sbrinz, and a Mexican version of fontina. They were all really good and restored our faith in Mexican cheese. We'd been buying from the supermarket where it was completely flavourless, and Leslie confirmed that buying from a supermarket is a bad idea as it's low quality and often not even made from milk to keep costs down.
We were so happy to find good cheese, both Mexican and imported, that we came back to the stall a few more times during our stay. The stall also sells excellent baguettes—another thing that's hard to come by in Mexico—and will make up a sandwich for you. On Sundays it's popular with locals who come to enjoy cheese and ham baguettes and a glass of wine, standing in the crowded aisles between the vegetable stands.
Tortillas
Corn tortillas are the staple of every Mexican meal, and are government subsidised so everyone can afford a kilo of tortillas for the set price of 11 pesos ($0.90). We visited the last corn mill in the area, as too often now people use corn flour to make their masa dough, which is easier but nowhere near as flavourful. We watched them grind the corn which had been dried and boiled, and then mixed with water to make the masa.
A simple tortilleria a few doors down, which has been running since 1937, buys masa from the mill. There we watched them feed the dough through the tortilla machine where they are cut and cooked.
There are tortillerias in every neighbourhood in Mexico. People send their kids down every day to pick up fresh, warm tortillas and on the way home perhaps enjoy one sprinkled with salt and rolled up. It's one of our favourite things in Mexico, and so unlike the dry, pre-packaged, chemical-addled tortillas found in supermarkets outside of Mexico.
Tlacoyos & Quesadillas
On the corner of a busy street surrounded by chicken shops, a petite camera-shy lady sits next to a comal over a coal fire surrounded by pots of salsas, vegetables, and cheese. She lives 1.5 hours away and treks into town each day with all the food that she's prepared the evening before, after the long commute and day of serving hungry workers. Many street vendors do the same—Mexico City has become expensive to live in, and although it's hard work and long hours they can earn a decent living.
Her speciality is blue corn tlacoyos, which traditionally must be cooked by a woman. We perched on tiny stools, feeling the heat of the comal, and watched her artfully shaping the blue dough and stuffing it with beans, cheese, or fava beans, before letting it puff up on the comal. It was our first experience of tlacoyos and a good find, as they are usually vegetarian-friendly. We chose fava beans and topped them with nopales (cactus), onion, cilantro, and salsa. Delicious!
The tlacoyo lady also makes quesadillas with the lovely blue corn masa and we tried one with huitlacoche, the strange looking corn smut we'd seen in the market. We expected it to have a strong mushroomy flavour, but it was quite mild.
Juice
We visited the other Mercado San Juan, less fancy than the gourmet one. Vendors like using encouraging signs advertising the prices of the produce with messages like "Why not?" and "Only today!".
We were there for a juice, one of Mexico's simple pleasures. The juice vendor recommended his special of the day—mango, strawberry, guanabana (soursop), and orange. You can ask for any fruit mix you like at Mexican juice stalls, or choose one of their set health combos such as for dieting, your kidneys, or anti-flu.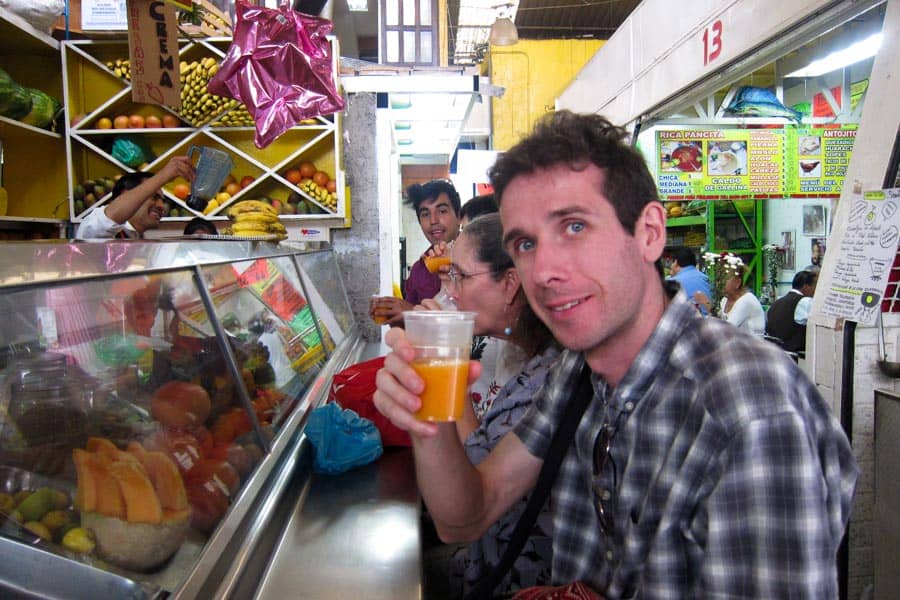 Tacos
Tacos are the most common street food in Mexico, and as Luis explained are a way of eating not just a dish. You can put any topping on a tortilla and it becomes a taco. Unfortunately we've found that the favourite toppings are meat, and we haven't had much luck finding veggie tacos. Leslie and Luis ordered us a potato and cactus taco but the potatoes had been cooked with meat so we had to pass. A warning for vegetarians in Mexico: a little bit of meat often doesn't count as meat so always check before you bite.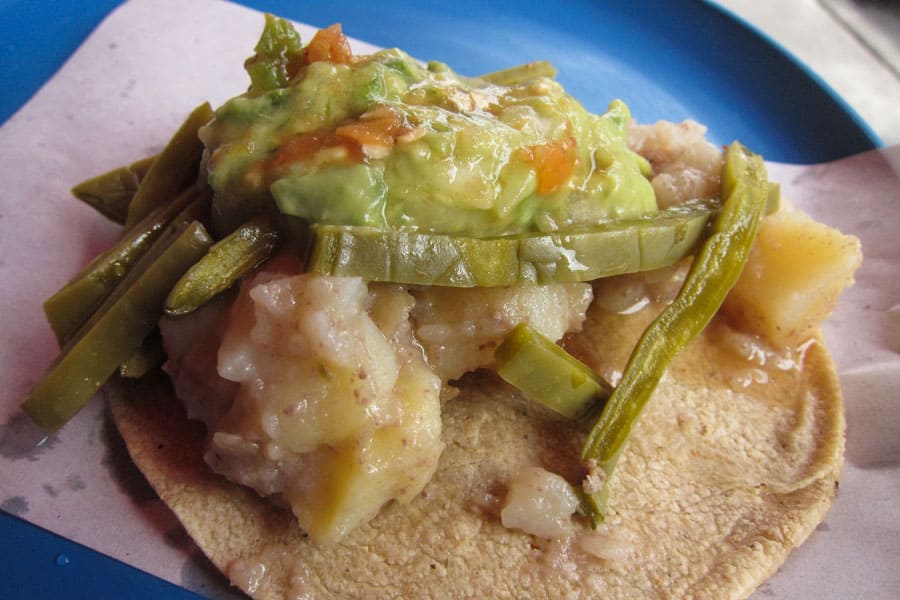 Pulqueria
By mid afternoon we had one last stop—a pulqueria. Pulque is the fermented sap of the maguey (agave) plant, which is the same plant used to make mezcal and tequila. It used to be the drink of Mexico but beer has taken over. Still, judging by the crowd in the bar on a Wednesday afternoon, it's making a comeback.
We pushed our way amongst the students into the pulqueria, the ceiling and walls decorated in psychedelic coloured murals, and squeezed ourselves into a corner while Luis brought us a sampling of the day's special flavours. We tried the pulque in its original milky white form, but the yeasty flavour was a bit sour and we preferred it curado. We tried them all: guava (my favourite), mango, almond, celery, melon, and oatmeal. We'd never heard of pulque before and would never have found the place without our guides. The curious looks aimed our way suggested that not many tourists make it here, and it reminded us of why we love taking food tours. It was the perfect way to end the day.
Food is such an important part of Mexican culture and it can be overwhelming making sense of it when you first arrive and realise it's nothing like the Tex-Mex you're familiar with. If you are feeling a bit intimidated about diving into the street stalls, have dietary restrictions like us, or just want to learn more about Mexican food culture and spend a day stuffing your face, then we highly recommend the Eat Mexico tours. After the tour it was like a light bulb went off in our heads and we started to see vegetarian street food everywhere and felt more confident in what we were ordering.
Eat Mexico offers a range of tours including street food, markets, and tacos, starting from US $85 per person. It might sound pricy for Mexico but the groups are small, the tours are customised to your interests, and the guides are knowledgeable, bilingual, and professional.
Thanks to Eat Mexico who gave us a discount on our tour and to Leslie and Luis for being such helpful guides.