This page contains affiliate links. Please read our disclosure for more info.
South Beach, Miami is known for its beach and party scene. It's a vibrant mix of glamorous socialites walking tiny dogs wearing sunglasses, bronzed elderly gentlemen strutting their stuff in banana hammocks, and tourists drinking cocktails the size of their heads in mid afternoon. It's loud, touristy, glitzy and lots of fun.
We wanted to explore an alternative side to Miami though—beyond the beach. On a a series of walks around the city we discovered stylish Art Deco architecture, learnt about the ups and downs of South Beach's history, sampled the Latin flavours of local cuisine, and were transported to Cuba in Little Havana.
Art Deco
Sleek Art Deco architecture sets South Beach apart from a typical beach town. Miami has the largest concentration of Art Deco buildings in the country and many of these are preserved in the Art Deco Historic District along Ocean Drive and around.
A walk in this neighbourhood is a highlight of a visit to the city and although you can do so by yourself we wanted to learn more, so we joined Christine on her popular Art Deco walking tour.
We aren't usually fans of tours but this year we've discovered that small group walking tours around a specific theme (rather than just general sightseeing) can be a great introduction to a city. There were only five of us on the tour and Christine was so warm and bubbly that we felt like we were being shown around by a friend rather than a tour guide.
One of the things that makes us hesitate to take tours is being bored silly by a monotonous reciting of facts and figures. It's not that we aren't interested in history, it's just that expert guides are sometimes unable to explain a subject in a way that we can relate to—we care about how people live or lived and why. The precise date something happened isn't as important as the crazy things that human beings got up to.
Christine understands this. She's passionate about Art Deco and she's a storyteller, which is why the tour was engaging from beginning to end. She taught us what Art Deco is and put it in context of Miami's history. She told us tales of the intriguing stories of the people who shaped it.
We stepped back in time in hotel lobbies and got exclusive access to the Clevelander Hotel's roof terrace where we had panoramic views of the city and beach and, little by little, we began to notice and really appreciate the buildings we'd been walking under so obliviously.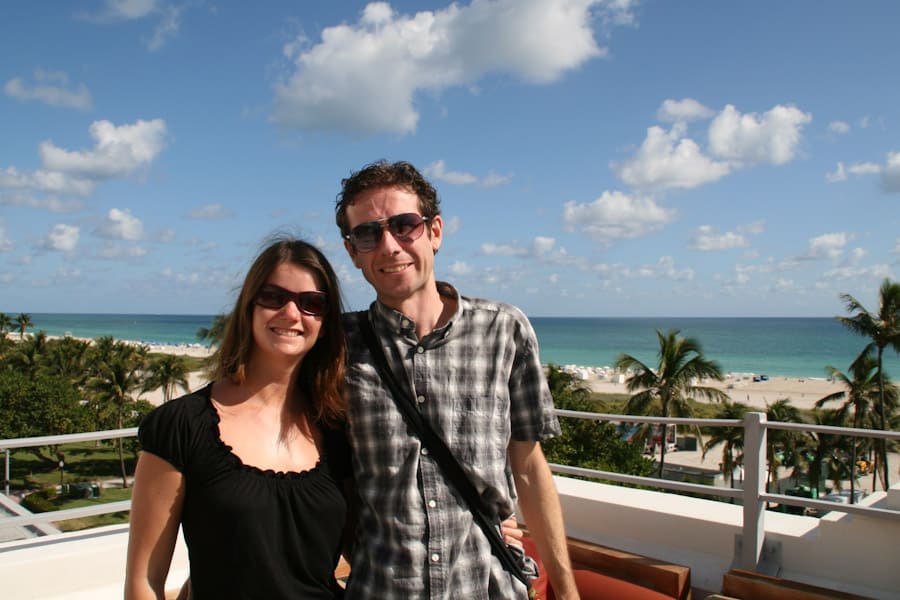 What is Art Deco?
Art Deco is a design style with a focus on motion and balance. In Miami Art Deco architecture is characterised by the use of symmetry, elements in threes, cantilevered eyebrows that protect windows from the sun, and exotic embellishments like ziggurat (terraced step pyramids), influenced by the discovery of King Tut's tomb, and Aztec and Mayan patterns.
In the 20s and 30s it represented luxury and celebrated new technology with ocean liner and automobile motifs such as porthole windows.
In Miami it's known as Tropical Deco as the buildings are low rise, unlike the skyscrapers of New York. As Florida is the sunshine state the builders wanted all residents to walk in the sun rather than the shade of tall buildings.
The Role of Art Deco in South Beach's History
Most Art Deco buildings in Miami Beach were built in the late 1930s. At a time when the rest of the country was reeling from the Depression, Miami Beach was booming with money from illegal gambling, alcohol, and the oil industry.
In the post WW2 years though Miami Beach declined and by the 1970s it was rundown, crime ridden and known as God's Waiting Room due to the high number of elderly people who lived in the dilapidated buildings. Decaying and forgotten, these historic buildings were under threat by developers.
A widow called Barbara Capitman stepped in to save the buildings, campaigning in Washington and forming the Miami Design Preservation League to protect them. A subsequent lick of paint from her colleague, designer Leonard Horowitz, breathed new life into the buildings and helped change South Beach's fortune.
Originally the buildings were painted in pale colours but the new sherbet tones attracted the attention of Miami Vice's producers in the 1980s, and later other Hollywood film producers. Miami Beach was on the rise again.
The pilot of Miami Vice was shot at The Carlyle, and later the popular film The Birdcage was also filmed there.
The tour gave us a greater appreciation of South Beach—it's about more than just bars and bikinis, and of Art Deco. Through the rest of our stay we began to pay more attention and notice the details that characterise art deco and that we hadn't noticed before.
The Art Deco walking tour is only $30 per person, which is a bargain considering prices in South Beach. Christine is happy to personalise the tour to your interests and private tours are not much more expensive. She also offers a tempting sounding Art Deco cocktail walk with drinks in the bars of the hotels, and tours of Little Havana.
Latin Flavours of South Beach
Our favourite theme for a tour is of course food! What better way to spend a few hours than munching your way around a new city.
The thing that struck us most when we arrived in Miami was how bilingual it is. You hear Spanish spoken everywhere and signs are translated into Spanish too. It's often referred to as the northernmost city in Latin America, so unsurprisingly our food tour focused on Latin flavours. We were a little concerned that it wouldn't be very vegetarian friendly but Kelly of SoBe Tour des Forks arranged a vegetarian alternative for us at all the stops.
For three hours we restaurant hopped around South Beach's Art Deco district sampling fusion dishes like black bean hummus; super strong, sweet Cuban cafecito and melt in the mouth flaky guava pastries; Brazilian snacks (our pão de queijo was even better than those we ate in Brazil) with unusual but tasty cashew juice; Peruvian ceviche (we passed); and some delicious ice cream to finish the tour with a sweet note—my scoop of dulce de leche took me back to Argentina.
The tour was about more than just eating though. Kelly's background is architecture and she provided a great introduction to South Beach's history, architecture and the dramatic stories of its founders, as well as the stories behind the restauranteurs. The US is so dominated by chains that it was fantastic to hear about individuals passionate about quality food being able to survive in this expensive area.
The tour handout even provided tips on unique non-foodie things to do in South Beach so we really recommend taking it near the beginning of your stay so you can take advantage of these, as well as all the restaurant recommendations and discounts. There are some awful tourist trap restaurants in South Beach but after taking the food tour you'll be sure to avoid them.
The SoBe Tour des Forks costs $58 per person including all tastings, and the amounts provided are enough for lunch.
Little Havana
If we thought South Beach was Latin influenced then over the bridge in Little Havana in Miami (officially a different city from Miami Beach) we were transported to another country where every voice we heard spoke Spanish.
This neighbourhood of Cuban exiles is a remarkable contrast to sleek South Beach and we were glad we had a local to help us delve deeper into the culture.
Corinna offers tours to help people learn more about the area. She seems to know everyone in the neighbourhood and is knowledgable and passionate about Cuban music, dance, and culture.
Our our multi-sensory tour we tasted Cuban food and coffee, listened to salsa and son, smelt the bittersweet scent of cigars in smoky lounges, touched sacred plants, and watched the community elders battle it out in a heated domino game in the local park.
We began our walk along Calle Ocho (8th Street) at Fruteria Los Pinareños, a family-run store in the heart of the neighbourhood where old guys meet over a morning coffee and locals shop for fruit.
We felt like we'd been transported to Latin America, far away from the sterile supermarkets of the US. Exotic fresh fruit was piled high in cardboard boxes, colourful corn on the cobs hung from the ceiling, a blender in the corner whizzed up batidos (fruit smoothies), and out back a plump pet pig and roosters roamed amongst the fruit trees and plants used for herbal remedies.
We sampled some of the fruit including tiny sweet bananas and the barely recognisable giant avocados that we ate in South America but have never seen in the US. Best of all was the mamey batido, a type of zapote with rough brown skin and an orange flesh with a rich flavour. Despite trying dozens of fruits in Colombia this was a delicious new discovery for us.
It was here that Corinna introduced us to Lucumi (also known as santeria), a religion we didn't even know existed. There were signs of it all over Little Havana but we would have been oblivious without our guide.
Lucumi has its roots in West Africa and was brought to Cuba by slaves where it had a big influence on Cuban culture. Many Cubans still practice the traditions, even Catholics might observe some of the superstitions and good luck charms, like the sacred plant we saw on either side of the entrance to Los Pinareños to protect the shop.
At the centre of Lucumi are the orishas or deities, iconic figures with all Cubans, not just believers. Corinna taught us the colours and symbolism for each orisha and we saw signs of them all over the neighbourhood, in shop shrines, murals and other artwork.
We strolled around the neighbourhood with Corinna, stopping to chat with locals along the way. We touched on politics but the focus was on Cuban traditions, arts and culture. The art scene is strong here with locally created mosaics decorating parks and murals adorning walls, plus many independent galleries where you can meet the artists at work.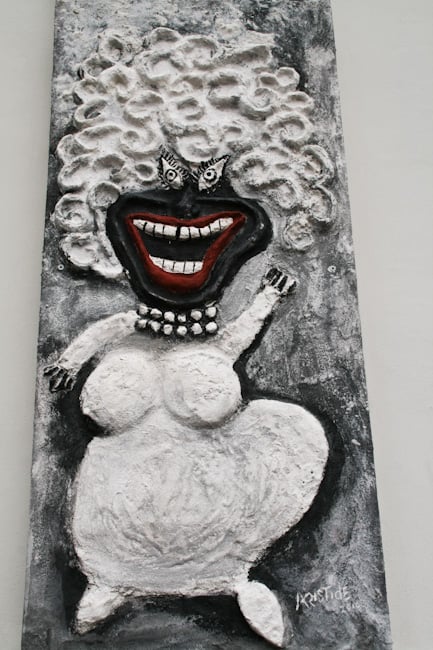 We went into music shops and heard some of the many different Cuban music styles and saw the instruments that create them. We would have loved to have come back for a concert that night but the epic bus journey from South Beach took us over 1.5 hours each way.
We visited a small cigar factory where three generations made cigars in store. We were struck by how many independent shops, restaurants and artist studios there are in the neighbourhood. A few chains have encroached but it still feels like a very individual, un-American neighbourhood.
Cubans have a distinctive coffee culture. I never drink coffee but Cuban coffee came the closest to converting me. Cafecito, Cuban espresso, is served strong, black and sweet, with sugar added while it's brewing. A colada is meant to be shared and comes with tiny plastic cups for decanting to friends. If you like milk you can order a cortadito, but we preferred it unadulterated.
Coffee is often bought from a ventana, a window of a cafeteria where you can order your coffee to go. We sat inside and enjoyed our coffee with a pastelito, a flaky pastry filled with guava and cream cheese.
Azucar is an artisanal ice cream shop using natural ingredients and with a baffling array of flavours. We tasted some of the seasonal specialities: sweet potato, pumpkin, apple pie, and eggnog. After six weeks in Italy this summer we are hard to please but this was damn good ice cream. Corinna provides a handout with restaurant recommendations and discount vouchers so you can stay for lunch after the tour (and come back for more ice cream!).
Little Havana was another world from South Beach and we're so glad we got to see this alternative side of Miami. We could have visited on our own but with Corinna we didn't feel like outsiders and we got to meet people, visit places and learn so much about Cuban culture that we never would have alone.
Little Havana walking tours cost from $49 and last from 2.5 hours. You'll need to make your own way to Little Havana. We took two buses from South Beach that took about 1.5 hours and cost $4 each way. See the Miami bus guide to plan your route.
Where to Stay in South Beach
In keeping with our "Miami Beyond the Beach" theme we decided against one of the beachfront hotels and opted for Chic Place at Lincoln, a boutique apartment hotel in a quiet, residential neighbourhood, yet still close to everything in South Beach. We loved the vintage decor combined with modern technology, and having the space and facilities of an apartment was perfect for slow travellers like us.
All three of the walking tours we took in Miami were run by passionate, interesting women who shared their love of a unique side of the city with us. As we discovered there is much more to Miami than the beach.
For more photos see our Miami photo album on Facebook.
If you enjoyed this post, pin it!
A big thank you to Christine, Kelly and Corinna who provided us with complimentary tours.