This page contains affiliate links. Please read our disclosure for more info.
We came to San Pancho to see our friends Victoria and Steve who raved about this tiny beach town on Mexico's Pacific Coast. We were enticed by talk of whales and turtles, jungle covered hills and long stretches of empty sand. We stayed because it's a place full of surprises.
San Pancho (officially called San Francisco) is a sleepy pueblo with one main street and a population of around 2000. But there's a hospital; a number of excellent restaurants including a gourmet organic bistro; a fancy polo club where you can enjoy mimosas and watch a game over brunch; a community arts centre that received equipment and training from the Cirque de Soleil whose founder has a house here; a turtle conservation project; music festivals during the high season; ibogaine clinics that treat drug addicts with a African plant medicine; a skate park; an excellent multi-lingual folky band that plays every week at a bar serving both excellent pizza and gourmet teas; and the town attracts all sorts of creative, interesting people—surfers, dancers, writers, artists, musicians, yoga teachers, hippies.
San Pancho is unusual because in the 1970s President Echeverría, who had a holiday home here, used this fishing village as a model for his ideal of a self-sufficient village. He invested in the infrastructure constructing a hospital, housing, schools, and cobblestone streets. Now the town attracts a mix of Mexicans, expats, and tourists, but it hasn't been commercialised, only gets a passing mention in my guidebook, and is much less crowded than the surfer town of Sayulita just 6 km away.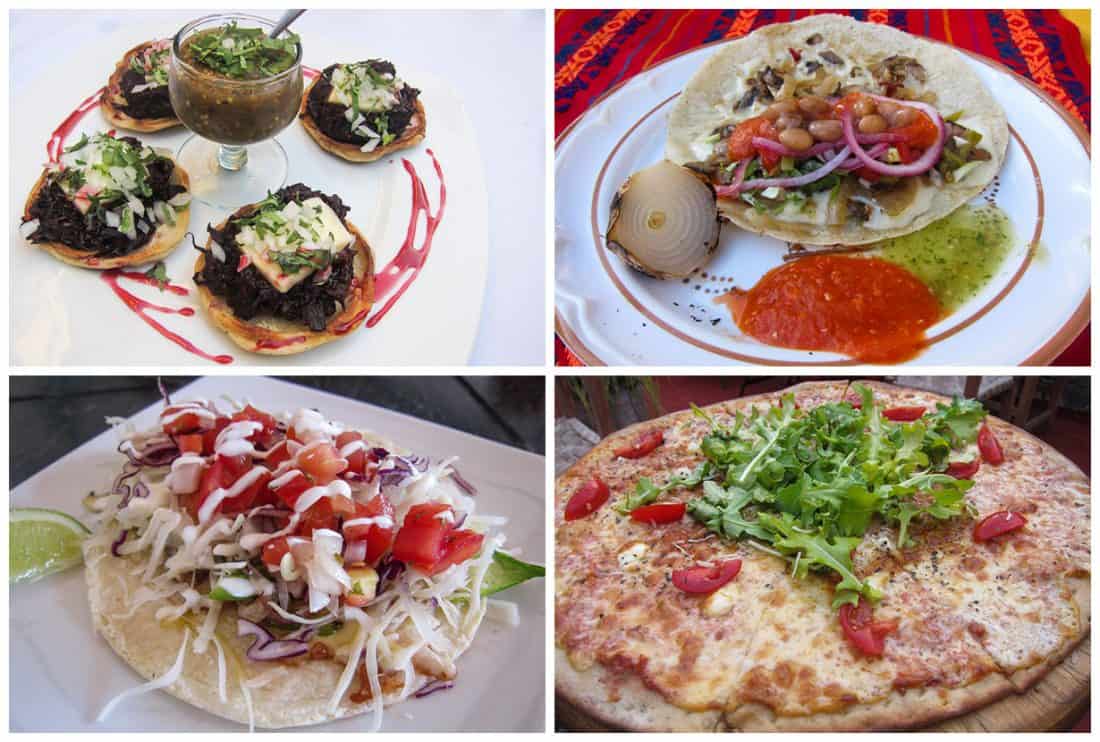 The beach is a long curve of wide golden sand and crashing waves, empty except for the few beach bars near the main entrance. On my morning runs there are only a few other people around—dog walkers, fishermen, people doing yoga. The busiest time of day is sunset when everyone gathers on the beach to watch the sky light up in shades of orange and pink and the sun sink down behind the horizon while pelicans dive for fish.
We missed the whale season, but luckily caught the last baby turtle release. It was amazing but heart-rending to see hundreds of tiny turtles getting tossed about by the waves—only a small percentage make it.
We arrived in April as the season was winding down and since then it's been getting quieter and quieter, hotter and hotter. Friends have left, restaurants closed, and the sleepy town has become even sleepier. It suits us though. The peace is just what we need right now as we're busy working on the new, improved Trail Wallet 2.0 that we hope to release before we leave at the beginning of July.
Our Casita
Serendipity led us to find the perfect home in San Pancho without even trying. We have been able to sublet a casita from a friend of a friend, a talented photographer who, along with the owner, has created a quirky, colourful and unique home full of Mexican artwork and creative details. It's open air which means nature is part of the decor—one wall is dominated by the giant bamboo, and when we eat at the table by the window we can gaze down at our garden full of red, pink and purple flowers, cacti and banana plants, and the jungle covered mountains beyond. The breeze keeps the house cool, even when it's steaming outside in the sun.
The garden is home to birds, butterflies and squirrels. The birds are our daily soundtrack, before the crickets take over at night. The range of sounds is quite amazing—birds don't just chirp, they chuckle and chortle, screech and squawk, and in the case of the chachalaca create a chainsaw-like cacophony. A hummingbird loves the red flowers of the tree next to the hammock so as I read I hear the rapid beating of its wings as it flies furiously from one nectar filled blossom to another, sounding like a miniature plane about to take off.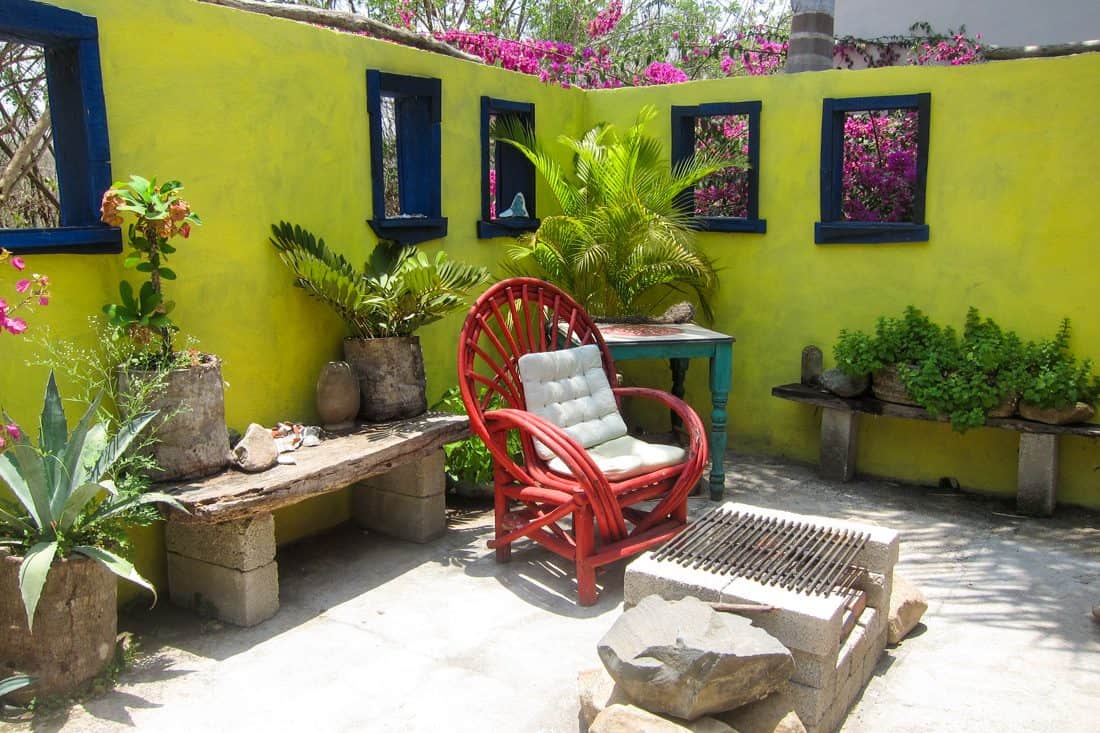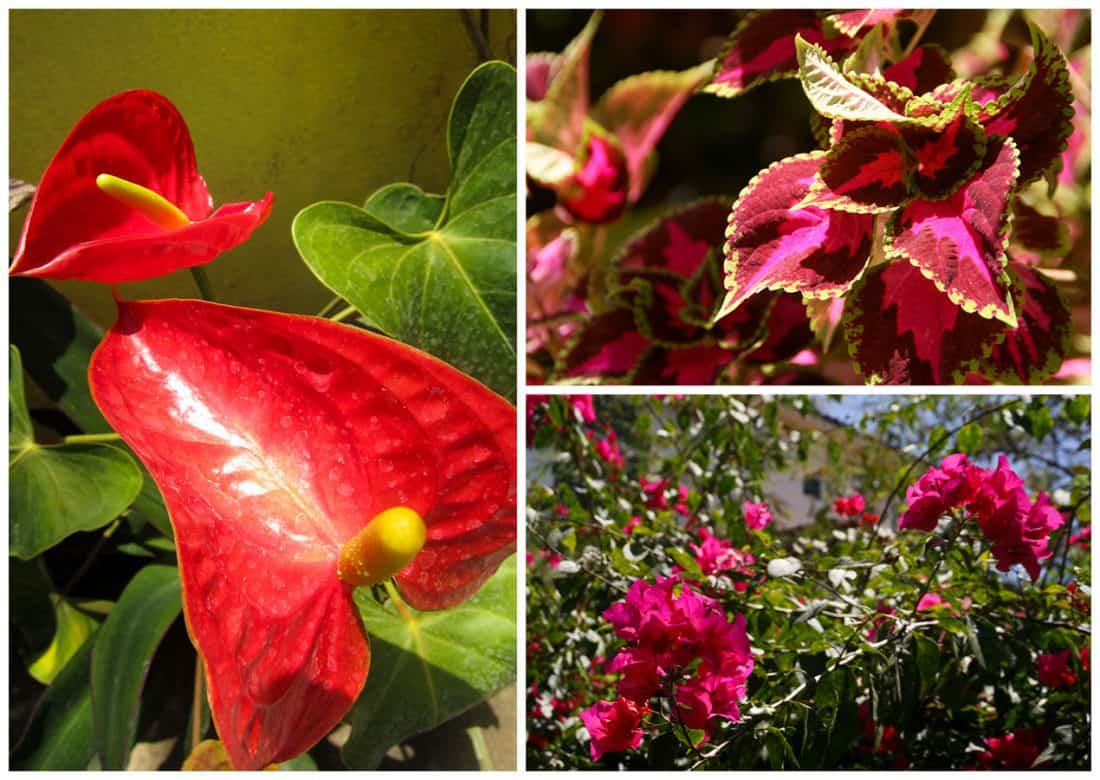 We are 10 minutes walk out of town, up a steep hill but it's a wonderfully tranquil retreat…except when our neighbours play their music. This is Mexico, and Mexico is never truly quiet. We try to embrace it as much as possible but after two months of the same Mexican ballads played over and over again (with Gangnan Style thrown in for some diversity), it can make us a little crazy. Still, most of the time we feel incredibly lucky to live in such a special place.
San Pancho has been a very different experience from Playa del Carmen, the other Mexican beach town where we lived for three months at the beginning of the year. San Pancho doesn't have the turquoise sea and white sands of the Caribbean, it doesn't have Playa's supermarkets, cinema, wide variety of restaurants, transport links, and fast internet. It does have a completely different vibe, slow and relaxed; a small, friendly community that means you are guaranteed to meet someone you know every time you walk into town; an alternative arts scene; and you are immersed in nature surrounded by jungly hills. Right now, it's just what we need.
Update: It's also very affordable—we've written a detailed post about our cost of living of in San Pancho.