This page contains affiliate links. Please read our disclosure for more info.
This morning I started the day with a run along the beach, my bare feet thumping on the powdery white sand and splashing through the turquoise waters of the Caribbean Sea. I'm not usually this athletic but with this view, running is more a pleasure than a chore, the dose of sun and sea setting me up for a morning of work.
Our latest digital nomad base is Playa del Carmen in Mexico. We'd heard mixed things about the city. Wandering Earl thinks it's an ideal place to get some work done, while others think it's overly touristy.
It is touristy but that's restricted to the strip of hotels, restaurants and gift shops on 5th Avenue, and the lounger filled beaches between 2nd and 44th streets. Move away from here and it's a normal Mexican town with tortillerias, paleterias, taco stands, and bicycle carts loaded with baked goods. We hardly spend any time in the tourist zone (except for the occasional trip to our favourite chocolate cafe Ah Cacao) and in our neighbourhood we rarely see another foreigner.
There are many reasons why Playa makes a great work base. It's a small, walkable town with no high rises and it feels relaxed and safe. It has all the amenities you need—well stocked supermarkets, a comfortable, inexpensive cinema (with enchilada popcorn!), a diverse range of restaurants, lots of cafes, and even plenty of Italian delis. Most importantly for us, WiFi is prevalent and amongst the fastest we've had on our travels.
And then of course there's the main reason people come here—the blue-green sea is a short stroll away, and outside the centre of town it's easy to find a quiet patch of sand to yourself.
Although activities in Playa are mainly focused on the beach, there are plenty of day trips in the area. So far we've snorkelled with turtles right off the beach in Akumal, just down the coast, and swam beneath stalactites in an underground cenote. There's also scuba diving, Mayan ruins and colonial towns to visit.
Our Apartment
We arrived a month before Christmas and it didn't look like we'd be able to find an apartment for rent. So many tourists come here for Christmas that apartment owners are able to earn more in one week than they would renting it to us for a month. We were in touch with Elizabeth, a friend of Earl, who helps foreigners find apartments in the area, but even she thought it'd be impossible. After a stressful fews day walking the streets and responding to signs on apartment buildings, and being shocked by the high prices on the internet, Elizabeth saved us. She found us a place that usually rents for a six month minimum (so isn't aimed at tourists) but she convinced the owner to rent it to us for two months.
It wasn't everything we'd hoped for. There was no pool, no couch, and while it had basic furnishings it was plain and didn't feel homely. We've become spoilt with some rather fancy apartments over the years, but we didn't have a choice as we needed to settle down and work on the launch of our Trail Wallet, so we took it.
I'm glad we did. The price was right ($500 a month) and it has been good for us to be a bit more adaptable. We bought some things for the apartment to make it a bit more comfortable including a bright blue chair to (sort of) make up for the lack of couch. We focused on the positives: we're surrounded by trees so can hear birds singing and watch the huge iguanas that live outside our window; and we're only a two minute walk from a gorgeous beach, that's quiet except on Sundays when large Mexican families create a festive atmosphere. I love having the beach so close for early morning runs, afternoon work breaks, and sunset walks.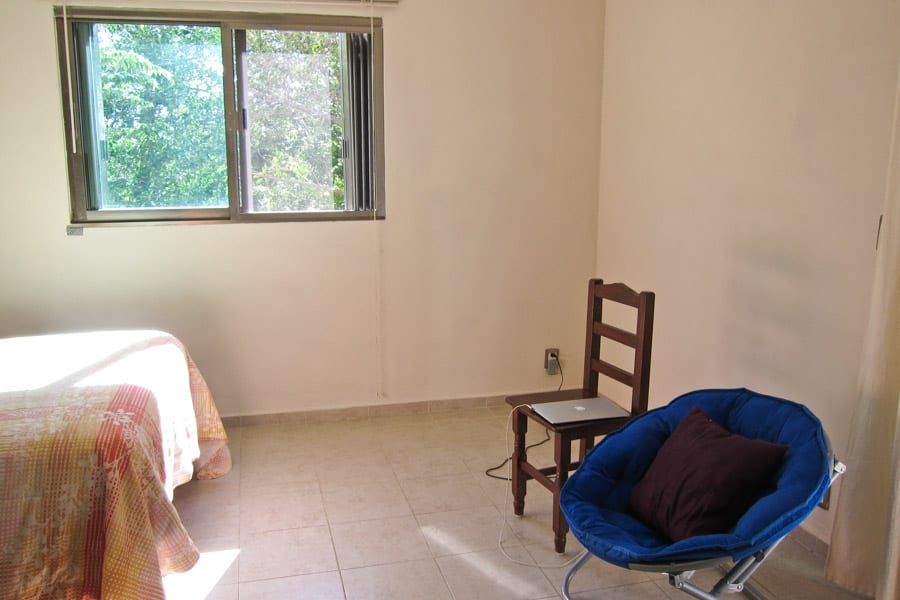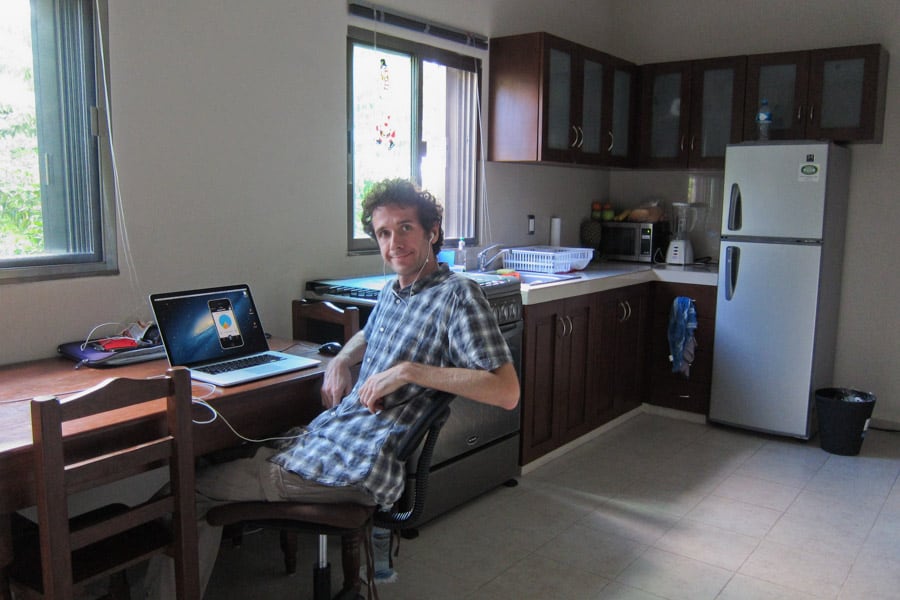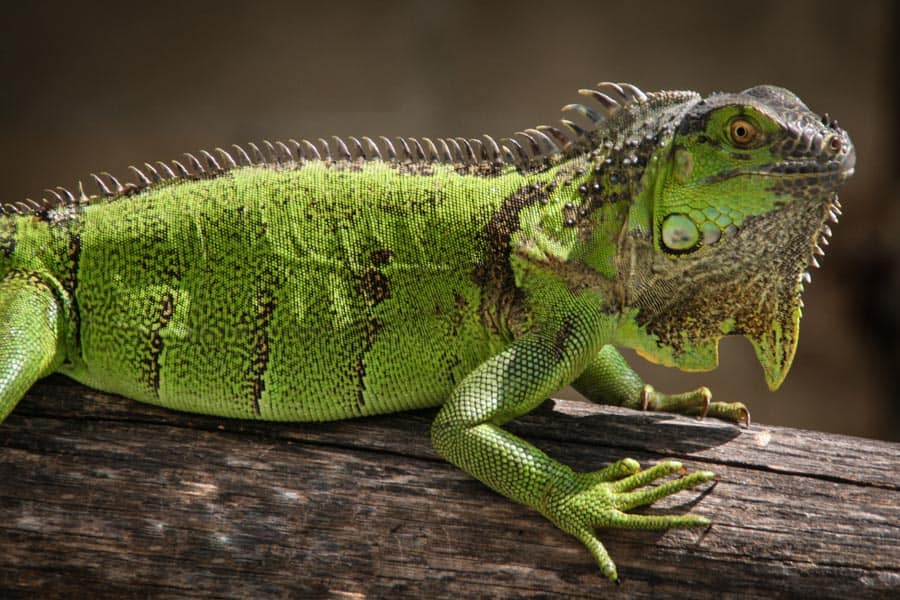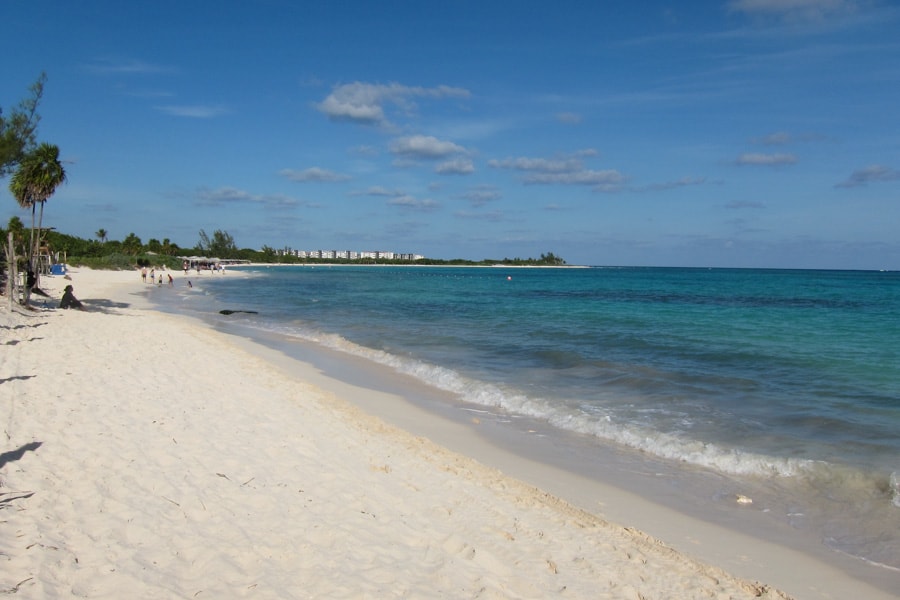 Our Neighbourhood
We really like the Colosio neighbourhood which is a world away from the tourist parade of 5th Avenue. It's a working class area with mostly simple one or two room houses, many brightened with a colourful coat of orange, purple or lime green, or a flowering tree. Music blares from open doorways; dogs, chickens and children roam the streets; women sell empanadas or tamales outside their front door; and there's an abarrote on every corner selling basic groceries.
There are at least five tortillerias in easy walking distance where we buy a kilo of warm corn tortillas for 14 pesos ($1.08), and at least as many lavanderias where we get a load of laundry washed, dried and ironed for 30 pesos ($2.32). At paleterias or ice cream shops we've sampled agua fresca de guanábana (soursop juice) and paletas (ice pops) made with real fruit—mango and chilli was a particularly interesting combo that warms and cools your mouth at the same time.
It's a 20-30 minute walk into town (particularly enjoyable along the beach), or we can take a colectivo (shared minivan) for 5 pesos ($0.40), or a taxi for 30 pesos ($2.32). There aren't many restaurants nearby but we've been enjoying cooking—with lots of variations on tortillas, beans, pico de gallo and guacamole. We've also discovered the delights of warm homemade tortilla chips (totopos)—we just cut corn tortillas into triangles and fry for a minute or so in oil. They are so much tastier than the packaged stuff. Unusually we have an oven so we've been able to bake cookies and roast vegetables which feels like a real treat, and we were particularly grateful at Christmas.
As we've often found with "touristy" places it's not hard to escape the crowds. After all, Playa del Carmen doesn't just exist for tourists—Mexicans live here too. By staying for a while, avoiding the resorts and tourist restaurants, and participating in ordinary daily activities, Playa feels as Mexican as anywhere in the country.
Also see our cost of living in Playa del Carmen and our favourite veggie-friendly restaurants.