This page contains affiliate links. Please read our disclosure for more info.
Update: Unfortunately, Majahuitas closed in early 2018 as they couldn't renew the lease on their land. The owners are looking for another location and you can check their Facebook page for updates.
I felt relaxed as soon as I stepped into the little Majahuitas speedboat. We whizzed through the deep blue water past jungle covered mountains and craggy rocks tumbling into the sea. With the sun on my back and the wind in my hair a sense of calm washed over me, pure contentment to be here in the moment.
We turned into a small bay, gliding through the clear green sea onto the golden sand of our private beach, empty except for a few guests relaxing on sun loungers. We caught a glimpse of the casitas we'd be staying in hidden in the jungle vegetation. Owner Margot, a few staff members, and four labradors greeted us.
As we waited to check in in the breezy reception area Simon checked for cellphone service. Nothing. Perfect I thought, although Simon probably disagreed. Majahuitas eco-resort doesn't have WiFi either and for once these digital nomads were glad of it. We spend a huge amount of time on our laptops, we need the internet for our work, but I have come strongly to believe that everyone needs to take a digital detox from time to time, to clear their heads and focus on enjoying the present.
Majahuitas sounded like the perfect place to take a break from the internet. The secluded, solar-powered bay can only be reached by boat and there are no roads, TV, internet, or cellphone service. Despite the seeming isolation it's only an hour from the tourist hub of Puerto Vallarta on Mexico's Pacific Coast.
Simon suffered from internet withdrawal at first, itchy to know what was happening online, feeling the pull of work, but by the second day we had eased into the slow pace of Majahuitas life. Our days were full of lazy lie-ins with sea views, leisurely meals, water sports, hammock swinging, reading, guitar playing, sketching, long conversations, and simply soaking up the beauty of the place: the sea, the jungle, the flowers, the sunsets, the stars. We haven't felt so at peace in a long time.
Many guests are return visitors, and one couple told us they didn't realise how stressed they were until they got here and experienced true relaxation—they've now been back three years in a row. That's the effect Majahuitas has—it's an escape from the real world, or perhaps this is the real world, where away from the incessant noise of a digital world, we can let worries go and really appreciate the world around us.
Casitas
There are eight casitas at Majahuitas spaced out in the jungle along the beach all with sea views and unique designs. Decor is simple and rustic but comfortable with red tiled floors, exposed beams and Mexican artwork.
We stayed in Casita Los Mangos, a three bedroom house just 20 feet from the beach. As the name suggests a huge mango tree hangs over the house and from the upper floor you can reach up and pick the fruit right off its branches—shame it wasn't ripe when we were there.
Upstairs is the bedroom most visitors, including us, prefer. Like most of the houses at Majahuitas it's open-sided so you feel immersed in the lush green vegetation that surrounds the house—palm and fruit trees and blossoming bougainvillea. It feels secluded from the other houses so you don't have to worry about privacy although it takes a bit of getting used to.
There are no power points but solar panels provide power for the lights. Not that you need them: after dinner each night we followed a trail of candles back to our casita to find it lit up with candles.
We loved hearing the waves from our comfortable bed, falling asleep to a chorus of crickets, and waking up to chirping birds and a view of the big mango tree and the sea beyond.
Food
A Chinese gong rings out through the resort three times a day calling us to eat so there's no need for a watch at Majahuitas. All meals are included in the price and this is part of what makes the resort so relaxing—you don't have to make any decisions about where or what to eat, just turn up and enjoy.
For breakfast and lunch individual tables are set up on the beach terrace while dinner is served communally so you have a chance to get to know the other guests. You can request a romantic dinner on the beach though and this is definitely worth doing at least once. The staff go all out decorating the tables with hibiscus flowers and candles and it's magical to eat here at sunset as the sky turns pink, watching pelicans dive into the sea for fish.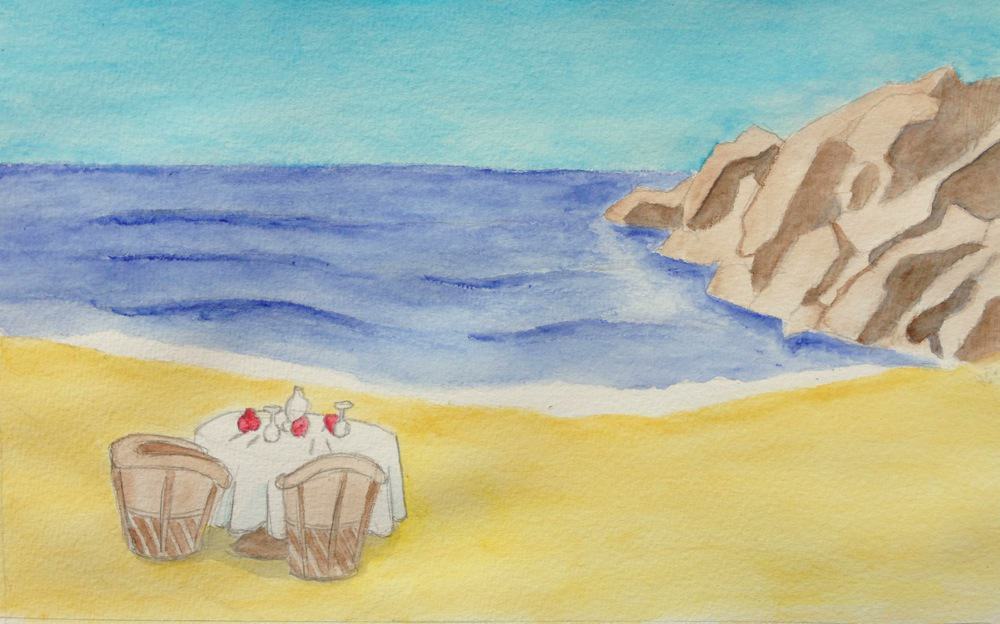 There's a set menu for each meal and it's plentiful and delicious. They were happy to cater for us vegetarians and we ate very well without ever repeating a dish. Breakfast was fresh fruit followed by something like french toast, burritos or Spanish tortilla. Lunch was an array of tapas such as guacamole served in a tortilla basket, bean and cheese huaraches, potato flautas, cheese and pepper empanadas, salads and vegetable dishes.
Dinner is more formal with three gourmet courses with wine. We loved it all— tortilla soup, grilled chayote, chile relleno, zucchini fried in a coconut batter, mango mousse.
The bar is open all day and all you have to do is put up a flag next to your sun lounger to get served on the beach. I didn't think I was a piña colada fan until I tried one of the huge fruity cocktails at Majahuitas—drinking one of these on the beach may be the definition of heaven.
Activities
At first it seems that there isn't much to do in this isolated bay but our three days weren't enough.
The beach is where you spend most of your time and it's a lovely one—small enough to feel cosy but with plenty of space from other guests. Relaxing in the sun loungers here is the main activity but if you need a change of scenery there are hammocks in every house and dotted around the resort. My favourite post-lunch activity was floating on a lilo, being rocked by the waves into a siesta.
Majahuitas provides water sports equipment for free so that kept us busy. The snorkelling isn't amazing (we're spoilt though) but we liked kayaking along the craggy coast through the olive green sea past little caves, crab covered rocks, and pelicans hovering over the water.
We also tried stand up paddle boarding for the first time and loved it. It's much easier than surfing and we surprised ourselves by being able to stand up most of the time, although it helps the bay is calm. It was so peaceful paddling out in the sea, almost like walking on water.
The labradors love water sports too and owner Kevin often takes them out with him kayaking. Simon was rather surprised when one joined him on his paddle board!
Getting a massage is another option and around the little resort there's a gym, volley ball, table tennis, board games, a library full of books, and a guitar—which made Simon happy.
Day trips are available too—a jungle hike to a waterfall, fishing, diving, and ziplining. We took a boat ride 20 minutes along the coast to Yelapa, a cute fishing village without roads that can only be reached by boat. We wandered through the maze of steep streets decorated with red and white flags, flowers and laundry until we came to the beach. It feels busy compared to Majahuitas but is worth the visit for one of the Pie Lady's coconut pies.
Highs
Isolated setting away from it all
Beautiful beach and lush jungle
Welcoming owners Margot and Kevin and the excellent staff
Delicious gourmet meals
Romantic candlelit dinner on the beach at sunset
Open air casitas with sea views
Coming home to a candle lit house each night
Free water sports equipment
Small size with only eight casitas so you get to know the other guests
Easy to get to from Puerto Vallarta
No WiFi!
Lows
Beaches in Mexico aren't truly private and a pirate ship tour boat comes around midday for a few hours. The tour group stays at the other end of the beach though and doesn't use the hotel's facilities. If they bother you you can escape to El Mirador, a viewpoint on the hill with hammocks and loungers, or take one of the day trips.
One 1.5 litre bottle of water is provided each day and although you can request more we felt uncomfortable with the amount of plastic we were using (we drink a lot of water). We'd love to see a garrafon (refillable 20 litre bottle of water common in Mexico) provided in each house.
Recommended For
Nature-loving couples looking for a romantic getaway.
Location
Majahuitas is a 20 minute boat ride from Boca de Tomatlan which can be reached from Puerto Vallarta by bus or taxi in about 30 minutes or up to an hour from the airport.
Cost
Majahuitas costs from US $250-375 a night per couple including all meals. A number of guests had got a deal on Groupon so it's worth checking that out.
Majahuitas is the perfect escape from the digital world. It's an accessible paradise where you can immerse yourself in nature while still enjoying a comfortable bed, cocktails on the beach, water sports, and gourmet meals. It's intimate, welcoming, and the staff go above and beyond to make your stay truly special.
The hardest part is leaving. We had to tear ourselves away and discovered that Majahuitas withdrawal is much worse than internet withdrawal.
A huge thank you to the wonderful staff at Majahuitas who hosted us for a complimentary stay.