This page contains affiliate links. Please read our disclosure for more info.
Cape Town is a city like no other. In a single day you can hike in stunning mountains, relax on beautiful beaches, get up close to penguins, go wine tasting, and enjoy a gourmet meal at a world-class restaurant.
It's a city of food markets, picnics, concerts, gardens, and some of the world's most spectacular drives. If you love the outdoors and delicious food and wine, you'll love Cape Town. We certainly did.
We spent two months in the city in the glorious February-March summer months. Here are our favourite things to do in Cape Town:
Contents
Scenery and Sunsets
With the perfect location between mountains and sea, Cape Town is the most beautiful city we've ever visited. Here are the best places to enjoy the views.
1) Fly Above the City in a Helicopter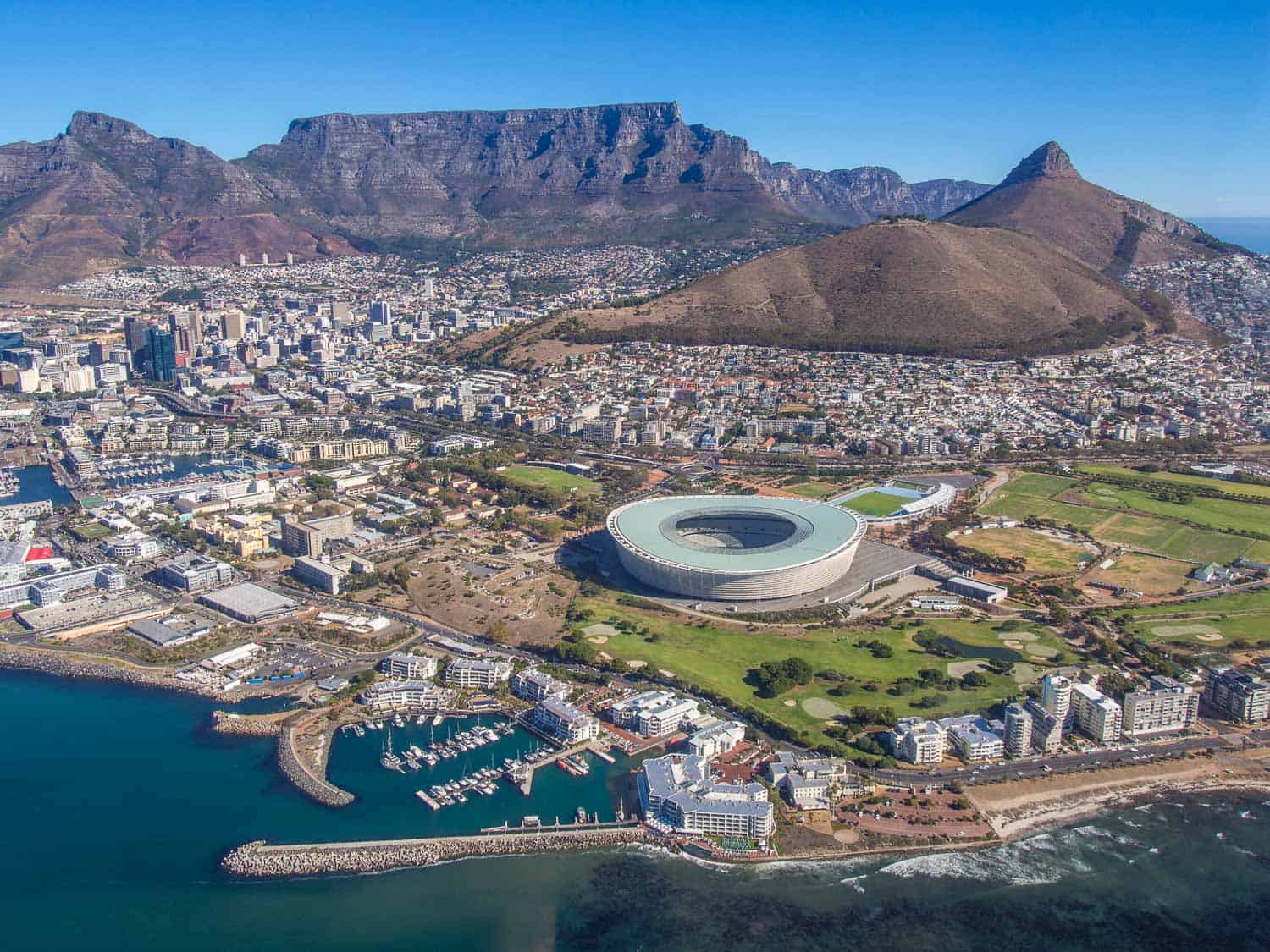 Our absolute two favourite things we did in Cape Town were driving the Cape Peninsula (see the Scenic Drives section below) and taking a helicopter ride over the city. Cape Town is beautiful on the ground, but from above it's on a whole other level of stunning. We were blown away.
It's an expensive trip (1650R/$127 for 20 minutes), but I highly recommend splurging if you can. You can see more photos and details in our Cape Town Helicopters review.
Helicopter trips leave from the V&A Waterfront so you can combine your flight with a visit there. The waterfront is touristy but scenic with plenty of shopping, a cinema, and a food market for affordable, tasty eats.
2) Take the Cable Car up Table Mountain
Visiting Table Mountain is the classic Cape Town experience and you can either take the cable car or hike up. We'd heard horror stories about the steep 2.5 hours climb, so we chickened out and rode the cable car. We took advantage of the summer sunset special where tickets are half price if you go up after 6 pm (the last car back was 8 pm).
We took a picnic, bought a glass of bubbly from the cafe, and after a wander around, took a seat on a rock to enjoy the sun setting over the sea. It's not the best time of day for photos of the city, but it was beautiful, and we enjoyed seeing Cape Town lit up on our way back down on the cable car.
Expect crowds and book your ticket in advance to avoid the ticket queue (you'll still have to queue for the cable car). Plan to visit early in your trip on a clear day as the cable car is often cancelled.
3) Visit Kirstenbosch Botanical Garden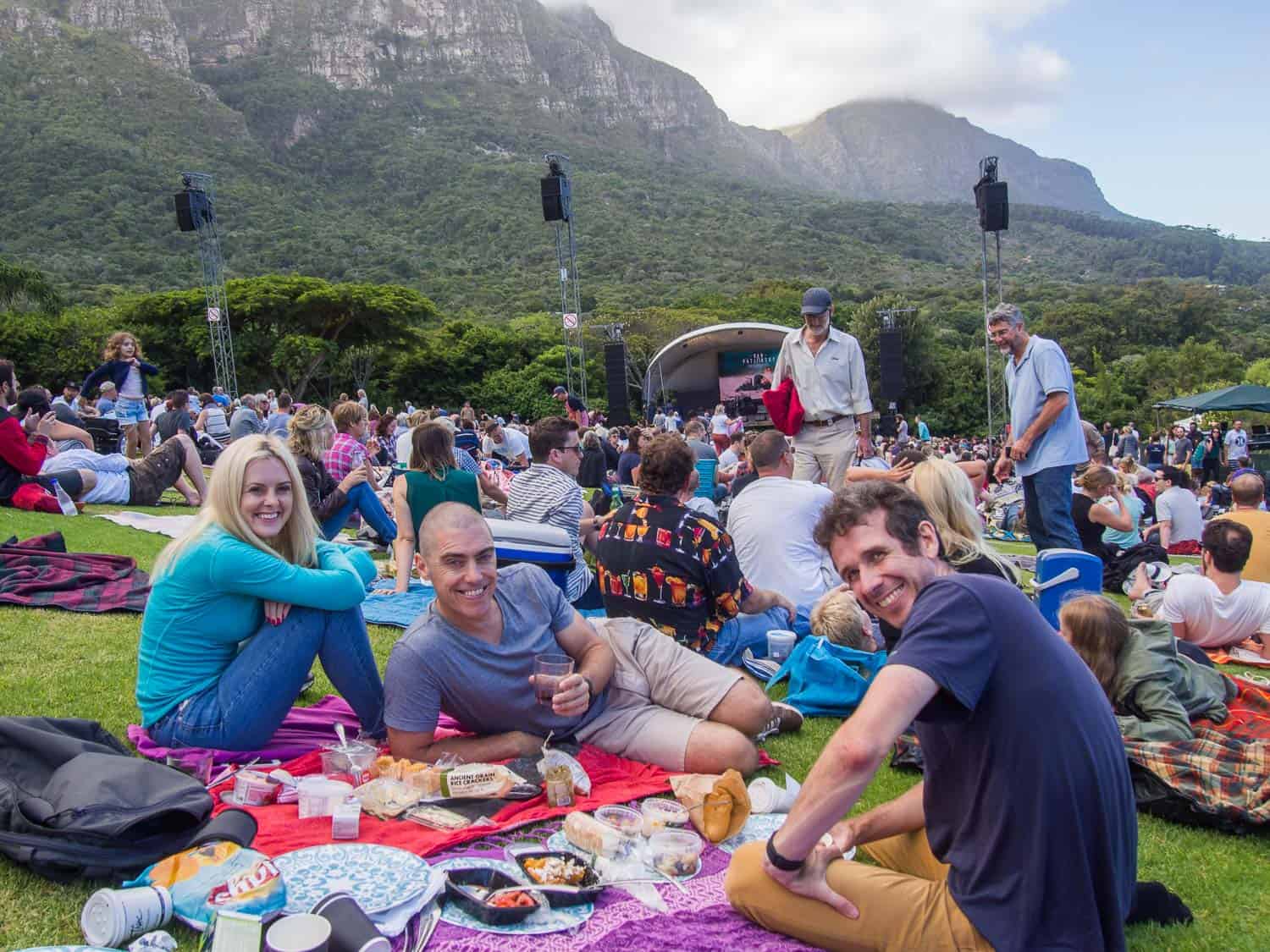 Visiting the Kirstenbosch Botanical Garden is one of the most popular Cape Town tourist attractions. These huge gardens are a beautiful place for a walk with a unique range of indigenous flora, Table Mountain views, and a tree canopy walkway. We took a picnic (are you spotting a theme?) and combined our visit with one of the summer concerts, a fun and relaxing way to spend a Sunday evening.
If you don't have a car, the gardens are one of the stops on the City Sightseeing Hop On Hop Off Bus.
4) Wander the Bo-Kaap Neighbourhood
Cape Town's beauty comes from its natural setting more than its architecture, but the exception is the Cape Malay neighbourhood of Bo-Kaap. The brightly painted homes, historic mosques, and cobbled alleys make this a great area to wander.
You might consider taking a walking tour or cooking class (see the Foodie section below) to learn more about the Islamic culture and history of the area, which was originally settled by slaves in the 18th century.
It's worth heading up the hill to Yusuf Drive and August Street for fantastic views back down to Bo-Kaap and Table Mountain (top photo).
5) Picnic on Signal Hill at Sunset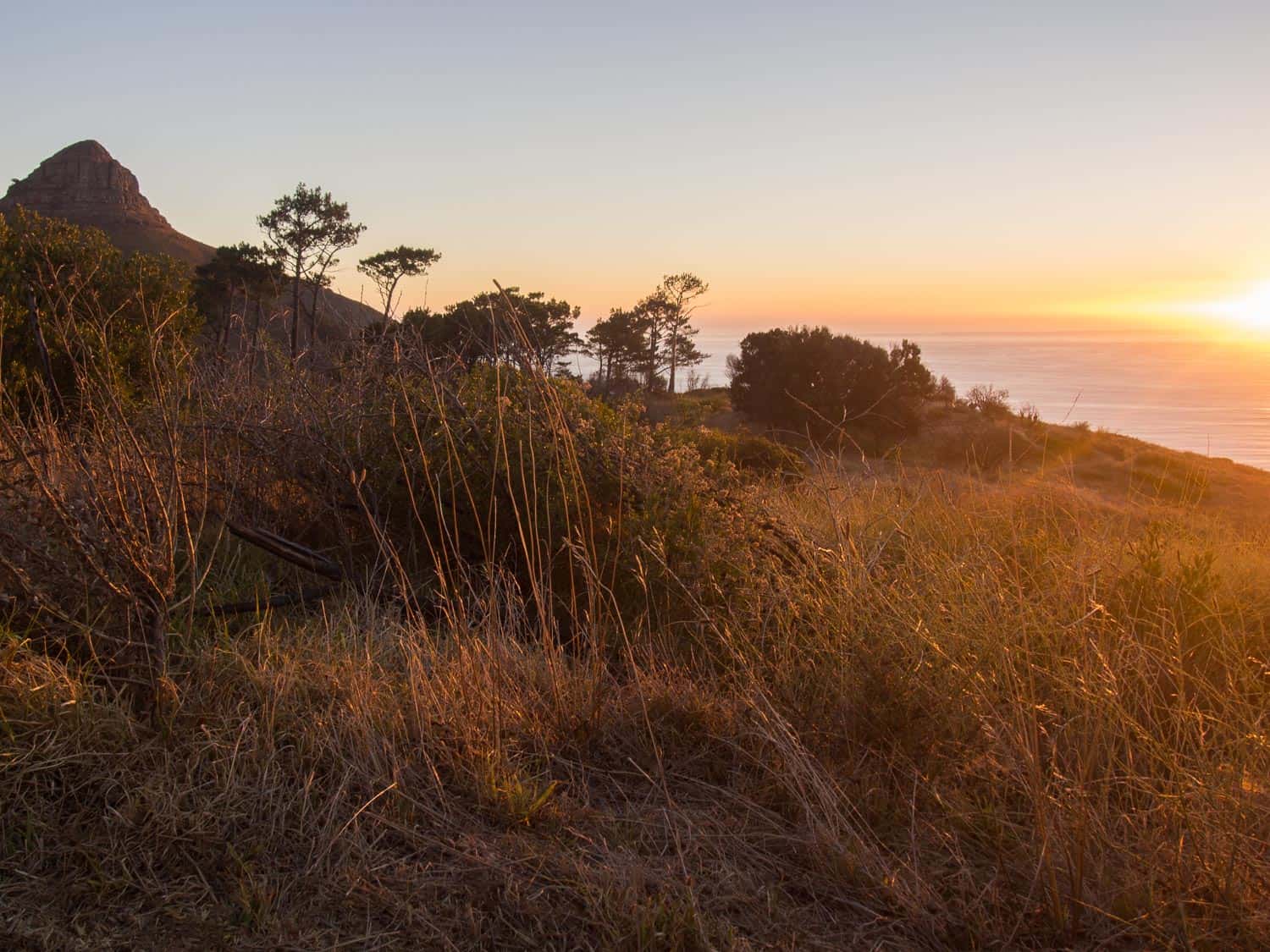 South Africans love picnics and we had more during our two-month stay than we've had in the last five years! Our favourite place for picnic supplies is Giovanni's Deli in Green Point. Signal Hill is a classic sunset picnic spot and you can drive or take an Uber up there. Walk away from the parking lot to find a quiet spot and enjoy the views of Table Mountain, Lion's Head, and the Sea Point neighbourhood.
6) Cruise on a Catamaran at Sunset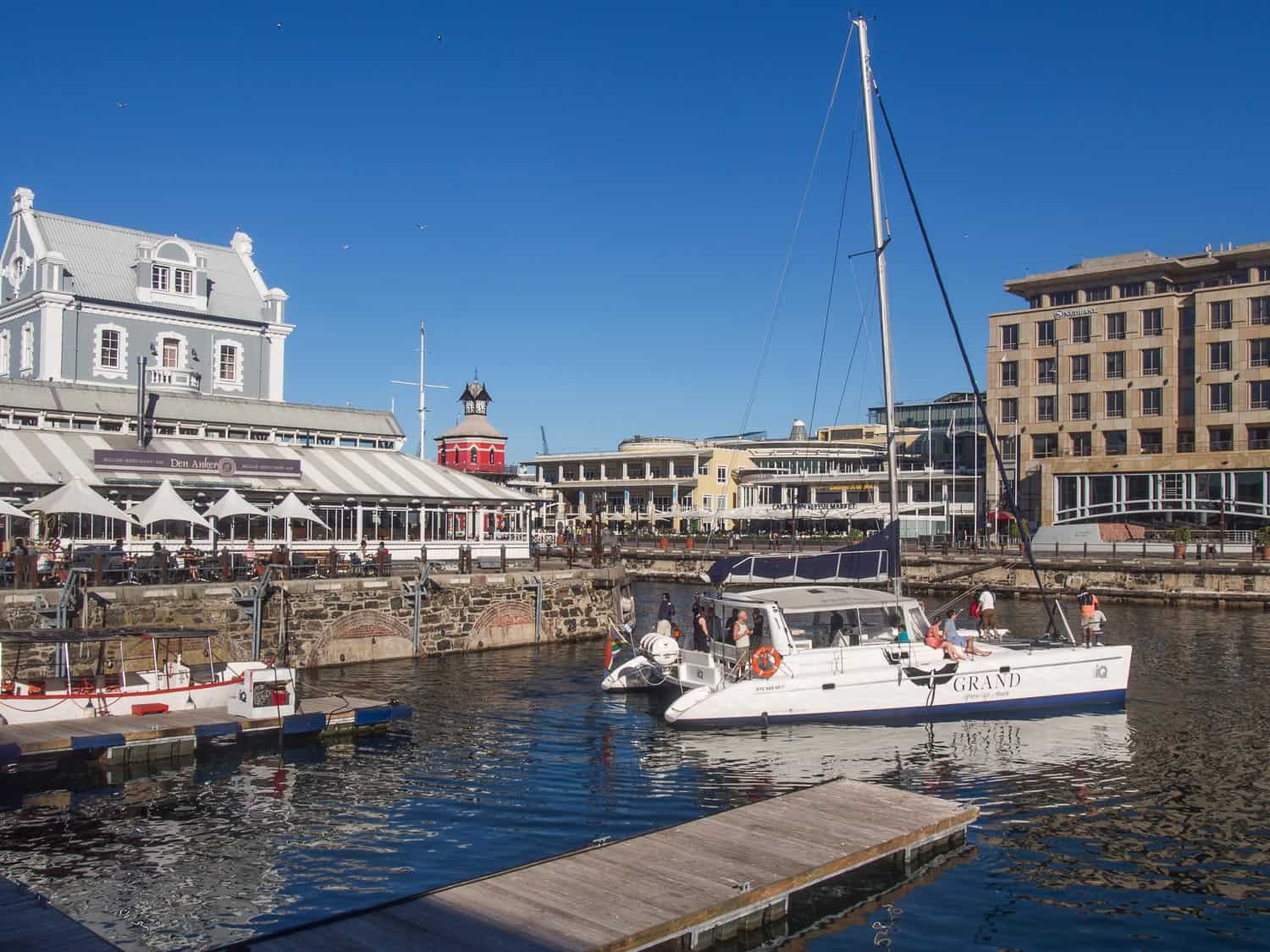 Sailing on a catamaran at sunset with a glass of bubbly and views of the city sounded like it would be amazing. And it sort of was, but we had some issues—booking online was ridiculously difficult, the boat was crowded, they didn't bother putting the sails up, and it was too cloudy to see the sunset. The bubbly helped and we still enjoyed the experience, but it's best to keep your expectations low. I'm sure on a clear day it would have been stunning and we did enjoy seeing the city from a distance.
We went with Waterfront Charters who I can't particularly recommend, but all the companies seem just as disorganised (let me know if you have any recommendations). Make sure you take layers as it's cold even in the summer.
Foodie Experiences
You could do nothing but eat in Cape Town and it would be a brilliant trip. From food markets to gourmet restaurants, there is so much fantastic, affordable food to enjoy, much of it using locally grown produce.
For our favourites see our guide to the 25 best vegetarian-friendly restaurants in Cape Town—although it focuses on where you can find delicious veggie meals, almost all the restaurants will keep meat eaters happy too.
7) Munch Your Way Around a Food Market
A classic weekend experience in Cape Town is eating your way around one of the many food markets. They all feature many stalls serving tasty food from local companies with something to suit all tastes.
The Neighbourgoods Market in the Old Biscuit Mill is the biggest and most popular but it gets crazy crowded. Other excellent options are the Oranjezicht City Farm Market, where you can also buy locally grown produce, Bay Harbour Market down the coast in Hout Bay, and Cape Point Vineyard Community Market in Noordhoek, a relaxed option with sea and sunset views. See our Cape Town restaurants guide for more details.
8) Go Wine Tasting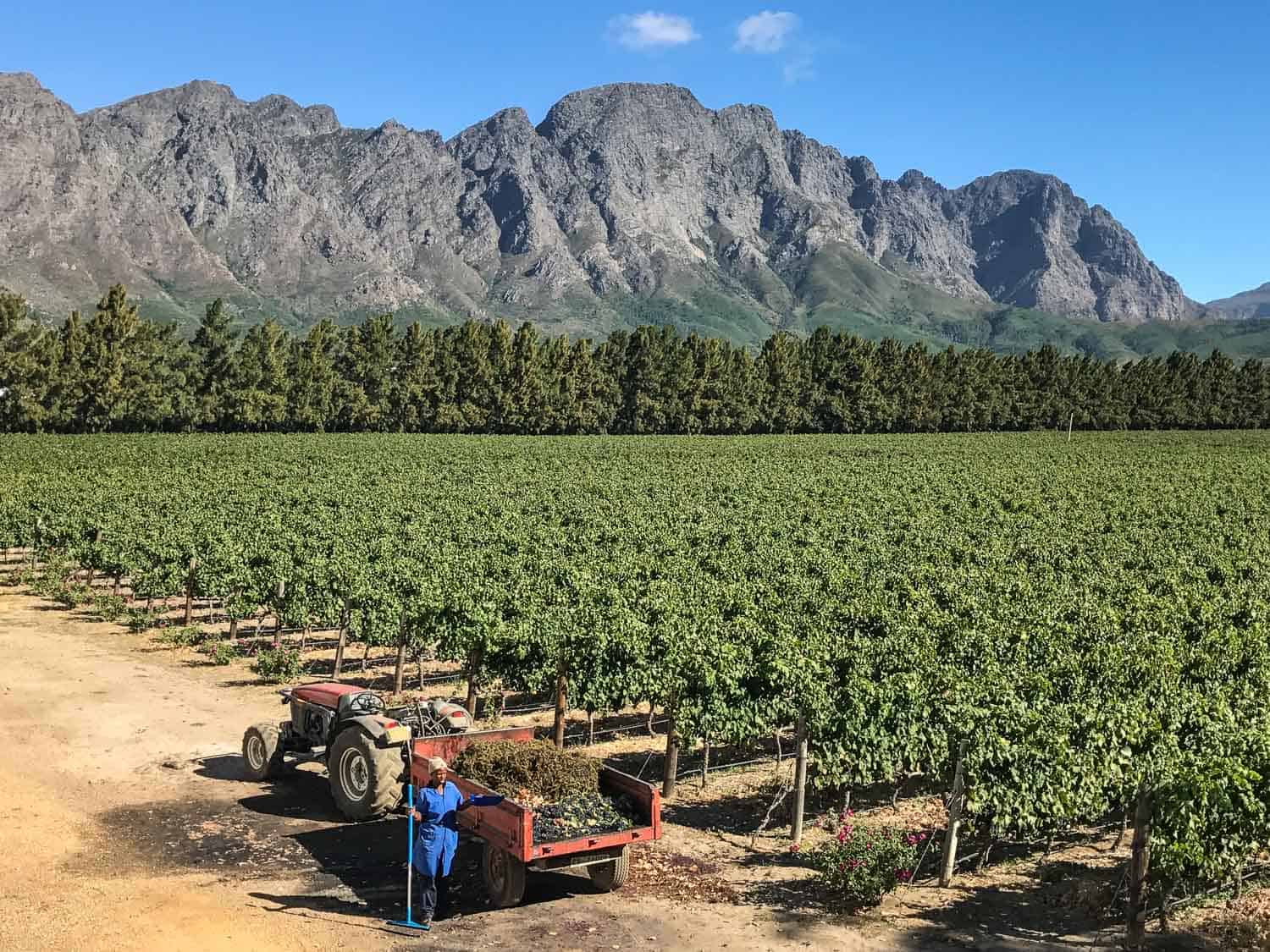 A highlight of Cape Town is the excellent, inexpensive wine that's made less than an hour away in the Cape Winelands. Constantia is the nearest wine area just 30 minutes away and is an easy day trip (the Hop on Hop Off bus even stops at some wineries).
I highly recommend going a little further to Franschhoek, a cute village surrounded by vineyards and mountains where you can visit wineries without driving on the fun Franschhoek wine tram.
While you could visit for the day, it's worth spending a few days relaxing in this beautiful area, enjoying the delicious food, winery hopping, and visiting the amazing Babylonstoren farm. There are many wonderful boutique B&Bs to stay in—we adored La Providence. Read our Franschhoek guide for everything you need to know.
We also loved Robertson, which is more off the beaten track but still less than two hours from Cape Town. We visited at the end of our road trip from Johannesburg via the Garden Route. We loved bubbly tasting at Graham Beck and Orange Grove Farm was one of the best places we stayed in South Africa.
9) Learn to Cook Cape Malay Cuisine
In the 17th century the Dutch began bringing slaves to the Cape from countries such as India, Sri Lanka, Malaysia, and Indonesia. These people and their descendants became known as Cape Malays and many of them settled in Bo-Kaap.
We did a cooking class with the vivacious Gamidah of Lekka Kombuis to learn more about the area (it included a short tour of the neighbourhood) and how to cook Cape Malay cuisine. The class took place in Gamidah's kitchen in one of the much photographed colourful houses. She's happy to cater for vegetarians.
It was very relaxed as we all pitched in to help mix spices, roll out roti dough, fold samosas, stir curries, and fry chili bites. The fun morning ended with the best Cape Malay meal we had in the city.
10) Splurge on a Tasting Menu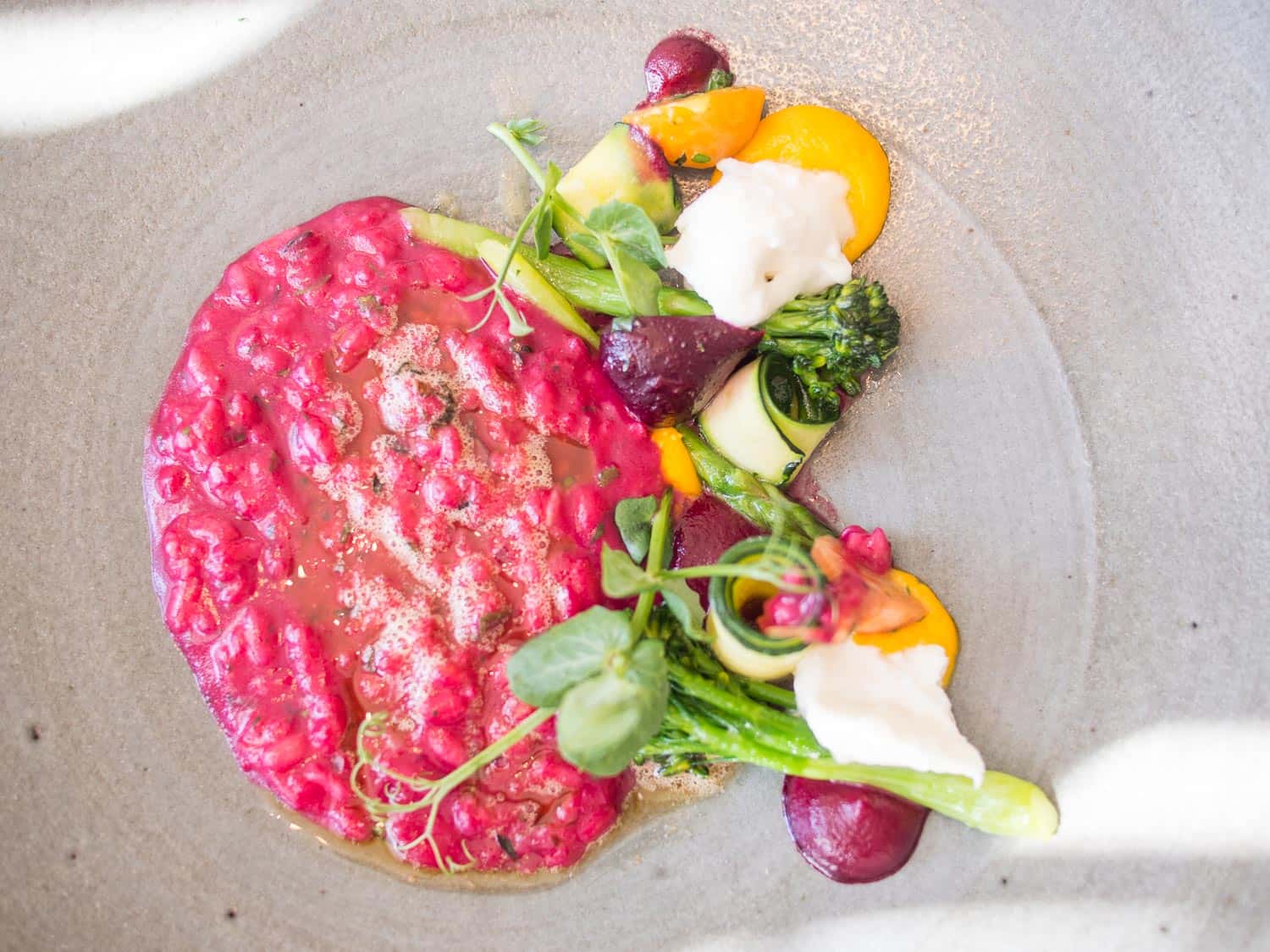 Cape Town is home to two of the world's top 100 restaurants—The Test Kitchen and La Colombe—and many more fine dining experiences. A multi-course tasting menu at these restaurants isn't cheap, but it's much more affordable than in Europe or the US and is worth the splurge if you can.
The Test Kitchen is impossible to get into, so we celebrated my birthday at La Colombe instead. Oh my, it was the best meal of our lives! We spent four hours enjoying 12 exquisitely crafted dishes accompanied by the best wines we had in South Africa. It's an incredible experience and I highly recommend it for a treat.
A more affordable option is La Mouette in Sea Point where we enjoyed the six-course vegetarian tasting menu.
Read more about these restaurants in our Cape Town restaurant guide.
11) Restaurant Hop on Bree and Kloof Streets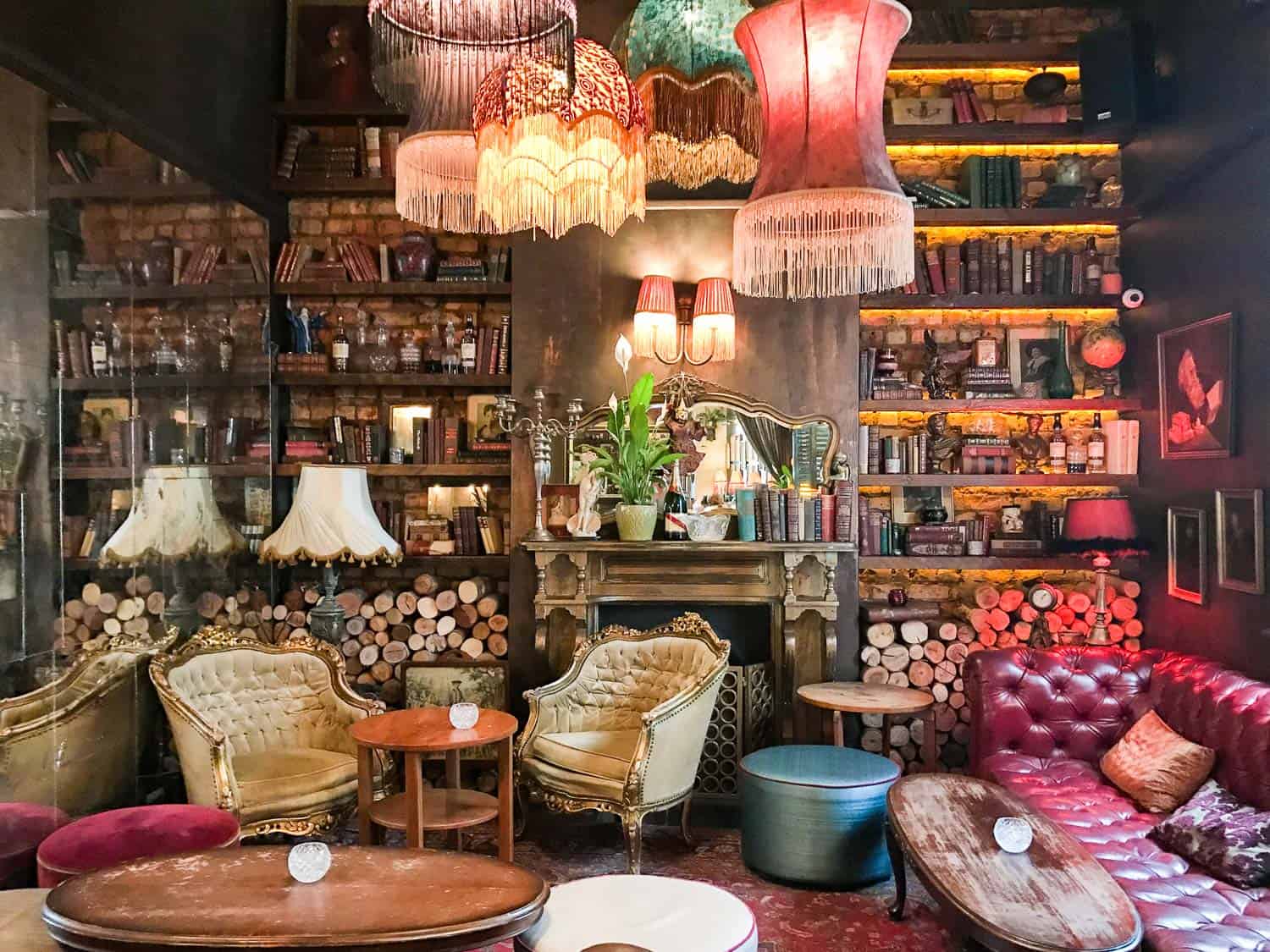 The trendiest streets in Cape Town are Bree Street and Kloof Street. If you want to wander and pick a cafe, bar or restaurant at random, these are the best places to do it. Our favourites include Kloof Street House, Black Sheep, Asoka, and Unframed (the best ice cream in Cape Town).
Scenic Drives
It's worth renting a car for a few days of your stay to explore further afield and enjoy these scenic drives.
12) Drive Victoria Road and Chapman's Peak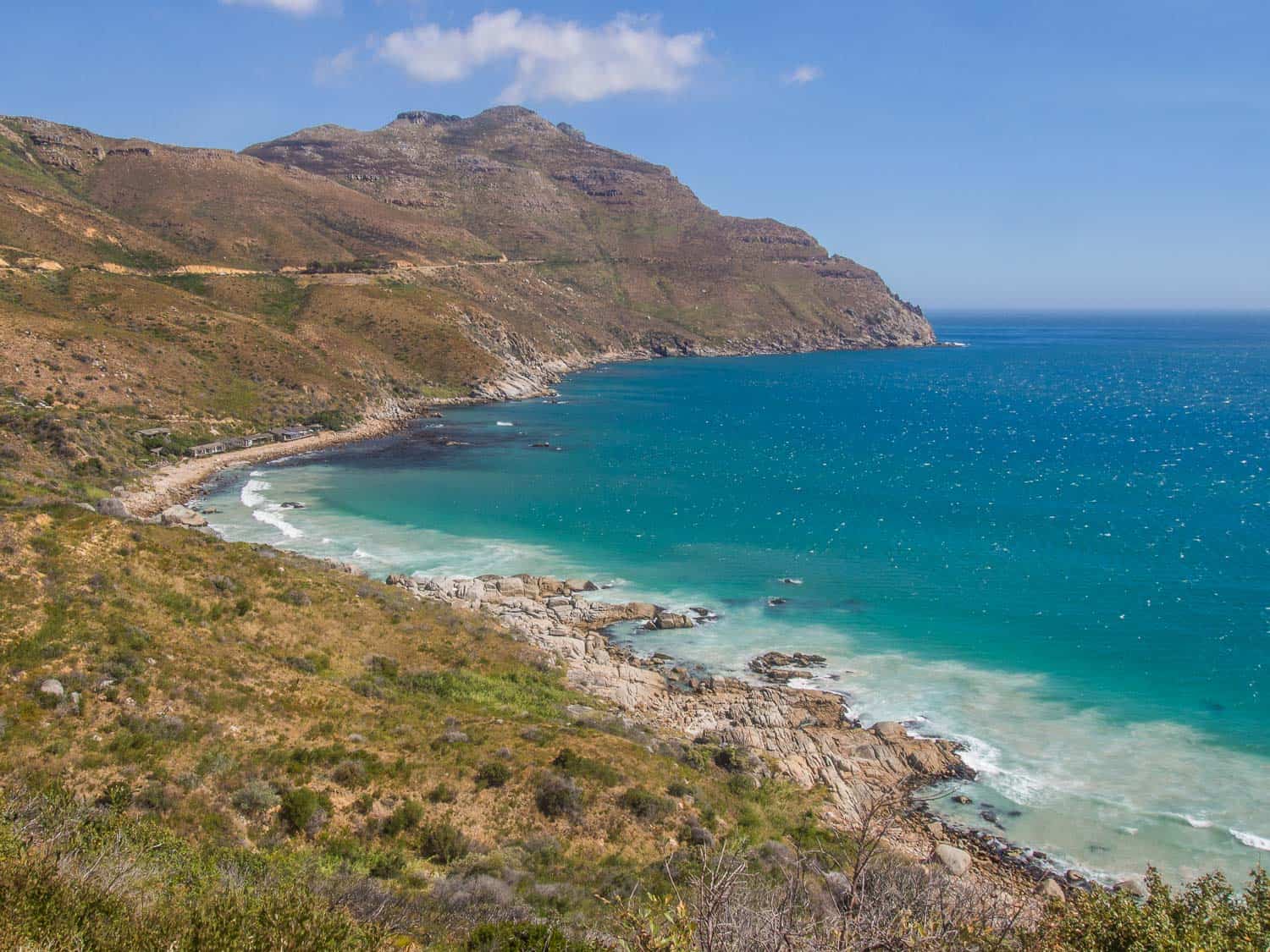 Head south from Cape Town to Camps Bay and continue on Victoria Road with the sea on one side and the Twelve Apostles mountains on the other. Good stops along the way are Beta Beach, Llandudno Beach, and Hout Bay.
After Hout Bay is the start of Chapman's Peak Drive, one of the most spectacular roads in the world. There are 114 curves and plenty of places to stop and enjoy the sea and mountain views. The drive ends in Noordhoek where you can stroll or horse ride on the long white beach or go wine tasting at Cape Point Vineyards.
Drive back the way you came, take the quicker road inland, or best of all, drive this route as part of the Cape Peninsula loop.
13) Drive the Cape Peninsula to Cape Point
We had an incredible day driving the Cape Peninsula from Cape Town to Cape Point. The views are beautiful all the way and you can stop to see the colourful beach huts at Muizenberg, wander cute towns like Kalk Bay and Simon's Town, see penguins at Boulders Beach, and enjoy views of two oceans at Cape Point. End the day with the stunning Chapman's Peak Drive and a sundowner at Camps Bay.
Renting a car for the day is affordable, but for the ultimate experience ride a Harley Davidson! Read about our day driving the Cape Peninsula here.
14) See Penguins in Betty's Bay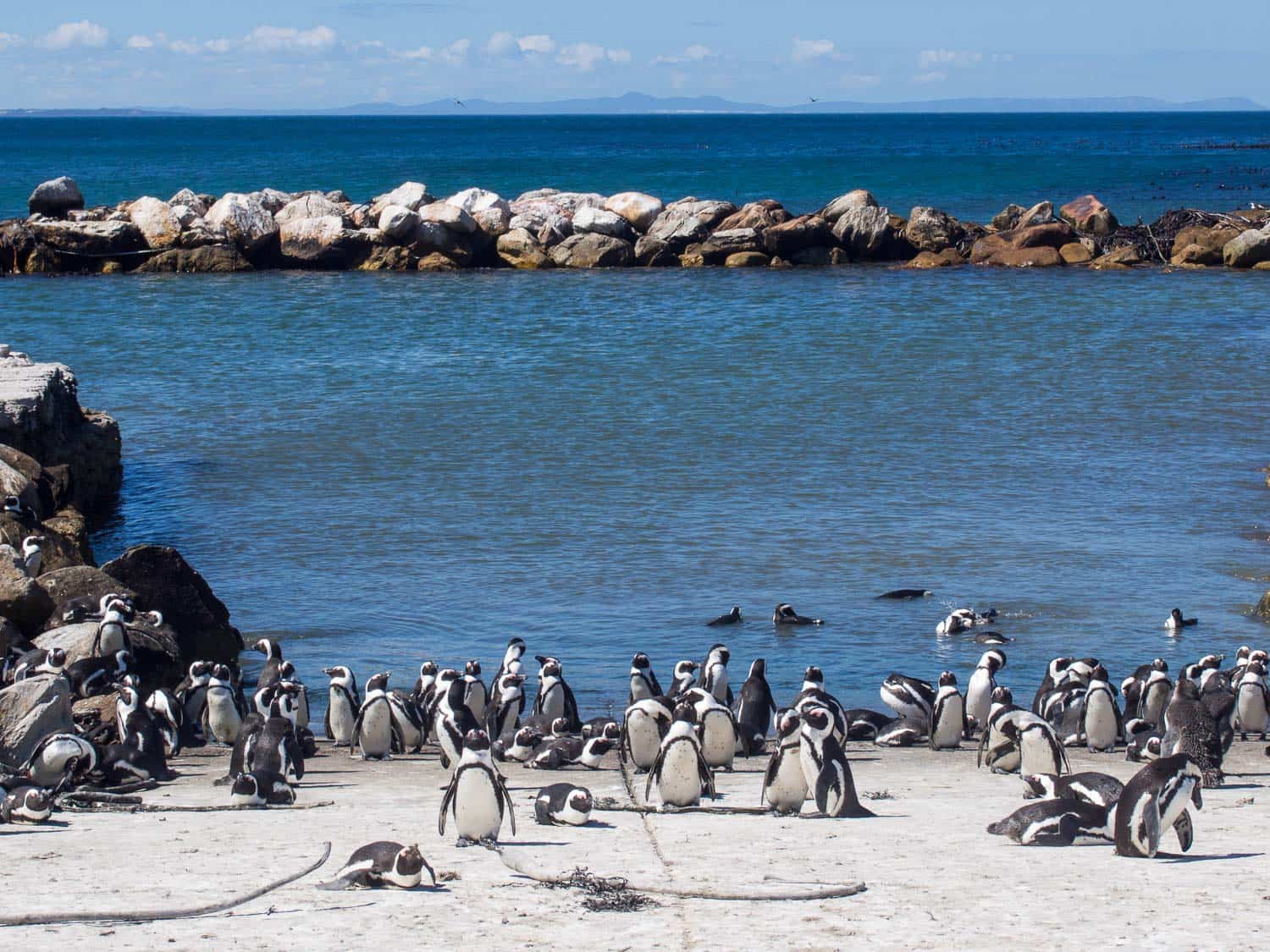 You can visit a colony of African penguins at Boulders Beach on the Cape Peninsula, but it gets very crowded. We had a much more relaxed experience at the colony at Stony Point Nature Reserve just outside Betty's Bay. It was far quieter, we were closer to the penguins, and there were informational signs.
Stony Point is a 1.5-hour drive from Cape Town. The drive from Gordon's Bay to Betty's Bay is very scenic and you could continue to Hermanus where you can see whales in season.
From Hermanus, you can drive back to Cape Town via the faster inland route through the apple and wine country of Elgin Valley (or do the trip in reverse to drive back on the sea side of the road).
You could do this as a day trip or stay overnight. We had a weekend away in the tiny town of De Kelders just past Hermanus where we enjoyed spectacular sea views at Sea Star Cliff Lodge and walks in the Walker Bay Nature Reserve.
Beaches
Cape Town has many beautiful beaches, but don't expect to swim—the water is freezing.
15) Clifton Beach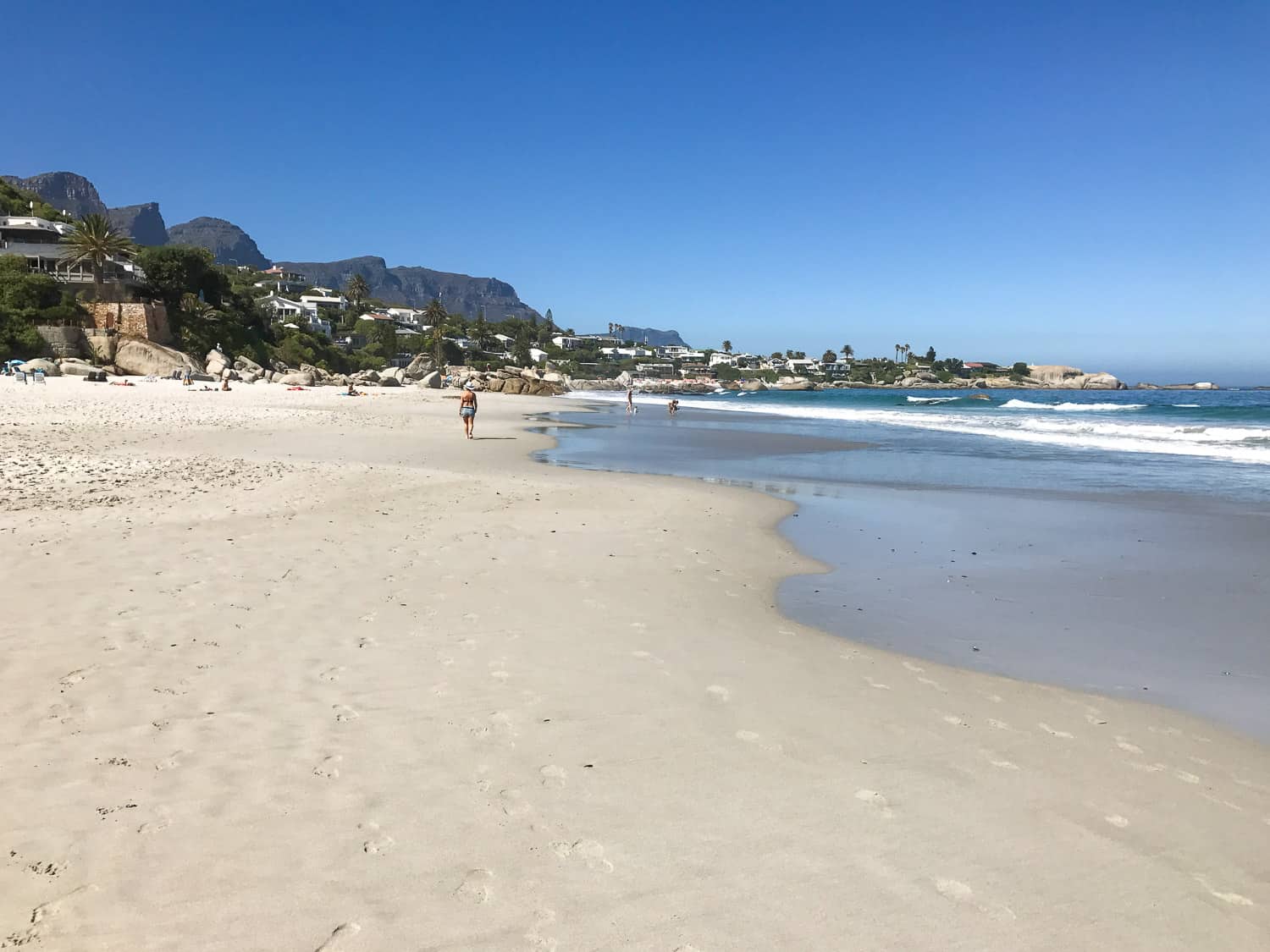 With powdery white sand and a mountain backdrop, Clifton is the closest attractive beach to the centre. There's a series of connected beaches named from First to Fourth—First is quiet while Fourth is busiest with sun loungers to rent.
16) Camps Bay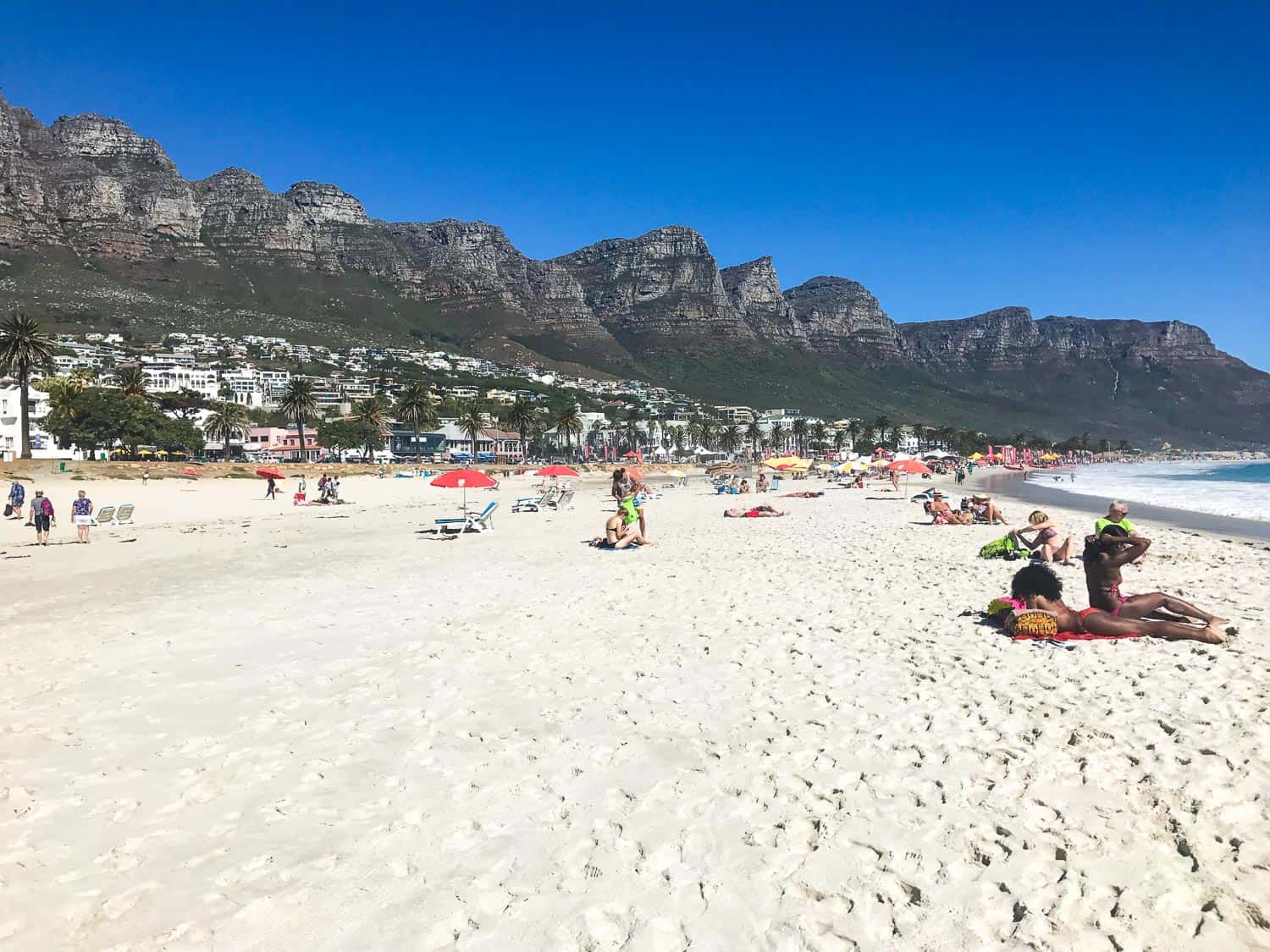 Camps Bay is the most popular beach suburb with a buzzing strip of restaurants (try Mezepoli for Greek) overlooking the curve of palm tree lined white sand with a Twelve Apostles backdrop. It's closer to the road than Clifton Beach (where you have to walk down steps), but near the water you can't hear it. It's popular for sundowners and gets extremely busy on weekends.
17) Llandudno Beach
Just before Hout Bay is Llandudno Beach, another stretch of white sand with mountain views. There are no restaurants but there were guys renting umbrellas and sunbeds and selling drinks and ice-creams from coolers. It's popular (get there early for a parking spot) but not as busy as the beaches closer to town. We combined it with a visit to Bay Harbour Market.
18) Horse Ride on Noordhoek Beach
At the far end of Chapman's Peak Drive, Noordhoek Beach is an 8 km stretch of deserted white sand leading to turquoise waves. It's perfect for walking or horse riding, as we did with Sleepy Hollow Horse Riding. It's a professional stables with well-kept horses, and our only complaint was that we didn't canter on the beach as much as we would have liked. We combined it with a visit to the Thursday night market at Cape Point Vineyard.
19) Enjoy Table Mountain Views at Bloubergstrand Beach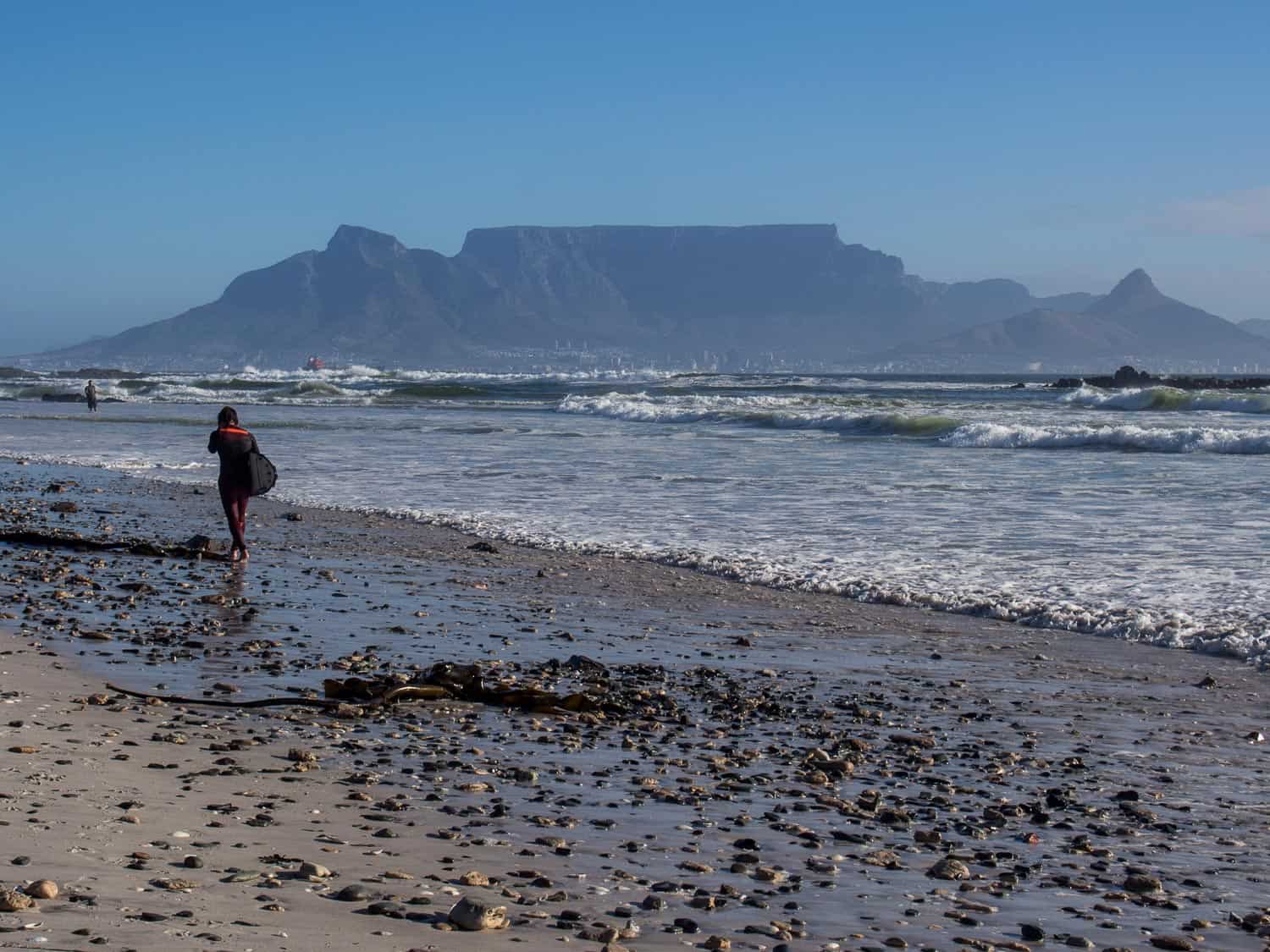 Head to Bloubergstrand Beach for long walks or kite surfing with a view of Table Mountain on the horizon.
Hikes
Getting out in nature is the best way to enjoy Cape Town's scenery. The classic hike is up Table Mountain but it's a tough 2.5-hour climb with no shade. Maybe next time! The Pipe Track is another hike we ran out of time for.
20) Stroll Along the Sea Point Promenade
It's not a hike, but the Sea Point Promenade is the easiest and safest place for a walk or run and it's only a 10-minute drive from downtown. Our Airbnb apartment was a block from the promenade and I loved my morning runs and sunset walks here. I recommend combining a walk with brunch at Jarryds or dinner at La Mouette—see more of my favourite Sea Point restaurants.
21) Clamber Up Lion's Head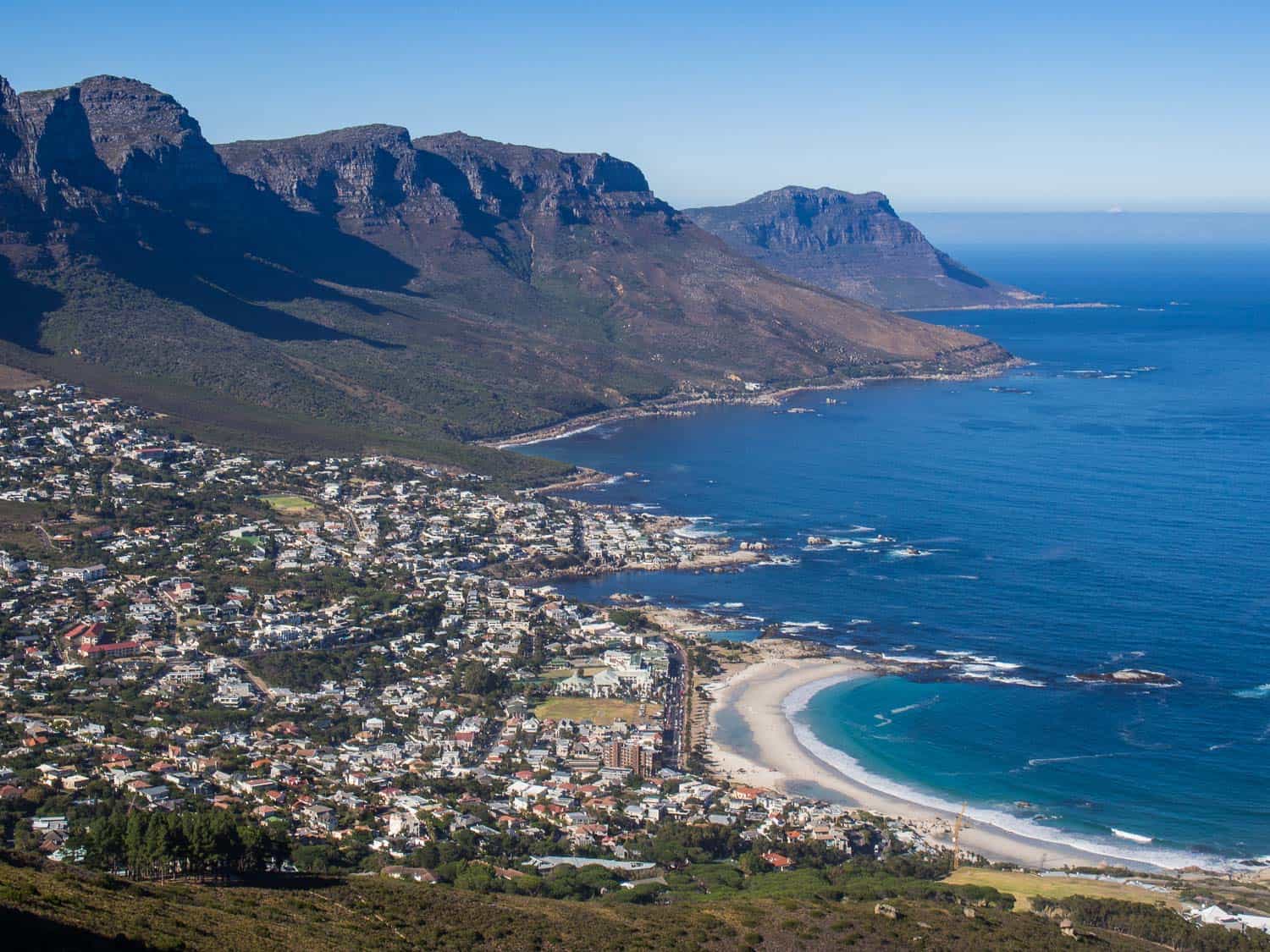 The hike up Lion's Head is well worth it for 360º views of the city from the top. Everyone says it's easy, but although it only takes an hour to get to the top, we found it exhausting clambering over rocks on the second half (the way down was even trickier).
22) Hike to Elephant's Eye Cave in Silvermine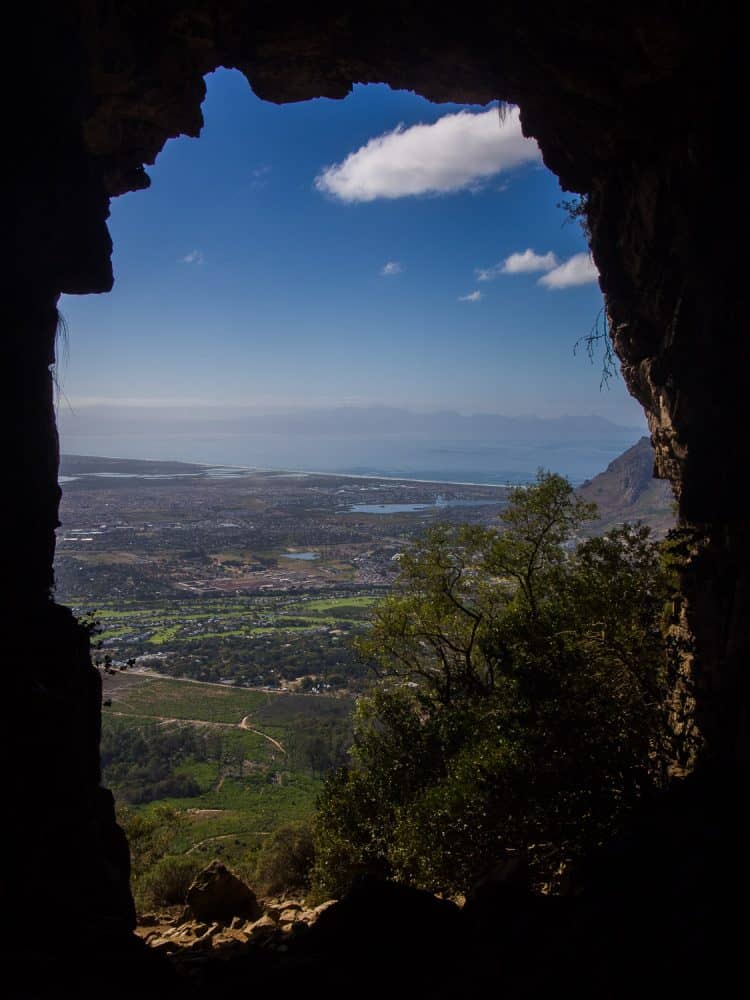 The hike to Elephant's Eye Cave in the Silvermine Nature Reserve is popular with locals but most visitors don't make it here. It took us just under two hours, wasn't too difficult, and has lovely views of rocky mountains, a reservoir, and False Bay. The cave is a hole in the side of the mountain with sea views.
After the hike, we had lunch at the Earth Fair Market in Tokai (Wednesdays and Saturdays only), which was quieter than the markets in the city but still had plenty of choice.
History
It's important to learn about South Africa's turbulent history and there are some good museums to do so. Iziko Slave Lodge is another that we didn't make it to. I also recommend reading these South African books before you visit.
23) Sail to Robben Island
Robben Island is where Nelson Mandela was imprisoned for 18 years for his anti-apartheid work and is now a UNESCO World Heritage Site. I highly recommend reading his autobiography, A Long Walk to Freedom, before you visit for an account of his prison years.
The Robben Island tour starts at the V&A Waterfront and involves a 40-minute boat ride to the island (arrive early for an outside seat), a coach tour of the island, and a walk around the prison with an ex-political prisoner including seeing the tiny cell where Mandela was kept.
The tour is too rushed and the groups too big, but it's worth doing to learn more about this significant time in the country's history. Make sure to book a few weeks in advance.
24) Take a Tour of District Six Museum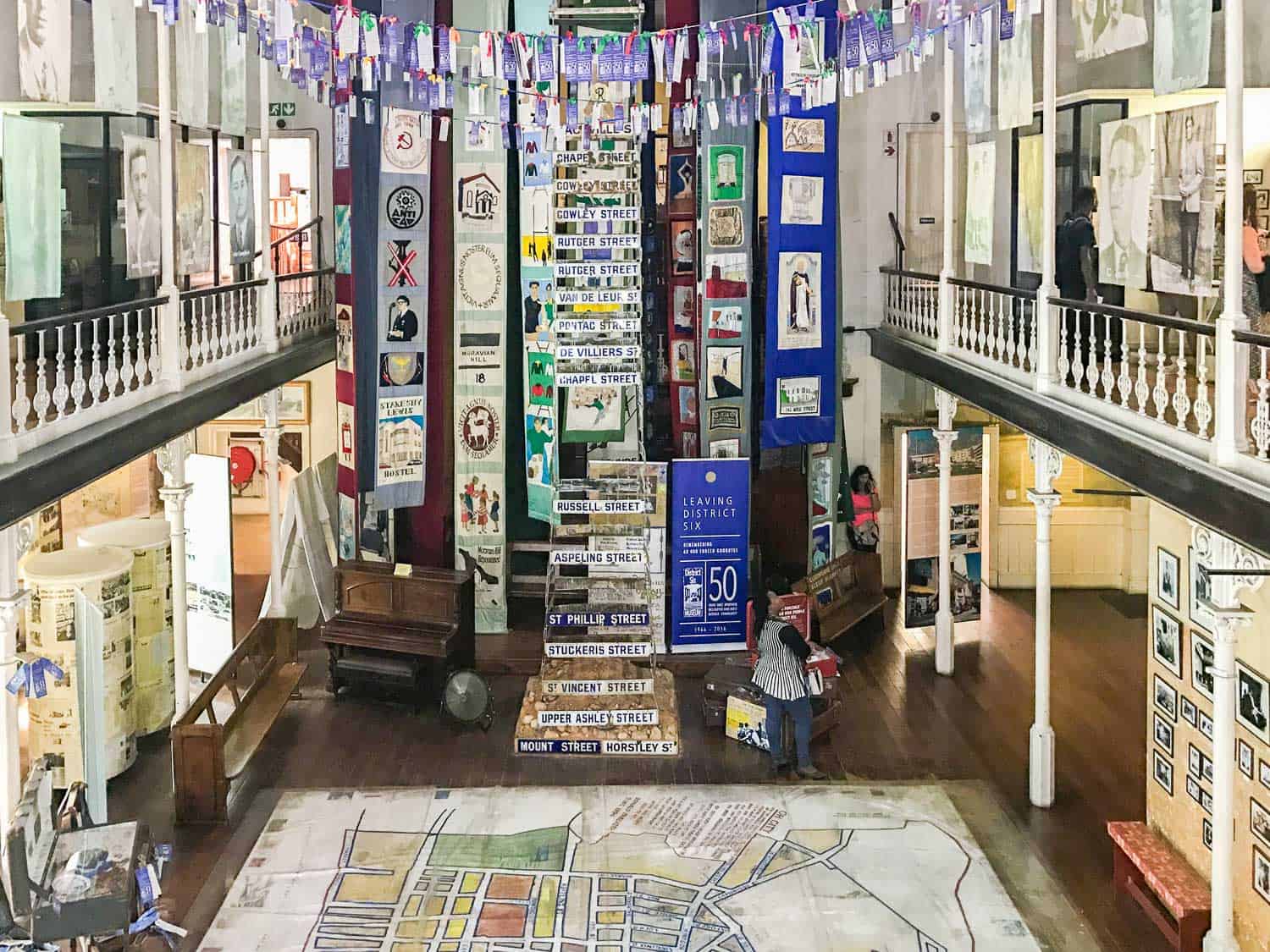 District Six was a multicultural neighbourhood in downtown Cape Town that was declared a white area in the 1960s due to apartheid policies. Houses were destroyed and over 60,000 people were forcibly removed to a barren outlying area known at the Cape Flats.
The District Six museum is a celebration of the vibrant, safe community that was lost and a documentation of its sad history. Entrance is inexpensive and it's worth paying slightly more for a tour with an ex-resident.
Culture
25) Watch an Independent Film at The Labia Theatre
We watched many films at The Labia Theatre, an independent cinema in a historic building. We felt like we'd stepped back to the 1950s with the old school ticket booth, popcorn in a paper bag, and glass bottles of coca cola. Screen 1 is the best. Their movie and dinner deals are amazing value—for just 10R ($0.80) more than the cost of two tickets, we got two simple but tasty pasta dishes at Sistemi Bistro.
26) See Shakespeare in the Park
Every February the Maynardville Open Air Theatre hosts a Shakespeare performance in a magical park setting. We saw Twelfth Night and were blown away by the quality of the performance, especially considering how inexpensive tickets were. Arrive early for a picnic by the pond first (it's the Capetonian way).
27) Have a Night at the Theatre
Cape Town has a vibrant theatre scene and, unlike many places we visit, the shows are in English (usually) and tickets are affordable. We saw the Rigoletto opera (with an all black cast) at the Artscape Theatre Centre for just 100R ($8). You can also see what's on at The Fugard and Baxter Theatres.
28) Enjoy Jazz at Asoka
Tuesday nights are Jazz Night at Asoka and we had a fantastic time enjoying the live music, munching on tapas, and drinking too many delectable porn star martinis. After 10 pm the jazz becomes deep house and beautiful locals take to the dance floor. It's one of the few restaurants we visited that had an equal mix of black and white guests (sadly Cape Town can be extremely white).
Things to Do in Cape Town Map
Cape Town Tips
Transport
We rented a car for part of our stay as it's useful for exploring further afield—Chapman's Peak, Cape Peninsula, Betty's Bay, the Cape Winelands, etc. Car hire isn't expensive—check Rental Cars for the best deals.
Most of the time we used the Uber app to get everywhere—these private cars are easy and inexpensive.
MyCiti is the best bus line and a cheap way to get around. Ubers were so affordable for two people that we didn't bother.
To cover more ground on a short stay without a car, you might consider the City Sightseeing Hop On Hop Off Bus.
Safety
You do need to be aware in Cape Town as poverty is a huge problem. We felt very safe in the seaside suburbs, but in downtown Cape Town we had a few issues with an attempted pickpocket and a threatening beggar, although we didn't lose anything.
Take a taxi or Uber at night rather than walk in downtown Cape Town.
Keep an eye on your bag and pockets when walking in crowded areas. Don't flaunt valuables.
Try to avoid walking downtown on evenings and weekends—this was when we had our issues.
Do not let anyone help you at ATMs. This is a common scam. It's best to use an ATM inside a bank or shopping centre.
Avoid running or hiking the trails on your own. The Sea Point promenade is a safe place to run alone.
If you drive, keep your doors locked and don't leave anything on display when you park.
Consider giving to a homeless shelter or charity rather than to beggars, especially children.
Buy travel insurance! Good options include True Traveller (UK/EU), who we use, and Heymondo (worldwide).
Please don't let this put you off visiting Cape Town. It's unlikely anything will happen, you just need to use common sense, especially downtown.
Accommodation
You can find hotels and guest houses in Cape Town on Booking.com.
Airbnb rooms or apartments are an affordable option.
We rented an Airbnb apartment in Sea Point and loved it. It's not a fancy area, but it felt safe, it's only a 10-minute drive downtown or the same to Clifton/Camps Bay beaches, and the promenade was just a block away for runs and walks.
Due to the issues we experienced, I don't recommend staying in the CBD (Central Business District) including the Long Street, Greenmarket Square, Adderley Street, and train station areas. It's not unsafe to stay here but you'll have to be alert.
If you only have a few days in the city, the Gardens neighbourhood around Kloof Street is safe, central, and has plenty of good restaurants.
For longer stays, consider the Atlantic Seaboard suburbs such as Green Point or Sea Point. Clifton and Camps Bay have great beaches but are expensive.
These are just some of the amazing activities in Cape Town. You could also go paragliding, sand boarding, snorkelling with seals, take a street art tour of Woodstock, and much more. We will be back!
If you are planning to explore more of South Africa, see our detailed road trip itinerary from Johannesburg to Cape Town via Kruger, the Drakensberg Mountains, the Wild Coast, and the Garden Route.
If you enjoyed this post, pin it!