This page contains affiliate links. Please read our disclosure for more info.
Cape Town is foodie heaven! In this beautiful city you can enjoy a creative, international mix of cuisines at world-class restaurants or casual food markets, many of which use locally grown produce and serve excellent wine from the nearby Cape Winelands. Good vegetarian options are easy to find and we ate very well during our two months in the city.
Cape Town has a growing vegan food scene and there are quite a few vegan or vegetarian restaurants, but we didn't find them as exciting as the omnivorous places. I focused on finding the best restaurants in Cape Town that had more than one or two vegetarian dishes. If you are vegan you might find it easier at vegan restaurants as cheese and creamy sauces were common ingredients. The concept of veganism is usually understood, though, so I'm sure all of these restaurants would accommodate you.
Cape Town restaurants are reasonably priced for the quality. We usually paid 200–300R ($15–23) for a meal for two people or 500–700R ($38–53) at nicer restaurants with multiple courses and wine, plus we had a few worthwhile splurges that cost a lot more. In Europe or the US these meals would cost considerably more.
The current exchange rate is approximately 1 USD = 13 ZAR and 1 GBP = 17 ZAR.
Contents
Casual Vegetarian-Friendly Restaurants in Cape Town
These vegetarian-friendly restaurants in Cape Town are ideal for a quick, inexpensive meal. You can also see the food market section below for tasty cheap eats on weekends and the Sea Point section for casual restaurants in this seaside suburb (including a vegan cafe).
V&A Waterfront Food Market (Permanently Closed)
This permanent covered food market is the cheapest place to eat on the touristy but picturesque V&A Waterfront, so we ate here often. There are lots of choices including Mexican, Italian, Indian, African, Vietnamese, Chinese, and more. We're fans of the Gourmet Samosas stall and the Hungarian flatbread at Stack That. Take a seat outside and enjoy the view.
It's now permanently closed, but a new Time Out food market is set to open in its place late 2023.
Cost for a Main Dish: 50R.
Details: Dock Rd, V&A Waterfront. 10 am – 8 pm every day (until 6 pm in winter).
Eastern Food Bazaar
The Eastern Food Bazaar is the cheapest and most multi-cultural place we ate at (so many of these restaurants are very white). The most vegetarian-friendly stalls are Indian including dosas and curry, but there's also Chinese, pizza and falafel. It wasn't the best Indian food we've eaten but it was quick and great value. You pay in advance and then take the ticket to your chosen food stall.
Cost for a Main Dish: 35–40R.
Details: 96 Longmarket Street. 11 am – 10 pm. Closed Sundays.
Website: Eastern Food Bazaar.
Addis in Cape
Addis in Cape is one of the few African restaurants where vegetarians can eat well—there's even a vegan section on the menu. You sit on low tables topped with injera baskets under a ceiling of colourful umbrellas. I recommend going at lunch for the vegetarian platter which includes five tasty lentil and vegetable curries served on an injera (spongy flatbread). Eat the traditional way by tearing off pieces of injera and scooping up the curries.
Cost for a Main Dish: 115R for the vegetarian platter.
Details: 41 Church St. 12 pm – 10.30 pm. Closed Sundays.
Website: Addis in Cape.
Royale Eatery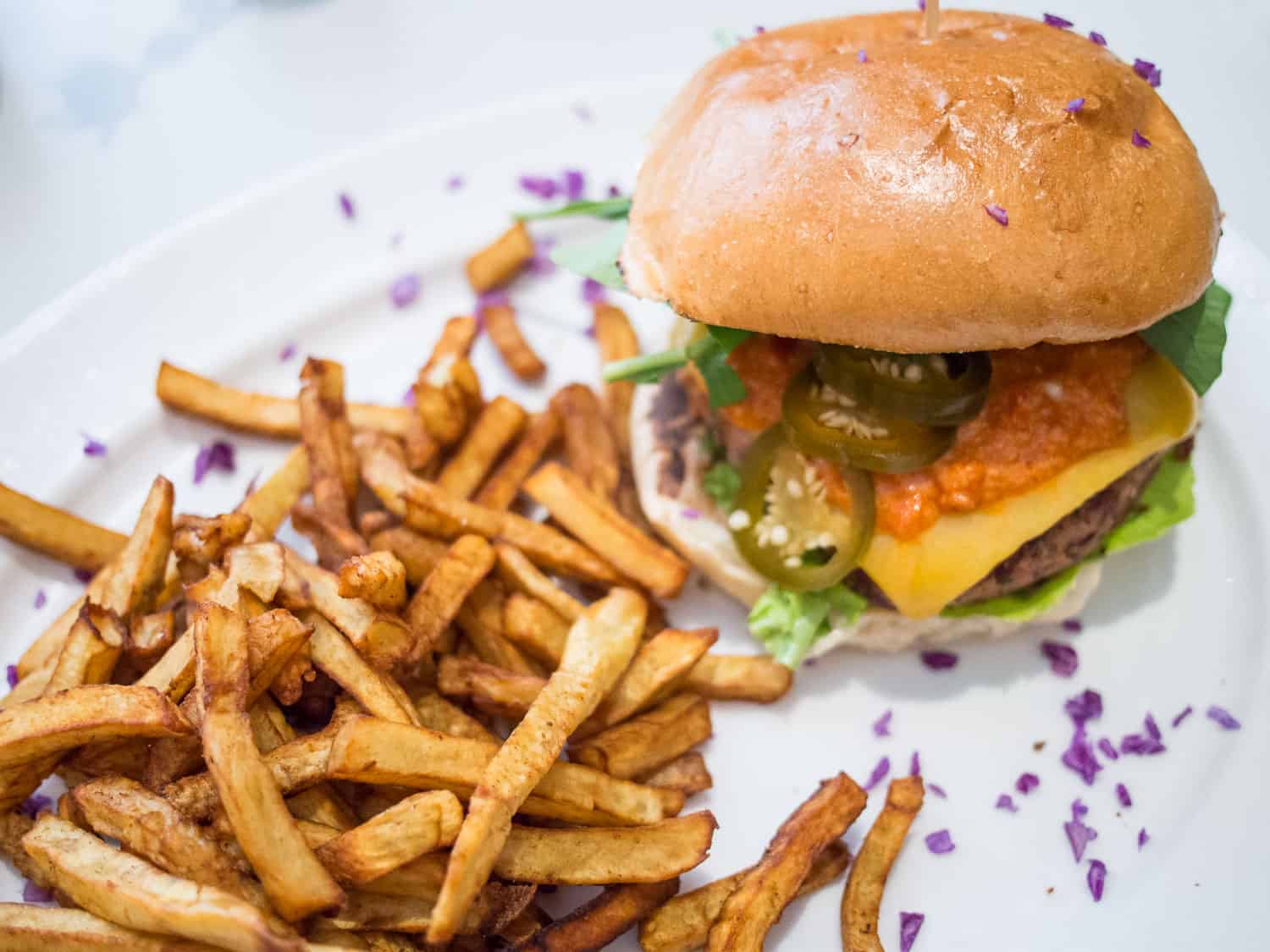 Gourmet burger joints are popular in Cape Town and Royale Eatery is the best for vegetarians. There's a huge vegetarian and vegan selection with the choice of soy, lentil, vegetable, or bean based patties and plenty of interesting toppings. I loved the Trombone—a black bean and vegetable patty topped with rocket and peppadew sauce (and I added jalapeños and cheddar). All burgers are served with regular fries, sweet potato fries, or salad.
Cost for a Main Dish: 80–90R.
Details: 273 Long St. 12 pm – 11.30 pm. Closed Sundays.
Website: Royale Eatery.
Plant
Plant is a vegan restaurant, but unlike most of the vegan restaurants in Cape Town, it's open in the evenings and serves alcohol. The nachos and quesadillas kept Simon happy, and there are also smoothies, salads, burgers, wraps, healthy bowls, and cakes.
Cost for a Main Dish: 80–90R.
Details: 8 Buiten St. 9 am – 10 pm (until 5 pm on Mondays). Closed Sundays.
Website: Plant.
Mid-Range to Expensive Vegetarian-Friendly Restaurants
We found paying a bit more made a difference in Cape Town and this section includes the best meals of our stay. None of these are vegetarian restaurants, but they all have a good selection of meat-free dishes. Reservations are recommended, especially in the summer. When you book, mention you are vegetarian as they sometimes have special vegetarian menus.
The Pot Luck Club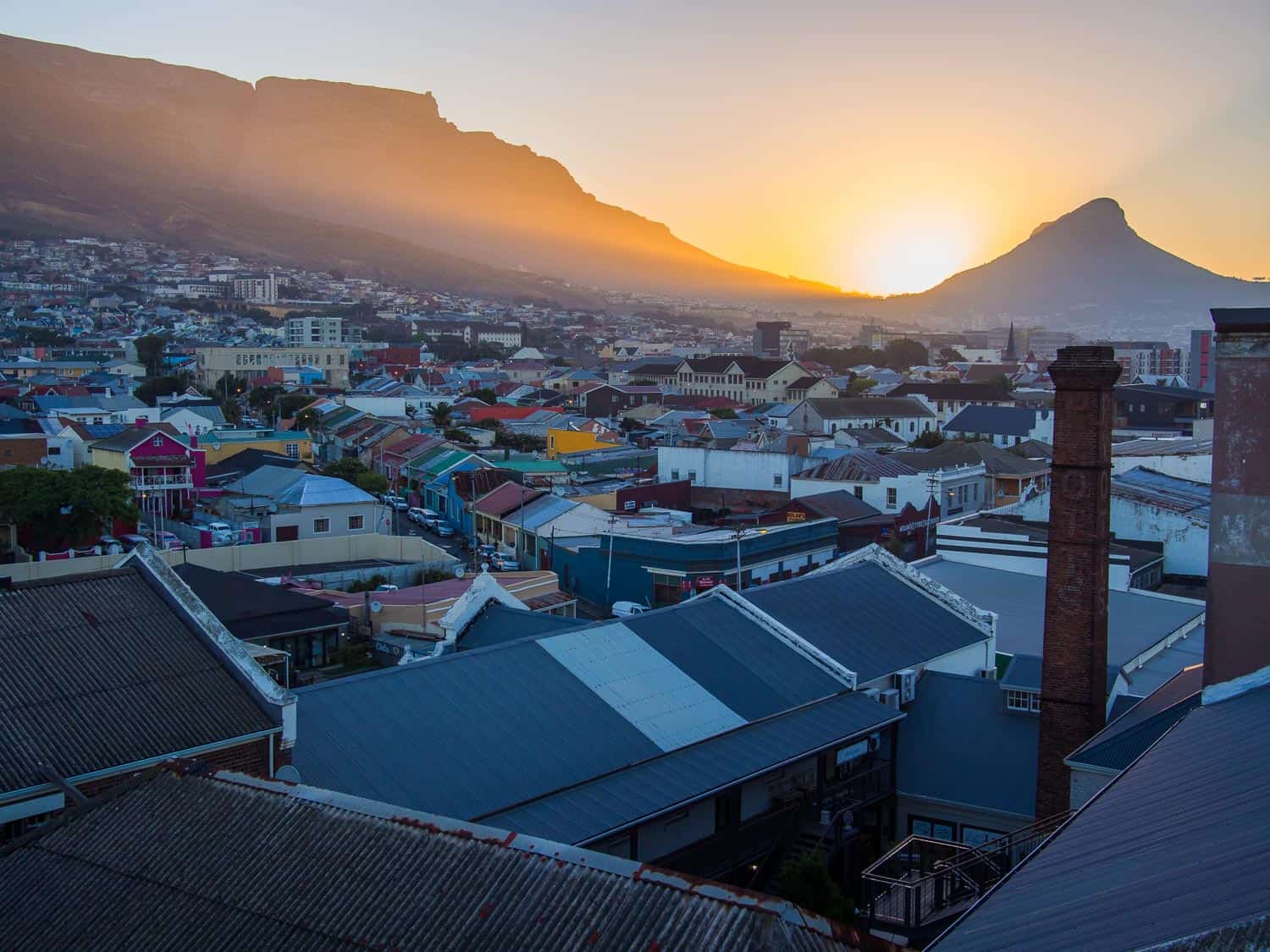 The most highly-rated restaurant in Cape Town is The Test Kitchen but good luck getting a reservation—they fill up within minutes of the online booking opening. Instead go to Chef Luke Dale-Robert's other restaurant, The Pot Luck Club. It's in the silo of The Old Biscuit Mill with expansive windows overlooking Table Mountain—request a table on the mountain side when you book and eat early to catch the sunset.
They serve creative tapas divided into salty, sweet, bitter, umami and sour. Ask for the vegetarian menu—there's loads of choice and we couldn't resist ordering eight tapas plus one dessert, a few too many for me but perfect for Simon. The service is excellent and the tapas are brought out gradually, so it's a leisurely meal.
The tapas were varied and delicious and included parmesan and mozzarella arancini with smoked garlic and apple mayo, burrata cheese with grilled nectarines and pistachio dukkah, fried cauliflower sliders, and miso aubergine. We also had cocktails and wine—the pineapple vanilla cosmo is amazing!—so it was not a cheap meal but totally worth it.
The Pot Luck Club is worth a splurge but make sure you book a few weeks in advance. They also have a shared table for walk-ins if you can't get a booking.
Cost for a Main Dish: 50–90R per tapa.
Details: The Old Biscuit Mill, 373–375 Albert Rd, Woodstock. Sittings at lunch and for dinner at 6 pm and 8.30 pm. Lunch only on Sundays.
Website: The Pot Luck Club. Bookings open on the 1st of each month for the following month.
Kloof Street House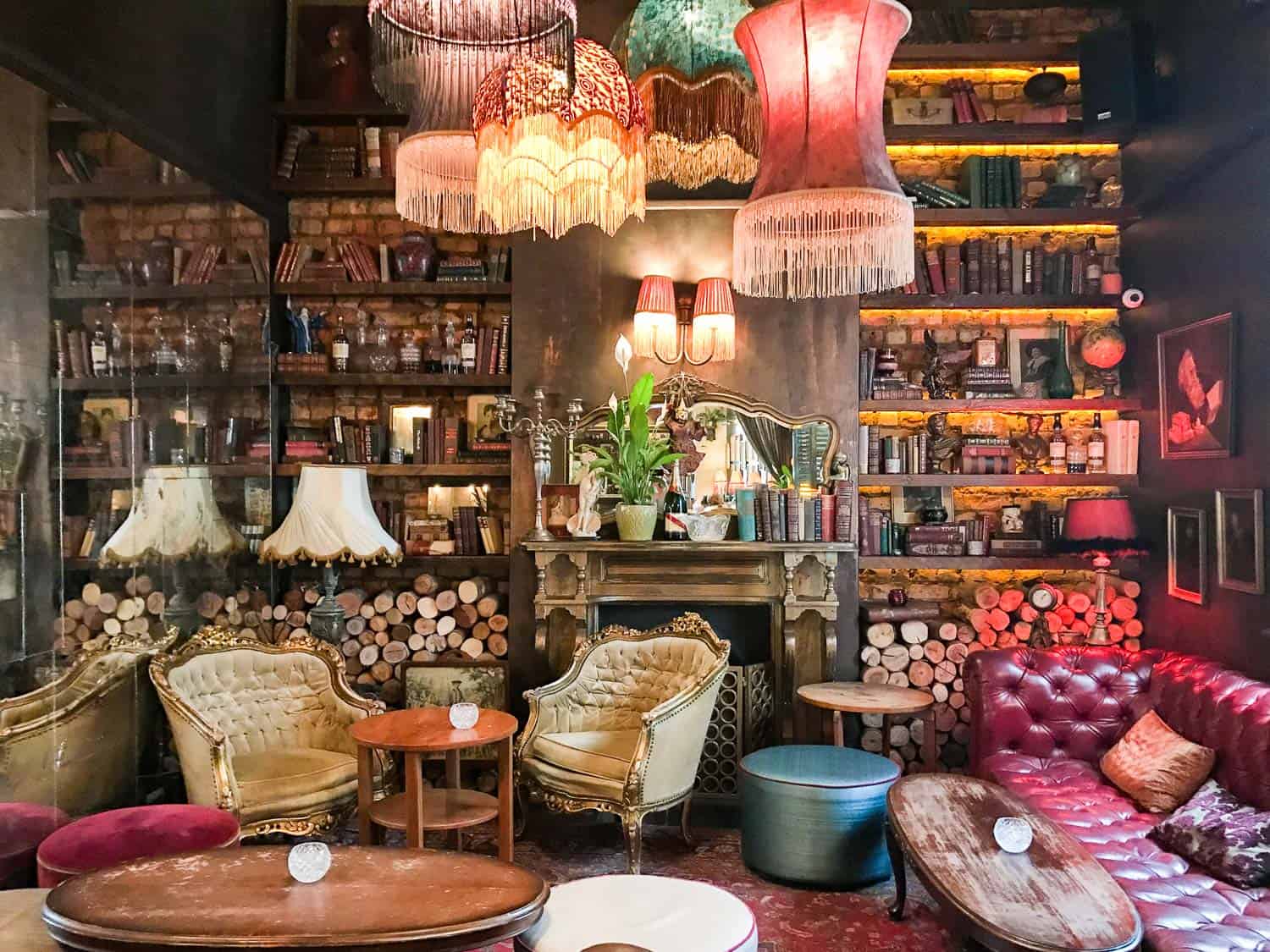 Another dining experience not to miss in Cape Town is Kloof Street House, an eclectic restaurant in a quirkily decorated Victorian house. Each area is furnished differently with vintage lampshades, pictures, books, chandeliers, candlesticks, random ornaments, and patterned wallpaper. There's so much to explore that I recommend arriving early for a cocktail in the cosy library and relaxing on the comfy armchairs while browsing the books from the 40s and 50s. We arrived at 5 pm and didn't need a reservation for a drink in the library, but you will much later than 6 pm.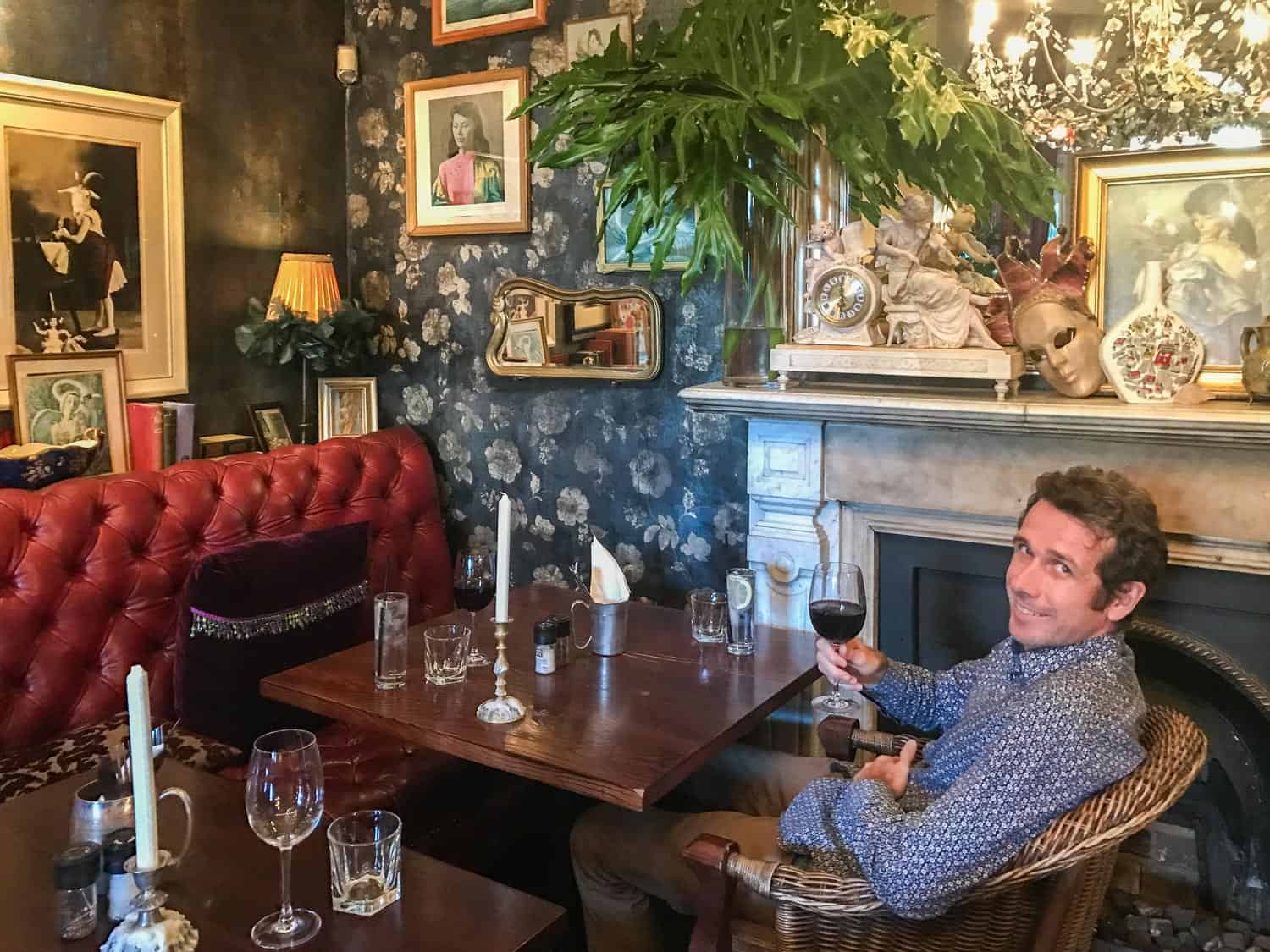 There are only two vegetarian mains but both the gnocchi with roasted butternut and gorgonzola cream and the lentil and artichoke bake were delicious. There are more veggie starters including excellent feta, butternut and spinach spring rolls. The melting chocolate fondant was the perfect ending.
Cost for a Main Dish: 130R.
Details: 30 Kloof St. 12 pm – 11 pm (from 5 pm on Mondays). It's one of the few places downtown open on Sundays.
Website: Kloof Street House. Reservations are highly recommended.
Black Sheep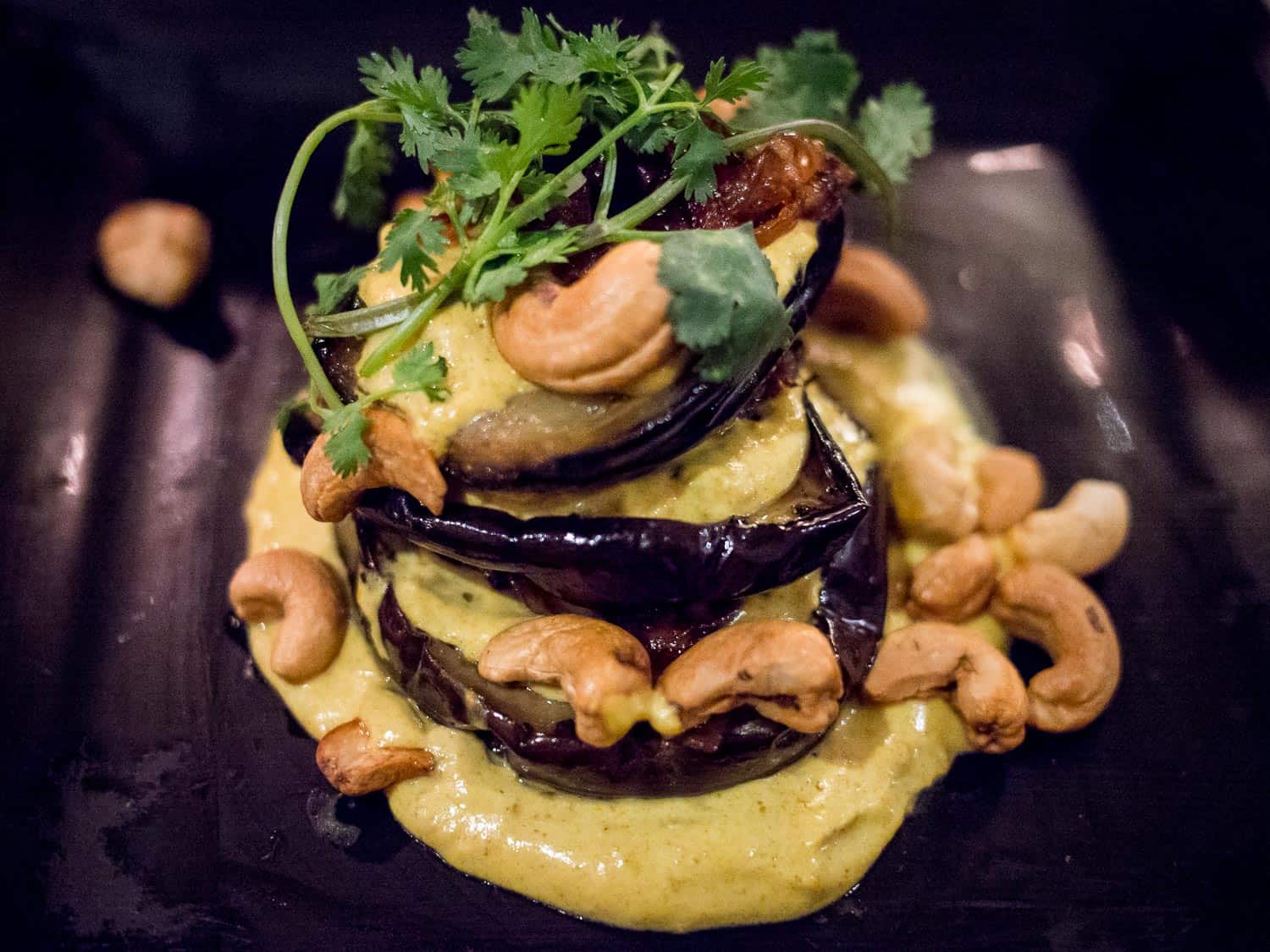 Black Sheep serves seasonal cuisine listed on a changing blackboard menu (see their website for the day's menu) with a view of Table Mountain and a friendly, buzzy atmosphere. When we visited there were two vegetarian mains and lots of starters and everything was fresh and creative. We loved the roast aubergine stacked with goats cheese, the crispy asparagus and parmesan rolls, and the roast aubergine salad with cashews and turmeric garlic yoghurt dressing.
Cost for a Main Dish: 115R.
Details: 104 Kloof St. Lunch and from 6.30 pm (dinner only on Mondays). Closed Sundays.
Website: Black Sheep. Reservations are highly recommended.
Asoka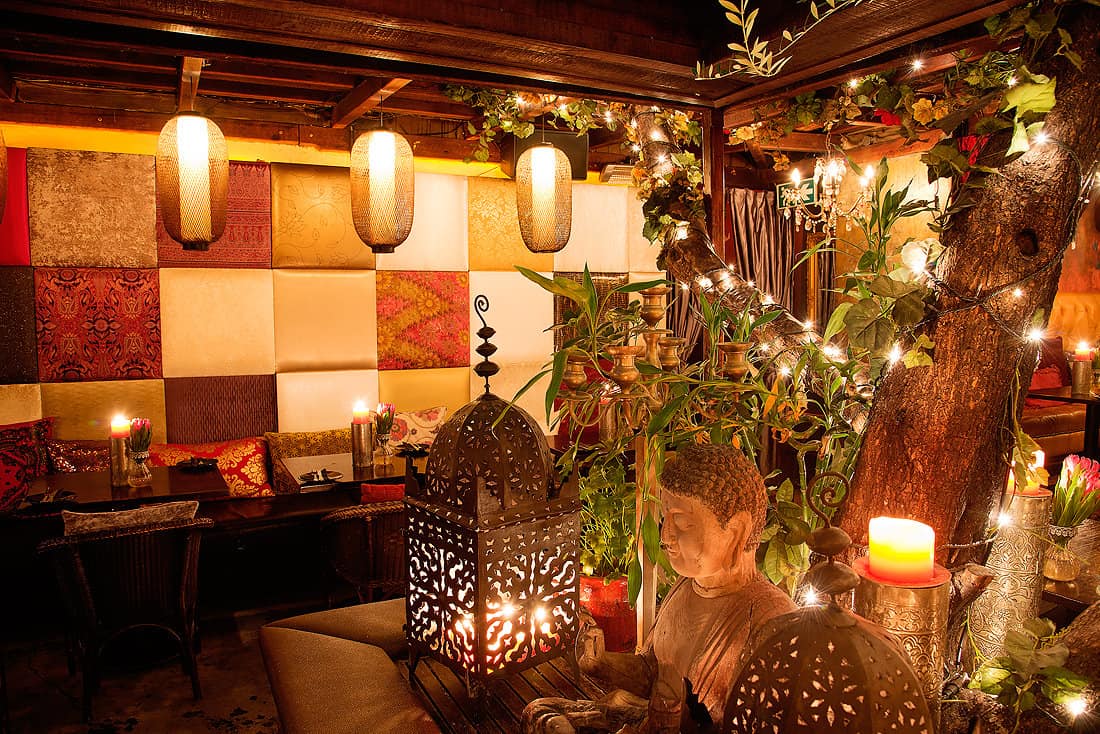 We had such a fun night out at the Tuesday jazz night at Asoka, Kloof Street House's sister venue. The bar is decorated in Asian style with low lighting and comfortable seating around a Buddha statue and olive tree that grows out of the skylight.
The cocktails were superb, especially the porn star martini with vanilla vodka, passionfruit, and a shot of bubbly. The tapas menu has a vegetarian section including a mezze platter, goats cheese croquettes, jalapeños rellenos, truffle polenta chips, spinach and miso aubergine salad, and broccoli with fior di latte.
The jazz band was excellent and after 10 pm the music switches to deep house and beautiful locals take to the dance floor. Asoka was one of the few restaurants we visited that had an equal mix of black and white guests.
Cost for a Main Dish: 20–65R per tapa and 165R for the mezze platter.
Details: 68 Kloof St. 5 pm to late. Closed Sundays.
Website: Asoka. Reservations are highly recommended for jazz night.
The Cousins Trattoria
The Cousins Trattoria is run by three Italian cousins who serve authentic homemade pasta in a relaxed atmosphere. We loved the pesto gnocchi and taglioni with cherry tomatoes, olives, and chilli. Their signature dish mixed up in a wheel of parmesan at your table looks fun. It's one of the few restaurants in downtown Cape Town open on Sunday nights.
Cost for a Main Dish: 100R.
Details: 3b Barrack St. 6 pm – 10 pm every day.
Website: The Cousins Trattoria. Reservations are highly recommended.
Fork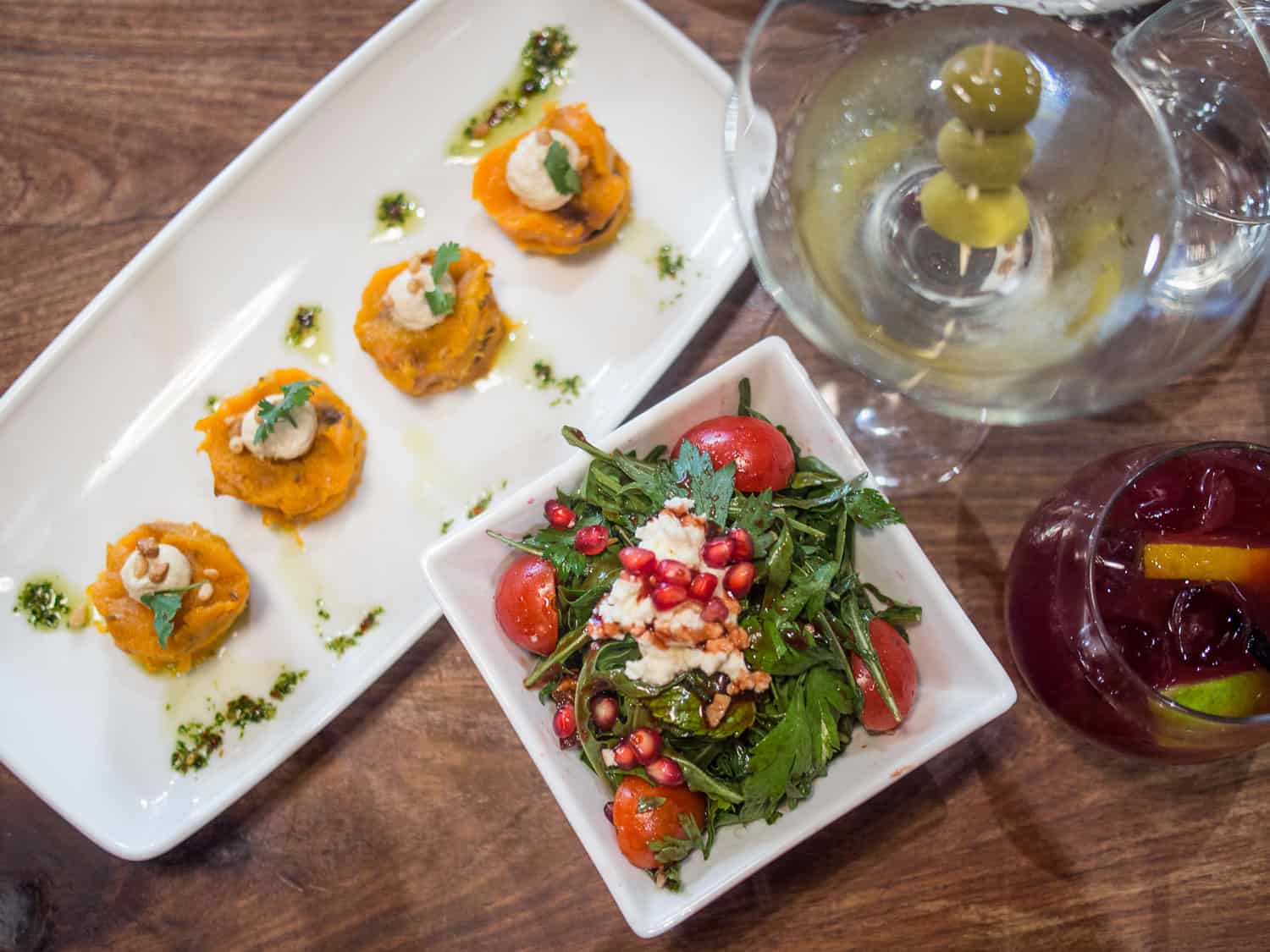 Fork is an international tapas bar with plenty of flavourful vegetarian dishes including fig salad, butternut squash with hummus, deep fried goats cheese with sun-dried tomato biscuits, risotto tart, and aubergine, sweet potato, and chickpea curry. It's a relaxed place and they recommend you start with two dishes each and order more later if needed (Simon needed).
Cost for a Main Dish: 45–60R per tapa.
Details: 84 Long St. 12 pm – 11 pm. Closed Sundays.
La Colombe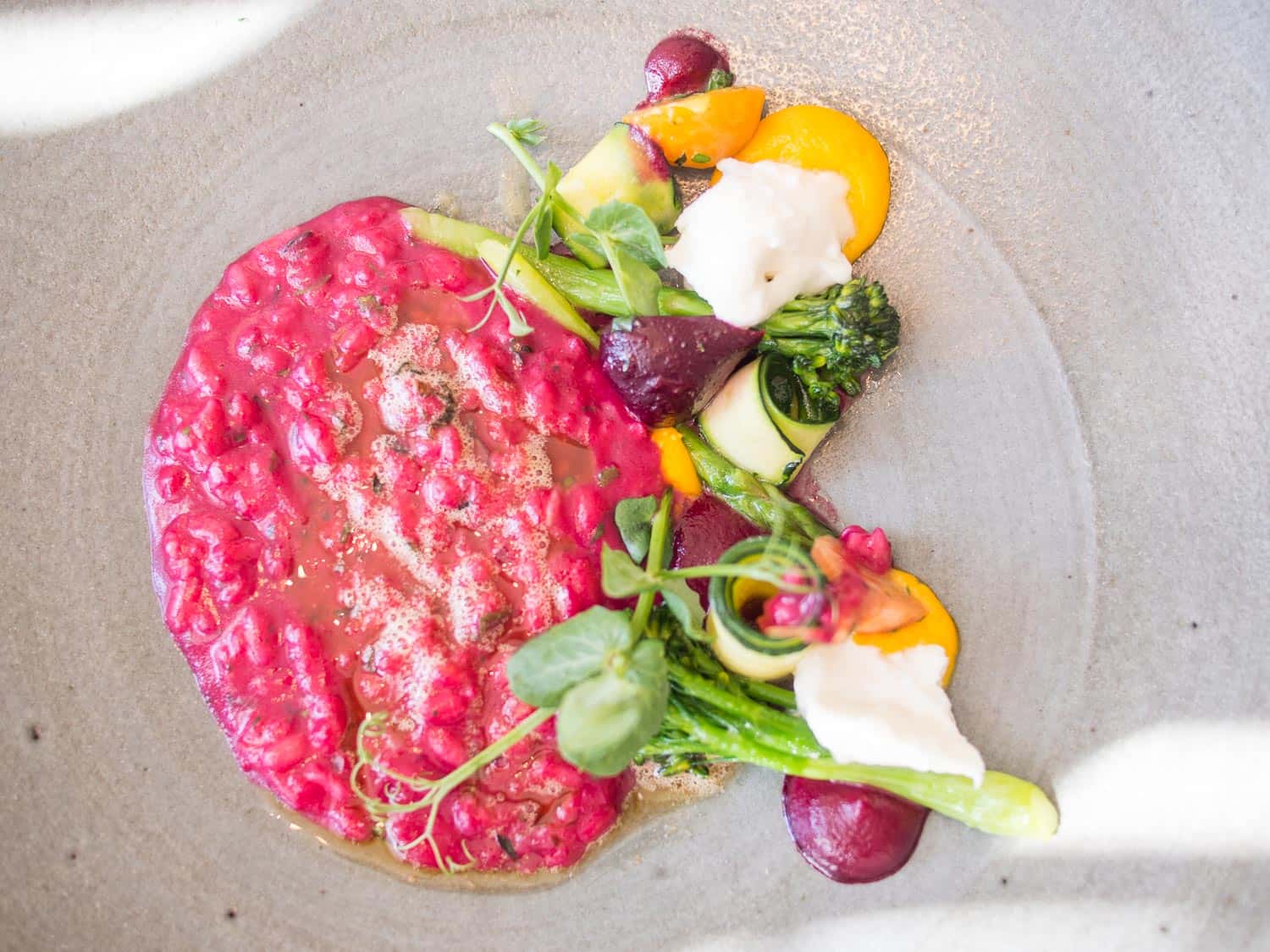 The ultimate splurge! La Colombe is one of the top 100 restaurants in the world and was possibly the best meal of our lives. Unlike many fine dining restaurants, it has a vegetarian tasting menu. We chose the full gourmand menu with wine pairing which consisted of 12 courses that we enjoyed over four hours—we couldn't believe how much time had passed!
La Colombe is located in the Constantia Wine Valley about 30 minutes outside Cape Town (or 45 minutes in traffic). The decor is simply stylish with floor to ceiling windows overlooking trees. We booked a table with a view for lunch and were seated in the only area where you can see the vineyards and mountains.
Each exquisite course was beautifully presented, often in unexpected ways, and absolutely delicious with rich creams and Italian influenced dishes such as herb gnocchi with butternut and gorgonzola and beetroot and burrata risotto. The wine pairing was exceptional—all the wines came from no more than an hour away and included rare and vintage wines. It was a lot of wine, though, and we were very tipsy by the end.
La Colombe is an experience not just a meal and we can't recommend it highly enough.
Cost for a Main Dish: 990R for the full vegetarian tasting menu (1890R with wine pairing). 690R for the reduced menu.
Details: Silvermist Wine Estate, Constantia Main Rd, Constantia. Seatings from 12 pm – 1.30 pm and 6.30 pm – 8.30 pm.
Website: La Colombe. Reservations are essential and a deposit of 500R per person is taken.
Sea Point and Green Point Vegetarian-Friendly Restaurants
We stayed in Sea Point, a seaside suburb a 10-minute drive from downtown Cape Town. The food here isn't quite as good as in central Cape Town, but these are the restaurants and cafes we enjoyed. I've included a few places in neighbouring Green Point, which is in walking distance.
Jarryds, Giovanni's, and La Mouette are worth going out of your way for even if you don't stay in the area—you could combine them with a walk on the lovely Sea Point promenade.
Jarryds
Oh my, the breakfasts at Jarryds are amazing! They have a much more interesting menu than most breakfast places with plenty of options for those of us who don't like eggs. I had the best avocado toast (or as they say, avo smash) of my life here with artisan five-grain bread topped with avocado, feta, tomatoes, raw spinach, basil, and the perfect pesto. It all worked together brilliantly.
The pancakes are just as good and are beautifully adorned with vanilla creme, summer berries, caramelised bananas, and maple syrup.
Reservations are recommended on the weekends. We managed to get in during the week but it's always busy.
Cost for a Main Dish: 45–100R.
Details: 90 Regent Rd, Sea Point. 7 am – 4 pm every day.
Website: Jarryds.
Giovanni's Deli World
South Africans love picnics and Cape Town has many stunning locations for them—on top of Table Mountain or Signal Hill, Kirstenbosch Gardens, or one of the beaches. Our favourite place to buy picnic food is Giovanni's Deli in Green Point. You can buy cooked dishes or cheese from the counter or pick up salads and dips from the fridge. Our favourites were the potato salad, bean salad, and pesto hummus. You can also buy bread, wine, and lots of other snacks. It's the best shop we found for olive oil and imported items (like chocolate and Branston Pickle!).
Details: 103 Main Rd, Green Point. 7.30 am – 8.30 pm every day.
Website: Giovanni's Deli World unofficial Facebook page.
La Mouette (Temporarily Closed)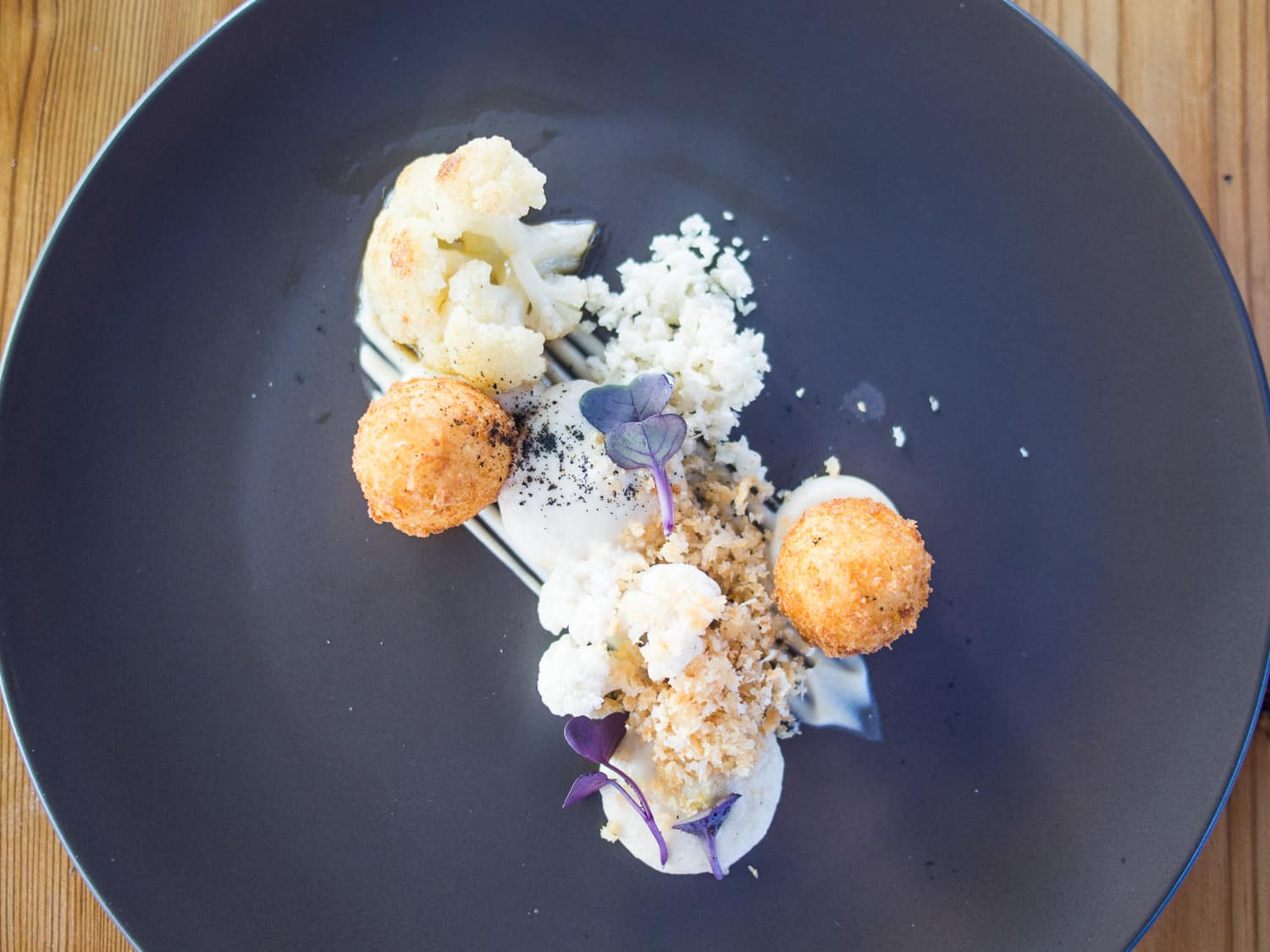 La Mouette is an elegant fine dining restaurant that offers a six-course vegetarian tasting menu. We spent three hours there on a sunny Sunday enjoying a leisurely lunch by the fountain in the courtyard. The food was rich, delicious, beautifully presented and included fontina ravioli, fancy cauliflower cheese, and potato gnocchi. The melting Ferrero Rocher dessert was heavenly. It was an expensive meal but good value for the quality of food and service.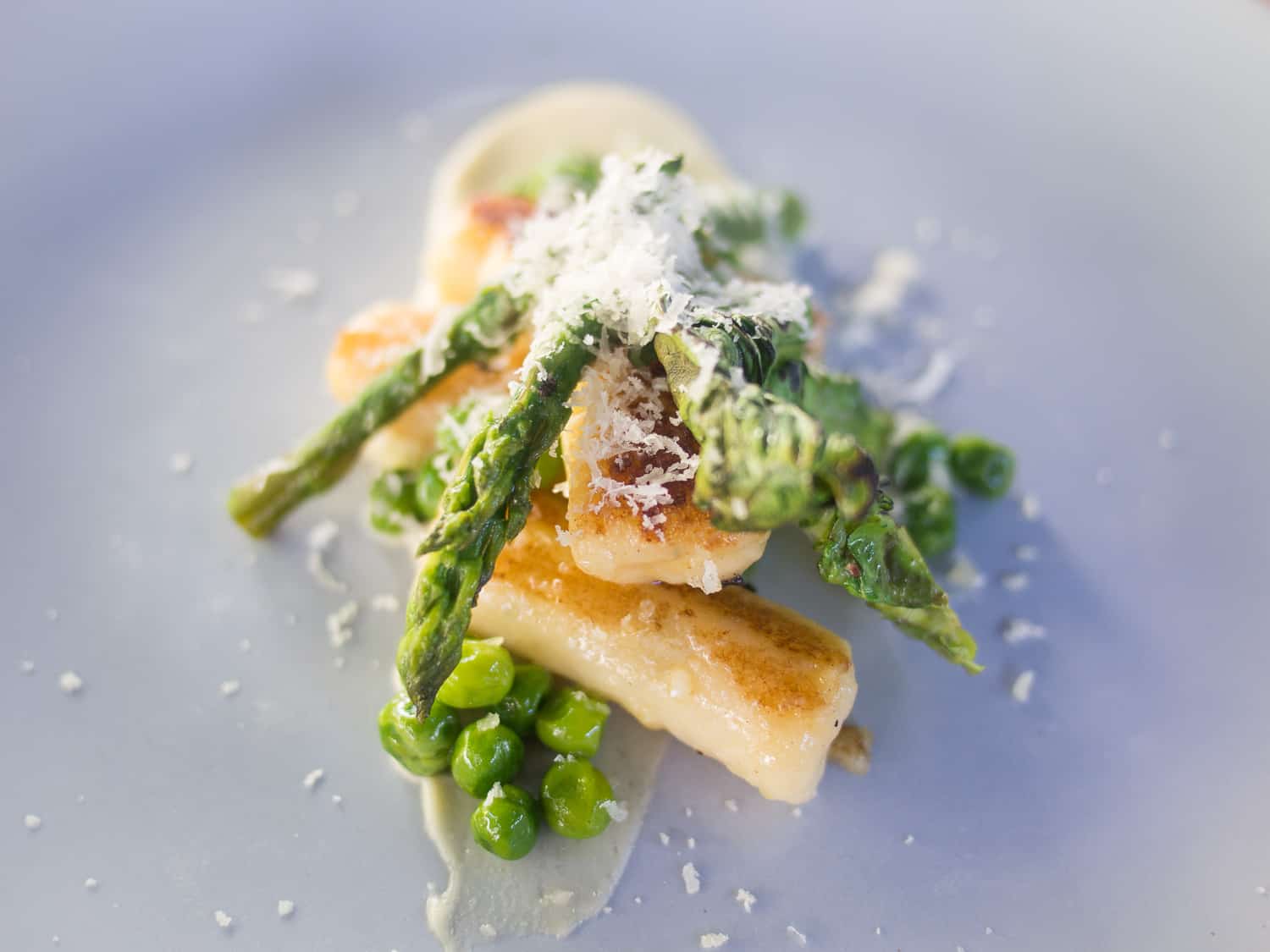 Cost for a Main Dish: 445R for the six-course tasting menu.
Details: 78 Regent Rd, Sea Point. 6 pm – 10 pm. Closed Mondays. Also lunch on Sundays. Reservations are recommended.
Nü Health Food Cafe
For a quick, healthy, inexpensive meal, head to Nü, a casual cafe with a mostly vegetarian menu of salads, wraps, bowls, and smoothies. I enjoyed my Dynamo salad with kale, lentils, goats cheese, butternut squash, and tomatoes.
Cost for a Main Dish: 75–80R.
Details: 395 Main Rd, Sea Point. 7 am – 7 pm every day (7.30 am on weekends). Plus other branches in Cape Town.
Website: Nü Health Food Cafe.
Scheckter's Raw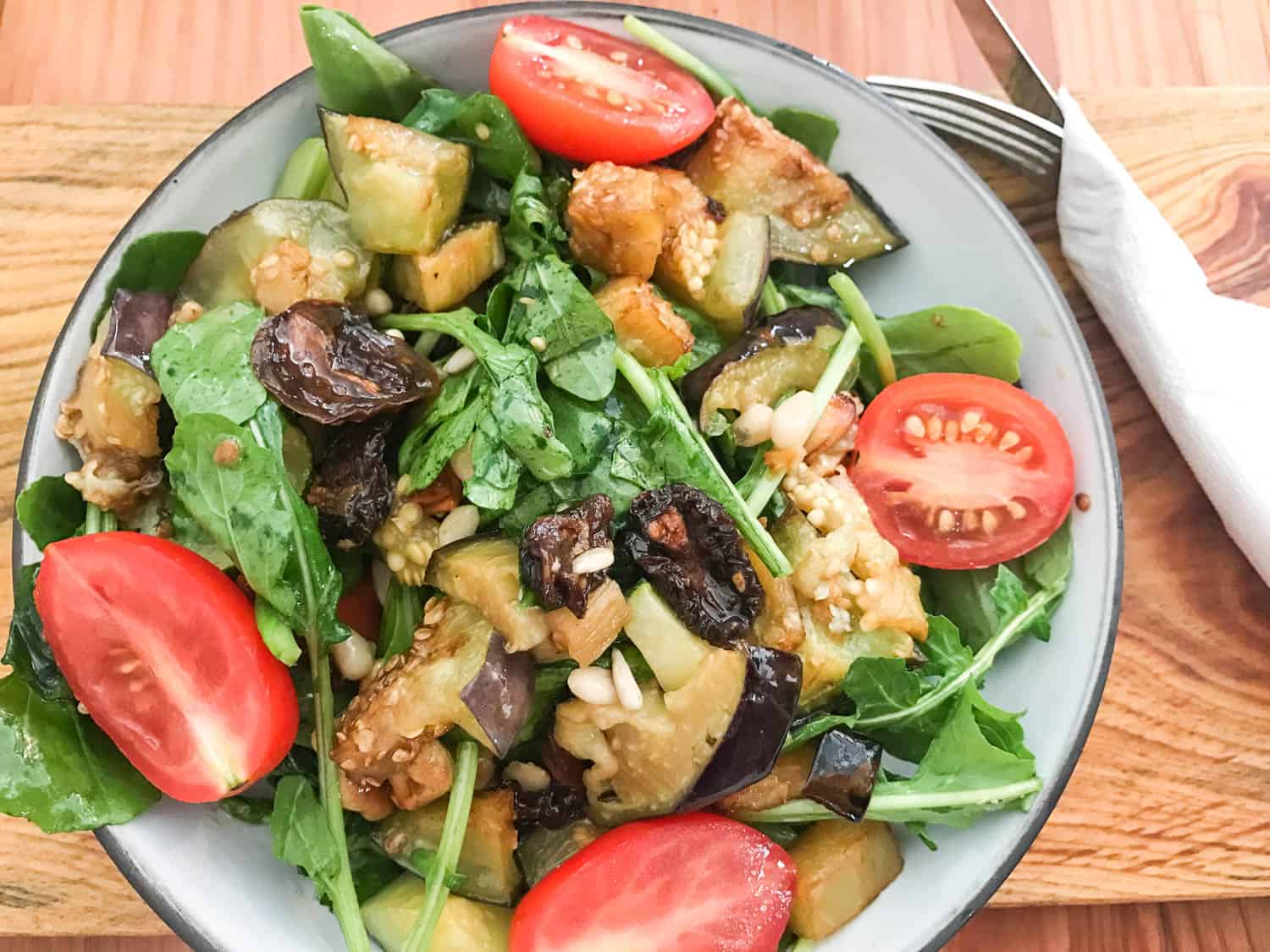 Scheckter's Raw is a healthy vegan cafe with raw options. The menu sounded delicious but my aubergine, rocket, sundried tomato, and pine nut salad was a little disappointing as the dressing lacked punch. I liked Simon's curry wrap but he was less enthusiastic. The raw snickers bar was a winner though. I would give Scheckter's Raw another try and I recommend it if you're looking for a healthy vegan meal.
Cost for a Main Dish: 70–80R.
Details: 98 Regent Rd, Sea Point. 8 am – 4 pm every day.
Website: Scheckter's Raw.
Sundoo
Contemporary Indian restaurant Sundoo has a good veggie selection including unusual beetroot and pineapple curries. We enjoyed the sweet potato and pea samosas and the trio of mini roti topped with different vegetable curries.
Cost for a Main Dish: 60–70R.
Details: 77 Regent Rd, Sea Point. 12 pm – 11 pm every day.
El Burro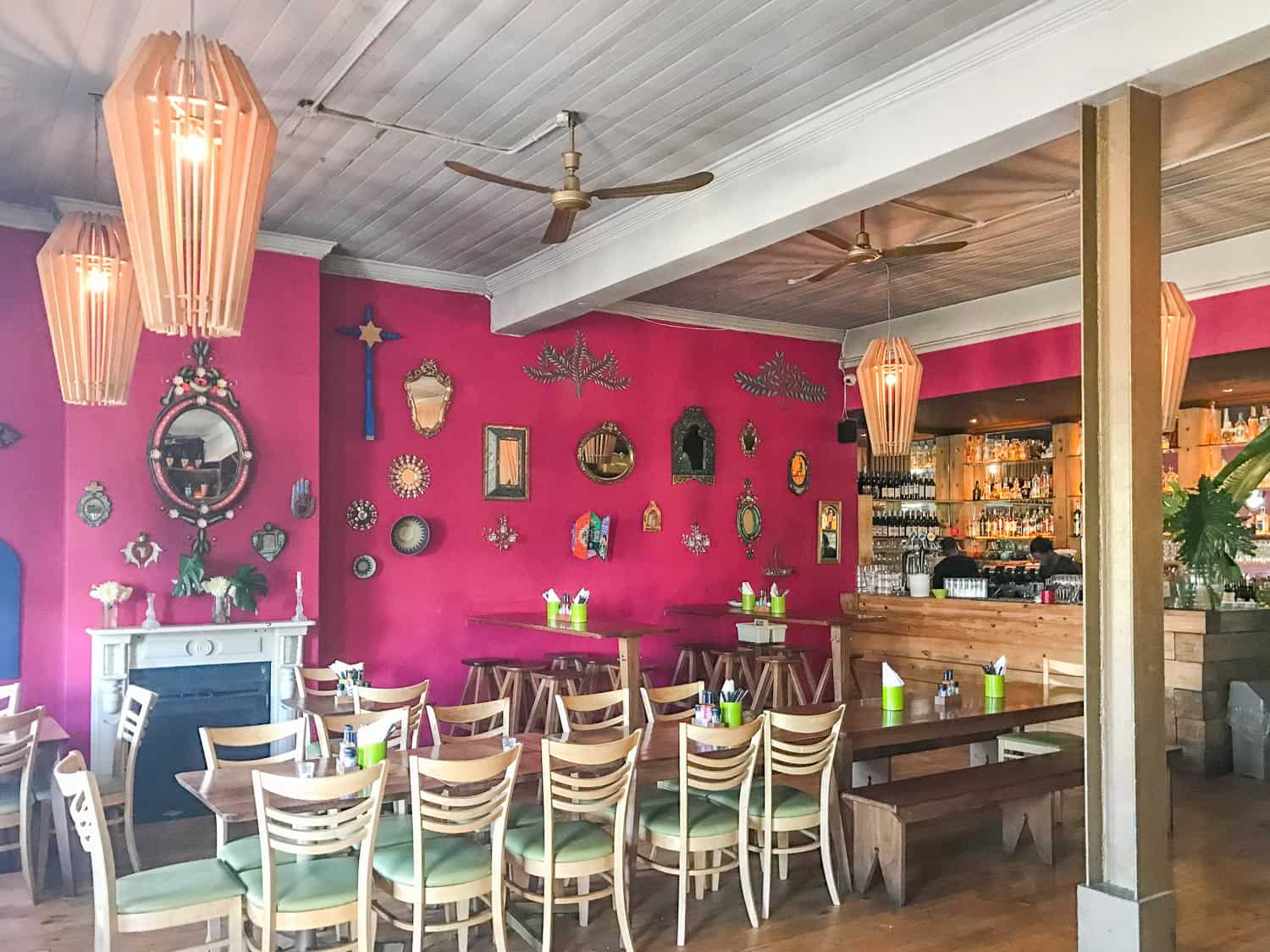 El Burro is a Mexican restaurant in Green Point with funky decor and a few vegetarian options marked on the menu. You won't find burritos or nachos here as everything is a bit more unusual. We shared chilli rellenos, sweet potato and feta taquitos, and artichoke and aubergine tacos and they were all tasty.
Cost for a Main Dish: 100–120R.
Details: 81 Main Road, Green Point. 12 pm – 11.30 pm. Closed Sundays.
Website: El Burro.
Bootlegger Coffee Company
Bootlegger has excellent coffee made with freshly roasted beans (Simon bought his beans here), wonderfully rich chocolate cake, comfy seating, and there are usually lots of people working. We didn't eat here, but there are a few vegetarian options for lunch and breakfast.
Details: 39 Regent Rd, Sea Point. 6.30 am – 10 pm (7.30 am on weekends). Plus other branches in Cape Town.
Website: Bootlegger Coffee Company.
Food Markets in Cape Town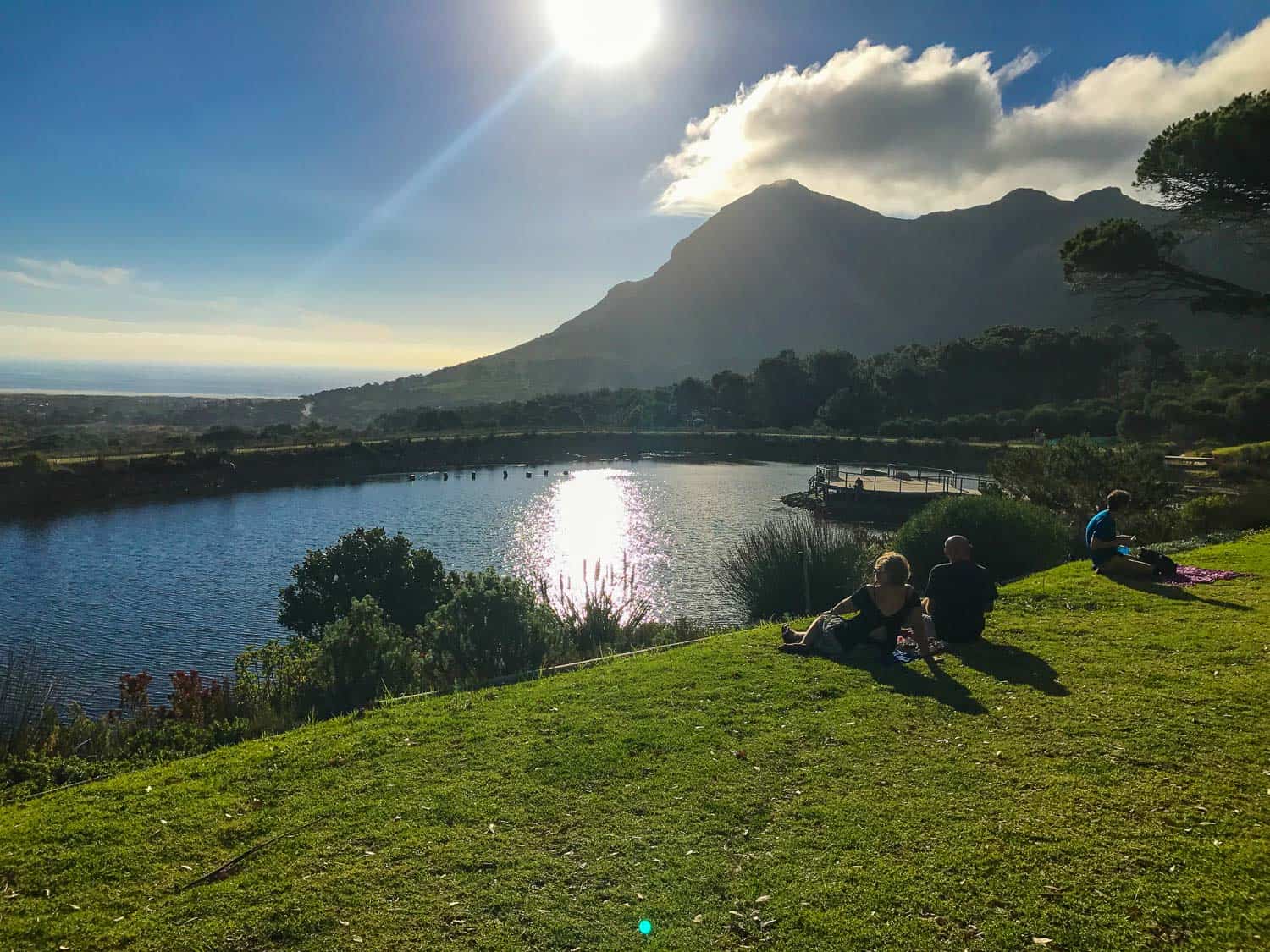 Food markets are hugely popular in Cape Town. All have a varied mix of tasty food and drink stalls with vegetarian options. Some also have clothes and craft stalls and even live music. Munching your way around a market is a fun and very local way to spend a weekend morning. They were all very busy (at least in summer), so I recommend arriving early if you don't like crowds.
Here are some of our favourites:
Neighbourgoods Market – This Woodstock market at The Old Biscuit Mill is huge and varied, but it's very popular so get there early. By 10.30 am on a summer Saturday it was unbearably crowded. Saturdays 9 am – 3 pm.
Oranjezicht City Farm Market – My favourite market is conveniently located near the V&A Waterfront and has a rustic feel and sea views. As well as varied food stalls, you can buy locally grown fruit and vegetables and products like olive oil and cheese. Saturdays 9 am – 2 pm.
Bay Harbour Market – Take a 30-minute drive down the beautiful coastline to Hout Bay for this fun market packed with food, crafts, jewellery, and clothes stalls as well as live music. We combined it with a trip to nearby Llandudno Beach. Fridays 5 – 9 pm and Saturdays/Sundays 9.30 am – 4 pm.
Cape Point Vineyards Community Market – The most beautifully located market is on a vineyard in Noordhoek 30 minutes outside Cape Town. Take a seat on the lawn or at a picnic table and enjoy the sea view as the sun sets. It doesn't have the variety of other markets, but we still had plenty of veggie options to choose from. Of course, you can enjoy your food with a glass of their own wine. As there's space to spread out and relax we didn't find it as overwhelming as the other markets. Drive back via the slower but stunning Chapman's Peak Drive. Thursdays 4.30 pm – 8.30 pm.
More Cape Town Vegetarian Food Tips
If you are vegan, search on the Happy Cow website or app for vegan restaurants in Cape Town.
Some vegetarian and vegan restaurants that we didn't get to try are Raw and Roxy, Hungry Herbivore, Orchard on Long, Nooka Cafe, Elixir, and Zucchini's. We did try Sexy Food, which focuses on fermented vegan dishes, but we weren't hugely impressed.
The most vegetarian-friendly South African cuisine is Cape Malay, which is similar to Indian. We didn't find a good restaurant to try it, but we enjoyed our cooking class with Gamidah of Lekka Kombuis in Bo Kaap.
The best areas to browse for restaurants and cafes are Kloof and Bree Streets.
Most restaurants have menus online so you can check for vegetarian options before you visit. If they don't have one on their website, try Zomato.
Tipping is around 10% unless service is already included.
We used Uber to get everywhere—it's easy and inexpensive in South Africa. It's best not to walk around downtown Cape Town at night.
We also used the Uber Eats app to get food delivered—our favourite was burritos from Tortilla Modern Mexican. OrderIn is another food delivery app.
Don't miss the Cape Winelands—the food and wine are fantastic. You could visit as a day trip but I highly recommend spending a few days in Franschhoek where you can visit wineries on the wine tram. Read my guide to the best vegetarian-friendly restaurants in Franschhoek.
See our guide to the 28 best things to do in Cape Town for more tips for the city.
Are You Travelling Around South Africa?
If you are planning to explore more of South Africa, see our South Africa road trip itinerary from Johannesburg to Cape Town via Kruger, the Drakensberg Mountains, the Wild Coast, and the Garden Route. It includes where we stayed and what we ate.
Map of Vegetarian-Friendly Restaurants in Cape Town
We had a fantastic time eating our way around Cape Town. While Cape Town's vegetarian restaurants still have a way to go to compete with the city's best restaurants, we didn't feel like we missed out. It's easy to find delicious vegetarian meals made with seasonal, locally grown produce. Cape Town is one of our new favourite foodie cities.
If you enjoyed this post, pin it!