This page contains affiliate links. Please read our disclosure for more info.
Paris on a budget isn't something I thought would be possible but during our three night stay in August we managed to spend less than $50 (£30) a day per person. Not bad for one of the most visited cities in the world at the height of the tourist season.
We tracked our expenses in Paris using the new Trips feature that we just launched in Trail Wallet 2.0, our travel budgeting app. It's easy to set up a trip with its own dates, budget, and local currencies.
Here's the total amount we spent for two people during our three days in Paris shown on the Trail Wallet summary screen. One of the new features is being able to tap the summary screen and instantly see your amounts change between your home and all your local currencies, so it's shown here in British pounds, US dollars, and Euros.
Our average daily spend was £58.61 which is £29.30 ($48.45/ €35.83) per person. Here's what we spent it on:
Accommodation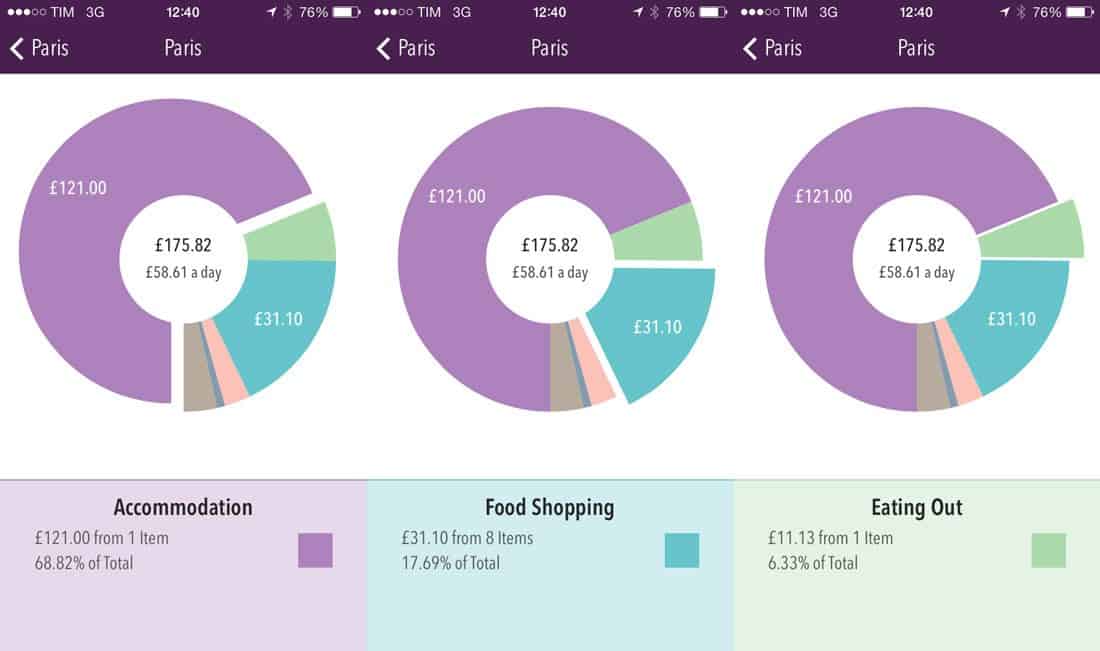 Our biggest bargain was our accommodation. Instead of staying in an overpriced budget hotel we booked an entire studio apartment in Belleville through Airbnb. We booked 10 days before we arrived and it cost us £40 a night including Airbnb fees.
We had a spacious bright room with WiFi, comfortable bed, desk, and couch, and a separate small kitchen and bathroom. We really loved having our own space and a comfortable place to work and make our own food.
There were lots of cheap apartments on Airbnb so it seems a good option in Paris, especially in August when Parisians leave the city on holiday. Sign up for Airbnb using this link and you'll get $38 credit towards a stay (and we do too).
We stayed in Belleville, an artsy, multi-cultural neighbourhood which is a bit out of the centre but we loved staying in this cool untouristy area.
If you have less time in the city, check out our itinerary and budget for just one day in Paris.
Food & Drink
We are vegetarian and Paris isn't the most vegetarian friendly city. Yes, there are vegetarian restaurants but none of them really appealed to us (too much fake meat or not very French) and eating out is quite expensive. The fact is that French meals revolve around meat.
During our stay we wanted to take advantage of the French food that we could really enjoy—baguettes, cheese, and pastries. These are things that we miss when we're out of Europe so we were quite happy to live off them for three days.
Our second biggest expense after accommodation was food shopping which included pastries, baguettes (a bargain at €0.90), salad, tomatoes, cheese, a bottle of wine, some snacks and soft drinks.
We bought our bread and pain au chocolat from the many local boulangeries, some cheese from the fromagerie, and the rest from the supermarket which had some very inexpensive but tasty goats cheese. I think it was just over €1 which combined with a baguette makes a very cheap meal for two.
We had one meal out when we got a delicious takeaway falafel sandwich in the Marais (there are lots of places on Rue des Rosiers) for €5.50 each, plus drink. Coffees were espresso style and we drank them at the counter of the bar for €1.
We averaged £16.20 a day on all food and drink which is £8.10 ($13/ €9.67) per person. Not bad considering we weren't eating like this to save money but because we really love the bread and cheese here!
Transport
Our only transport costs were the bus to and from the train station which cost €1.70 in advance and €2 on the bus. We were really close to a metro station so could have used it to get around Paris but we ended up walking everywhere instead.
The only cost that's not included here is transport getting to Paris. We paid £39 each for a one-way Eurostar ticket from London. It's cheaper if you book further in advance and we booked three months before our trip.
What's Missing?
You might notice that we didn't spend anything on entertainment in Paris. As our trip was short, we'd been before, and it was August, we decided we didn't want to fight the crowds at the big art galleries and attractions and instead just enjoyed exploring the markets and street art of Belleville, lazing in parks, and wandering the streets of Paris—through the Marais, to Notre Dame, and along the Canal Saint-Martin.
It might not be everyone's idea of a perfect trip to Paris, especially if it's your first visit, but we had no regrets skipping the big attractions and loved exploring the city from an alternative point of view. If you want to eat in restaurants and visit tourist sights you'll need to increase our $48 a day budget, perhaps even double it, but if you are on a really tight budget then it is still possible to enjoy this beautiful city.
If you enjoyed this post, pin it!