This page contains affiliate links. Please read our disclosure for more info.
When we arrived in Singapore the immigration counters were giving out free sweets.
We've never seen that before and it was such a contrast to the usual surly welcome that we knew we were somewhere different.
Singapore, which is both a city and a country, is unlike anywhere else in Southeast Asia—it's clean, efficient, and wealthy. Some say the island nation is boring; we say it's easy, and all travellers need easy from time to time.
During our first week in Singapore we found much to love about the city and we've returned many times since. Here are nine reasons to visit Singapore.
If you are looking for more practical tips, see our ultimate Singapore itinerary which will take you to all our highlights in three days.
Contents
1) It's Easy
After travelling around more hectic parts of the region, it's a relief to discover that Singapore is a very easy place to explore.
Although the population is a mix of Malay, Chinese, and Indian, the lingua franca is English so you'll always be understood.
Crime is low so you can carry your camera around at night without worrying. You can even drink the tap water.
The public transport system (MRT is most useful for visitors) is inexpensive, reliable and clean—enforced by a $500 fine for eating or drinking onboard. Arrows on the platform indicate where to stand aside while others disembark, and cute signs remind you that it's nice to offer your seat to someone who needs it.
Best of all, everything just works.
2) Green Spaces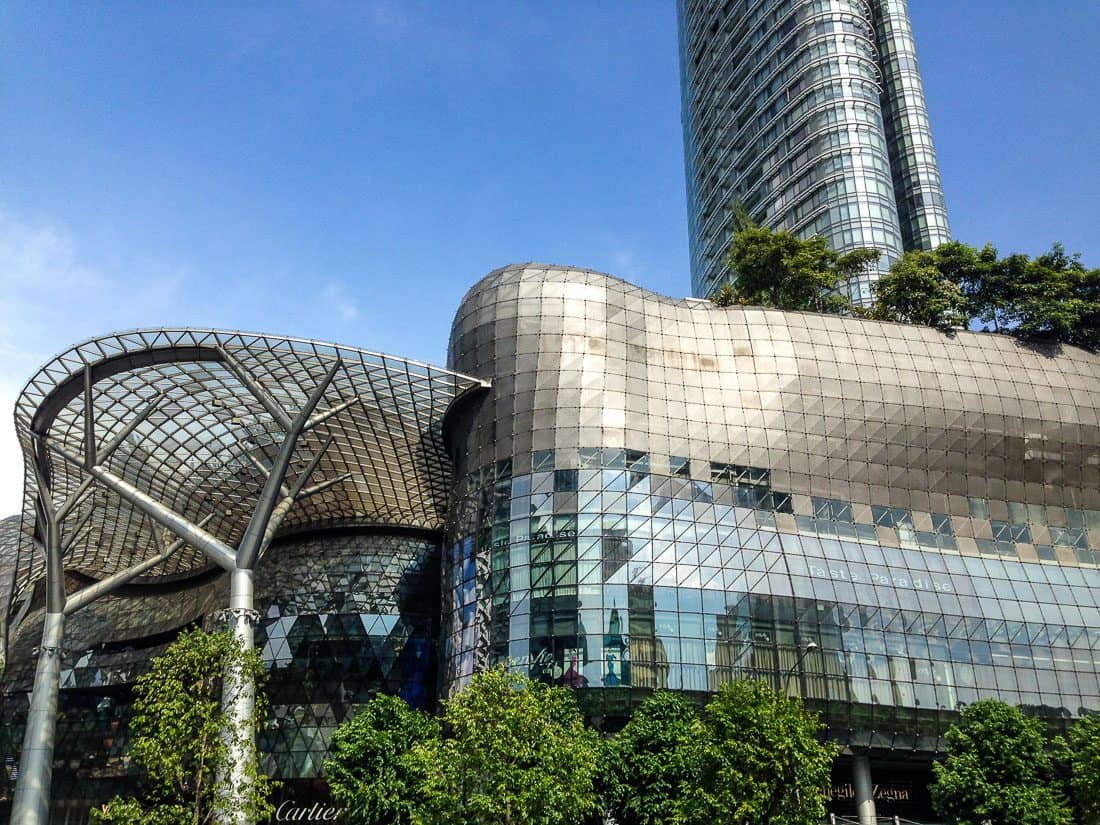 We were surprised by how green Singapore is, and it really lives up to its nickname of the Garden City. There are plenty of parks, streets are lined with huge trees, and downtown office buildings have gardens on their balconies and roofs. You can even go hiking in the rainforest in the state's nature reserves.
Finding a running route in a big city can be a challenge, but in Singapore I could easily avoid traffic and pedestrians by running along the Green Corridor—an old railway track that has been converted to a hidden park providing a quiet respite from the city.
I also like running in the huge Singapore Botanic Gardens and the riverside path at Marina Bay is another popular exercise spot.
Although Singapore is a densely developed city, there isn't a lot of traffic—it's practically empty compared to congested Bangkok. Locals have to pay a high price to register a car and the government has provided such an excellent public transport system that it's not really necessary.
Singapore is also much more environmentally friendly than the rest of Southeast Asia with recycling bins everywhere.
3) Gardens by the Bay
Gardens by the Bay is a green space spanning 101 hectares in the Marina Bay area.
The free outdoor gardens are a lovely place to wander (especially the Supertrees—see below) and it's also worth paying to visit the two climate controlled conservatories. The Flower Dome is a world of perpetual spring with European flower beds and African baobabs.
The Cloud Forest dome is even more spectacular with a waterfall pouring down from the mountain covered in lush vegetation.
As you climb up the plant life changes from what you'd find in the tropical highlands up to the misty cloud forest 2,000 metres above sea level. From the top there are also expansive views of the skyline including the Supertrees and Marina Bay Sands.
4) Supertrees
The Supertrees are part of Gardens by the Bay but we liked them so much that they deserve a section to themselves.
These unique trees are 25 to 50 metres high, with steel trunks covered in orchids, ferns and climbing tropical flowers, and large canopies stretching out like a network of veins. Many of the trees generate solar power and collect rainwater.
The Supertrees are best seen at night when they glow in bright changing colours. It's worth coming for the free Garden Rhapsody show at 7.45pm and 8.45pm every night, a magical and otherworldly music and light experience.
At the Supertrees we felt like we were in a city of the future.
5) Night Skyline
We're not night owls but Singapore enticed us out many nights with its stunning futuristic skyline that's best seen when the sun goes down.
Spectra is a free light and water show every night at 8pm and 9pm outside the Marina Bay Sands hotel. It's a cheesy montage of babies and flowers projected onto water, but it's fun, and worth coming to see the city light up.
You can get a different perspective by watching across the bay by the Merlion statue where you won't see the water show but can see the lights and lasers streaming out of the boat-shaped hotel.
We splurged on a cocktail at the CE LA VI bar at the top of Marina Bay Sands along with our friend Victoria of Bridges and Balloons. At $23 each they were pricey but delicious and definitely worth it for views of the sunset and the skyscrapers lighting up across the city.
We thought it was better value than paying the same just for the entrance fee to the SkyPark which was just below the bar and has a similar view (although we couldn't see the famous infinity pool).
The Singapore Flyer is another great place to view the city's skyline.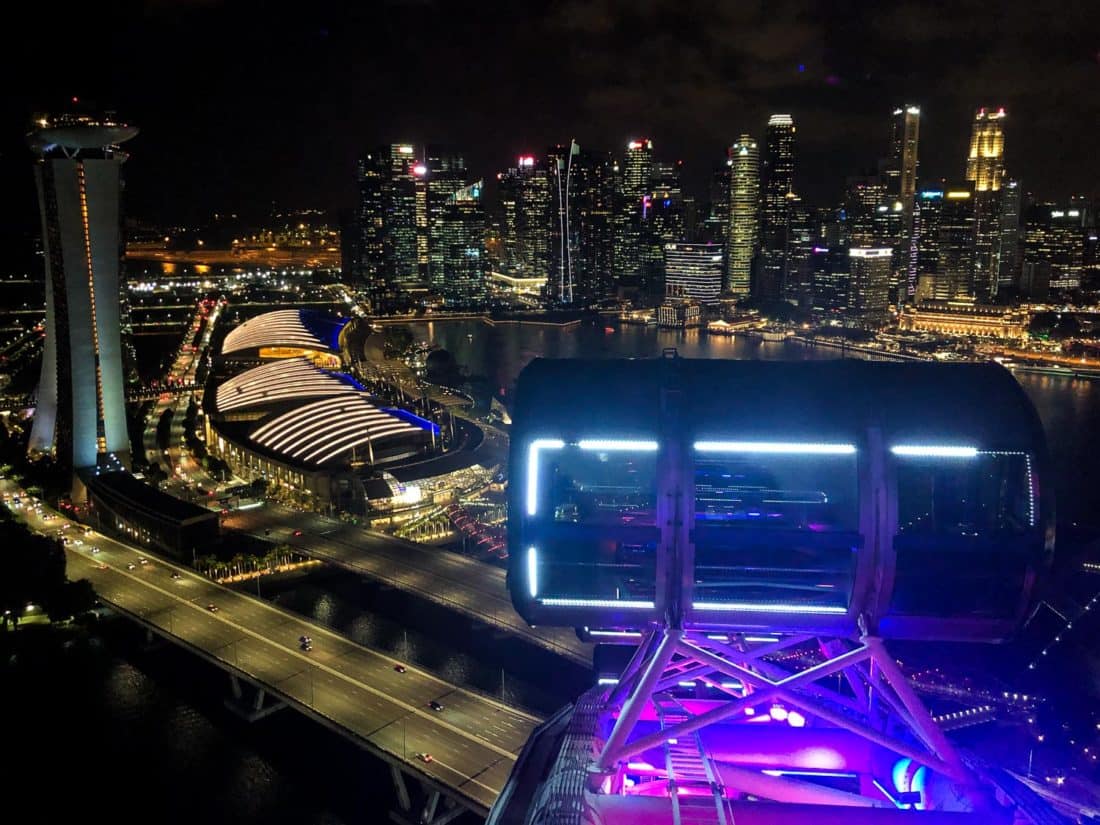 6) Variety of Architecture
Towering skyscrapers in the financial district; colonial hotels; wooden shuttered shophouses and mosques in Kampong Glam; colourful buildings and Hindu temples in Little India; Art Deco towers; the ultra-modern structures of Marina Bay.
Singapore has a diverse range of architecture and each neighbourhood has a completely different feel from the futuristic Marina Bay to the chaos and vibrance of Little India.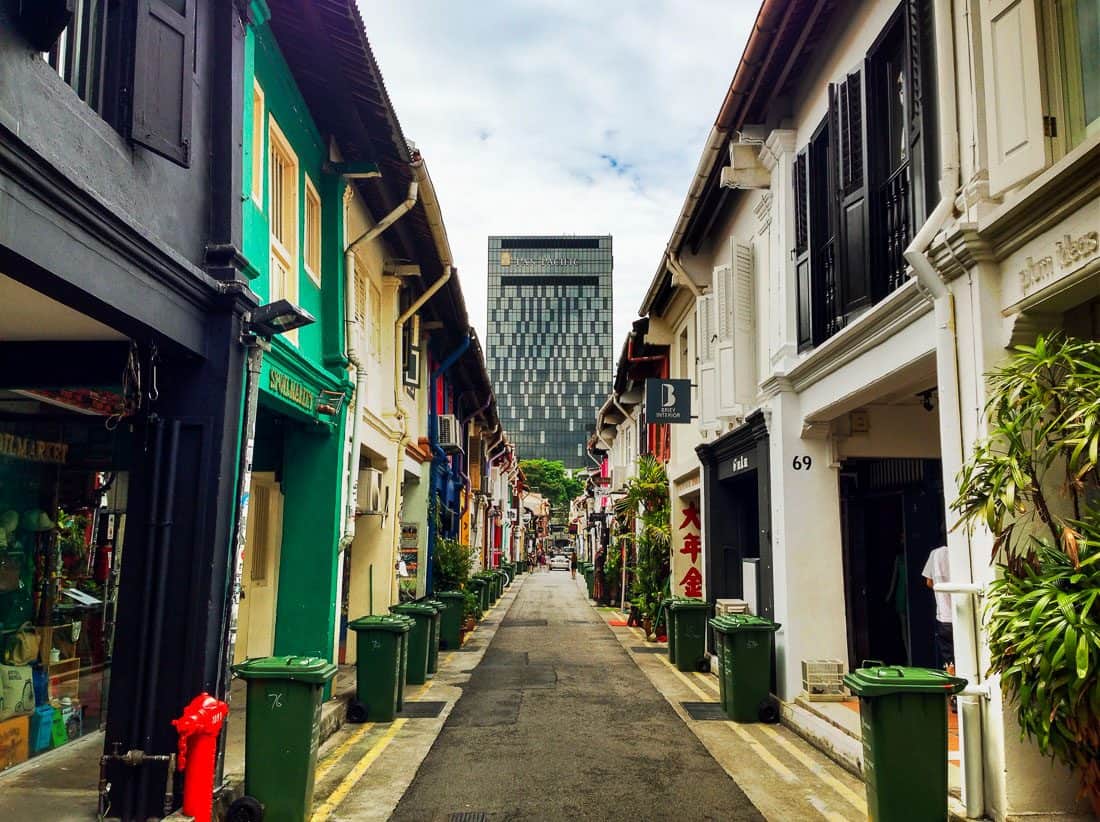 7) Food
Singaporeans love to eat and the cuisine on offer is a multicultural mix of Malay, Chinese, Indian, and Western food. Cheap eats are found at hawker centres and food courts all over the city, while high-quality restaurants are much more expensive.
There are hundreds of vegetarian restaurants in the city, mostly a mix of cheap Indian (yum) and fake-meat heavy Chinese (not so yum), but we also enjoyed gourmet Mediterranean vegetarian at Original Sin, authentic Italian-style pizzas, and fast-food veggie burgers.
Our most memorable meal was a home-cooked Gujurati feast with a local family that we booked using the With Locals website which connects travellers with locals offering unique experiences.
See this Singapore food guide for ideas of local dishes to try.
8) Universal Studios Singapore
Sentosa Island is Singapore's playground and we've had many days of fun at Universal Studios.
The different areas are well themed and appropriate film music provides a constant soundtrack to the day.
There are a wide variety of rides and attractions, including The Revenge of the Mummy, a fast roller coaster in the dark with some interesting twists, and Transformers, an intense 3D experience that Simon really enjoyed but which triggered my motion sickness. Jurassic Park is a fun water ride and Waterworld was an amazing live show with a lot of impressive stunts.
Book your Universal Studios Singapore tickets online at Voyagin for up to 20% off.
9) Changi Airport
Singapore has the best airport in the world. We flew out of Terminal 3 which has a butterfly garden, koi pond, free 24/7 movie theatre, free WiFi, comfy seating with convenient power sockets (including USB), and a real convenience store selling snacks at reasonable prices—we loved being able to buy large bottles of water to take on the plane.
If only every airport in the world was like this, air travel would be a lot more pleasant.
Summary
We didn't like everything about Singapore, of course. Except for certain things like transport and hawker centre food, it's expensive and the weather can be a challenge for exploring. It's constantly hot and humid and often cloudy or rainy (there's no seasonal variation throughout the year).
Despite this, we love Singapore, which isn't quite like any other city. The most difficult thing is moving on—it was only when we left that we realised just how well the city is run, and we'd grown used to everything working as it should. Everywhere else feels broken in comparison.
If you enjoyed this post, pin it!
This post was originally published in 2014 after our first visit to Singapore and was updated in 2019 after many subsequent visits.