This page contains affiliate links. Please read our disclosure for more info.
Every time we visit Singapore, a trip to Universal Studios Singapore is the one thing we always try to do.
I've been to this fun theme park on Sentosa Island four times now—with Erin as a couple, with my brother, and even with my whole family (aged from their 20s to 60s).
I love theme parks. I love eating ice cream to a dramatic film score soundtrack. I love walking through carefully constructed, exquisitely detailed scenes, imagining the hard work that a team of immensely creative people put in to make me feel like I'm in a 1920s-era, hyper-stylised New York.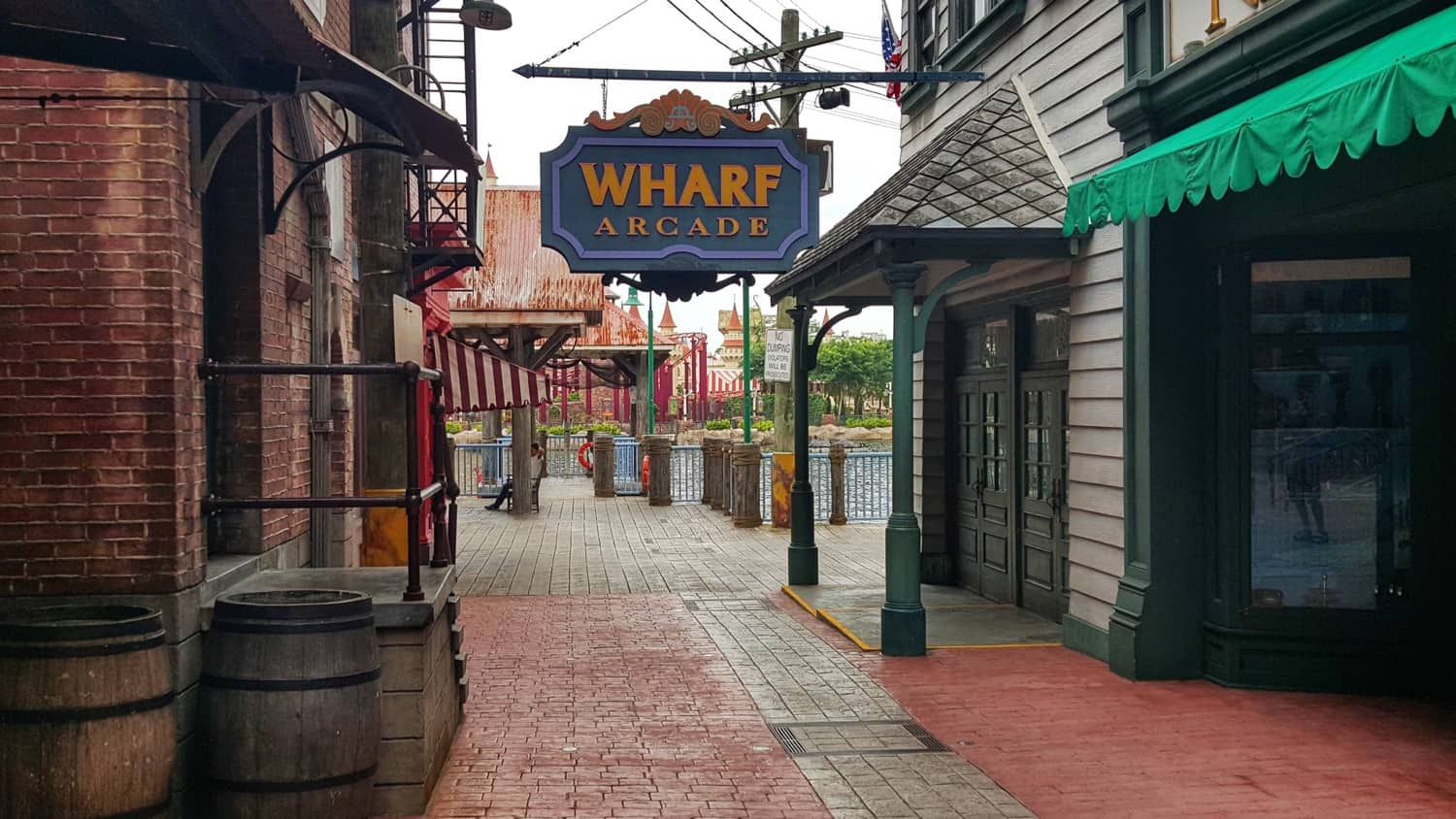 And, of course, I love the rides. While it's not a huge park, there are some fantastic rides at Universal Studios Singapore (USS) that I'm happy to ride again and again.
Universal Studios is easily accessible from the centre and well worth adding to your Singapore itinerary. The small size can be a relief in Singapore's heat as you can do all the main attractions by mid-afternoon and then retreat to your hotel pool.
In this post, we share the best Universal Studios Singapore rides and attractions for older kids and adults like us, who steadfastly refuse to grow up.
We also give tips on how to avoid queues, how to get there, the best place to buy tickets, where to eat, and much more to make the most of your day.
Contents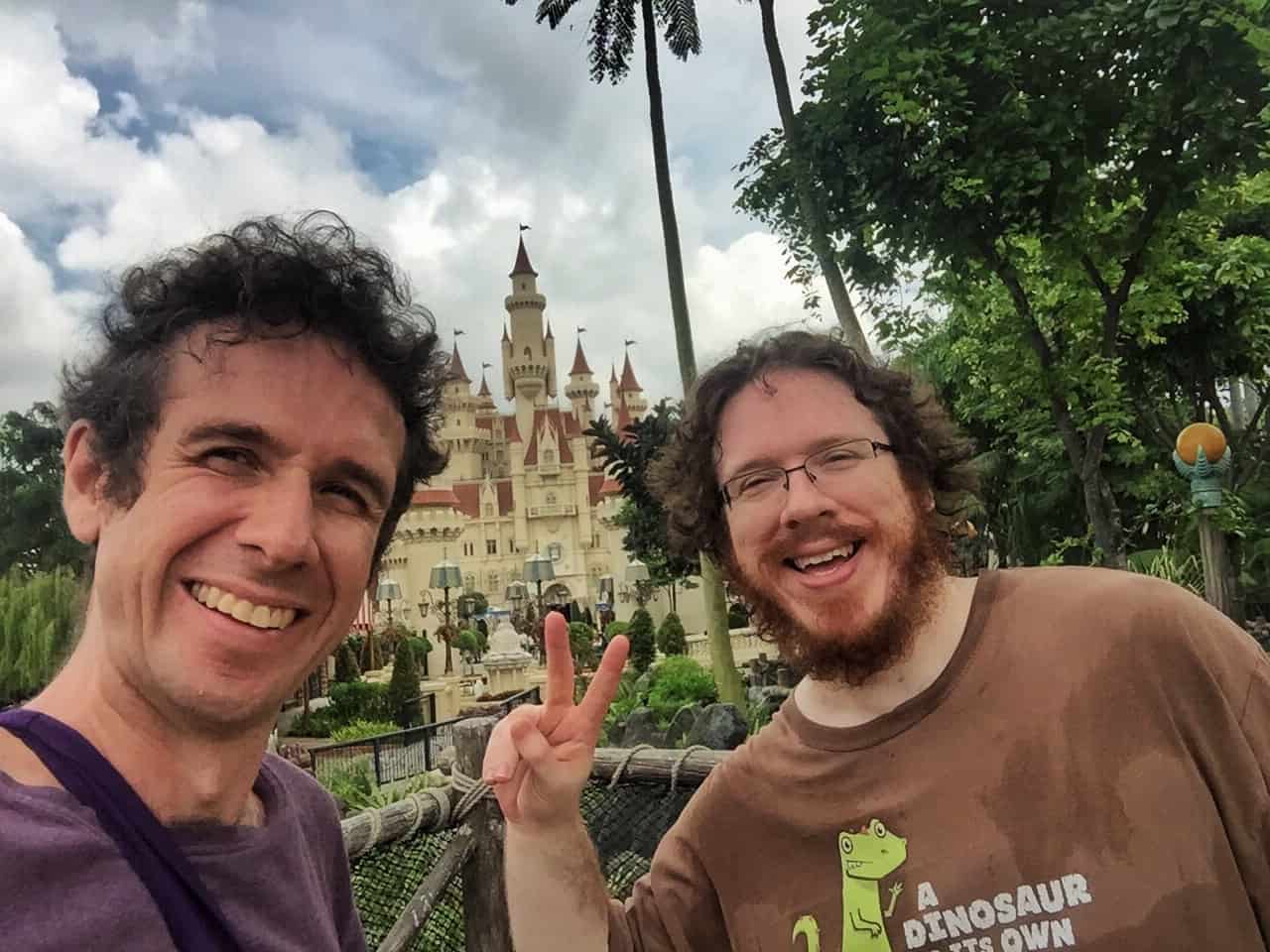 Top tip: We recommend buying tickets to Universal Studios Singapore in advance at Klook. It will save you time on the day and is often cheaper. Click here for current prices.
Top Universal Studios Singapore Rides and Attractions
1) Battlestar Galactica: Human vs Cylon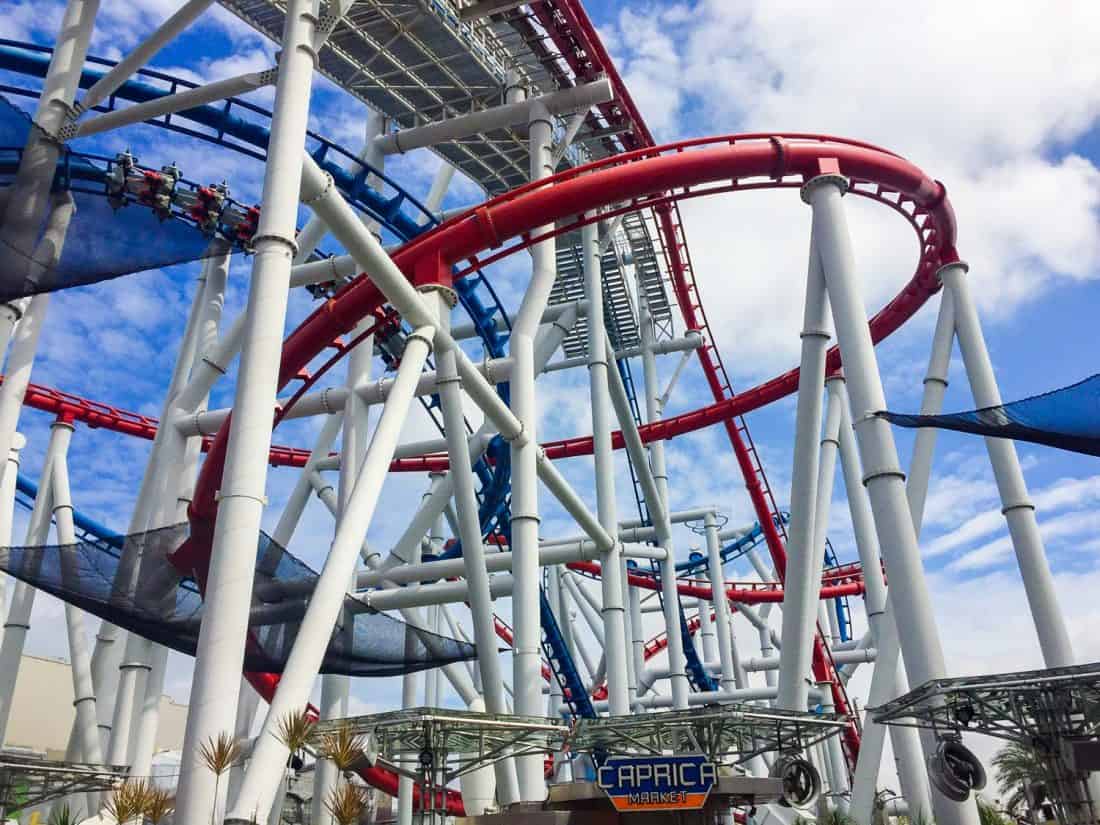 Battlestar Galactica is two rides in one and is not to be missed if you enjoy rollercoasters. We usually start our day here when queues are short.
This duelling coaster features a blue inverted coaster representing the Cylons and the seated red coaster representing the Humans. If you don't like going upside down, stick with Humans.
The Cylon coaster is my favourite ride at Universal Singapore—it has multiple inversions including a cool loop that takes you below ground level through a thick mist.
The Human coaster has no inversions, instead delivering its not-insignificant excitement through speed, quick stomach-lurching drops, and tight turns. It's still a lot of fun and both are worth riding.
Both coasters require you to put all of your stuff in a nearby locker (and I mean everything), which is free for the first 45 minutes.
And when they say require, they are serious—staff members stand at the head of the line and are armed with hand-held metal detectors to detect wallets and phones that you may not have put away.
Transformers is the most popular ride after park opening, so we usually head straight to Battlestar—on our latest visit both coasters only had a 5-minute wait.
2) Transformers: The Ride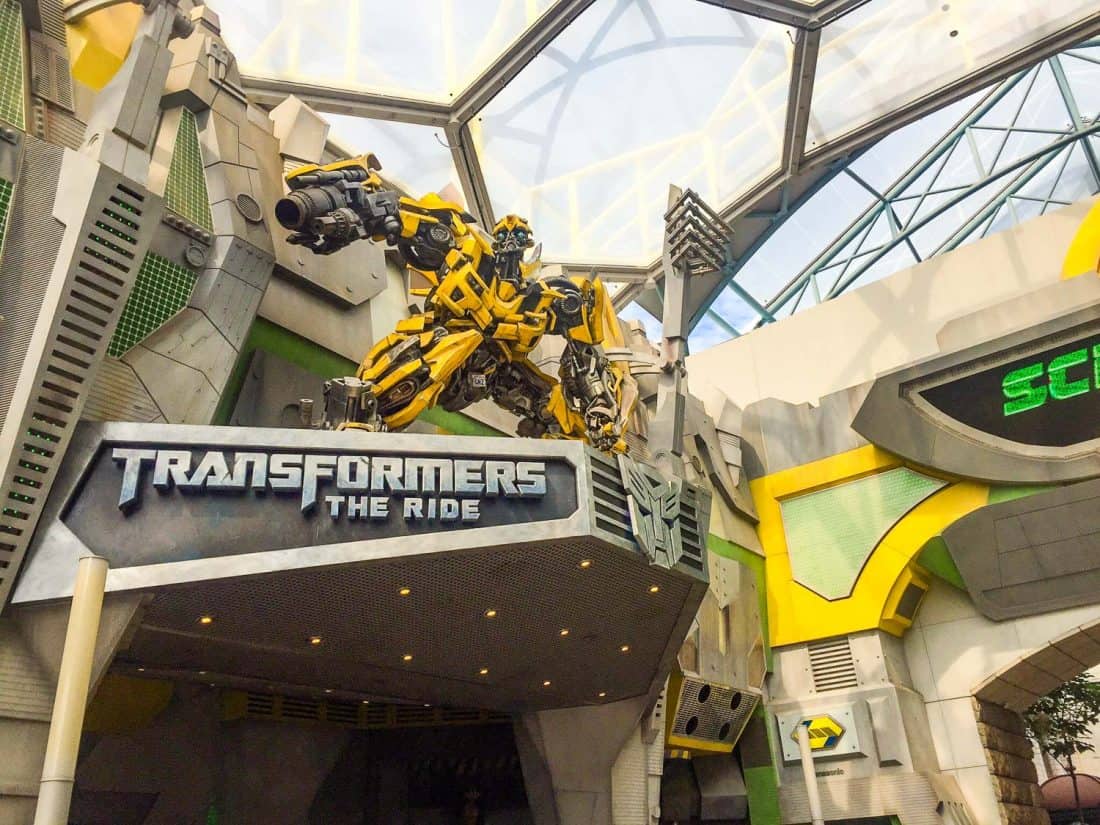 Transformers is a 3D ride where you don glasses and sit in a cart that flings you around in time to the action on the screens, and it is incredibly effective.
Zooming down city streets chased by giant fighting robots is as dramatic and exciting as it sounds. The ride gets you as close to being in the movie (assuming you'd want to be in a Transformers movie) as you're ever likely to get.
Unfortunately, if you are prone to motion sickness, then this one is very likely to set it off. For everyone else, it's an incredibly thrilling next-generation ride.
This is the park's busiest ride in the morning, so we usually wait until mid-afternoon to ride it. A 120-minute wait at 11 am can turn into a 10-minute wait at 3 pm.
3) Revenge of the Mummy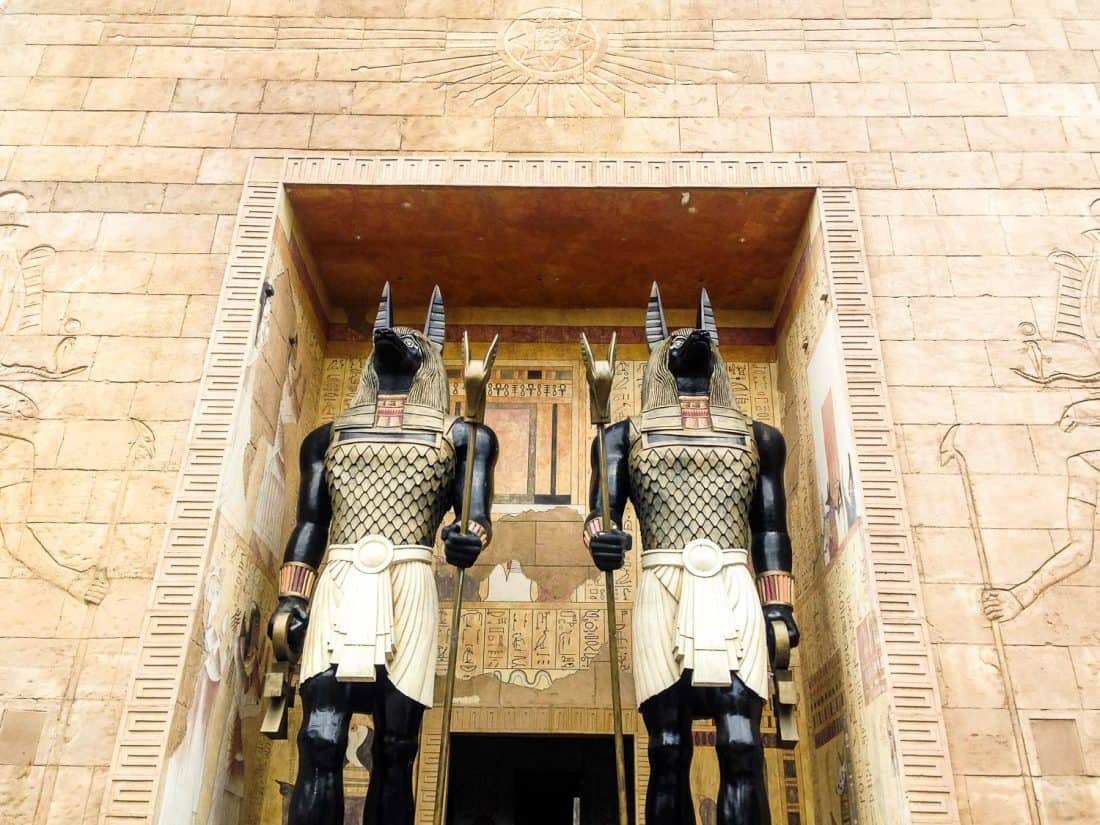 In a similar vein to Transformers but without the 3D glasses, on Revenge of the Mummy you set off in your jeep through an ancient Egyptian tomb in search of The Book of the Living.
You travel through various scenes (with some fun surprises) before being thrown onto a surprisingly intense roller coaster in the dark.
I always forget what a fantastic ride Revenge of the Mummy is—it's a fun mix of roller coaster, haunted house, and multimedia adventure.
The queues aren't usually long in the morning (we only waited five minutes and rode it twice), but it's best to make it your second stop after Battlestar Galactica as they do increase in the afternoon.
This one also requires lockers (again, free for the first 45 minutes), but they're not as strict as for Battlestar.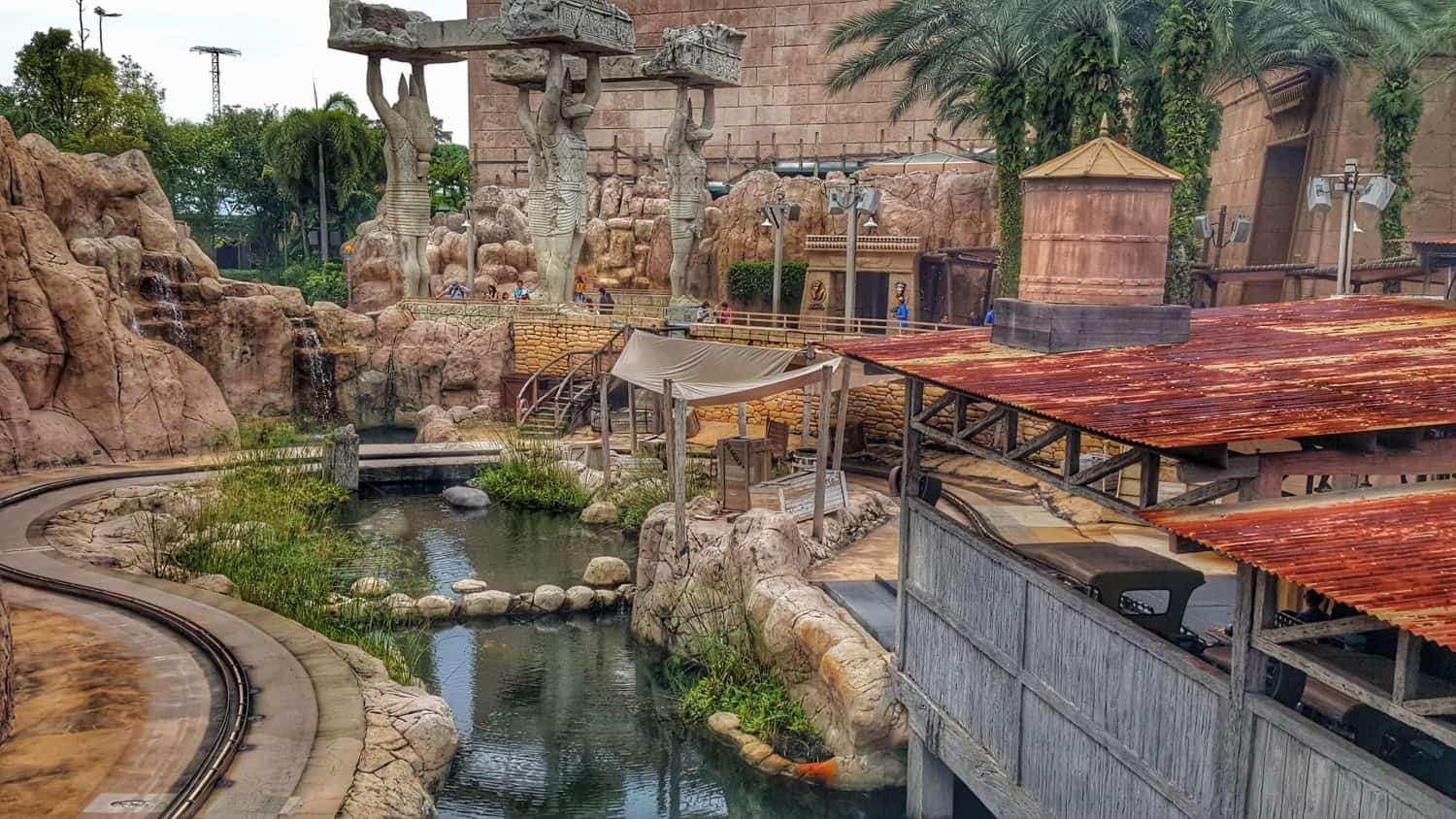 4) Jurassic Park Rapids Adventure
A river rafting adventure through the world of Jurassic Park, this one is a guaranteed soaking and includes an impressive waterfall drop and plenty of splashing river rapids.
Lockers are available nearby and they're not free for any amount of time (unlike Ancient Egypt and Battlestar), but unless you bring a dry bag for your valuables, you'll want to use them.
If you find yourself uncomfortably drenched afterwards, there are drying pods available to blow dry you for S$5.
It's best to wear quick drying clothes when you visit Universal (especially given Singapore's often rainy climate) so you can dry off quickly after this ride. Our companions who wore denim shorts were uncomfortable for quite a while.
5) Waterworld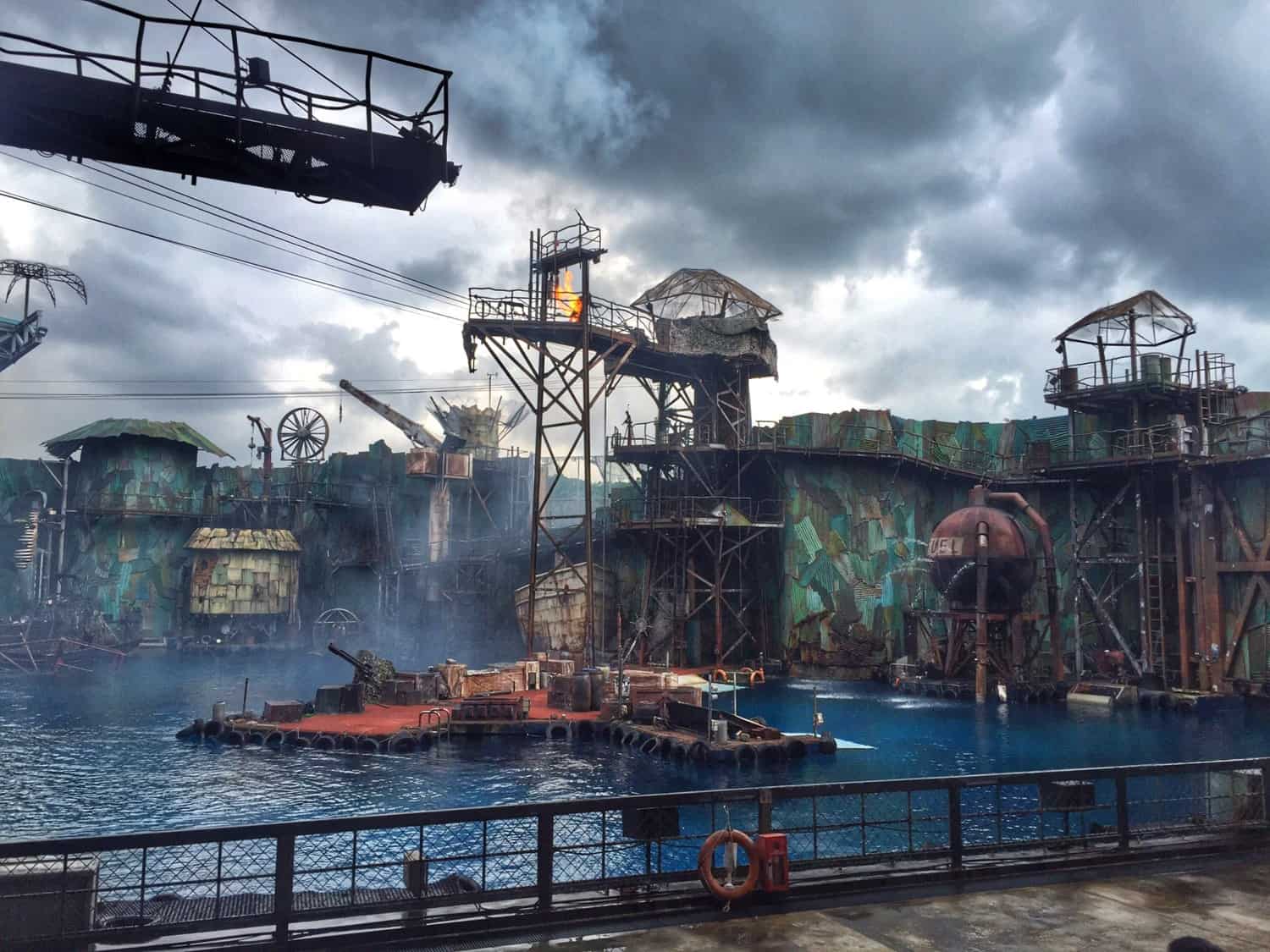 Waterworld is temporarily suspended. Check the USS website for the latest updates.
The Waterworld stunt show is set in a specially constructed theatre and is an absolute delight.
The performers are fully committed to their roles, providing slapstick entertainment before the show begins and breathtaking stunts throughout.
Multiple three storey drops, jet ski chases, explosions, and dramatic fights on narrow catwalks are thrilling to behold.
There are usually a few shows in the afternoon and it's definitely worth scheduling in one of them. Pick up a map with show times as you enter through the ticket gates.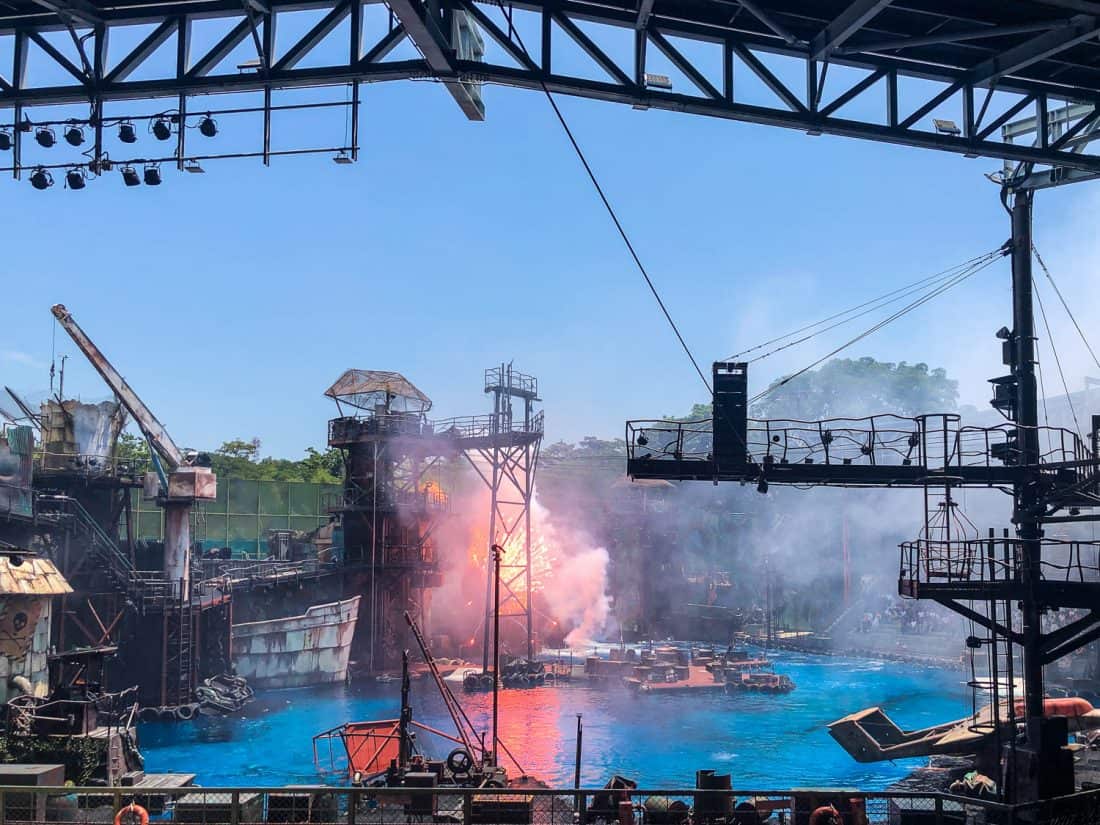 6) Shrek 4-D Adventure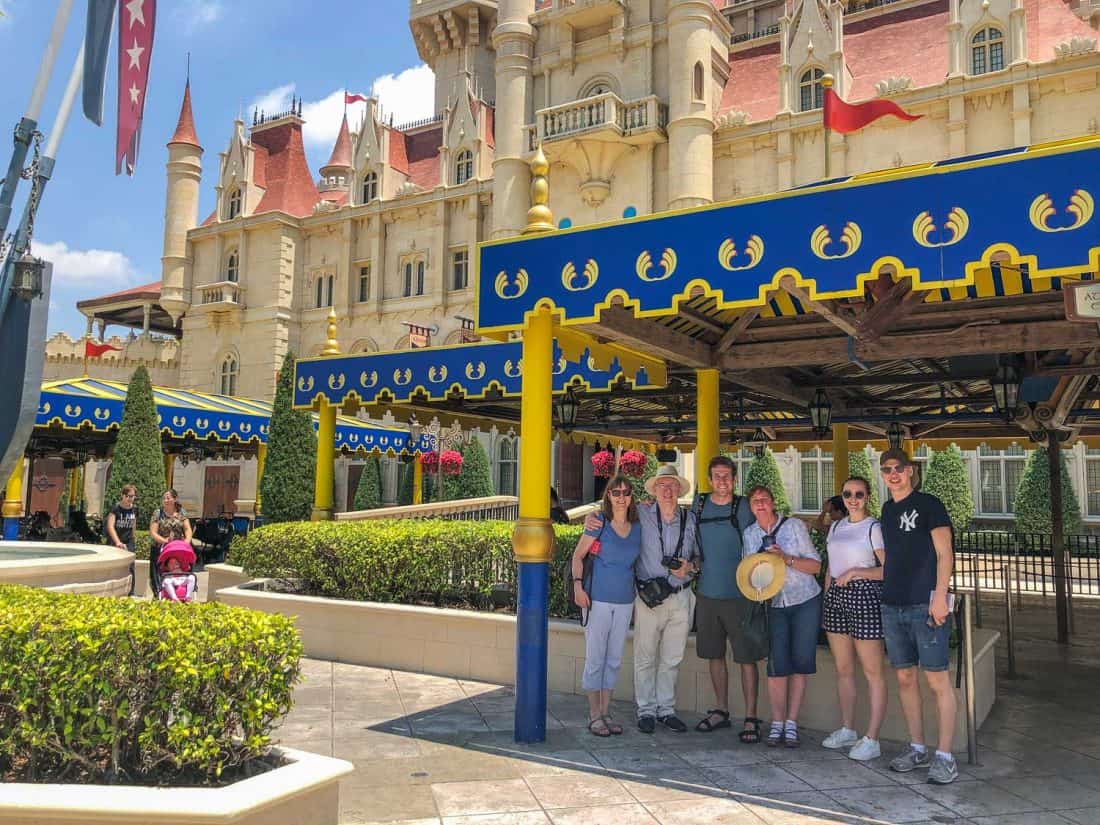 The Shrek 4-D Adventure show plays continuously throughout the day and the queues aren't usually long.
In the 4-D theatre, you join Princess Fiona, Shrek and Donkey on a honeymoon adventure that picks up where the Shrek movie left off.
You wear 3-D glasses and are immersed in the adventure as your seat bumps and bounces along with the action and you feel air blasts and water spray.
If you are pregnant or have back issues, you can ask the staff for a non-moving seat.
Note that the pre-show and show are quite long, so allow about 30 minutes if you are trying to fit it in before Waterworld as we did.
7) If You Have More Time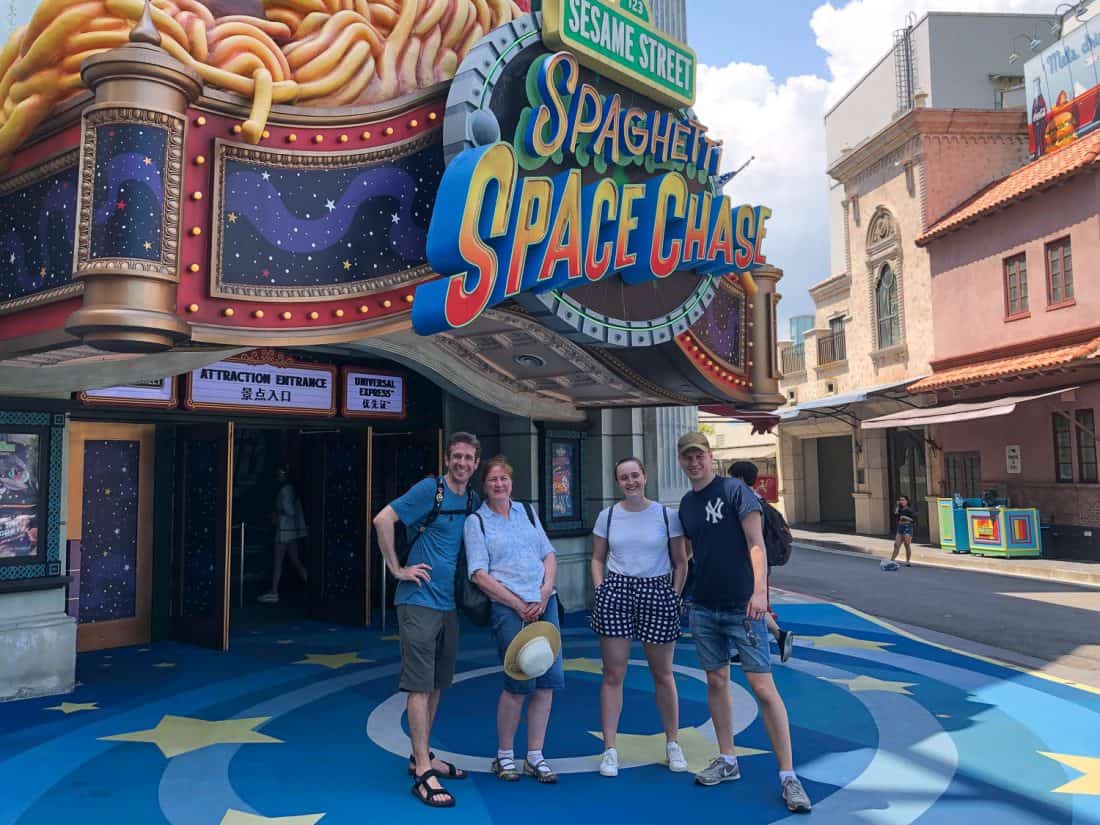 Here are some other Universal Studios Singapore rides and shows that are worth doing if you have extra time:
Lights, Camera, Action – Steven Spielberg hosts this movie special effects show where an empty soundstage is transformed by a hurricane about to hit New York City.
Street Performers – While you are strolling the park take the time to stop and watch some of the street entertainers. New York has the most options including break dancers, tap dancers, and pop-rock music.
Canopy Flyer – A gentle aerial ride with great views over Jurassic Park. The queue is usually long for this and it didn't seem worth the wait.
Puss in Boots Giant Journey – A suspended family rollercoaster atop a giant beanstalk with anti-gravity sensations. For adults looking for thrill rides, it's probably not worth the often long queues but if the wait is short, try it.
Enchanted Airways – Another gentle family rollercoaster that gets busy.
Sesame Street Spaghetti Space Chase – A cute indoor kids ride that's worth a go if you need a break from the sun and the queue is short.
Parade and Fireworks – These only happen on certain days (usually Fridays and Saturdays) so check the park map when you arrive. Temporarily suspended.
Note: There is no Harry Potter World at Universal Singapore—for that you'll need to visit Universal Studios Japan in Osaka or Universal in Orlando (see our guides to the best rides at Islands of Adventure and best rides at Universal Studios Florida) or Hollywood in the USA.
Universal Studios Singapore Ticket Prices
One day Universal Studios Singapore tickets for non-residents cost from S$82 (US$61) for adults and S$62 (US$46) for 4–12-year-olds.
How to get buy discounted tickets
We highly recommend buying your e-ticket in advance from Klook which is often cheaper than the standard ticket price and allows you to avoid the queues. Just show your ticket on your phone to enter. Get your tickets from Klook here.
Express passes
Express passes are available to give you access to the priority express queues and are worth considering on weekends and holidays. These cost an extra fee in addition to your entrance ticket and can be purchased with your ticket at Klook.
Express passes are priced dynamically depending on the date and start at S$52 (US$39) for one use per ride or S$82 (US$61) for unlimited uses per ride. You can't use an express pass on Canopy Flyer but you can on most other rides mentioned here.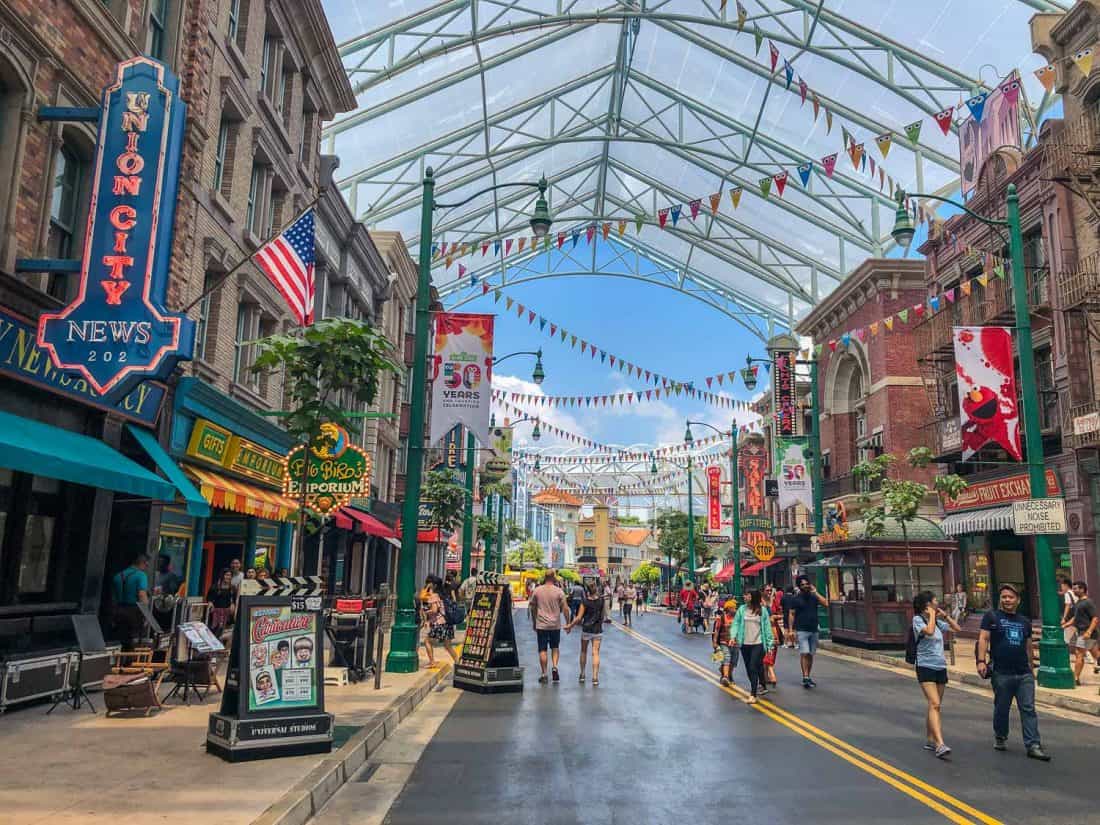 Universal Studios Singapore Opening Hours
Universal Studios Singapore usually opens at 10am or 11am and closing times vary from 6 pm to 10 pm. Check the Universal calendar.
I recommend arriving at least 20 minutes before opening time for the best chance of getting on the popular rides quickly. They sometimes open the park gates five minutes before the official opening.
How to Avoid Long Queues at Universal Singapore
We hate queueing and never wait more than 15-20 minutes for a ride, even though ride wait times can get up to two hours or more at Universal Singapore. Use these tips to avoid long queues:
Visit on a weekday
Friday and Saturday are peak days at Universal (I'd also avoid Sundays) so try to visit from Monday to Thursday. Also avoid any national holidays.
Arrive early
Make sure you arrive before the park officially opens. If you are one of the first in the park, you should be able to ride multiple popular rides without queuing more than 5-10 minutes.
Ride the most popular attractions first (except Transformers)
This is the order of rides we did on our last visit and we avoided any long waits:
Battlestar Galactica Human
Battlestar Galactica Cylon
Revenge of the Mummy x 2
Jurassic Park Rapids Adventure
Lunch break
Shrek 4-D
Waterworld
Transformers – Only a 5 minute wait at 2.30pm while everything else was much longer by then.
If you can't do that, buy an express pass
Express passes allow you to skip the queues so they are worth considering if you have to visit on a peak day or can't arrive early.
See the ticket price section above for more details. We've never needed one by following the rules above.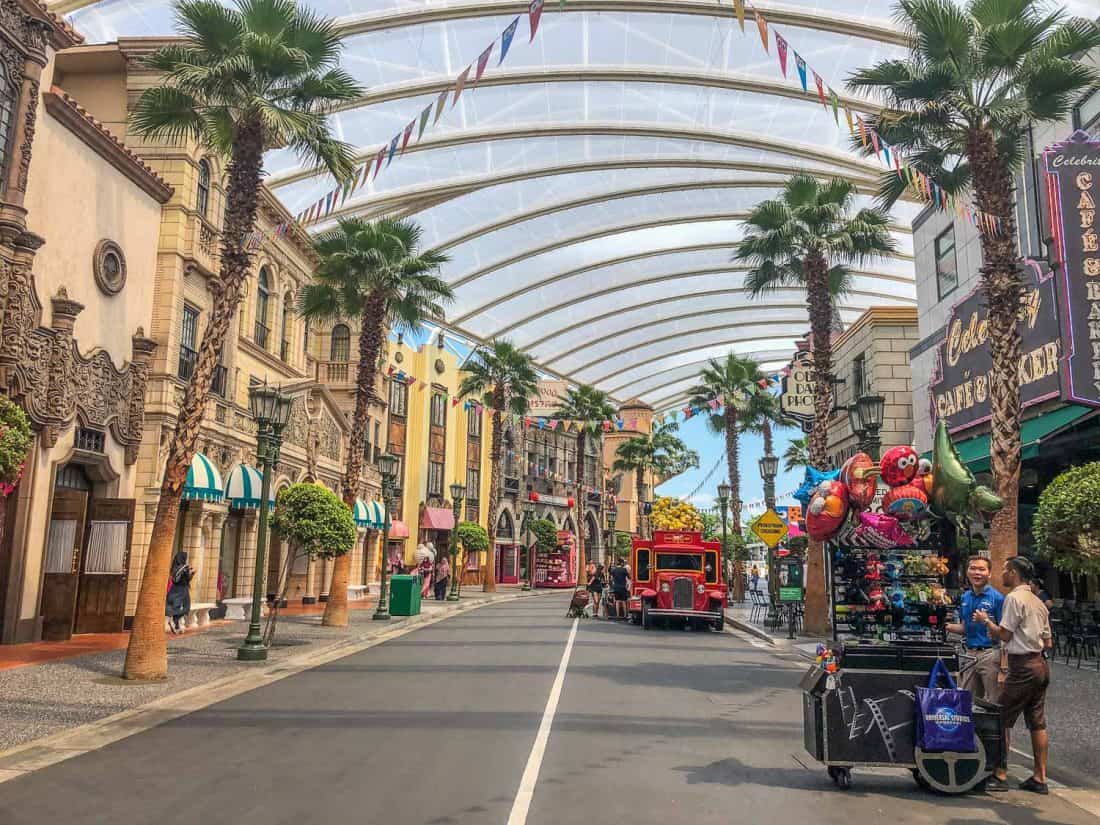 How to Get to Universal Studios Singapore
By MRT and monorail
Singapore is easy to get around by public transport and Universal is no exception.
The efficient MRT goes to HarbourFront Station, and from there you can get the Sentosa Express monorail to Waterfront station, which is a short walk from the park.
The monorail is a little more expensive than standard MRT rides (S$5 return), but you can use your MRT card to get straight on.
By MRT and cable car
To enjoy the view, you can take the cable car to Sentosa Island—follow the signs in the HarbourFront MRT Station, take the cable car to Imbiah station, then take the Sentosa Express monorail one stop to Waterfront station.
By MRT and on foot
Alternatively, you can walk the 25 minutes across to Sentosa Island but given how hot and humid Singapore is, you might find yourself wishing you'd paid the S$5.
By taxi
If you are in a group, it might work out easier and almost as cheap to take a taxi.
On our last visit, we paid about S$20 using the Grab taxi app from the Orchard area (with morning surge pricing) and about S$15 back taking a taxi from the basement of the parking lot of the casino just outside the park.
See the RW Sentosa website for more transport details.
Hotels Near Universal Studios Singapore
Sentosa Island is the nearest place to stay—Hotel Michael and Hard Rock Hotel are within easy walking distance of Universal. The bonus of staying nearby is being able to take a break during the hottest part of the day, but hotels here aren't cheap.
For a central location for other Singapore sights, stay in Bugis. Andaz Singapore is our favourite place to stay in Singapore with stylish rooms and amazing views from the infinity pool and rooftop bar. It's right above Bugis MRT station and takes about 30 minutes to get to Universal, but it's walkable to many other sights.
If you want to combine a Universal trip with shopping, then stay on Orchard Road. We loved our stay at Treetops Executive Residences for the comfortable apartments (great for families) and beautiful pool. It's about a 20-minute taxi ride from Universal or you can take the MRT.
If you are on a budget, stay in Chinatown and take the MRT to Universal (it should take about 30 minutes). The Bohemian Chic is a well-reviewed, stylish hostel and Hotel Mono has attractive ensuite double rooms.
We recommend Booking.com for finding a hotel in Singapore. The prices are great, it's easy to use, there are no hidden fees, and there's often free cancellation.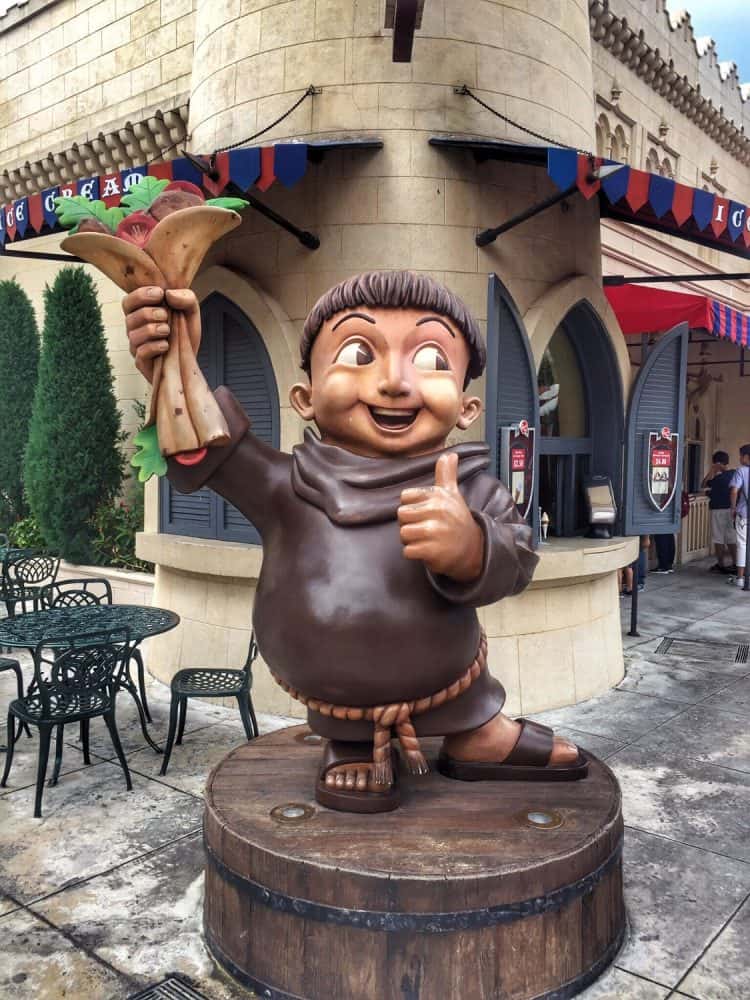 Food At Universal Singapore
Technically you are not allowed to bring food and drink into Universal but our bag was not searched. There are water fountains throughout the park so you can refill bottles.
There are plenty of food stands and restaurants in the park offering a mix of Asian and Western fast food.
Vegetarian and halal options are available (and are marked on the park map) and there is a Starbucks in Hollywood.
Here are a few options:
Loui's NY Pizza Parlor in New York – Decent pizza slices (S$11), vegetarian pasta (S$14), and ice cream sundaes.
Discovery Food Court in The Lost World – Singaporean classics like satay and chicken rice. For vegetarians there's a vegetarian noodle soup (S$13) that's nothing special but it's healthier than the usual fast food. They also have potato wedges. Currently closed.
Oasis Spice Cafe – We wished we'd seen this Indian place before we ate because the vegetarian biryani with two curries (S$15) sounded good.
The following eateries are also marked as having vegetarian options: Marty's Casa del Wild Food Court, Friar's, StarBot Cafe and KT's Grill.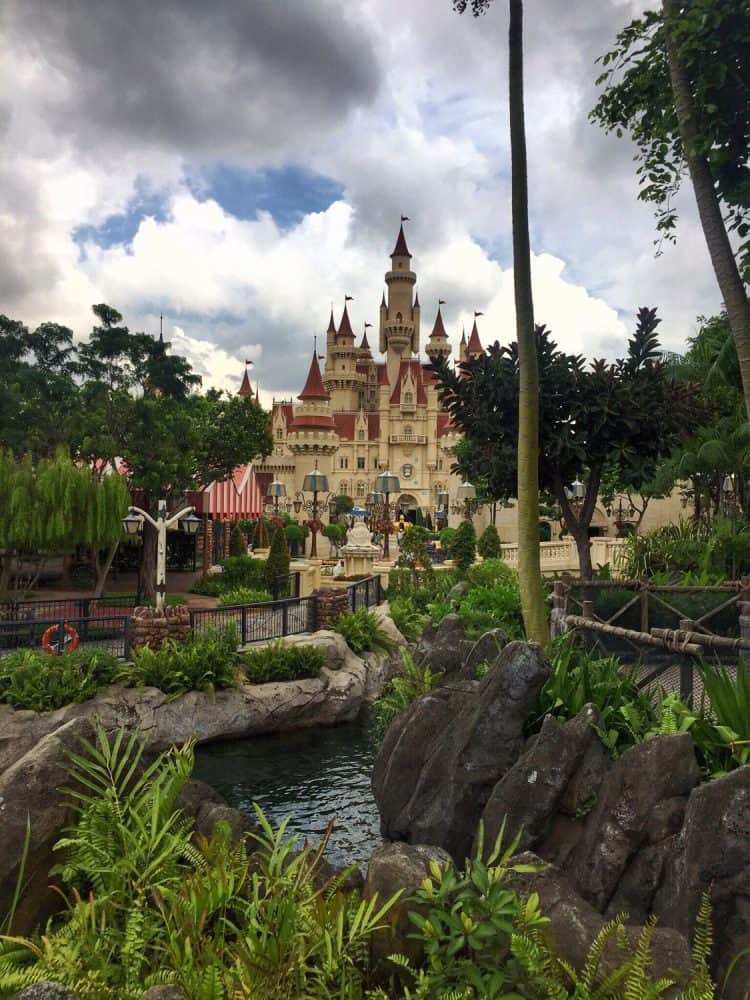 Is Universal Studios Singapore Worth it?
Although it's not the largest theme park, Universal Studios Singapore packs a lot in, and there is plenty to keep die-hard thrill-seekers occupied for a day. It's well worth a visit.
All of the rides above can easily stand multiple visits, and wandering around wonderfully crafted themed worlds past bright and cheerful characters can't help but bring out the joyful child in all but the most hard-hearted of cynics.
If you're looking for other Singapore activities, see our recommended 3 day Singapore itinerary.
More Universal Fun
We also highly recommend Universal Studios Japan in Osaka—it's much bigger than Universal Singapore and has different rides including the brilliant Harry Potter World and the scariest rollercoaster we've ever been on.
Universal Studios Florida is even bigger with two parks to enjoy including the amazing Islands of Adventure with the unique Hagrid's Motorbike Adventure.
If you enjoyed this post, pin it!