This page contains affiliate links. Please read our disclosure for more info.
We have a confession: the only tours we really enjoy on our travels are food tours. History just doesn't interest us that much, but give us a day eating our way around a new city and we're in heaven. This was especially true in Istanbul where food was a major focus of our trip. The churches, palaces and mosques didn't excite us as much as the alluring food shops with piles of spices and nuts, the vibrant markets, and the endless plates of vegetarian-friendly meze.
Our Turkish cooking class wasn't enough; we wanted to learn even more about the cuisine, discover what we could eat as vegetarians, and sample the city's delights. We signed up for a food walk with Turkish Flavours that took us to two markets, one on the European side of Istanbul, and one on the Asian side, ending with an epic multi-course tasting menu at one of the city's best restaurants.
Spice Bazaar, Europe
We followed our noses to the meeting point, the heady scent hitting us as soon as we stepped into the Spice Bazaar, sweet and spicy all at once. Mısır Çarşısı is one of Istanbul's most famous and oldest markets, dating back 400 years. Just as it did then the rent from the stalls goes towards the upkeep of Yeni Cami, the "new" mosque next door.
Turkish Flavours was founded by Selin Rozanes in 2007, and she was one of the first to run cooking classes and food tours before they were a popular thing for tourists to do. Since then they have grown and grown in popularity and Selin now focuses on the cooking classes in her apartment and for the last four years Taciser (Taci) has run the market tours.
There were just four of us on the tour that day and we set off with Taci to explore the market just outside the Spice Bazaar where locals shop for produce. We dove right in to the tastings with a few typical ingredients of a Turkish breakfast—olives, feta-like white cheese, and a fresh cheese like a long stringy mozzarella, mild and creamy.
We wandered amongst the stalls, Taci pointing out typical Turkish ingredients—vine leaves soaking in brine, dried peppers and aubergines dangling on strings like garlands, concentrated pepper pastes, and piles of spices, nuts and dried fruit.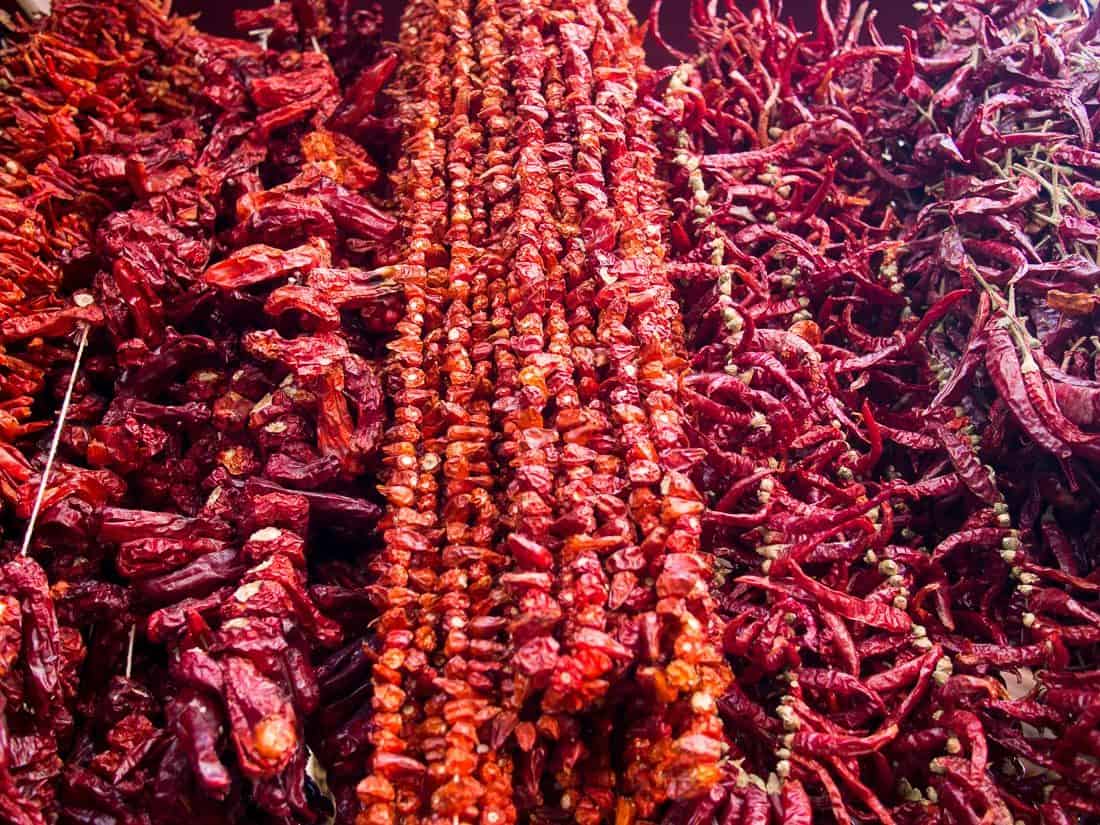 We delved deeper into the busy narrow lanes of Tahtakale, leaving tourists behind as we browsed alongside locals shopping for all kinds of household supplies: baskets, wooden spoons, saucepans, small bronze Turkish coffee pots, and double stacked tea pots, while Taci tells us how these important beverages are made.
There are plenty of food stalls amongst the utensils. We try pide, a boat shaped Turkish pizza topped with cheese and a sprinkle of pul biber red pepper flakes; drink glasses of freshly squeezed orange juice; and indulge at the sweet shop. We've all tried baklava before so Taci is keen for us to sample her favourite sweet dolama, green pistachio paste in one layer of baklava pastry. We preferred it as it's less sweet than the traditional syrup-drenched baklava which, despite our best efforts, we don't really like.
Taci was very generous with the tastings and was happy for us to try anything we were interested in. When we asked about tulumba, fried dough in syrup, she bought some for us and our blood sugar level rose even more. Taci's only concern was not filling us up too quickly as we had many more treats ahead of us.
Taci was the perfect food tour guide. She's warm, bubbly, and lots of fun to spend the day with. She has a passion for food (she used to run her family's market), has developed good relationships with the vendors, and is very much at home in the shops, helping herself to things for us to try.
We made our way back through the alleyways to inside the Spice Bazaar. It's a definite tourist attraction but that doesn't make it any less a foodie heaven with intoxicating aromatic displays of colourful spices, herbal teas, dried fruit, and sugar coated cubes of lokum (turkish delight). The advantage of having an expert local guide was being able to skip the dodgy stalls selling imitation Turkish saffron and head to the quality vendors who've run stalls here for generations.
The first shop specialised in the dried fruit and nuts that Turkey does so well. Taci had free rein to fill us with deliciousness and we sampled dried white mulberries, roasted apricot kernels (surprisingly delicious), roasted chickpeas, and some of the interesting things that Turks do with dried fruit—mulberry paste made into a sausage shape and stuffed with walnuts, thin rubbery sheets called fruit leather, and a long string of grape molasses with chunks of walnut inside.
The spice shop was next where we met the young owner Bilge, the fifth generation of her family to run the shop. Along with the customary small glass of Turkish tea, she gave us a card to use for the spice tasting where we could rate which ones we liked best. We worked our way through the different spice blends such as our favourite Ottoman, a spicy mix of saffron, red chile flakes, marjoram and thyme which Bilge recommends for any tomato based dish (they can also email you recipes). We ended up buying a few and as our supply dwindles we wish we'd bought even more.
We tasted and smelt our way around the beautiful sensory shop. We wanted it all: teas made from dried flowers, juicy sundried apricots, salty pistachios, essential oils, and honey based turkish delight. The crunchy chocolate pomegranate pistachio turkish delight is like crack and we went back for more a few days later. It's not traditional but when it's this good who cares?
I was a bit dubious about the spice shop at first. A tour group had just left when we arrived and it is obviously well set up for tourists, but we loved the spice tasting experience and the quality of the produce is high and ultimately that's what matters.
Kadıköy Market, Asia
We left Europe behind and took the ferry across the Bosphorus to the Asian side of Istanbul, sailing past the city's iconic sights: Topkapı palace, Hagia Sophia, and the Blue Mosque. It only took 15 minutes to reach another continent and I can't say we noticed a difference on the other side, although there are less tourists.
The historic Kadıköy market is a mix of stalls and shops, many that have been run by the same families for generations. We had visited the market the day before on our cooking class but we were more than happy to be back, and as a testament to how much there is to offer we didn't visit the same shop twice.
Fried mussels were the first tasting, and the only one the entire day we skipped. The food tour is wonderful for vegetarians and not eating meat wasn't a problem for us at all.
Next we visited an old fashioned sweet shop that dates back to 1807. Jars of colourful boiled sweets adorned the counter and the cabinets contained intriguing sugary treats. We sampled pistachio lokum (turkish delight) and some marzipan-like summer halva. Taci also picked up a few things for our lunch dessert.
The food shops in Istanbul are gorgeous and make me eager to cook. We wandered in and out of various shops trying typical Turkish ingredients like pepper paste, pomegranate molasses (a popular salad dressing), candy-like dates, and lemony rice stuffed vine leaves from a shop full of meze (small plates eaten as starters). Vendors sell linden tea, olive oil soaps, whole honeycombs, and vibrant olives soaked in beet water to colour them red. You can order as much of anything you like here as bulgur, rice, lentils, spices, nuts, and teas are sold in sacks, everything out in orderly displays.
Ciya Restaurant
The grand finale to a morning of eating was an epic 20+ dish tasting menu at Ciya, one of Istanbul's best restaurants serving traditional Anatolian food including unusual home-cooked dishes that are hard to find in restaurants.
Bread is an essential at every Turkish meal so we began there—watching the chefs roll out the dough for our lavash bread and seeing it puffing up hugely in the oven.
Then we ate…
(and this is just some of the dishes we enjoyed).
Somehow we still (barely) had room for dessert. We had white mulberries that Taci had picked up from the market; halva with pistachio which was lovely, creamy and crumbly and not too sweet; kunefe, a mix of shredded wheat, fresh cheese and syrup, we found the mix of cheese and sweet too strange; and some candied sweets from the sweet shop we'd visited earlier along with some kaymak or clotted cream. These were very unusual including candied walnut shell that was surprisingly not nutty or hard, pumpkin, orange peel, and green olive which wasn't sweet but like a milder olive.
Dessert may not have been our favourite part of the meal but it certainly was interesting.
It was the best meal we had in a month of foodie exploration in Turkey. The food tour was a unique opportunity to experience a tasting menu at one of the city's best restaurants. We never would have been able to try so many dishes by ourselves, and would have had no idea what to order.
Despite being full after five hours of eating I was disappointed when the tour came to the end. I could have spent all week with Taci wandering around the markets, eating street food, trying new dishes, absorbing her knowledge and learning about Turkish culture along the way. We think there's no better way to learn about a place than through its food.
There's more to Istanbul than the Hagia Sophia and Blue Mosque, and for us eating our way around the city was much more enjoyable than the tourist sights.
The Turkish Flavours Market Tour costs USD $145 per person and runs from 9.30am to 2.30pm. It includes ferry fares, many tastings, and the epic multi course lunch at Çiya restaurant.
Many thanks to Turkish Flavours who hosted us on the market tour.