This page contains affiliate links. Please read our disclosure for more info.
We share so much about our lives on our blog and social media that it's hard to keep secrets. But that's what we had to do when my Dad arranged a family reunion to celebrate my mum's 60th birthday.
For nearly a year we'd been planning it, trying to find the perfect villa to accommodate us along with my uncles, aunts, cousins, and nan, weighing up different locations around the world before finally settling on the small seaside town of Kaş on Turkey's Mediterranean coast.
For months we had to keep our plans to visit Turkey quiet, from my mum and therefore you our readers. After visiting Singapore we pretended we had returned to Thailand (where of course a coup had taken place, causing my mum to worry) but in fact we'd flown to Istanbul.
We spent a week taking cooking classes and food tours, visiting mosques and markets, and we couldn't say a thing—no Facebook photos, tweets, Instagrams, or Foursquare check-ins. When my mum suggested skyping I pretended that we were on a Thai island without internet as I didn't trust myself to lie to her face.
Finally we flew down to the Turkish coast looking forward to surprising my mum as she came through the airport gates. It didn't go exactly to plan—our flight was delayed and my parents were waiting for us when we arrived. The surprise may not have gone as we hoped but we had another one up our sleeves—the rest of the family wouldn't be arriving until the next day.
Villa Kibele
In Kaş we did a good job convincing mum that we had a ten bedroom villa for the four of us because we'd got a great deal, and we hadn't realised how big it was.
It was gorgeous.
Villa Kibele is perched on a hill on the Cukurbag peninsula, a ten minute drive outside Kaş. We've stayed in some amazing places before but never somewhere with such a panoramic view. The deep blue sea stretches on endlessly from the pool, terraces, bedrooms, and living room, with the towering green mountains of the mainland just beyond.
The villa is huge and we felt like we had a boutique hotel all to ourselves. All ten bedrooms have their own bathrooms and French balconies, and are spread out amongst the three levels of the main house, plus there's a separate but attached villa next door with two bedrooms and its own small kitchen, lounge and terrace leading to the pool.
We chose a bright and romantic bedroom in the separate villa with a four poster bed. I loved taking naps here with that incredible expanse of sea outside my window.
The villa is immaculate and everything felt new. It has been designed with a wonderful attention to detail and filled with beautiful artwork, ceramics, rugs, and wood carvings. Every bedroom is unique and has its own special details. We are always seeking temporary homes on our travels and this truly felt like one.
Although there were 11 of us we had plenty of place to spread out; in fact on the first day it was easy to get lost! There's a very well equipped kitchen, dining room, and large living room that leads on to a terrace with another long table and comfortable seating area. Down by the pool there are sun loungers, bean bags, a hammock, and lots of nooks and crannies to relax in.
Villa Kibele has obviously been created with love and we received a warm welcome from the owner Guler. She left us a homemade cake when we arrived, and made another beautiful one covered in strawberries for my mum's birthday. Unusually for a villa rental there was a staff member on hand if we needed him with a light cleaning every day and fresh bread delivered each morning. It was the perfect blend of the privacy of a villa with the convenience of a hotel stay.
The worst thing about Villa Kibele was having to leave—no where else compares.
The Second Surprise & Exploring Kaş
We had a full day in the villa with just my parents, us desperately trying not to give away the fact that her family would be arriving in the early hours of the morning. We had a late dinner and dragged it out to keep my mum up as late as possible. Just when she decided to go to bed and had gone upstairs and changed into her pyjamas, the family finally arrived. We quietly sneaked them into the living room and called her downstairs. Her shock, laughter and big smiles were just what we'd been hoping for.
We don't get to see family often so we had a great week catching up with them and doing things we don't usually do—shopping in Kaş's cute boutiques, having a spa day with my mum, and Simon went quad biking with my uncle and cousins.
Kaş is a small town that combines my two favourite elements—the mountains and the sea. The outskirts are functional—a mosque, bakeries, supermarkets, and kebab shops, while the historic centre is a labyrinth of stone paved streets branching off from the main square at the marina. It's the perfect place to meander—whitewashed houses with wooden balconies are adorned with unwieldy trails of pink bougainvillaea; yellow angel's trumpets are a striking contrast to bright blue shutters; cats laze in the sun; vendors call out a welcoming "merhaba"; all with the backdrop of craggy mountains.
Even after a week in Kaş we still discovered hidden alleyways with cool cafes just metres from streets we'd been walking all week.
Kaş is undeniably touristy but it has kept its charm and hasn't been overrun by big resorts and package tourists like many places on the Turkish coast. Restaurant owners will call you in and there are plenty of souvenir shops selling knock-off sunglasses and fridge magnets, but it's all pretty low key. It's actually an excellent place to shop with small boutiques selling unique artisan silver jewellery, leather handbags, shoes, clothes, cotton pestemals (thin towels used in Turkish baths), olive oil soaps, colourful lanterns, and patterned ceramics. My family were in heaven and we often went for a post-dinner stroll around the shops as they are open late here.
The beaches in town are rocky but the chilly sea is gorgeous—a deep cobalt blue that turns crystal clear in shallow sections.
For better beaches we headed past Kalkan (another cute town with good shopping) to Patara, a long stretch of golden sand and dunes. It was very windy and the sea was rough when we visited but I imagine on a calm sunny day it'd be beautiful. The five lira entrance fee includes the ancient Lycian ruins of Patara which was a flourishing city a few thousand years ago. The ruins were empty and an interesting place to wander, especially the amphitheatre.
On the way back from Patara we stopped at the extraordinary Kaputaş beach where the translucent turquoise water contrasts with the deep blue around it. We didn't venture down the many steep steps to the beach but it's worth stopping for the view from above.
Sailing to the Lycian Ruins of Aperlai
On my mum's birthday Captain Osman took us out on his Turkish gulet, a two-masted traditional wooden sailing vessel. Even with 11 of us we had plenty of space to relax in the sun on mattresses on the huge boat as we set off for a day of sailing.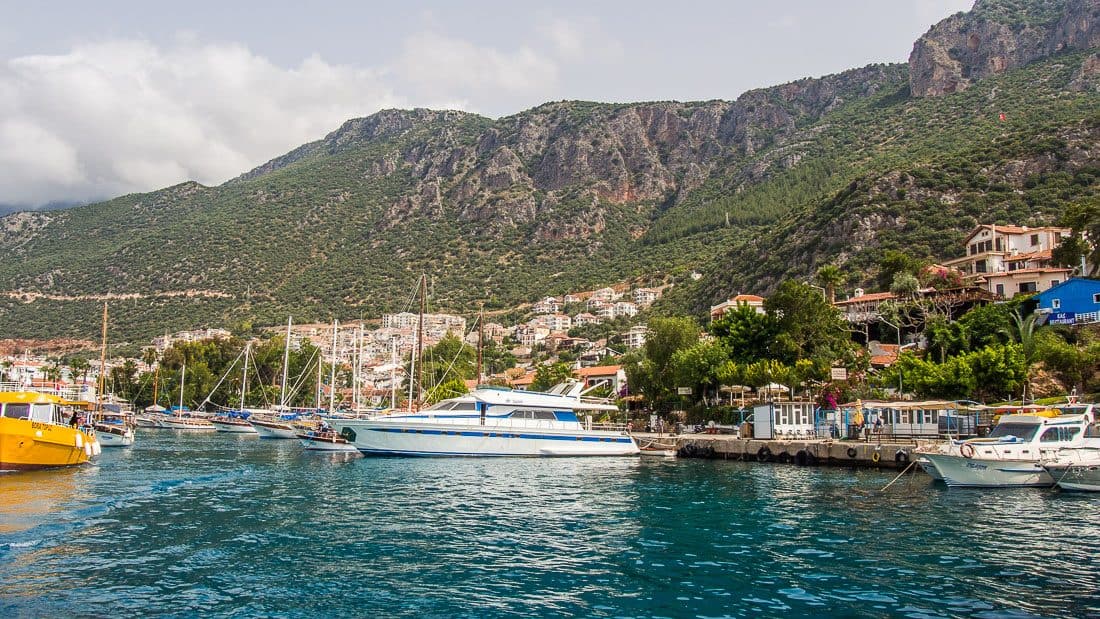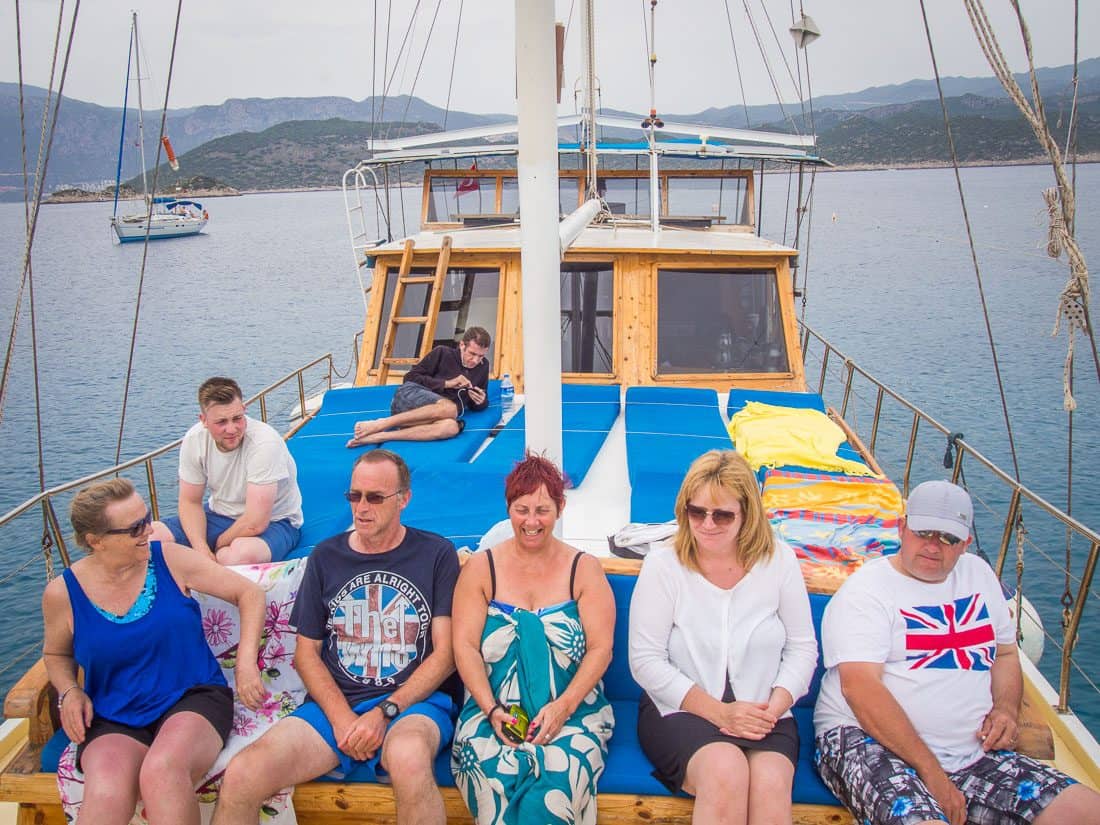 Our first stop was the Lycian ruins at Aperlai that date back to the 4th century BC. Captain Osman had advised us to visit this little-known site rather than the crowded sunken ruins at Kekova and we're glad we took his advice as there was only one other yacht there.
A few of us—including my nan who is in her 80s—rode in the dinghy, went ashore and scrambled up the street trail of rocks and red dirt, past ancient Lycian tombs and baths, silvery olive trees and tortoises hiding beneath rocks, with the scent of wild oregano and sage accompanying us. At the top we gazed down at our boat below and the turquoise water mingling with deeper sections of dark blue.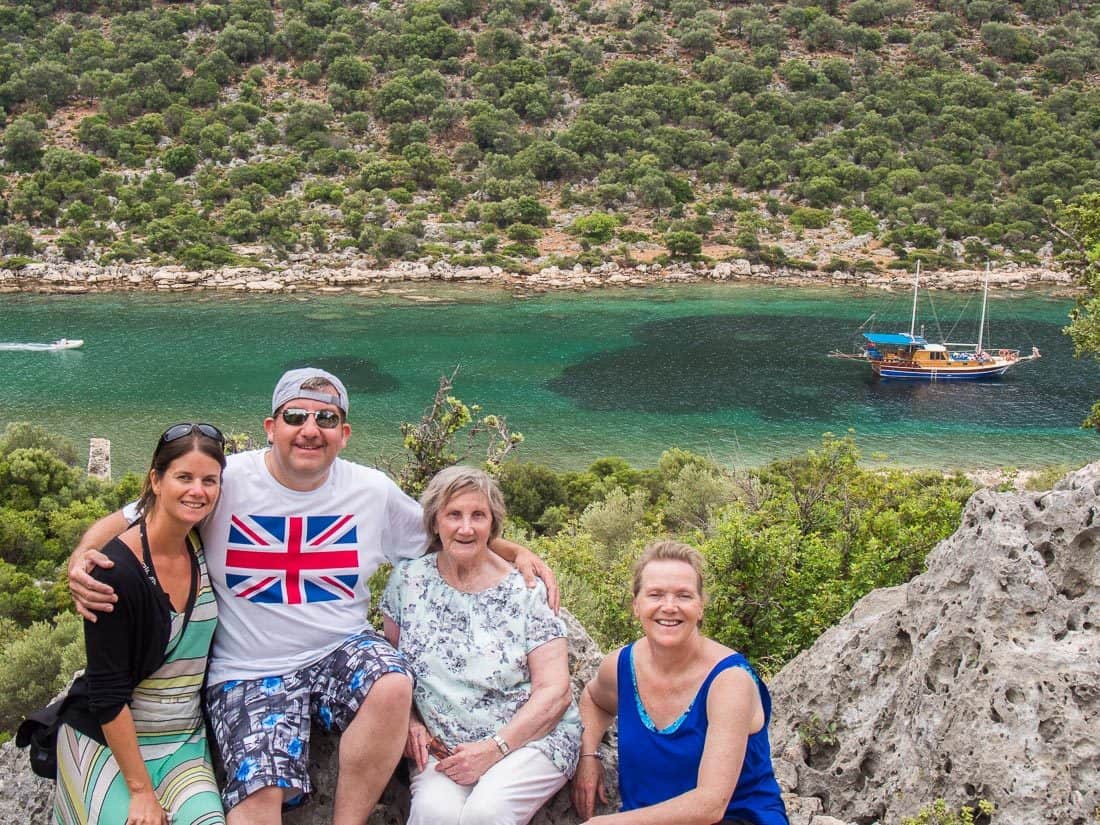 The sea was cold so only a few of us swam and snorkelled in the clear water, the rest satisfied with watching turtles swim past while we ate a sumptuous lunch of eight vegetarian meze and barbecued fish and chicken. It was the best meal we had all week.
In the afternoon we sailed on to a few different islands and got braver about jumping into the icy water. Thankfully Captain Osman was waiting with glasses of tea to warm us up.
We had a blissfully relaxing day on the boat and it was the perfect celebration of my mum's 60th, and an easy way to explore the area surrounding Kaş.
At the end of the week we were sad to see everyone go. The surprise reunion had exceeded our expectations—my mum had a wonderful time, Kaş was the ideal location with a mix of stunning scenery and good shopping, and we couldn't have asked for a better temporary home than Villa Kibele.
A big thank you to my dad who did a great job at organising everyone (never an easy task with a group) and happy 60th Mum!
Kaş Tips
Kaş is pronounced cash.
The two main transport hubs are Dalaman (three hours to the west) and Antalya (four hours to the east) which can be reached by plane or bus. We flew into Dalaman from Istanbul and out of Antalya to Cappadocia (Kayseri airport) with the Turkish budget airline Pegasus. There are frequent buses from Kaş to these cities.
If you are with a group, we highly recommend booking the ten bedroom Villa Kibele on Airbnb.
For couples, we recommend Lantana Apartments where we stayed after my family had left. The modern apartments have a separate bedroom, small kitchen, decent WiFi, and balconies (most with sea views). The owners are friendly, there's a lovely garden where they serve breakfast, and it's in a great location only a few minutes walk downhill to Small Pebble Beach. It's not much of a beach but we used the sun loungers at Cinarlar Beach restaurant which are free if you buy something.
You can book a boat trip with Captain Osman at kasgulet.com. He offers a range of itineraries including day trips and multi-day cruises.
We found most of the restaurants in Kaş average with the same menu. One exception was a delicious Turkish breakfast we had at Bi Lokma with bread, cheese, jams, olives, tomatoes, cucumber, muhammara (an amazing red pepper and walnut paste), sigara boregi (cheese pastries), grilled halloumi cheese, and menemen (Turkish scrambled eggs with tomatoes and peppers).
On Fridays there is a market near the bus station that's a mix of tourist souvenirs and crafts (with cheaper prices than the shops) and local fresh produce.
Kaş is one of the towns that the Lycian Way passes through. Our friends Warren and Betsy spent a month hiking this beautiful but challenging 509km trail.