This page contains affiliate links. Please read our disclosure for more info.
Our travels are a constant search for a place to call home—not a permanent one (we have no desire to settle down)—but a temporary base where we can feel comfortable and settled, even just for a few days. Usually apartments are best for feeling at home, but on our recent trip to Cappadocia, an otherworldly land of volcanic rock formations in central Turkey, we found a hotel that did just as well.
Castle Inn is a boutique cave hotel that opened last year in Ortahisar, a small, off the beaten track village that makes an interesting alternative base to Göreme, where most travellers stay in Cappadocia.
The hotel is run by Suat Ulusoy who is the main reason we felt so at home—he goes out of his way to make sure his guests have the best experience possible. Suat isn't running the hotel to make a profit—he's been a hot air balloon pilot for 20 years and makes a good living—but as a retirement investment, and because he loves to meet people from around the world.
Suat wants his hotel to be different from the many others in Cappadocia. He only has five rooms when there's space for double that, as he wants to create a more personal experience. He doesn't call visitors customers, but guests or friends. Rooms don't have numbers on the doors; breakfast has no end time (sleep in as long as you like); and he doesn't charge for extras like tea, coffee, and the water and soft drinks in the minibar. It's all very relaxed and accommodating; no rules or nickel and diming. Suat wants you to feel like you are staying with a friend. And we did.
A friend with a really stunning home.
Castle Inn, unsurprisingly, has been created with a medieval castle theme, as Suat wanted to stand out from the traditional Turkish designs in the other hotels in the area. Each of the five rooms are different. There's one cave room built into the rock of the hill the hotel is perched on. The others aren't real caves but they do take advantage of the beautiful, cream tufa rock that is abundant here, and which keeps the rooms cool year round.
Room 33, where we stayed on our first night, is gorgeous with a wood beam ceiling and stone walls. It's very spacious with a couch in the seating area and a bathroom the size of some hotel rooms, complete with jacuzzi bath. Best of all is the bed, the most comfortable we'd slept in in a long time, with a snuggly duvet to keep us warm on the cool nights.
Our second room (Room 11), was smaller but just as lovely with an arched stone ceiling and a view of the town and valley below. The only thing we missed was a desk, but there was a small table by two armchairs. The WiFi was the best we had in Turkey, impressive considering the thickness of the walls.
All the rooms are immaculate and very tastefully decorated. We appreciated the attention Suat had given every detail—the custom lamps, antique style phones, artisan dragon stair banister, the incense burning when we arrived. Many hotels in the area have issues with heating, as the tufa walls keep them cool throughout the year, so Suat has put in modern Norwegian radiators where you set the required temperature and it's automatically maintained.
There are a few seating areas including a terrace with views of the town that spills down the hillside, and Ortahisar's castle which is built inside a rocky tower known as a fairy chimney. It's a great place to relax and listen to the sounds of the town—the call to prayer five times a day, and more unusually, regular loudspeaker announcements from the mayor's office. These can broadcast anything from a wedding to a lost pigeon (yes, really).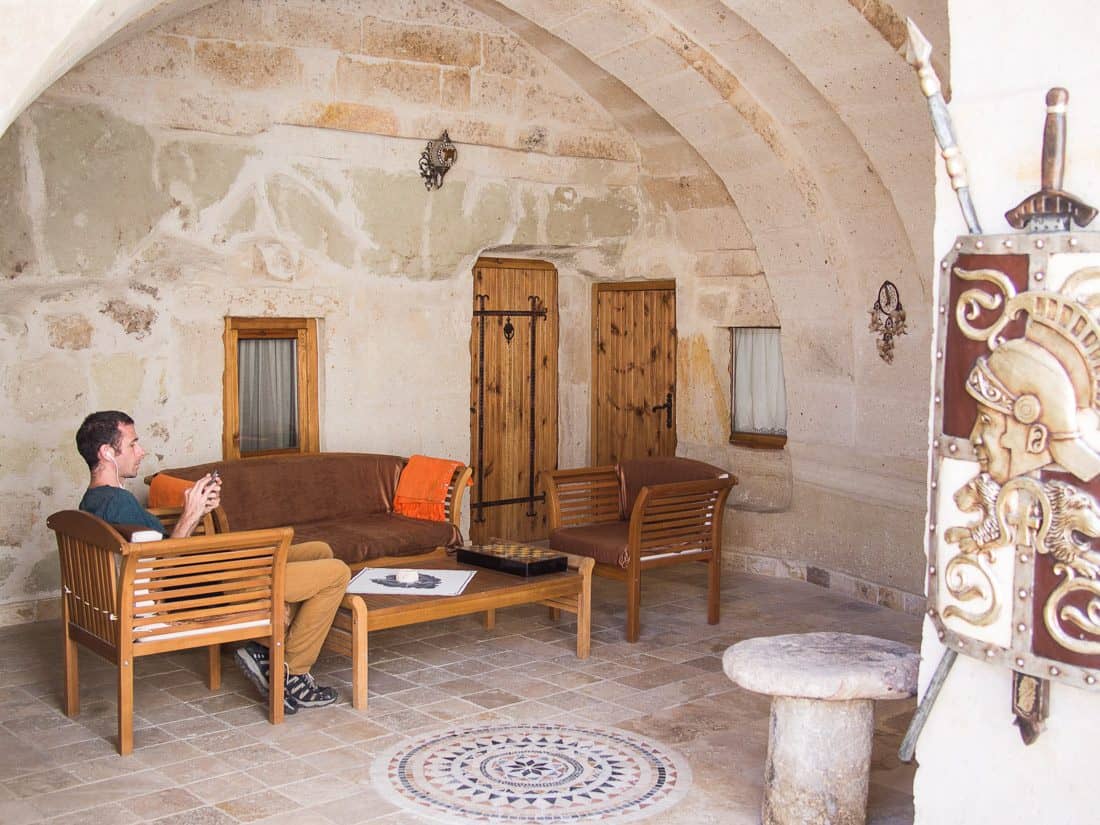 One night Suat arranged a barbecue for guests on the terrace (with veggie options especially for us), completely free of charge. He's a gregarious host and always happy to stay up late and chat. He goes out of his way to help you plan your trip, whether it's booking tours or advising on independent hiking routes. He even gave us a lift to the start of a trailhead, with no charge, of course.
Ortahisar is not the obvious place to base yourself in Cappadocia, and it is more difficult to explore without a car than in Göreme. If you are planning to take the popular tours then this isn't a problem. Otherwise you can get the bus to Göreme or Urgup, walk about 45 minutes to the Göreme Open Air Museum (not recommended in the midday heat), or hitch. Suat is always there to help you when he can.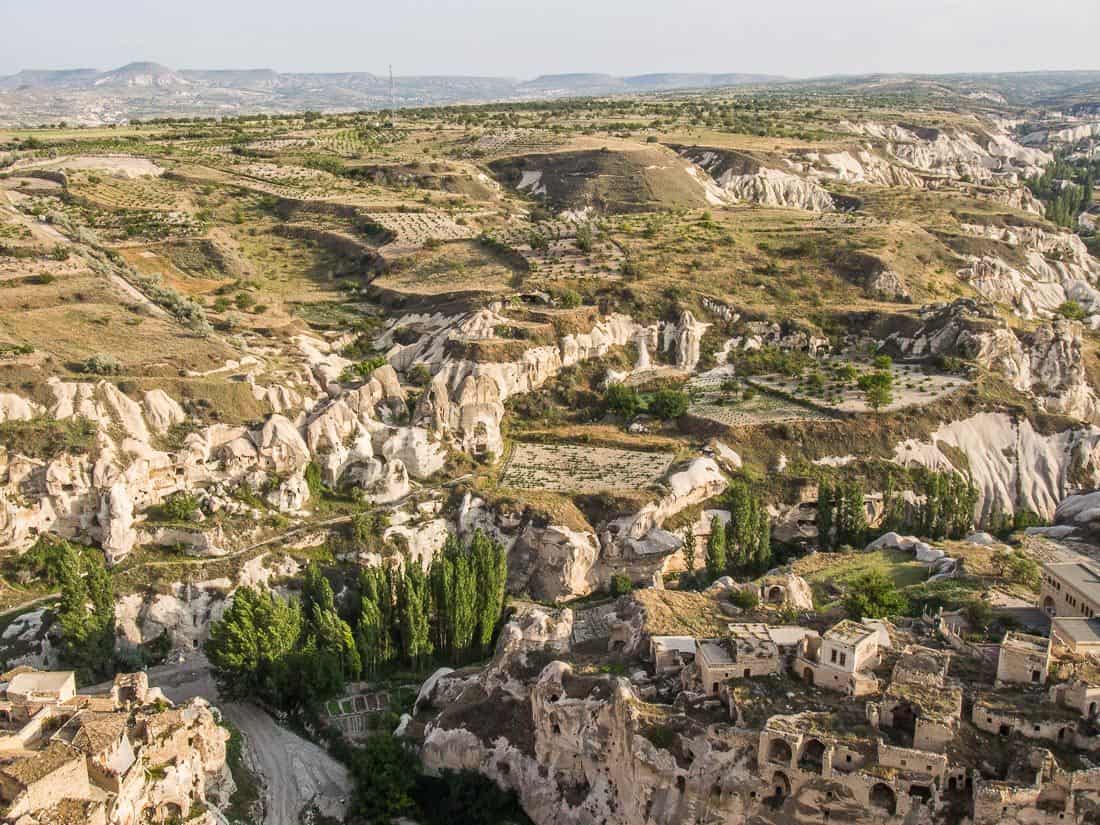 There are definite advantages to staying in Ortahisar. Apart from the tourist buses that arrive during the day to visit the castle, the village sees very few foreign visitors. You get a much better sense of how people live here, and the restaurants cater for locals not tourists. We enjoyed wandering the streets past abandoned cave houses and twisty spirals of rock poking out between houses; men drinking tea and playing backgammon outside cafes; and women in headscarfs sweeping outside their houses.
One nearby hike we did was just as good as the more well-known ones, but we had it completely to ourselves. We walked from Ortahisar to İbrahimpaşa in the Balkan Deresi valley, past pigeon houses carved in the rock and a landscape that looked like it had been moulded in clay. I also ran down here early one morning, dozens of hot air balloons floating above me; the only other person around a goatherd leading his animals into the valley.
When Suat dropped us off at our next hotel in Göreme we felt like we were leaving home, and our first instinct was to head right back. It's rare that a hotel gives us this feeling after just a few days, but Castle Inn is special.
Castle Inn feels luxurious but it's very reasonably priced with rooms starting at 50 euros per night for Room 11 where we stayed.
A huge thank you to Suat who hosted us at Castle Inn and truly made us feel at home.