This page contains affiliate links. Please read our disclosure for more info.
There aren't many activities that will get hundreds of people out of bed at 4am, but hot air ballooning in Cappadocia is one of them. It is considered a must do activity and the best way to view the otherworldly landscapes and bizarre rock formations of this region in central Turkey.
We ticked hot air ballooning off our bucket list years ago in central Australia, and although we enjoyed the experience, the high cost, freezing cold early start, and crash landing into a tree hadn't left us with a desire to do it again. The photos of Cappadocia from above caused us to reconsider—if there was one place that would get us back in a balloon it was here, so I signed us up.
Our ballooning adventure began with a 4am pick up from our cave hotel in Göreme (the main tourist town in Cappadocia) and, yawning and shivering, we were taken to the Turkiye Balloons office where we helped ourselves to the typical Turkish breakfast (bread, cheese, tomatoes, cucumber, olives, jams) from their buffet.
The balloon pilots keep an eye on the weather and choose a different launching point every day. When the conditions were right and everyone was slightly more awake after a coffee or two, we headed off in the minivan to a field in the countryside outside Göreme. We watched the crew inflating the giant balloon that lay on its side, first with air, then with fire.
Along with 22 others we clambered into the basket as the sun was peeking over the horizon. Slowly, gently, we began to rise, so softly we barely noticed we were leaving the ground as we joined the other balloons, their inverted teardrop shapes silhouetted against the orange sky.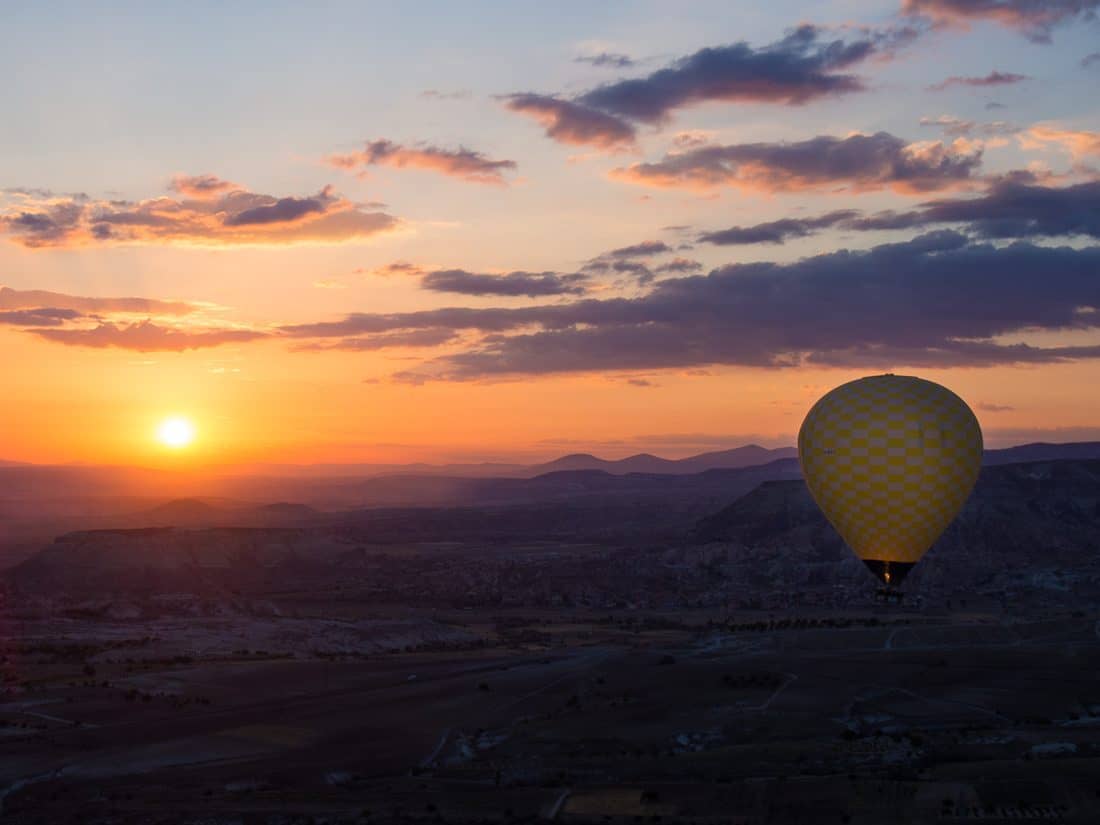 The sun rose further, slowly illuminating the magical landscape below with towering fairy chimneys, chiselled canyons, caves and pigeon houses carved out of soft tufa rock, and a distant volcano on the horizon.
And dozens of other balloons.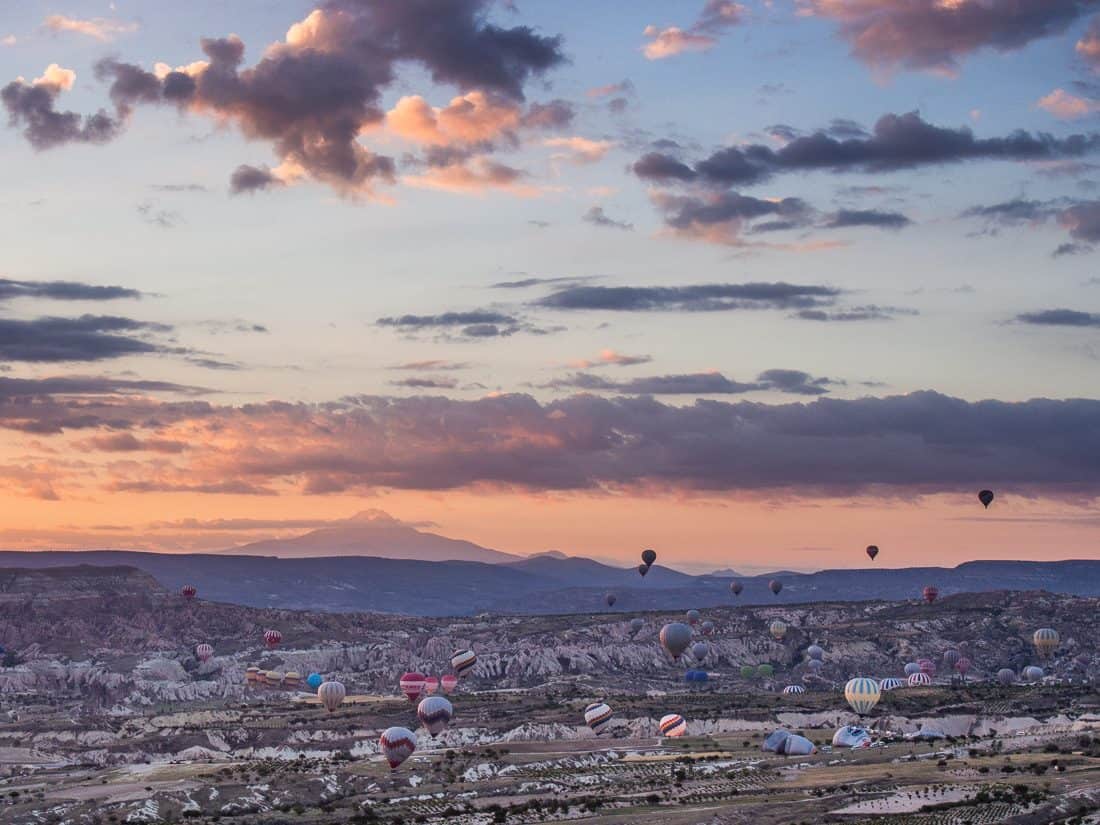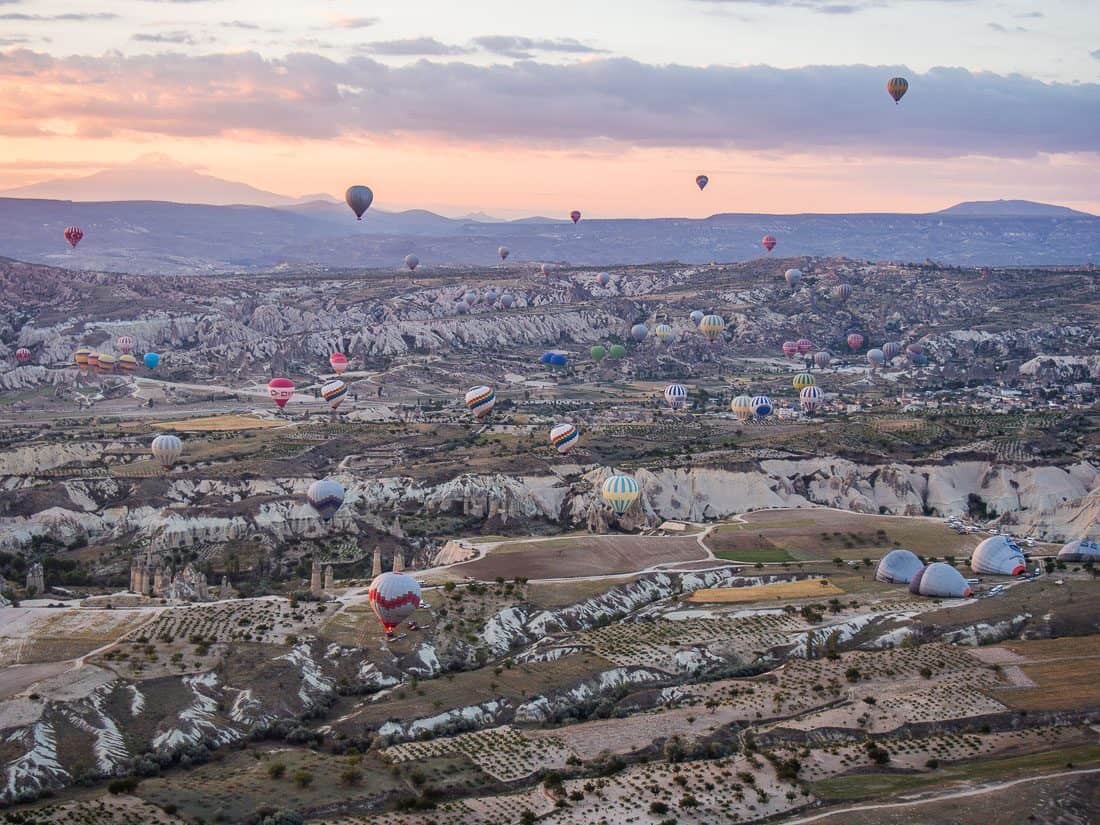 20 years ago there were only four hot air balloons in Cappadocia, now there are over 100. We usually like to have beautiful places to ourselves, but this is one time when the crowds added to the experience, the other balloons enhancing the scene, adding enchanting splashes of colour to the white, grey, and rose coloured valleys.
There's no way to steer a hot air balloon, so we drifted with the wind without knowing where we'd end. Our pilot Erdal says he never gets bored, despite flying 1800 hours in Cappadocia, as every day is different and brings new discoveries.
You can control the balloon's altitude, and Erdal took us low into Love Valley, skirting over rocks, brushing past trees, and at times hovering just metres off the ground. We got some fantastic views of the phallic rock formations that give the surreal valley its name.
We continued on through White Valley, the green of the fruit trees contrasting the chalky rock walls.
We floated over Göreme, past the Rose and Red Valleys, and over vineyards, a surprising splash of green in the dry rugged landscape. The rocky Uchisar castle glowed in the warm morning light on a hill in the distance.
Sometimes we flew low to the ground; other times we reached 800 metres high. Later Erdal told us our maximum speed was 30km/h, and that we'd travelled 20km in the hour long flight, but we barely noticed we were moving. It's such a gentle way to travel, and peaceful except for the occasional roar of the burner sending a flame into the mouth of the balloon, the heat causing the balloon to rise.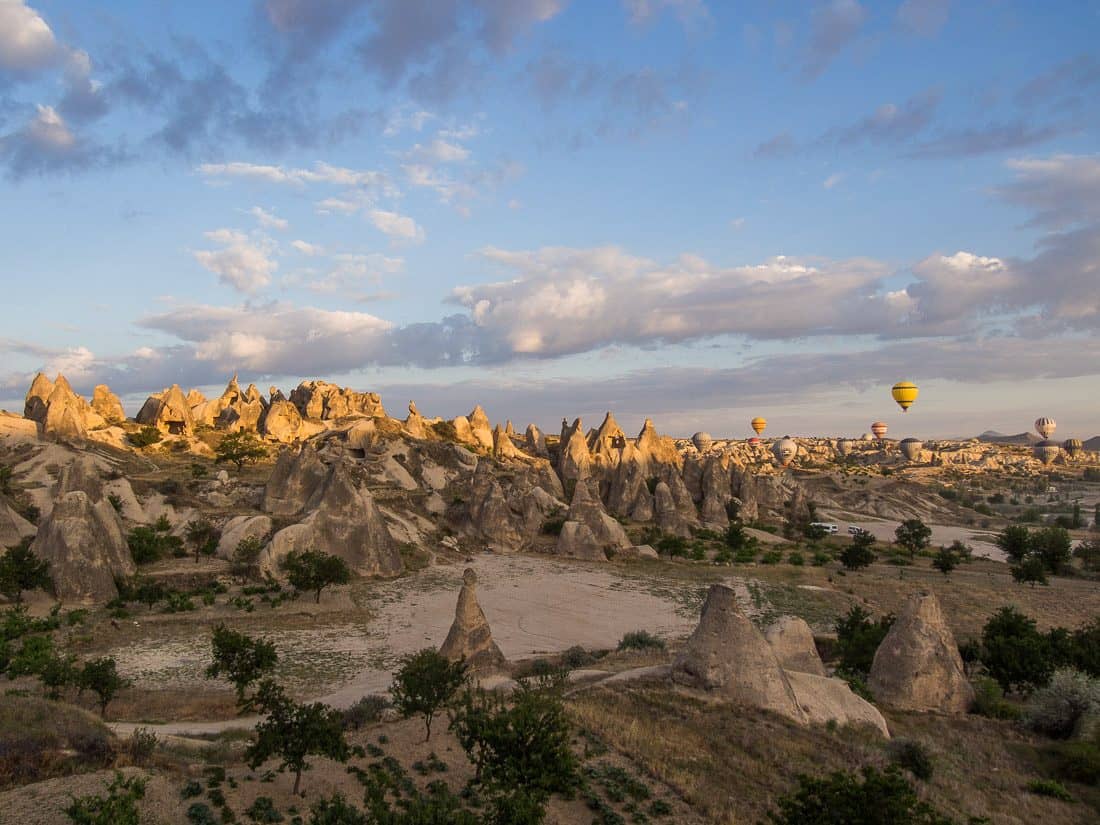 Our flight ended near Urgup. Erdal had been communicating with the ground crew about our expected landing location, and they were there waiting for us. Erdal skillfully and gently lowered the basket onto the back of the trailer; we didn't feel a thing, nothing like our bumpy finish in Australia.
We toasted our successful flight with the traditional glass of champagne.
It was a magical experience with unforgettable views. Seeing Cappadocia from above really is the best way to understand the scale of this strange and varied landscape. A hot air balloon trip may be expensive, and involve an early start, but we definitely think it's worth it. If hot air ballooning is on your bucket list I can't think of a better place to do it.
Ballooning Details
We flew with Turkiye Balloons, a new company created last year by four experienced instructor balloon pilots, and already they are the number 2 activity in Göreme on TripAdvisor. We did the cheapest program—a one hour flight in a 24 person balloon costs €160 ($217). It includes hotel pickup, buffet breakfast, champagne toast, commemorative certificate, and insurance.
We had a great experience with Turkiye. They were well organised and professional, and our pilot Erdal was very competent and friendly. They are a new company, and are keen to please their customers and provide them with the best experience.
My only suggestion would be to make sure you are booked on the first flight, if you want to see the sunrise. We were originally booked on the second flight, and the sun had already risen when we left breakfast. In the end, after waiting by the inflated balloon, the weather conditions changed and we couldn't fly (we appreciated that they put safety over profit). We ended up on a sunrise flight the next day which was stunning.
You should book your balloon flight in advance, and arrange it for your first day in town, so that you have other opportunities to fly if the flight gets cancelled due to the weather.
We stayed in a unique cave room at Divan Cave House in Göreme where we did our balloon trip. We'll be writing more about it soon.
Many thanks to Turkiye Balloons for hosting us on our balloon flight.
If you enjoyed this post, pin it!