This page contains affiliate links. Please read our disclosure for more info.
Cappadocia is a fairytale land in the centre of Turkey. Soft volcanic rock has eroded to create a moon-like landscape of unique rock formations including the conical spires known as fairy chimneys. The multi-coloured canyons and valleys are stunning places to hike and are dotted with cave churches and homes carved into the rock that have been inhabited for thousands of years.
There's a lot to do in Cappadocia. It's an extensive region with many different towns and attractions, and numerous hikes through the varied landscapes.
Earlier in the year we wrote a lightweight's guide to the Angkor temples in Cambodia and discovered that we aren't the only sightseeing lightweights. Many of you don't enjoy trying to see everything in a short space of time and prefer to explore at a more relaxed pace.
Our method as lightweights is to spend a week doing what others would do in a few days. We could easily have spent more than a week in Cappadocia. We loved our time there and although we felt we got a good overview, there was plenty more we wanted to explore.
Here are our tips for exploring Cappadocia at a lightweight's pace.
Skip The Must-Dos
There are certain things that are considered must-do's in Cappadocia; we skipped them all except a hot air balloon trip. That doesn't mean that you shouldn't do these things, but know your interests and don't feel you have to do anything that doesn't sound interesting to you.
Day Tours – Every tour agent and hotel in Cappadocia pushes these group day tours. They are named after colours (Red, Green, Blue) and all follow the same route. The idea of being stuck on a tour bus all day didn't appeal to us, although many people do enjoy the tours and it's an easy way to explore further afield.
Göreme Open Air Museum – This outdoor complex of cave churches is the area's biggest attraction. We skipped it because you have to pay, it's crowded, and honestly there's only so many cave churches we can see. We ended up seeing a number of them for free on our hike in the Rose Valley.
Underground Cities – There are two underground cities in Cappadocia—Kaymakli and Derinkuyu. Both of them are quite far from Göreme, the town where most independent travellers stay. We did want to visit but it takes two buses to get to the nearest one Kaymakli. If we'd had more time we would have rented a scooter for the day to get there.
For our week in Cappadocia we stayed close to Göreme and everything we did, except the balloon ride, was free and accessible without our own transport. Sure, we missed out on beautiful areas that are further away, but we had plenty to keep us occupied and had an amazing time—plus we saved money and energy.
Do Half-Day Hikes
The main way we experienced Cappadocia was by half-day hikes of around two to three hours, either early morning or late afternoon to avoid the June heat. There are plenty of options in the different valleys and we saw a wide variety of landscapes. Even though we hiked easily accessible trails there were surprisingly very few people around, and the hiking was pretty easy.
There is a lack of good hiking maps, and although there are signs at the start of trails, getting lost is a definite possibility. Ask your hotel for directions to the trailheads.
Pigeon Valley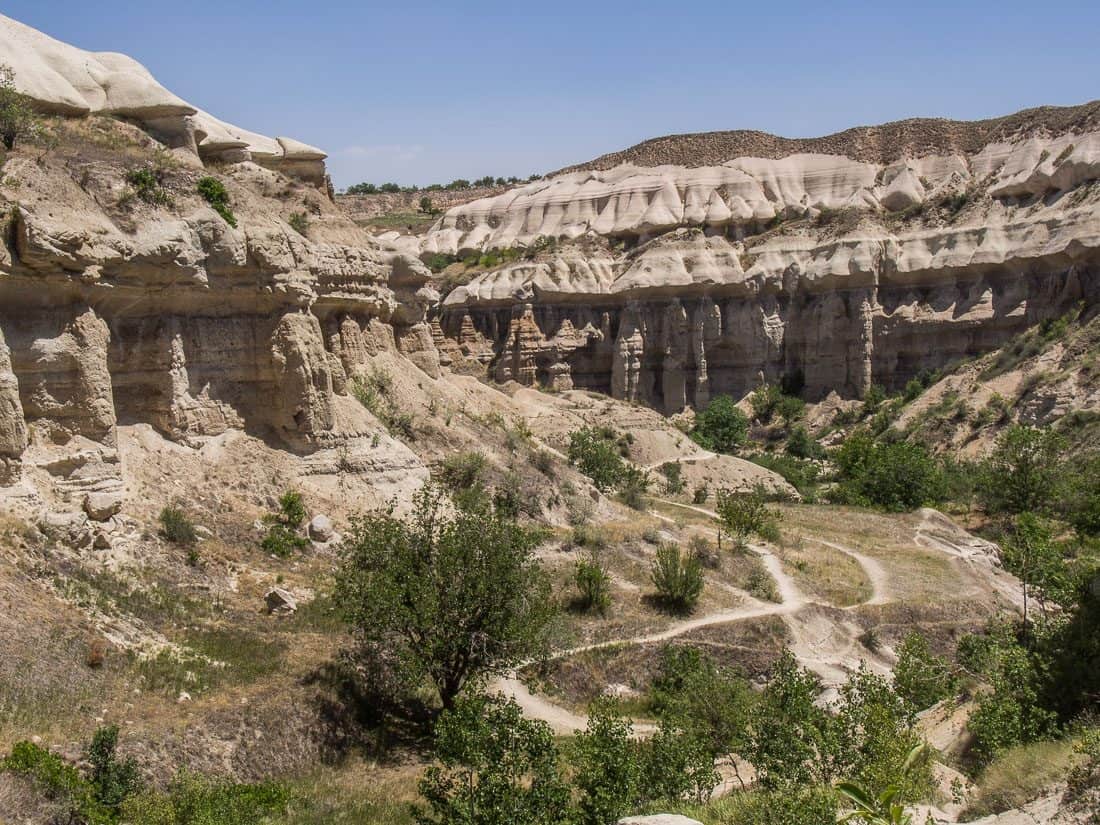 Pigeon Valley is a fairly easy hike between Göreme and Uçhisar, about 3km each way. You could hike there and back, or like we did—as we started late and it was hot—take the bus back from Uçhisar.
It's a beautiful valley with pale pink and cream rock formations; some spiraling upwards like chimneys, others moulded like melting ice-cream balls. They are dotted with caves and the pigeon houses that give the valley its name. There are green fruit trees throughout; a striking contrast to the dry rocky canyon.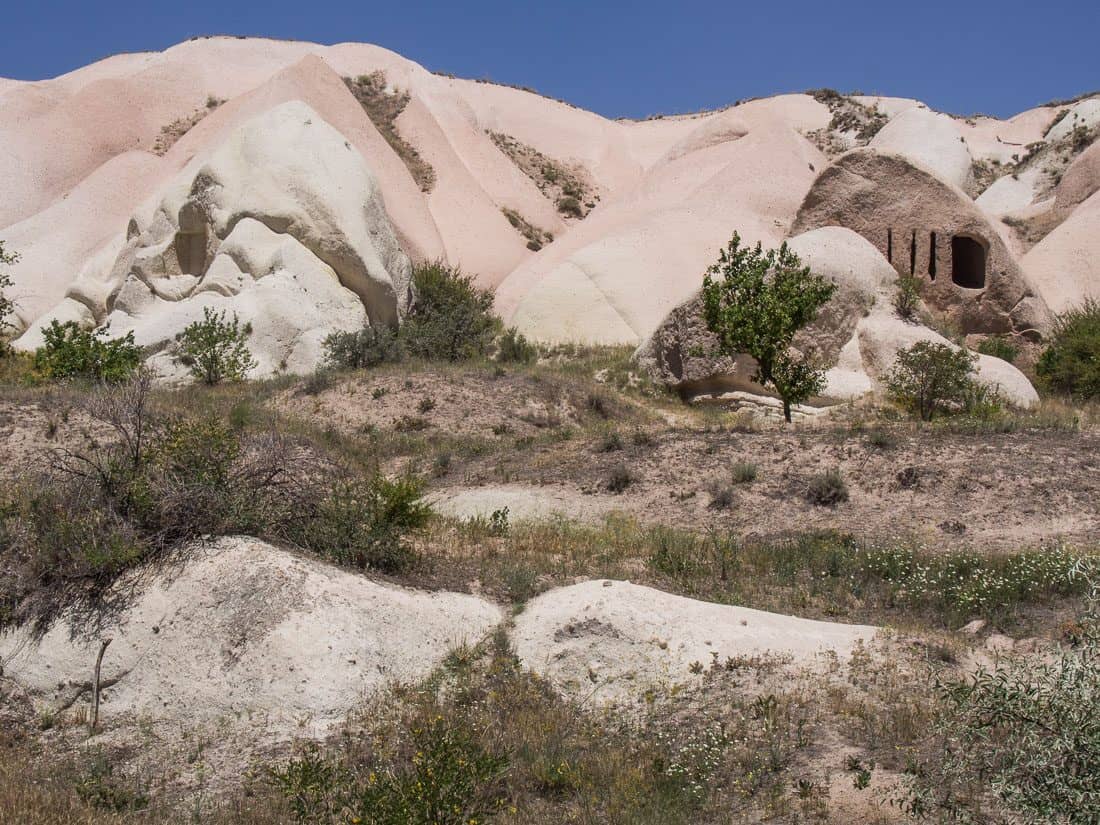 It took us just over an hour to reach Uçhisar, and that included getting lost and having to face down an angry dog. The hardest bit was the 30 minutes it took us to climb to the top of Uçhisar and locate the bus back to Göreme.
Zemi Valley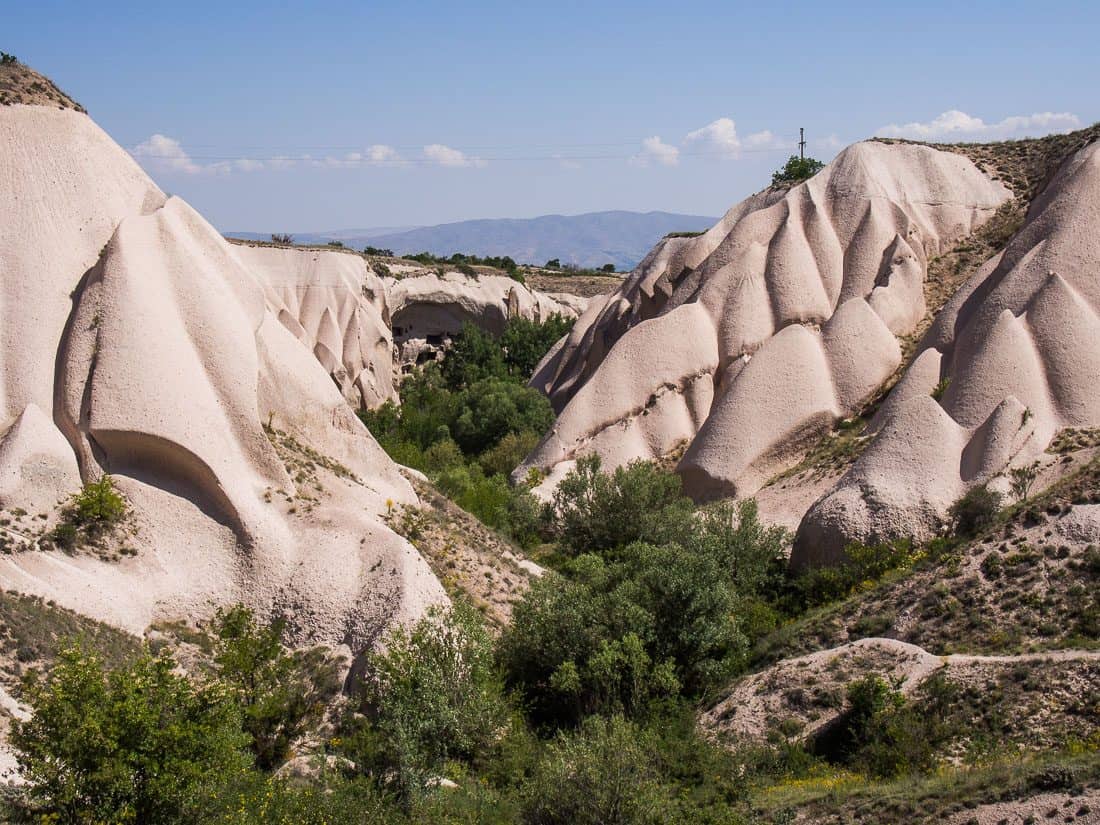 The Zemi Valley starts near Göreme. Our guesthouse owner in Ortahisar dropped us at the other end of the trail and we walked to Göreme (5.6km/2 hours), but you could also hike out and back from Göreme where there's a loop you can follow.
It's a lovely lush green valley, overgrown with long grasses and wildflowers; butterflies and huge black bees flittering amongst the blooms; bulbous white rocks soaring on each side. The hike is mostly shady and flat, although there are a few steep rocky parts (including one with a rope to cling to), and we walked through some muddy river sections. We had most of the valley to ourselves and only came across a few others when we got nearer to Göreme.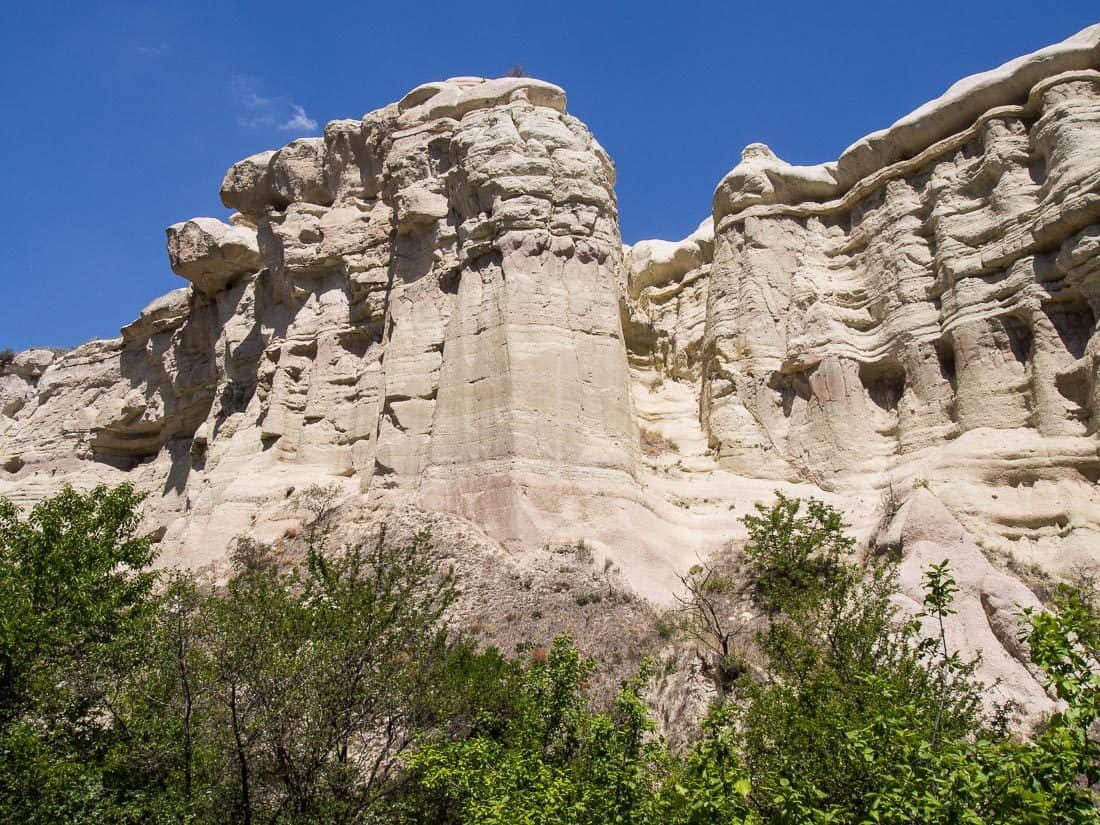 Rose Valley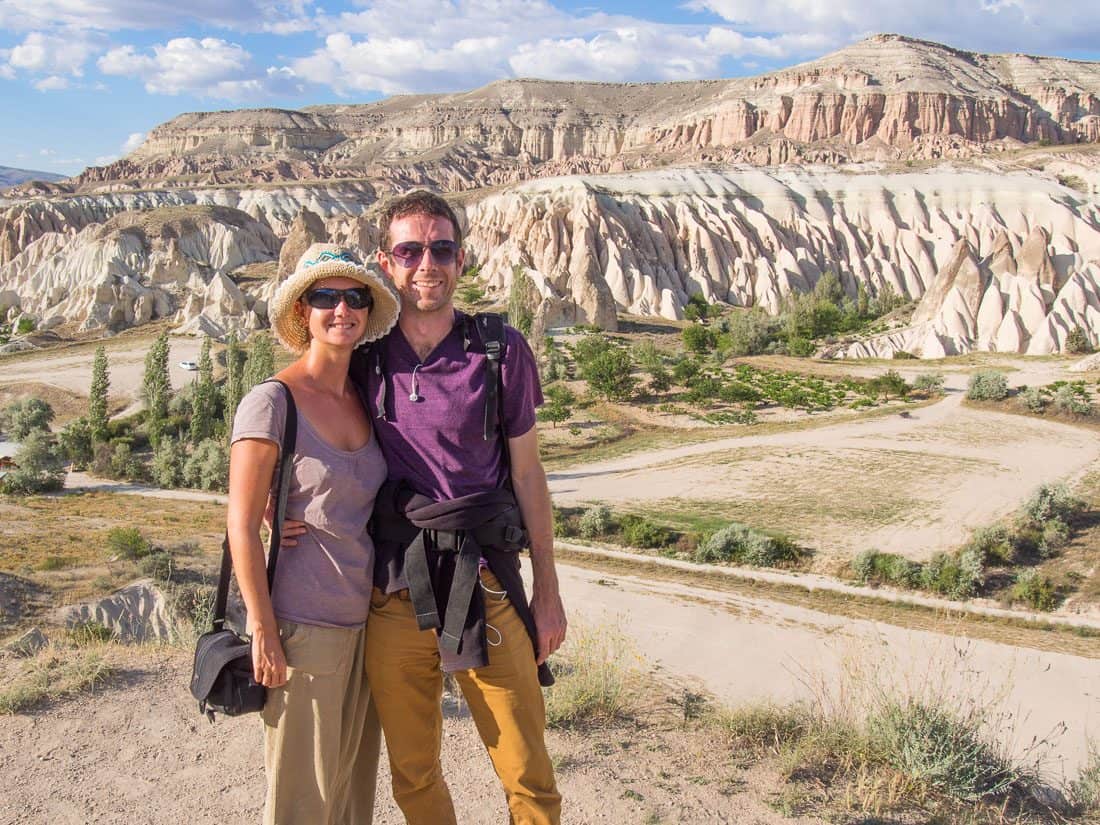 After a week of hikes we didn't think the scenery could get any better, but the Rose Valley surpassed them all. It's a truly spectacular place of pink rock and jagged peaks; vineyards and apple trees dotted amongst them—a bizarre setting for wine making (locals ride out on their motorbikes to water the vines).
We visited a number of cave churches and a monastery from Byzantine times. There's an incongruous cafe next to the Hacli Church where we enjoyed a fresh orange juice before heading up to sunset point.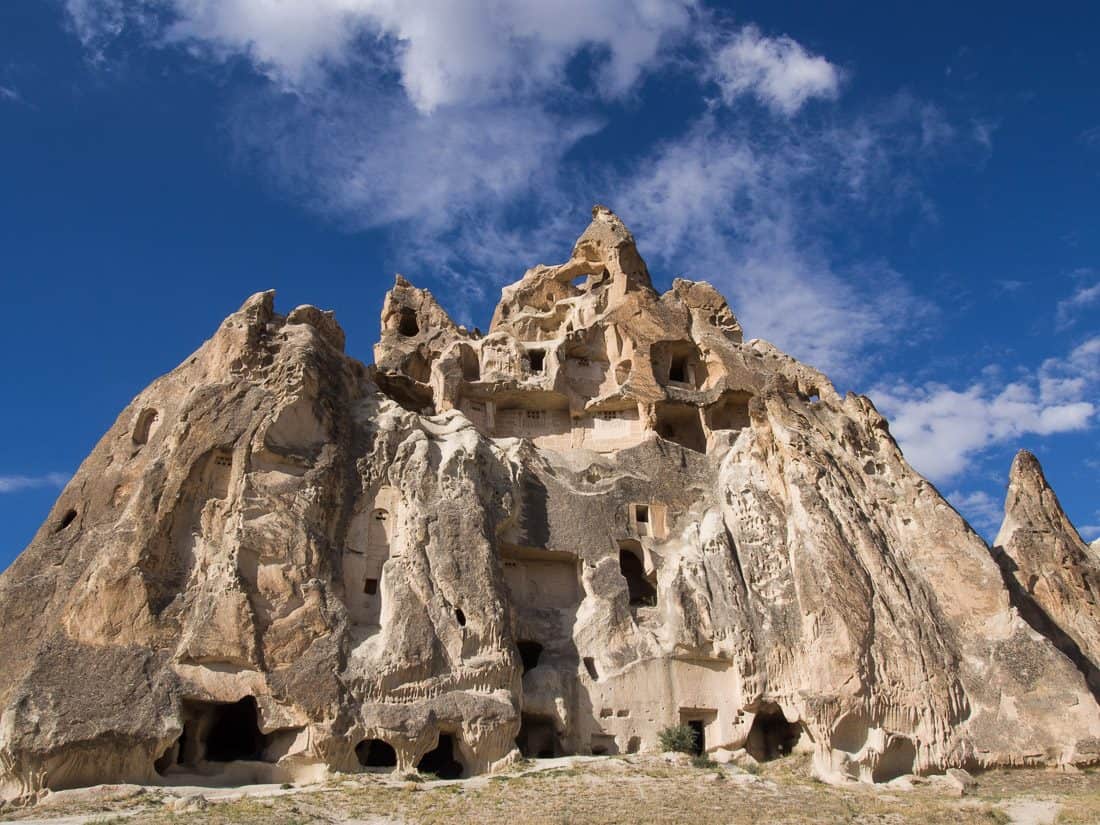 While it is possible to walk to the Rose Valley from Göreme it'll add quite a lot to your hiking time, so it's best to arrange transport, or perhaps rent a bicycle or scooter. We joined the free guided sunset hike here that our hotel Divan Cave House organises every day, and took their minibus to the trailhead.
Balkan Deresi Valley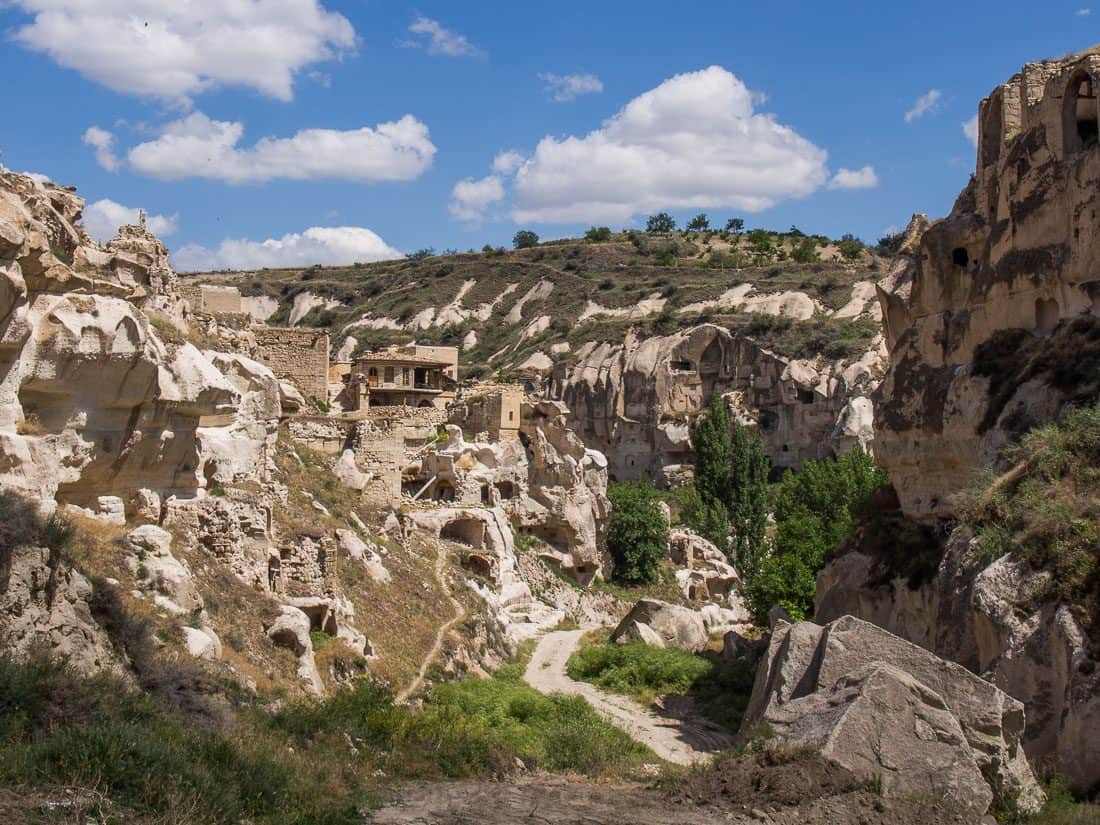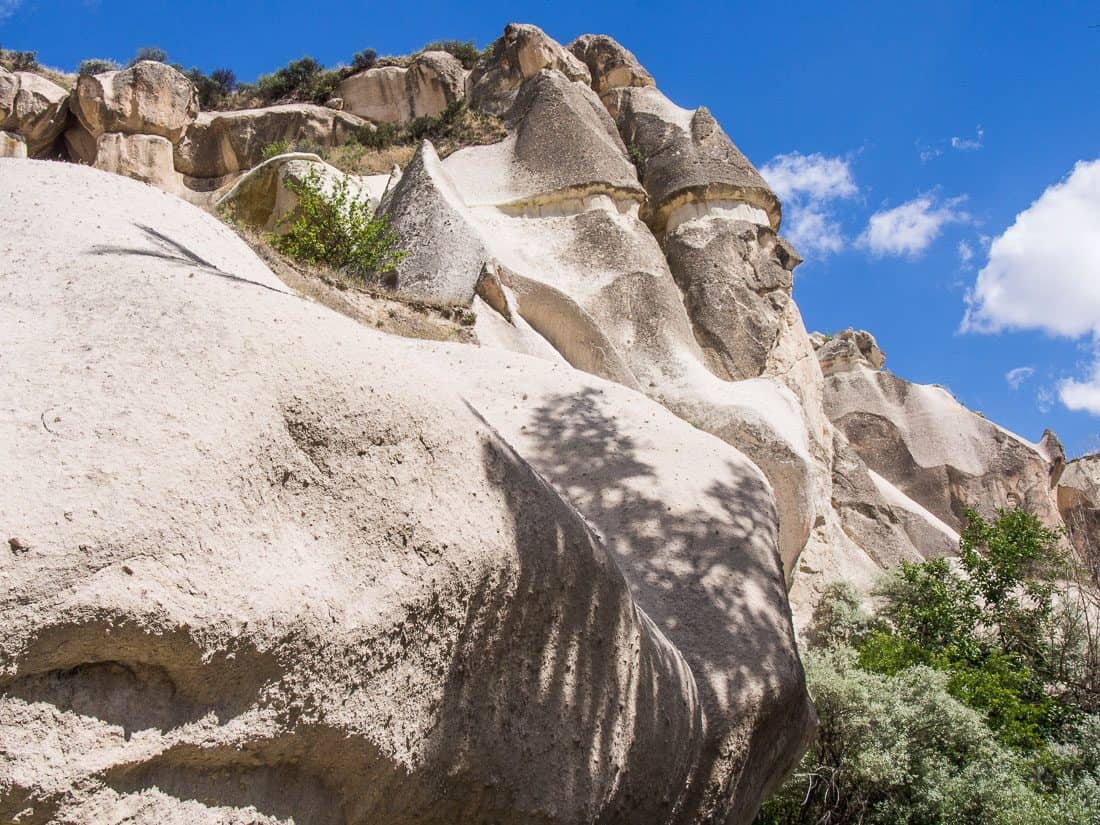 For our first few days in Cappadocia we stayed in the small town of Ortahisar. Here we hiked to the nearby village of İbrahimpaşa and back (two hours total) through the Balkan Deresi valley. The landscape looks like it has been moulded from clay; strange shapes emerging from the rock. It's an easy flat trail and we didn't see a single person along the way—except this face carved out of rock.

Go Hot Air Ballooning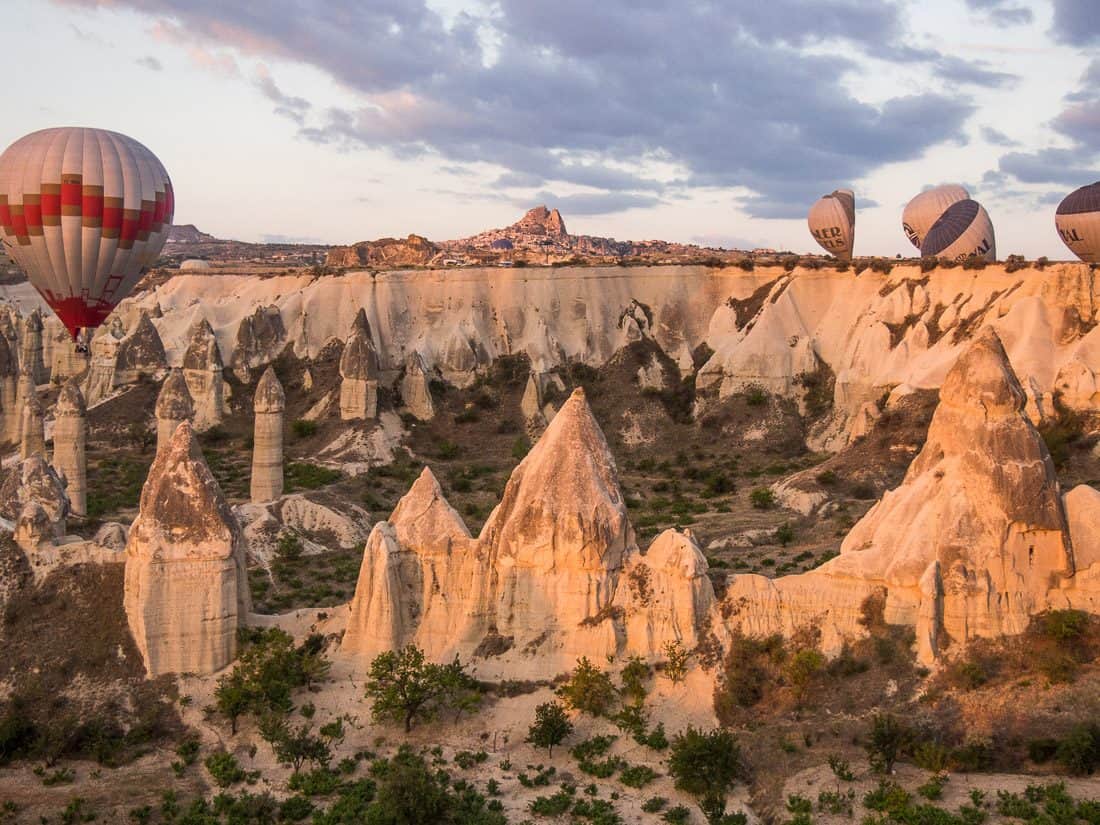 This is one major activity in Cappadocia that really is worth it. It's expensive and you have to get up crazy early, but drifting above the rock formations as the sun rises is magical. If hot air ballooning is on your bucket list, we can't think of a better place to try it.
Read more about our Cappadocia hot air balloon trip.
Stay in a Cave Hotel
People have lived in caves in Cappadocia for thousands of years, and many people still do, their homes carved into the tufa rock that stays cool throughout the year.
Staying in a cave hotel is one of Cappadocia's most unique experiences and is well worth it. For lightweights we recommend choosing a hotel with a terrace so you'll have a place to hang out—the cave rooms are chilly and dark; cozy at night, but not the best place to work or relax during the day.
We stayed in Divan Cave House which has a quiet location on the edge in Göreme, a ten minute uphill walk. Fairy chimneys rise out of the hotel and there are a number of terraces with views over Göreme and the surrounding valleys.
Our cave room really was a cave—a dark space with craggy walls of grey stone. It has been simply but pleasantly decorated with white linen and Turkish rugs. The spacious bathroom was surprisingly luxurious with travertine tiles and a blissfully hot shower. I found the room a bit cold but the bed was cosy, and it was a blessing when returning from a hike in the heat of the day.
The Wi-Fi was quite slow in the room, but the best place to work is one of the terraces where the signal is stronger and there are wonderful views. The major downside of Divan was that sheep pass by the hotel, so there's a lot of flies around.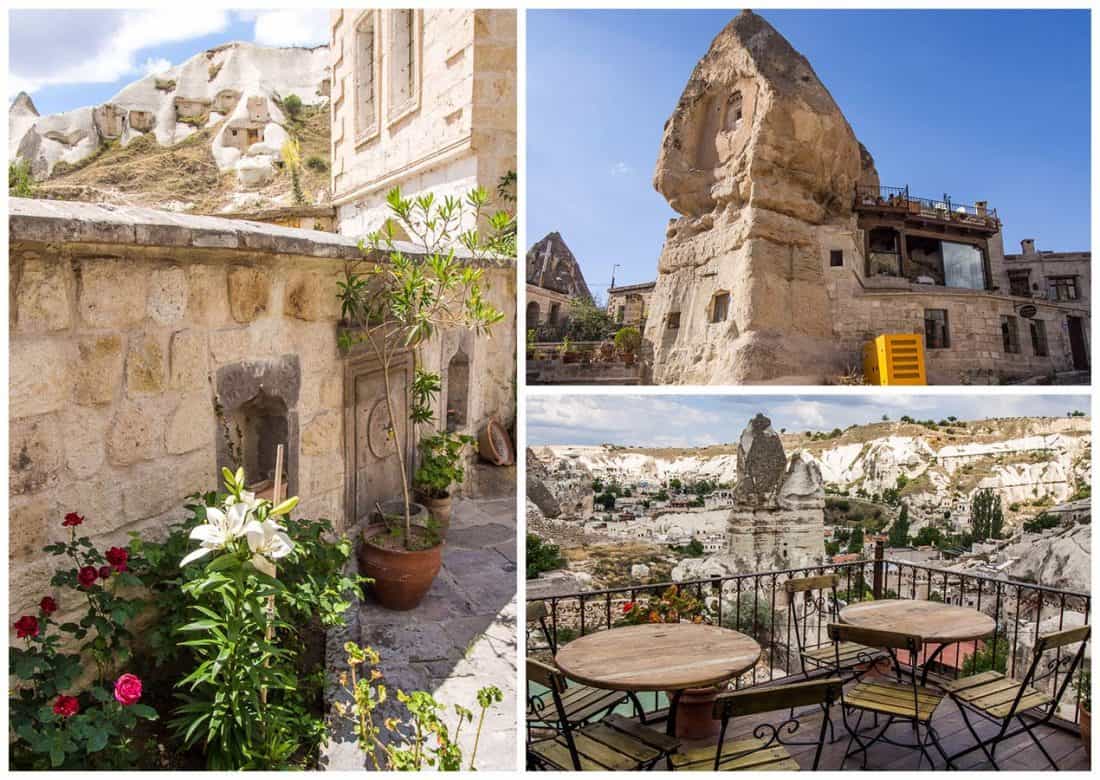 The service at Divan was friendly; we loved the free sunset hike to Rose Valley; and the breakfast was the best we had at a hotel in Turkey. The extensive buffet included the usual Turkish breakfast of cheese, bread, olives and salad, plus pancakes, gozleme (like a Turkish quesadilla), homemade cake, fresh fruit, oats, a range of dried fruit, and eggs made to order.
We really enjoyed our stay at Divan. I'm not sure if we'd stay in a cave again, but we're definitely glad we experienced it.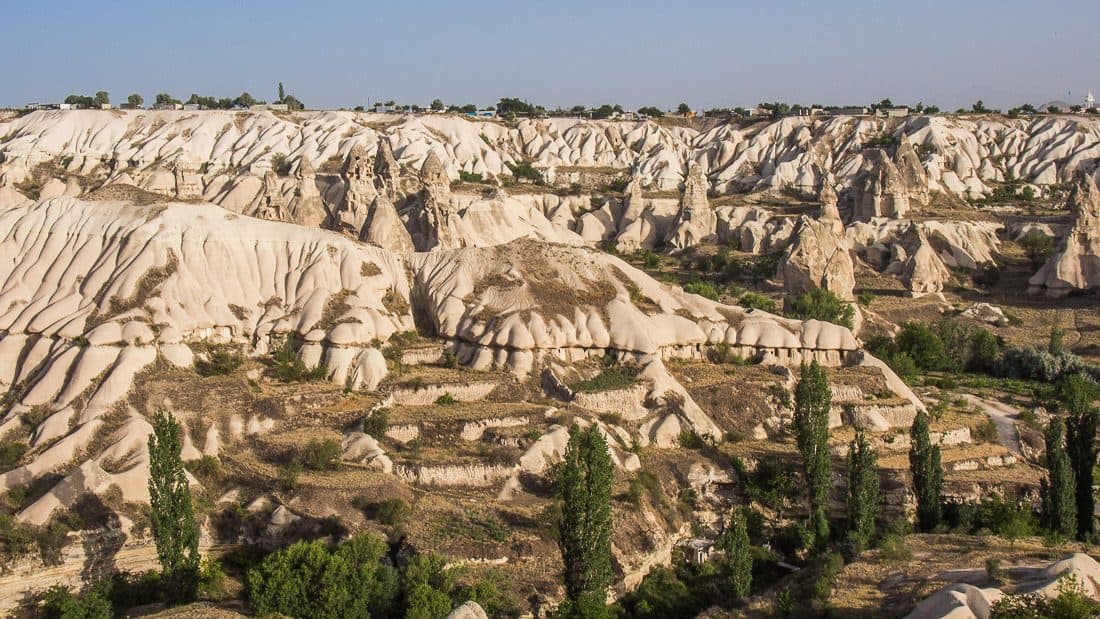 Consider Ortahisar as an Alternative to Göreme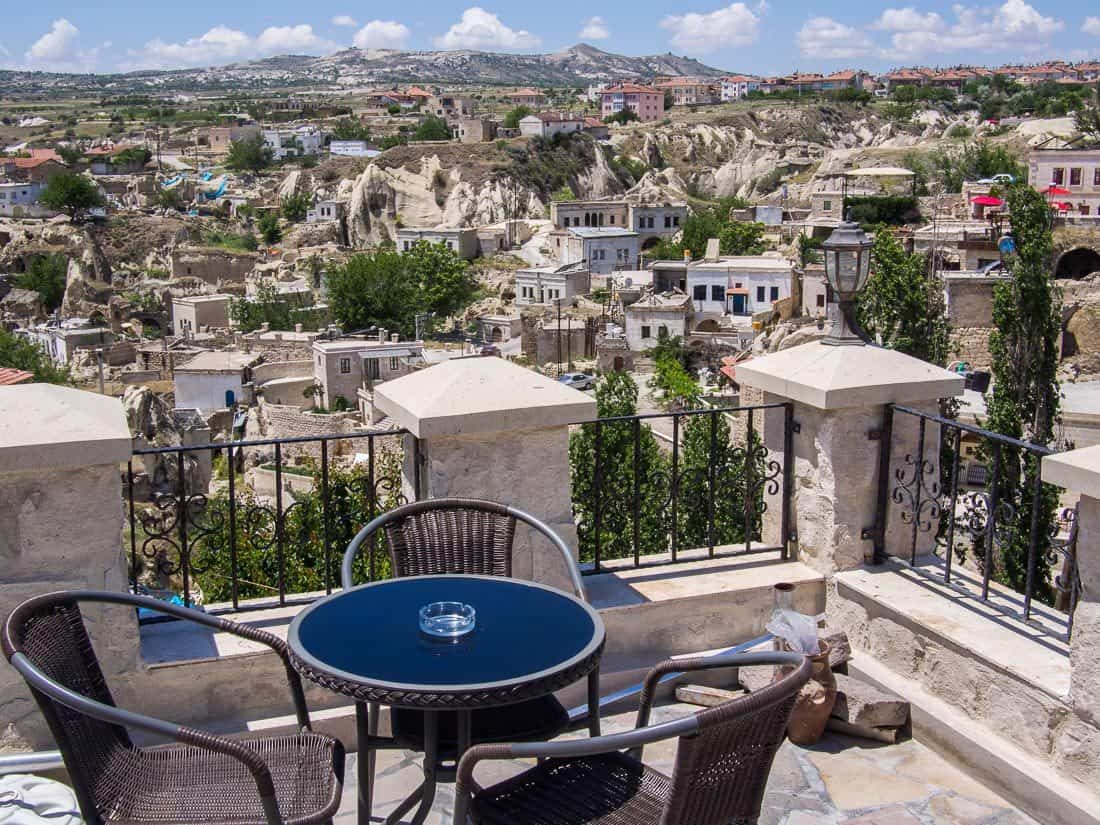 If you want to avoid taking a tour or renting your own transport then Göreme is the most convenient place to stay. It is quite touristy though, so for somewhere more off the beaten track consider Ortahisar, 4km away. We stayed here for the first half of the week and loved the quiet town and the super-friendly Castle Inn.
Ortahisar is a great place to relax and wander, and there's a castle and hikes nearby. It takes a bit more planning, but it's still possible to explore the area independently. At Castle Inn the hotel owner Suat went out of his way to help us plan our activities and how to get around.
Eat Here: Our Recommended Restaurants
Most of the restaurants in Göreme are aimed at tourists so we were surprised to find some wonderful places to eat:
Ocak (sadly, now closed) – A friendly, family-run place with a menu that changes daily. The first half of the menu is vegetarian and we enjoyed a selection of meze—rice stuffed peppers, aubergine, green lentils, and manti (Turkish pasta) in a yoghurt and spicy tomato sauce. They also gave us free warm bread with homemade cheese, olives, and dips. It is just around the corner from Divan Cave House and has amazing views from the terrace of fairy chimneys glowing in the pre-sunset light.
Top Deck – Another small family-run place, this time in a cave with both floor and table seating. It's very popular so book in advance, although we turned up at 6pm and managed to get the last table. There are a few main courses that change every day, including a vegetarian option, but the meze platters are best. We skipped the mains and shared an extra large meze platter which was superb.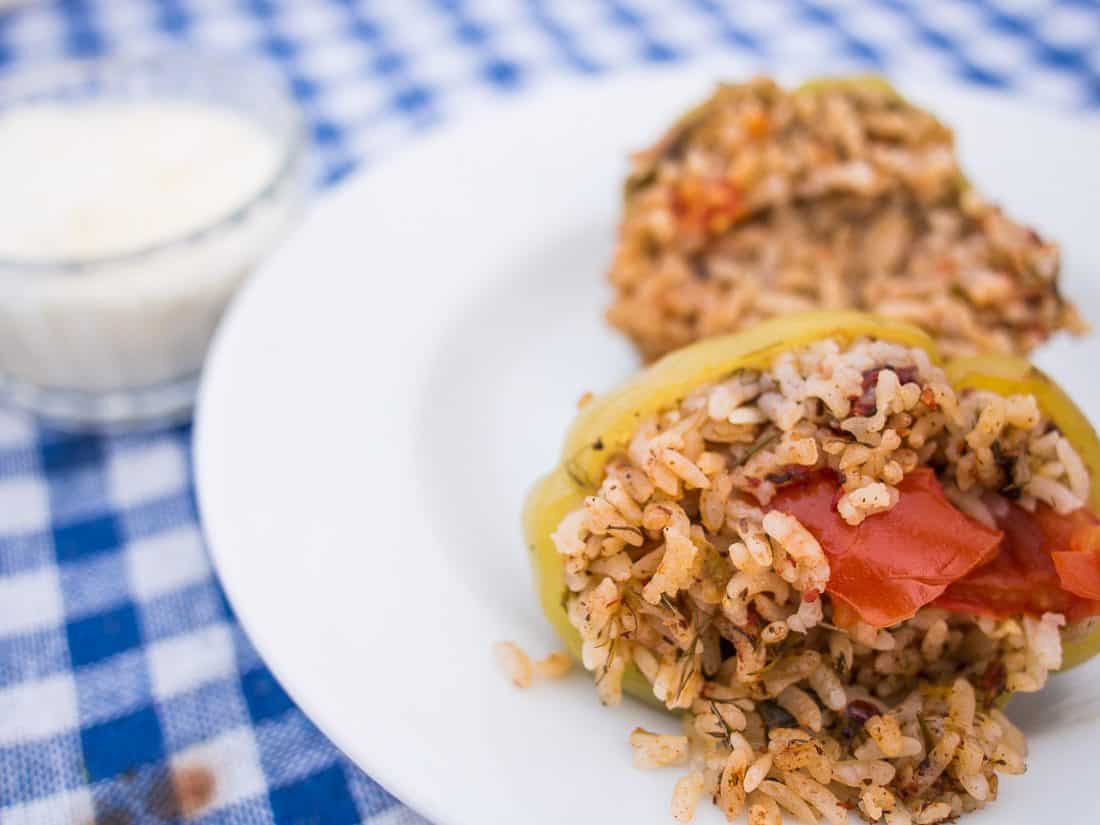 Other good options are Dipek (vegetable casseroles), Nazar Borek (borek and gozleme), and Old Cappadocia Cafe (pide).
Skip the Bus and Fly to Cappadocia
Cappadocia is in the centre of Turkey so to get there you'll likely have to take a long (probably overnight) bus ride from Istanbul, the coast, or elsewhere in the country. We considered doing this as the buses are supposed to be good in Turkey, but an overnight bus is an overnight bus, so we ended up flying.
There are two airports in Cappadocia—Neveshir is nearer but flights are usually cheaper to Kayseri. Pegasus is a Turkish budget airline with flights all over the country. We flew from Antalya to Kayseri and then on to Istanbul.
To get to your hotel you need to book an airport shuttle in advance as taxi prices are high. Your hotel can arrange it and it costs €10 per person from Kayseri airport.
Useful Resources
Captivating Cappadocia is a really useful website for planning your trip. I particularly like their overview of the different towns, itinerary suggestions, and description of the valleys.
Cappadocia is a unique and magical place to visit. The area has so much to offer so explore it on your own terms, doing what interests you at your own pace.
Disclosure: we received a discounted stay at Divan Cave House and a complimentary stay at Castle Inn.
If you enjoyed this post, pin it!