This page contains affiliate links. Please read our disclosure for more info.
Turkey is a meat loving country that's also a vegetarian heaven. We had moments when we couldn't find anything but kebab shops, but Turks also love their veggies and eat many dishes that are meat-free. We always found a veggie friendly option and ate very well.
Turkey also converted me to foods I didn't think I liked—yogurt (similar to Greek yogurt) which is used in many dips and sauces; kaymak, clotted cream served with honey for a decadent breakfast; sweet cubes of lokum (Turkish delight), and even tea and coffee.
These are our tips for surviving as a vegetarian in Turkey and some of the meat-free dishes to look out for.
Learn Some Turkish Phrases
Although there are plenty of meat-free dishes in Turkey, the concept of vegetarianism isn't always understood. In upmarket restaurants in Istanbul and more touristy towns we found they understood the word vegetarian, but elsewhere you need to clarify what you can and can't eat.
If the menu is in English in a restaurant aimed at tourists there's usually a vegetarian section or at least one vegetarian main. If it's in Turkish it will be more difficult to work out what's vegetarian. My strategy was to start by just saying "vegetarian?" and they would point out our options. If I wasn't sure they understood I'd ask "etsiz?" just to confirm a dish didn't have meat in it.
Most restaurants can usually make a vegetarian meal so it's always worth asking.
Here are some useful phrases:
Etsiz (Et-seez) – no meat (literally without meat). This is really useful—if you learn only one word make it this.
Et var mı? (Et var muh?) – Is there meat? – Useful when pointing to something in a buffet or on a menu.
Etsiz yemek var mı? (Et-seez yeh-mek var muh?) – Do you have any dishes without meat?
Ben bir vejetaryen – I am vegetarian.
Tavuk, et ve balık yemem – I do not eat chicken, meat and fish.
Food words:
Et – Meat
Balık (bah-luck) – Fish
Tavuk (tah-vook)- Chicken
Et suyu – Meat stock
Yumurta (yoo-moor-tah) – Egg
Peynir – Cheese
Beware of Meat Stock
Lentil soup is a very common Turkish dish, but unfortunately it's usually made with meat stock which they might not consider to be meat. We did find one restaurant that assured us theirs wasn't made with meat stock, so it's worth asking. Meat stock can also turn up in rice pilavs and casseroles. I recommend using the Turkish word et suyu if you want to be sure.
Self Cater
I loved cooking in Turkey. The markets and food stores are inexpensive and attractive with enticing piles of spices, nuts, dried fruit, lentils, bulgur, rice, and beans, plus a wide variety of local fruit and vegetables. You can buy as much or as little as you like as most items are sold unpackaged.
It's worth taking a cooking class or market tour for an introduction to Turkish ingredients and to learn some local dishes.
Even if you don't have a kitchen you could make a meal of bread, cheese, olives, and fruit from the markets, and some shops sell pre-prepared meze.
Breakfast Dishes
Turkish Breakfast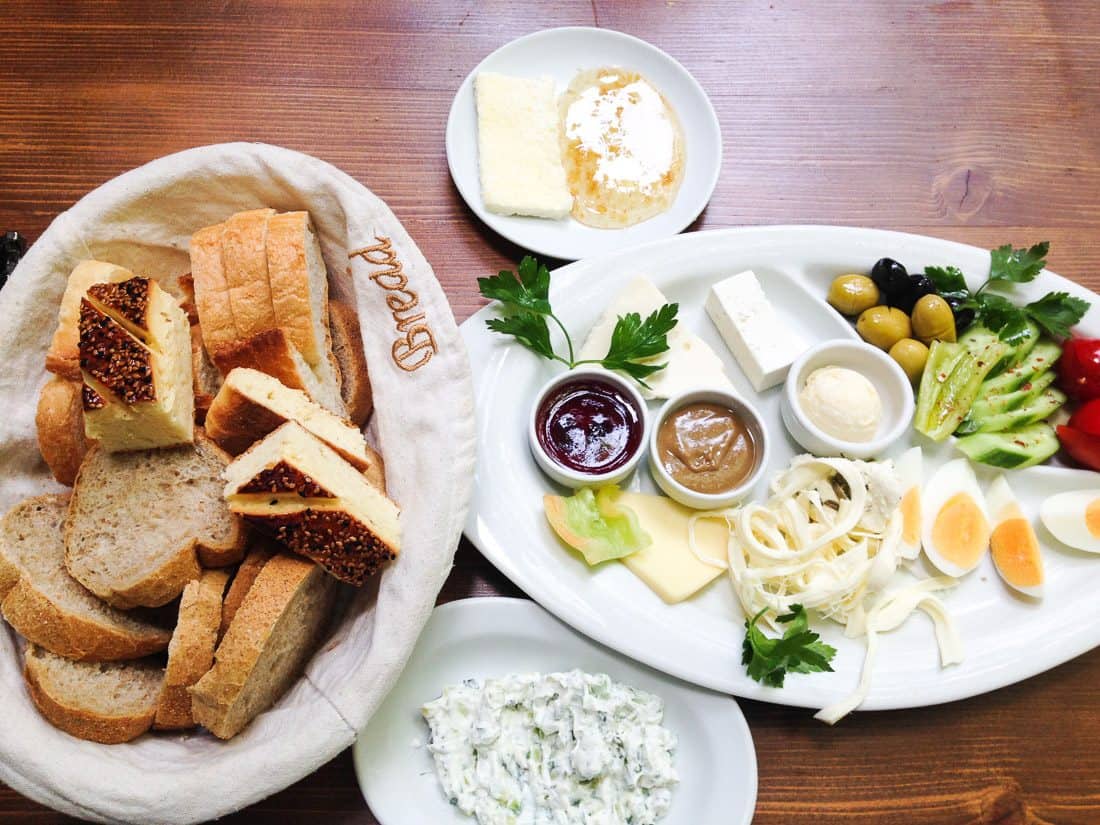 Turkish breakfast plates (kahvaltı) are very common and often served all day. Portions are huge and we found one serving more than enough for two. Mountains of fresh bread is essential, as is cheese (at least feta-like white and yellow, usually a number of varieties), cucumber, tomatoes, black and greens olives, butter, and jams. Extras could include kaymak (clotted cream) with honey, yogurt, eggs, spicy tomato dip, gözleme (like a quesadilla), börek (flaky pastry with cheese) and sigara böreği (long fried pastries with cheese).
It's an epic, delicious meal that's meant to be enjoyed over several hours with multiple refills of tea (coffee is only drunk after the meal).
Sometimes breakfasts come with a few meat items. These are easily left to one side, but to be sure ask for it "etsiz" (without meat).
Menemen
A scrambled egg casserole baked with onion, tomato, and green pepper. I'm not an egg fan but even I liked this. It sometimes comes with a breakfast plate or can be ordered on its own.
Simit
Similar to a bagel, simit is a ring-shaped bread roll covered with sesame seeds. They are a quick, tasty, and cheap breakfast or snack as they are sold from street carts all over Istanbul for just one lira (US$0.50). They are also the cheapest things to eat in Turkish airports.
Gözleme
Gözleme is often translated as pancake, but it's more like a Mexican quesadilla. Thin dough is filled with things like cheese, spinach and/or potato and cooked on a griddle. It's very tasty and great for breakfast or a light lunch. You can often find gözleme stalls at markets.
Street Food/ Snacks
Dried Fruit and Nuts
There's a huge variety of dried fruit and nuts that you can buy from stalls and shops everywhere. Dried figs, dates, apricots, hazelnuts, and pistachios are all common.
Çiğ Köfte
Çiğ köfte (chee kurff-tay) is the cheapest, quickest meal for vegetarians. These spicy balls used to be made with raw meat, but as that was banned they are now veggie-friendly and made with bulgur, onion, pepper and tomato pastes, spices and herbs, all kneaded together.
It's sold from takeaway places in a lettuce leaf or in dürüm (a wrap of thin lavash bread), or sometimes as a meze in restaurants. I think it's always vegetarian (unless homemade) but to be sure ask for it "etsiz" or look for that on the sign outside. A wrap only cost us three lira (US$1.50).
Pide
Pide is a Turkish pizza made from dough and various toppings, but no tomato sauce. Cheese pide (kaşarlı pide) is very common and inexpensive. This was often our best option when walking through a sea of kebab shops and despairing that we'd find anything. It's best served sprinkled with pul biber (red pepper flakes).
Lahmacun
Lahmacun is also called a Turkish pizza but has a much thinner, crispier base and is eaten rolled up. It's usually made with spicy ground meat, but occasionally we found one with vegetarian toppings.
Kasharlı Tost
Kasharlı Tost is a grilled cheese sandwich sold at small kiosks and cafés.
Börek
Börek is a term used for filled pastry. The most common variety is paper-thin yufka dough layered with different ingredients. Cheese (peynirli) is the most common, and spinach (ıspanaklı) is another good option for vegetarians. It's eaten for breakfast, lunch, or as a snack, and is best from a börekçi (börek shop).
Vegetarian Kebab
Kebab shops are everywhere in Turkey and are all about the meat. Occasionally you can find a vegetarian kebab made with grilled vegetables or bulgur patties.
Meze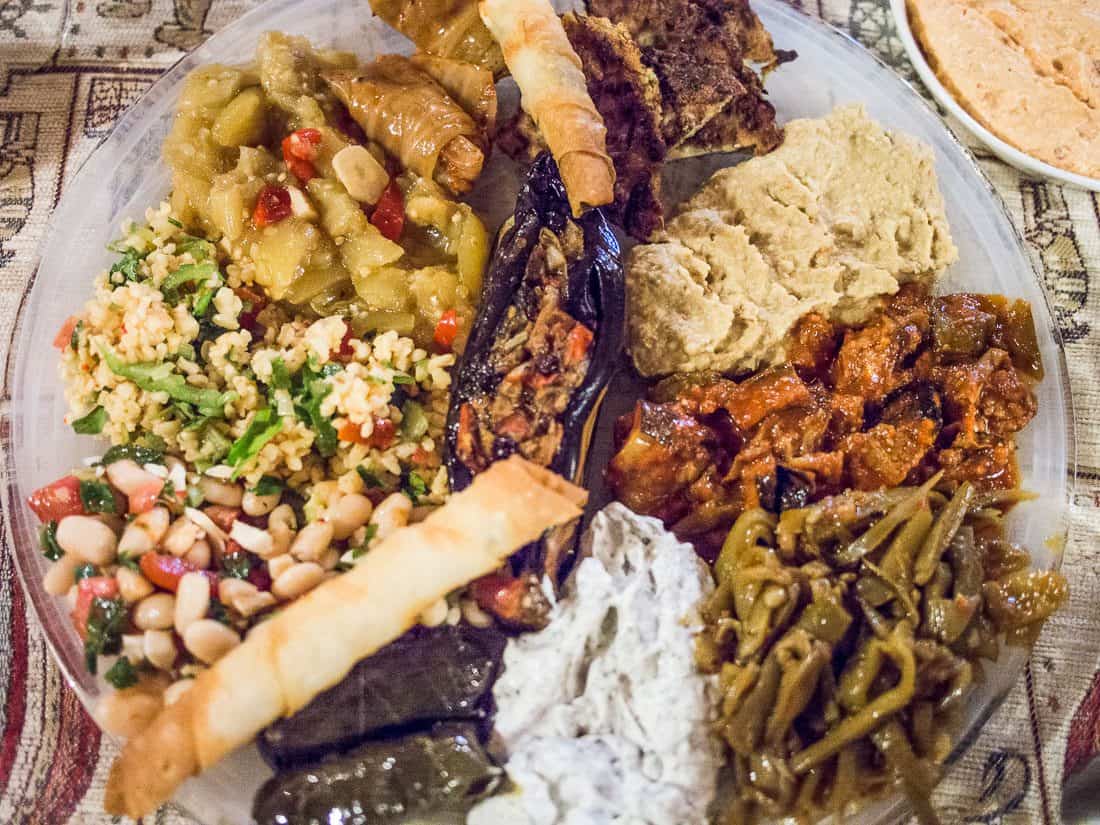 Meze are small plates of appetisers served before a main course, especially in fish restaurants (which makes them surprisingly veggie friendly), and usually shared by a group. They are almost always served with fresh bread which is an essential part of a Turkish meal.
Meze are so plentiful and delicious, and with many meat-free options, that it's easy to make a full meal of them. You can order them individually from the menu, go for a mixed meze plate, or sometimes choose them from a buffet or a tray that's brought to your table.
These are just some of the vegetarian meze you'll find in Turkey.
Ezme – Spicy tomato and chile dip, a bit like Mexican salsa.
Cacik – Yogurt, cucumber, mint, and garlic dip, similar to Indian raita. Sometimes thick, other times more like a soup.
Patlıcan Salatası – Smoky grilled aubergine (eggplant) salad, that's more like a dip, similar to Middle Eastern baba ghanoush.
Muhammara – Spicy pepper and walnut dip. So good.
Hummus – Chickpea dip that isn't strictly Turkish but is often available.
Kısır – Flavourful bulgur salad with pepper and tomato pastes, pepper flakes, onion, garlic, pomegranate molasses, and herbs. It's easy to make as well.
Çoban Salatası – Meaning shepherd's salad this is a simple, refreshing salad of cucumber, tomatoes, onion, green pepper, and parsley, with a lemon and oil dressing. Sometimes Turkish white cheese (like feta) is added.
Sigara Böreği – Cigar shaped fried pastry sticks filled with cheese. These are sometimes served for breakfast.
Şakşuka – Aubergine (and sometimes potatoes) sautéed with tomatoes.
Zeytinyağlı Barbunya – Borlotti or pinto beans cooked with olive oil, tomatoes, onions, garlic and carrots. Zeytinyağlı means cooked in olive oil and is a common way to prepare vegetables and beans in Turkey. They are served cold.
Zeytinyağlı Taze Fasulye – Green beans cooked as above.
Zeytinyağlı Yaprak Sarma – Vine leaves stuffed with rice. The filling can sometimes include meat so ask.
Mercimek Köftesi – Spiced red lentil and bulgur balls, served at room temperature on lettuce (although we liked them in wraps when we made them).
Mücver – Courgette (zucchini) fritters.
Main Dishes
Manti
Traditional Anatolian ravioli-like dumplings topped with a yogurt and spicy tomato sauce. The filling is usually meat but you can find versions made with spinach and cheese.
Zeytinyağlı Dolma
Dolma means stuffed and Zeytinyağlı Dolma are meat-free rice stuffed vegetables served at room temperature. Common varieties are peppers (biber dolma) or aubergines (patlıcan dolma). They can be a meze or a vegetarian main.
İmam Bayıldı
İmam Bayıldı or "the immam fainted" is a popular aubergine dish stuffed with a tomato, onion and garlic mixture. It can be a meze or a vegetarian main.
Güveç
Güveç is a casserole cooked in an earthenware dish. We often found vegetarian versions including mixed vegetables, aubergine and potato, bean, and okra.
Desserts
The Turks have a sweet tooth and there's an array of treats to try. Almost all of them seem to involve vast amounts of sugar syrup and we usually found them too sweet.
Dondurma
Dondurma is Turkish ice-cream which is thicker and chewier than normal ice-cream and can be delicious. It's made with milk, sugar, mastic (an aromatic resin), and thickened with salep, the powdered bulbs of wild orchids. Look for it in steel tins on street stalls and outside cafés. My favourite flavours were pistachio and chocolate.
Lokum
Our favourite Turkish sweet is lokum or Turkish delight, which is nothing like the inferior stuff you find abroad. The classic version is firm jelly-like cubes flavoured with rosewater, lemon, or mastic, and dusted with powdered sugar, but there are many variations. We loved it with pomegranate and pistachio.
Baklava
As much as we tried we couldn't get into baklava, a rich sweet made with layers of pastry, chopped nuts and sugar syrup, but you have to give it a go. The best shop in Istanbul is Karakoy Gulluoglu where we liked their completely untraditional chocolate version, like a fudgy brownie in layers of pastry.
Halva
Halva is a dense sweet made from tahini (crushed sesame paste) and sugar, sometimes with other ingredients added—I like it with pistachio.
Revani
A moist semolina sponge cake soaked in sugar syrup and flavoured with lemon. Despite the sweetness we enjoyed this when we made it on our cooking class in Istanbul.
Tulumba
The Turkish doughnut—deep fried dough soaked in sugar syrup.
Drinks
Çay
The most popular drink in Turkey—black tea is served in small tulip shaped glasses with a sugar cube on the side. Note that apple tea is just for tourists.
Turkish Coffee
Turkish coffee is strong and served in small cups like an espresso. It's boiled with sugar so you need to order your sweetness level, and make sure you avoid the grounds at the bottom of the cup. Strangely, coffee isn't drunk in the morning in Turkey.
Ayran
A very popular yogurt drink made from yogurt, water and salt.
Fresh Orange Juice
Cheap and delicious and found on street stalls. In the winter look out for fresh pomegranate juice instead.
Recommended Vegetarian-Friendly Restaurants in Istanbul
Çiya, Kadiköy – Delicious meze and vegetarian kebabs. We had an incredible tasting menu here on our Istanbul food tour.
Van Kahvaltı Evi, Nişantaşı and Cihangir

– The place to go for a Turkish breakfast. We shared their 20 lira ($9.25) breakfast plate which included a ton of bread, five types of cheese, cucumber, tomatoes, olives, kaymak, gorgeous honey, jams, tahini paste with grape molasses, and cacik.
Ferikoy Organic Market – Every Saturday this market has organic produce and best of all, gözleme stalls—we had a mix of potato, spinach and cheese.
Gram, Pera – A casual but slightly pricey lunch place with shared tables serving modern Turkish food. We had a salad plate where you go up and choose from an array of mostly vegetarian dishes. We enjoyed tabbouleh with green plums and raisins, spinach salad with cheese and strawberries, fava beans, and zucchini in pesto. All were delicious as was the rich chocolate fudge cake we had for dessert.
Casita, Nişantaşı (and other branches)

– Their speciality is manti (Turkish ravioli). There are a few vegetarian options including deep fried manti with potato and cheese, and vegetarian carina, a spinach and cheese manti in a five cheese sauce.
Cafe Privato, Galata – Excellent Turkish breakfast plates with a view of the Galata Tower. It included some unusual extras like muhammara, grilled halloumi, and pancakes.
We've also written about our favourite restaurants in Göreme, Cappadocia.
Turks may love their meat but Turkey has a huge array of tasty dishes to keep any vegetarian happy. It was a joy being able to delve into the local cuisine, which isn't always possible for us. In our month in the country we only scratched the surface of Turkish cuisine—there is plenty more to explore. We'd love to hear your favourite Turkish vegetarian dishes!
If you are a travelling vegetarian don't miss our vegetarian survival guides to Cambodia, Puglia, Italy, Slovenia, San Francisco, Mexico, Jordan, Burma, Chiang Mai, Thailand, Japan, Hong Kong, Argentina, Brazil, Paraguay, Bolivia, and Peru.