This page contains affiliate links. Please read our disclosure for more info.
We travelled for nearly three years without a mobile phone. We weren't technology shy—we need it to work and had laptops, cameras, kindles, and iPods—but a phone just didn't seem necessary. We'd actually never owned a smartphone—in the UK we were saving for travel and it wasn't a priority.
When Simon starting developing iPhone apps though, he needed a better test device than our iPod Touch and we bought an unlocked iPhone 5. We managed to avoid picking up a SIM for a few months—I was worried about being connected all the time as we spend enough time online—but finally caved in Mexico last year.
The Benefits of Travelling with a Phone
We've been fully connected for most of the last 18 months now, and although I still don't think travelling with a phone is essential, we have found it really useful. We rarely use it to make or receive calls but having the internet in our pocket often comes in handy. We use it to:
Look up directions – It's great not having to plan the route in advance. Apple Map's turn-by-turn spoken directions made our US road trip easy.
Find nearby vegetarian restaurants – We use apps like Foursquare, Yelp, and Happy Cow to find nearby restaurants, coffee shops, or whatever business we need.
Translate – We can translate menus or look up phrases to help communicate with locals.
Tether – This is an incredibly useful feature. We can turn the phone into a mobile hotspot and connect our laptops to it. It's great when the Wi-Fi goes down; in countries where the 3G is faster than the local Wi-Fi; and when we're staying in places without Wi-Fi (rare, but it's nice to have that flexibility).
Call people – We rarely do this but it can be handy, especially when meeting owners to check into apartments.
Skype – In Cambodia we were trying to withdraw cash and it seemed the bank had blocked our card. Usually we'd have to go back to the hotel to call them, but we were able to use the Skype app to call them right there.
There are plenty of other uses but these are the ones we use the most. You can also see our favourite iPhone apps.
How to Use a Mobile Phone Abroad
Using a mobile phone abroad can be very expensive. For short trips you might get away with using an international roaming plan from your home country, but for digital nomads and long term travellers the best way is to travel with an unlocked GSM phone and buy local SIM cards in each country you visit.
In general we've found local SIM cards cheap and easy to buy, although some countries are more difficult than others. We find it worthwhile if we're staying in a country for a week or more.
There are other options like international SIM cards that work in multiple countries, but these are more expensive and only worth it if you are changing countries at a very fast pace.
How to Find Local SIM Cards and the Best Data Plans
Before we arrive in a country I research online which phone companies offer pre-paid mobile phone plans; which are considered the best (cheapest, widest 3G coverage); and the data plans they offer. As we rarely use our iPhone as a phone the most important thing to us is the data plans they offer. We usually look for at least 1GB of data a month, although we need more in countries where the internet is unreliable and we'll be tethering our laptops.
Another thing I look for is whether the phone company offers nano SIMs which we need for our iPhone 5. These are becoming easier to find, and if not we've found that mobile shops can always cut them down for us.
Travel technology website Too Many Adapters have many guides to buying SIMs in different countries so they are my first stop in my research. I also search online using terms like "best prepaid data plans in X" or "prepaid SIM in X". Once I know the main phone companies in a country I'll look at their websites (Google translate is handy) as information about plans goes out of date quickly.
Another option if there isn't much information online is to ask expats or locals once you arrive in the country, or just visit a mobile phone shop and ask about the options.
If the phone company has a shop at the airport this is the most convenient place to pick up a SIM. If not we visit their shop when we arrive, or in some countries (especially in Southeast Asia) you can buy SIMs from convenience stores. It's usually easiest to buy it in a shop as they'll also set it up for you. You often need your passport to buy a SIM card so take it with you.
Sometimes it's not possible to buy a new data plan until the month is up, so it's a good idea to buy the biggest data plan you can afford. Another option if you run out of data is just to buy a new SIM and start over with a new plan.
Buying Local SIM Cards Around the World
These are the details of all the countries we have bought local SIM cards in the last 18 months. Bear in mind that the information may be out of date now as plans change frequently.
Europe
Spain
Company: Vodaphone (they had the best coverage at the farm we were housesitting so we didn't look into other options).
Cost: €10 ($13.50) which included 500MB data plus 20 minutes and 20 texts.
How: We bought the SIM from a generic phone shop in Orgiva and they set it up for us. We needed our passport but they accepted a photocopy. We were able to change to a different plan once we ran out of data and needed more.
Turkey
We decided not to get a SIM card in Turkey as it was too complicated and expensive. Basically the problem is that the Turkish government shuts down foreign phones after a week or two. It could work out fine for a short trip but we didn't want to spend the money and not be able to use it after a week. You could get lucky and have it last longer, or there's a complex process you can go through for longer stays.
Italy
Company: TIM (Vodaphone is another option, but TIM has better coverage in Sicily).
Cost: €20 ($27) for SIM including €15 of credit. The TIM Special plan cost €10 ($13.50) and included 2GB data, 400 minutes of calls, and 1000 texts valid for one month. After the first month it's €10 ($13.50) month for 1GB of data. Tethering is supposedly €3 ($4) a day extra but we did it a few times without being charged.
How: We went to the TIM shop in Venice where they cut down the SIM and set it up, although it took a while.
Slovenia
Company: Tusmobil (Mobitel might be better for longer stays).
Cost: €5 ($7) for SIM including €1 credit. €1 ($1.50) a day for unlimited internet. You can buy credit in multiples of 5, so we paid €10 ($13.50) for the eight days data we needed.
How: We went to the Tusmobil shop in Ljubljana. They cut down a SIM and set it up but we had some issues. It took us ages to realise the previous SIM we'd had in the UK had altered the settings and we had to clear the past provider settings (settings-general-reset-reset all settings).
UK
Company: Giffgaff (and T-Mobile—see below).
Cost: Free SIM, £10 ($17) for 1GB data, 500 minutes, and unlimited texts. No tethering available on iPhone.
How: You have to order the SIM online and get it posted to a UK address. You manage the account online.
As we had issues with our phone settings after using the Giffgaff SIM we wouldn't use them again. On our next visit to the UK we ordered a free T-Mobile SIM online (you could also go to the shop) and bought the £10 ($17) package which included 1GB data, 400 texts, and 100 minutes.
Update: Before we left the UK we got a Three pay as you go SIM card (£0.99 in Tescos or free if you order from Three online) and bought their £15 add-on pack which includes unlimited data, 300 minutes, and 3000 texts and lasts for 30 days. We bought this to use their Feel at Home service (Update 2023: Now called Go Roam) which amazingly lets you use your phone (and add-ons) for free in 16 other countries including the US (where we were going). When using it abroad the data is capped to 25 GB and you can't tether, but it's still a great deal.
Asia
In Southeast Asia it's very easy and cheap to buy local SIM cards and data.
Singapore
Company: Singtel
Cost: S$38 ($30.50) for SIM including 1GB data (fast 4G) and S$38 credit. We spent S$25 ($20) of that on 14GB data for one week as we didn't think we'd have internet so were tethering.
How: We planned to buy the SIM at the Money Exchange booth at the airport, but they only had S$38 nano SIMs available and we wanted the S$15 SIM. We had the same situation in a 7-Eleven in the city so ended up having to buy it. If you don't need a nano SIM you'll have more options for cheaper SIMs.
To set it up all we had to do was insert the SIM and reset the phone. We bought the data plan by texting them—the leaflet provided with the SIM has the details and is in English.
Malaysia
Company: U Mobile (and Hotlink—see below)
Cost: Free SIM, 45 MYR ($14) for 2GB data.
How: We bought it from the Sony store in the Kuala Lumpur Low Cost Terminal airport—all the main phone companies have booths after immigration. They cut down the SIM and set it up for us.
We ended up burning though our data as our internet on Langkawi was slow. We couldn't upgrade our data package so bought a new Hotlink SIM from the shop at Cenang Beach. The SIM cost 8 MYR ($2.50) and 3GB of data (with 1.5GB extra in a special promotion) cost 68 MYR ($28.50). The advantage of Hotlink is that we could buy new packages when our data ran out.
Cambodia
Company: Cellcard
Cost: $2 for SIM, $5 for 3.5GB of data for one month.
How: Lots of shops sell SIM cards and we ended up buying ours from a money exchange place in Siem Reap. They cut the SIM and set it up for us. It was very cheap and easy, and we really appreciated being able to tether as our hotel internet was often slow.
Thailand
Company: True Move H (Happy with DTAC is another option with similar prices).
Cost: Free SIM, 349 baht ($11) for 1GB data.
How: We were given the SIM for free at Chiang Mai airport (they had nano SIMs already cut down), but you can also buy them at 7-Elevens. We followed the instructions to activate it, topped up at a 7-Eleven, and dialled the number given to buy the monthly net 349 package. We couldn't renew this package when we ran out of data before the end of the month, but we could buy a different package.
When we returned to Thailand after seven weeks away our SIM had expired. We bought a new one for 49 baht ($1.50) from 7-Eleven on Koh Lanta, but as it wasn't a nano SIM we had to pay 50 baht to get in cut down in an electronics shop next door. This time we bought 2GB of data for 599 baht ($19).
North America
US
Company: AT&T
Cost: Free SIM, $60 for 2GB data. No tethering.
How: We went to the AT&T store in San Francisco. It was busy and we had to wait for a while but the setup process was straightforward. Options in the US are limited and expensive and tethering wasn't allowed.
For our next trip to the US we'd like to get T-Mobile's $30 a month package which includes unlimited web and text and 100 minutes of calls, but you need to buy the SIM online and use a US credit card [update: we tried using a friend's credit card and even that doesn't work as apparently their website only works in Internet Explorer!].
Update: If you have problems buying the T-Mobile SIM online then we've heard that you can buy it in Walmart to take advantage of the $30 package.
For our US trip we ended up buying a Three SIM in the UK and using their Feel at Home service to use our unlimited data which cost us £15 a month (see UK section above). This worked well although the 3G was quite slow and we had to pay international rates to call/text anyone in the US (we just used Skype instead).
Mexico
Company: Telcel
Cost: MX$149 ($11.50) for SIM including MX$50 credit. MX$299 ($23) for 1GB data valid for a month.
How: We went to the Telcel Centro de Atención a Clientes in Guanajuato. They had nano SIMs and it was a fairly easy process. Simon has written about it in more detail over on Too Many Adapters. Tethering was allowed and we found that really handy during power cuts when we were living in San Pancho.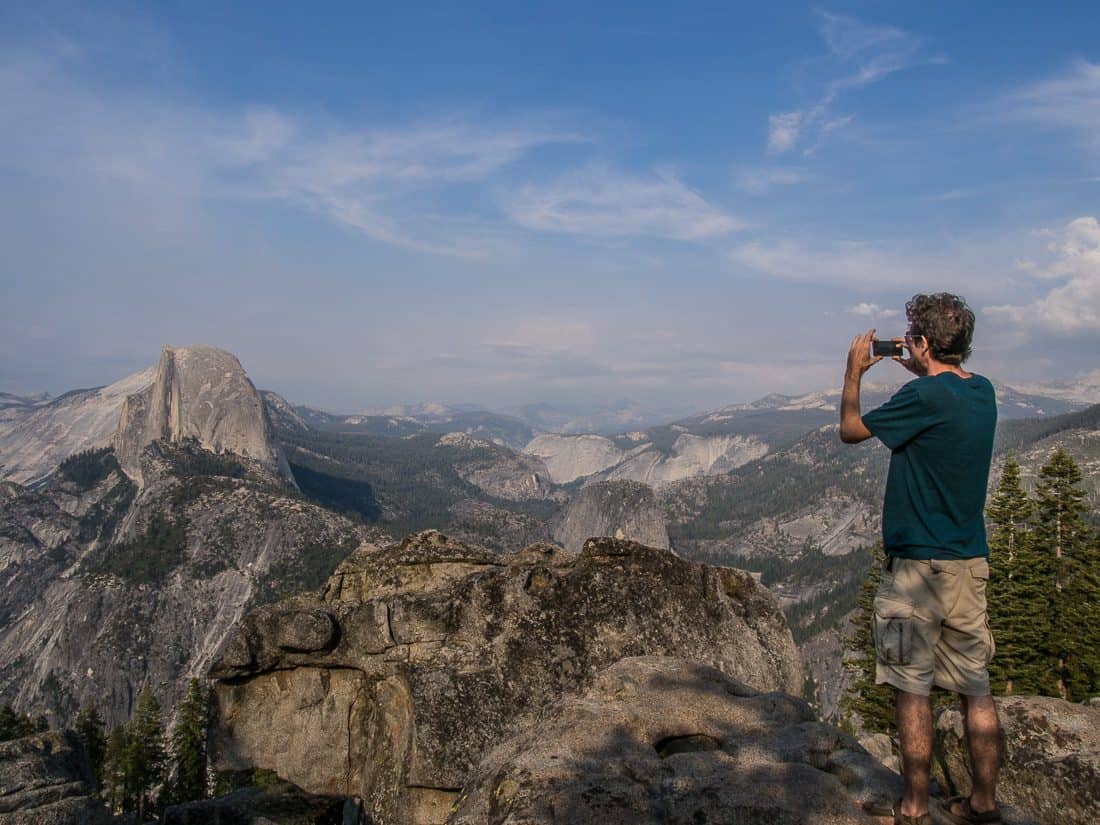 While we still think a phone isn't necessary for travel (well, Simon might disagree..), it certainly has made our life easier and, as 3G can be surprisingly fast even in remote locations, has given us the flexibility to travel to places without reliable Wi-Fi. Buying local SIM cards and data plans is usually simple, inexpensive and for us, well worth it.