This page contains affiliate links. Please read our disclosure for more info.
We weren't quite sure what to expect from travel costs in Turkey, a country that bridges Europe and Asia. We knew it'd be more expensive than Southeast Asia and we hoped it'd be cheaper than Western Europe.
Overall we found Turkey quite good value. It's not dirt cheap, but some things—especially meals out—are very affordable. We stuck to more well known tourist destinations so I'm sure prices would be cheaper in less visited places.
Trip Details
When: May-June 2014
Length: 1 month
Where: Istanbul (7 nights), Gocek (1 night), Kas (14 nights), Antalya (2 nights), Cappadocia (7 nights)
Here's the total amount we spent for two people during one month in Turkey:
As usual we were a little over budget and our average daily spend was £51/ $85 which is £25.50/ $42.50 per person. Here's what we spent it on: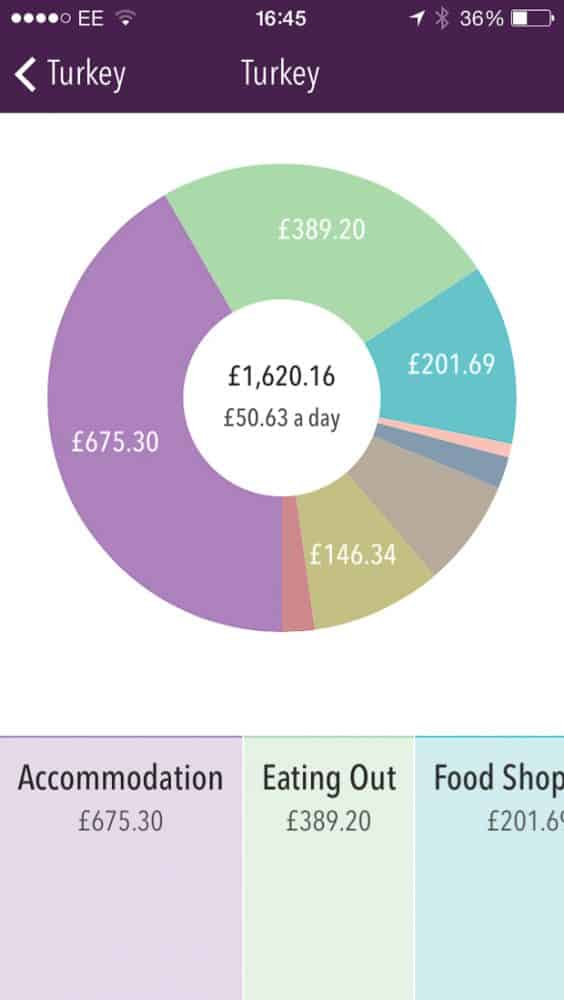 The exchange rate is around £1 = 3.60 TRY (Turkish lira) and US$1 = 2.15 TRY.
Accommodation (41.68% of total, £21/ $35 a day)
In Istanbul we found renting an Airbnb apartment cheaper than a hotel—it cost us £162 for a week. Our studio apartment near the fashionable Nişantaşı neighbourhood was small but had a huge terrace and everything we needed. We could walk to Taksim square in 15 minutes or the Osmanbey subway station was only a 5 minute walk, so we could get all over the city easily.
We spent a week with my family in Kas celebrating my mum's 60th birthday staying in a stunning 10 bedroom villa overlooking the sea—we didn't pay for our accommodation that week.
We stayed on in Kas for another week and negotiated a discounted rate of €40 a night for a one bedroom apartment at Lantana Apartments. The simple but modern apartments have a separate bedroom, small kitchen, decent WiFi, and balconies (most with sea views). The owners are friendly, there's a lovely garden where they serve breakfast, and it's in a great location only a few minutes walk downhill to Small Pebble Beach.
We used Booking.com to find hotels in Gocek (€46 a night) and Antalya (€50 a night). There were cheaper options but we chose nicer hotels with private bathrooms and pools.
In Cappadocia we stayed in two beautiful boutique cave hotels which I think are great value, although there are cheaper options especially in Goreme. We split our time between Ortahisar where we had a sponsored stay at the wonderful Castle Inn (rooms usually from €50 a night) and Divan Cave House in Goreme where we paid €70 for two nights and received two more complimentary nights.
Food & Drink (39.61% of total, £20/ $33 a day)
Our Food & Drink budget includes the subcategories of eating out, food shopping (we had a kitchen in Istanbul and Kas), coffee, and drinking water.
Eating out expenses varied widely in Turkey. Cheap eats can be found at street stalls or simple eateries—for example, a simit (like a bagel) for one lira ($0.50); three lira ($1.50) for a çiğ köfte wrap; or five lira ($2.50) for a cheese pide (Turkish pizza) that was enough to share for lunch.
In restaurants we spent a lot more, anywhere from 20-75 TRY ($9-35) for a meal for two. We found Turkish food delicious, vegetarian-friendly, and good value.
We self catered for lunch during our first week in Kas and every meal during our second week. Bread, cheese, olives, fruit, vegetables, spices, lentils, and grains are inexpensive from local markets and shops, and we enjoyed putting into practice what we'd learned on our cooking class.
Transport (7.43% of total, £3.76/ $6.24 a day)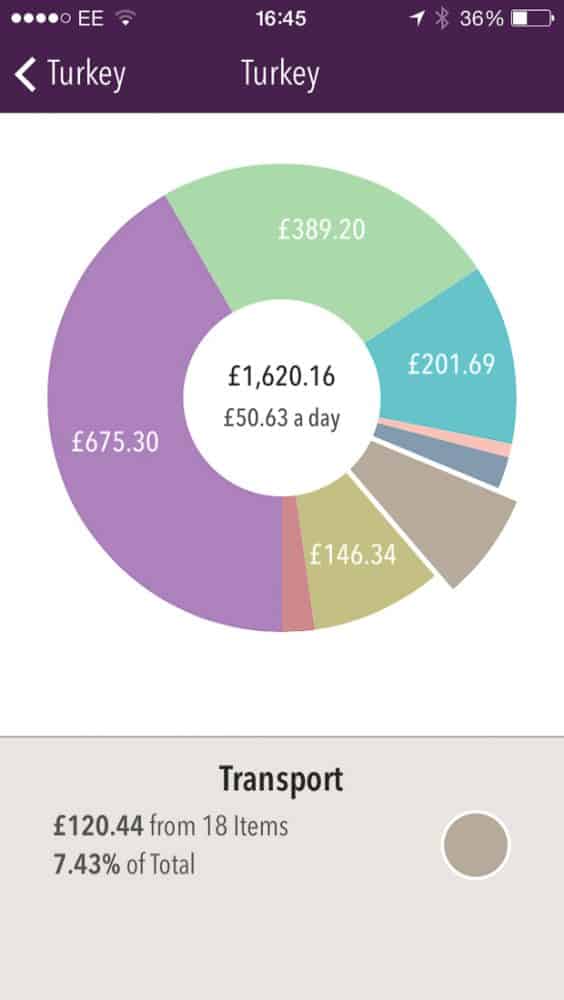 We travelled between major cities by plane which we didn't include in our daily budget (see below). The transport costs here include airport transfers, metro in Istanbul, and buses/taxis/tram within other cities.
Entertainment (9.03% of total, £4.57/ $7.58 a day)
This includes a number of museum and castle entrance fees. The biggest expense was 360 TRY to take my mum to the spa for her birthday.
A number of our activities were sponsored so we didn't pay for our cooking class, Istanbul food tour, or hot air balloon trip in Cappadocia. All these are well worth budgeting for if you can.
Miscellaneous (2.24% of total, £1.13/ $1.87 a day)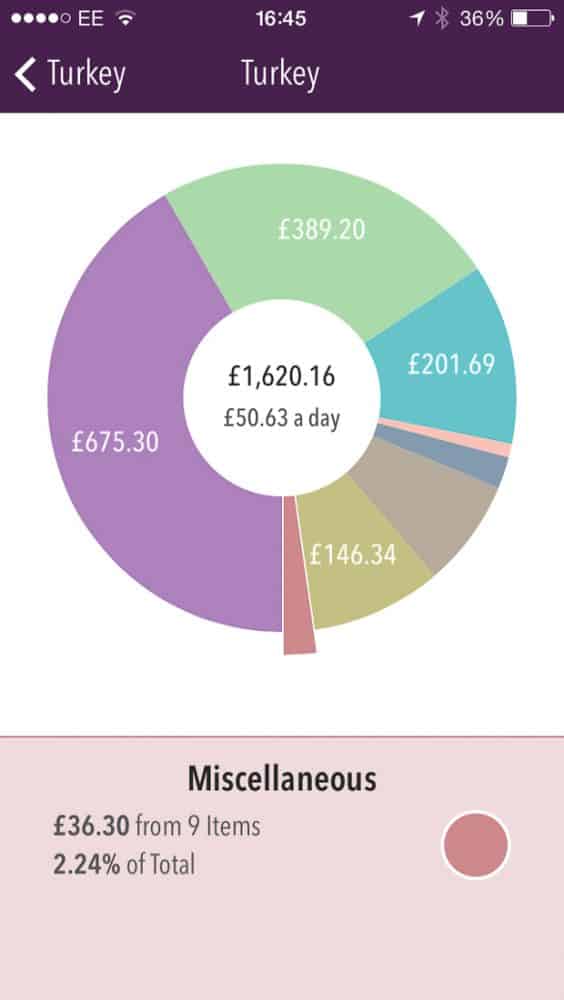 This includes new headphones, sunglasses, and printing boarding passes.
Costs Not Included Here
Turkish e-visas $20 per person.
Pegasus flight Istanbul to Dalaman 124 TRY per person.
Pegasus flight Antalya to Kayseri (for Cappadocia) 247 TRY per person.
Pegasus flight Kayseri to Istanbul 114 TRY per person.
Our trip to Turkey wasn't a typical one as we stayed with family for part of the time which decreased our accommodation costs but increased our food and entertainment expenses. Hopefully this post will give you a rough idea of what to expect for travel costs in Turkey, which overall we found to be a reasonably priced destination for Europe.
If you enjoyed this post, pin it!