This page contains affiliate links. Please read our disclosure for more info.
In five years of full time travel we've never seen dolphins or whales—somehow we always miss the right time of year or just get unlucky.
It's been on our bucket list for a long time and we hoped that our luck would change in Puerto Escondido, a beach town on Mexico's Pacific Coast, where we're living for a month.
It's whale season, but despite reports of others seeing whales and swimming with dozens of dolphins, we went out on a boat trip with low expectations—our past experience had taught us that much.
We set off from Puerto Escondido's Playa Principal, a cool breeze causing gentle waves as we passed fishermen in small boats hauling in their catches.
Not long into the trip our guide pointed out to sea; something was jumping out of the water, but we couldn't see what. It came towards us, growing larger until we could make out its shape—it was a ray playfully leaping a few feet out of the sea.
Our guide told us it was a manta ray, but we later discovered it was a mobula ray, also known as a devil ray or flying ray.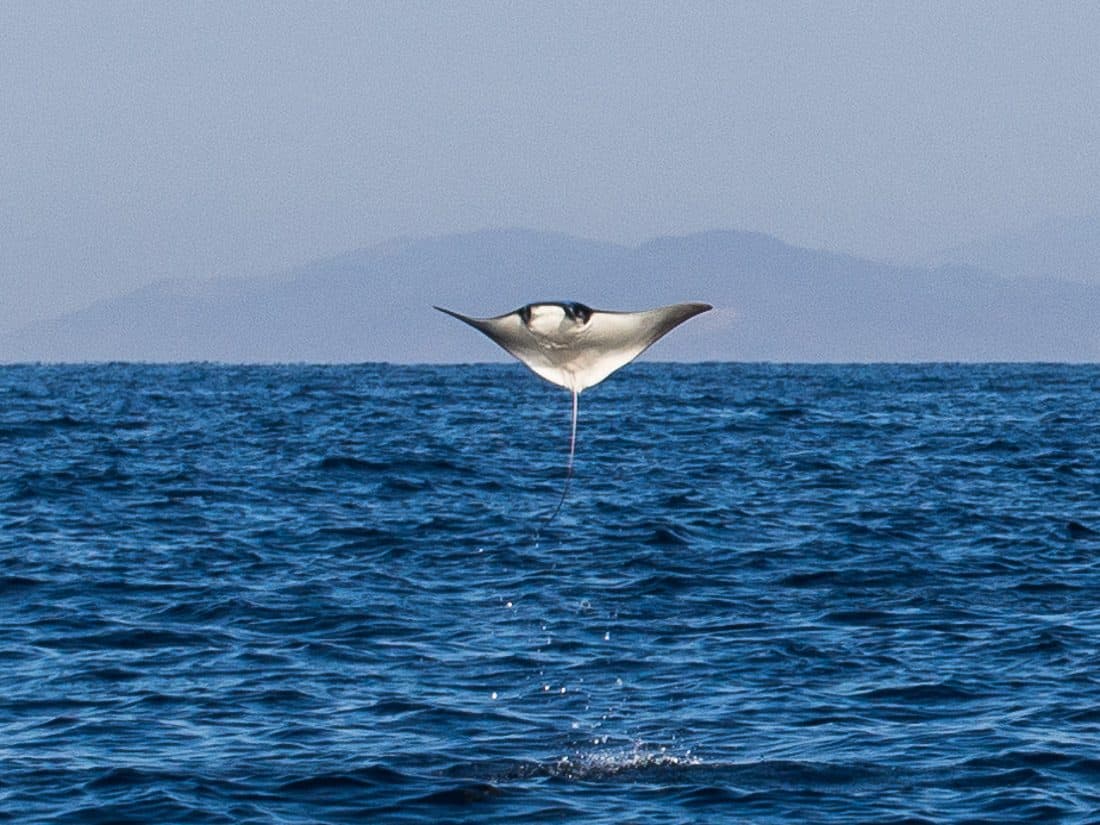 We stopped the boat to watch the ray and more joined it—they jumped together in a row, like synchronised swimmers, diving back into the water and emerging again in unison.
As they got close to our boat we jumped into the warm water with snorkelling gear, and looking down, realised they were travelling in a school of hundreds of rays; their eyes glowing up at us through the hazy sea.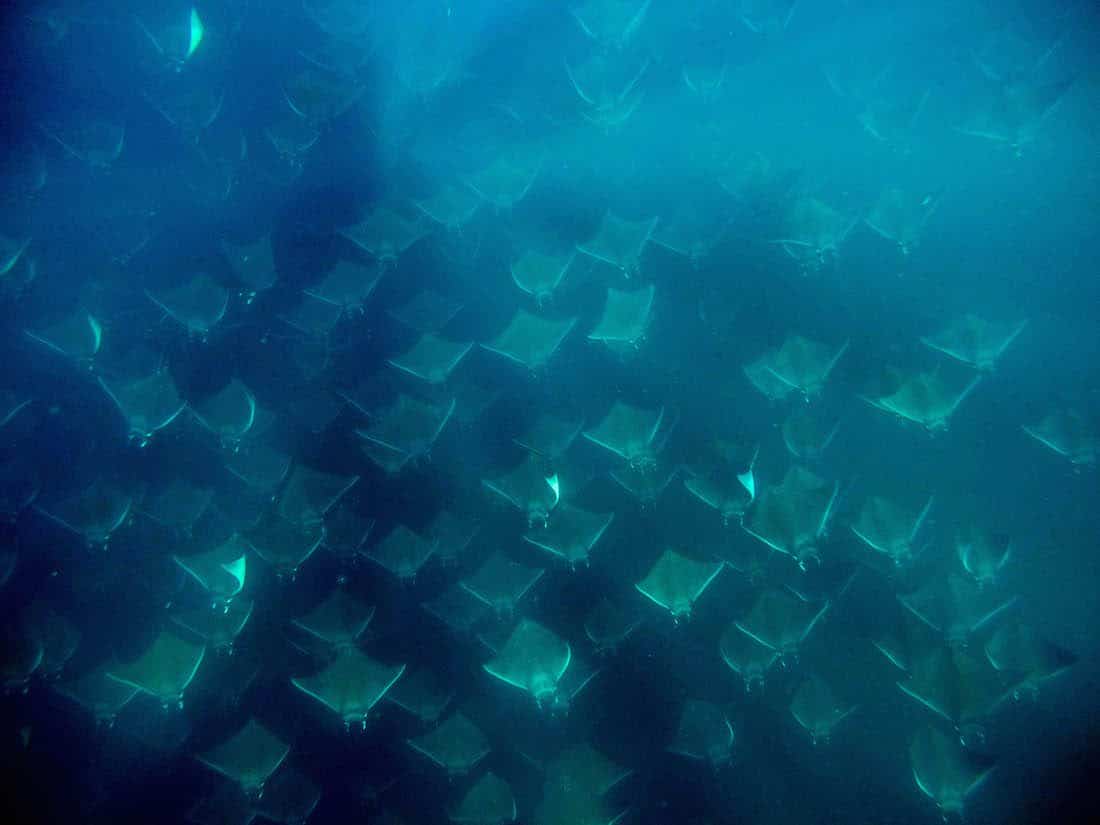 We repeated this a number of times—following them in the boat, stopping to watch them fly out of the water towards us, then catching a glimpse under the water before the group passed.
We've seen rays while scuba diving before, but never so many together, and never jumping out of the water. It was only later that I realised how rare the sight is.
Our guide said that the rays jump to remove parasites, but according to Wikipedia that's just one theory (others include mating rituals, birthing, or communication) and scientists don't know why they do it. To us it looked like joyous play or an attempt to fly.
Simon caught the jumping rays on video with our iPhone.
The focus of our boat trip was to spot dolphins and whales, so we moved on, further out to sea, the water getting darker beneath us and the town becoming dots on the horizon. We motored on and on, at first staring alertly at the water, later falling into a lethargic daze under the hot sun. We didn't see a thing and it was time to head back to shore.
We did have a final treat on the way back. We saw a bird sitting on something in the sea, a dark shape that glistened in the sun. At first we thought it was a buoy but as we got closer we realised it was a large turtle; it obligingly swam close to our boat.
We were disappointed but unsurprised that we didn't see dolphins and whales even though they are seen frequently in the area; there are no guarantees with wildlife.
We consoled ourselves with the magical sight of flying mobula rays, something most people don't have the opportunity to see, and that we're unlikely to ever witness again.
Boat Trip Details
Our boat trip from Puerto Escondido was from 8am to 11am and cost 450 pesos ($30) per person. We did the trip with dive company Deep Blue Dive who we'd heard are the best company to go with, but we had a few issues. Our trip was in 2015, so things may have changed since then.
Their website promises snorkelling gear, water, and snacks, but there wasn't enough snorkelling gear for everyone (and there were only six of us), or enough water, and no snacks (unless you count the raw onions in the cooler).
One of the guys on the boat also picked up the turtle, which although our guide later agreed was wrong, he didn't do anything to stop at the time. I'm not sure if there is a better company to go with, so I'd recommend being clear on these issues before you join a trip.
If you are really keen to see the flying mobula rays, Dive Ninja offers trips to see the mobula ray migration in Baja California, Mexico. We have no experience with this company though.
Photo credit: The underwater photo of the school of rays was taken by Tom Krones.
This post was originally published in February 2015 and last updated in 2021 after discovering the manta rays were in fact mobula rays.