This page contains affiliate links. Please read our disclosure for more info.
If we stay anywhere for at least a week we'll try to rent an apartment—it's how we feel at home without ever having a home. This is the fourth year of our series about how we find apartments as we travel.
Last year we found some wonderful places without the struggles we'd had in previous years, and I asked whether we were just lucky or whether we were getting better at the search.
This year was another good year, and although I think our experience helps, holiday rentals are becoming more common, and sites like Airbnb are making it much easier to find apartments in advance, without having to turn up and put in the leg work.
In Europe and North America we find Airbnb apartments to be cheaper than hotels; it's relatively more expensive in developing countries, but the choice and prices are improving. In countries like Thailand and Mexico you'll usually find cheaper deals by turning up and asking around, but the convenience of booking online can be worth paying extra—as we experienced in Guatemala.
We started 2014 renting a lovely house in Chiang Mai, Thailand and went on to rent apartments and houses in Thailand, Turkey, Spain, the US, and Guatemala, with stays ranging from a few days to six weeks.
Koh Lanta, Thailand
How we found it: Friend's recommendation
How long we rented for: 6 weeks
How much it cost: Various rates
In 2012 we rented an apartment at Sai Naam Residence on Long Beach and ended up being invited to try a number of villas in the same Malee Seaview complex. The owners were so pleased with our coverage—seriously, the beach villa sells itself—that they offered to host us again when they heard we were retuning to Koh Lanta (April and May is the low season so they had availability). We stayed in a number of apartments at Sai Naam—we still love the location on the edge of the pool—as well as a this gorgeous ultra modern villa with wraparound pool, and our favourite, the beach villa with infinity pool and cinema room. It was pure heaven.
Although we were lucky enough to stay for free, these luxury villas are great value if you have a group and visit in off season—prices start at $762 a week.
Read more about our previous stay at Sai Naam apartments and the beach villa.
Istanbul, Turkey
How we found it: Airbnb
How long we rented for: 1 week
How much it cost: £162 ($254) a week (including Airbnb fees)
Our love for Airbnb continued in 2014 and it's still our go-to site for apartment rentals, especially in Europe and the US where you can find some great deals.
The Orange Studio was small, but it has a huge terrace and everything we needed for a short stay including WiFi and a washing machine. We liked the location in the fashionable, untouristy Nişantaşı neighbourhood. We could walk to Taksim square in 15 minutes or the Osmanbey subway station in five minutes, so we could get all over the city easily.
Fatih was a helpful host and we appreciated that he provided things like shampoo, shower gel, and washing up liquid, which isn't always the case in apartment rentals.
If you'd like to give Airbnb a try, sign up using this link and get $25 off your first stay.
Kaş, Turkey (Cukurbag Peninsula)
How we found it: HomeAway
How long we rented for: 1 week
How much it cost: £1364 ($2144) for 14 guests for 1 week (negotiated).
For my mum's 60th birthday my dad wanted to arrange a surprise family reunion somewhere in Europe. We considered France, Spain, and Greece, but Turkey was the best value. It was the right decision because Kaş was a gorgeous little town and Villa Kibele is one of the most stunning places we've ever stayed. There are ten bedrooms, a pool, and lots of terraces and living areas, so there was plenty of space for all 14 of us. As all bedrooms have private ensuites it was like having a boutique hotel all to ourselves. Best of all were the panoramic views of the sea and mountains from almost everywhere in the villa.
Read more about Villa Kibele and our time in Kaş.
Kaş, Turkey
How we found it: Friend's recommendation
How long we rented for: 1 week
How much it cost: €40 ($50) a night (negotiated)
After we said a sad goodbye to my family and the beautiful villa, we moved to Kaş town centre. Our friends Warren and Betsy stayed at Lantana Apartments while hiking the Lycian Way and highly recommended it. Our one bedroom apartment was simple but modern with decent WiFi and a balcony (with a sea view from certain points) where I loved to write. There's a pretty garden and it's only a few minutes walk downhill to Small Pebble Beach.
Granada, Spain
How we found it: Airbnb
How long we rented for: 1 week
How much it cost: £287 ($450) a week
The Casa con Encanto was a lovely, modern one bedroom apartment with sliding doors leading on to a cute central patio, and a roof terrace with views over Granada. The host lived upstairs and was wonderful—she stocked our fridge with food before we arrived and brought us homemade soup. Despite the July heat it stayed very cool inside and we didn't need air conditioning.
We loved the location in El Albaicin, the old Moorish quarter on a hill above the centre. It's a gorgeous place to wander in the narrow streets, up and down hills. We were able to walk everywhere in the city including the Alhambra and to our epic 18 course meal at La Oliva near the centre of town.
Portland, Oregon, USA
How we found it: Airbnb
How long we rented for: 9 nights
How much it cost: £54 ($85) a night
We fell in love with Portland and with a beautiful, spacious apartment (unfortunately no longer available to rent)—we felt so at home we didn't want to leave. The bed and couch were ultra comfortable, the kitchen was well equipped and came with free goodies, and the WiFi was great. It was bright and sunny, and surrounded by trees.
We recommend staying in one of the leafy neighbourhoods rather than downtown—our location just off SE Hawthorne was perfect. It was really quiet but only a few minutes walk to the restaurants and cafes of this cool neighbourhood. There's a pizza place (with vegan slices!), bakery, and farm shop just around the corner. It's only a 40 minute walk or 15 minute bus ride to downtown. We'd love to return and stay for a month.
Sebastopol, California, USA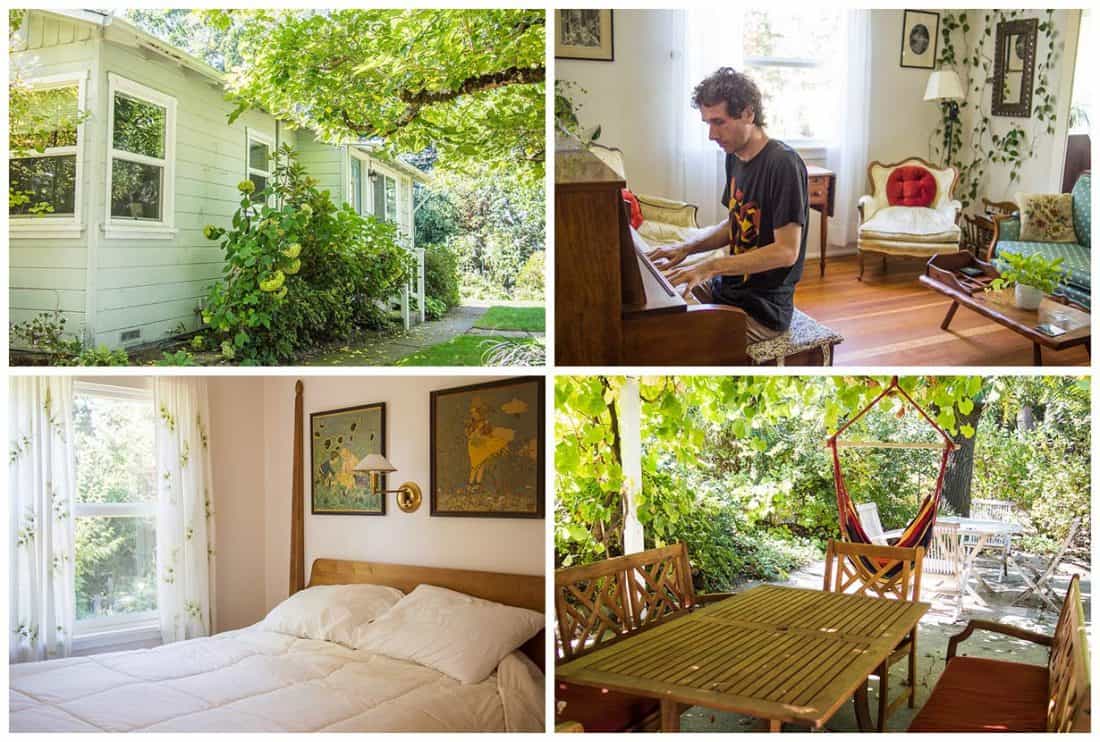 How we found it: Airbnb/Friend
How long we rented for: 6 nights
How much it cost: Usually $150 a night
Our Airbnbs just kept getting better, and this two bedroom house near Sebastopol in Sonoma wine country was truly special. It's owned by our friend's mum (she gave us mate's rates), and we're jealous that he has such a lovely place to visit.
It felt like a retreat from the world, surrounded by a mature garden of apple trees, flowers, and herbs, with a picturesque grape arbor for alfresco meals. The house is very charming with a piano, big flat screen TV (in the second bedroom), great kitchen, and comfortable beds. I loved lying in bed looking out at the trees.
It's very quiet and private, yet walkable to wineries and restaurants in nearby tiny Graton. Sebastopol is a short drive away and has some great organic food stores, restaurants, and the unique junk sculptures of Florence Avenue. Sonoma is one of our favourite parts of the world and this is the perfect location to visit Bodega Bay and the coast, Armstrong Redwoods, Healdsburg, and many wineries. It's only about an hour north of San Francisco.
Healdsburg, California, USA
How we found it: FlipKey
How long we rented for: 3 nights
How much it cost: Usually $256 a night
FlipKey offered us the chance to try out their holiday rental site, and we used our credit to stay in Healdsburg for my first half marathon. I'm so glad we discovered the site as everywhere else was booked up that weekend.
The apartment was a five minute drive outside of Healdsburg in a quiet neighbourhood. It was very spacious and comfortable with lots of homely details. I loved the jet bath in the big bathroom with attached walk-in closet (bigger than Japanese hotel rooms!). The real stand out feature was the view—we could look out at the vineyards and hills from the huge terrace and throughout the apartment. It was tough to drag ourselves away.
San Marcos La Laguna, Lake Atitlán, Guatemala (Apartment)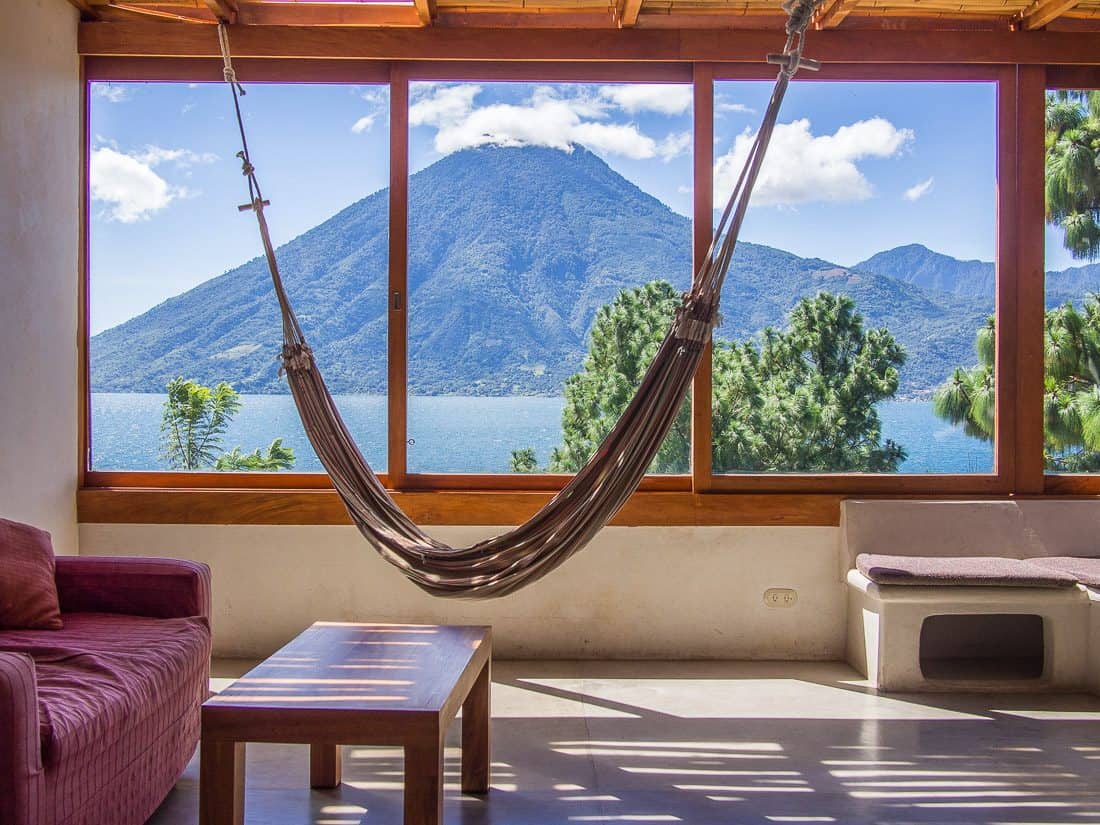 How we found it: Vangabonds blog and other recommendations
How long we rented for: 6 weeks
How much it cost: $700 a month
I knew it would be cheaper if we turned up at Lake Atitlán to find an apartment, but we were feeling so exhausted that we didn't want the hassle. Plus we keep hearing good things about Pasajcap and I knew we wouldn't be able to find anywhere better. We booked Pasajcap a month in advance for November and it was already almost booked up—it's justifiably popular with many long term and return guests.
It's very well run, the loft-style studio apartments are modern and well equipped, and the gardens are a lovely place to relax. Really though, it's all about the view.
Read more about our apartment in our temporary home post and our San Marcos guide.
San Marcos La Laguna, Lake Atitlán, Guatemala (Casita)
How we found it: VRBO
How long we rented for: 1 month
How much it cost: $750 a month
Sadly Pasajcap was booked over Christmas so we looked around for other options once we arrived. I found the two bedroom house on VRBO and although it was more than we wanted to spend and didn't have internet (we used 3G) I was just glad we found somewhere at this busy time of year.
It turned out to be a lovely house with a terrace and garden, well equipped kitchen, and a water filter system so we could drink the tap water. It's nearer to the village than Pasajcap but still in a quiet area.
Read more about our casita and other options for finding rentals in our San Marcos La Laguna guide.
As you can see Airbnb is our most used apartment rental site—it consistently has the best rates and choice. If you'd like to try it yourself then sign up here and you'll get $35 credit to use towards an apartment (and we do too, so thank you!).
See our other guides to how we found apartments:
Part 1: Argentina, Colombia, Japan, and Thailand.
Part 2: Thailand, Italy, Portugal, Egypt, USA, and Mexico.
Part 3: Mexico, Paris, Italy, and Thailand (Chiang Mai).