This page contains affiliate links. Please read our disclosure for more info.
Our day of wine tasting began in a barn and ended in a Tuscan-style mansion. We met an artisan wine maker who has been practicing sustainable farming since before it had a name, and toured a winery whose wines have appeared on White House menus. Sonoma is diverse—from the approaches of the winemakers, to the soils in which the vines grow, to the micro-climates created by the cool fog from the coast and the heat of the sun further inland.
When we first started planning our Northern California road trip we knew we wanted to visit wine country, only an hour north of San Francisco. The obvious place to visit was the famous Napa Valley but some locals suggested we try Sonoma wineries instead—they are more laid-back, cheaper, and quieter, which sounded perfect for us.
There are three Sonomas—the town of Sonoma, located within the wine region of Sonoma Valley, itself situated in the south of Sonoma County. With over 450 wineries in the area we narrowed our focus to the Alexander and Dry Creek Valleys in northern Sonoma County. We found that the further north we went the more rural and prettier the countryside got with quiet roads gently winding through the green vineyards against a backdrop of hills, golden from the summer sun.
J. Rickards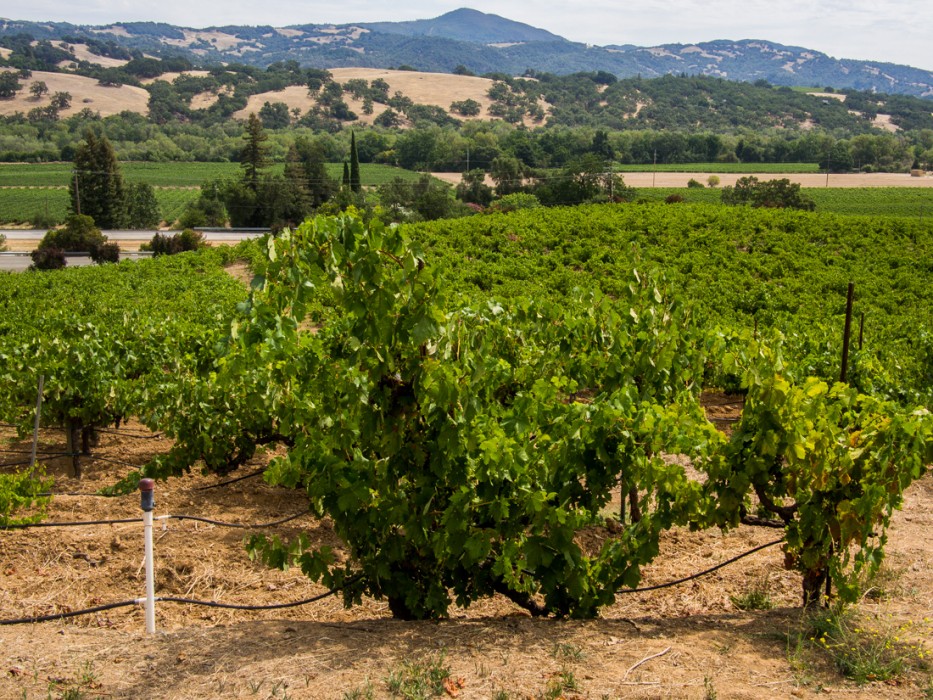 Our B&B recommended a visit to J. Rickards Winery. It isn't one of the well known wineries but it turned out to be just what we were looking for in Sonoma. We love small family-run vineyards and J. Rickards is as down to earth as you get—they describe their wine as "Darn Fine Barn Wine".
Owner Jim is an unconventional winemaker who doesn't adhere to any particular farming philosophy, as he doesn't believe one size fits all, so his focus is on doing what's right for his farm. This approach meant that Jim discovered sustainable farming before it was fashionable. Sustainable farming is about minimising the impact on the environment but still being able to make money.
Unlike many monoculture farms Jim wants to work in collaboration with the existing wildlife, not against it. As he says, "Everyone gets their share, they just can't have mine". Jim uses eco corridors of trees between sections of vineyard that allow native animals like wild pigs, foxes, and coyotes to move around and also provide a wall against disease.
He planted native grasses to stop soil running off into the Russian River, which also provides compost when it is mowed, and by encouraging the right insects has reduced the problem of bugs on his vines, which he hasn't sprayed since 1982. Bird boxes encourage birds in the area which prevent problems like cut worms. It was an impressive operation, full of touches that showed just how much planning and thought had gone into laying out his vineyard.
After our tour we went into his barn to taste the wines. We tried a crisp Sauvignon Blanc, the aromatic Bistro Table Rosé which smells sweet but surprises with its spicy undertones, and our favourite, the 2010 Old Vine Zinfandel which is made from the gnarly 105 year old vines on his land.
Sonoma is known for its Zinfandels and this was rich, full bodied and complex. Jim explained how the wine was impacted by horse technology. A hundred years ago horses couldn't pull grape loaded carts very far so people didn't sell grapes, they made their own wine. In this vineyard they grew different varietals together which were (and still are) picked and fermented together, the final blend of 80% Zinfandel and six other grapes being made in the field. It's history in a glass and an insight into what was considered a good wine a century ago.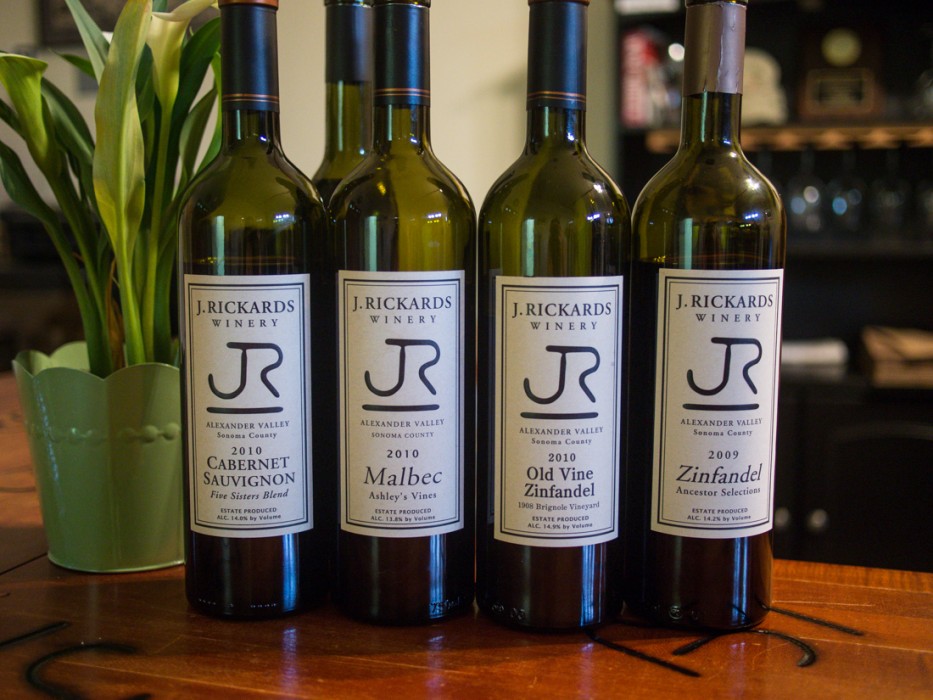 J. Rickards provides just what we look for in a winery visit—great wine, fascinating stories, and a passionate producer.
J. Rickards is located at 24505 Chiant Road between Geyserville and Cloverdale in the Alexander Valley. You can drop by for a tasting between 11am and 4pm Monday-Saturday but we recommend making an appointment for a tour with Jim. Visit jrwinery.com for more information.
Quivira
Our next winery was down West Dry Creek Road, a narrow, almost single track tree-lined road, through a rural and rustic area of vineyards, small barn wineries, a few wooden houses, and a backdrop of hills.
There are many wineries to visit but we chose Quivira who make biodynamic wines. Biodynamic farming is an agricultural philosophy that treats a farm as a self-sustaining system entirely responsible for creating and maintaining its individual health and vitality without any external and unnatural additions.They recycle back into the earth everything that has come from it, which enhances and concentrates what is unique about a vineyard. Quivira believe this makes wine that embodies its place of origin and is more distinctive and delicious because of it.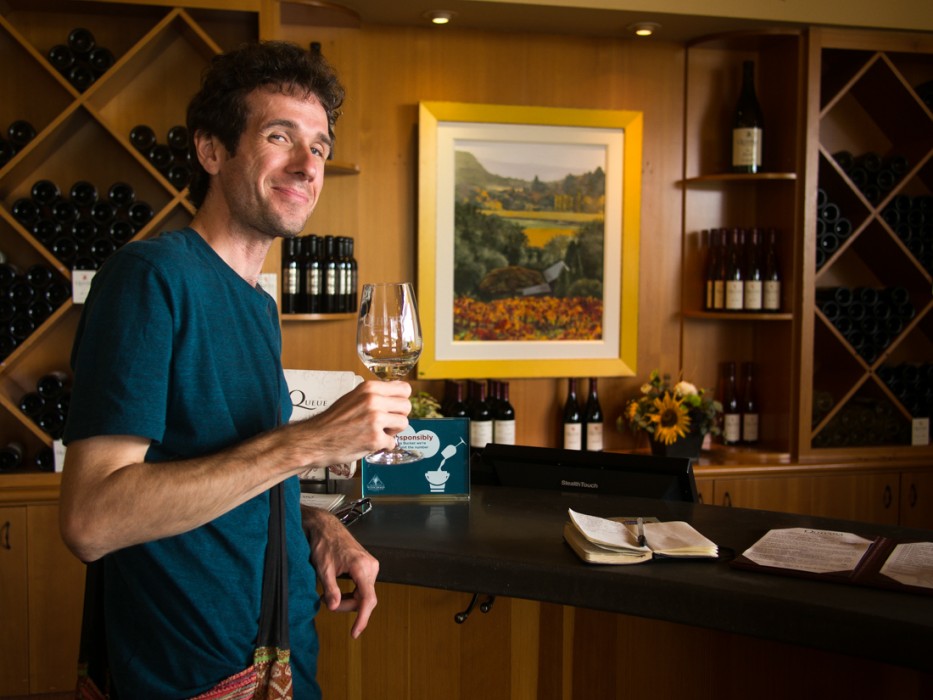 I'm not sure we're enough of wine experts to say whether this is true but we did enjoy our tasting, especially the 2010 Quest made from 75% Zinfandel. Quivira is also a lovely place for a picnic in their gardens full of wildflowers, vegetables, and chickens.
Quivira is located at 4900 West Dry Creek Road in Dry Creek Valley. The tasting room is open daily from 11am to 5pm and tastings of five wines cost $10. We shared a tasting which was plenty. For more information visit quivirawine.com.
Ferrari Carano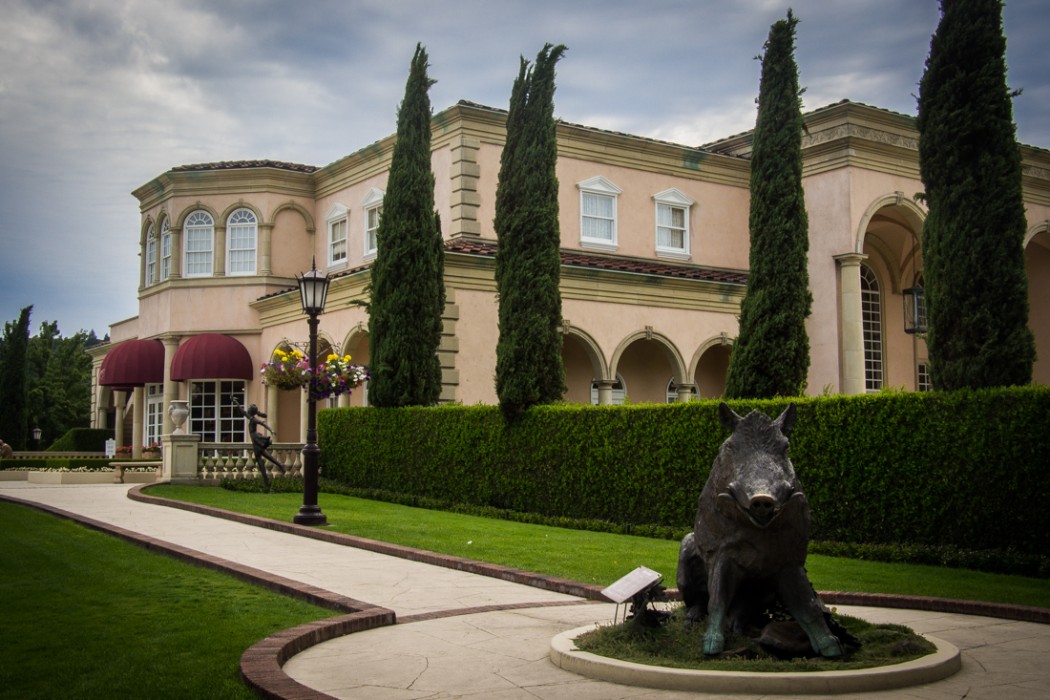 Our final winery of the day was in complete contrast to our first. Ferrari-Carano was created by Don and Rhonda Carano in 1981 and has grown rapidly since then. Now the winery consists of 19 vineyards across Sonoma and Napa, with the focus at their huge Tuscan-style mansion with extensive manicured gardens, a gift shop, and two popular tasting rooms. In case you were wondering (we did) the Ferrari in the name is not related to the car but honours Don's grandmother.
Ferrari-Carano is fantastic for a luxury wine tasting experience. It's fancy but friendly and unpretentious. We took a tour of the winery including their gorgeous gardens, extensive wine cellars, neat vines, and even saw the menus from when they've been featured at White House meals.
Ferrari Carano has two tasting rooms. Upstairs you can sample four classic wines for $5 and downstairs in the Enoteca you can try four of their limited release and reserve wines for $15. The benefit of being a larger production means that they can produce a wide range of wines and they produce 20-22 different wines a year.
Everything we tried was fantastic but some stand outs included their flagship Fumé Blanc, a crisp Sauvignon Blanc that's a bargain at $14 a bottle; the 2011 Chardonnay which is a bit more complex and is a blend of 60 different types of Chardonnay grapes; the 2010 Trésor, a full bodied red from 80% Cabernet Sauvignon; and their dessert wines—the chocolate infused Baci and golden, apricoty Eldorado Gold were both delicious.
Ferrai Carano is located at 8761 Dry Creek Road. Tastings are available at both tasting rooms from 10am to 4.30pm. We'd also recommend taking advantage of the free guided tour at 10am (by appointment). Visit Ferrari-Carano.com for more information.
Every winery we visited was very different and that's what we liked about Sonoma. There are plenty of small, down to earth, artisan winemakers but there's also the opportunity to experience the more upmarket tastings that you find in Napa.
See the Sonoma County winery map for an overview of the different areas and the many wineries you can visit.
Where to Stay
We stayed at two different hotels for our two nights in Sonoma.
Hope-Merrill House, Geyserville
Hope-Merrill House is located in the cute small town of Geyserville, close to many wineries so it makes a great base. It's a historic B&B in a gorgeous Victorian dating back to 1870 that's been lovingly restored with antique furnishings and silk-screened wallpapers. There's a large garden, heated pool, guest lounge and lots of places to relax, and the rooms are very comfortable.
What makes Hope-Merrill House stand out even more is the attention of owners Cosette and Ron who are welcoming and keen to help. Breakfast is served communally at 9am in the dining room that's like stepping back in time. The home-cooked breakfast is delicious—ours featured oven baked omelette, roast potatoes, popovers, homemade cherry tart, fresh fruit, freshly squeezed orange juice, homemade jams, and local butter.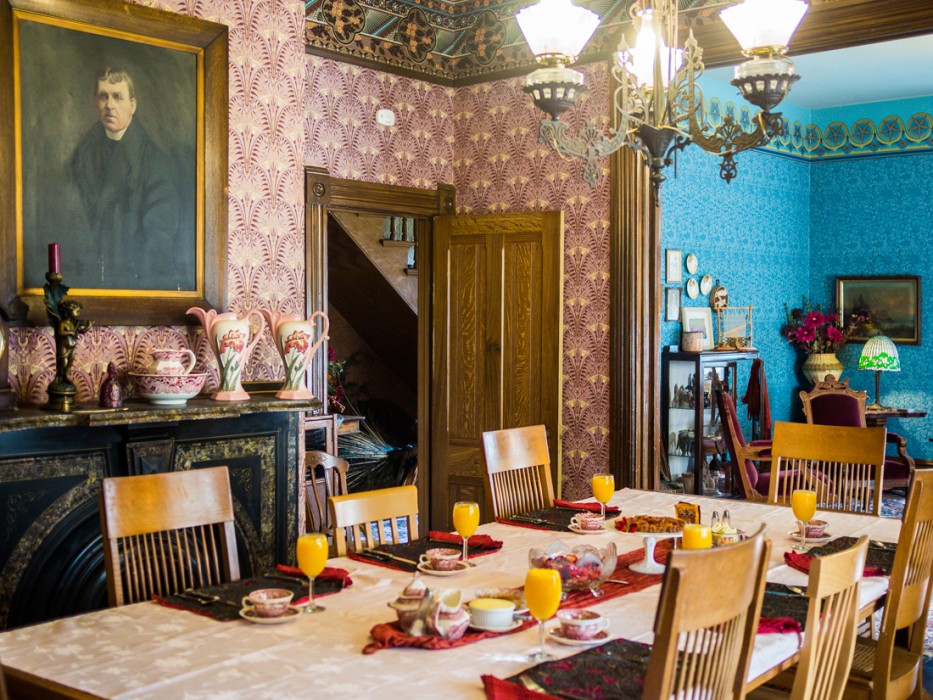 After breakfast Cosette gave us a wine tasting pass that gives complimentary tastings and discounts in 122 wineries (including Quivira and J. Rickards), and gave us her personalised recommendations on the best wineries to visit. She's extremely knowledgeable on the area and took the time to help out all the guests. This really is a huge advantage of staying here as the number of wineries in Sonoma can be overwhelming.
Vintner's Inn, Santa Rosa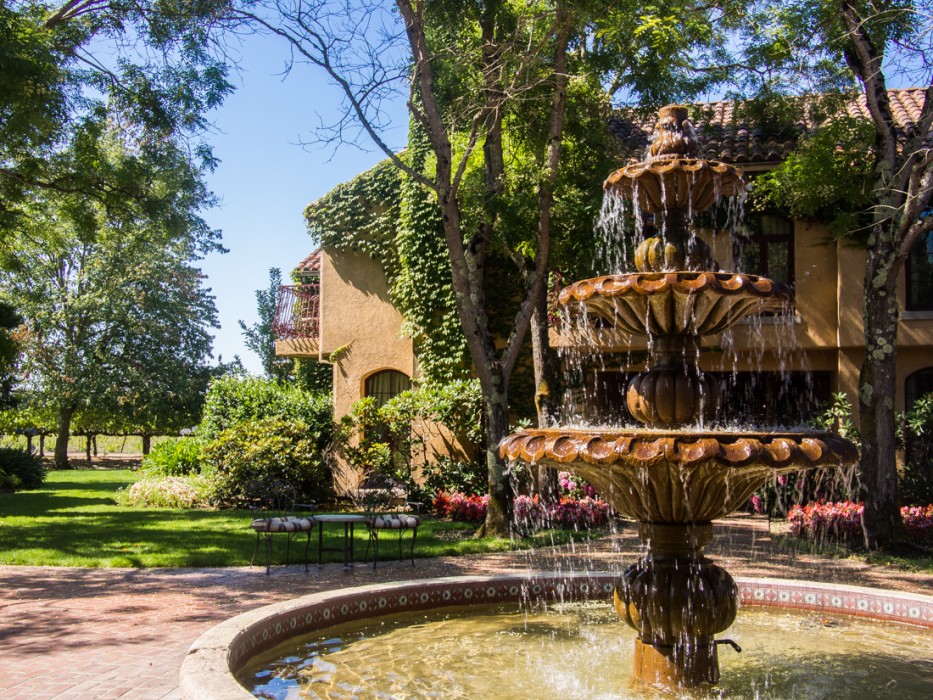 Vintner's Inn is run by the Ferrari-Carano winery and offers a similar luxury experience. The Tuscany village theme continues as the hotel is a collection of small stone buildings around leafy courtyards and fountains. All rooms have balconies or patios to take advantage of the views of the gardens and vineyards. It's conveniently located near the highway but you feel far away from everything. The rooms are so comfortable that you don't want to leave with snuggly beds, sofas, and a jacuzzi bath. A complimentary half bottle of Ferrai-Carano wine is provided in each room.
If you do manage to tear yourself away you can follow a two mile walk around the vineyards, enjoy the spa, play bocce, or have a gourmet meal at John Ash (see below).
Where to Eat
Happily San Francisco's gourmet bubble extends to Sonoma where the fresh produce, cheeses, and of course wine that the city enjoys come from. Even in the smallest towns you can enjoy excellent farm to table cuisine.
Downtown Bakery, Healdsburg – We first tried the Downtown Bakery products at the Ferry Building farmer's market in San Francisco and liked them so much that we sought them out while in Sonoma. We love the pain au chocolate and sticky buns and the bread looks amazing too.
Diavola, Geyserville – The best pizza we've had since we were in Italy. We finished our first pizza (the spicy Inferno) and were seriously tempted to order a second. Diavola uses local ingredients and has some fantastic salads too—the oven roasted beets with feta and rocket was wonderful.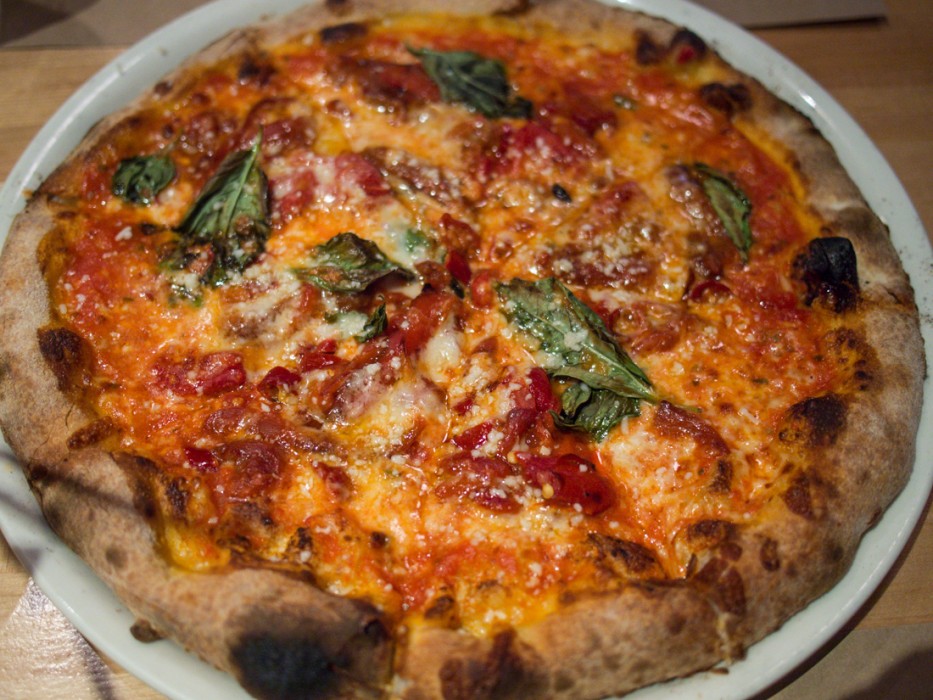 John Ash, Santa Rosa – This gourmet restaurant is located at Vintner's Inn with views of the vineyard, especially impressive at sunset. We were a bit worried about eating here as there aren't many vegetarian options but the chef was happy to adapt some of the other dishes for us. Everything was amazing, from the white bean crostini and corn muffins that are served to start, a zesty peach gazpacho, the heirloom tomato and arugula salad, and the garganelli pasta with saffron cream, asparagus and peas. The desserts were also outstanding, especially the chocolate fondant with marshmallow topping.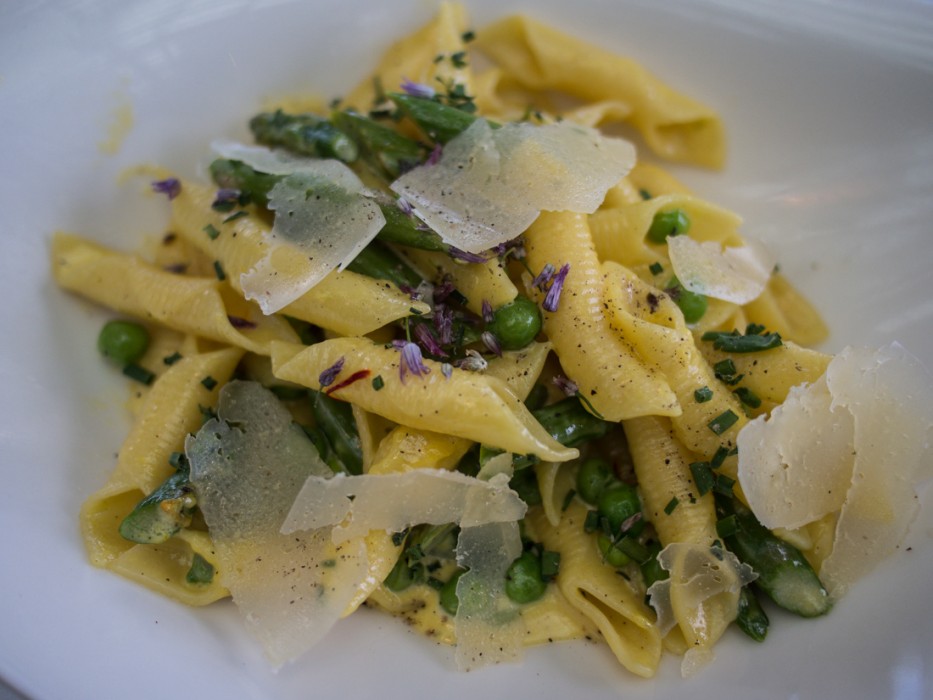 Sonoma is more than just a wine destination. We also discovered quirky art, excellent cheese, and natural beauty—read about the other side of Sonoma here.
Thank you to Sonoma County Tourism who helped us come up with such a great Sonoma itinerary, and to Hope-Merrill House and Vintner's Inn for the complimentary stays. See sonomacounty.com for more information to help you plan a trip to the area.
If you enjoyed this post, pin it!
Are you looking for Christmas gift ideas? See our guide to the 50 Best Gifts for Travelers which includes unique suggestions for every budget.