This page contains affiliate links. Please read our disclosure for more info.
Some people misunderstand our constant wandering. They think we are in search of a home, a perfect corner of the world where we'll eventually settle down. The truth is that we have no such quest – for now we are perfectly happy with our nomadic lives and have no desire to choose just one place to base ourselves. Still, if pushed, we'd agree that of everywhere we've been the one place it wouldn't be a hardship to settle in would be San Francisco. It's almost perfect for us (if only it was in the tropics and not so expensive) and here's why.
Vegetarian Heaven
Wow, the food. Not only could we eat at a different vegetarian (or even vegan) restaurant every night and not run out of choice for months, but the quality is superb using fresh local produce. From gourmet ice cream, to giant burritos and classy vegetarian meals at Greens (our favourite restaurant, anywhere) we love it all. We plan to spend a few months in the city at some point and I can't wait to have our own kitchen to take advantage of the wonderful Farmer's Markets and Mexican delis.
Multi-Cultural
We stayed with a friend in the Marina neighbourhood, a largely white, well to do area, and took the bus downtown. As we passed through North Beach our neighbours would chat away in Italian, until reaching Chinatown Mandarin was thrown into the mix. Hopping onto another bus out to the Mission and you'd hear more Spanish than English.
San Francisco is wonderfully multi-cultural, adding to the vibrancy of the city and of course it's food scene: Chinese, Italian, Vietnamese, Lebanese, Nepalese, Japanese, El Salvadorian, Burmese, Afghani. It's all here.
Beauty
Colourful Victorian houses are clustered precariously on the steep hills overlooking the bay. A breezy walk along the water rewards with views of the Golden Gate Bridge and hills beyond. It's a beautiful city that hasn't been ruined by the urban sprawl and ugly highrises of so many cities.
Neighbourhoods
Best of all we love the neighbourhoods. Latino, hipster, trendy, gritty Mission is our favourite but every area has something to offer. You'll find cool cafes, quirky shops, vintage clothes stores and a favourite brunch place with a line out the door on weekends.
Walkable
I love cities but get overwhelmed in places like New York and London where I'm stuck on a sweaty underground train for an hour to get half way across town. San Francisco is manageable – each neighbourhood is very pedestrian friendly and we found the buses an easy way to get between neighbourhoods.
Alternative, Artsy Vibe
There's world-class art in San Francisco whether it's in the big art museums MOMA or De Young or in the graffiti filled streets of the Mission. The city is full of interesting, creative people living unconventional lives.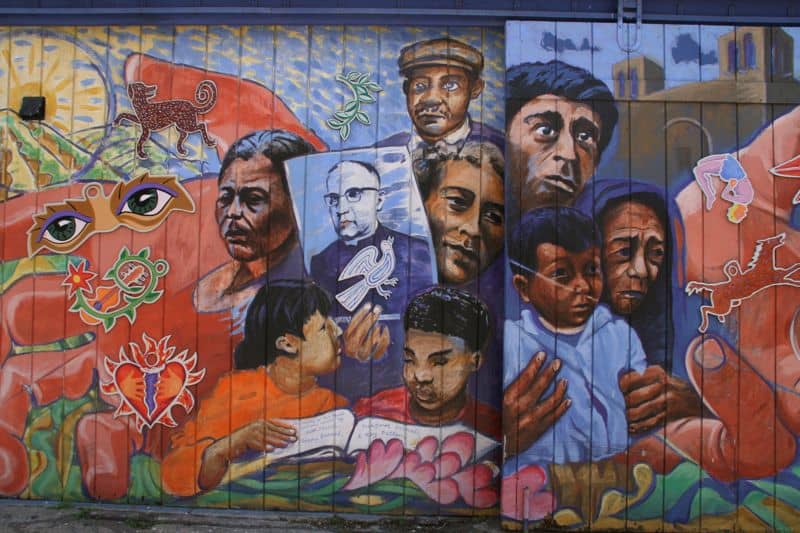 Tech Capital
For those of us who haven't lived in the city it's a thrill meeting people who work for Google or Twitter. For everyone else it's normal. For Simon especially being in the tech capital is an opportunity to talk geek with some of the best in the world. Everyone here has a start up and no one thinks we are weird for having a blog.
Close to Nature
Just over the bridge we walked amongst the mammoth redwoods of Muir Woods and even closer strolling through Golden Gate Park can take all day. Beaches, forest and mountains are all within easy reach.