This page contains affiliate links. Please read our disclosure for more info.
There's so much to do in Rome that you could easily spend months there without getting bored.
Sometimes you need a break from busy city life, though, or perhaps you're using Rome as a base to explore other parts of Italy.
Its central location means there are plenty of rewarding day trips from Rome from charming hill towns like Orvieto to major cities like Florence and Naples.
When we spent a month in Rome we were sure we would make plenty of day trips. It turns out there's so much to do in the city that we didn't get around to any of our planned excursions. So we asked some other travel bloggers to contribute their favourite Rome day trips.
We received lots of great ideas and have divided them by distance from Rome from easy day trips like Ostia Antica to longer but worthwhile trips such as Rome to Pompeii.
You'll find details of how to get there by public transport and suggested tours if you'd rather take it easy, save time on transport, and have someone else plan the details.
There's a map of all these destinations and everything mentioned at the end of the post.
Contents
Italian Train Travel Tips
Most of these destinations can be visited as day trips from Rome by train. You can check timetables and buy tickets online at Trenitalia.
Make sure you use Italian place names (i.e Roma not Rome and Firenze instead of Florence).
The fast Freccia trains are cheaper if you book in advance, but reservations aren't necessary for regional trains.
Just buy your ticket from the counter or self-service machine at the station and be sure to validate your ticket in the machines before you board.
Video: Best Day Trips from Rome
Rome Day Trips Within 1 Hour
1) Ostia Antica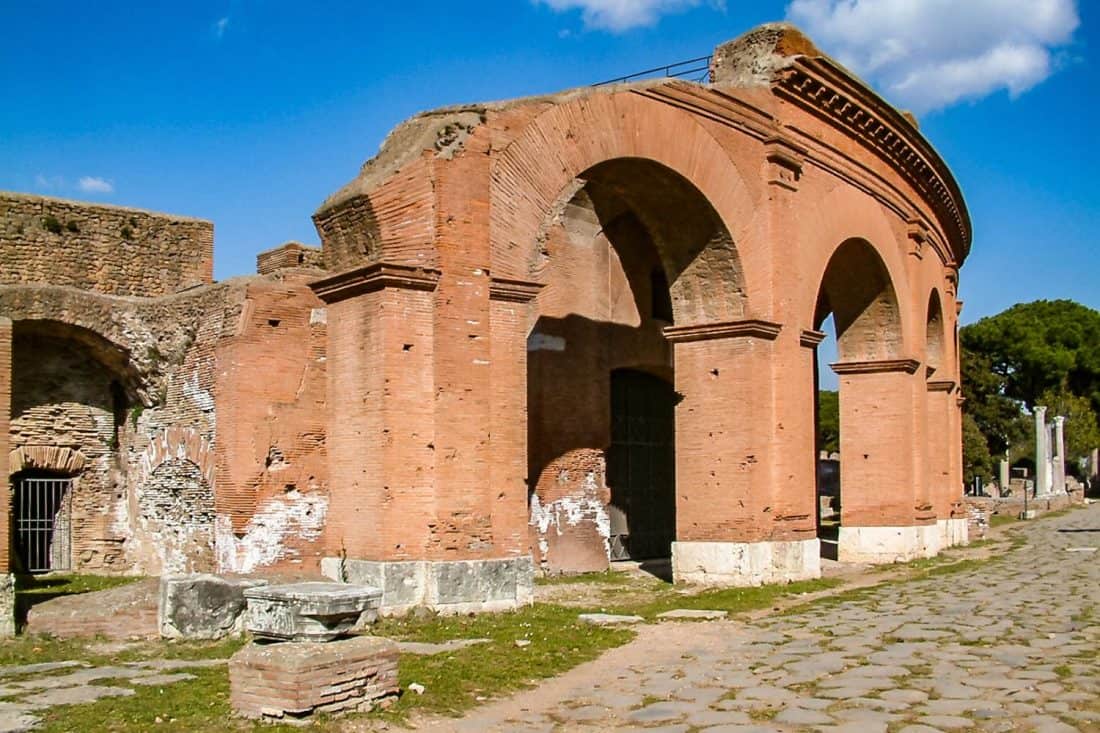 Visiting Ostia Antica, an antique settlement merely 30 km from the Eternal City, is one of the best day trips from Rome.
This antique city that in its glory days had 100,000 inhabitants was the main port of Rome and of major commercial importance.
Many travellers don't know too much about Ostia Antica since its fame is overshadowed by Pompeii, another ancient city destroyed by the eruption of Mount Vesuvius.
Nevertheless, as an urban construction, Ostia Antica doesn't have to envy anything to Pompeii.
The ruins of Ostia Antica are situated along the main street, the 1 km long Decumanus Maximus.
Along this street you get to see the ruins of several important temples, the Capitolium (the largest temple of the city) and the one dedicated to Hercules stand out.
Other interesting sights include the public baths known as Termi Nettuno with lovely mosaics and the taverns where locals consumed wine.
The main highlight you can visit in Ostia Antica is the amphitheatre, also known as Agrippa's Theater where once up to 4,000 spectators could attend the theatrical performances.
How to Get There: One of the great things about Ostia Antica is that it's easily accessible from Rome by public transport. You simply need to take the Roma-Lido train from Roma Porta San Paolo station, and it will take you to Ostia Antica in 40 minutes.
Suggested Tours: Ostia Antica tour by train or Ostia Antica tour with pick up from your accommodation.
Contributed by Gábor of Surfing the Planet
2) Orvieto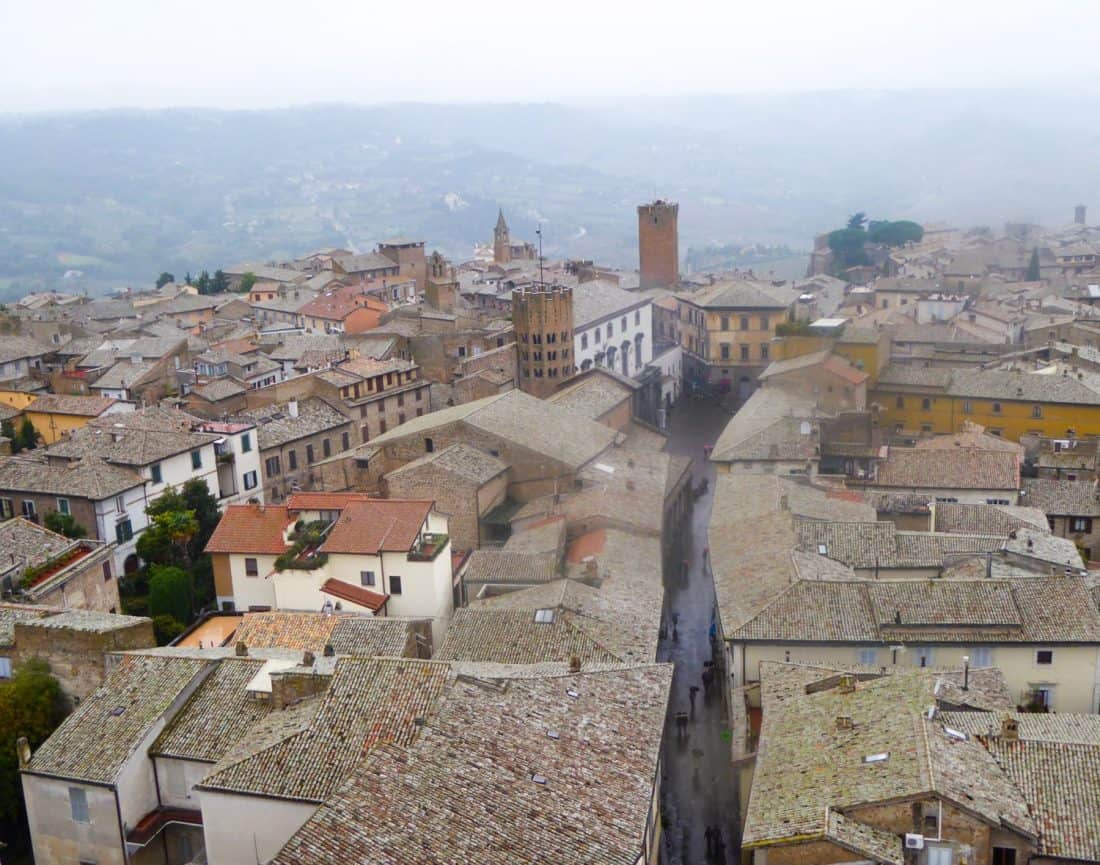 If you are looking for fun day trips from Rome, consider the Umbrian hill town of Orvieto, a beautiful little town brimming with history and great architecture.
It's perched way up on a tufa rock and offers commanding views of the Umbrian countryside below.
You'll be awe-struck by the magnificent Duomo di Orvieto, with its glitzy facade and gorgeous interior. It should be your first stop in Orvieto.
Then climb to the top of the Torre del Moro for lovely rooftop views. We visited on a cloudy drizzly day but were still blown away by the views.
Visit the Pozzo di San Patrizio, an engineering marvel. It's built in a double helix design, so mules going up and down the well never had to cross each other. Ingenious!
Take a Orvieto Underground Guided Tour to discover the labyrinth of caves and tunnels created by residents going back all the way to Etruscan times.
Once you have enjoyed the top sights of Orvieto, spend some time just strolling through the streets of the town, marvelling at the architecture, taking photos of charming doorways, and browsing the ceramics stores.
This was my favourite part of the day. Unlike some of the other places in Italy we visited, Orvieto was not extremely crowded.
Most of the folks we encountered on the streets were residents going about their business and it felt like we were getting a glimpse of the real Italy.
My favourite Orvieto restaurant: We had dinner at Trattoria La Palomba, and it was wonderful. If you order their flavorful pasta dishes, they will shave truffles over the pasta at the table if you so desire. Yum! It's open for lunch as well.
How to Get There: Frequent trains run between Rome and Orvieto. Fast trains take about 50 minutes. Regional trains take about 90 minutes but are much less expensive.
When you arrive at the station in Orvieto, cross the road to take the funicular up to the town. From the funicular drop-off point, you can either walk into the town centre or take a local bus.
Suggested Tour: Orvieto and Assisi Day Trip from Rome.
Contributed by Dhara of It's Not About the Miles
3) Hadrian's Villa in Tivoli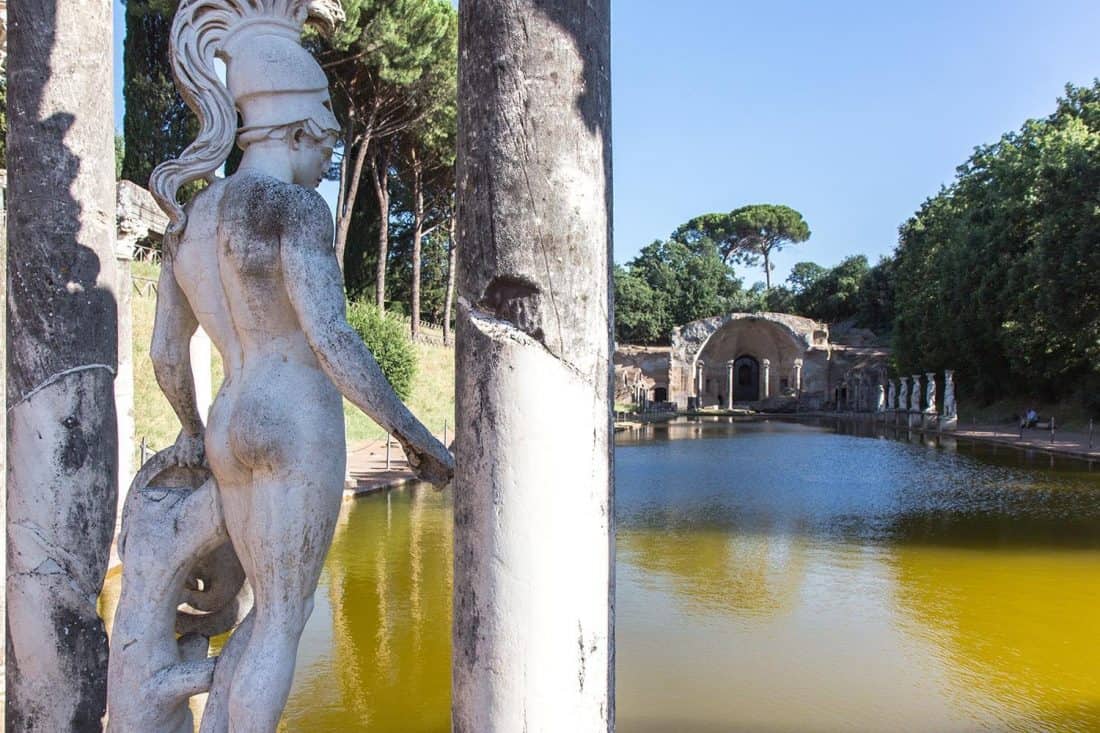 In the second century AD, the Roman Emperor Hadrian wanted an escape from the hectic political life in Rome.
He chose Tivoli, about 30 kilometres from the capital, as the site for his retreat and it was here that Hadrian's Villa was built.
As it turns out, it was built so well that Hadrian decided he preferred it to Rome and he made it his official residence and ruled the empire from here in his final years.
Because it was such an important site, it grew in size and grandeur. Hadrian's Villa was much more than just the residence—it was a small city.
Today, you'll find the remains of libraries, temples, barracks, and palaces. But, because it was ultimately a place of peace and serenity, you'll also see gardens and pools and areas that were used for relaxation.
It takes a couple of hours to visit this World Heritage Site these days and explore it properly. It is spread out over a number of different connected areas.
While much of it is in ruins, you can easily get a sense of how it would once have looked and how opulent it must have been.
While you're in Tivoli, I would suggest also visiting the Villa d'Este. This grand 16th-century villa is another World Heritage Site and also a highlight of the town.
How to Get There: The easiest way to get to Tivoli is by train. Direct trains leave regularly from either Roma Termini or Roma Tiburtina and take less than an hour.
From Tivoli train station, catch bus number 4. Alternatively, you can take the metro Line B from Rome to Ponte Mammolo and then catch the bus bound for Via Prenestina.
Suggested Tour: Day Tour of Villa D'Este and Hadrian's Villa in Tivoli.
Contributed by Michael of Time Travel Turtle
4) Villa d'Este in Tivoli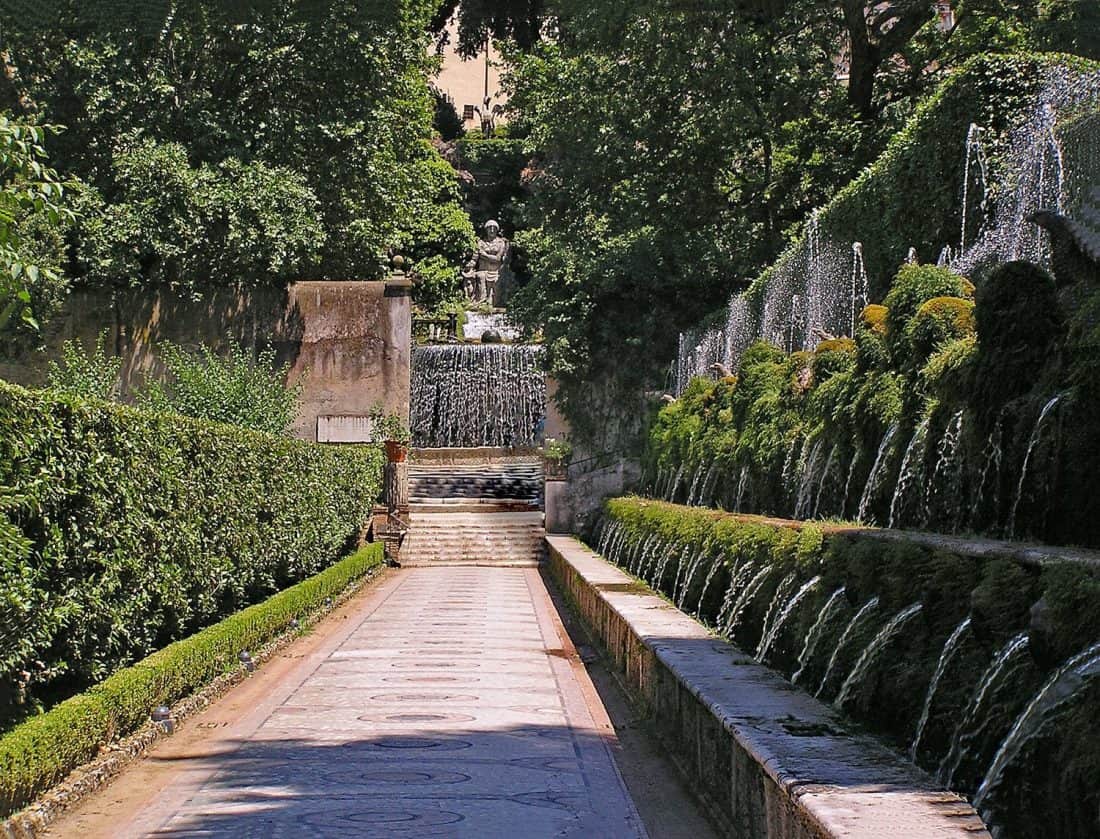 While Rome is famous for its majestic fountains, the highlight of all Roman fountains is outside the city centre.
Villa d'Este is a 16th-century villa, and it is famous for its many dramatic waterworks and fountains.
This villa is a significant place for landscape design. For the first time, water was treated differently to create desired effects.
You can find anything from dripping, gurgling, dramatic spouts and cascading waters within Villa d'Este's many famous art installations, fountains, and statues.
Elevation changes within the villa's grounds help to create a sense of mystery—you have no idea what lurks around the corner!
As you might imagine, the visit is highly popular, especially in the summertime, when visitors can cool off within the Villa's grounds.
With meticulously manicured landscapes, as well as historical villa structures filled with Italian frescoes and artwork, it's a must visit as a day trip from Rome.
How to Get There: To get to Villa d'Este from Rome, you will need to embark from Tiburtina Station towards Tivoli Station. This short train ride costs less than €10.
From Tivoli Station, Villa d'Este is within a 10–15 minute walk – follow the obvious signs for it. Many visitors combine a day trip with Hadrian's Villa, which is located not far away from Villa d'Este.
Suggested Tour: Day Tour of Villa D'Este and Hadrian's Villa in Tivoli
Contributed by Halef and Michael of The Round The World Guys. Photo by Lapping via Pixabay.
5) Bracciano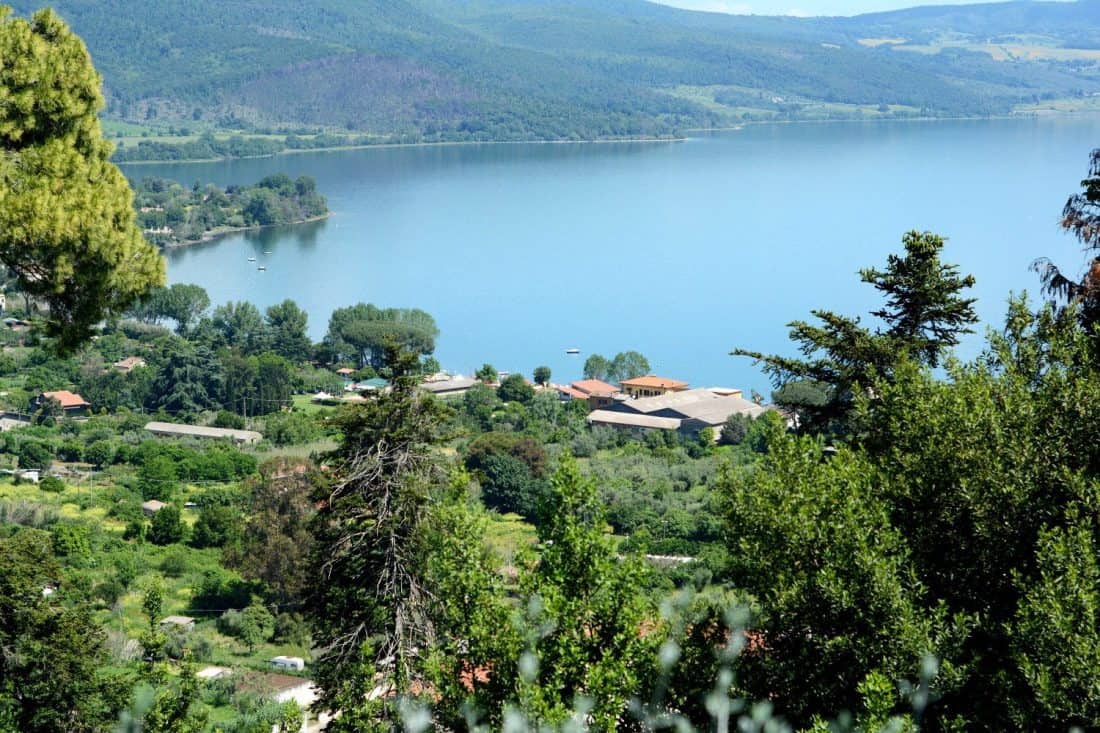 With only an hour train ride from Rome, you can get off at Bracciano train station and enjoy a lovely medieval town on the shores of its namesake lake.
Apart from the huge lake that also laps the surrounding towns of Anguillara Sabazia and Trevignano Romano, Bracciano is famous for its 15th-century Orsini Odescalchi Castle, an imposing mansion that dominates the view of its historical centre and was the venue of the wedding between Tom Cruise and Katie Holmes in November 2006.
The residence of several noble families and popes for centuries, now the castle is a must for anyone visiting Bracciano.
If you don't feel like entering the actual mansion, you can enjoy the beautiful view of the lake from its garden.
If you are visiting in summer and want to swim in the lake, from Bracciano you need a taxi, or you can take the train for one more stop and get off at Anguillara, another small town right on the lake's shores.
There's also a path down to the lake at Bracciano, but it's very steep and locals usually travel by car.
Among the other attractions travellers can visit in Bracciano are the medieval Duomo di Santo Stefano cathedral, the cream-hued main religious building that went through several renovations throughout the centuries.
A day trip to Bracciano is a great escape of peace and relaxation from Rome's hectic traffic, so you will love strolling around its winding narrow alleys and stopping at its panoramic viewpoint for lake views.
Looking for places to eat you might want to try L'Archetto (Piazza delle Magnolie 1), a restaurant and pizzeria close to the Odescalchi Castle or Ristorante Le tre Spighe (Via Girolamo Tamburri 4) serving local dishes made with quality and locally-sourced ingredients.
I would also recommend Pane e Olio Osteria (Piazza Mazzini 11), right in front of the castle.
How to Get There: Take the train from Rome stations, Trastevere, Ostiense (also metro line B), San Pietro or Valle Aurelia (also metro line A) towards Bracciano or Viterbo.
Suggested Tour: Bracciano: Half-Day Odescalchi Castle & Town Tour with Lunch
Contributed by Angela of Rome Actually
Day Trips 1–2 Hours From Rome
6) Naples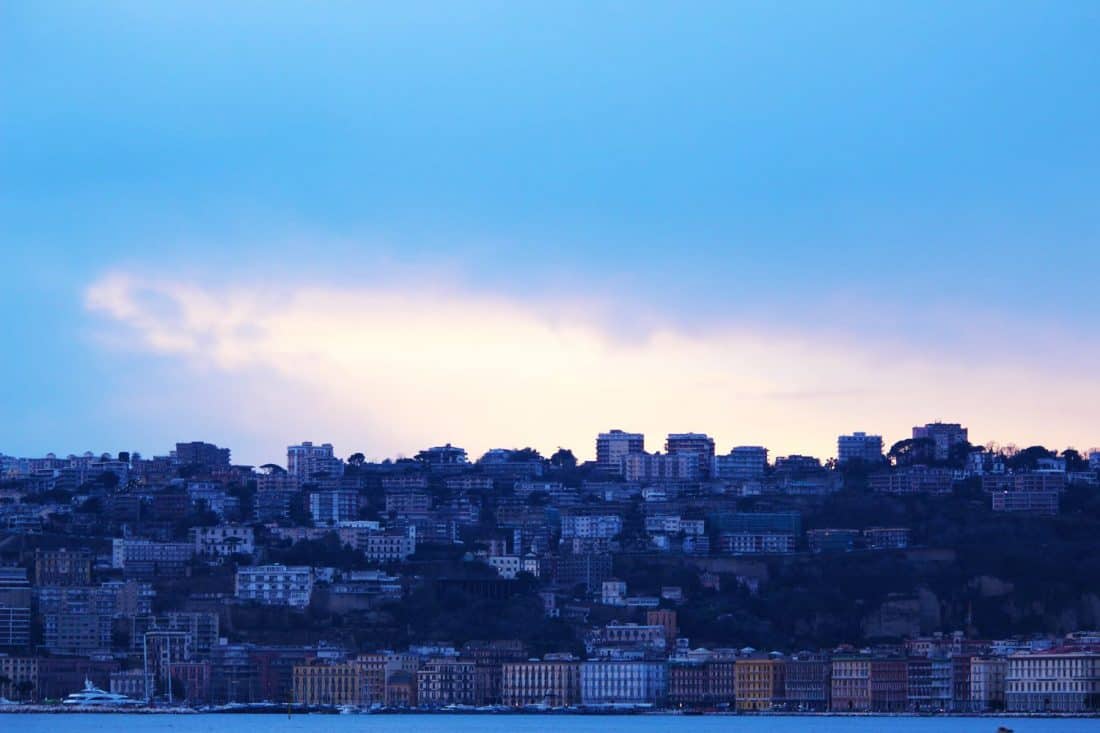 My favorite day trip from Rome is to Naples. Historically, Napoli has some important monuments to explore such as Castel dell'Ovo, Castel Nuovo, etc.
But the key attraction and the reason to take that visit to Naples can be summed up in one word—pizza.
Naples has been the home of Margherita pizza since 1830, and the first ever pizzeria can be found here in Naples and is still functional.
The Antica Pizzeria Port'Alba is widely believed to be the first pizzeria in the world and they surely do make pizza like a work of art.
The next round of pizza must be had at L'Antica Pizzeria da Michele. This is where Julia Roberts shot Eat Pray Love and even if you forget that, a pizza and a beer here, it's a promised trip to heaven!
If you still have some pizza space left, I'd highly recommend you try 'fried pizza', a special local pizza in Napoli. Also make sure you sample some limoncello, a local lemon liquor.
While many fear Naples's reputation for crime, the city is full of warm and lovely people who will go out of their way to help you. Just take basic travel precautions and Naples will guarantee you a wonderful experience.
To wind up your trip, head to the coast and take a walk until you discover the glorious Mount Vesuvius staring at you. Naples will be memorable as an absolute beauty and the biggest pizza heaven!
How to Get There: Take the fast Frecciarossa train from Roma Termini to Napoli Central which arrives in just over an hour.
Suggested Tours: Pompeii and Naples small group tour from Rome or Naples Street Food and Sightseeing Tour (transport from Rome not included).
Contributed by Parampara and Parichay of Awara Diaries
7) Florence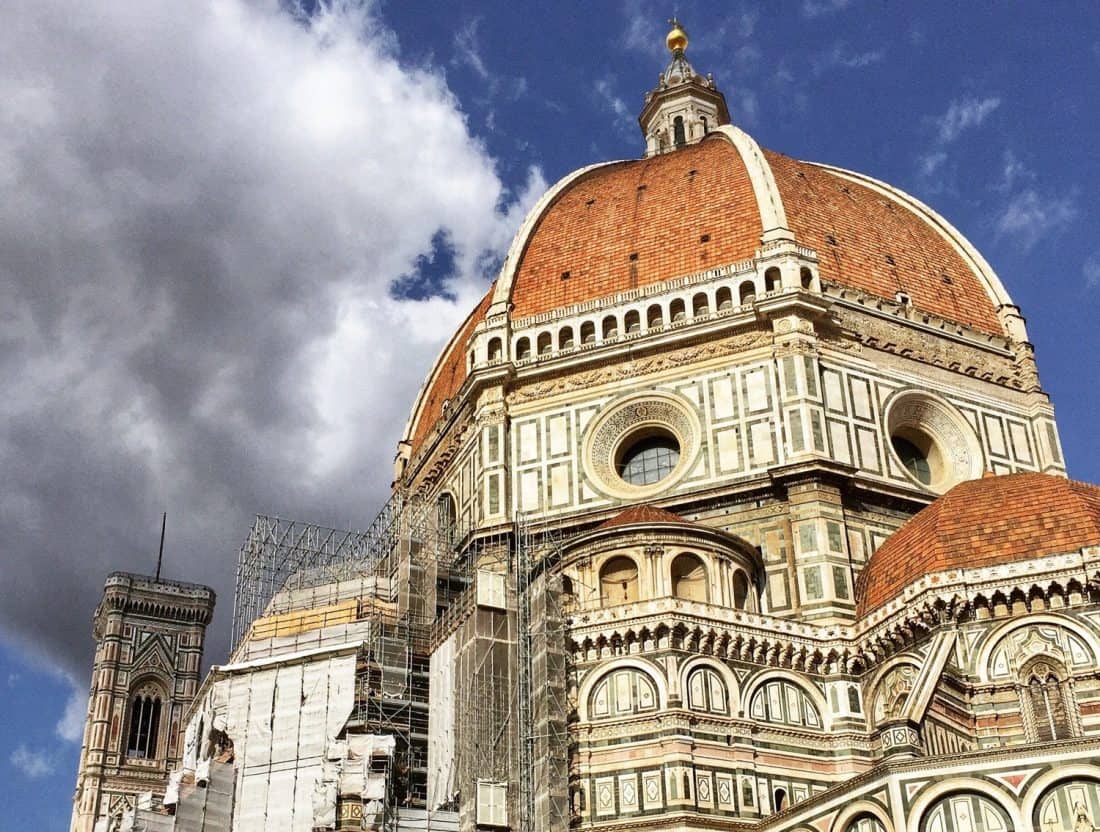 Even though Florence is located nearly 300 km north of Rome, it can easily be visited on a hassle-free day trip.
The quick train journey will leave you with plenty of time to visit the fascinating historic centre of Florence during your day trip.
Start your day by visiting the famous statue of David in the Galleria dell'Accademia museum.
Afterwards, take some time to admire the plethora of beautiful Renaissance buildings before visiting the Duomo di Firenze, the famous cathedral of Florence.
Later, head to Pizzeria Dante on the south bank of the River Arno for some incredible Tuscan pizzas.
Make sure to stop by the famous Ponte Vecchio Bridge on your way back into the city centre.
If you just want to explore the quick highlights of Florence, you could even extend your day trip and visit the Leaning Tower of Pisa as well.
How to Get There: For a Rome to Florence day trip take the high-speed Frecciarossa or Frecciargento trains from Roma Termini station to Florence, which take less than 1.5 hours.
Suggested Tour: Florence and Pisa full day tour from Rome.
Contributed by Mike of 197 Travel Stamps
8) Assisi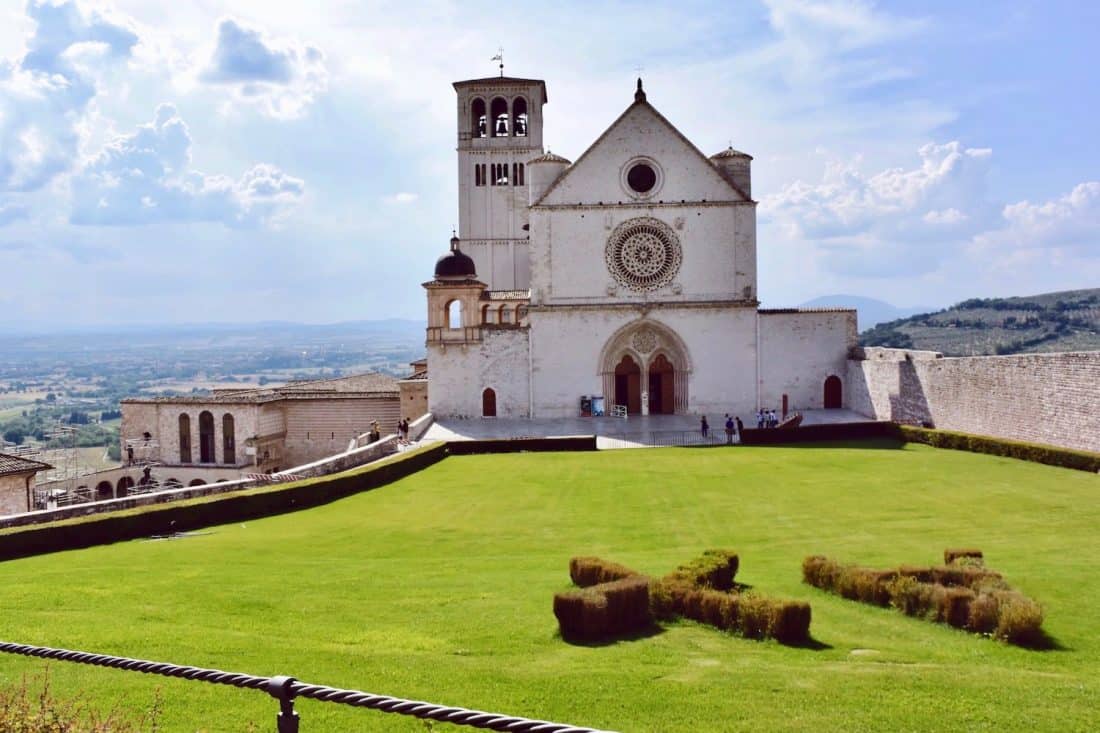 Umbria is one of the most picturesque regions in Italy, and it is possibly the least appreciated.
When people visit Rome, which is in the Lazio region, many take day trips to Tuscan towns such as Pisa.
This is a well-traversed route, and as an alternative, visiting neighbouring Umbria is a better option for those wanting to experience a town that is less visited.
Assisi is such a town and one that is certainly worthy of checking off a list.
It boasts one of the most unique basilicas in a country that has many, a town replete with the most beautiful cobbled streets, cafes, and small family-run shops.
There's also a spiritual side that's best experienced when hiking through Bosco di San Francesco di Assisi, a wooded area where the good saint himself took his contemplative walks.
There's also, of course, the wonderful truffles and olive oil of the region served in just about every eatery. It's one of my favourite day visits from Rome.
How to Get There: A train ride from Roma Termini to Santa Maria degli Angeli is about 1 hour and 45 minutes and drops passengers off at the foot of the hill town Assisi. One can opt to take a taxi or a bus from there, both inexpensive.
Suggested Tour: Assisi and Orvieto Full Day Excursion from Rome
Contributed by Andrew of Dish Our Town
9) Viterbo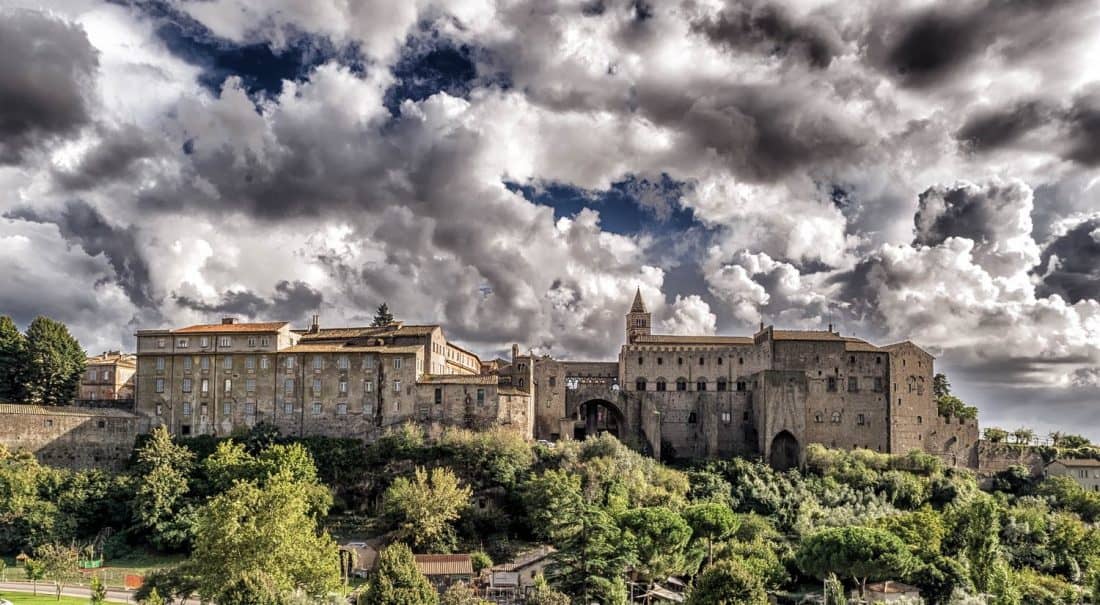 Viterbo: most people outside of Italy have never even heard of it. At a mere 100 km from Rome but seemingly on a different planet, this small city is truly beautiful and deserves a visit.
It is the perfect place to escape when Rome gets too crowded with tourists or too hot during the summer months.
The main point of attraction of Viterbo is the medieval city centre, almost entirely surrounded by incredibly well-kept walls.
For about 24 years in the 13th century, Viterbo was the seat of the Pope—the Papal Palace is one of the most interesting places to visit in the city.
Other places that deserve a visit are the Duomo of San Lorenzo and the Church of Santa Maria Nuova. San Pellegrino is the oldest part of town—it's a maze of narrow cobbled alleys and beautiful small squares.
Viterbo is famous for the Macchina di Santa Rosa, a very interesting festival held each year on the night of 3 September in honour of the protector saint of the city.
During the festival, a team of 100 porters carries an enormous, completely illuminated statue of papier-mache (a new one is made every few years) across the narrow and dark streets of the centre, which for the occasion is completely closed to traffic.
The next new machine is scheduled to parade the streets in September 2024.
Seeing the streets lighten as the saint approaches is quite a unique show—so much so that in 2013 the festival was added to UNESCO's intangible cultural heritage list.
How to Get There: Reaching Viterbo from Rome is easy: there are frequent departures from Roma Aurelia train station and it takes around one hour and 45 minutes.
Suggested Tour: Viterbo Private Walking Tour
Contributed by Claudia of My Adventures Across The World. Photo by Tama66 via Pixabay.
10) Lago di Bolsena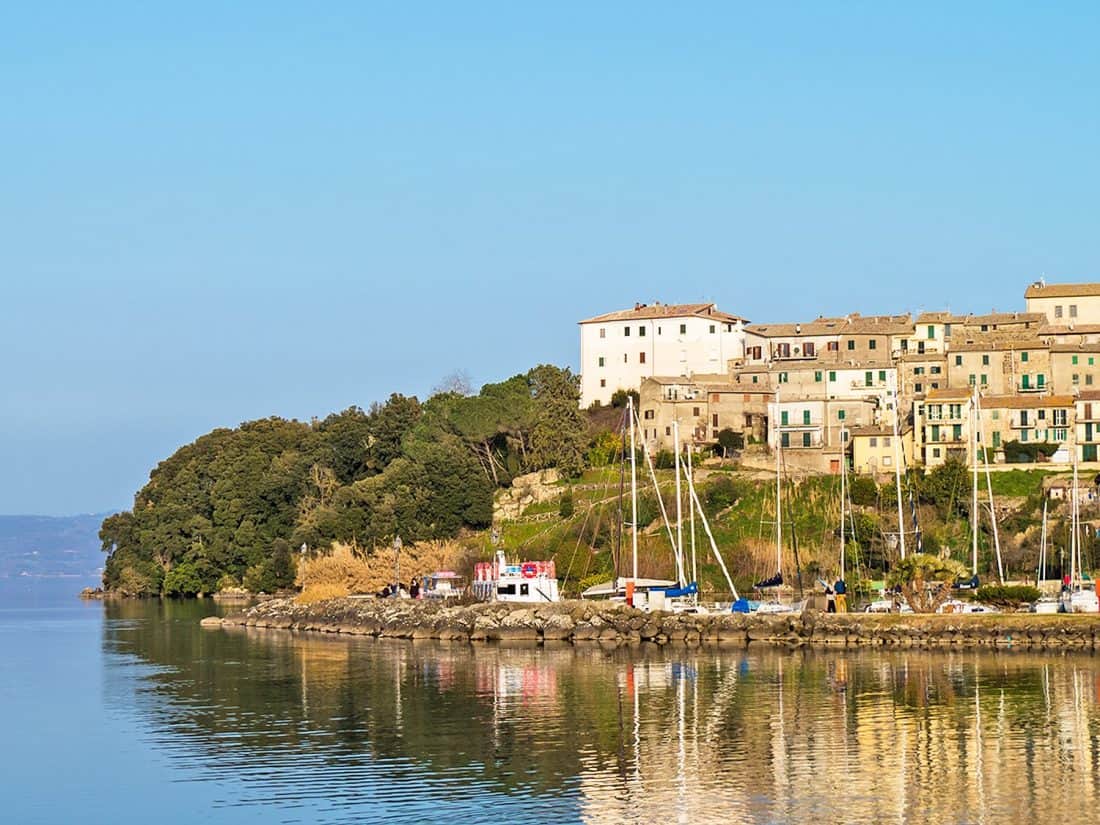 Lago di Bolsena (Bolsena Lake in English) is a quiet area located north of Rome.
You can easily reach this beautiful lake by train from Rome to Montefiascone, a quaint lakeside town.
Once you're there get ready for some serious food tasting. The Tuscia Viterbese, a big area once called Etruria, includes three regions (Lazio, Tuscany and Umbria), and it's famous for producing great olive oil and the Est! Est!! Est!!! di Montefiascone wine.
There are a number of ancient churches you can visit for free, like the Chiesa di San Flaviano. Here you will find the Johannes Defuk tomb.
This German bishop stopped here on his way back to Germany after a visit to Rome and fell in love with the famous wine Est! Est!! Est!!!… so much so that he decided to stay here and died not much later.
The local legends say that he took advantage of the gift of hospitality by drinking too much wine and was cursed by God for this.
While exploring the lake and taking pictures of the fishermen's boats, make sure you stop for lunch at Mamma Pappa.
This tiny restaurant represents the area quite well by cooking traditional dishes with farm-to-table ingredients at low prices.
We were surprised by the huge servings, but these seem to be pretty common in the Lago di Bolsena area!
Suggested Tour: Another great activity is this 'Park of the Monsters' Tour in the nearby Garden of Bomarzo that includes time to explore the Lake.
How to Get There: Take the Trenitalia train from Roma Termini to Montefiascone. It will take you a little more than 1 hour 40 minutes to get there and tickets cost from €7.
Contributed by Danila of Travelling Dany
Day Trips 2+ Hours From Rome
11) Pompeii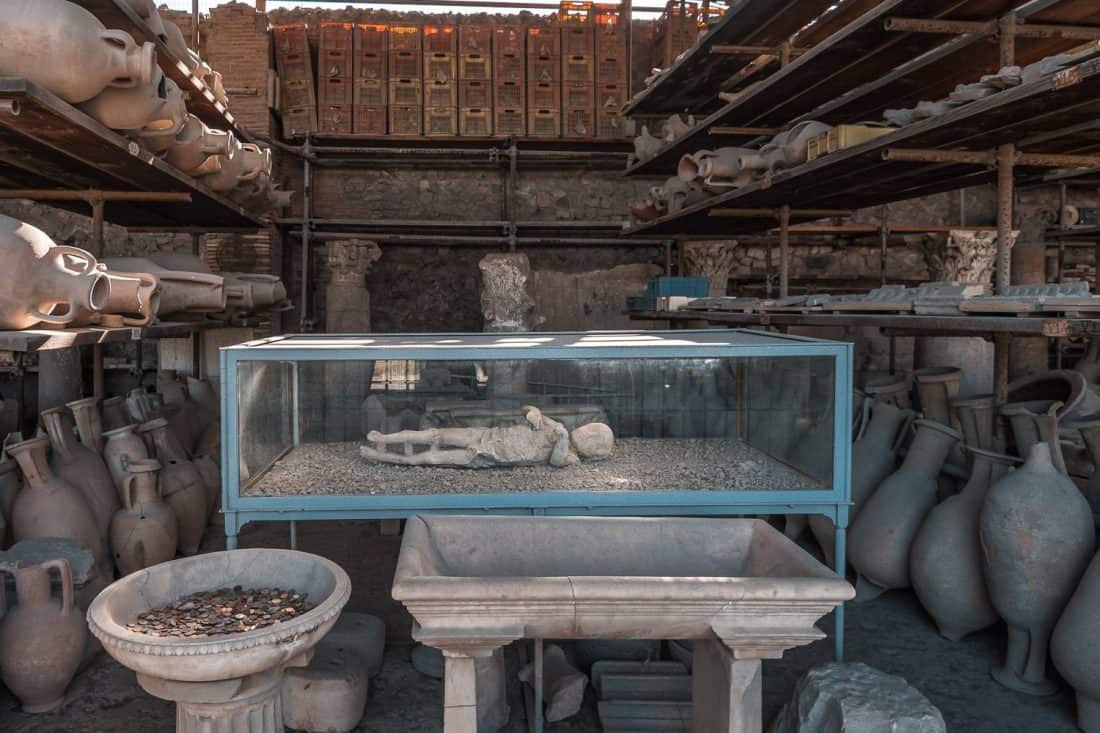 Pompeii, the ancient Roman city is one of the most popular day trips from Rome. It's a must for anyone who is interested in history and archaeological sites.
In AD 79, Pompeii was buried under 4–6 metres of volcanic ash and pumice during the eruption of Mount Vesuvius, which destroyed the whole city and killed around 2000 of its inhabitants.
Today you can walk around the ancient city and see the remains of the buildings and even the inhabitants.
The people of Pompeii's bodies mutilated and left holes in the solidified volcanic mass, which made it possible for the archaeologists to create plasters of the victims by pouring liquid plaster into these holes.
These plasters have revealed how the locals looked during the last moments before they died. A mother who held her daughter hard in her arms, people in fetal positions, people who you can see were in severe pain, and even dogs and cats.
It's very sad and horrifying to see, but at the same time, it was interesting to get an insight into what it was like to be there during the eruption.
Since you're going there on a day trip from Rome, you are probably going to get hungry sooner or later. Near Pompeii, there are a couple of restaurants, but personally, I didn't want to eat there since they were overpriced and touristy.
Since you have to change train in Napoli, I recommend you to go there instead and get something to eat before going back to Rome.
Eating pizza in Napoli is on many people's bucket lists since it was in Napoli that the pizza was invented.
How to Get There: You can do a day trip from Rome to Pompeii by train. Catch the train from Roma Termini to Napoli Centrale, walk for about one minute to Napoli Piazza Garibaldi, and catch the train to Pompeii (towards Salerno). The journey takes around two hours from Rome to Pompeii.
Suggested Tours: Pompeii Day Trip from Rome or Pompeii Tour with Guide
Contributed by Christine of Christine Abroad
12) Sorrento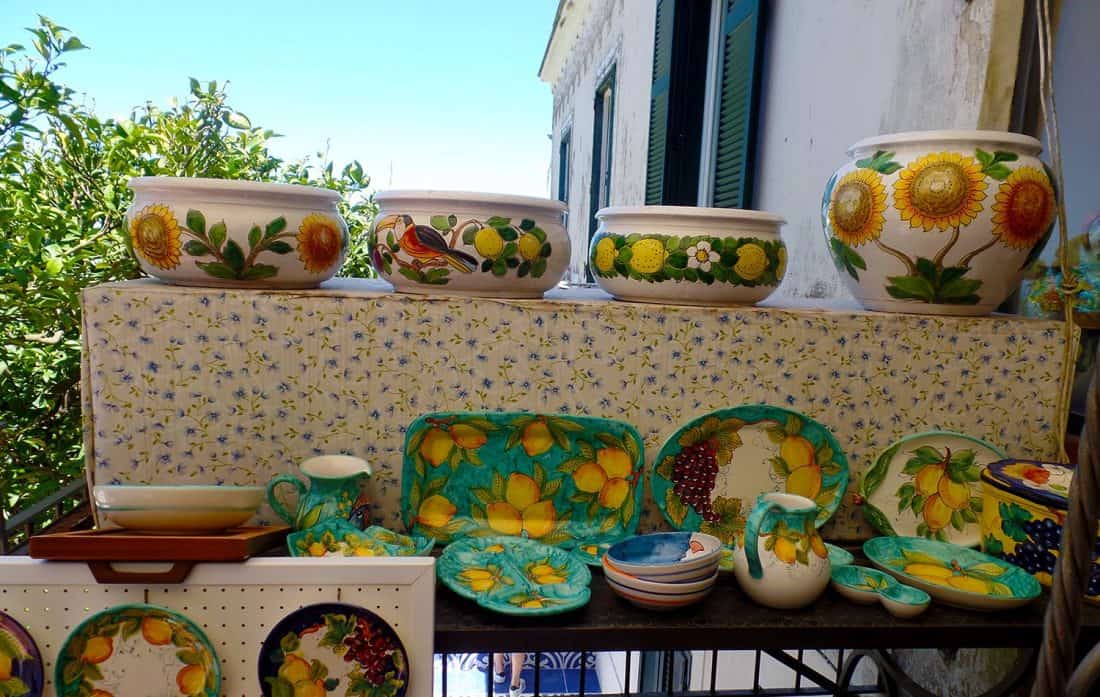 If you are looking to get out of the city for a day, hopping on the train to Sorrento is the perfect solution.
Located in the Bay of Naples, the shoreline view includes views of the Isle of Capri and Mount Vesuvius.
This town is full of breathtaking scenery, so don't forget to bring your camera and snap a few memories on this day trip.
Once you've soaked in the panoramic views, make your way towards the Church of San Francesco to admire the arches which date back to the fourteenth century.
Occasionally the church hosts classical concerts in the evening during the summer months, a great way to absorb the region's culture.
Be sure to take a leisurely stroll through old Sorrento and get lost in the narrow streets and alleyways.
There are plenty of quaint shops selling local goods such as leather goods, ceramics, and lemon branded souvenirs.
This part of town is also lined with a number of charming trattorias to enjoy a delicious meal al fresco.
No meal in Sorrento is complete without tasting a regional favourite, limoncello. This lemon-based liquor makes refreshing cocktails in the summer heat and is a must-do during your time in this charming town.
How to Get There: To get to Sorrento, you can catch the train from Roma Termini to Napoli Centrale.
Here you will need to transfer to the Napoli Garibaldi station next door and purchase a ticket for the local Circumvesuviana train for the remainder of the journey to Sorrento (the train also stops at Pompeii). Total travel time is around two hours.
Contributed by Jeanne of Pure Wander
13) Wine Tasting in Tuscany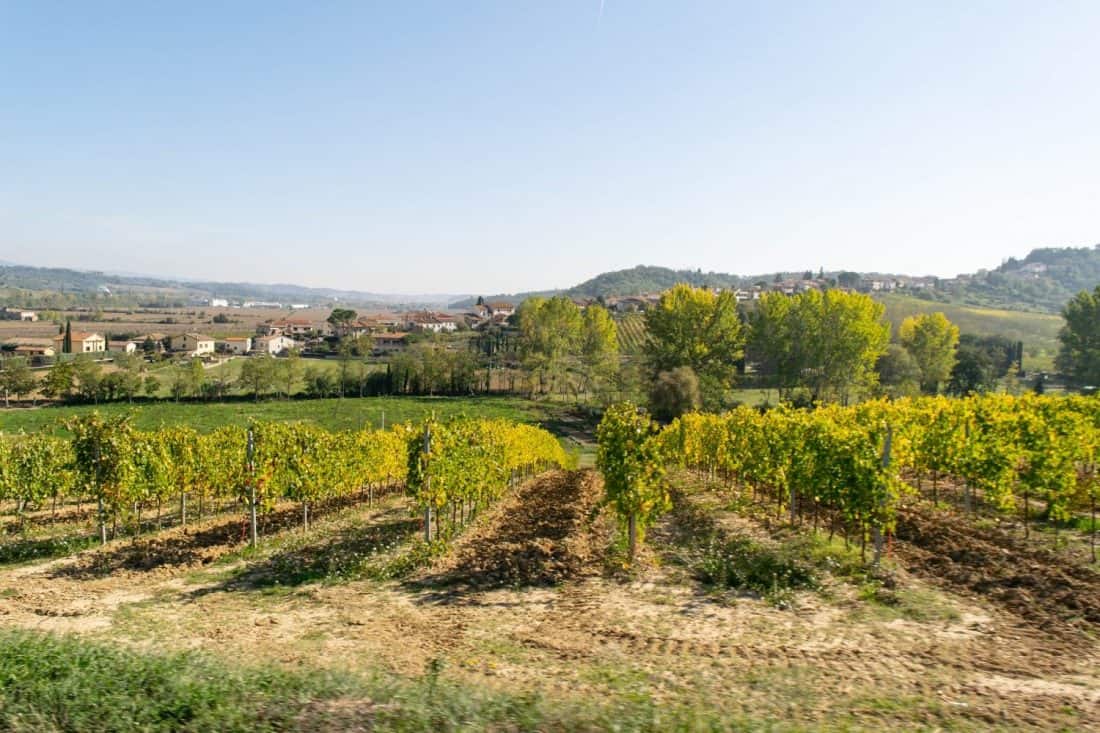 Wine tasting in Tuscany–can you imagine anything more idyllic?
Escape the hustle and bustle of Rome for a day to sip some wine in the Tuscan countryside, trading in city views for vineyard overlooks and a stop or two in a beautiful hilltop town of Tuscany.
To set off from Rome for a day of tasting wine and exploring vineyards in Tuscany, you'll likely want to book an organised tour: not only will they handle transportation for you, but you also won't have to worry about how much you drink (and Tuscan wineries tend to pour generously).
Even if you're not typically someone who enjoys organised tours, consider making an exception for this.
Tuscany is a region not to be missed, but its large size and relative distance from Rome make handing over the organisation to someone else for a day trip an excellent idea.
Tuscan wines are some of the best known in the world and range from Chianti to Brunello di Montepulciano (which is made in southern Tuscany, which is accessible from Rome!) to the famous Super Tuscans from the Bolgheri area.
All in all, there are 10 notable wine areas within Tuscany–and while you can't explore them all on a day trip from Rome, you can sure get a solid start.
Suggested Tours: Small Group Tuscany Wine Country Day Trip from Rome or Tuscany in One Day Sightseeing Tour from Rome.
Contributed by Kate of Our Escape Clause
14) Pisa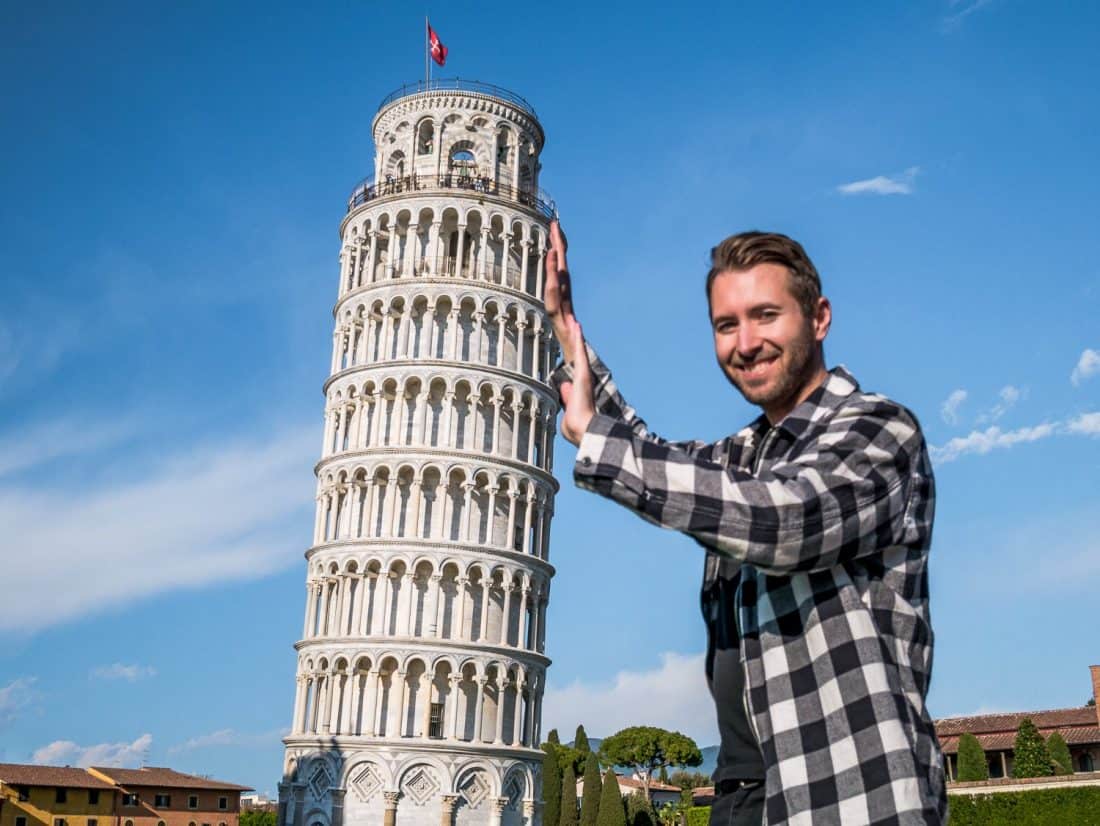 The Leaning Tower of Pisa is one of the most popular tourist attractions in Italy, and for a good reason. Not too many buildings in the world are leaning this much, and in addition to that, it's a historical tower dating back to the 12th century.
After you've seen the tower and taken the traditional and "mandatory" selfies where you're holding up the tower with your hands, I suggest going for a stroll in the old town before getting back to the train station.
Pisa is one of the oldest cities in Italy and used to compete with Genoa and Venice as a maritime powerhouse.
Pisa has lots of other historical sites to discover beyond the Leaning Tower. For example, there are more than 20 historical churches and several museums and art galleries to explore.
How to Get There: The train departs from Rome Tiburtina and then you just make a quick change in Florence. The train takes 2 hours and 24 minutes, and from the central station in Pisa, you can walk or take the bus to the Leaning Tower.
Suggested Tour: Small-Group Tour: Florence and Pisa Day Trip from Rome
Contributed by Alex of Swedish Nomad
Day Trips From Rome Map
Summary
There are so many places to visit near Rome that it can be difficult to decide which to choose.
If you only have a week in Rome I recommend taking at most one or two day trips—perhaps to a smaller hilltown like Orvieto and to Tivoli or Ostia Antica.
If you won't be travelling around the rest of Italy, then prioritise what's most important to you—perhaps a major historic site like Pompeii or the beautiful art city of Florence.
Italy is such a stunning country that you can't go wrong with any of these places.
More Rome Posts
If you enjoyed this post, pin it for later!