This page contains affiliate links. Please read our disclosure for more info.
Testaccio is our favourite neighbourhood in Rome. As much as we're in awe of the beauty of the historic centre, the crowds can be overwhelming and we prefer staying somewhere quieter.
On our last trip we spent a month in Testaccio and fell even more in love with the area. It may not be as pretty as Trastevere (another lovely neighbourhood we often stay in), but it's quieter and less touristy.
Even if you don't stay here, Testaccio is worth visiting for its unusual history, quirky sights, amazing market, and excellent food scene.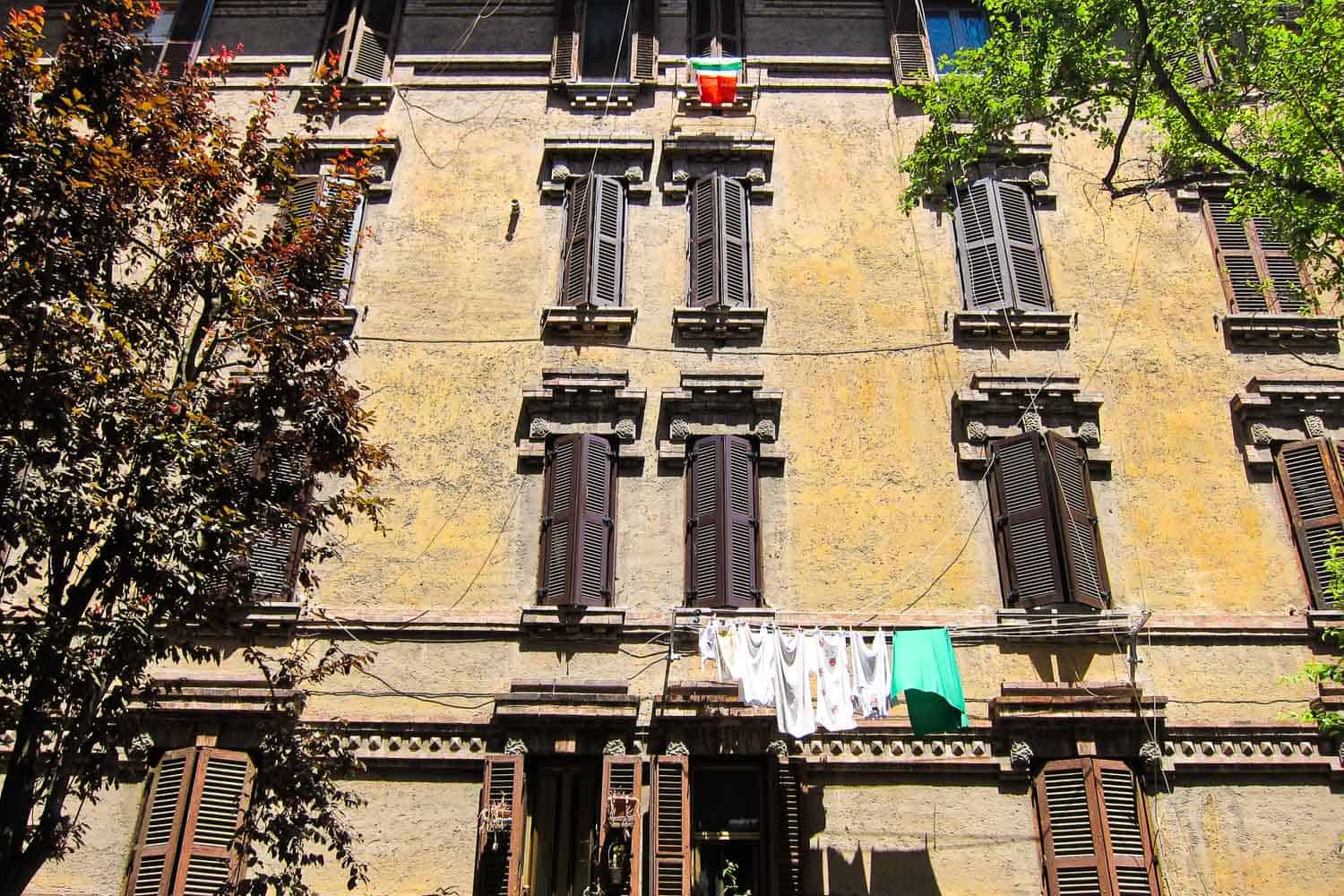 More than anything Testaccio just feels so Italian. There's a lively atmosphere of normal day to day life—old ladies stocking up in local delis, elderly gentlemen shooting the breeze on a piazza bench, teenagers licking gelato on street corners, stylishly dressed young Italians downing espressos at the bar with their morning cornetto.
There aren't many other tourists around so by participating in these daily rituals you allow yourself to become, just briefly, Roman.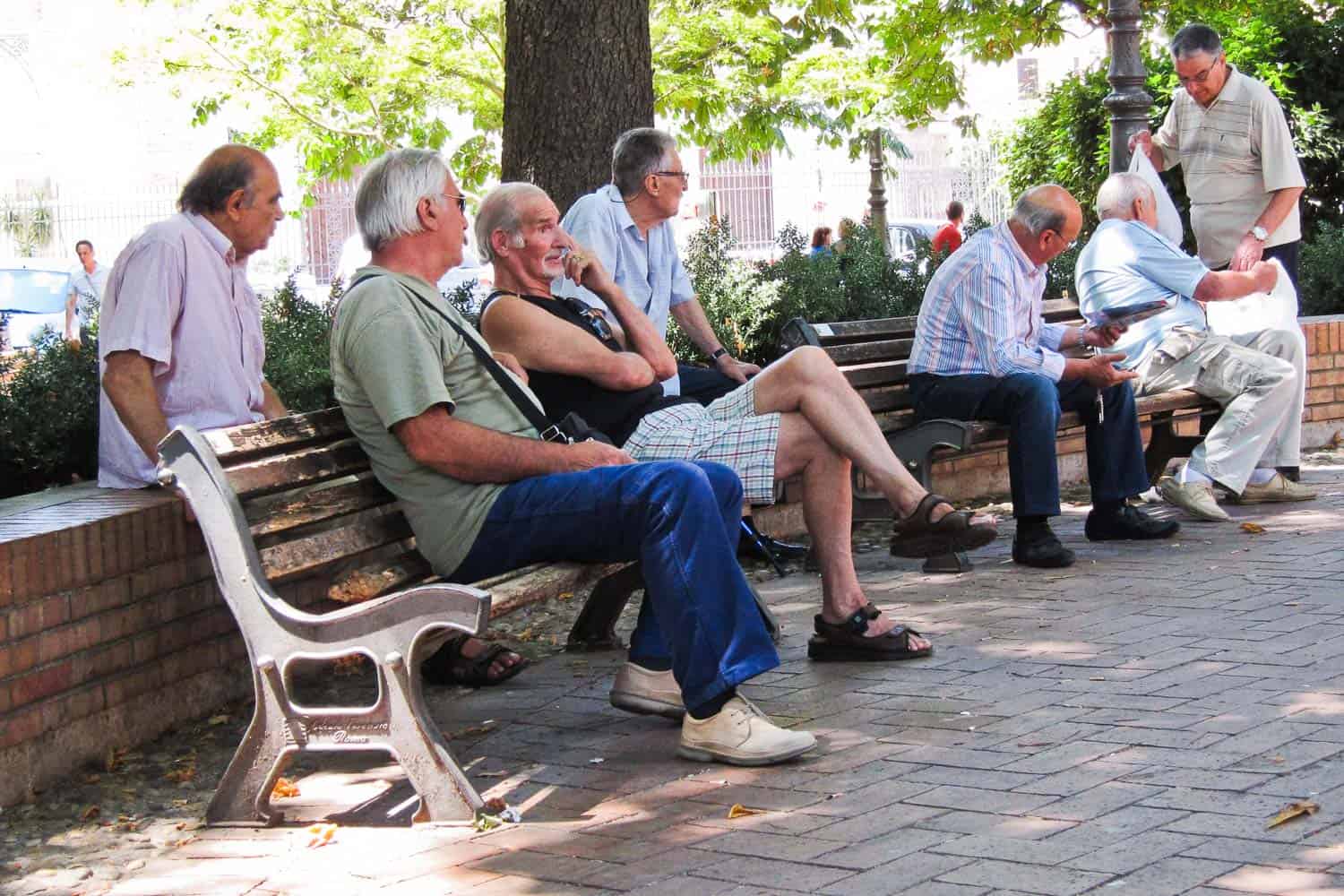 Testaccio has a fascinating story, too, and some interesting things to do.
This post was originally published in 2012 after our first trip to the area and last updated in 2021.
Contents
Video: Rome Day Trips
Check out our video for ideas on side trips from Rome.
Things to Do in Testaccio, Rome
Taste of Testaccio Food Tour
Our first introduction to Testaccio was on the Taste of Testaccio food tour with Eating Italy. We spent four hours exploring the neighbourhood with frequent stops at foodie shops, markets, takeaways, restaurants, and gelateria to eat incredible food and meet the passionate food creators.
We learnt so much about the neighbourhood and Italian food culture and we ate really well! I highly recommend it as an introduction to the area—it's one of our favourite non-touristy things to do in Rome.
Read our Taste of Testaccio food tour review for more details.
Monte Testaccio
In the centre of the Testaccio neighbourhood, there's a small hill called Monte Testaccio. We didn't notice it until we learned its story on our food tour.
In Roman times, food such as honey, sugar, wine, and olive oil was transported in terracotta pots called amphorae.
Olive oil degraded the containers, so when they could no longer be used, they were demolished. Testaccio's hill is actually a rather scenic garbage dump of 53 million broken amphorae.
Restaurants and nightclubs now surround the hill and the layers of amphorae provide natural air conditioning. Some have glass windows within the building so you can see the remnants of the pots that make up the hill.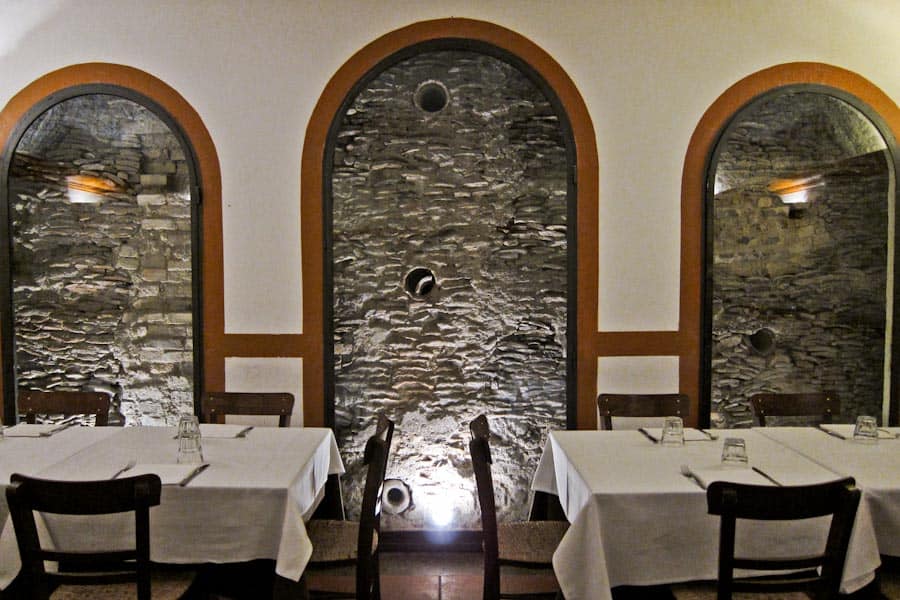 Non-Catholic Cemetery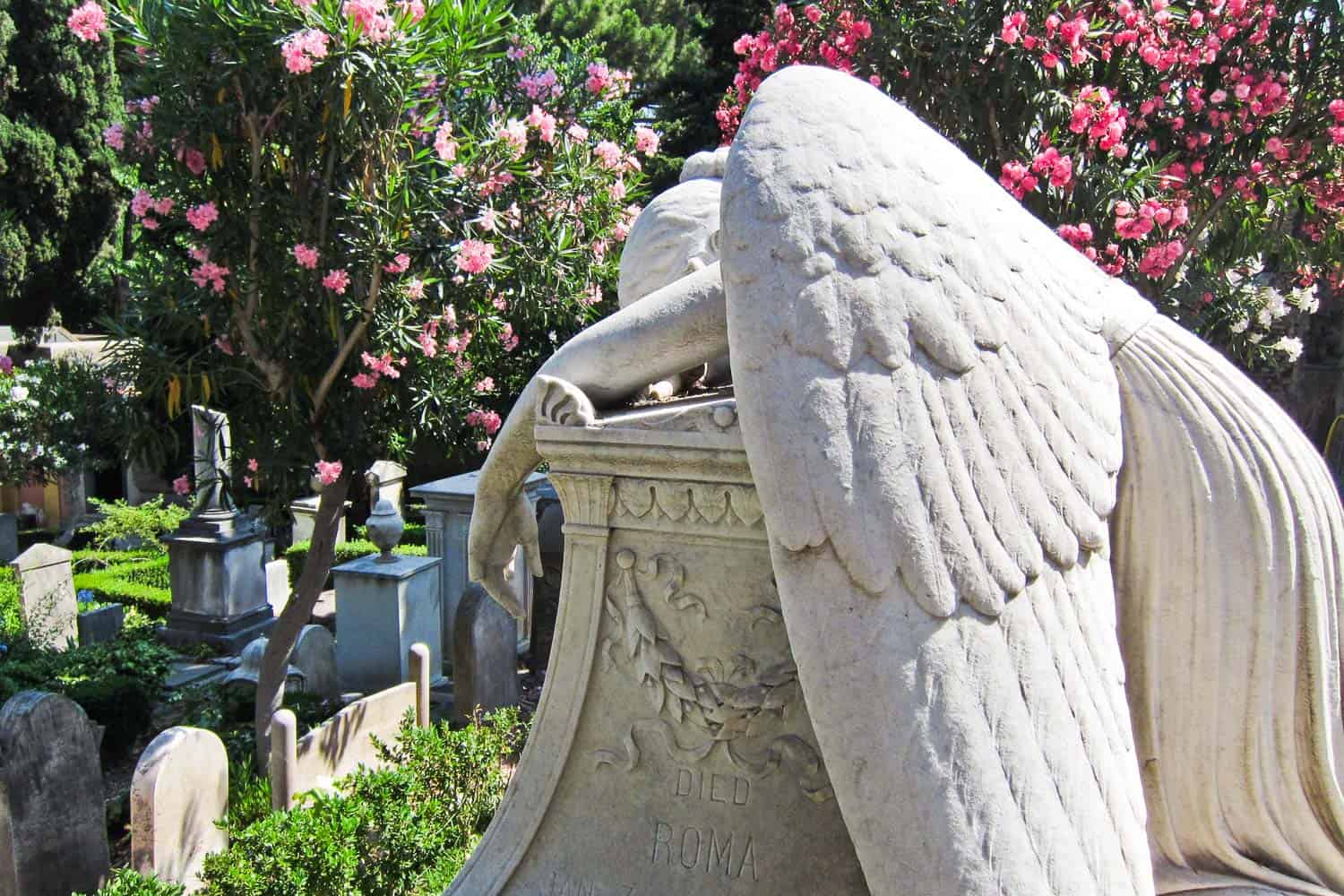 Another surprise in Testaccio is discovering the graves of the English poets Keats and Shelley in the non-Catholic cemetery where Protestant foreigners were banished.
The peaceful, garden-like cemetery is a pleasant place to wander, and you can get a good view of the incongruous pyramid (see below).
Keats' grave doesn't bear his name. He requested only the words "Here lies One Whose Name was writ in Water" on his grave, but his friends added "This Grave contains all that was mortal, of a YOUNG ENGLISH POET, who on his Death Bed, in the Bitterness of his heart, at the Malicious Power of his enemies, desired these words to be Engraven on his Tomb Stone."
They later regretted the addition which made Keats look bitter at the bad reviews of his poetry.
His friend Joseph Severn is buried next to him and is described on his grave as "Devoted friend and death-bed companion of John Keats".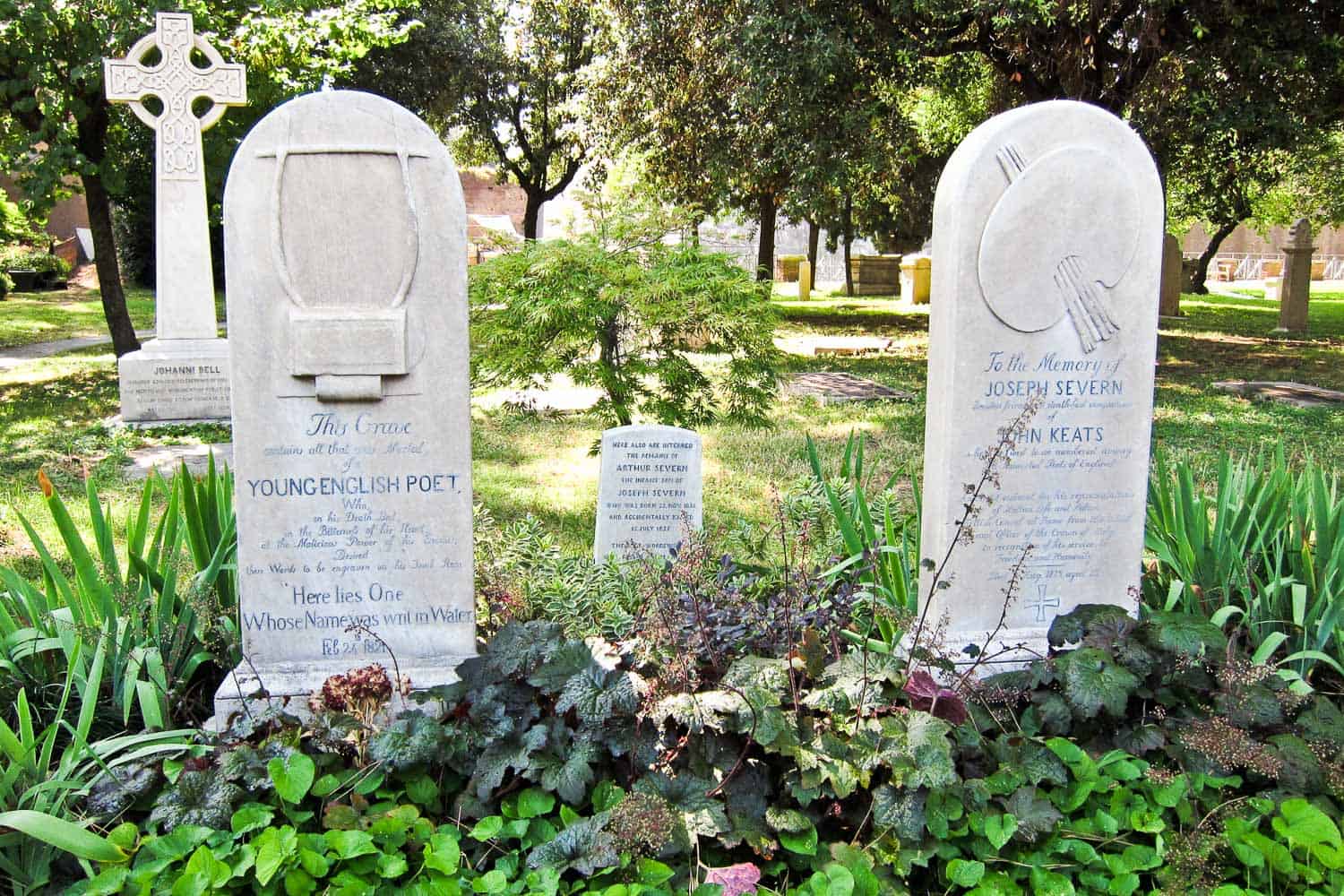 The Non-Catholic Cemetery is on Via Caio Cestio, 6. Entrance is by donation (€3 is suggested). It's open 9am-5pm Monday-Saturday and 9am-1pm on Sundays.
Testaccio Pyramid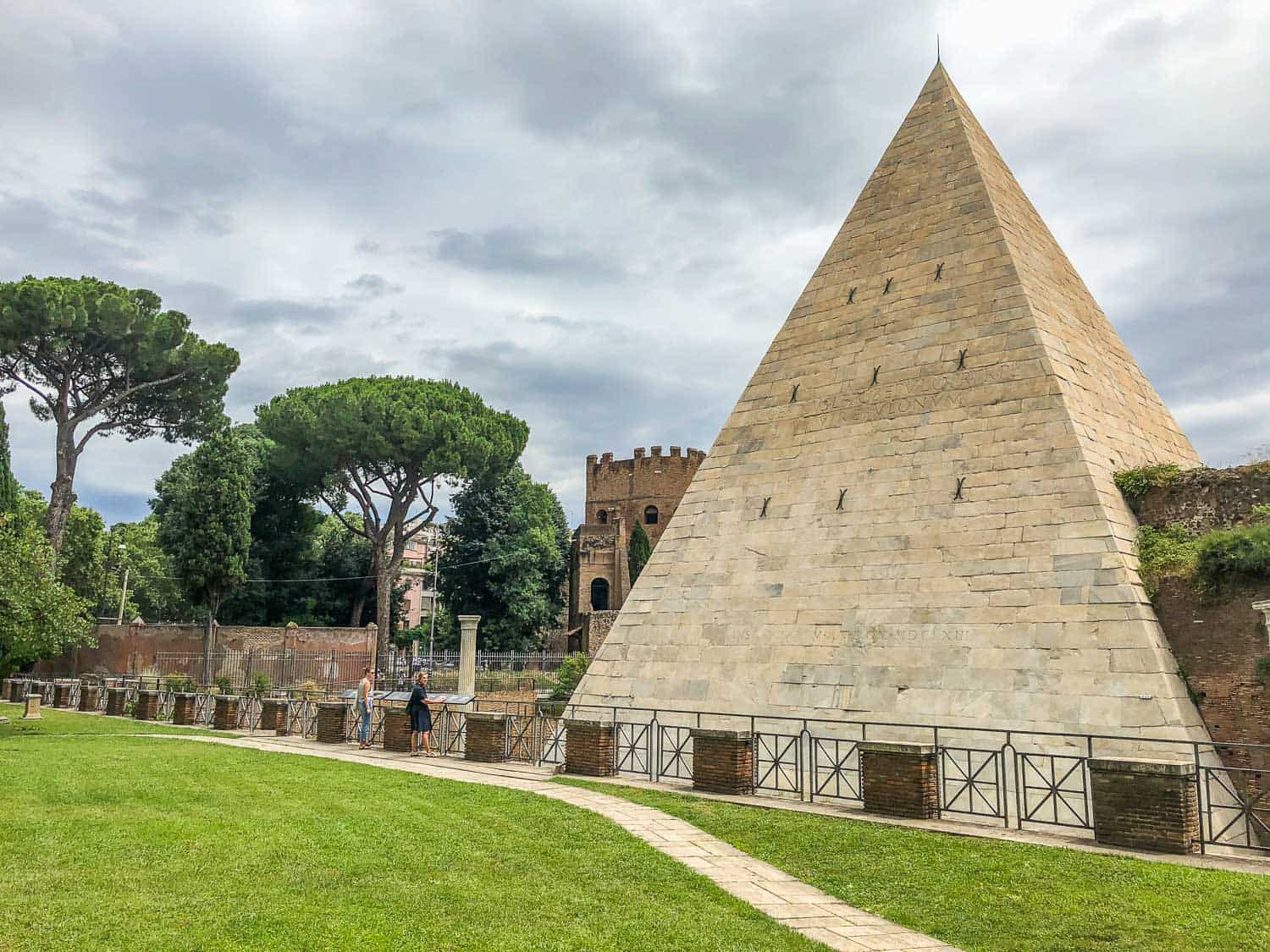 Rather bizarrely, Testaccio is home to the Pyramid of Cestius, which feels out of place in a city of Roman ruins. It was built in 12 BC as the extravagant burial tomb of Caius Cestius, a Roman praetor.
You can get a good view of the pyramid from the Non-Catholic Cemetery. Restoration work was completed in 2015 and since then you can visit inside the pyramid.
Tours inside the Pyramid are in Italian and only run on the 3rd and 4th weekends of the month at 11 am. It costs €7.50 and you must book in advance—see the Coop Culture website for details.
Mattatoio Modern Art Museum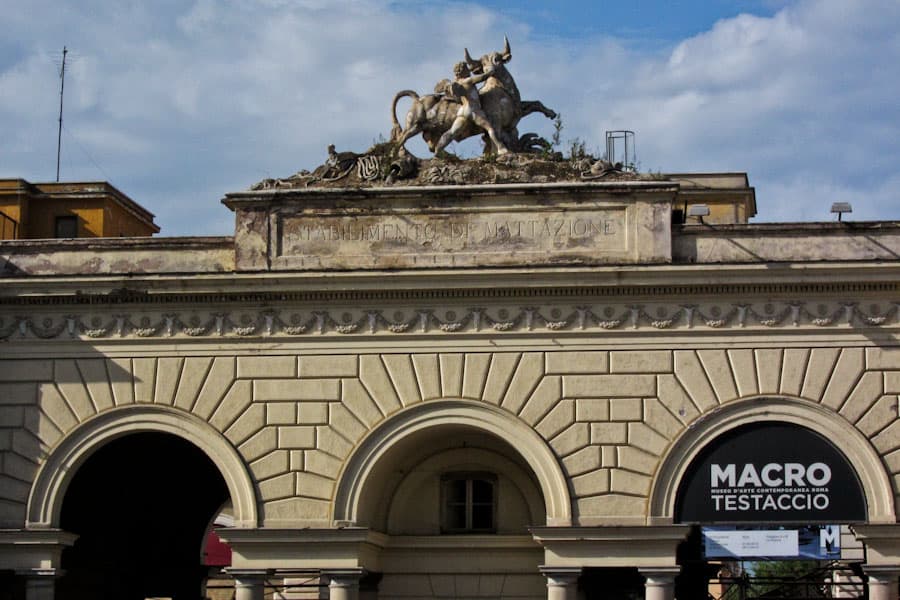 From 1890 – 1975, Testaccio was the slaughterhouse district of Rome until the trucks could no longer navigate Rome's busy roads.
The workers at the stockyard got free meat—but only the bits that couldn't be sold, so their wives became creative with the rejected heads, tails, hearts, lungs, and intestines.
The tradition lives on and many of the neighbourhood's restaurants still serve offal. Luckily for us vegetarians, there's a strong pasta tradition too.
The old Testaccio slaughterhouse is still standing and makes an amazing space for The Mattatoio, a contemporary art gallery.
The vast space has been renovated to incorporate the original features, including the meat hooks hanging from the elevated track that was used to transport the cattle and the animal pens outside.
The Mattatoio art gallery is open from 2 to 8 pm, Tuesday to Sunday (Piazza Orazio Giustiniani 4, €6, special exhibitions may cost more).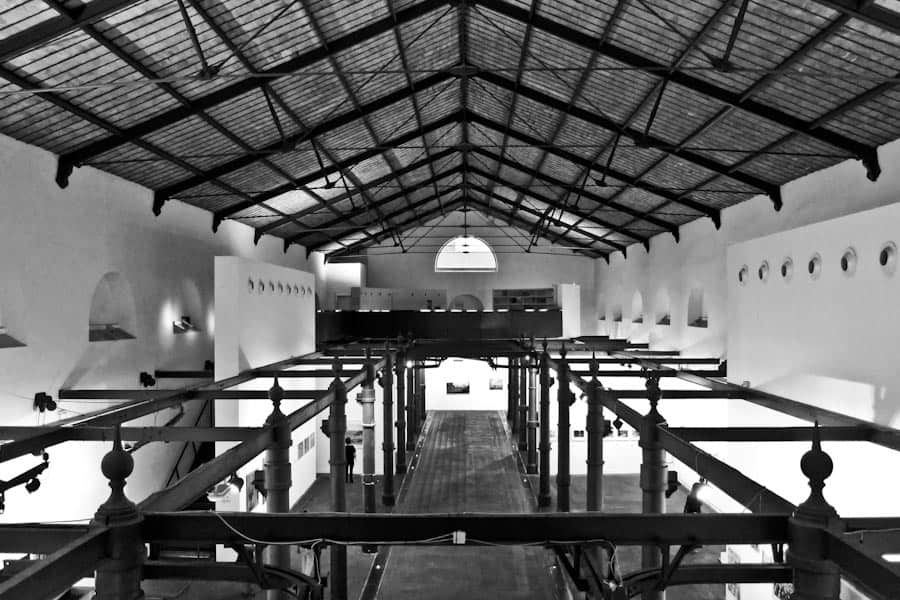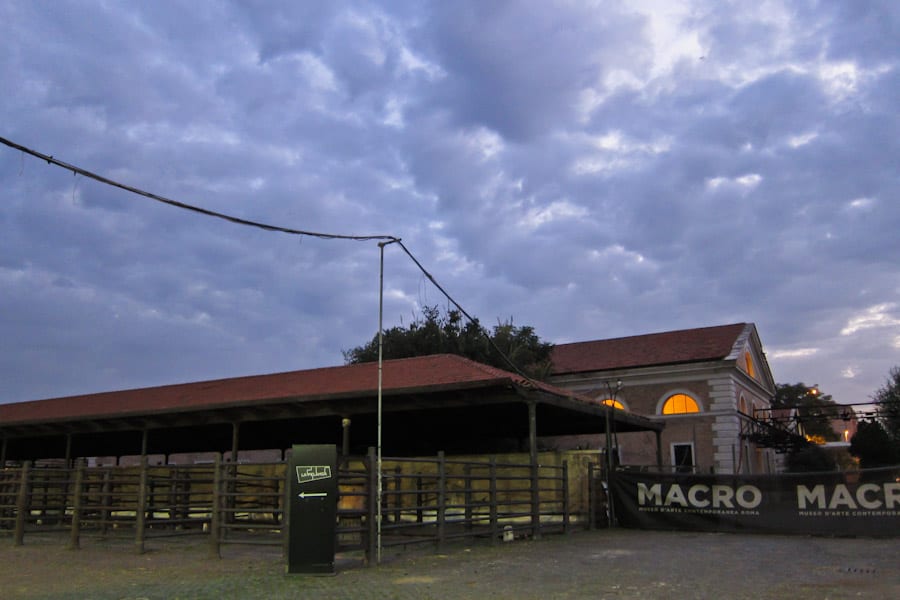 Testaccio Market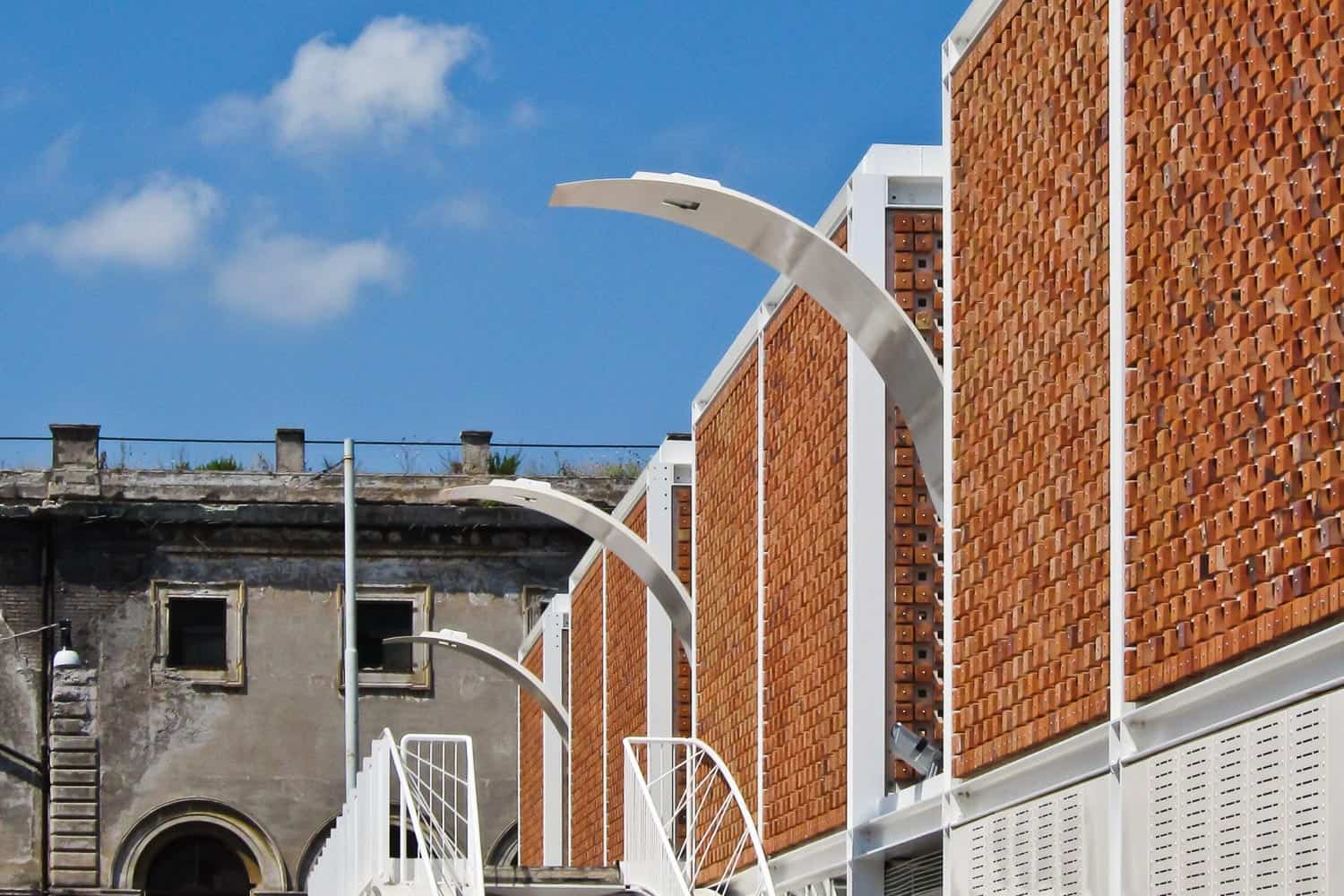 Opposite Mattatoio is the Testaccio market. Since 2012 this contemporary building has been the new home of one of Rome's oldest markets.
I love this market. Many of the stalls have been run by the same family for generations, and they have enormous pride in the quality of their produce including seasonal vegetables and fruit, cheese, bread, meat, and fish.
During our month in Testaccio we came here often for lunch at one of the prepared food stalls. From pizza slices to vegan burgers, pasta to sushi, and salads to Sicilian street food, there's plenty of choice and you can have a good meal for €5-6.
There are also clothes and shoe stalls.
Read about our 12 favourite stalls at Testaccio market.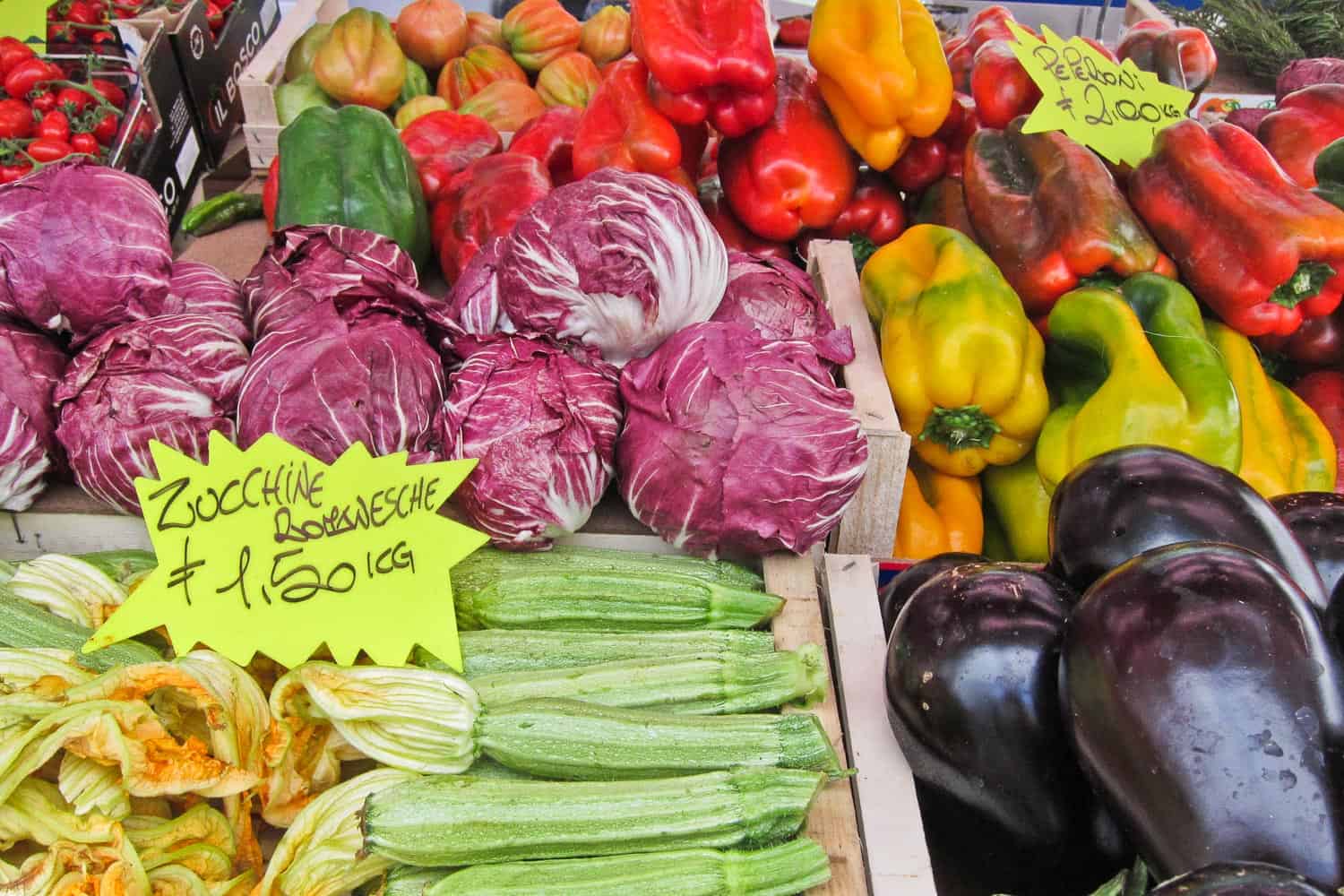 Testaccio Market is at the corner of Via Beniamino Franklin and Via Aldo Manuzio. It's open 7 am to 2 pm Monday to Saturday (closed Sundays). Opening hours of stalls may differ and quite a few also close on Mondays.
Nightlife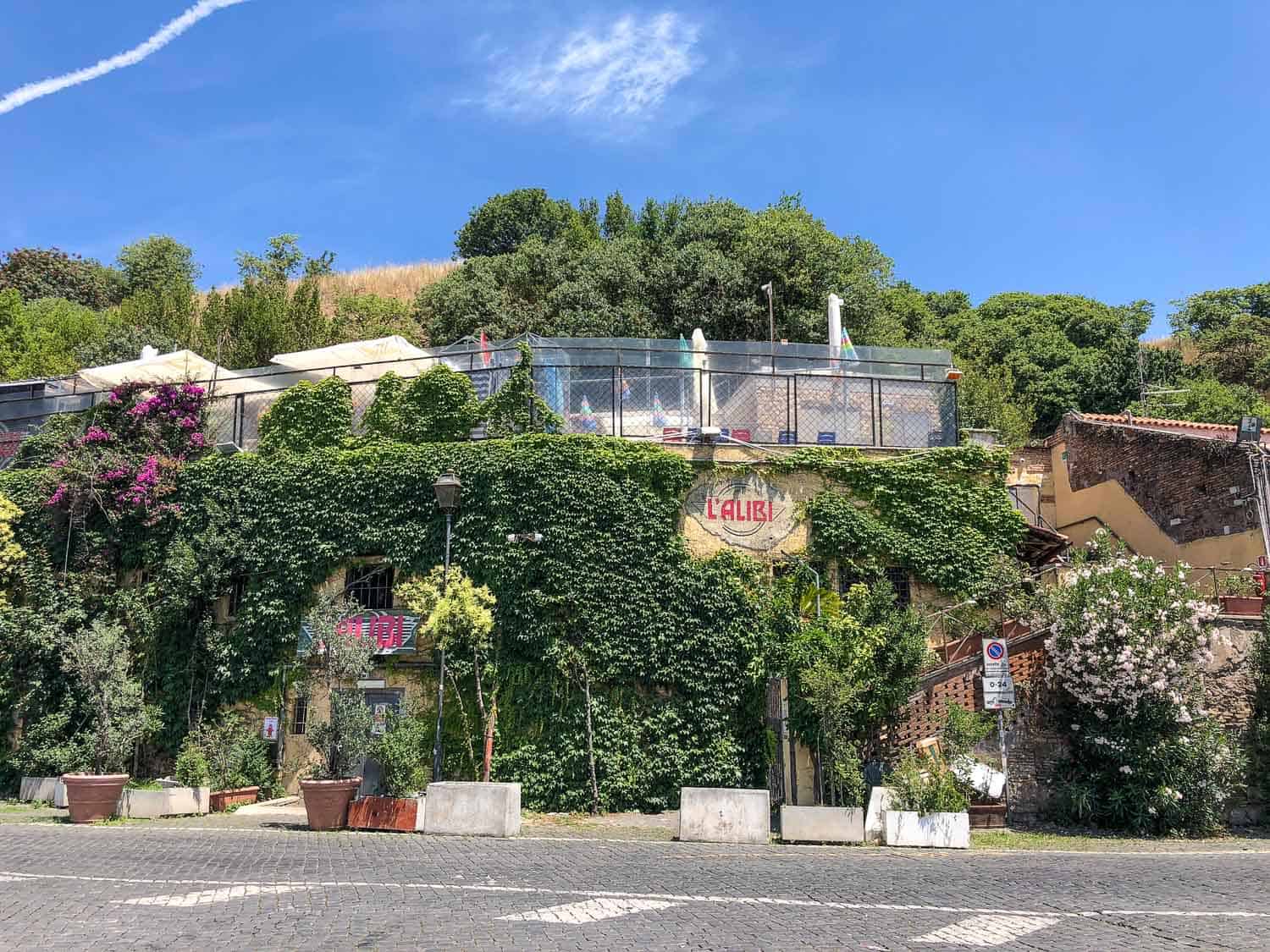 Testaccio is popular with young Italians for its nightclubs carved into Monte Testaccio such as Akab, L'Alibi, and Caffe Latino. Things don't get going until after midnight.
Surrounding Neighbourhoods
You could combine a visit to Testaccio with one of these surrounding neighbourhoods—see our off the beaten track Rome guide for more details.
Trastevere – One of Rome's prettiest neighbourhoods is just over the river. There are a few interesting (and quiet) sights, but it's most popular for restaurants, bars, and strolling the cobbled streets. See our Trastevere guide for details.
Ostiense – Just south of Testaccio is this gritty neighbourhood that's worth visiting for its street art, the unique Centrale Montemartini museum where ancient sculpture is displayed in an old power plant, and the grand Basilica of St Paul's Outside the Walls.
Aventine Hill – A green and peaceful residential area where you can get a lovely view of the city from the Orange Garden and take a peek at St Peter's through the Aventine Keyhole.
See our guide to Rome off the beaten track for more ideas of things to do in the area.
Where to Eat in Testaccio
We were first introduced to Testaccio on the Eating Italy food tour (read our Taste of Testaccio review) which we highly recommend if you want to discover some delicious eats and learn more about Italy's food culture.
These are our favourite Testaccio restaurants, pizzerias, cheap eats, and gelaterias:
The Best Testaccio Restaurants
Restaurants in Italy only open for set hours for lunch (usually 12.30-2.30pm) and dinner (from 7 or 8 pm). Bookings are recommended on weekends or try going early. See our guide to eating in Italy for more tips.
Flavio al Velavevodetto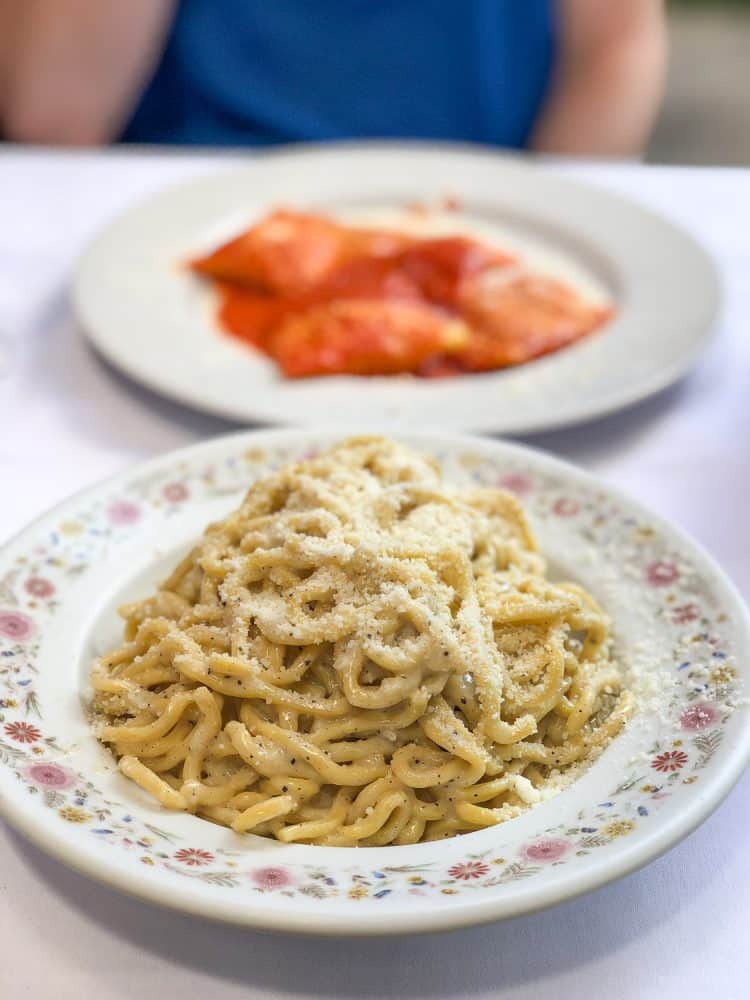 Flavio al Velavevodetto is one of the best restaurants in Testaccio and is where we've eaten the most often. It's built against the Monte Testaccio so you can see the broken amphorae in the inside dining room or sit outside on the terrace.
They make one of our favourite versions of the classic Roman dish tonnarelli cacio e pepe (thick spaghetti with pecorino cheese and black pepper). Portions are huge.
We also like the vegetable antipasti like caponata (sweet and sour aubergine) and zucchine alla scapece (vinegary courgette) and the ravioli.
Don't miss the tiramisu—their chocolatey version in a glass is amazing, and I don't even usually like tiramisu.
Flavio al Velavevodetto: Via di Monte Testaccio, 97/99. Bookings highly recommended—you can book on their website.
Felice a Testaccio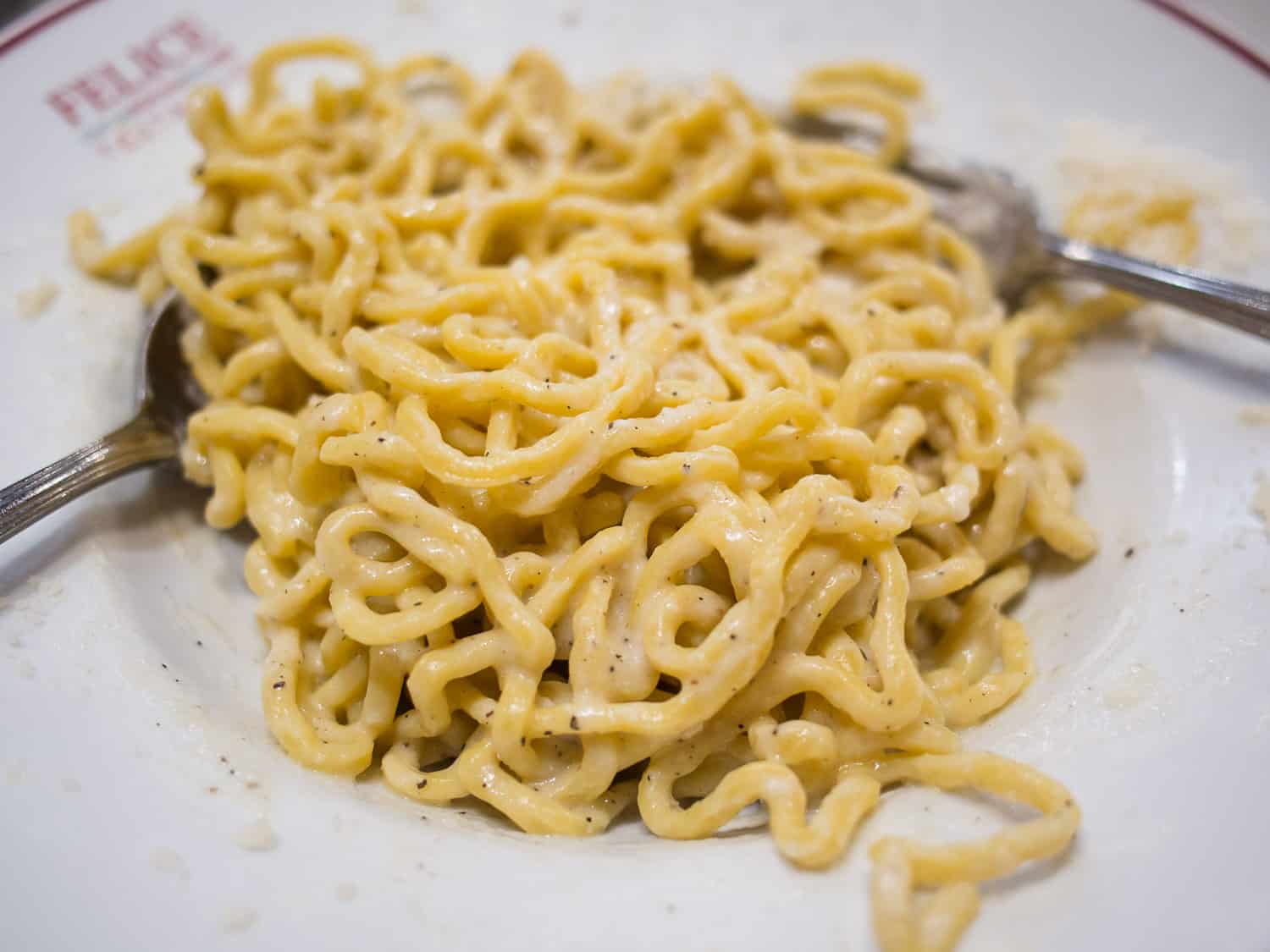 Felice is Testaccio's most famous restaurant and bookings are essential (we managed to get a table for 7pm a day in advance). They've been serving up classic Roman cuisine since 1936 and their cacio e pepe is often described as the best in Rome.
Reviews have been mixed since the original owner Felice died, though, and we were somewhat hesitant about visiting.
I'm glad we did as the tonnarelli cacio e pepe really is that good. The waiter mixes it at your table so the pasta is fully coated in cheesy, peppery goodness. We've eaten a lot of cacio e pepe in Rome and Felice's ties with Flavio's as our favourite.
Felice also has other vegetarian pasta dishes that we appreciated in meat-heavy Testaccio. The spaghetti alla Felice with cherry tomatoes, herbs, and ricotta is excellent, although was served a little cold.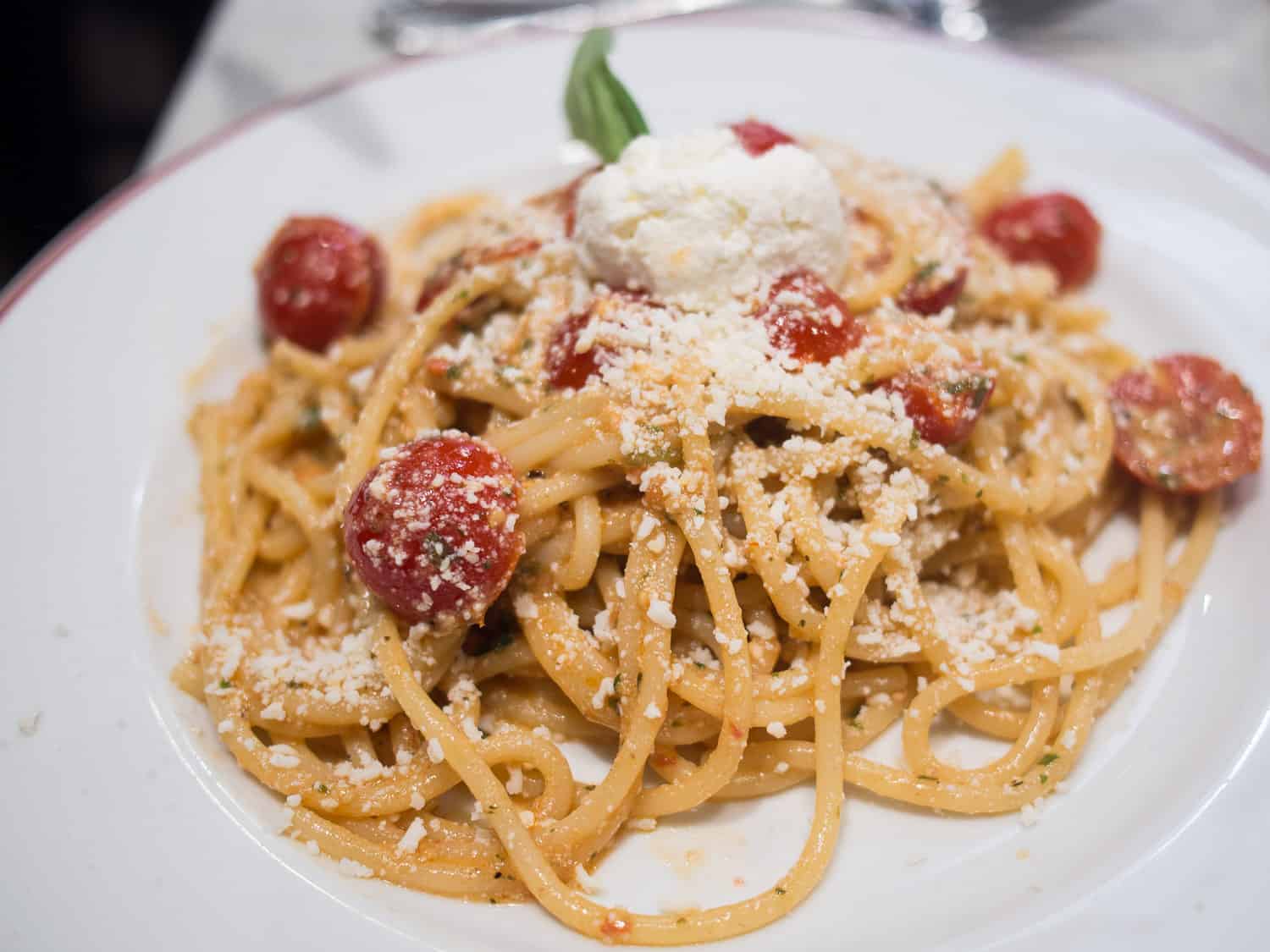 The tiramisu is also very good—like at Flavio al Velavevodetto it's served with melted chocolate in a glass, although I still prefer Flavio's version.
Our only disappointment was that there are no antipasti, so we ordered a plate of asparagus with lemon from the sides menu to start. It was overcooked and overpriced—stick with the pasta.
Felice a Testaccio: Via Mastro Giorgio, 29. Bookings (by phone or in person) are essential.
Osteria degli Amici
Most restaurants in Testaccio stick to traditional Roman dishes, so it was refreshing to visit Osteria degli Amici, a small cosy restaurant with a mix of classic and contemporary options.
They have lots of vegetarian antipasti—we enjoyed the burrata with gazpacho and parmigiana di melanzana (baked aubergine, tomato and cheese). Their cacio e pepe was also good.
Osteria degli Amici: Via Nicola Zabaglia, 25. Closed Tuesdays.
Piatto Romano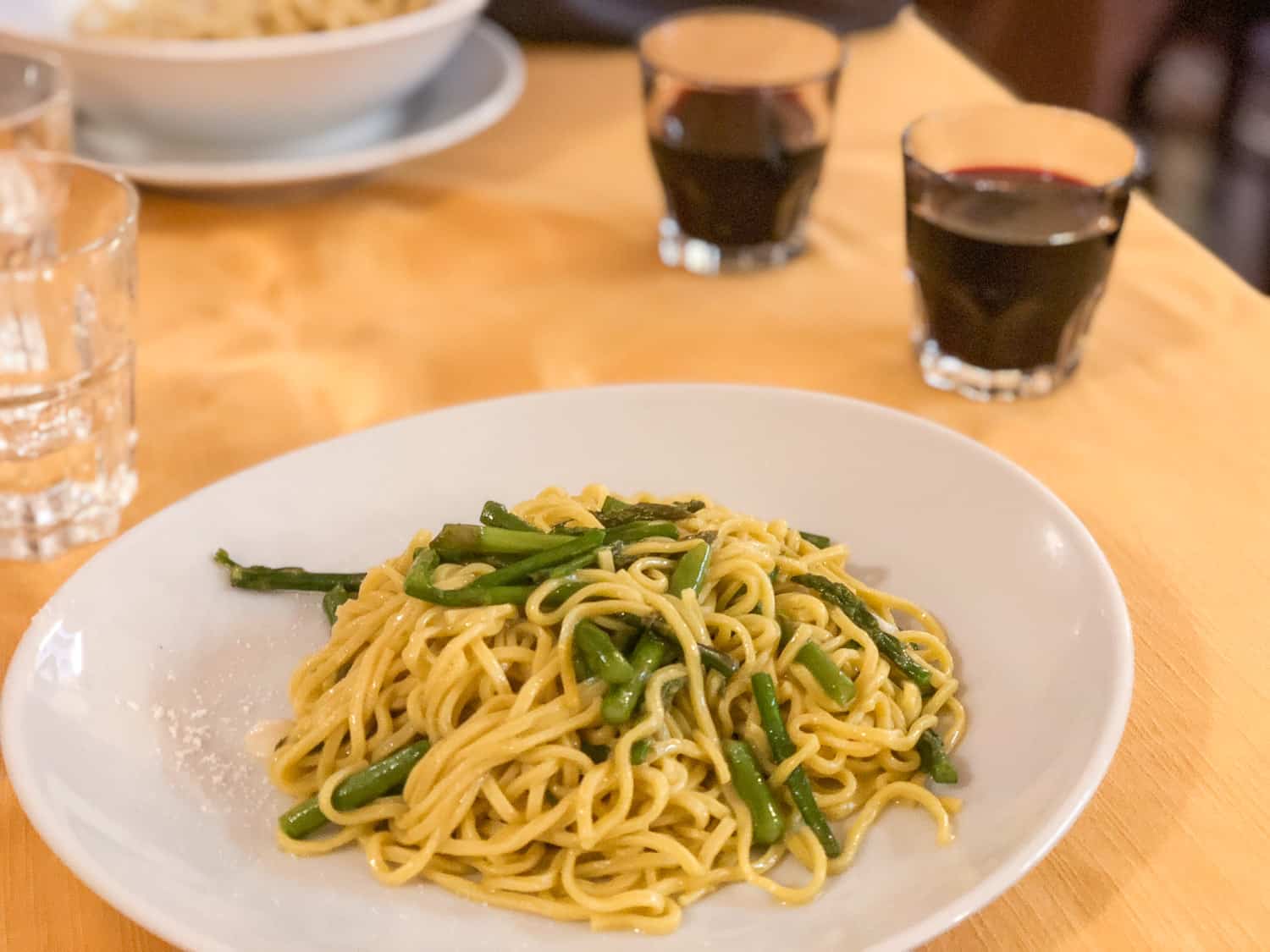 Piatto Romano is a simple, traditional restaurant that's friendlier than your average Roman place. I recommend going with whatever they have on special, which included a number of vegetarian dishes when we visited.
We enjoyed the aubergine with pine nuts and fried ricotta balls as a starter and the taglioni with wild asparagus and garlic as our pasta dish. We found the cacio e pepe (from the normal menu) too salty.
Piatto Romano: Via Giovanni Battista Bodoni, 62.
Ristorante Pecorino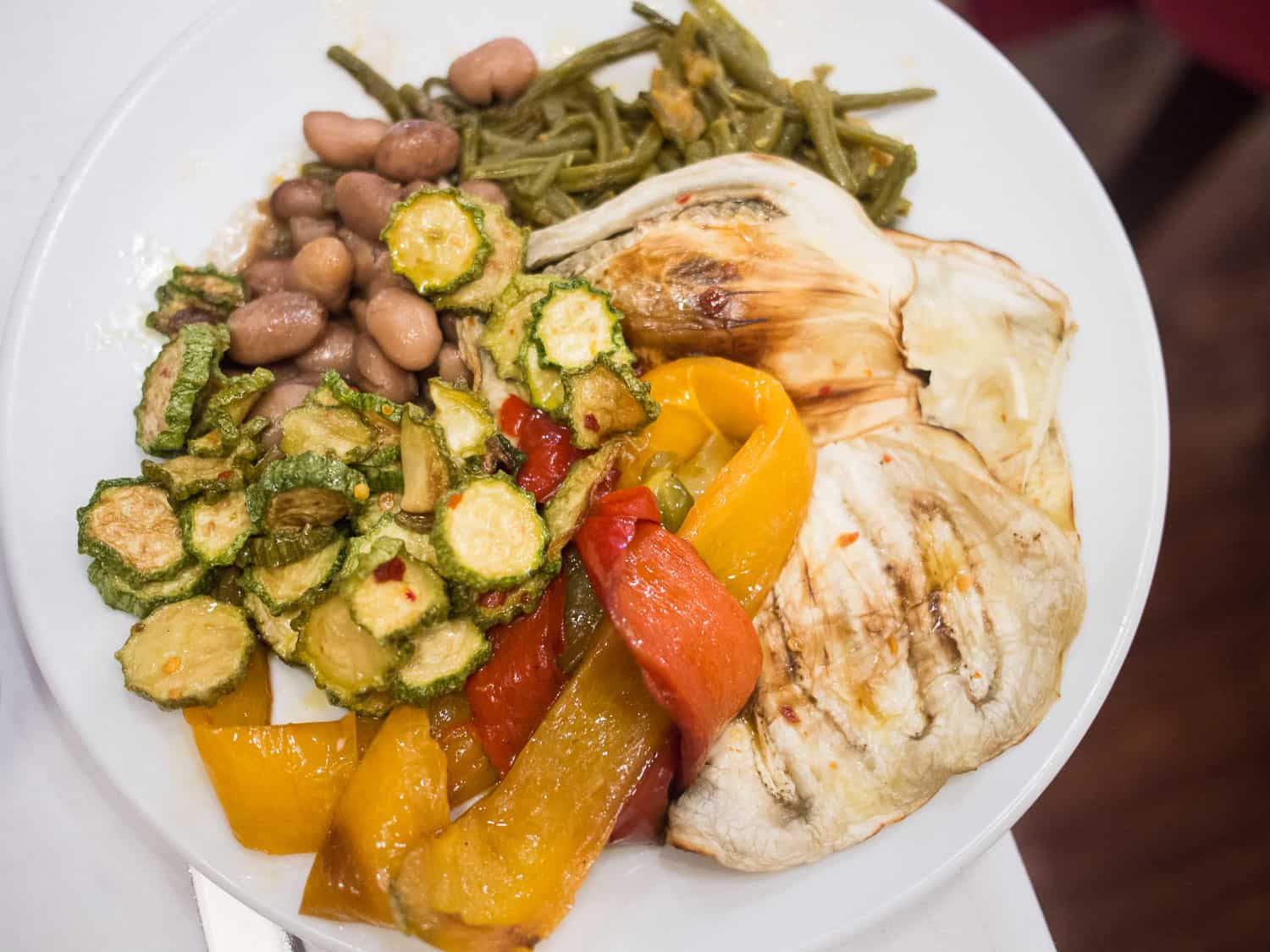 Pecorino is one of the few restaurants in Testaccio that do a vegetarian antipasto of vegetables and beans which is a great way to start the meal. We also like their parmigiana di melanzana (on the secondo menu but we had it as a primo).
Their cacio e pepe and tiramisu are decent but don't compare to the versions we had elsewhere.
Pecorino: Via Galvani 64. Closed Mondays.
Pizzerias and Cheap Eats in Testaccio
Pizzeria da Remo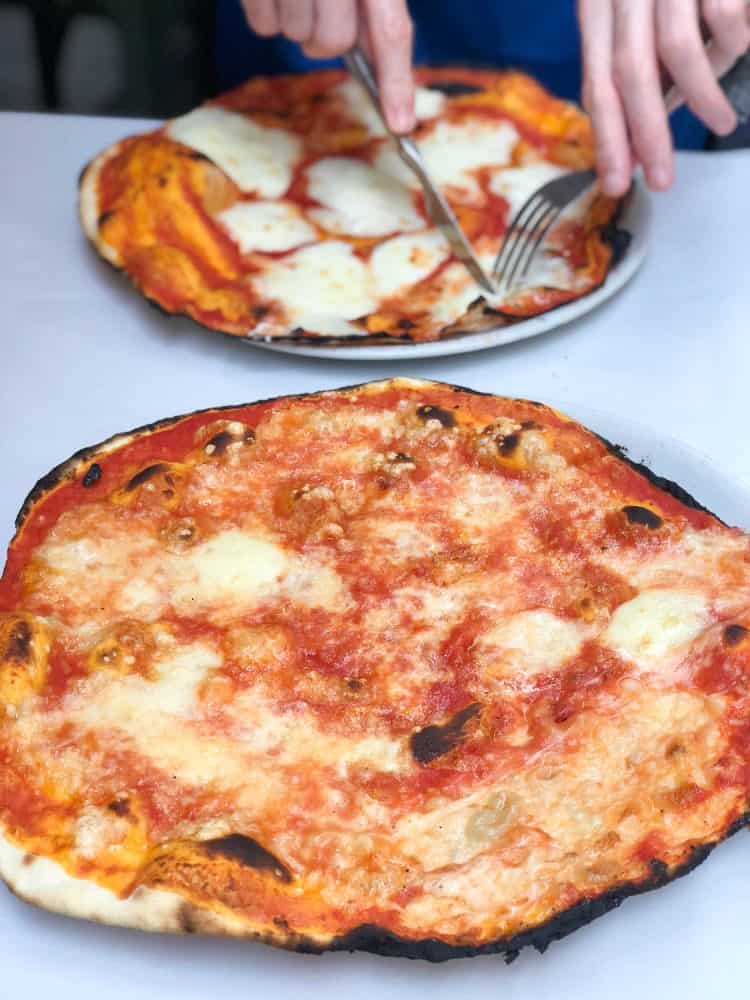 Da Remo is a typical Roman pizzeria—basic decor, bustling atmosphere, gruff service, and delicious super thin crust pizzas.
It's one of the most popular pizzerias in Rome but gets mixed reviews these days. Like with Felice, we thought it might be overrated, but no, the pizzas (especially the margherita) really are excellent. We ate here often—Simon even managed three nights in a row at one point. It costs under €20 for two pizzas and two drinks.
Get here early to get a table (no bookings). If you don't want to wait, try Nuovo Mondo around the corner, although it's not quite as good.
Pizzeria da Remo: Piazza di Santa Maria Liberatrice, 44. From 7pm. Closed Sundays.
Trapizzino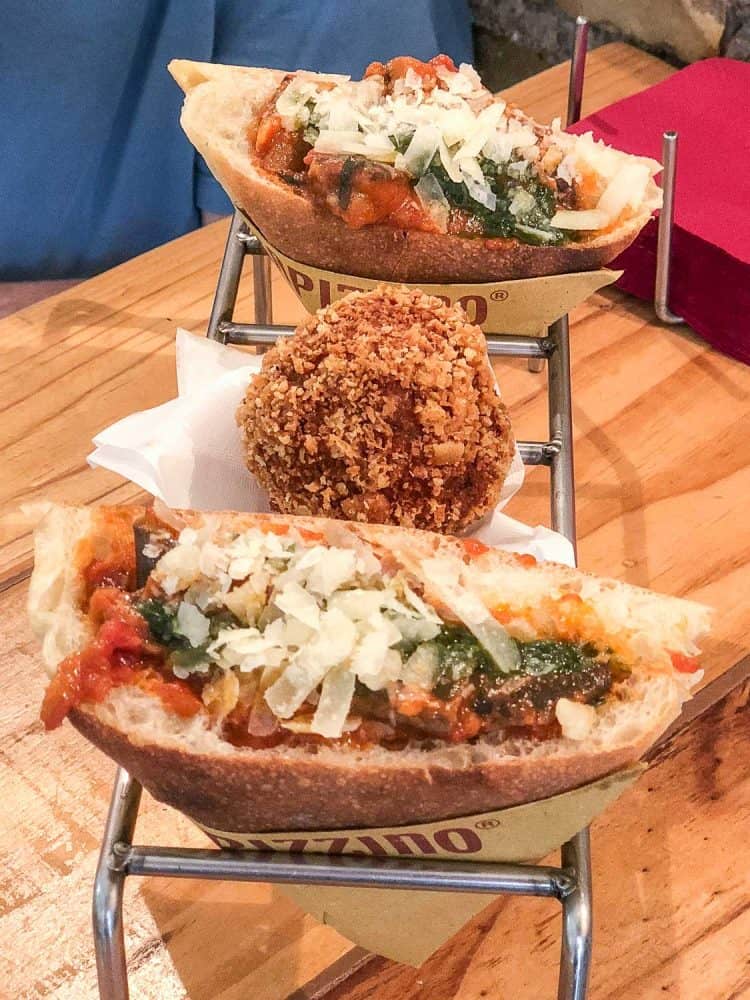 This is fast food Roman style. Trapizzino is named after Stefano Callegari's invention—a cross between a pizza and a sandwich with pizza dough stuffed with fillings. There are a few seats or you can take it to the nearby park. A trapizzino is €3.50 so it's ideal for a quick, cheap meal.
It's quite meat heavy, but there are always a few delicious vegetarian options. In the summer these were parmigiana di melanzana (aubergine and parmesan) and zucchini alla scapece (minty, vinegary courgette) with stracciatella di burrata (the gooey middle of mozzarella).
Their suppli (rice balls) are also excellent—the fillings change so check the ingredients if you're vegetarian.
Trapizzino: Via Giovanni Branca, 88. Open all day 12 pm – 1 am. Closed Mondays.
Fraschetta da Sandro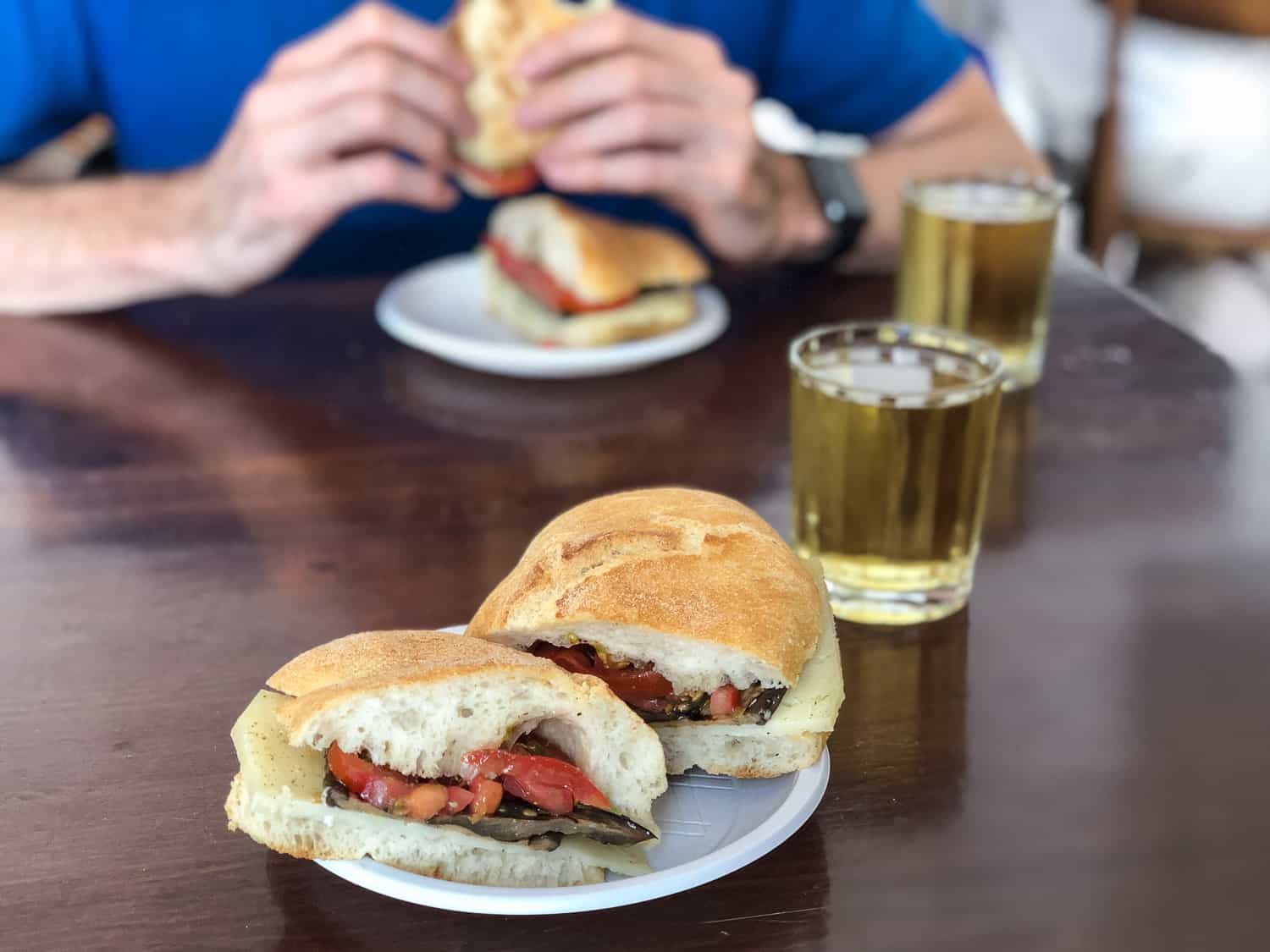 This simple, friendly bar attracts a mixed crowd of both young and old locals for its vino sfuso (cheap homemade wine on tap) and excellent sandwiches.
You can choose the ingredients at the counter for your sandwich—we went with pecorino cheese, aubergine, and tomato on a crusty roll and it was delicious. You can also order a plate of meat, cheese and vegetables.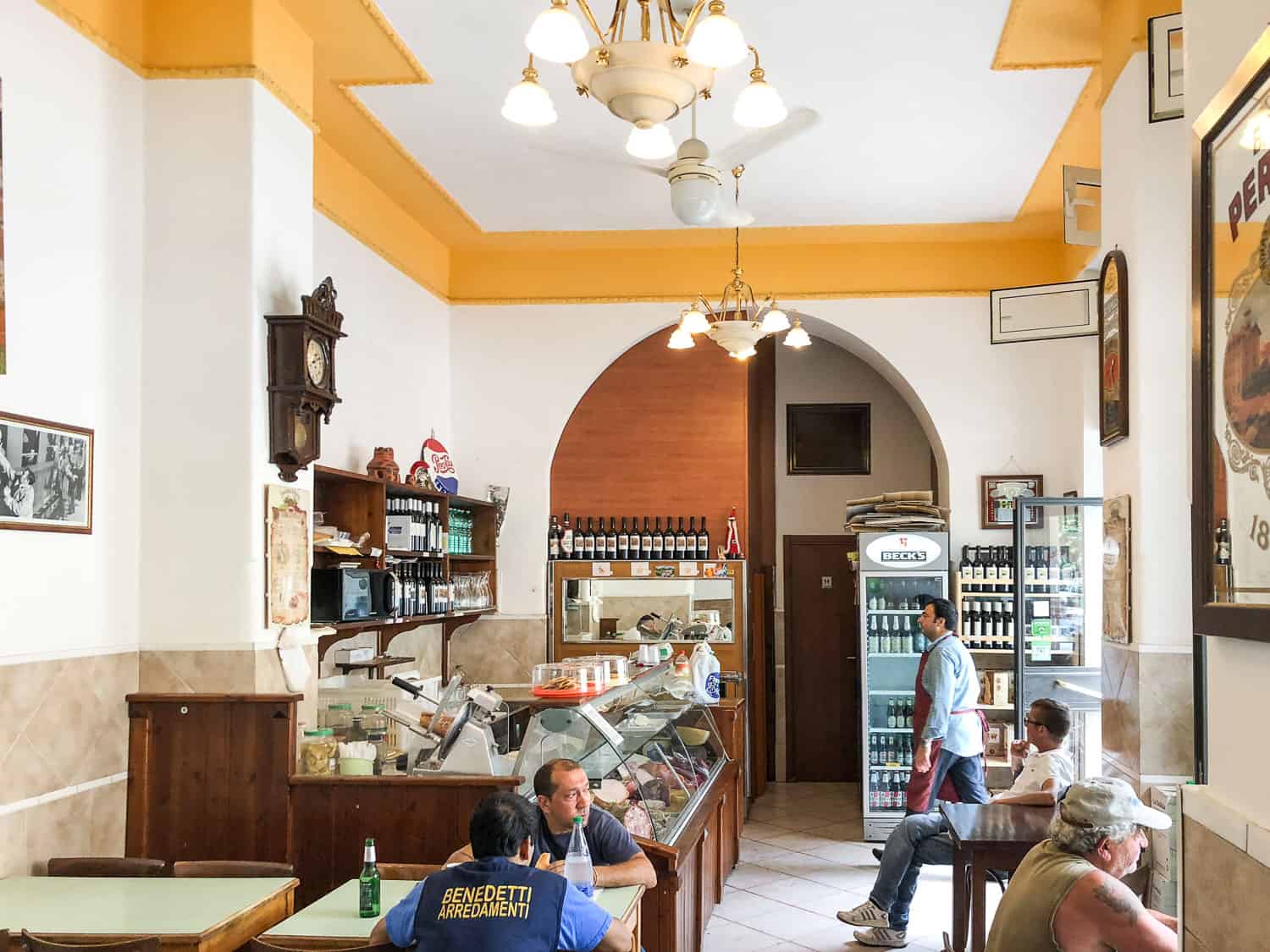 As sandwiches are only €3 and large glasses of wine €1, it makes an inexpensive lunch in a very local atmosphere. You can also buy the wine by the litre to take away.
Fraschetta da Sandro: Via Galileo Ferraris, 5. Open 8am-4pm and 5.30-8pm. Closed Sundays.
Testaccio Market
Our favourite place for lunch was the Testaccio market (see above) which has a range of food stalls and a central seating area so everyone can order different things and eat together.
We especially loved the pasta at Le Mani in Pasta, salads at Zoe, and vegan burgers at Sano Burger. The most famous stall is Mordi e Vai which sells meaty sandwiches.
Testaccio Bars
Ketumbar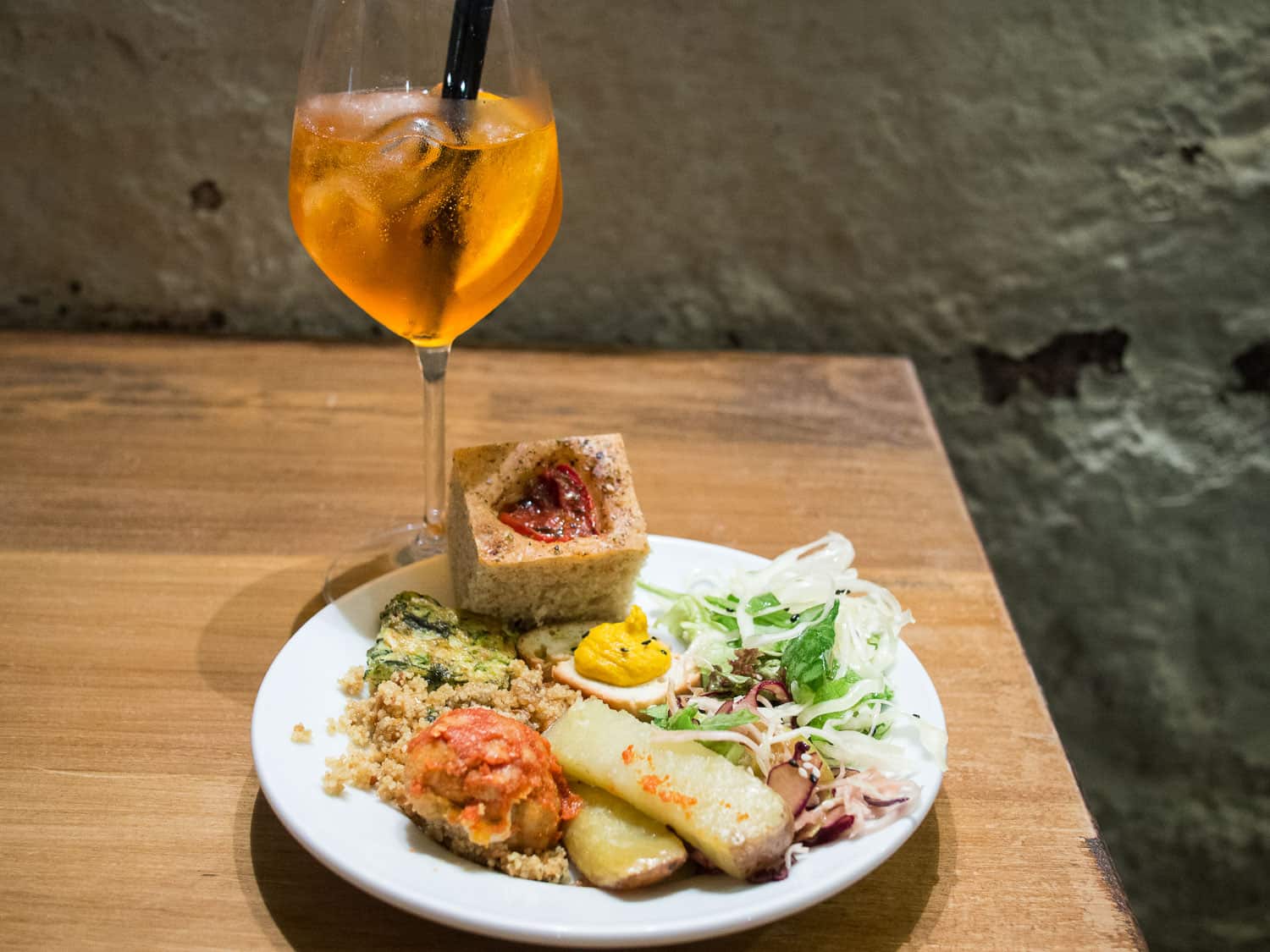 If you are in need of a light meal, head to Ketumbar for their organic, vegetarian aperitivo buffet. €10 gets you a drink (we went for the classic Spritz, but there's a long cocktail list) and access to the buffet of healthy dishes.
We had a choice of green salads, couscous, rice salad, roast potatoes, vegan "meat" balls, frittata, bruschetta, focaccia and more.
You can choose to sit outside or in the stylish interior where you can see the broken amphorae of Monte Testaccio.
Ketumbar also has an organic, mostly vegetarian brunch on Saturday and Sunday lunchtimes (€15-18 excluding drink). Note that brunch in Rome means a lunch buffet and doesn't include breakfast food.
Ketumbar: Via Galvani, 24. Open 11 am-2 am. Aperitivo buffet from 6.30pm.
Tram Depot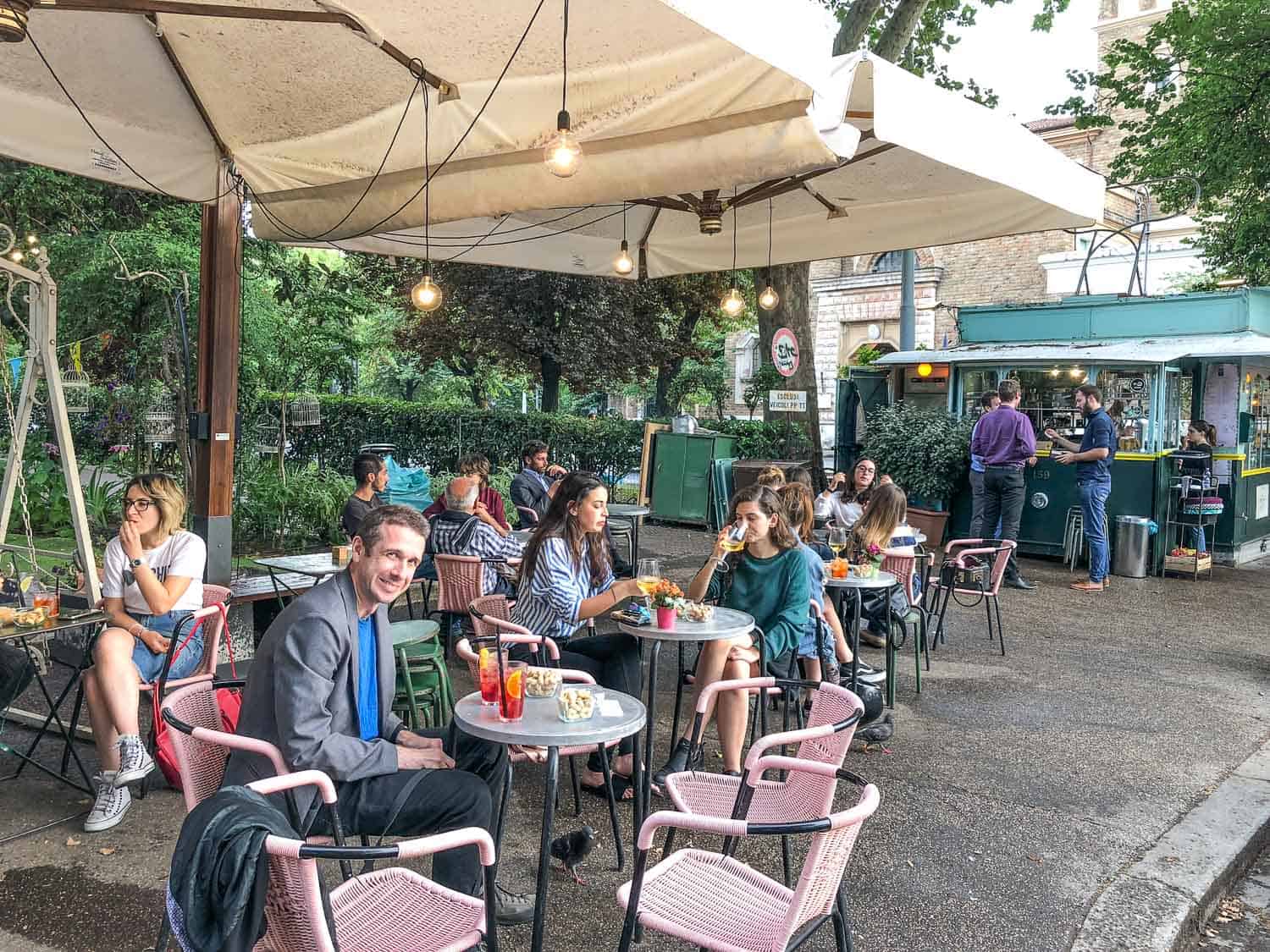 Tram Depot is a cute outdoor bar that attracts a young local crowd. It's a good spot for a coffee or aperitivo. Our Spritz (€5) came with peanuts and taralli (ring-shaped crackers).
Tram Depot: Via Marmorata, 13. Open summer only from morning until late.
Gelato and Sweet Treats in Testaccio
Panna & Co
Panna & Co is our favourite gelato spot in Testaccio. All ingredients are natural and they have some unusual and vegan flavours alongside the classics.
Everything we tried was wonderful—chocolate orange, dark chocolate, pistachio, coconut, and the month's special of almond pesto with candied citron.
Panna & Co: Via Marmorata, 115. Open 12pm – 11.30pm.
Giolitti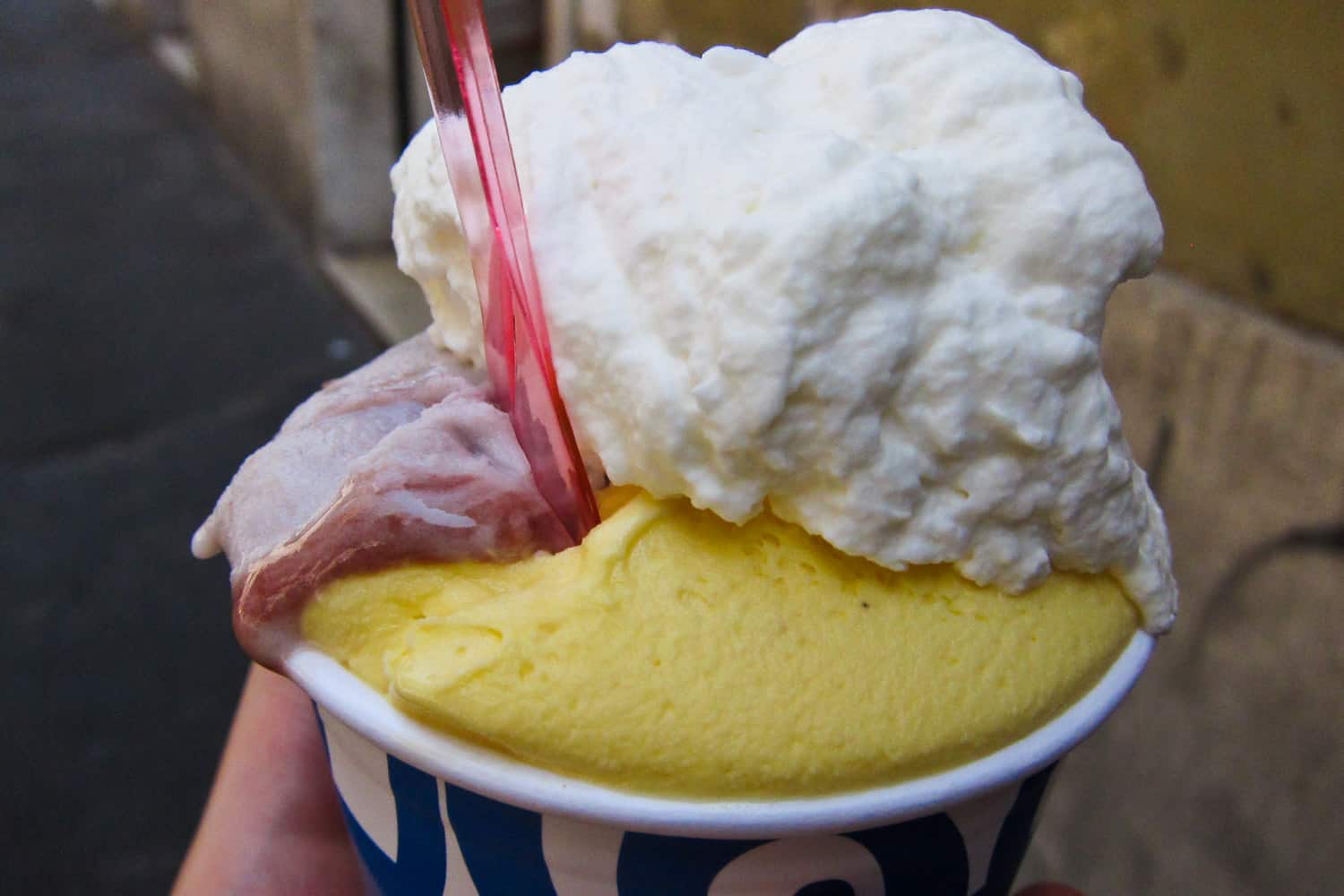 This old-school, family-run bar has been making gelato since 1890. We loved it when we first visited in 2012, but it didn't quite live up to our memories this time and we preferred Panna & Co. It's still a good option if you are passing by.
Via Amerigo Vespucci, 35. Open 7am-midnight.
Pasticceria Linari
This bar/cafe/cake shop is always busy, but if you can fight your way to the counter (pay at the cash register first) it's a good place for a quick breakfast with a range of cornetti (croissants), pastries, and pizza rossa.
Via Nicola Zabaglia, 9. Open 6.30am-9.30pm.
Pasticceria Barberini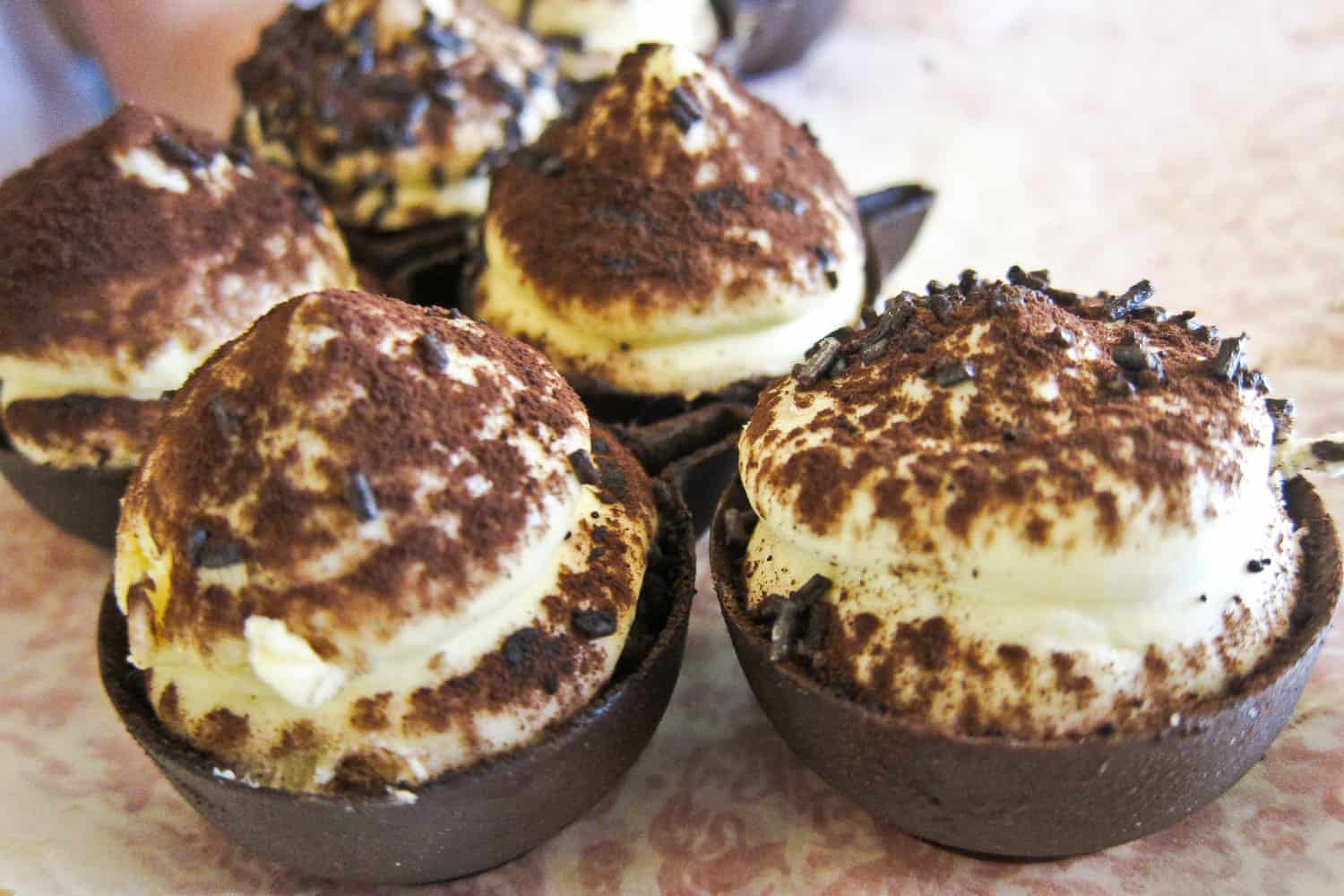 Another popular bar and cake shop with decent cornetti (croissants) and tasty mini tiramisu chocolate cups amongst many other sweet treats.
Via Marmorata, 41. Open 6am-9pm.
Self-Catering in Testaccio
Volpetti
Stock up on picnic ingredients or gifts in this foodie treasure trove where the counters are overflowing with cheeses, salami, olives, bread, fresh pasta, truffles and more.
Via Marmorata 47. Open 8.30am-2pm and 4.30pm-8.15pm (all day on Saturdays). Closed Sundays.
Testaccio Market
The best place in the area to buy fresh vegetables and fruit as well as cheese, meat, and bread. See above.
Where to Stay in Testaccio
As there aren't many hotels in Testaccio, renting an apartment is a good option. It's useful to have a kitchen to take advantage of the delicious market produce.
Search for apartments in Testaccio on Vrbo.
Years ago we stayed at one of the few hotels, Hotel Re Testa, in the Testaccio market building, but it seems to have gone downhill since we visited and doesn't get the best reviews.
You can search for other hotels and B&Bs in Testaccio here.
How to Get to Testaccio
We like to walk in Rome and that is possible from Testaccio—it's particularly pleasant along the Tiber river. It's about 20 minutes to Trastevere, 30-40 minutes to the historic centre, and 30 minutes to the Colosseum.
To save your legs, Testaccio has a metro stop—Piramide is on Metro line B. It's a 15-minute walk from Piramide to Testaccio Market.
You can also get around by bus—we used Google Maps to see the routes. Tickets cost €1.50 and are valid for 100 minutes including transfers. You need to buy tickets in advance from newsstands or tabacchi shops and validate the ticket in the machine when you board the bus.
A meter taxi from Termini train station to Testaccio cost us €13.
From Testaccio to the Airport
It's easy to get to Rome Fiumicino airport (FCO) by train from Ostiense train station, next to the Piramide metro stop. It takes 30 minutes and costs €8 each way. The train also goes through Trastevere Station which might be nearer to you depending on which side of Testaccio you are staying on.
From Rome Ciampino airport (CIA) you can get one of the airport coaches to Termini train station and then the metro or bus from there. Just don't buy tickets on board RyanAir as we did—we had to wait for ages for their coach to arrive and in the meantime, there were three coaches from Terravision.
The set price for an airport taxi is €48 to/from Fiumicino and €30 to/from Ciampino.
Testaccio Rome Map
Testaccio isn't the place to stay if you are only interested in visiting the big attractions, but if you want to get under Rome's skin and see an alternative side of the city, where Romans live, eat, and drink, then we'd recommend giving Testaccio a go.
More Rome Posts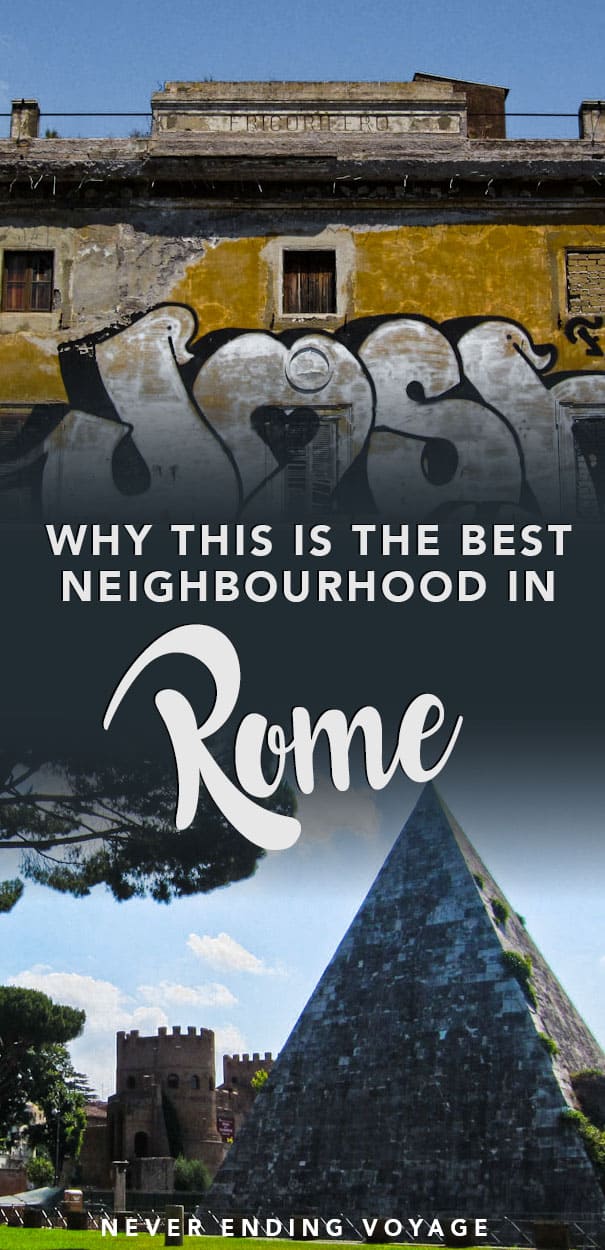 If you enjoyed this post, pin it!