This page contains affiliate links. Please read our disclosure for more info.
Testaccio Market is my favourite market in the world. It's one of Rome's oldest markets, although in 2012 it moved to a new location in a bright, spacious contemporary building.
Many of the stalls in this covered market have been run by the same family for generations. The vendors take pride in the quality of their produce including seasonal vegetables and fruit, cheese, bread, meat, and fish.
In June the juicy cherries were addictive and in July the melon scented our whole apartment. I love that you can buy washed and prepared green beans or spinach and bags of mixed chopped vegetables for an easy soup.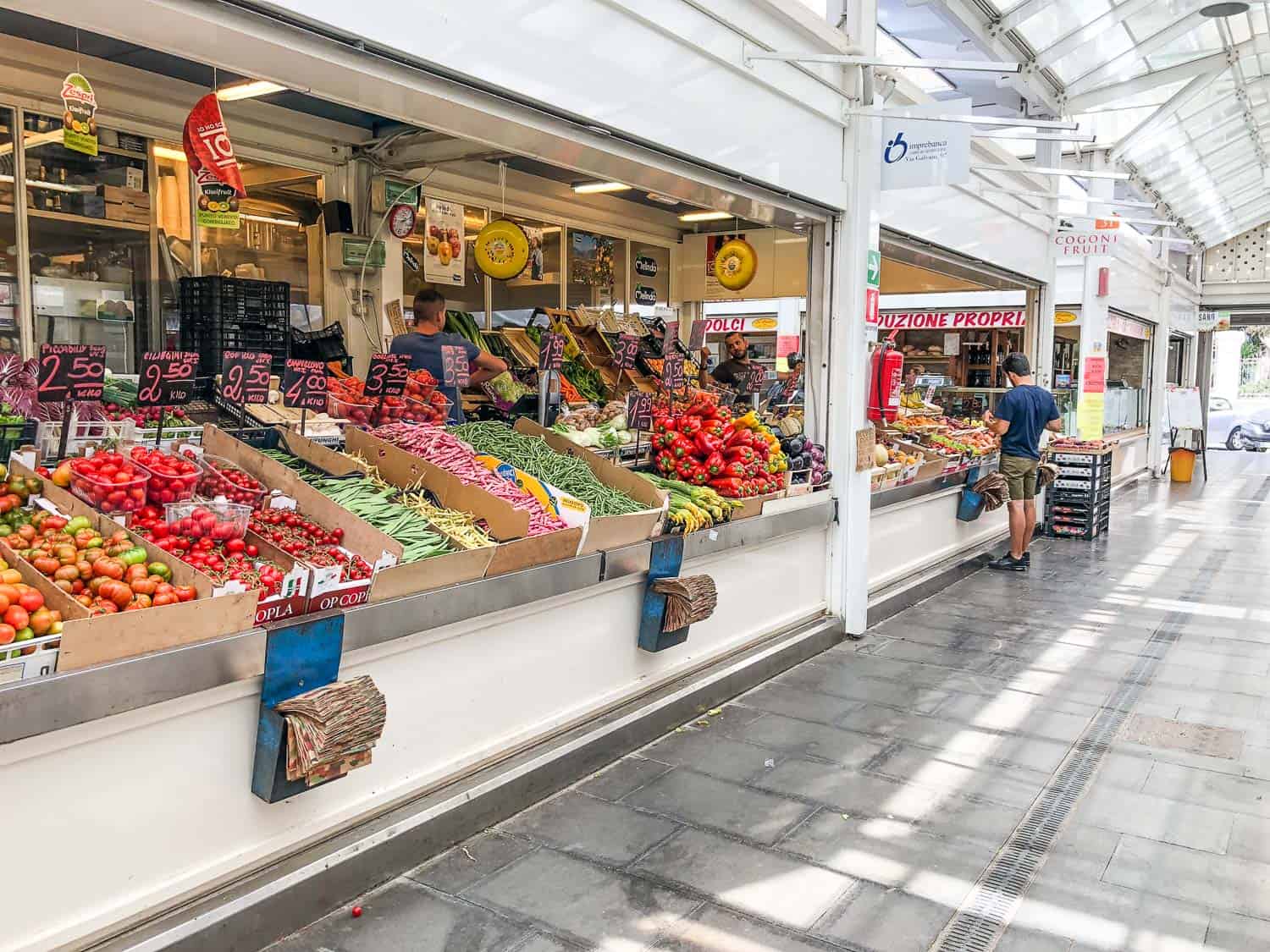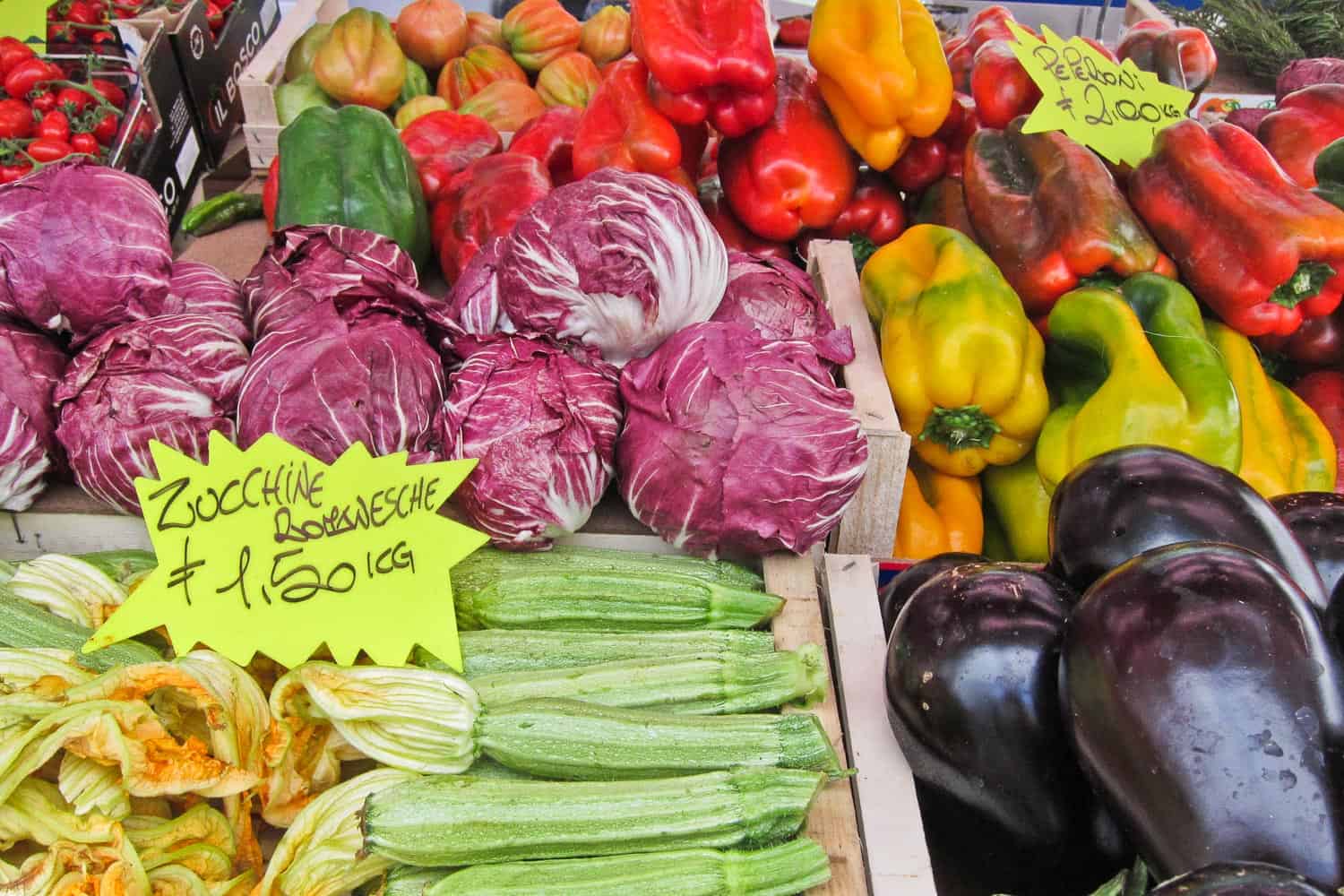 During our month in Testaccio, as well as doing our food shopping here, we came often for lunch at one of the prepared food stalls.
There's plenty of choice from pizza slices to vegan burgers, pasta to sushi, and salads to Sicilian street food, and you can have a good meal for €5–6.
There's seating in the centre of the market so everyone can buy what they fancy and then meet to eat together.
It's one of our favourite unique things to do in Rome.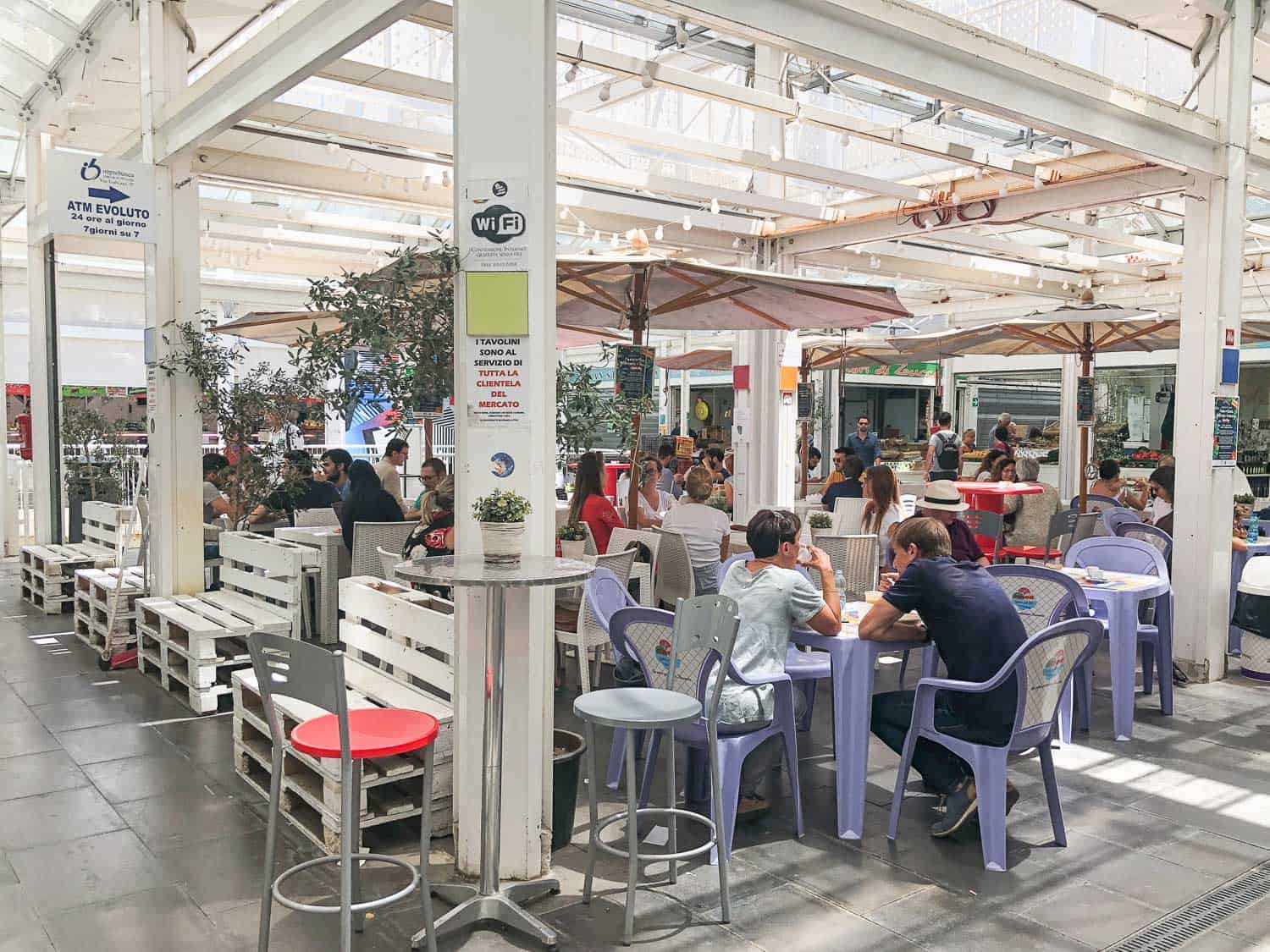 There are also stalls selling clothes, shoes, and knick-knacks.
We only wished that the market was open in the evenings too— we did enjoy one of the occasional Saturday open days when it's open into the evenings for food, wine, and live music.
These are our favourite stalls at Testaccio Market:
Contents
1) Le Mani in Pasta (Box 58)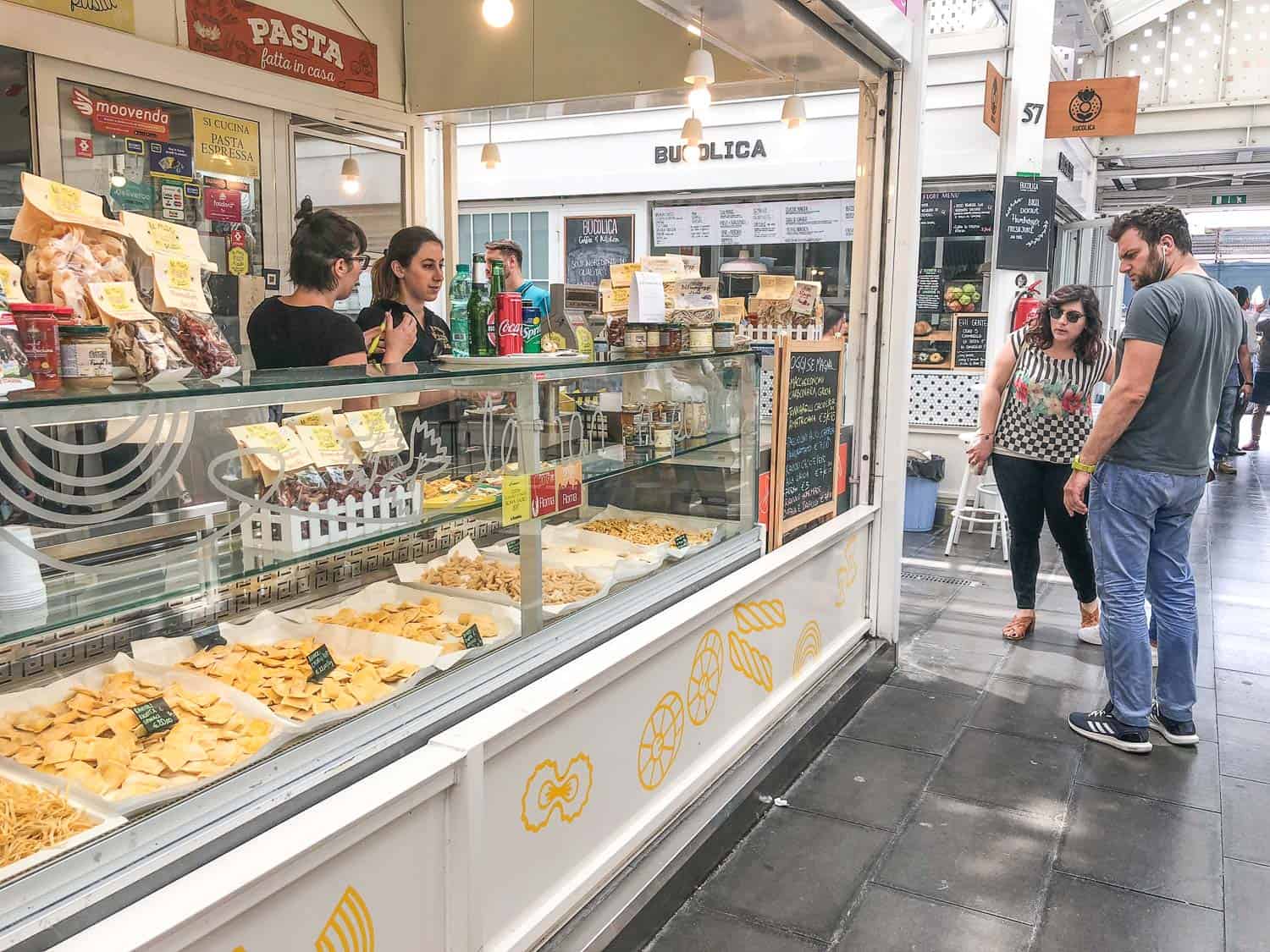 Le Mani in Pasta makes some of our favourite pasta in Rome. You can buy freshly made pasta to cook at home or choose from their changing menu and they'll cook it to order. They also serve pasta, farro, and couscous salads.
A regular portion of hot pasta is €5–6 or a €9 large was enough for us to share for lunch.
All the dishes we tried were excellent including the classic cacio e pepe and the Puglian orecchiette with tomato, basil, and ricotta.
2) CasaManco (Box 22)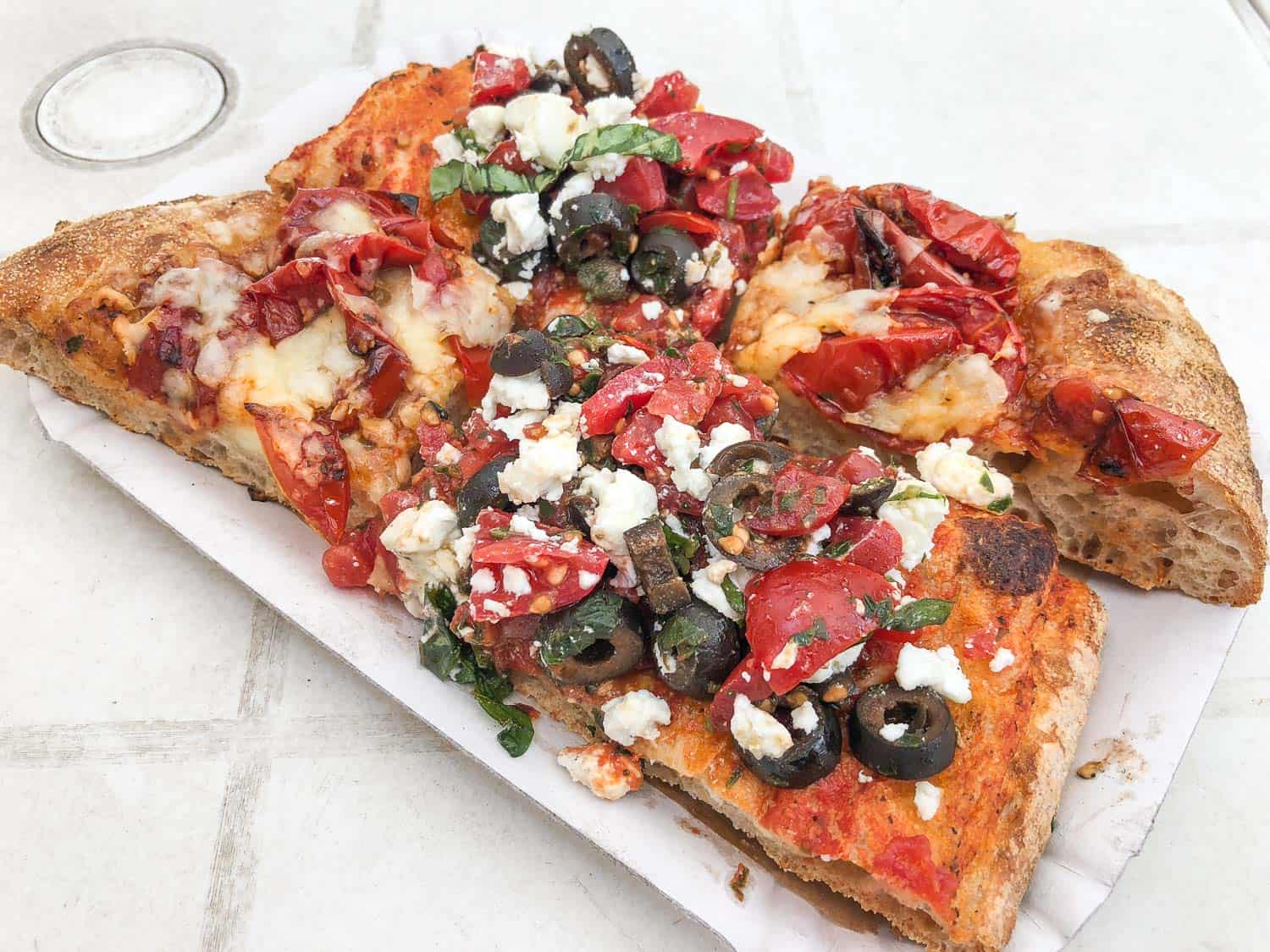 There are lots of pizza slice places in the market but the gourmet slices at CasaManco are the best.
The crust is thick but light and comes topped with an array of interesting ingredients. You choose how much you want and pay by weight—perfect for trying a selection.
3) Zoe (Box 59)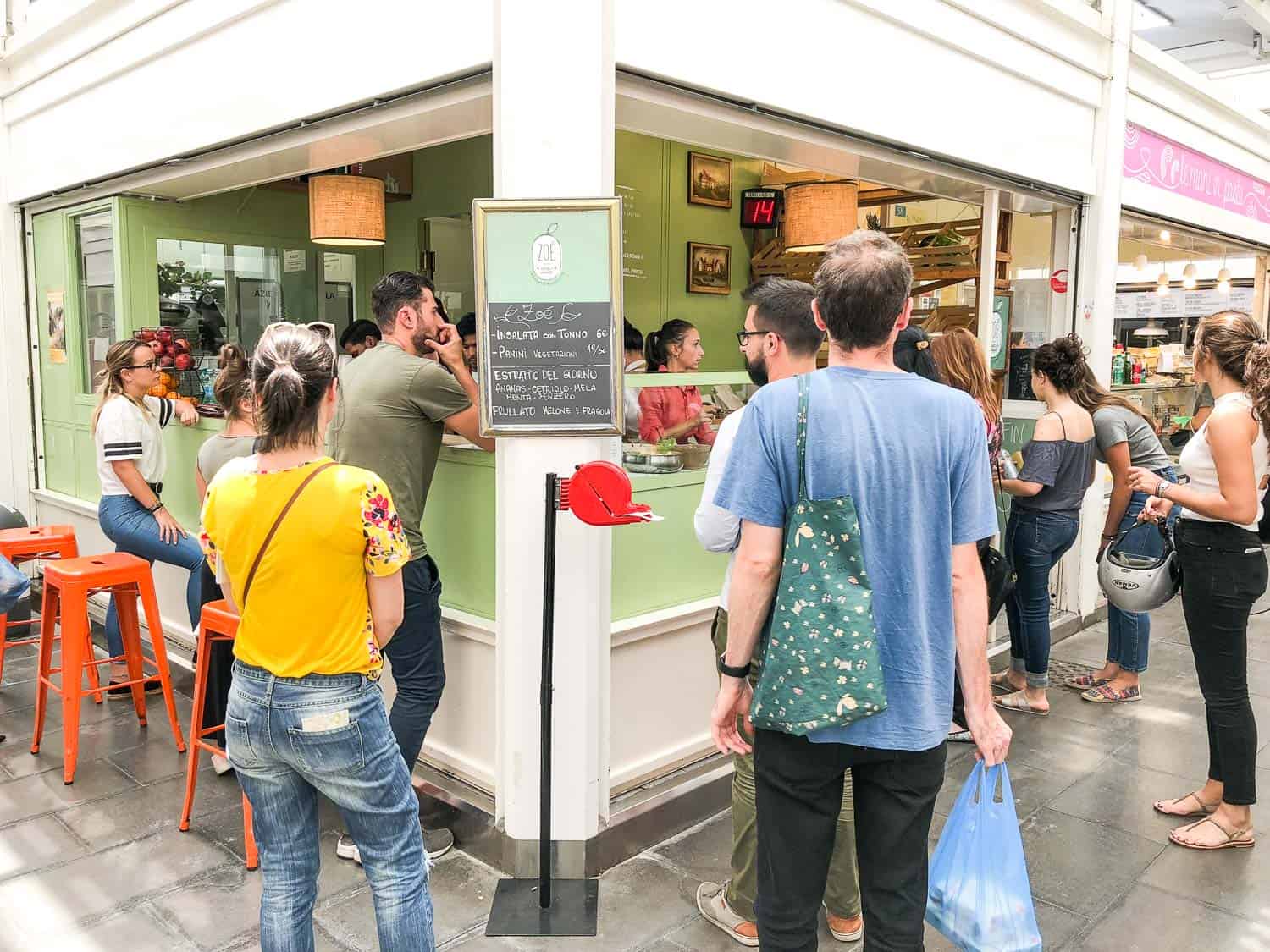 Zoe was our saviour after months of pasta and pizza and is the best option for a healthy meal in Testaccio.
You can create your own salad (€5) from the many ingredients at the counter including unusual in Italy avocado, quinoa, and pomegranate seeds. They also make fresh juices and fruit salad.
It's always busy so get there early or take a ticket and fight through the crowd when they call your number.
4) Chicchi e Lettere (Box 43)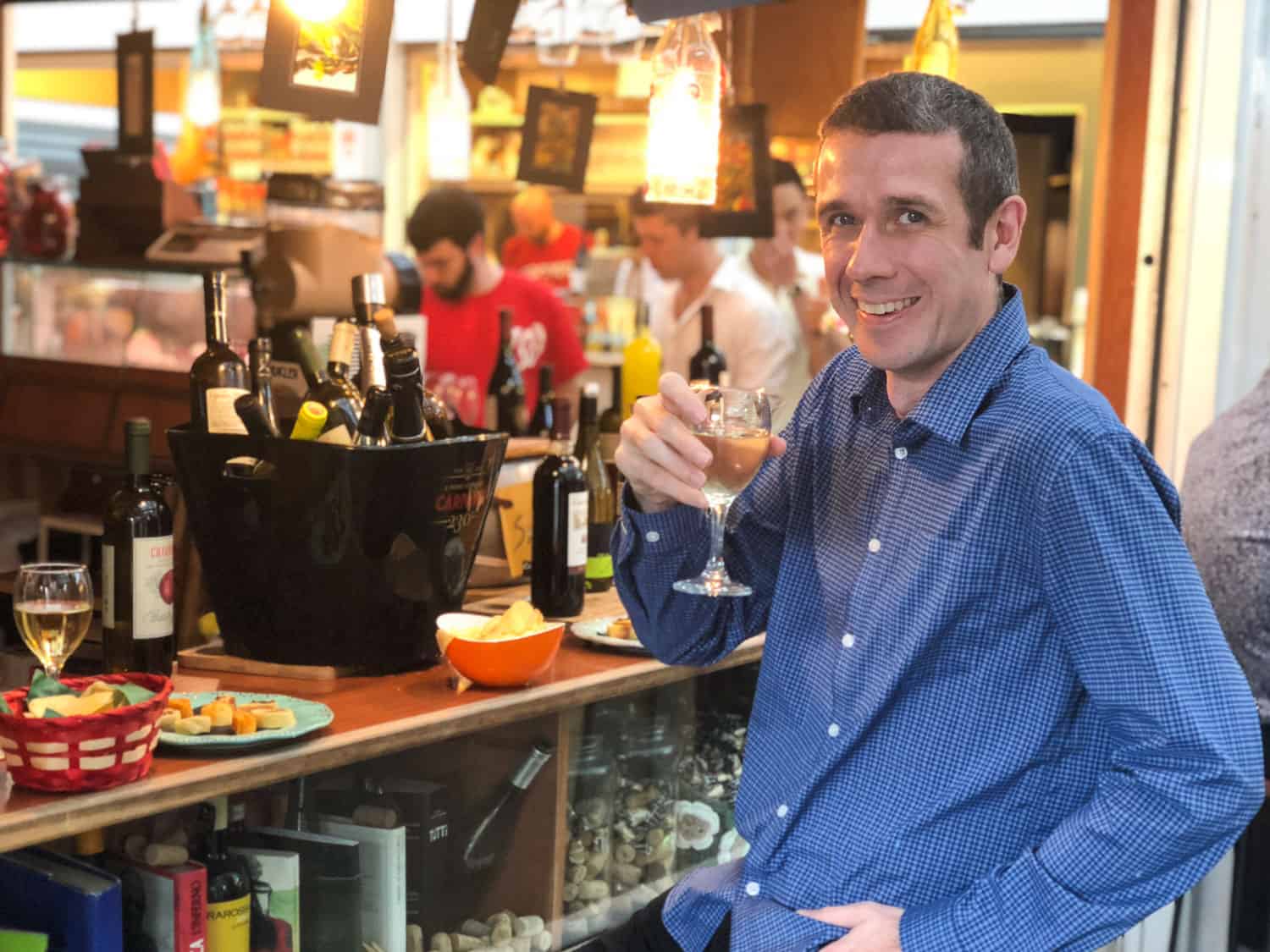 Chicchi e Lettere is the perfect spot for a pre-lunch aperitivo. Pull up a stool at the counter and tell friendly Maurizio what type of wine you like and he'll suggest a glass (€3) to enjoy with free snacks. They also sell coffee beans.
5) FoodBox (Box 66)
FoodBox makes the best suppli (rice balls) we had in Rome.
Classic suppli usually contains meat, but they do a delicious vegetarian suppli (€3) made with tomato sauce, basil, mozzarella, and parmesan. They are also known for their fried artichokes, another Roman speciality.
6) Cups & Romeo (Box 30/44)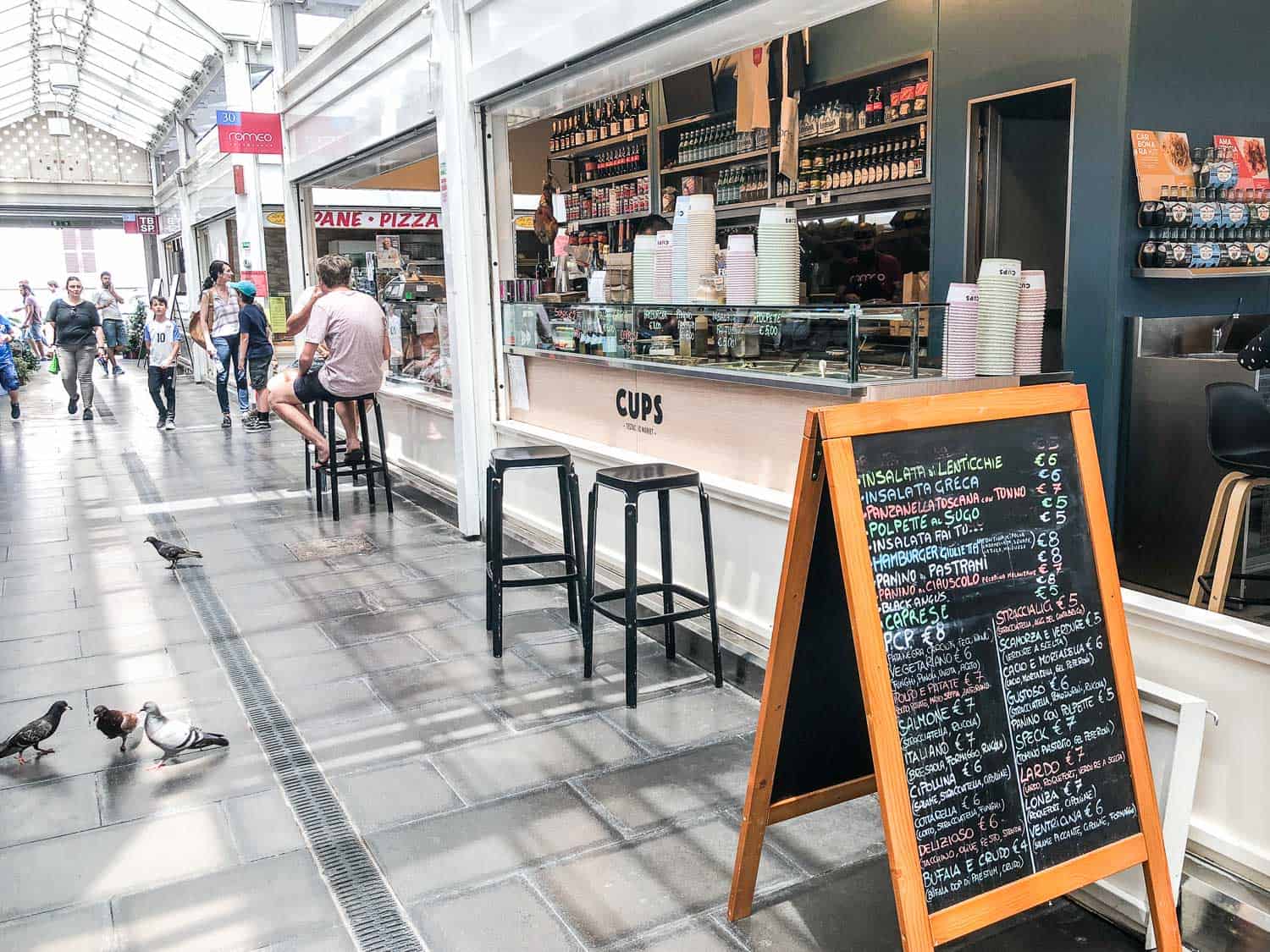 Cups is run by Cristina Bowerman, one of the few Italian women to have a Michelin star for her Trastevere restaurant Glass Hostaria. Cups is much more casual with soups, salads, and pasta served in coloured cups. I enjoyed an orzo salad with aubergine, tomato, ricotta and pesto.
Next to Cups is Romeo where you can buy pizza slices, sandwiches, cakes, and loaves of artisanal bread (including multi-grain and wholemeal).
7) Sano Burger (Box 3)
Sano Burger offers a choice of six vegan burgers all with different colour buns. We were a little dubious how good a veggie burger in Italy would be, but the spicy yellow (€6) made from chickpeas and corn and topped with rocket, spinach, tomatoes, and spicy sauce on a green bun was delicious.
They also have smoothies (the Tropical was really good), salads, and American-style cookies and brownies (desserts are not currently vegan).
8) Da Artenio (Box 90)
We love baker Artenio's mini pizzas and olive-dotted bread strips. You can also buy loaves of bread and taralli.
9) Enzo and Lina (Box 89)
We go to Enzo and Lina's for their creamy balls of mozzarella which are some of the best we've eaten. They also sell a range of cheeses, prosciutto, and grilled vegetables—perfect for a picnic or they can make you a sandwich.
10) Fuori di Zucca (Box 82)
There are many fruit and vegetable stalls, but we liked this one as it's smaller and less overwhelming than some of the others. The cherries were exquisite!
11) Vegan Stall (Box 83)
In meat-heavy Testaccio (which once housed the biggest slaughterhouse in Europe), this stall is heaven for vegans.
You can buy vegan-friendly products or get a custom sandwich made with vegan meat and cheese. We didn't try it as fake meat is not our thing, but it gets good reviews from vegans.
12) Mordi e Vai (Box 15)
I had to include Mordi e Vai even though we didn't eat here ourselves as it's not vegetarian-friendly. It's the most popular stall in the market for its classic Roman meat sandwiches with scary-sounding ingredients like tripe, tongue with salsa verde, and intestines simmered in tomato.
Testaccio Food Tour
A great way to explore the market is on a Testaccio food tour with Eating Italy, which is how we originally discovered the market.
Your guide takes you to a number of stalls for tastings and to meet the owners, and you also explore the rest of the neighbourhood (with many food tastings along the way).
Read our Taste of Testaccio food tour review for more details.
Testaccio Market Hours and Location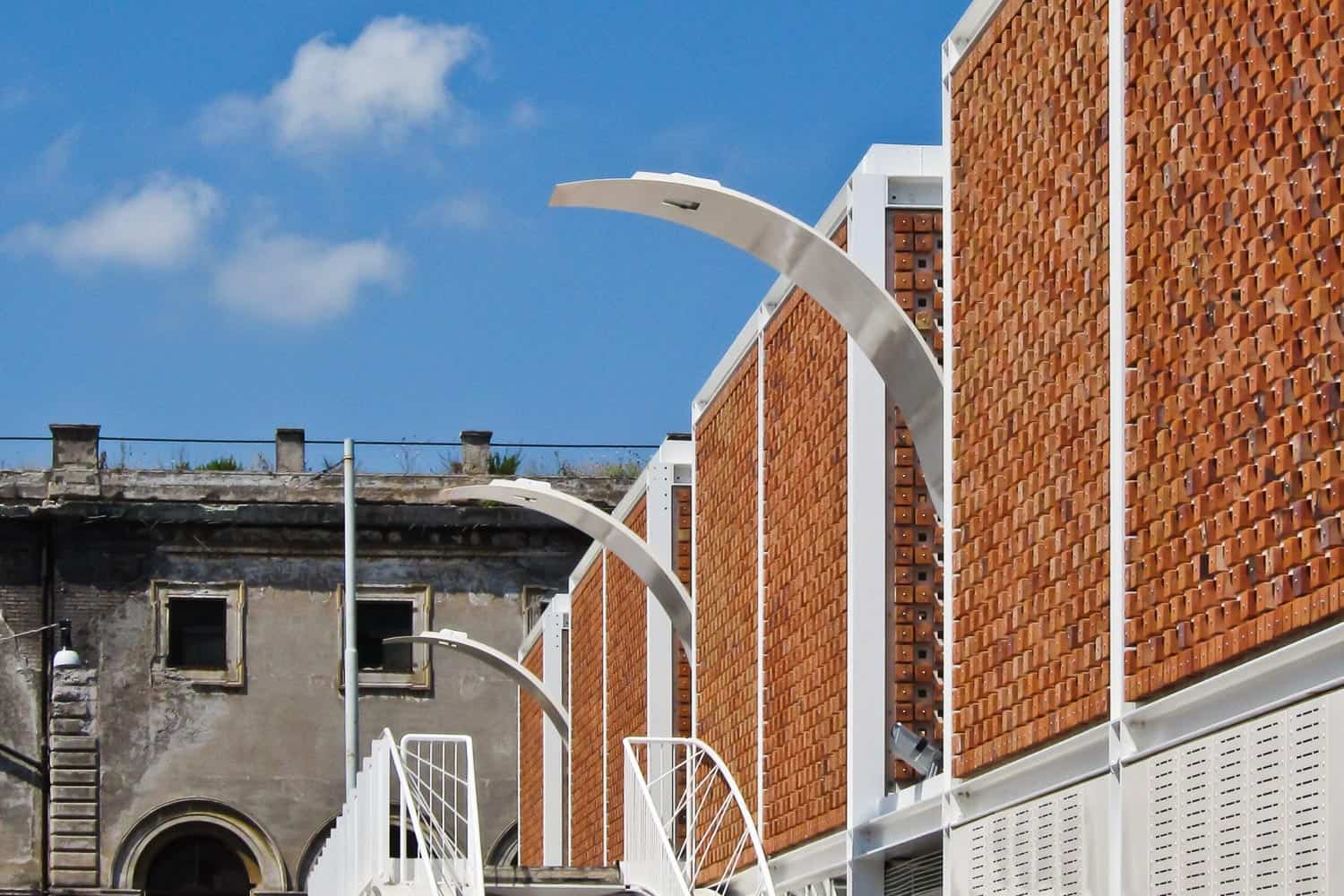 Testaccio Market is at the corner of Via Beniamino Franklin and Via Aldo Manuzio. The Metro B stop Piramide is a 15-minute walk away.
The market is open from 7 am to 2 pm Monday to Saturday and closed on Sundays.
Opening hours of stalls may differ (some may not open until 9 am or close earlier) and a few stalls close on Mondays. The best time to visit for lunch is around 12 pm before it gets too busy.
Check the market website for upcoming open days when the market is open into the evening. They usually take place on the second Saturday of the month between April and November plus Halloween.
The Testaccio food market is just one of the reasons to visit (or even stay in) this untouristy neighborhood—see our Testaccio Rome neighbourhood guide for more of our favourite things to do and eat.
If you are looking for a place to stay in Testaccio (which we recommend to escape the crowds), Hotel Re Testa has stylish studio apartments right in the market building.
We also love this Testaccio Airbnb apartment where we spent a month and it's just a five-minute walk from the market.
What are your favourite stalls in the Testaccio market? Leave a comment below and let us know.
If you enjoyed this post, pin it!