This page contains affiliate links. Please read our disclosure for more info.
The food culture is what brings us back to Italy again and again. It's not just that the food tastes so good but that every person in Italy cares passionately about what they eat, and those who sell and create the food do so with love and care.
We've joined the Italians in making food our daily obsession so after our wonderful cheese tour and cooking class in Tuscany we couldn't resist the Eating Italy Taste of Testaccio food tour in Rome.
"We'll be introducing you to the unsung heroes behind the food" announced Luna, our bubbly Sandra Bullock look-alike guide, at the beginning of the day. It wouldn't be a tour just about eating but about seeing where food comes from and meeting the people who put it on our plates.
Our gastronomic exploration took place in the working-class neighbourhood of Testaccio. It's a part of Rome that most tourists overlook, which is a real loss because it has some of the best restaurants and bakeries in a city that is not short of quality food. Many of these are mom and pop style businesses that have been run by the same family for three, four, or even five generations.
Luna assured us this is where Italians eat so we knew it would be good.
We just didn't realise how good.
Contents
Cornetto & Tiramisu
Our first stop was a pastry shop dating back to 1955 where we sampled the typical Italian breakfast cornetto – like a croissant but with less butter and sugar than the French version. After being in Italy for a few weeks already, we had eaten our fair share in bars throughout the country so we thought we knew what we were in for.
But as the flaky, vanilla infused sweetness lit up our taste buds, it was clear that we had been missing out.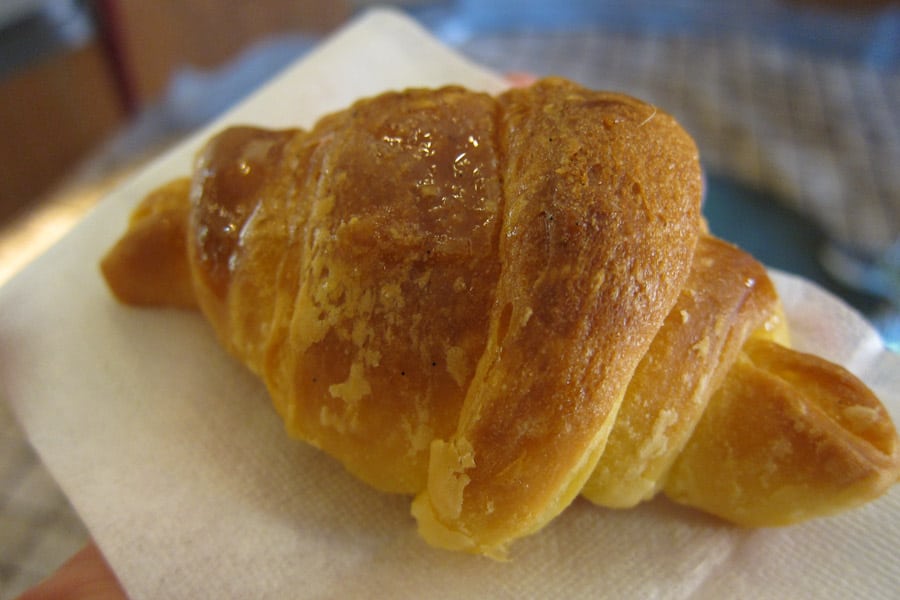 After a meal (even if that meal was a single tiny croissant), it's always nice to have some dessert. I didn't think I liked tiramisu, especially for breakfast, but the tiramisu we were served in a little chocolate cup converted me. This version was lighter, with more mascarpone, less espresso soaked biscuit, and no added alcohol. Heaven.
Cheese
The tour took our vegetarianism in its stride. Standing outside the Volpetti gourmet food shop, we were given a range of interesting cheeses – sampling pecorino with truffles, drunken pecorino with prosecco, and a gorgeous crumbly aged parmesan while the rest of the group ate thin slices of prosciutto di San Daniele and salami.
Entering the store, we were hit by the pungent smell of cheese and smoked meats, and every counter and shelf was piled high with delicious food—over 150 varieties of cheese, truffles, fresh pasta, olives, vegetable tarts, bread, marinated vegetables, wine, and salami hanging from the ceiling.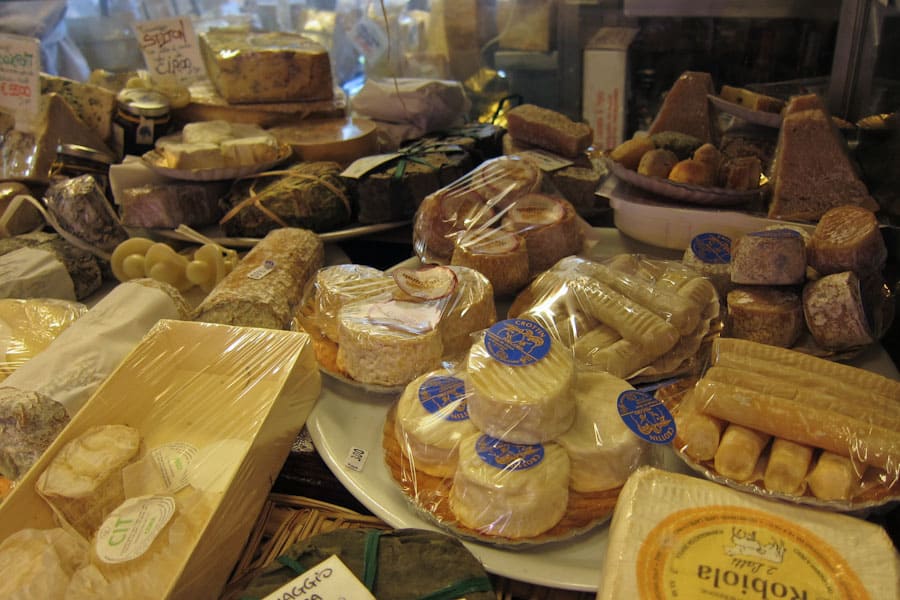 It's an entirely visceral experience, so unlike the antiseptic experience of supermarket shopping. The Volpetti family has been running it for over 30 years and it's crowded with shoppers but still, the knowledgeable staff take the time to make recommendations to each customer, offer up samples, and joke with the regulars.
No one is in a hurry—everyone enjoying their shared love of quality food.
We sampled some ricotta and chocolate chip ravioli and compared a five and fifteen-year-old balsamic vinegar, discovering that the older it gets the sweeter and thicker it is.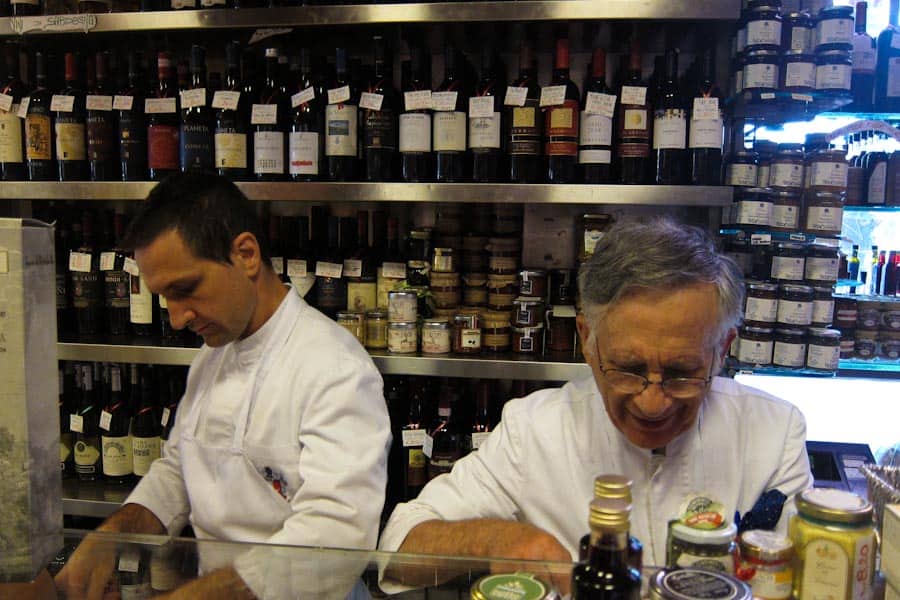 We could have shopped here all day but we restrained ourselves to picking up a few items—a selection of olives and some pecorino romano cheese. Volpetti senior works alongside his son and was happy to help us make our choices, suggesting some fig bread that paired wonderfully with our strong cheese.
Exploring Testaccio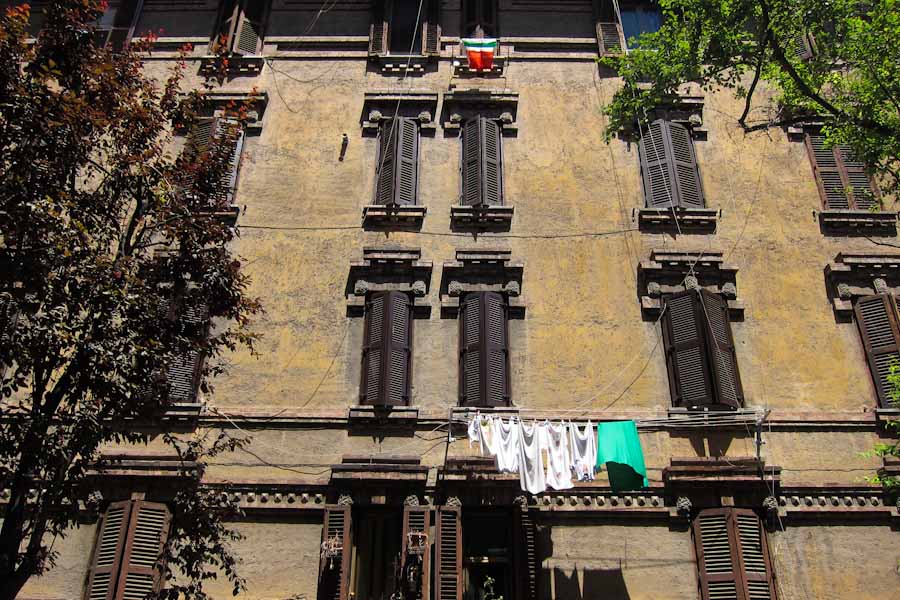 After all this food by mid morning it was time to take a break from eating and work up an appetite again by exploring the Testaccio neighbourhood. The Eating Italy tour is more than just a food tour—owner Kenny and his guides also share their knowledge of the culture and history of this traditional area and introduce guests to some unusual Rome attractions.
We stopped at the peaceful, garden-like Campo Cestio cemetery which is home to the remains of some famous non-Catholic foreigners who lived in Rome. We visited the graves of jewellery magnate Bulgari, and English poets Keats and Shelley and Luna shared some of the stories behind them.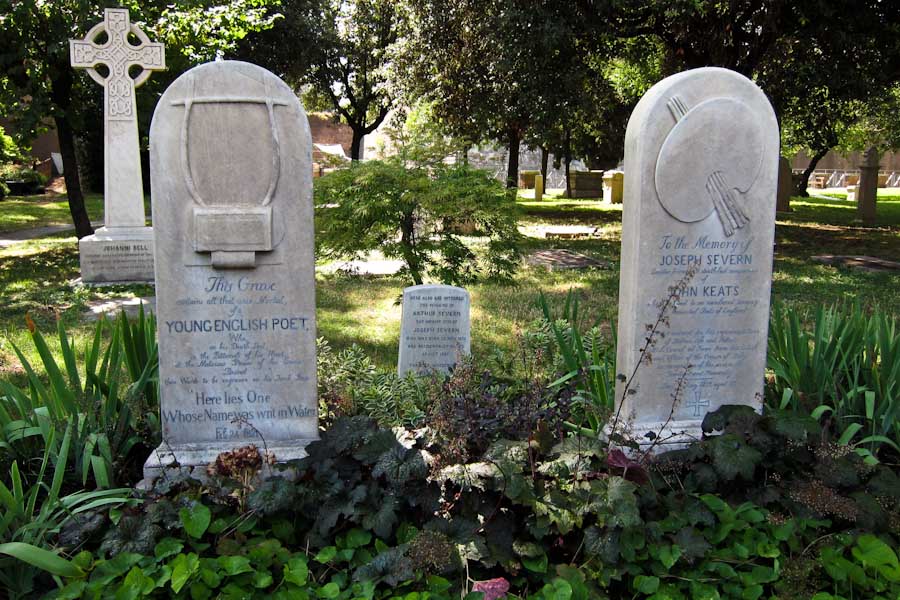 One of the most fascinating parts of Testaccio is the Monte Testaccio—a small hill in the centre of the neighbourhood that we didn't pay much attention to until we learned its story.
In Roman times food such as honey, sugar, wine and olive oil was transported in terracotta pots called amphorae. Olive oil would degrade the containers so when they could no longer be used they were demolished – the hill we were looking at was a rather scenic garbage dump of 53 million broken amphorae.
A number of restaurants surround the hill and have glass windows so you can see the remnants of the pots.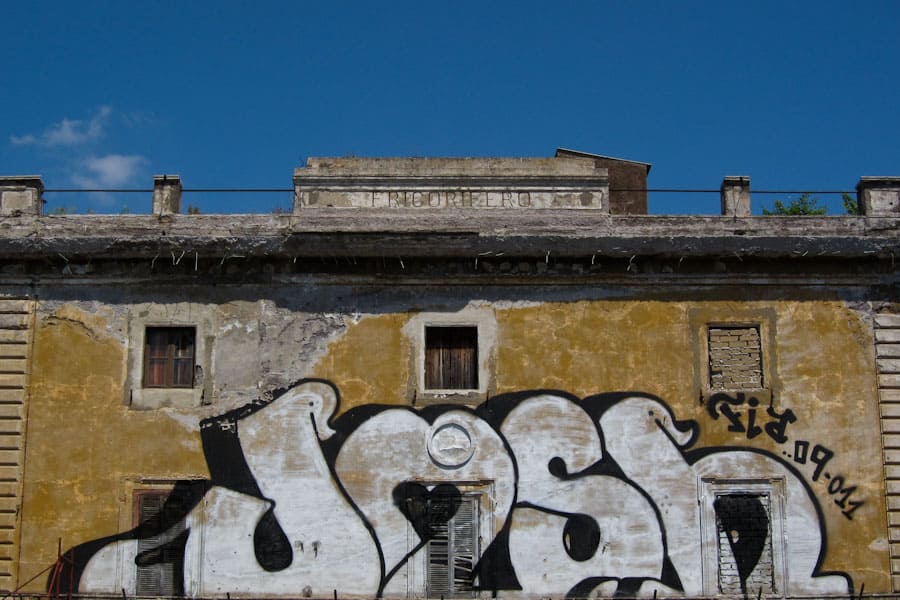 The Market
The Testaccio covered market is one of the oldest and best loved in Rome, dating back to 1914 and many of the stalls have been passed down through families for generations. Finally, the market I'd dreamed of since arriving in Italy.
We had spent the previous month in the countryside just outside a small village in Tuscany and had hopes of shopping in local markets. Unfortunately our village was too small to have one and we couldn't find one in the local area so resorted to the convenient and cheap option of a supermarket. The produce was much better than in supermarkets in the UK but it still wasn't the kind of shopping experience I was looking for in Italy.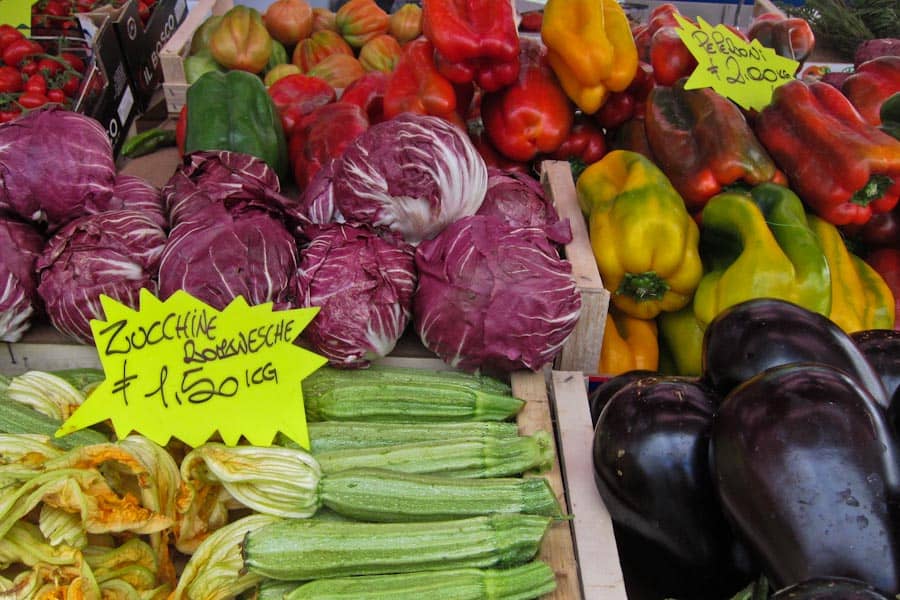 Luna taught us the importance of your market vendor—it's your most important relationship as loyal customers get the best produce. Kenny and Luna have obviously cultivated their relationships well as Luna was greeted like a family member by many of the vendors.
We gazed longingly at the piles of colourful fresh produce—all in season of course—before trying some fresh figs and the best melon we have ever eaten. Previously, I had found melon to be quite watery and bland but this one was bright, juicy, and flavourful. We actually went back after the tour to buy one and its sweet smell infused our apartment for days.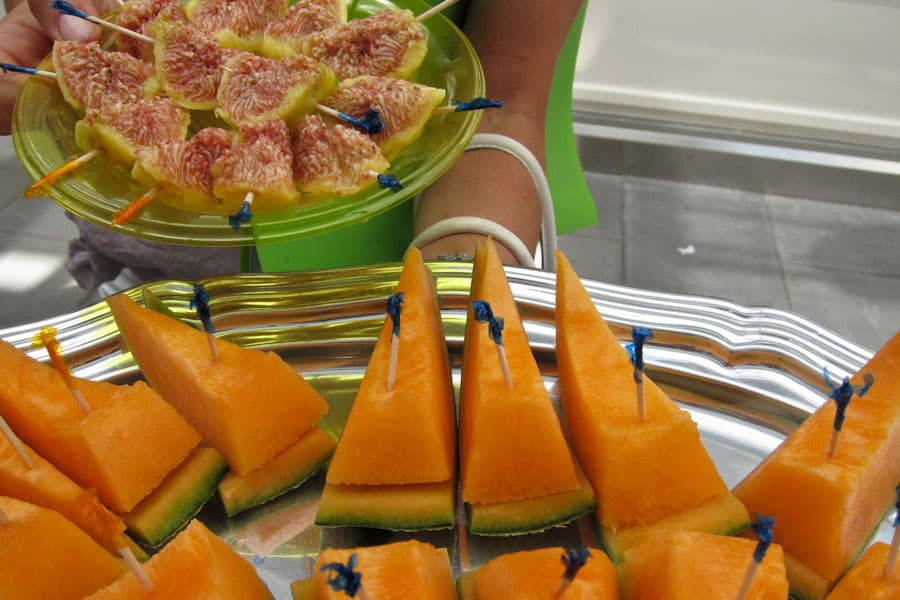 We also visit a family-run butchers and 85-year-old fishmonger Alvaro who has worked at the stall since he was 8 years old. Luciano runs the fishmonger stall beside him, and the two rivals haven't spoken to each over in 60 years.
Enzo and Lina have been working side by side for 25 years selling meat and cheese. They gave us a generous portion of mozzarella di bufala—so much more flavourful than the cow's milk version—and learned that it shouldn't be refrigerated, but should be eaten within two days of being made—a level of freshness you just can't find in a supermarket.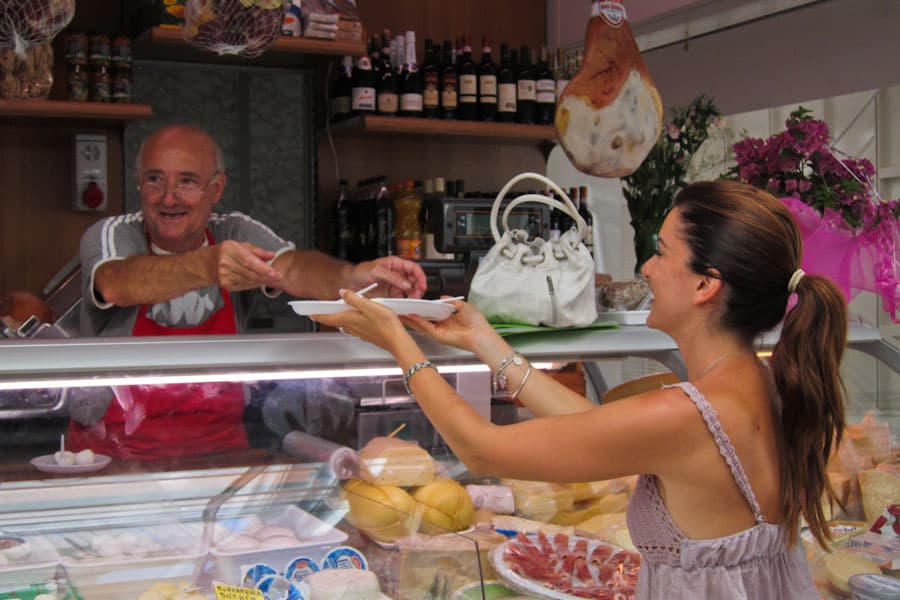 We went from stall to stall meeting vendors whose passion was their produce, whose pride in what they were selling was evident, and who had passed their commitment to quality down through generations.
Supplì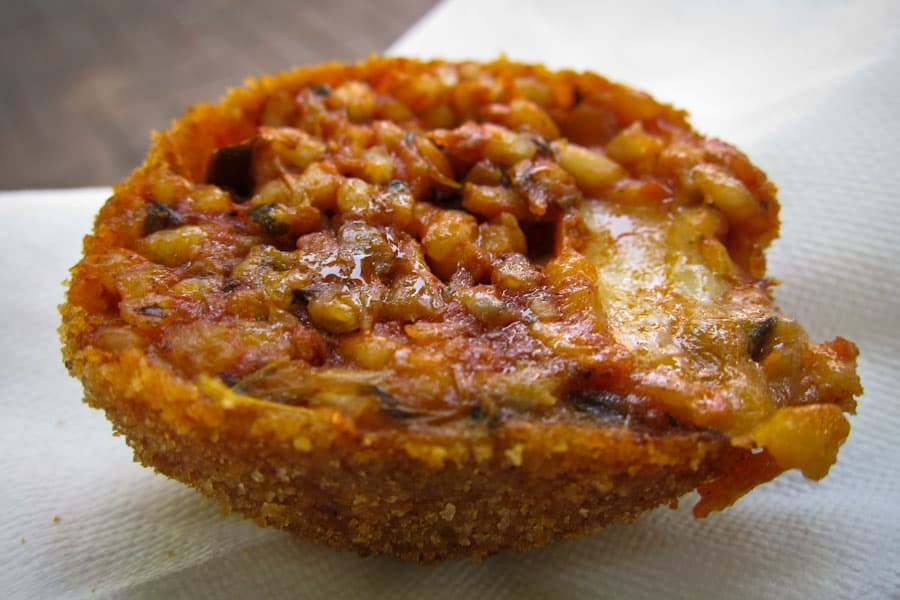 Despite having visited Italy seven times I had never tried the Roman classic supplì before. These fried rice balls make a great snack so we picked up a few to eat in the local park. Our vegetarian version ortolano contained rice, tomato, mozzarella, courgette and peppers and was delicious.
As we eat, we watch the large group of Italian men sitting around chatting—you find them in every piazza in the country—while Luna tells us mafia stories in a lowered voice, just in case.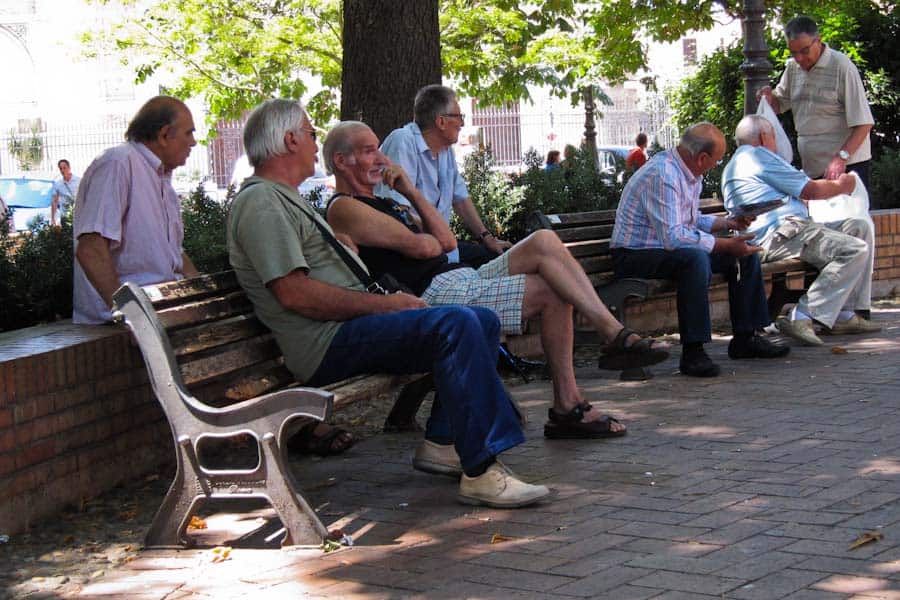 Pasta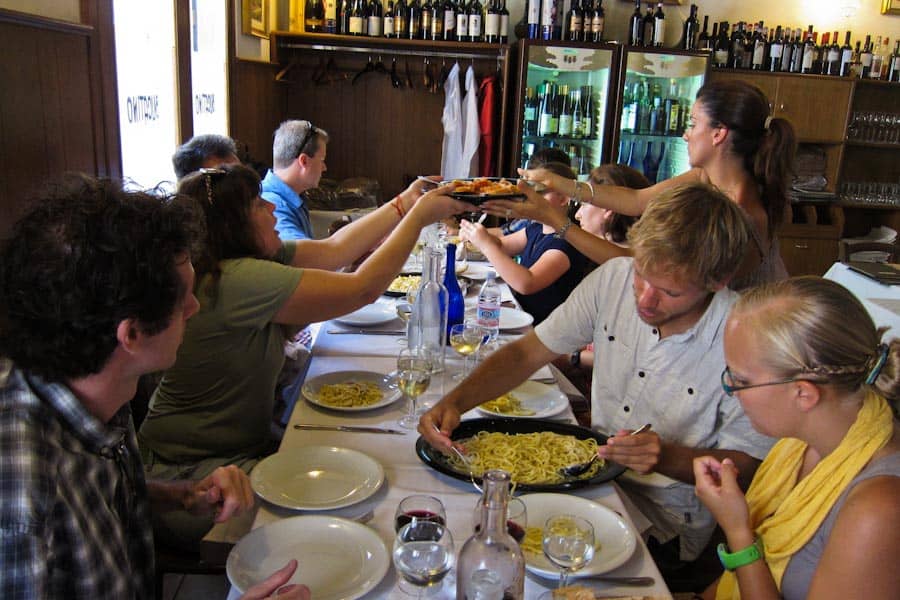 As if we hadn't eaten enough it was time for lunch at a local restaurant. They brought out a number of pasta dishes to choose from and we sample a fettuccine with porcini and truffles and my new favourite pasta dish, tonnarelli cacio e pepe—a thick spaghetti with cheese and pepper.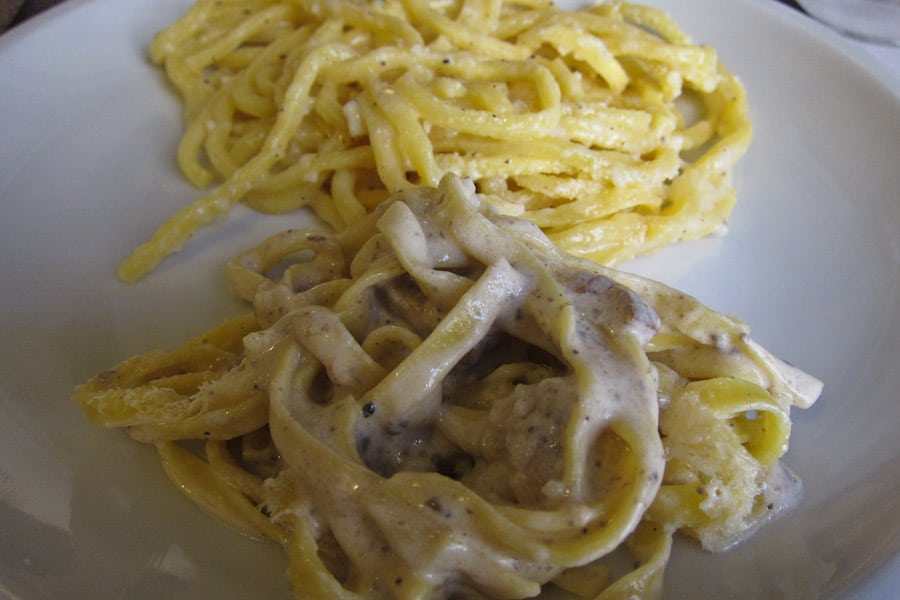 With a glass of wine, chatting to the diverse mix of people on the tour, all with a common passion for food, it was the perfect way to end the tour.
Except it wasn't over…
There's Always Room For a Little Gelato…
There was no possible way to fit in anything else, but who can resist gelato?
It's a daily essential in Italy after all and Luna brought us to one of the most historic gelaterias in the city.
At Giolittis they have been making homemade, artisanal gelato on site for over a century. It doesn't look like much. There aren't any of those overflowing tubs of gelato decorated with fruit that you find in the gelaterias near Rome's tourist attractions.
In fact, we learned from Luna's gelato lesson that overflowing gelato is a sure sign that it's not the real deal. Other tips include making sure the pistachio gelato is a pale earthy green and not a bright ninja turtle green, and banana should be a cream colour not yellow. As most of the gelato in Rome is fake – made from a powdered mix – it's invaluable to learn these tips so you can choose the real deal.
We all got to choose two flavours each for our tub, which turned out to be a rather nerve wracking proposition as you could have your flavours vetoed—apparently zabaglione and lemon is not a good mix.
To spare myself the wrath of an Italian gelato maker I requested amarena (cherry) and asked for his recommendation—crema (french vanilla with a touch of cinnamon) is the appropriate pairing and I was certainly happy with it.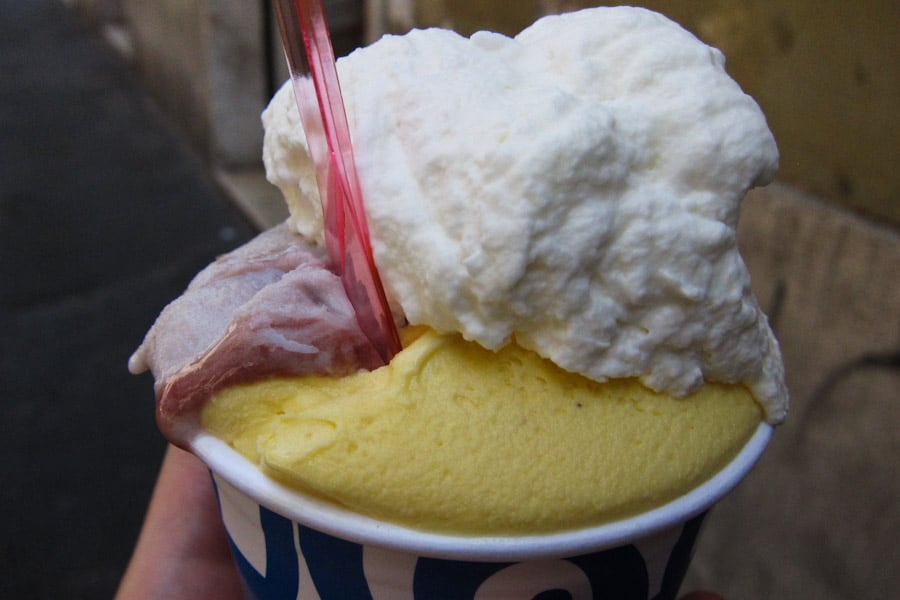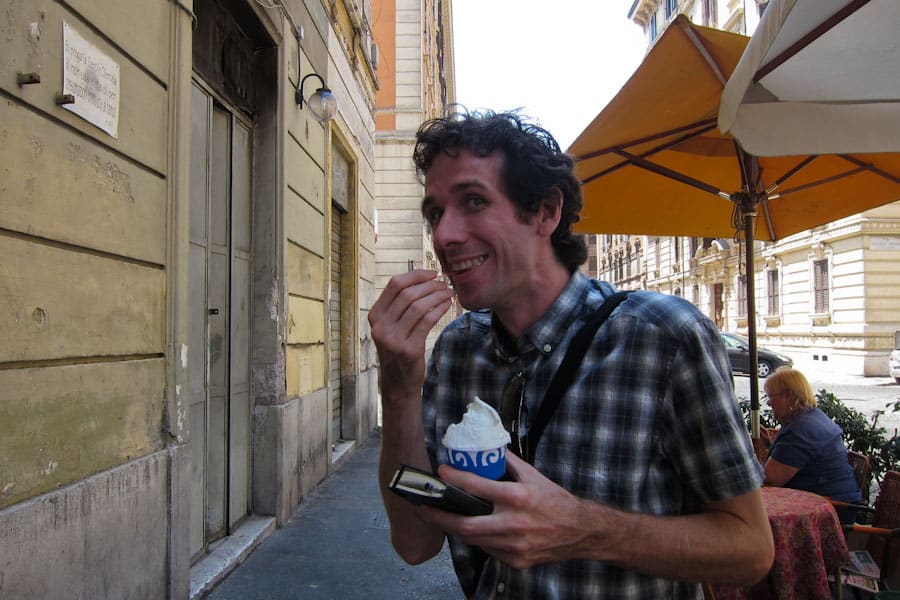 Eating Italy Food Tour Details
We ended the tour stuffed but happy. Our culinary exploration wouldn't end with the tour though, as they provide a long list of recommended restaurants and gelaterias and Luna went around to everyone individually, offering her own personal recommendations.
With the danger of so many average, tourist-orientated restaurants in Rome, this information is gold. We end up trying some out in Trastevere and in Testaccio when we stayed there on a return trip to the city.
We have visited the Colosseum, Trevi Fountain, and Sistine Chapel, but the Eating Italy food tour tops the list of our favourite things to do in Rome.
If you'd like to get off the beaten track and spend a morning stuffing yourself with delicious food then definitely book yourself onto a food tour in Rome. It's the perfect way to take a break from the crowds and queues at the big attractions and see an area of Rome that most visitors won't see.
We did the four-hour Taste of Testaccio tour which costs €79 and includes 13 tastings—we were full for the rest of the day.
Eating Italy now runs many other food tours in Rome including in Trastevere, one of our favourite neighbourhoods in Rome, as well as in Florence. See all of Eating Italy's food tours here.
We recommend taking the tour near the beginning of your trip so you can learn about Italy's food culture (and avoid embarrassing mistakes like ordering a cappuccino after lunch—see our guide to eating in Italy for more tips) and have the chance to try out the many restaurant recommendations you'll receive.
If you enjoyed this post, pin it!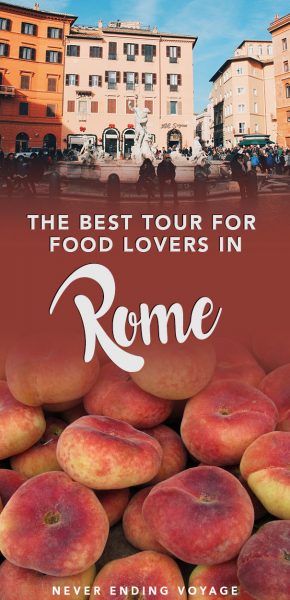 A big thank you to Kenny who invited us on the tour and to our lovely guide Luna who introduced us to so much delicious food.